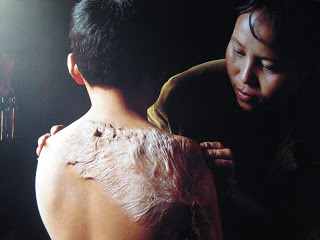 These UXOs come in the form of land mines, or bombs that were dropped by the USA during the Vietnam war, or during the French Indochina war.
Today, these bombs still haunt thousands and millions of innocent people.
It is said that 30% of these bombs that dropped did not explode. And sadly, the poor especially those who live in provinces far away from the big and rich towns are the most affected.
Steps have been done to remove these bombs. NGOs and the United Nations have made efforts to bring in experts to teach the locals what to do when they see these devices, and how to dispose of them properly.
Children, are sadly, the ones who are the most vulnerable. Many lose their lives, or become permanently handicapped, because they thought that the small rusty, round object was a toy. A mere dropping of a UXO can be devastating.
A parent warns a child,
"You must be careful. A mistake will cost you your life."
For adults, it means the lost of a livelihood. And financial problems for their families.
While watching a documentary in the UXO centre in Luang Prabang, a farmer said:
"I am alive, not dead. But my life is nothing," he said, looking at his amputated leg and arm.
Sometimes, education is not enough to stop the villagers from staying away from UXOs. These UXOs are made of good quality metal, and fetch a high price in the black market. The villagers take unnecessary risks to carry these UXOs and sell them. The UXO scrap industry is very much prevalent in Laos.
Touristy areas such as Luang Prabang, the town I visited, and Vientiane, are not hit.
But down south, there are more of such bombs.
Apart from building a concrete recreation court for the children, and trying to teach them some English, I hope that if I ever come back, I could do more for the people of Laos.
With my limited knowledge of the Lao Language, ranging from "Sabaidee – Hello"
"Korp Zhai" Thank you
"Kien si" Write your name
"Jao si nyang" What is your name
"Jao ahnn niu jak pii" What is your age
"Dig sai" boy
"Punning" Girl
And a little childhood song called "Sau Nong Noi".
Maybe I can help to warn the children to stay faraway from UXOs.
Maybe I can help to rebuild lives of those who have been hurt by them.
What idealistic dreams.
Perhaps, what I learnt from this trip, is that if you want to help, it is important to know the local language, and a little first aid.
This post was written in 2010, at the back of the author's trip to Luang Prabang for CIP work.
And maybe, what more I can do then just dream.