Top Five Unusual Must Dos in Delhi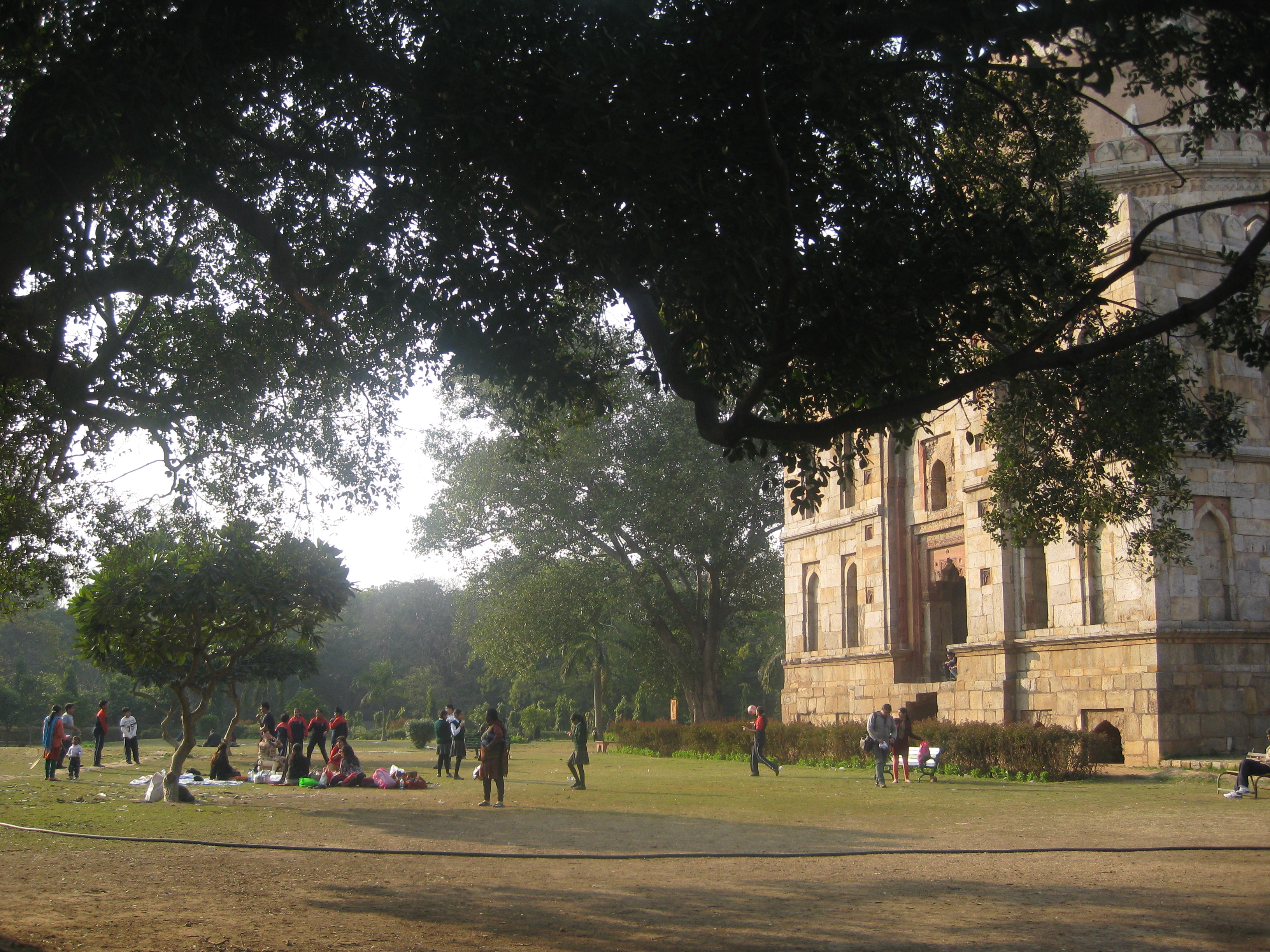 You can miss a trip to the legendary Taj Mahal, the pink desert city of Jaipur but a journey to India is never complete without a walk in the world's most delectable yet disgusting capital, Delhi.
To the fresh, unseasoned eye, Delhi can be disgusting. Men and children pee in public, in bushes and on pavements. Some are disrespectful to women. Betel nut spit line the pillars of train stations. But spend enough time in the city, and you will find yourself chancing upon the grand Mughal gardens in the fall. The grass in Lodhi Garden looks so clean and green which make you want to run around bare footed.
You lose yourself in a fantasy world  while at a cosy bookstore in Khan Market, Delhi's high-end shopping bazaar. Or get lost in the bazaars of Chandni Chowk. It's not the cleanest, most peaceful place in Delhi, but you get to procure all sorts of Knick Knacks, ranging from Rajasthani head-gear, to dirty cheap eye-wear, to locks and wedding cards.
Of course, don't ever miss out on Majnu Ka Tila, the Tibetan hideout in Delhi. Like a world unlike no other, it's probably Delhi's cleanest place. The stores are well swept, there is hardly any litter and drains don't clog. The people look Chinese, speak Tibetan, an entirely different language but it feels like a little Chinatown. I hereby present you, the top five unusual must dos in Delhi. Read on.
* * *
1. Eat Momos (dumplings) at Majnu Ka Tila
India is not all about Hindu/ Islamic culture. If you look closer, it's actually a mish mash of other influences, and that includes culture spreads from the Arabs, Africans and of course, the Tibetans. Majnu Ka Tila, well-known to Tibetans as the "Tibetan refugee camp" is a stone's throw away from the metro station, Vidhan Sabha. From the metro you can take a riskshaw and it will cost an estimated Rs 30 (US1.50). Make sure the rickshaw drops you at the centre of the town, which is at the green overhead bridge. Cross the overhead bridge and head over into the refugee camp. Don't be mistaken for the mixed settlement which is on the left. The actual refugee colony is 100% Tibetanised and there are few or no Indians there.
What can you do there?
The colony is home to a number of commercialised shops, selling everything from Tibetan hand-made rugs, to grocery and toy stores. Momo (Dumpling) restaurants have sprout up too serving authentic Tibetan fare. Sipping a cup of lemon grass tea (it's light and no milk has been added, unlike the usual Indian ones that you get) while enjoying a plate of momos (dumplings) is a sure way to immerse yourself in Tibetan culture. If you're lucky, you may meet a Tibetan who can speak English or Mandarin, who are more than happy to share their stories with you. The food is affordable, and for USD5 you should be able to get yourself a filling meal.
Looking for unusual souvenirs to bring back? Head down to the numerous stores about town and you may be able to procure a hand-woven Tibetan rug or a traditional Tibetan toy.
* * *
2. Make out at Lodhi Garden
Lodhi Garden, the home to Mohammed Shah's Tomb and Sikander Lodi's Tomb is Delhi's most beautiful and historic park.
On a cool spring's day, take an evening stroll along the 90 acre park. The sun is not too hot, and you can always hide away in the Lodhi tombs. The tombs have continued to serve their purpose up until today. Lovers flock to park, away from the prying eyes of the preying aunts or busybody passers-by.
If you have no partner to make out with, try catching the lovers in the heat of the moment. That has happened to me loads of time – the girl blushes while the guy acts as if nothing has happened. It's hilarious.
What can you do there?
Apart from making out and catching lovers, having a picnic or playing cricket is one of the more common and favourite pastimes among visitors. You can also pretend to be Indiana Jones and take lots of photos for bragging rights. In autumn, you can see stray dogs wrapped up in little T-shirts, it's a sight to behold.
* * *
3. Annoy that snobbish shopkeeper at Khan Market
I do apologies in advance for generalising, but a majority of Khan Market visitors tend to be the "upper class"  Delhites. And so are the shopkeepers. And some of them are downright rude. A bookkeeper told me to "leave" if I wasn't keen on buying anything. So much for good service.
Nonetheless, their collection of books are simply quite superb. And I have decided, that the best reaction will be to annoy them. By staying longer.
What can you do there?
Apart from annoying those that deserve to be annoyed, Khan Market is well-known for its shopping. You can purchase rather fashionable pieces at prices that are similar to that in Singapore, or indulge in a kebab from one of the stalls along the way. When in doubt, go for the stall with the longest queue.
* * *
4. Bargain for a blanket in Chandni Chowk
As discussed earlier, Chandni Chowk is by far the craziest street bazaar I've have ever to. There is Wedding Card Street, Lock & Key Street, Plumbing Street, and also Blanket Street. If you're looking for a furry (traditional) printed blanket to cuddle up in – in the train or to bring home, there are lovely blankets going on sale. While there, check out the street food. The Jalebis are famous! The brave will be rewarded, but you're almost guaranteed to get a Delhi Belly.
What can you do there?
For girls, try to avoid getting groped. (It happened to me too many times. To keep away unwanted and uncivilised hands, place a hand near your chest and butt area. Quickly grab the offending hand and scream if such he ever tries to be funny. That is for another post.)
For men and women alike, look after your valuables with a watchful eye, and take note of what you eat. Bring toilet paper, just in case.
 * * *
5. Pick up hot chicks/ rich businessmen at New Delhi Railway station
For this to work, you've got to invest in a 1st/ 2nd Air con railway ticket. Minimum 3rd class AC. The destinations are preferably to Chandigarh (for businessmen) or to Agra (for hot tourist chicks).
If you're foreign, pretend to be a clueless tourist and seek advice. It always works. If you are a local Indian, be helpful, but not overly helpful. That's creepy.
What can you really do?
Delhi's main railway stations are always brimming with people. It's a must visit if you ever want to understand Delhi, and India. Indians usually travel with their families, and it is always nice to see how they interact. On the train, watch how the countryside flashes pass you. It can be quite a beautiful sight, to see women in their traditional coloured saris at work in the fields, or walking with a clay pot on their heads. For the raw, rough kind of experience, take Sleeper class.
A trip to India is never complete without a ride on the train.
* * *
And that's Delhi for you. Crazy, chaotic but calming at the same time. Essentially, it's the city for dreams. And just like how I fell in love with this city, I hope you 'd embrace it with an open heart and mind. Perhaps you may even discover its many unfounded beauties in the most unexpected of all situations. If you do, please return to share them.
Good luck.