Planning a Shanghai itinerary: Is it just worth a day?
I am in the midst of planning my 7 day trip to China and I realise I cannot help but leave only a day to visit Shanghai.
Reason being that I am going to visit Huangshang, a must have destination for this trip, and it takes a full day train ride from Beijing to Huangshan railway station. I checked, it's about 19 hours – 11am to 7am the next day.
I have the option of booking a domestic flight but I don't want to fly – it's such a hassle, and it will be great to check out China's long distance trains.
After doing some more research, I figured Shanghai can be covered in one day. The list of places I want to visit are below:
1. The Bund – aka 上海滩
This sounds like a Clarke Quay in Singapore, in which a stretch of cafes, bars and shops overlook Shanghai's waterfront. In fact, everyone who has been to Shanghai says it's a must go. So I am going to have a look, and hopefully I will be left with some yuan to eat at a nice restaurant nearby.
2. Old Town – aka 南市
Home to the historical Yu Yan 预园 gardens,the old town is supposed to be quite beautiful and culturally pleasing, with its historical Ming garden design and the chill tea houses by the side.
3. French Concession – 法租界
It's a side of Shanghai with a cluster of restaurants, homes and retail shops together. Not the shopping mall type, but a mis-mash of two story homes that overlook cafes and boutique stores below. Something like Robertson Quay in Singapore.
There is also a list of places that look good, but I don't have to visit…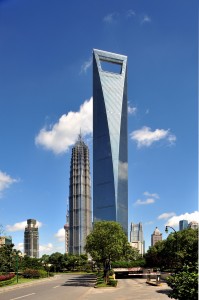 1. World Financial Centre
Gleaming with opulence, this is one of the highlights of Shanghai's skyline. It does resemble a Marina Bay Sands in Singapore. Don't think I will want to spend any yuan to go to the observatory deck but it will be nice to see the building from far. Also, the last thing I wanna do is to be reminded of the Central Business District in Singapore… …
2. The Museums
There seem to be a couple of significant Museums in Shanghai. The Shanghai Gallery of Art, the Shanghai Post Museum, the Shanghai Museum… Sad to say, I am not the sort who can spend hours appreciating art and cultural nuances – so I think it's best to give it a miss.
* * *
A friend once said that China should not be seen through the lens of Shanghai alone. The shopping malls, dazzling lights and designer boutiques brimming with opulence are sights that I feel I can do without.
But Shanghai is China's glammer polish, a model type of city that many other central and eastern provinces hope to morph into. If I fail to see Shanghai up close, would I have lost the opportunity to understand China's future?
* * *
If you have been to Shanghai, let me know what are the must-sees and must-dos.. Always welcome further ideas and changes to the itinerary.