Top five cafes to check out in Seoul
Seoul is brimming with cafes – though I haven't found one that make really good lattes. But unlike the ones in Singapore, they are spacious and there's always room to sit down to rest the tired legs and have a cuppa.
As travellers, cafes are important. They're an important place where you can rest your legs after a long shopping trip, or simply, a place to use the toilet.
That being said, each of these cafes have a certain unique flair, hence my recommendation. I don't profess to be an expert in Seoul and South Korea, having only been there once. If you have any suggestions, feel free to drop a comment and I'll be happy to include them in this post. Thanks!
Tip* – most cafes in Seoul sprinkle cinnamon powder on lattes and cappuccinos, so if you're not a big fan of cinnamon, tell them in advance. 
——
Top five cafes to check out in Seoul
1. Jane (A friend helped to translate, and the Korean word sounds like Jane)
Address: Street along Mangwon Metro Station
How to get there: Mangwon Metro Station (Line 6), Exit 2. As you emerge from the staircase turn right into the street that follows. Walk straight until you see the storefront.
What I like about it: The cafe is tiny and it's easy to miss given the big coffee chains nearby. But the decor is really cute – handmade paintings line the wall and you get the feeling that you're in someone else's garden. The beef burgers that go for 4,000 won is delicious, bursting with flavour. They have shrimp patties if you don't eat beef.  The lattes? An economical 2,000 won.
There's no wifi here though.
Great for breakfast or tea.
* * *
2. Holly's Cafe (Hapjeong)
Address: 374-1, Hapjeong-dong, Mapo-gu, Seoul
How to get there: Nearest MRT: Hapjeong (Line 2 and 6), Exit 7
What I like about it:
I chanced upon this cafe one early morning, at 7.30am. It spans three floors – the decor is exquisite and the windows overlook the street below. There's even a library filled with Korean books. There were no customers when I arrived and it was really peaceful. As I looked down, I chanced upon a demonstration (totally legal of course) forming. The police by the side, with students draping Miss Universe type of banners across their bodies. The leader, a student in his twenties with geeky spectacles read out his speech – though very few bystanders seem to care, and much less the cars that rolled on by.
I like the Mocha – 5,000 won.
Wifi works very well – get the password from the counter.
* * *
3. Angel-in-us Cafe
Address: Donggyo 162-4, Mapo-gu, Seoul
How to get there: Hongnik University (Line 2)
What I like about this:
The tiramisu tasted like any normal cake – though I'm not sure if it was one of the contributing factors which rendered me sleepless for an entire night. As for the ice latte, it's pretty strong and good. The second floor oversees the streets of Hongdae, it's bustling and makes a good spot to people watch, or simply to look at Seoul's nightlife from a bird's-eye view.
Wifi works very well here too.
* * *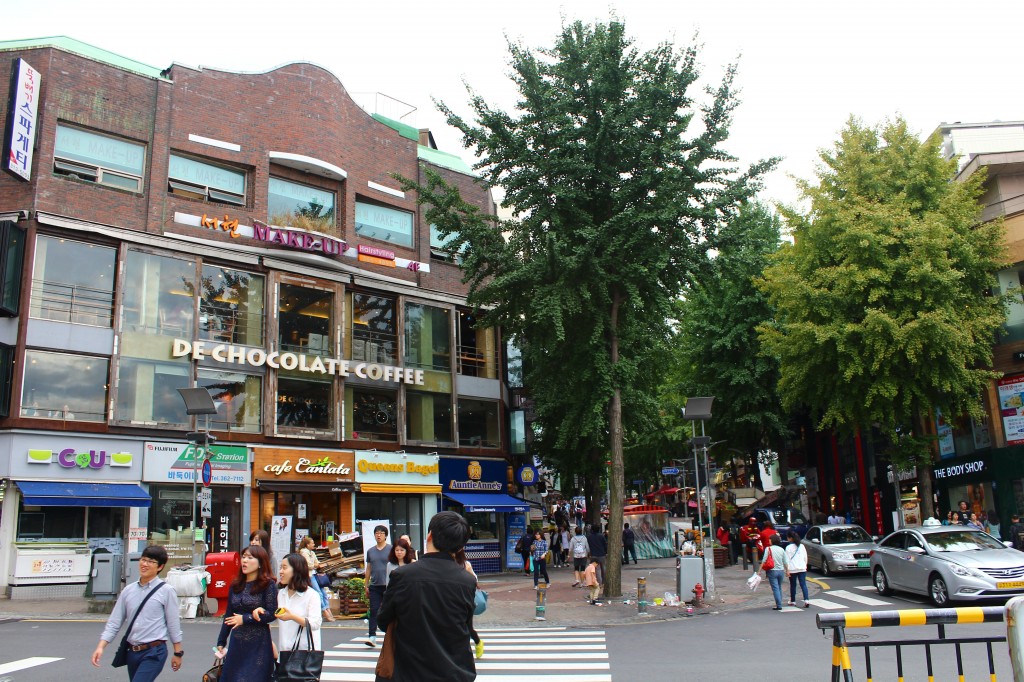 4. De Chocolate Coffee Cafe
Address: Ewhayeodae-gil (overlooking the entrance of Ewha Women's University).
How to get there: Ewha Women's University (Line 2), exit 3. From the exit, walk straight in the direction of the shopping district. You will come to a stop at the entrance of Ewha Women's University. The cafe is on the left.
What I like about this?
It's cappuccino has the thickest foam I'd ever come across. Great if you're a foam lover.  The story goes that while we were shopping along the streets of Ewha University, I had to use the toilet urgently after indulging in some really spicy army stew. Hence we popped by this place. It spans three floors, and the view overlooks the Ewha Women's University, which seems like a breeding ground for romance, with its castle-like architecture and bright-green carpeted grass.
This place has Wifi too.
* * *
5. O'Sulloc's Cafe (Myeong Dong)
Address: 47-1 Myeong-dong 1-ga, Jung-gu, Seoul, South Korea
How to get there: Take the metro to Myeong Dong station (Line 4) and head towards the shopping streets. You'll pass by it somehow. It's significant cos there's someone making green tea ice-cream outside for you to take and go.
What I like about this?
I love the green tea ice-cream, it's very smooth and you can tell it's a quality piece of work. My only gripe is the price – 6,000 won for a one big scoop of ice-cream, shared between me and Friend H. That being said, O'Sulloc's is one of Seoul's famous cafe chains – worth a try when you're there : )
Do you have other cafes in Seoul to recommend? Do drop a comment in the form below!