Five top shopping districts in Seoul for every type of shopper
Shopping in Seoul is amazing. You get a gamut of different goods for all kinds of budgets. There's basically any and everything for even the most reluctant shopper. A snapshot – head to Insa-dong if you're a lover of cute art and craft pieces, Myeong Dong if you're feeling rich, Hongdae if you're seeking a taste of Seoul's nightlife and Dongdaemun if you're a bargain hunter. Of course, there are street stores around Ewha Women's University for that little taste of Seoul's street culture.
My personal favourite would be Hongdae – the hustle and bustle, the huge coffee houses that never run out of seats, unlike in Singapore. It's just nice to be chilling out there, with the cool autumn breeze rustling up your hair as you trot along the streets filled with colourful lights, food and shops.
1. Insa-dong – Mr/ Ms Arts and Craft 
Insa-dong is the artistic side of Seoul, with its numerous art galleries, and numerous shops selling intricate, tiny little accessories like key chains, figurines and dainty little notebooks which make great gifts for that artistic friend of yours. If you're keen to getting small pouches with embroidery and silk fabrics, look no further than Insa-dong. Other than that, there's a gamut of eateries to keep your tummy well filled as you continue your shopping
Haggling is possible if you buy in bulk.
There is a small shopping mall along the streets of Insa-dong gil, but it's perpetually crammed with people. Head to the shops along the sidewalk – you'll get a better shopping experience.
For those with interest in beauty products and cosmetics, it's very possible to get that fix with a number of stores like Faceshop, Skin Food and Etude House opening up.
How to get there: Take the metro to Anguk Station (Line 3) Exit 6. You can return via the Jongno 3/ Jonggak stations which are on Line 1 if it's more convenient.
* * *
2. Myeong Dong – Mr/ Ms Rich and Sexy
I may be wrong but I think that Myeong Dong is the Orchard Road of Seoul. Things there are much pricier, including a scoop of ice-cream we had at O'Sulloc's Cafe. Other than that, it's brimming with retail stores with big international brands – think H&M, Gap, Louis Vuitton etc.
How to get there: Take the metro to Myeong Dong station (Line 4)
* * *
* * *
3. Hongdae – Mr/ Ms Cool and Hip 
Hongdae is not just a place to hang out, chill, have drinks and coffee, but also to do some shopping for apparel. There are a number of apparel shops that remain open until the wee hours of the morning – you get a variety depending on season. In October you get autumn wear, such as woollen sweaters, tights and boots on sale.
There is a cool store selling both female and male clothes – for guys shirts were going for 25,000 while jeans were at 18,000 won – see the picture below. Met a very friendly staff who didn't know much English but did his best to give me a recommendation on men's shirts.  And it was good.
How to get there: Take the metro to Hongnik University (Line 2)
* * *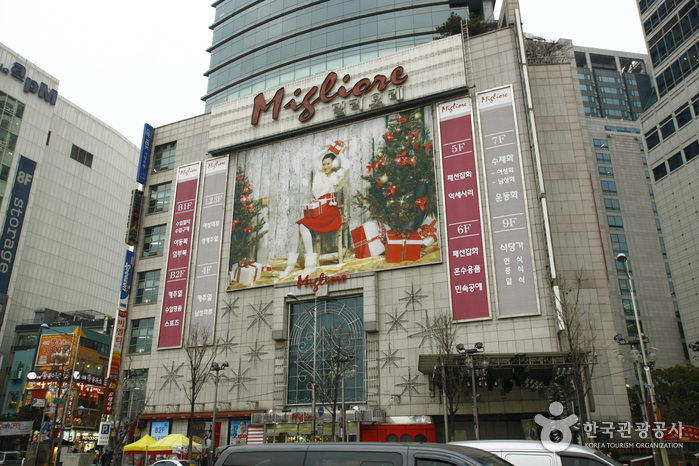 4. Dongdaemun Market – Mr/ Ms Broke, Bargain Hunter
I'm not saving that you have to be broke to be going to Dongdaemun (though I was literally broke). Basically you can get clothes here which are much cheaper than perhaps the rest of Seoul. The area is very big  and you get a variety of affordable and trendy youth apparel from malls like Miglorie Valley, Designer's Club, Nuzzon and Gwanghee Fashion Mall.
How to get there: Take the metro to Dongdaemun (Line 1/ Line 4)
* * *
5. Ewha Women's University – Mr/ Ms Twenties 
Ewha Women's University is a great shopping place for the young and beautiful. The clothes and shoes on sale there are very trendy, albeit slightly more expensive than those that can be found in Dongdaemun. Check out the pictures below!
If you have time, spend some time wondering about the Ewha Women's University school compound – it's quite beautiful, like a castle among the hills.
When you're tired from all the shopping, pop by one of the cafes along the street for a cuppa during a cool autumn's day.
How to get there? Take the metro to Ewha Women's University (Line 2)
Do you have recommendations on Seoul's shopping districts? Do share them in the comments box below.