Eating Army Stew in Seoul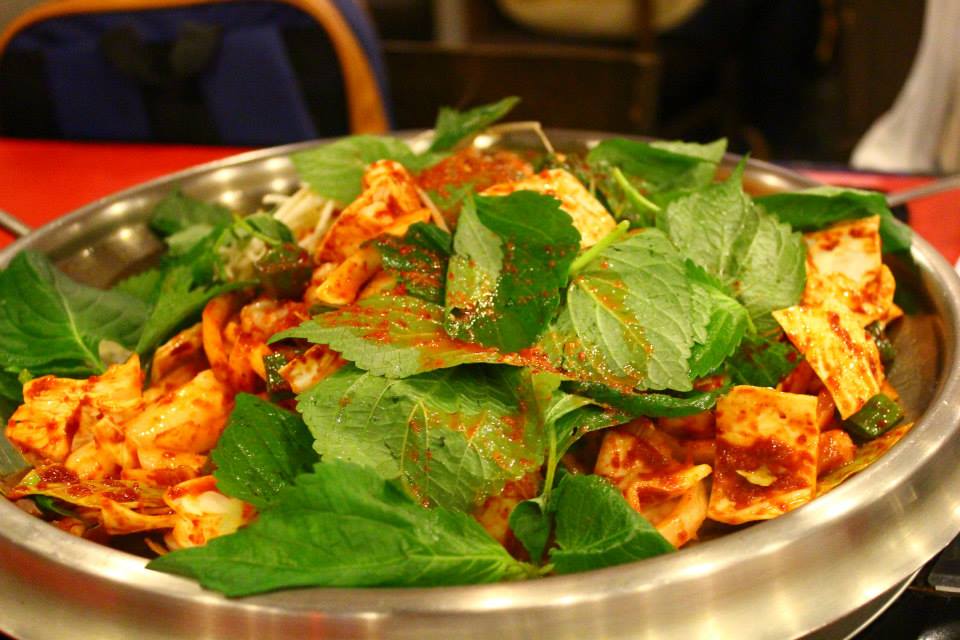 We were looking for lunch options at the Mecenatpolis Mall| 메세나폴리스 in Seoul, and stumbled on Nolboo Boodae 놀부 부대찌개 (http://www.nolboo-boodae.com). It's a 3 minute walk from the Hapjeong Subway station (Exit 10).
To be honest, I have never tried army stew from other restaurants in Seoul, therefore I'm unable to say if this chain of army stew is the best.
In case you're not familiar, army stew is a mixture of vegetables, luncheon meat, chicken/beef, maggi mee and Korean rice cake mixed into a large pan. The sauce they used was fiery (but you have the option for choosing one without the red-hot searing flavour).
According to Wikipedia, Budae jjigae (Korean pronunciation: [pudɛ tɕ͈iɡɛ]; lit. "army stew") is a type of jjigae (a thick Korean soup similar to a Western stew). Soon after the Korean War, food was scarce in Seoul, South Korea. Some people made use of surplus foods from US Forces Korea bases around the Uijeongbu area, Pyeongtaek area (also called Songtan)[1]or Munsan area, such as hot dogs, spam, or ham, and incorporated them into a traditional spicy soup flavored withgochujang (red chili paste) and kimchi.
The army stew, despite being fiery hot, went down very well with my taste buds. Thank goodness the restaurant had provided us with a large container of brown rice tea, which I down glass after glass trying to sooth the spicyness. I knew it wasn't the best for my mouth and stomach, but I just couldn't stop.
It's not the most healthy food to be eating in Seoul, to be honest. The pictures below reveal much chilli oil going into the cooking of this dish. As well as the amount of salt going into it. It's not the best for your stomach. (Make sure you head off to some place with a readily available toilet) after consumption.
It's also not the cheapest option of food you'll get around, but I think it's worth a try. The army stew we had was still much cheaper than those found in Singapore, and the side dishes are refillable. Portions are bigger too. We paid about 13,000 won (USD12.10/ SGD15.50) for the meal, while in Singapore you can expect to pay more than SGD20 / USD15.80 for a similar dish.
Most importantly, it's the bonding time you'll get over while cooking and eating army stew, and rushing to find the loo together, once the stew has digested. ; )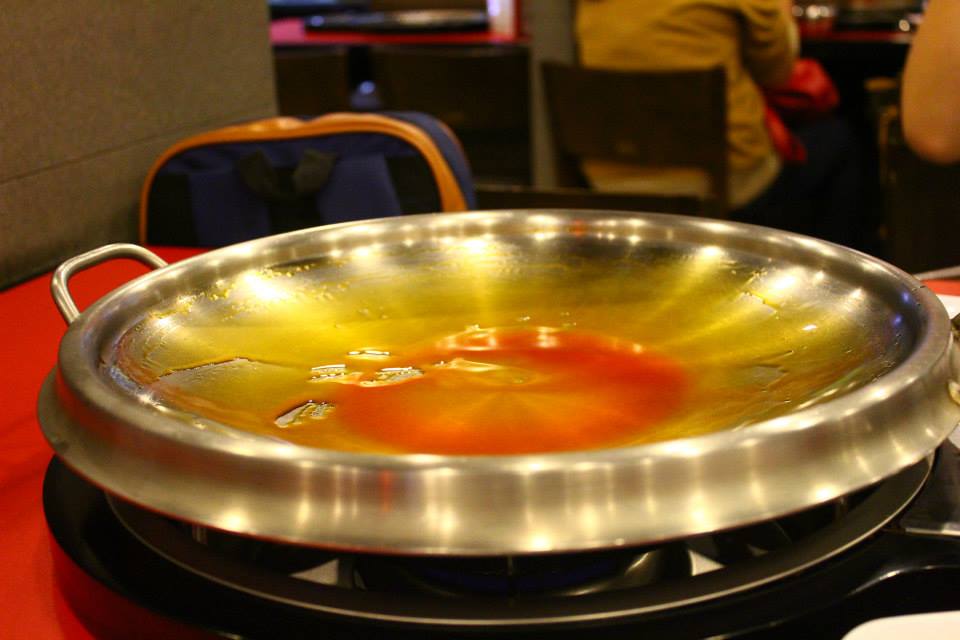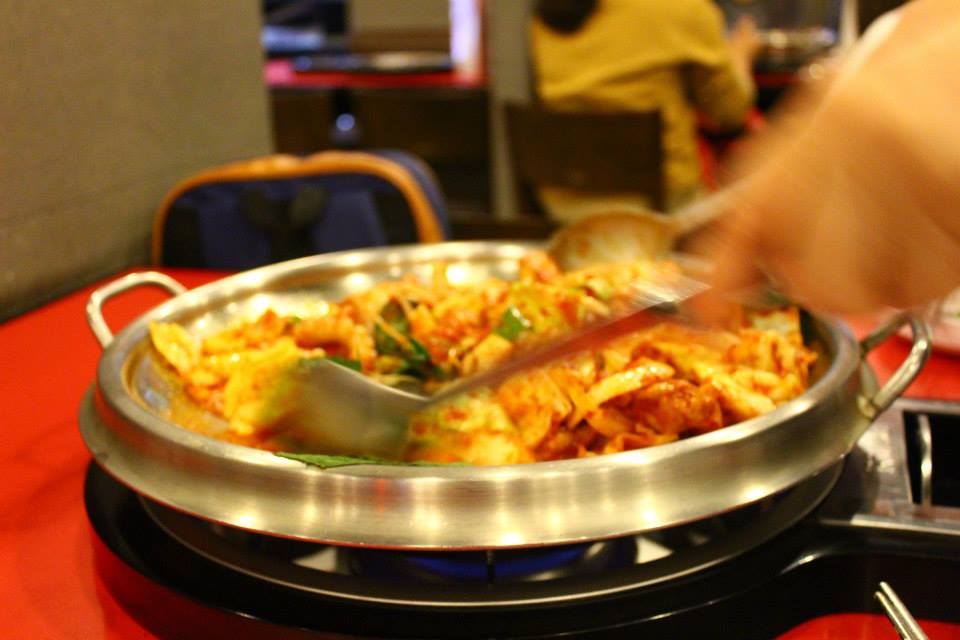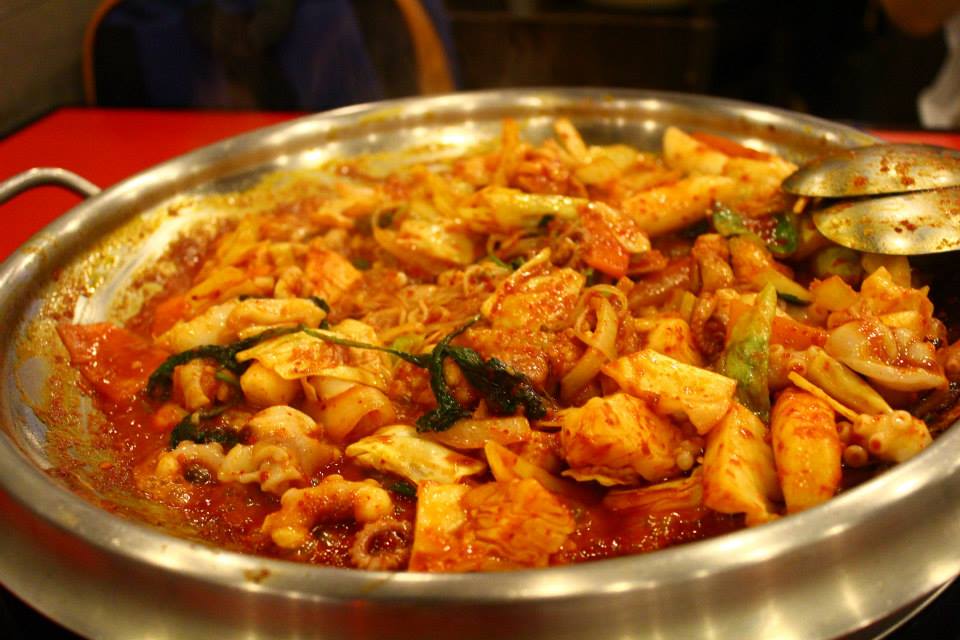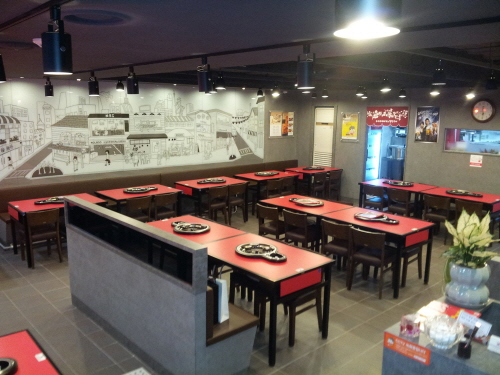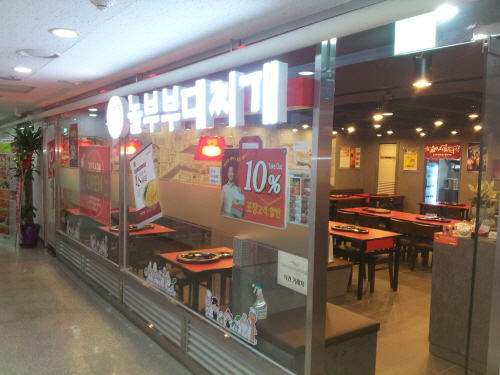 For more information on Nolboo Boodae in Mecenatpolis, visit: http://mecenatpolismall.co.kr/guide_b1.asp
Price: It was about 13,000 won per person. In other words, it's 26,000 won for two pax (that big pan). Don't think there was any service charge.
Address – B1-25
Opening hours: 10.30am – 10.30pm
*Editor's note: This is real embarrassing but a considerate reader has informed me that what I was eating it's actually the drier version of Army Stew, and there is a specific Korean term for it – Dak Galbi. In Singapore Chinese terms it's like "Meepok gan (Dry noodles)" For army stew fans, fret not, you can get still get your fix at this restaurant which serves up really good army stew too – judging by the happy patrons we saw at the shop.