The Squid's Book Club: The Delhi Walla Portraits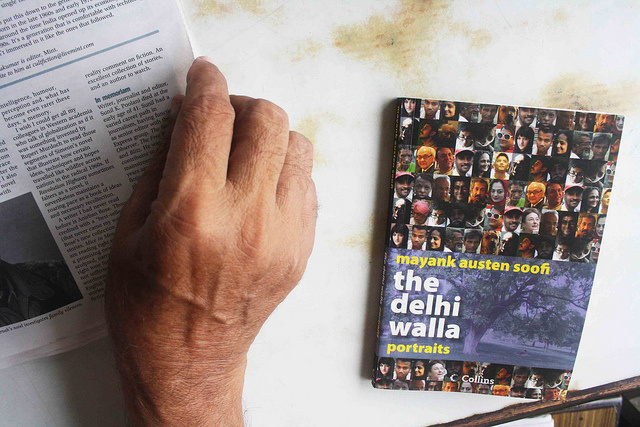 I was a big fan of the author's blog – The Delhi Walla some years ago, when I was living in India, close to Delhi. Every Friday, I used to consult his blog on the places to visit during weekends. I must say his blog is way better than a Lonely Planet. It showed me not just the famous places (and touristy traps) in Delhi, like the Qutab Minar or Khan Market, but brought me to the nook and cranies of Delhi, such as a Tibetan enclave, Majnu Ka Tila.
I would even go as far as to say, that his blog is quite inspirational. It removed my city eyes. In case you're wondering what that is, see below.
Salman Rushdie, in his book Midnight's Children introduces the concept of "city eyes". He says that , "When you have city eyes you cannot see the invisible people, the men with elephantiasis of the balls and the beggars in boxcars don't impinge on you, and the concrete sections of future drainpipes don't look like dormitories."
In essence, this refers to the pair of eyes that see a city on it's most superficial level – the shopping malls, monuments and perhaps poverty but omitting the finer details, such as the smiles of the inhabitants of the city and their way of life. The Delhi Walla sparked off my curiosity about everything, and everyone I saw. The old man standing inside the Parsi cemetery near Khan Market, the street beggars and even the sewage workers. I wanted to learn about their lives, and take their pictures.
* * *
I chose to feature The Delhi Walla Portraits , because it is the only book I own and it is his narrative of people who I find the most riveting. Be it the homeless man from Rajasthan or a charming and wealthy arts student from Delhi, I find those short stories very intriguing. One book cost about RS199 (SGD4.50 USD3.60) and he has a series of four which you can get it at an affordably priced RS599 (SGD13, USD10.50)
It's light, small and fits easily into the leanest of all Chanel clutches. Also comes in handy when you're taking a dump – there's no need to lug in the thick and heavy Shantaram or fumble with crispy broadsheet newspapers while in the loo.
That being said, I believe you have nothing to lose if you don't read the book. It's a good to have, not a must. Delhi drivers will continue to press their honks, Delhi men will continue to pee by the roadside, and children will continue to play by the great monuments of Lodhi Garden. But if you must, check out his blog – www.thedelhiwalla.com, there's a whole lot of content in there waiting to be chewed on.
* * *
I have met The Delhi Walla, once in person in 2009, while at the Daryaganj Sunday book market. He strikes me as rather aloof. It's a dilemma trying to figure him out, because he seems like the literature/ arty farty sort, the type whose mind is encapsulated in books and words, but on the flip side, he is very grounded, with his trusty DSLR clicking photos of beggars, paan wallas, hawkers and street children.
The Delhi Walla possesses the inquisitive trait of a journalist, but guards his private life jealously. As a foreigner in India, I remembered asking him some questions about religion (not knowing it was a sensitive topic then) and I received some awkward silence and then a swift change of topic. The only thing I learnt about him was his slightly strange belief that "sleep is a waste of time". Tell that to someone who loves taking four-hour afternoon naps – it's quite a travesty.
I have lost sight of The Delhi Walla as time goes by. It's been five years since my first trip to India. And in sunny Singapore, The Delhi Walla is no longer relevant. Will I find the famous author Khushwant Singh in Singapore? or Arundhati Roy Maybe but once in a blue moon. Will Singaporeans, whose holiday dreams comprise that of South Korea, Japan, Europe and America want to read his books? Not now. But maybe, one day, when I can finally convince them to visit India's chaotic capital, Delhi.