Tip: Why you should get a Halong Bay tour package from Hanoi 
If you're looking for affordable Halong Bay tour packages, I suggest you get them from hostels/ tour agencies in Hanoi rather than tour agencies from your home country.
A little research will tell you why. Essentially if you were to book the tour package in your home country, tour agencies based in your home country will in turn pay a small sum to the ones in Vietnam to get the bookings done. There's bound to be additional cost, given that the tour agency in your home country will want a cut as well, and it's definitely more than tour agencies in Hanoi.
It is not helpful especially if your home country is known to be a developed city-state, like Singapore. To book a Halong Bay tour in Singapore, you'll probably have to fork out more than USD279 /SGD 350 for a five-day tour of both Halong Bay and Hanoi. For the higher-end tours, you get it at USD179/ SGD225 per person for a 3D2N tour. This is not excluding other additional top ups such as tips and taxes.
In comparison to tour agencies and hostels in Hanoi, a large number of them offer a variety of packages, and you're able to embark on a tour within a day of booking, depending if it's a peak season and if the tour group has empty slots. (It usually does). Competition keeps the prices low, and you will be able to see for yourself if the tour company is popular with foreign tourists.  If it is, chances are the standards of hygiene and food are usually fine.
Do note that when it comes to Halong Bay tours, you pay for what you get.
We stayed at a decent hostel in Hanoi (The Drift Backpackers Hostel – now closed sadly), with our very own room. It was USD20 per night and the hostel offered packages to Halong Bay for USD 68/ SGD86 for a 2D1N stay on a Chinese Junk. (Prices may have risen due to inflation, though you should be able to get a package below USD80/ SGD100.
It is possible to make your way to the port of Halong Bay by public transport (10,000 dong), and you can buy tickets varying from 500,000 dong to 800,000 dong for (4 and 6 hr tours respectively, according to Wikitravel. However, I think getting to the port is too much of a hassle and you will be better off getting a Halong Bay tour package from Hanoi instead.
Three key considerations to getting a package are the following: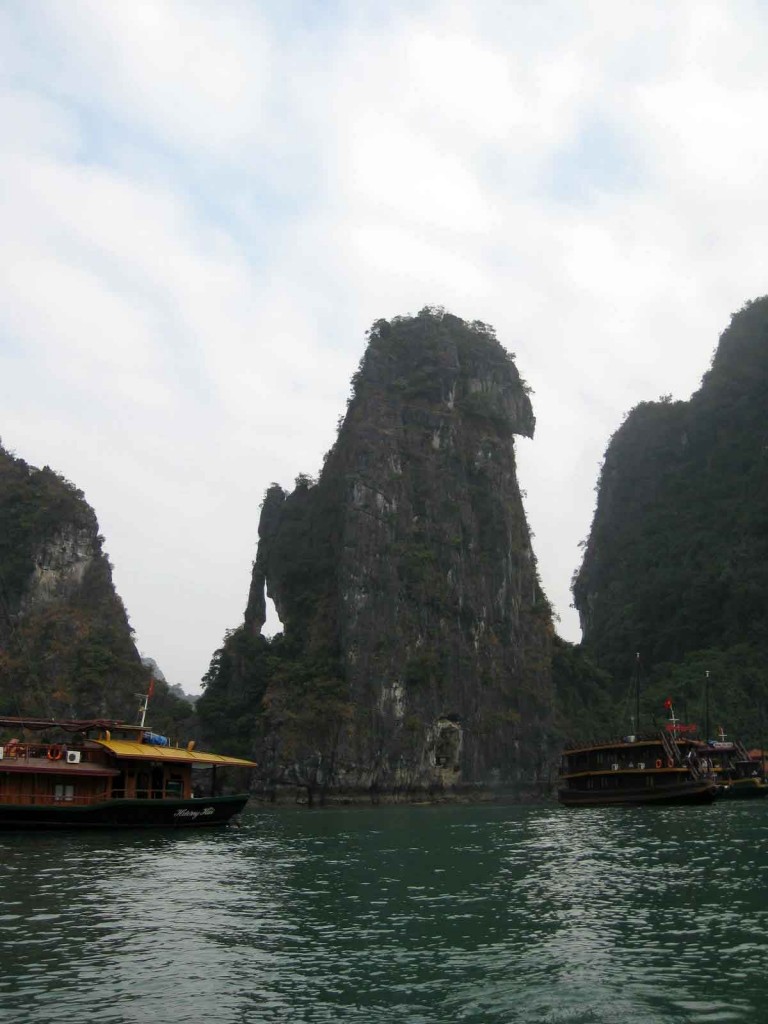 1) Duration
Have a clear idea of how long you intend to stay. You can get a day tour for about USD60, though I strongly recommend a night's stay on the Chinese Junk. It's not the most comfortable, and there are no shower facilities in the junk (unless you get a really pricey one), but it's a stay to remember nonetheless. Do note that during our 2D1N stay, we had lots of free time, especially when it turned dark. The night was mostly spent karaoke-ing – yes they had such a function at the restaurant, enjoying the starry sky on the deck amid the cool breeze and having a heart-to-heart chat with friends.
2) Place of stay
Request to see pictures of the junk and do some research before booking the package. You can always see the pictures and make a decision later.
3) Activities
Some packages offer kayaking, visiting special caves, and swimming (not advisable as the waters are not the most clean of all.) If any are on your to-do list, make sure you ask about them before making a booking.
4) Food
If having good food is a must, check out what food is served on the Chinese junk. You pay for what you get. If you're paying less than USD80/SGD100 for a 2D1N stay, chances are you're probably get simple dishes of rice, vegetables and meat. And maybe a springroll making lesson. (See the upcoming post on our stay on a Halong Bay cruise.) Don't be worried about not bringing enough food on board – a river hawker will come by in her small boat to sell you groceries. She sells Oreos, Pringles and instant noodles, perfect for that overnight supper (See above photo). Prices are slightly on the high side though.
Have you been on a Halong Bay tour? If so, do share your experiences. Hope the tips have helped and feel free to drop a comment if you have any questions.
Stay tune for the next post on an account of the 2D1N day onboard a Halong Bay cruise.