Top recommended driver in Bali – Kasa Made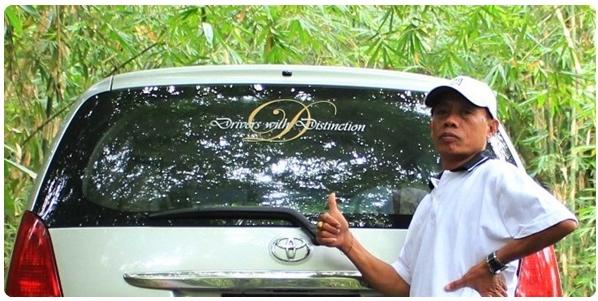 If you're thinking of doing a trip around Bali, or to the less touristy areas, I would advice hiring a driver, especially when you're travelling with a big group of friends.
That's how we got to know Kasa Made. We were travelling in a company of eight for our graduation trip. We had heard from friends about the Gitgit Waterfall and the Pura Ulun Danu Bratan Temple in North Bali and wanted to check them out.
Rates
The rates quoted to us back then was IDR450,000 (USD48 , SGD38) per day. It has been about two years, so be prepared to pay something along the likes of IDR500,000 (USD43, SGD53) for a day if you have a company of six.
If you have 8 people who needs more 'physical' space, you could get a van. The price will be about IDR700,000 (USD74, SGD60). If you don't mind squeezing, (we are rather skinny people), we managed to fit eight of us into a car meant for seven passengers.
We were initially introduced to another driver, Norman (baliwithnorman1974@yahoo.com), but unfortunately he was busy and introduced us to his friend Kasa.
Our experience with Kasa Made was great. Here are four great reasons why Kasa Made makes it as the top recommended driver in Bali:
1. Punctual
Kasa was very punctual. Unfortunately for him, we were not as punctual. I believed we made him wait more than 20 minutes one morning. He offered to pick us up right from the doorstep of our hotel in Kuta, so that was very convenient.
2. Nice and flexible
We had initially engaged Kasa Made's services for two days. But at the end of the first day, we decided we wanted more flexibility to do our own stuff – water sports and massage. And we told him that we would not like to engage his services on the second day. Kasa was nice and polite about it.
We had eight people and Kasa Made made it possible to fit eight of us into a seven seater. That's added brownie points!
3. Knows his stuff and can speak decent English
Kasa brought us to all the right places – the ones that had the best views. (Check out the upcoming post on places to see in North Bali). Even the lunch place he brought us to had a great view of the hills and mountains.
Kasa Made can speak basic English, so we did not have too much of a language problem. We also liaised with him in English over email, when planning for the trip.
4. Honest and reliable
In all, we found Kasa Made to be like his company slogan, 'a driver with distinction'. He's down to earth, here's what my Friend S said about him.
First off, THANK YOU SO MUCH for your services! We had a TOTALLY AWESOME TIME with you last week. I am sorry we didn't engage you for Saturday in the end, but all of us wanted to do different things, so in the end we split up, and it didn't make sense to get a guide for just 2 or 3 of us. 

I am not kidding when I say that day was one of the best times I've had in my life, and the places you took us to are hands down the most beautiful places I have EVER been to. Especially considering that I totally wasn't expecting to go anywhere nearly that scenic, I thought at most I would visit a few temples and spend a lot of time at beaches or souvenir shops. Boy, was I pleasantly surprised!!

You can rest assured that if I have any friends who are planning to go Bali, I am DEFINITELY going to recommend your services to them. I wish you and your family all the best, and once again, and on behalf of all 8 of us, THANK YOU VERY MUCH FOR AN AWESOME TIME!!!
To contact Kasa Made, you can email: kasa_made@yahoo.com
He has a blog too! Check out: http://kasamade.blogspot.sg/
Have you hired a driver in Bali before? Do share your experience.