Six things to do at The Kauppatori Market in Helsinki
If you're looking to spend a lazy day chilling, watching the birds, the sky and the deep blue sea, the Kauppatori Market might just be the place for you.
Kauppatori is widely known to tourists as the place to board the ferry to the Sea Fortress of Suomenlinna. But there are other things to do there, besides booking your ferry tickets.
Here are the six things to do at The Kauppatori Market in Helsinki. (I have included booking ferry tickets as well just in case you're interested to know how it is done).
1. Book your ferry tickets to Suomenlinna
That can be easily done via the ticket machine, so you don't have to queue too long. It's good to have small change or else you will get back lots of coins instead. There's an English option, so don't worry. It costs €5 for a return trip.
Something caught my eye – The barriers are manually operated without sensors – meaning no one checks your ticket. It goes by a trust basis. That being said, if you get caught the penalty is €80.
2. Have a morning coffee
Some shops open early, at 8am in the morning in the summer. Now that you're done with the ferry ticket booking, you can get your coffee fix there. Pastries are on sale if you are keen on a light breakfast. It's nice to be there early in the morning – it's not so crowded and you get to watch the day go by at a much leisurely pace.
3. Take in the awesome view
Are you into yachts, boats and sea views? The view at Kauppatori can be quite breathtaking. When we were there, a sailing ship docked at the harbour, with a ferris wheel in the background. It was nice. Things 2) and 3) can be done together.
4. Get your berry fix
When we were there, there were all sorts of berries being sold – blue berries, strawberries, blackberries, you name it, they have it. They also have this interesting looking green beans – I'm guessing you got to have a stove to be able to cook them up.
* * *
5. Have a Mediterranean Platter seafood lunch
If you're looking for something slightly more affordable and substantial to fill your belly, there's a seafood grill place at the Kauppatori Market that is really quite impressive. I'm guessing it's good by European standards because people from all nationalities – French, Spanish and some Japanese and Chinese eat there. It's a United Nations out there at this seafood grill.
The prices are less steep compared to restaurants, though I would say it's a tad more expensive than in countries like Spain, perhaps because it's a Scandinavian country.
It costs us about €11-€13 for a seafood platter, which comes with free flow of coffee. Hurray! The portions are big for us, Asians.
For my Mediterranean Platter, it comes with small crispy fish, deep-fried Calamari (my favourite!), small really yummy potatoes and grilled vegetables. We did not have proper breakfast so this was godsend.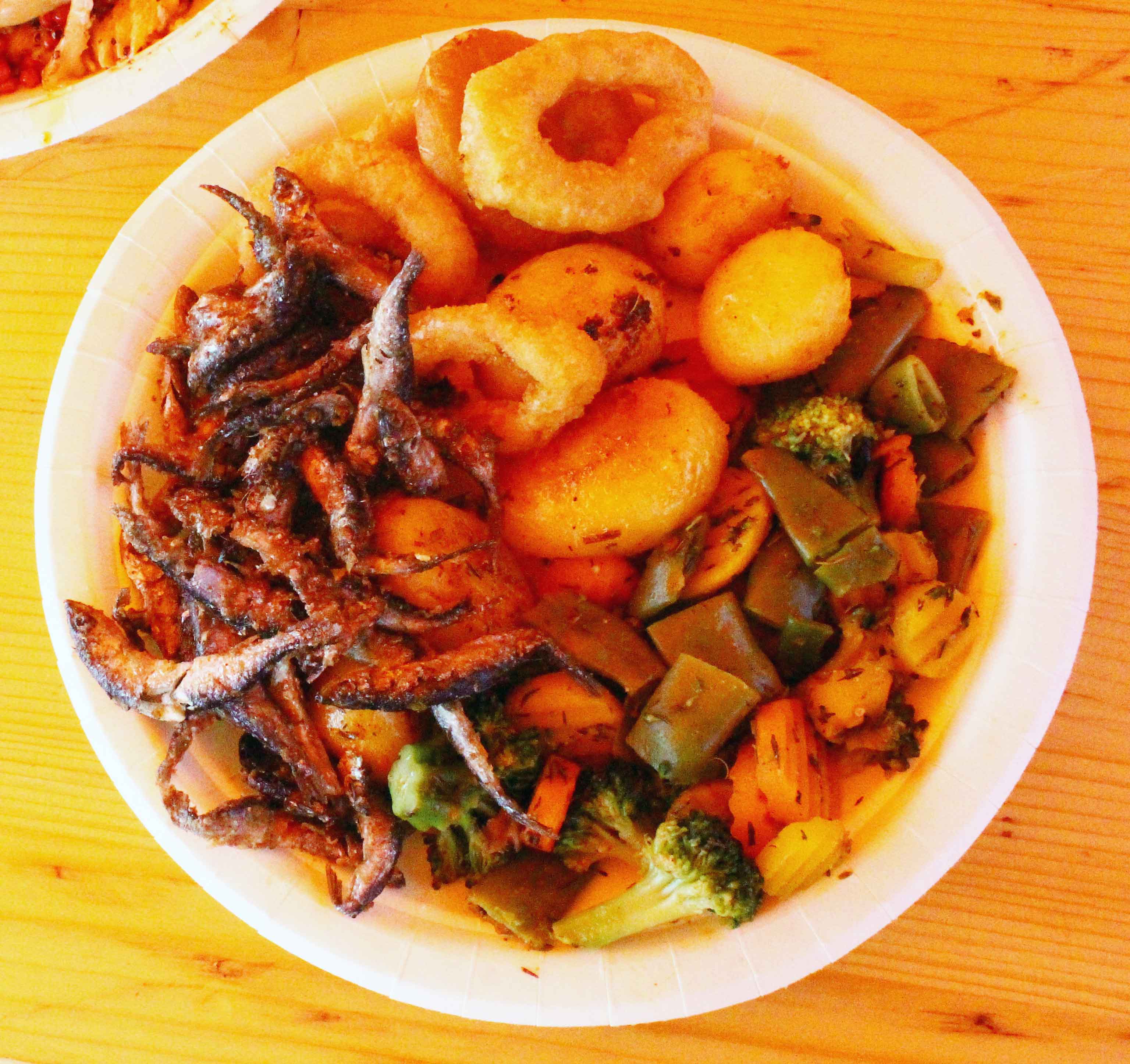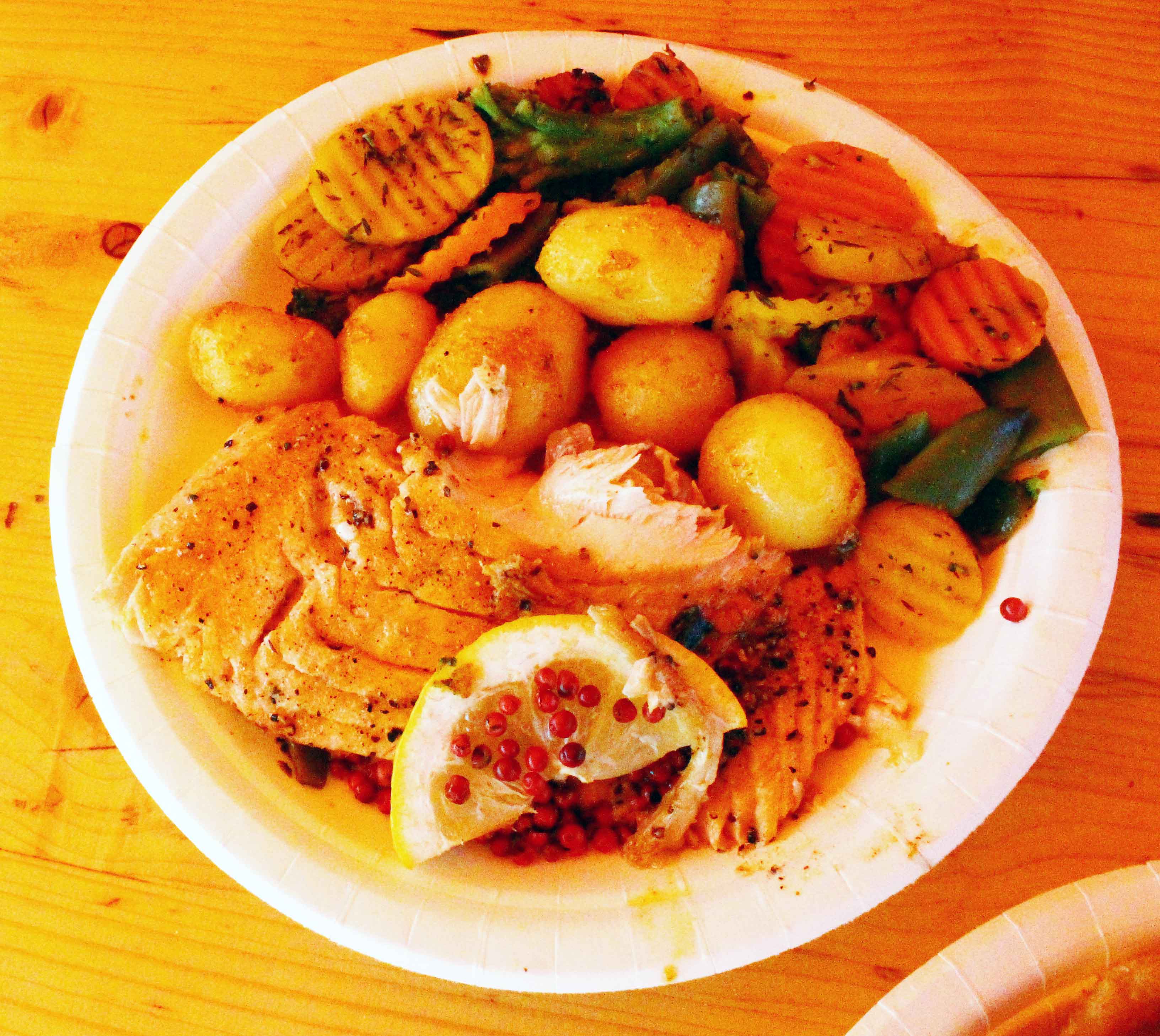 * * *
6. Buy Finnish Souvenirs
I didn't actually intend to buy the souvenirs, because Finland was the first stop on my three-week journey. That's why I did not enquiry on the price. But I think it would be cheaper than those found in shops, if you were to bargain a little.
There's a broad range of items – from little trinkets like keychains, magnets and bells, to towels and even aprons depicting the Finnish flag and woollen scarfs and hats (they must not be doing a roaring business given the summer's heat out there).
The Kauppatori Market in Helsinki, while smallish compared to the big seafood markets in European cities, can be an enchanting place to indulge in moments by the seaside, while enjoying a good cuppa and some really awesome seafood.