10 interesting sights to see at Barceloneta Beach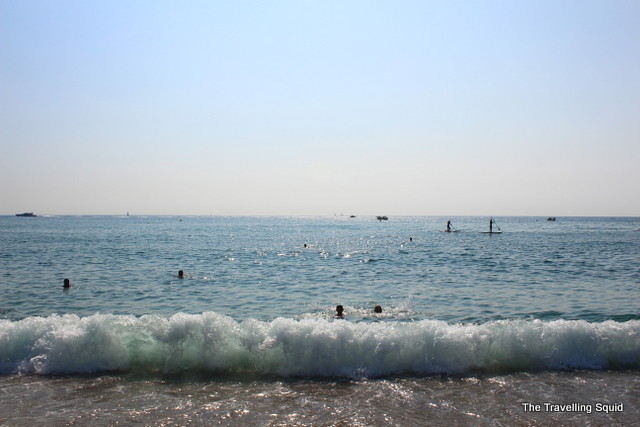 The Barceloneta Beach is the first beach I visited in Europe. And I really enjoyed it. Never mind that I was over-adequately dressed for the occasion – think T-shirt and shorts when the rest of the world were in bikini tops or perhaps for a minority, without those as well.
The Barceloneta Beach is so vast, that despite the summer crowds, it's very possible to find a place to yourself. Just avoid areas with yellow flags – there have been sightings of jellyfish.
Now coming from a land with 365 days of summer – Singapore, it was quite hard for me to see why there were thousands of beach-goers lazing out in the summer's heat, while I was applying a copious amount of sunblock to avoid getting more freckles and a deeper tan. But the walk along the 1.1km stretch of beach was rewarding. I had a glimpse of Spanish culture – and I think I can understand, why they love the sun so much.
Here are 10 interesting sights to see at Barceloneta Beach – remember to keep your eyes opennn…
1) W Hotel – something to admire from far
When I saw W Hotel from afar, I did have some crazy thought of booking a room there, waking to a Mediterranean sunrise while lounging in my private jacuzzi. And the fact is, I probably could afford staying one night at W Hotel, if I were to survive on bread and kebas for my entire Europe trip. But do I want to do so? I don't think so.  I'll save that for my Zara purchases, and for Spain's best paella, seafood and good wine.
As for W Hotel – it's something nice to admire from afar.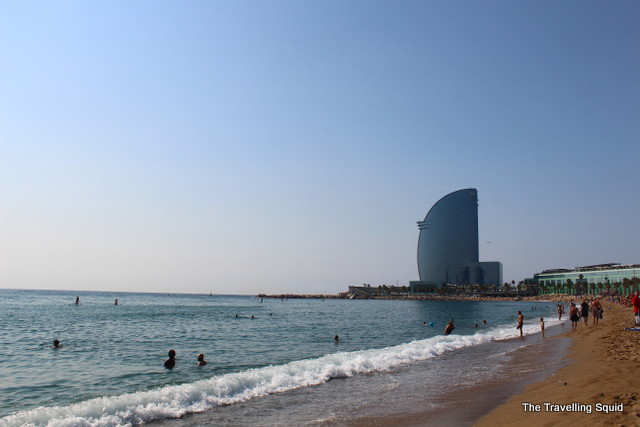 * * *
2) Middle-aged men playing beach volley ball
In Singapore, beach ball playing tends to be limited to fit youngsters in their twenties. But in Barceloneta, it's not the case. Men who were more than 50 years of age were seen doing their 'thang' on that beach. Topless. Never mind that they had a bulging tummy or saggy skin. The beach was theirs and they were there to have fun.
* * *
3) The sandcastles of Barceloneta
When we were there, Titanic had washed up the shores, and so was that of a cross. It was really sad to see it been destroyed by half. It's a work of art really, albeit its temporary nature.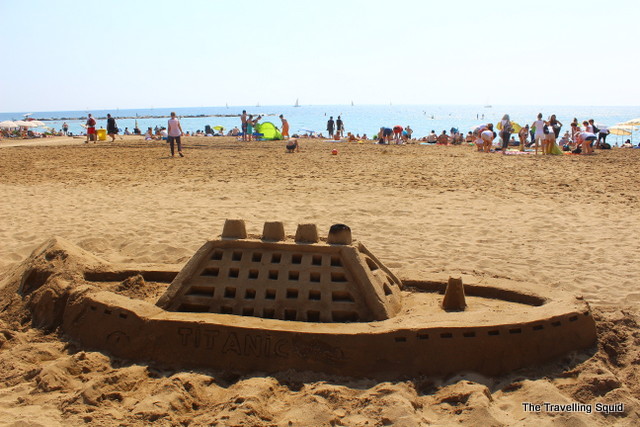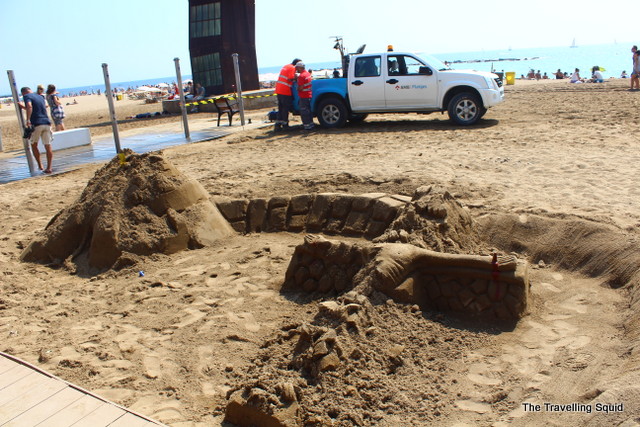 * * *
4) Yellow flags – warning of the presence of jelly fish in the area
This is not exactly a sight, but yes, a warning. Yours truly had been the victim of some really vicious jellyfish bites some years ago in Australia. Thankfully, history did not repeat itself. And I think I might have captured a photo of the jellyfish. It does look like a silicon cup in all honesty.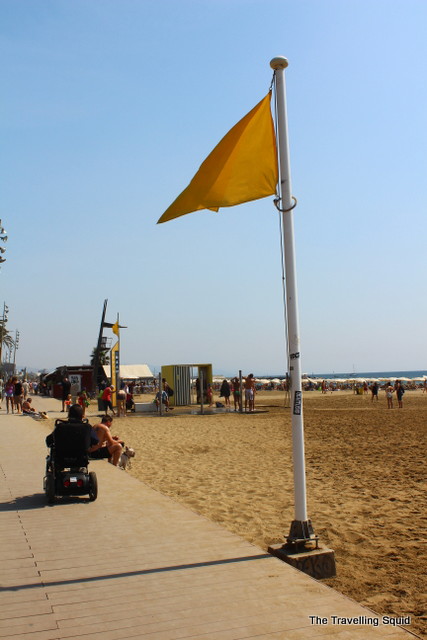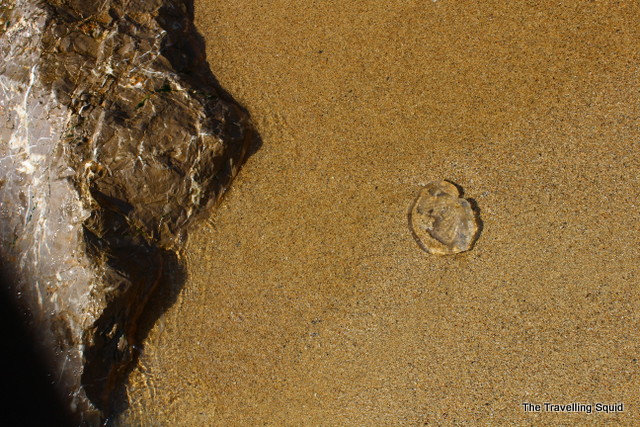 * * *
5) Middle-aged men playing chess, or what looks like it
Just in case you're wondering, I am not stalking middle-aged Spanish senors. It's just that their activities intrigue me. Back in Singapore, middle-aged men play chess at the bottom of their high-rise flats, but in Spain, such 'chess' sessions are conducted on the beach. Pretty cool huh.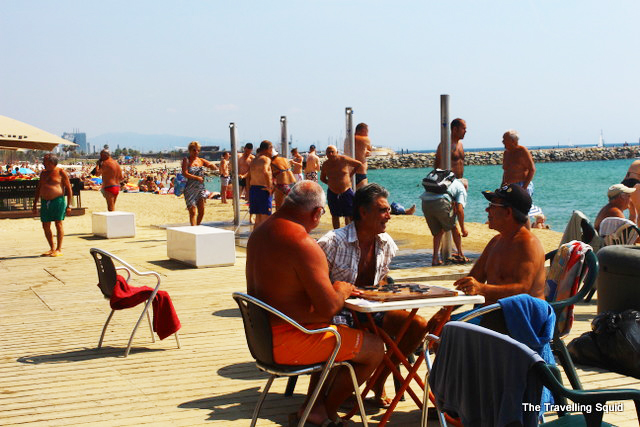 * * *
6) A Juice bar to quench your thirst
This is not that interesting a sight to be honest, but it will come in very handy when you're on the lookout for some liquid to quench your thirst. Alternatively some beer will do the trick too.
It is also a nice chill out place to meet young people, if you know what I'm saying. ; )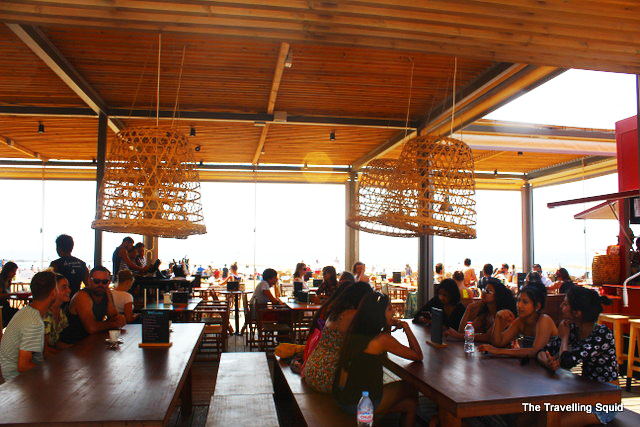 * * *
7) An advertisement flying across the sea
As an ex-Business student, I wonder how effective is this advertising method going to be. To be honest, I don't see people picking up their phones making calls after seeing this. And the cost of renting the plane and the services of the pilot would be quite high as well.
But it would make for a good wedding proposal me thinks!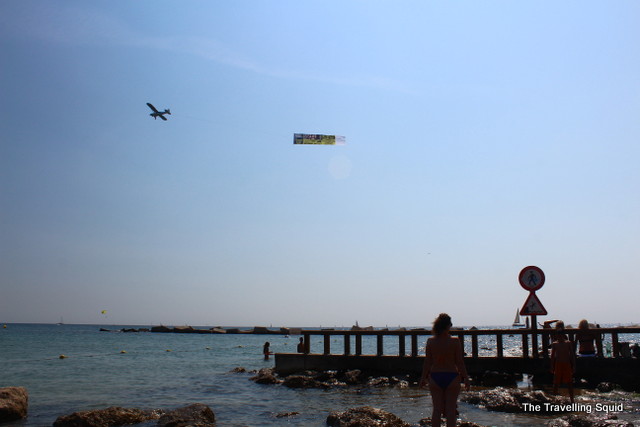 * * *
8) Hunks doing chin-ups
If you're on the lookout for some muscle power, Barceloneta's exercise area is the best place to be. Facing the sea, it's located on the far left of the beach, near the jetty. See the photo and you'll know why.
If you're keen to look on, simply set up your beach mat somewhere near, where you could have a good view of the ongoings.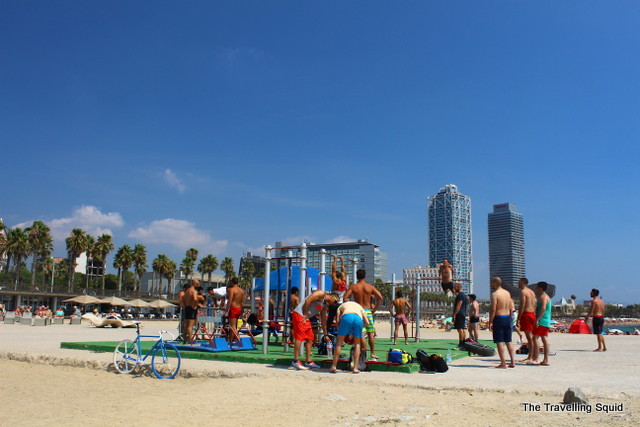 * * *
9) Dog attempting to eat a crab
Thought I'd add this in, because this is the first time I have seen a dog being as equally attracted to crabs as how Singaporeans would be the chilli crab dish. Despite its sharp pincers, this dog was fearless in its pursuit. Not sure if it was playing with the crab, or wanted to gobble it. Thankfully the owner separated both the crab, and the dog.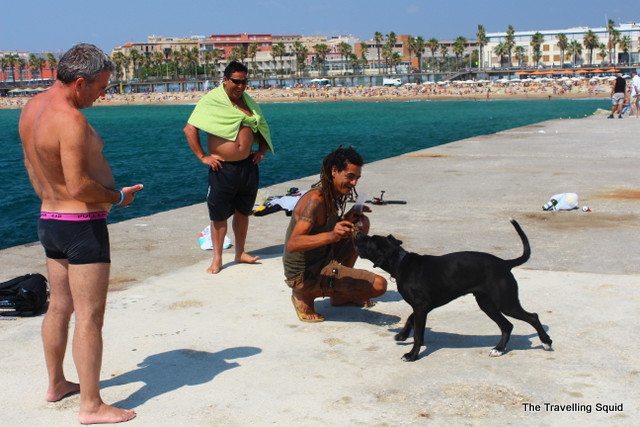 * * *
10) The breakwater, an unlikely yet perfect spot for chit-chatting
On a breakwater decorated with designs you would find in hipster cafes, he sits there. Cross legged as he talks about the day's news with his friends. Behind him lies some clothes and bags, possibly jamon sandwiches made for lunch. This is his very own chill out place – the breakwaters of Barceloneta.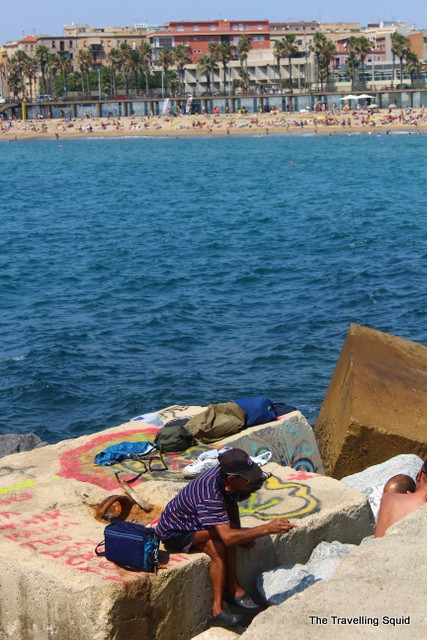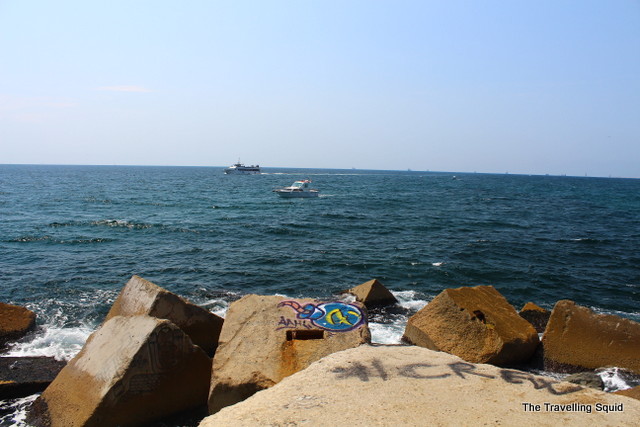 Hope you enjoyed this post, and stay tuned for the 'Top eight things to do at Barceloneta Beach in summer'.
Have you been to Barceloneta beach and discovered some other interesting sights? Do share them in the comments section below.