6 nifty transport tips on how to get around Barcelona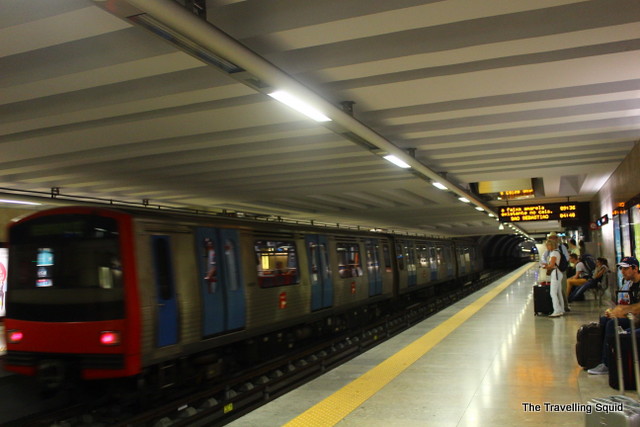 Getting around Barcelona can be quite a breeze, with the metro reaching the doorstep of every major attraction. That being said, these nifty transport tips on how to get around Barcelona will help you get from one place to another, in the cheapest and fastest possible way.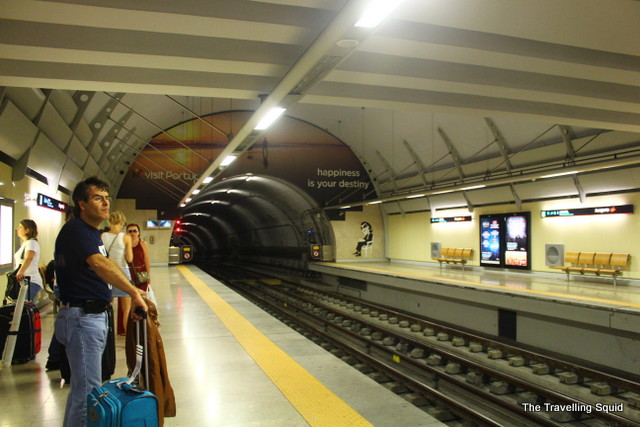 1. Take a train from the airport to the city
If your flight arrives at T1 or T2 of the Barcelona airport, the most affordable way to get downtown is to take the Renfe train. The train arrives 30 minutes and calls at several major train stations including Sants (travel time is 18 min), Passeig de Gràcia (24 min), El Clot-Aragó (30 min).
From T2, there are signages which will point you in direction of the train (Renfe). You're have to walk pass an overhead bridge (located near Section B of T2) to reach the station. The walk takes about 10 minutes.
If you're arriving from T1, there is a connecting bus service which takes you to T2B. Plan for an extra 15 – 20 minutes of travel as it can get crowded especially during peak hours. If you have a flight departing from T1, I suggest you buffer in an extra 20-30 minutes for travel as the bus can get pretty packed at times.
A single ticket for the train is €4.10 (April 2014), but you can also buy the awesome T10 travelcard (€10.30 for ten trips over any period of time); which bring me to the next point.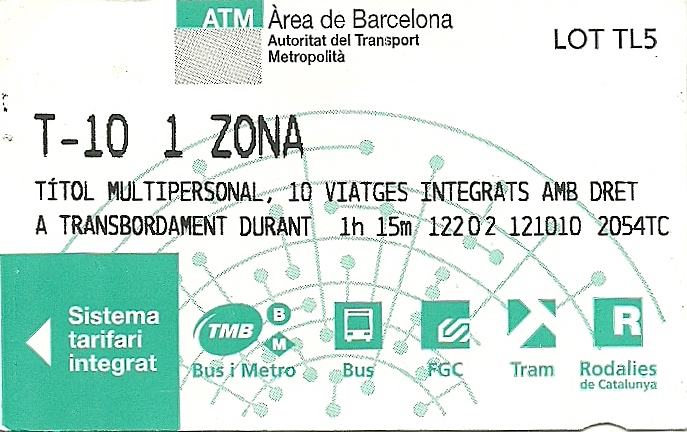 2. Get a T10 travel pass
The T10 is the most economical pass to travel in Barcelona. It costs €10.30 for ten trips over any period of time, (and each of those trips includes 3 bus, metro, train or tramway transfers made within 75 mins). Tourists are unlikely to make that many transfers, so it works out to an average of €1 per trip, making it very cost-effective.
If you're heading to the suburbs to visit friends, the T10 may not cover certain areas, and you may have to pay an extra fee when  you arrive at your destination.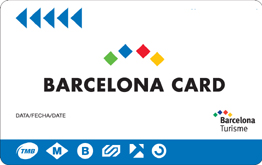 3. Is is worth it to buy the Barcelona Card?
The Barcelona Card offers unlimited free travel on public transport and free admission and discounts for about 100 visitor attractions. The card is available for purchase for periods of between 2 and 5 days, costing €34.00 for a 2-day card and €58.00 for a 5-day card. Do note that the Barcelona card is valid on consecutive days, not 24 hour periods. Eg. If you activate the card on Monday afternoon, it will expire on Friday, 2359.
The Travelling Squid's take is that it will be good to check out the discounts available. There is a variety of discounts for museums, restaurants and shops. If you don't intent to visit that many museums or restaurants on the list, it is more affordable to buy transport-specific tickets like the T10. The Barcelona card also does not cover 'fun' transport options like cable cars and funiculars.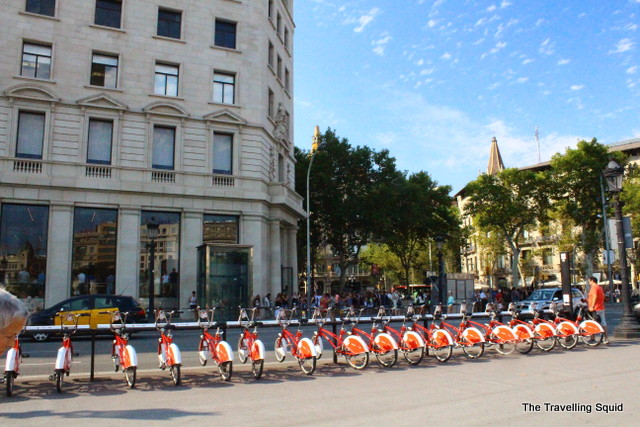 4. Cycling in Barcelona
'Bicing' is a bicycle borrowing scheme for local Barcelonians only. It is similar to the concept of rental bikes (park and drop) in other cities, unfortunately tourists are unable to rent city bikes. Residents register online to get a membership (€45.11/ year) which allows them to borrow bicing bicycles for 30 mins to 2 hours. If the bike is not returned to the next stop for more than 30 minutes, the user will be subjected to a charge and a penalty if it is not returned within two hours.
Nonetheless, if you are really keen to cycle, there are smaller operators that offer bike rentals for visitors. Born Bike, BCN and Rent A Bike are some companies that offer rental bikes at central areas, and even guided tours on bikes. The price ranges from €6 for 2 hours, to €15 for a day.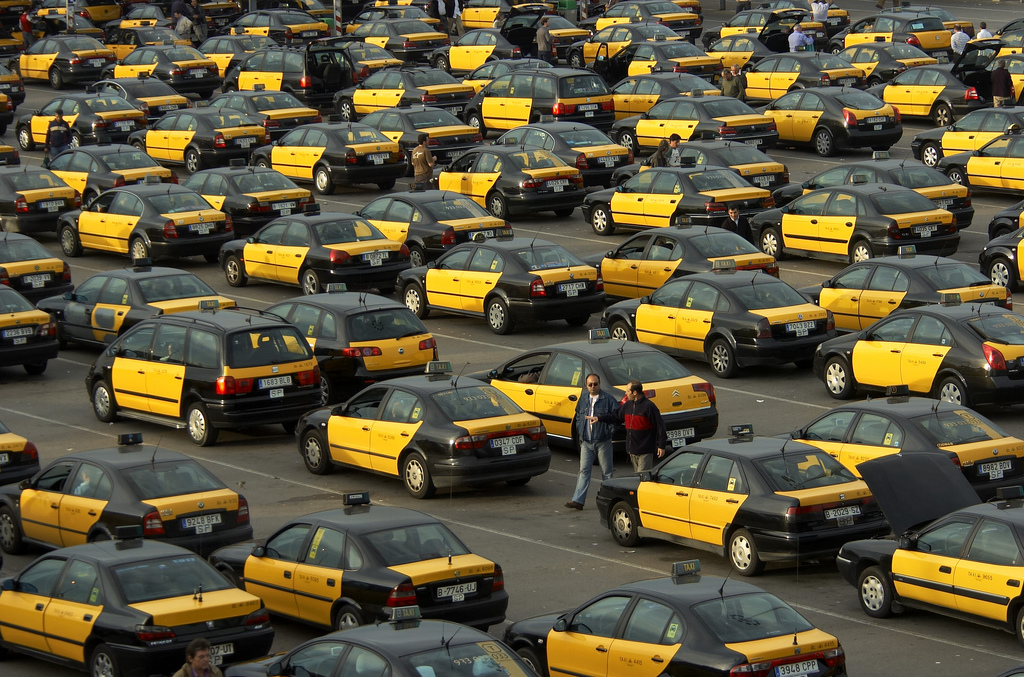 5. Avoid taking taxis, especially in central Barcelona
Many travellers have reflected that traffic conditions can get quite bad, especially in central areas during morning and evening peak hours. Therefore public transport might be the most fastest and cheapest way to get from one place to another. If you really have to get on a taxi, it should cost you about €10 for a 15-minute drive. (Source: Tourist Guide Barcelona) There is only one type of official taxi in Barcelona and they come in yellow and black (see photo above).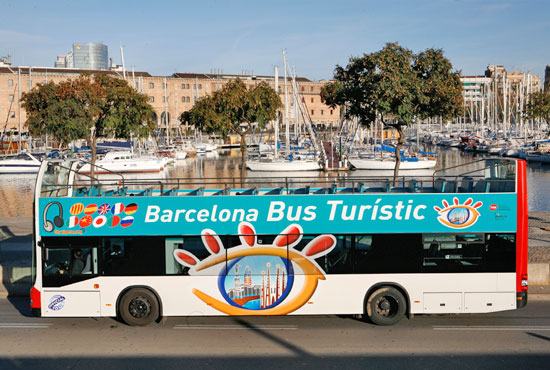 6. Sight-seeing tour on Barcelona tourist buses
If you're a fan of sight-seeing tour on buses, Tripindicator.com is offers a good resource in terms of the Barcelona Hop On Hop Off Bus. The website has a table which compares the options available.
For example, Barcelona Bus Turistic links up all the tourist sites that could be of interest, and the hop on/ hop off format lets you get down anytime you want and hop on later or at another stop.
Like many tourist buses overseas, they have an open top which is good for photo-taking. When you first get on, you will be offered earphones. The audio outlets near every seat let you choose among many languages and playback volumes. As you approach each significant location, you receive audio describing it. You can buy tickets at the bus stops and at major hotels – these tickets are valid for one day (€27, April 2014) or two consecutive days (€35, April 2014).
An example of some sites along the red line are: Estació de Sants, Port Vell, Museu d'Història de Catalunya,  Barri Gòtic and Plaça de Catalunya.
The Travelling Squid's take is that if you have a limited time to spend in Barcelona and have a list of places to cover within a short time span, this may not be the best option for you. But if you will be keen to listen in on Barcelona's history and culture, the tour may be quite effective.
With credits to: Wikitravel Barcelona and Barcelona Yellow for the information here.