10 things to love about Lisbon
If you think that Lisbon is a typical European city, with grand monuments, nice cafes and historical museums, you're probably right. But Lisbon is more than just that.
Lisbon was the second city I visited during my 3-week trip around Europe. Coming from Barcelona, food, wine and accommodation in Lisbon were not only much easier on the wallet, but the sights did seem to be more interesting and memorable at the same time. To me, Lisbon felt a little more quaint, comfortable, and seemingly cut off from the pressures of everyday life – think highly driven workers out-walking you at breakneck speed during morning and evening peak hours.
There was not much of that. Maybe it was because I had visited the touristy areas. But people seem to take life a little more easier. You could just imagine the Portuguese having long breakfasts, sipping a cappuccino while soaking in the atmosphere of a summer's morning, while enjoying the view of gifted pigeon taking a sip from the antique fountains.
Here are The Travelling Squid's list of 10 things to love about Lisbon: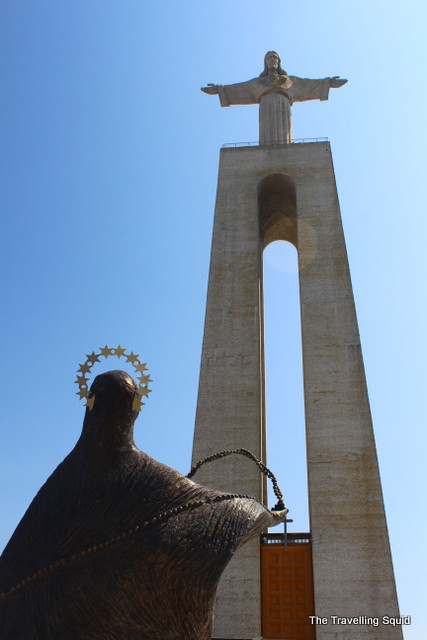 1. Cristo Rei that takes your breath away
While the Cristo Rei is about a third the size of the one in Brazil, it's still quite a grand sight nonetheless. It cost a hefty €5 to take the lift up to the top. The reason why I found the lift charge expensive is because the lift is not of the high-tech sort. If someone had asked me to pay €5 to take the lift to the 50th story of Singapore's Marina Bay Sands Sky Park, I would have understood. But this lift was a little dingy and slow. That being said, when the lift doors opened, the view was quite amazing. And it's the only thing that will get you up there, to tremendous views of the 'Golden Gate' bridge, so you don't have much of a choice.
To be honest, the best photos of Cristo Rei are not taken at the feet of the statue, but from afar where you can view the statue in its entirety. From the feet of Cristo Rei, photos of the 25 de Abril Bridge are a must.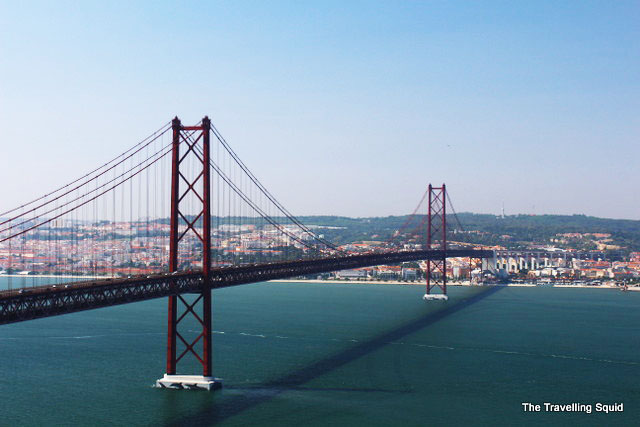 2. 25 de Abril Bridge which resembles San Francisco's Golden Gate
We took a ferry to visit Cristo Rei, but driving up can be quite an experience,  especially on a super cool bridge like that. From Cristo Rei, the view is just perfect for a shot.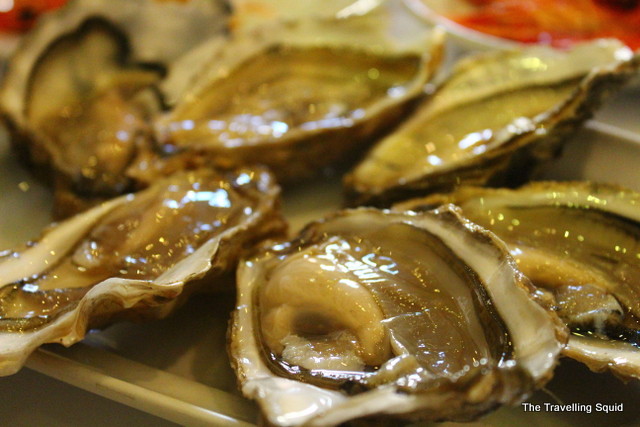 3. Awesome seafood at Cervejaria Ramiro
I live in Singapore, a tiny island surrounded by water. I am also blessed with the opportunity to indulge in seafood of many varieties. But I was not prepared for what lay ahead for me at Cervejaria Ramiro in Lisbon.
The prawns were so fresh and my favourite was the hairy crab – it's called hairy crab for a reason. There were literally fine crops of hair on the pincers, and the crabs came with little black finger nails.
Nothing could beat the little marble hammer they provided us to pound open the crab shells.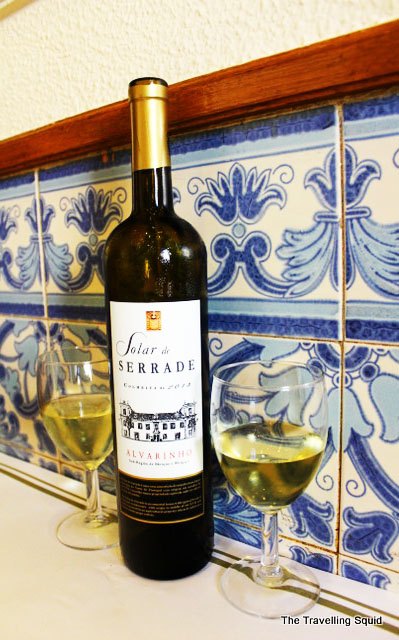 4. Great wine at affordable places
The wines were so good and affordable. We opened a bottle at several restaurants, and the prices of each bottle did not go beyond €20. These were humble wines, but I'm sure if you want higher quality wines, you'll get something of equally good value.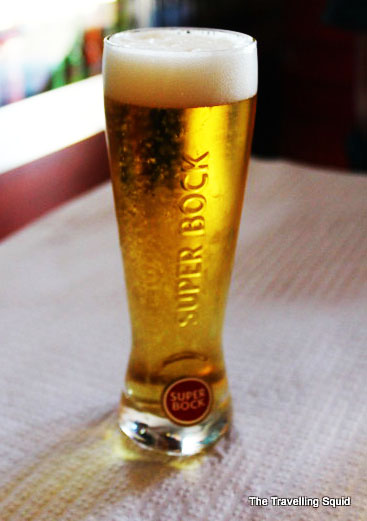 5. Beer with never-ending fizziness
It's really strange that in Lisbon, the sparkle in my beer never seems to go away. Through my 1.5 hours at the café, the fizz in my beer never seemed to run out.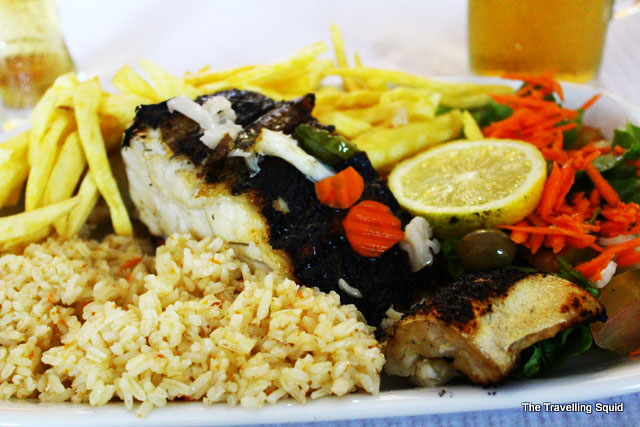 6. Super salty Bacalhaus which really left an impression
We visited an affordable local eatery which was recommended by Lonely Planet. It was closed once, and the next time we visited, it opened way later than it's opening hour, so we only got to try the Bacalhaus on our third visit. The portion was huge, and the meat was so salty that we could not finish it. It was still an experience nonetheless. To be honest, it wasn't exactly very rewarding, but the experience of trying to wash the super salty Bacalhaus down with beer was really quite authentic.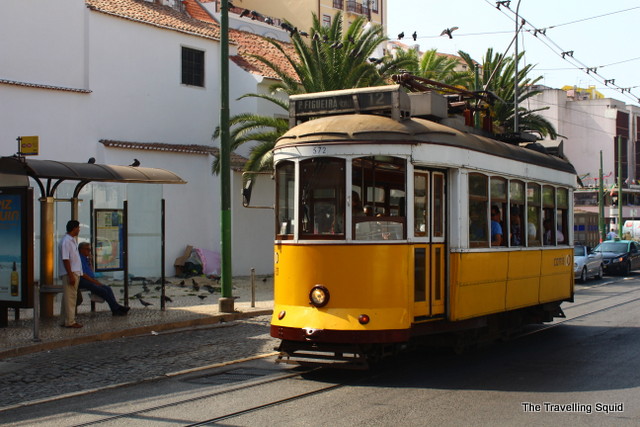 7. Riding on Tram 28
Tram 28 is probably the most old-school type of transportation I have even taken. Unlike modern trains which comes with horns and electric lights, Tram 28 is absolutely old-school, though a tad touristy. Nonetheless, the tram is furnished with wooden boards, and a little bell which chimes every time the tram is about to depart. Tram 28 takes you along the ups and downs of Lisbon's alleyways which would have resulted in some rather sore feet should you have traversed the cobblestone pathways on foot.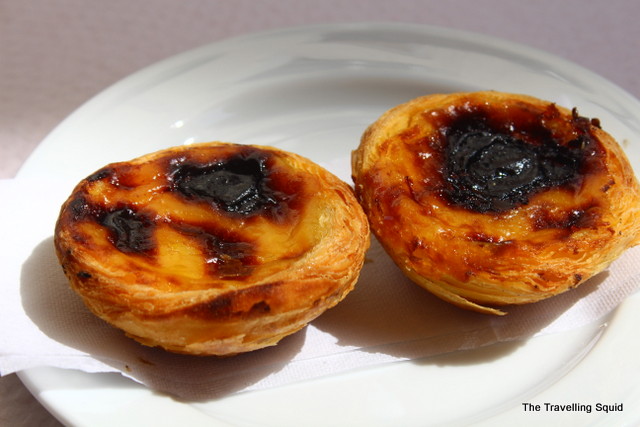 8. Indulging in Portuguese Egg Tarts and puffs
I'm not a super big fan of sweet stuff, but the portuguese egg tarts tasted really good. Nicola Bakery is the best place to head to for breakfast!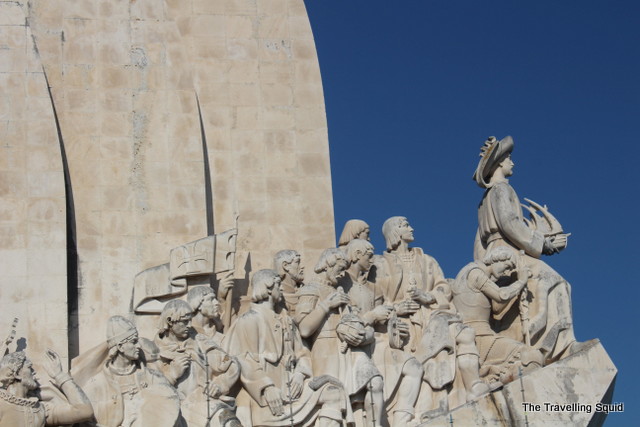 10. Last but not least, Padrão dos Descobrimentos never fails to charm the traveller at heart
It's true – Padrão dos Descobrimentos is my favourite monument of all time. The statue depicts the hope, anguish and pride in the eyes of the explorers. The monument also overlooks the Tagus River and makes for a good place to chill while remembering explorers of the past.
Hope you enjoyed the 10 things to love about Lisbon. If you have more to share, please drop a comment below!