Recommendation: Breakfast at Nicola Cafes in Lisbon
If you're on the lookout for breakfast cafes in Lisbon, Nicola Cafes is the place for you. The prices are mid-range and you get a decent cup of coffee and good pastries. I did some research and I think Nicola Cafes is somewhat related to the famous Cafe Nicola, which has a fancy front and serves up other dishes like seafood and chicken. If you could confirm this, please share in the comments below!
During our three days in Lisbon, we ate there every morning, twice at the outlet in Baixa and once near our hotel – Hotel Principe Lisboa.
*Please also note that the pricing here is an estimate and may be subjected to changes. 
Nicola Cafes at Baixa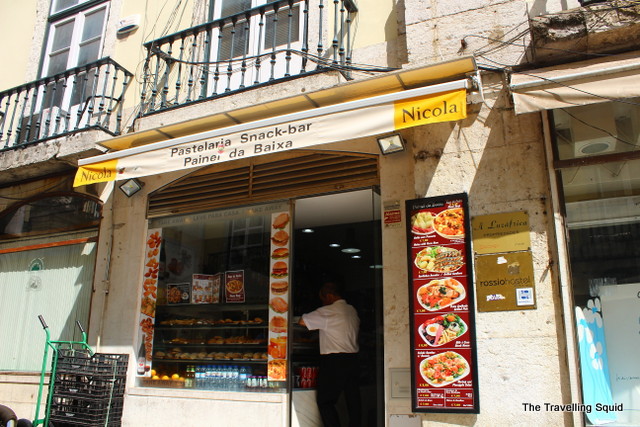 The outlet at Baixa was very charming – it is very small inside but there are chairs and tables placed along the cobblestone streets. It's nice to be sipping a coffee while watching the world go by.
Cup of Coffee – €2.50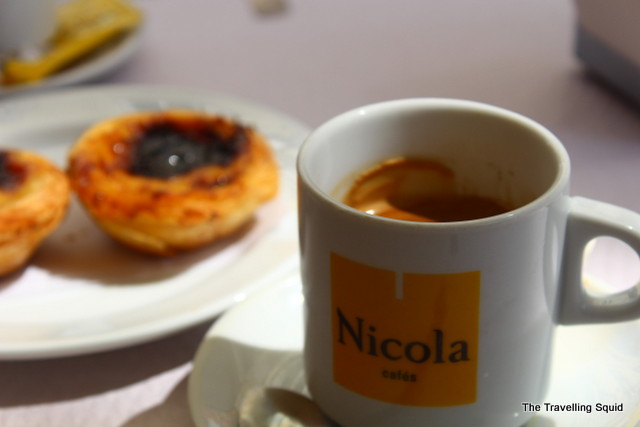 The coffee is really good and a nice perk-me-up, especially after a long flight and an early morning. It goes very well with the tarts too. The one in the picture is that of a hot latte. I absolutely love the signature yellow sign on the cup.
Portuguese Egg Tarts – €1.50 each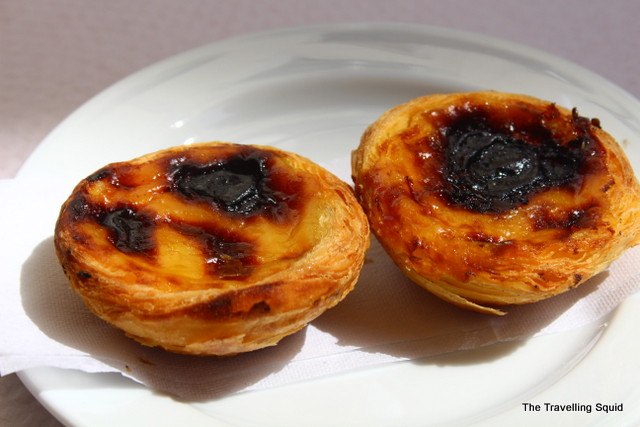 We didn't get to try the original one in Belum, but these were the first Portuguese egg tarts I had in Portugal and they were good. The custard is just nice – it had a nice texture and was not overpoweringly sweet. The pastry was crispy and did taste like it was freshly baked. I also found the caramelised layer on the top just nice – adding to a nice bittersweet touch.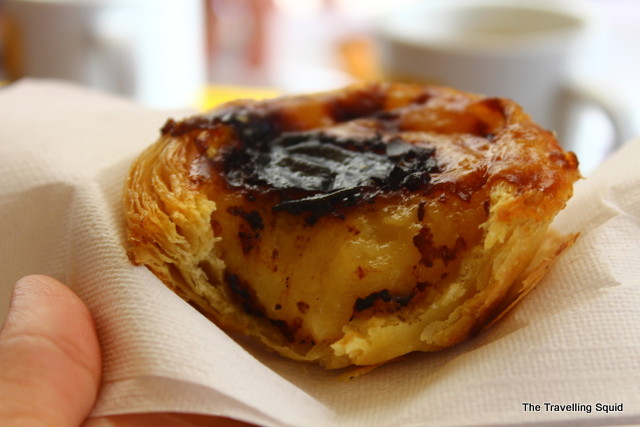 Stone soup – €7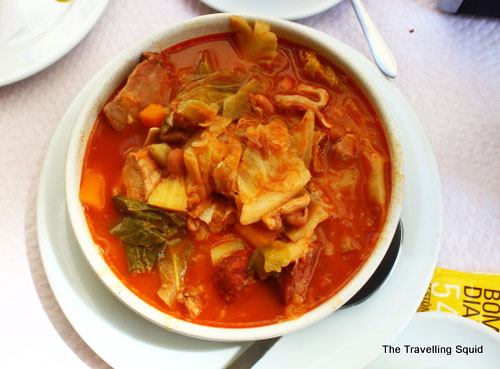 Stone soup had been the stuff of fairytales, and when I saw it on the menu, I absolutely had to have a try. It is tomato-based and I really enjoyed the cabbage, sausage and onions that were in there. Though there was a dubious piece of meat – I'm guessing it's pork with the skin on a little bits of hair sticking out – which was a little shocking especially on the mouth and palate. Apart from dubious pork skin with hair, the stone soup was really flavourful and good though.
Steak sandwich – €2.50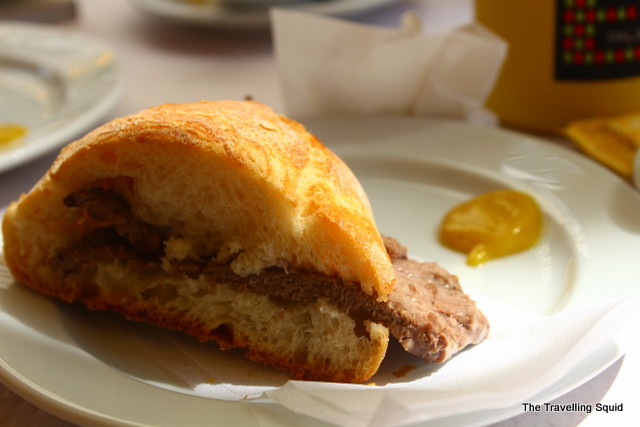 The prices are a rough estimate. I think they came in a set, eg. the steak sandwich and coffee cost about €4. The steak sandwich is pretty normal, the meat a little dry but it went well with the mustard sauce which is available.
* * *
A Nicola Cafes outlet at Av.Duque de Ávila, 8 minute walk from Hotel Principe Lisboa
There was a Nicola Cafe outlet near our hotel and we visited it during our last day in Lisbon. It's much bigger than the one in Baixa, and it does appear that they make their own puffs, unlike the outlet in Baixa which seems to have pre-ordered them. This outlet was much more spacious, and had a wider range of pastries.
I felt once again, very happy to see the signature Nicola Cafes sign as well as the signature yellow umbrellas.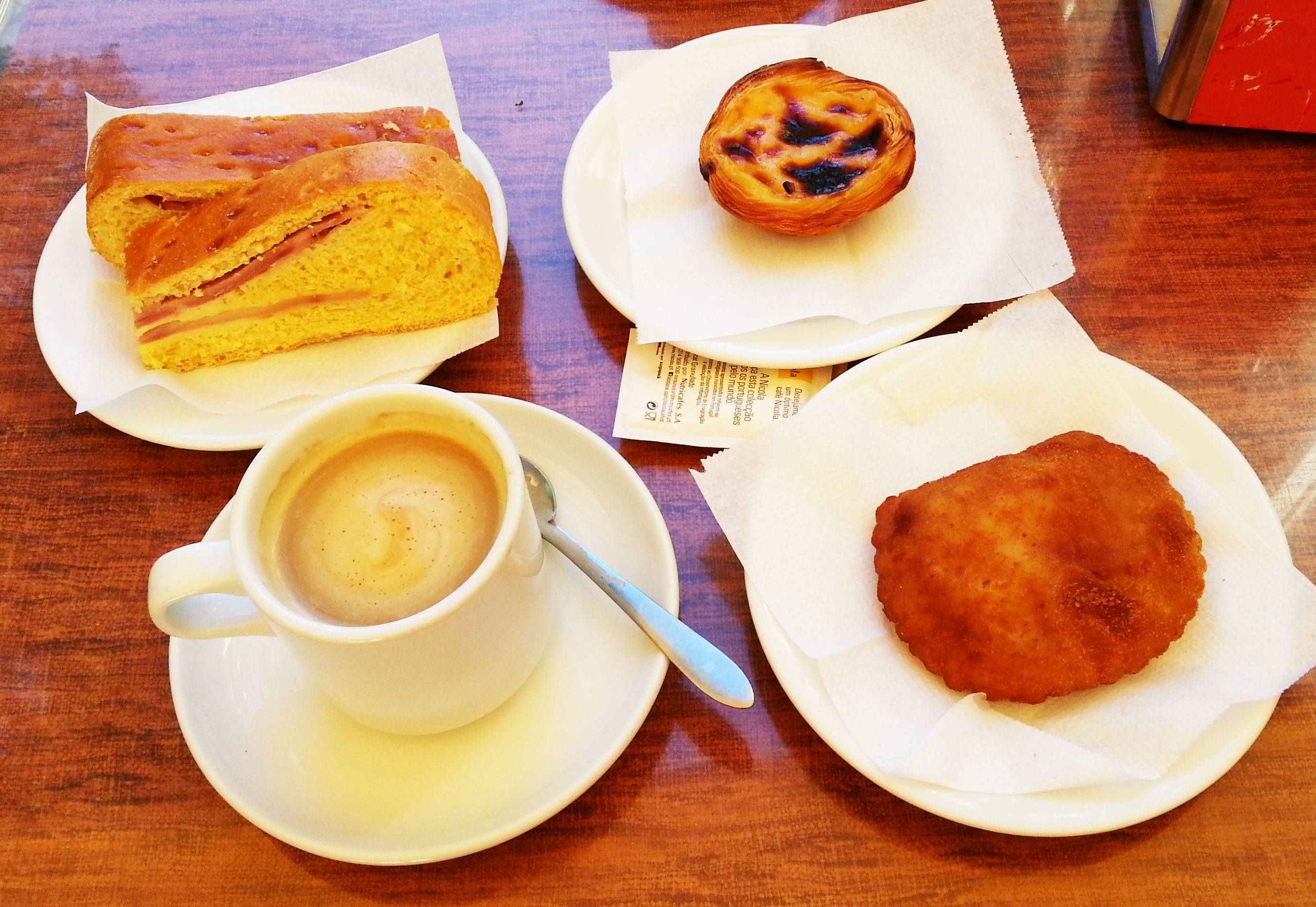 Ham and cheese sandwich – €3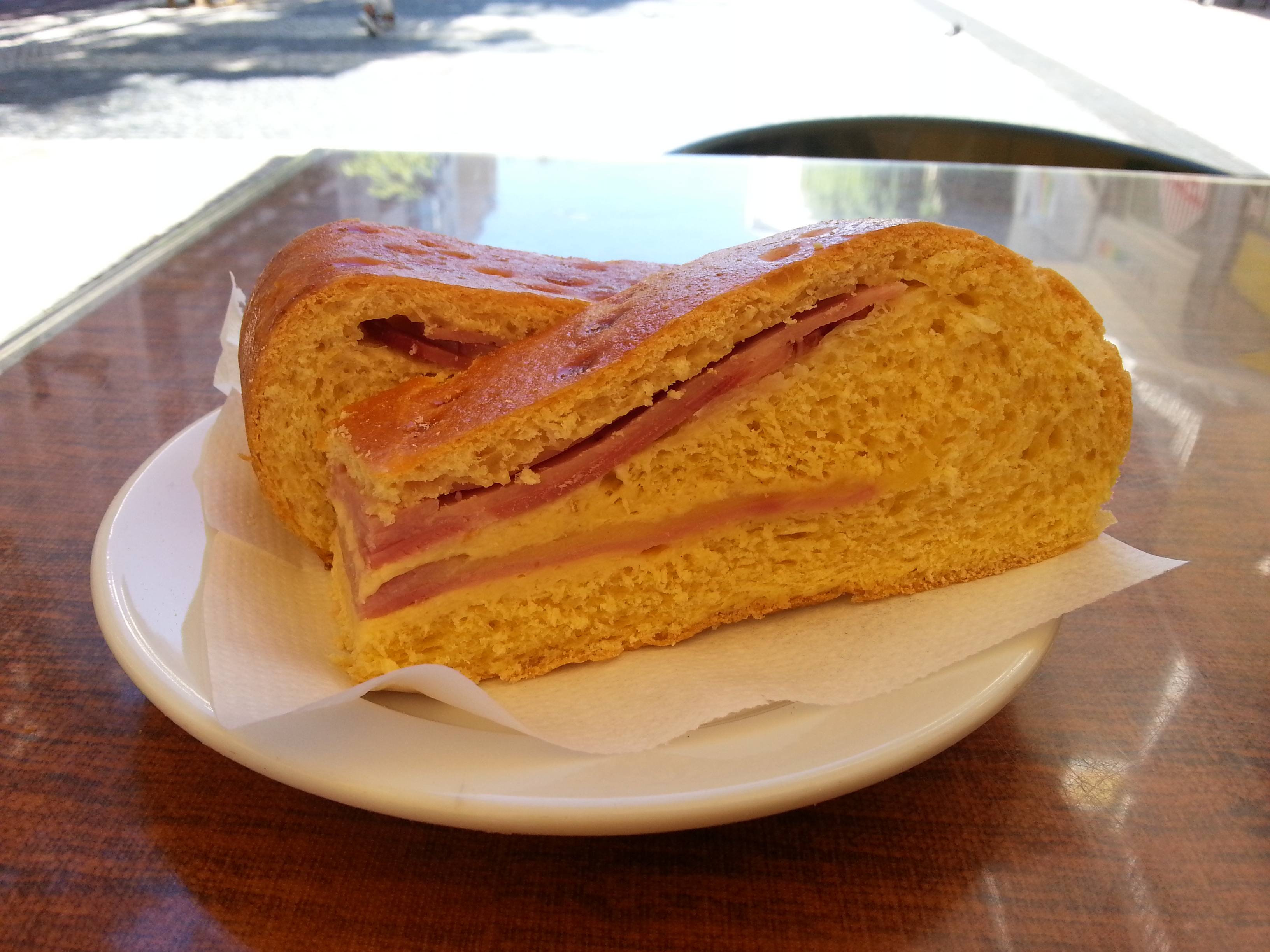 If you're really hungry, the ham and cheese sandwich would fill you up quite well, given the size of its portions. It tasted pretty okay and makes for a decent ham and cheese sandwich.
Delicious Bacalhau Puff – €2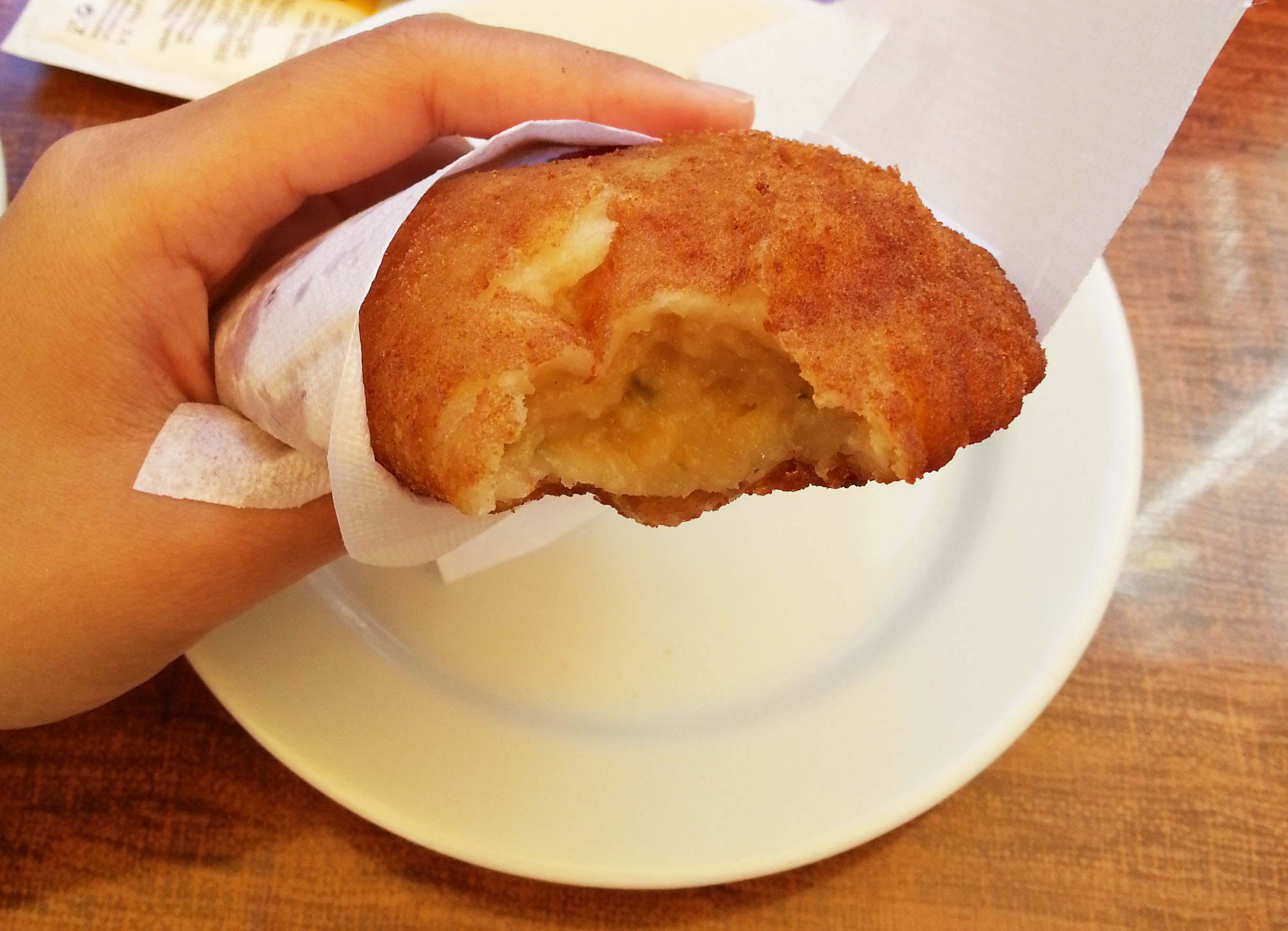 Out of all the pastries and dishes I had tried at Nicola Cafes, the Bacalhau puff was the best. Bacalhau is essentially prefers to the Portuguese way of making salted cod and it tasted really good when being put into a puff. Yum!
The Travelling Squid's Take
I haven't tried that many other breakfast places in Lisbon, but Nicola Cafes makes for a great spot to try the best of Portuguese pastries and for good coffee that goes well together.
If you're back home and have Nicola-withdrawal syndromes, they have an online store where you can buy the cups and coffee capsules.
Breakfast at Nicola Cafes in Lisbon? It's a great way to start the day.