SG's Best Kept Secret: Renting a yacht in Singapore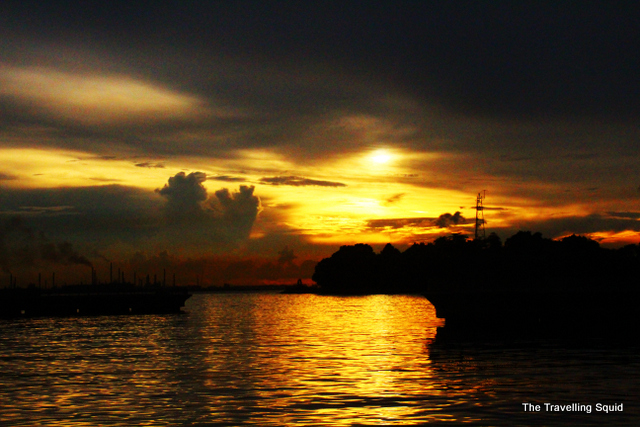 Contrary to popular belief, one doesn't have to super rich or well-connected to be renting a yacht in Singapore. One also does not have to break the bank to enjoy a yacht ride.
If you're looking for a romantic place to spend with your loved one, or just a cosy place to celebrate a friend's birthday or a Hen's night, a yacht could be the place for you. Just make sure that the attendees do not have a history of sea-sickness, or that 4-hour ride could be really uncomfortable.
Renting a yacht in Singapore is easy, simply email the yacht renting company with the number of pax attending, dates and time. I thought it would cost a bomb, but it's actually pretty affordable, especially if the cost is split between a big group of friends.
The company we made the booking from was Island Yacht Charters Pte Ltd. It helps if you're a current NTU student, or a NTU alumni. Let the contact know if you are alumni when making the booking on or enquiry. The contact details has been included at the bottom of this post, should you be interested.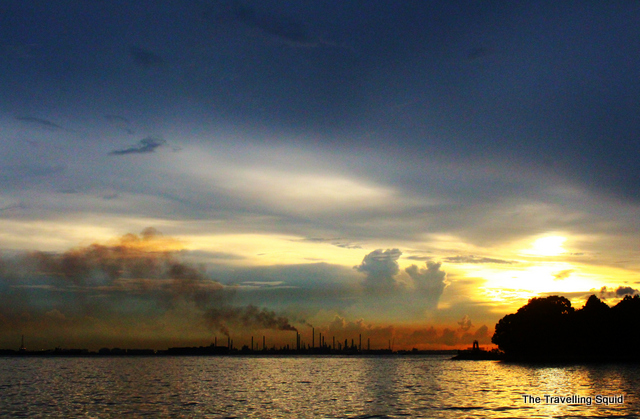 Our experience
We booked the 4.30pm – 9.30pm slot, which allowed us to catch the setting sun, which was really beautiful. It's probably one of the best sunsets I had seen in Singapore. It was pouring an hour ago before we set off, and thankfully, the rain had stopped.
The boat will take you around Sentosa cove, where you can catch a glimpse of the multi-million dollar houses (and dream of what it is like to live there).
The yacht also passes by Marina Bay Sands, and you can admire that ship like structure and the Singapore Flyer from afar. For those who work there, it may not be as charming an idea, but it's quite beautiful nonetheless.
It then anchors near St John's island. You can sing karaoke on board or simply, enjoy the fading lights of the evening and watch the iconic Singapore landmarks come to life.
The Hen's Night on a yacht
A few weeks ago, we ran into a few obstacles planning the Hen's Night. The headstrong Bride-To-Be said that she couldn't make it on the day we had booked the yacht. However, thanks to efforts by her Husband-to-be, things worked out in the end.
We booked the yacht from 4.30pm – 9.30pm. It was still raining at 3.30pm. While waiting at Sakae Sushi for our sushi platter to be ready, my heart sank as I peered outside only to see the greyest clouds in the sky.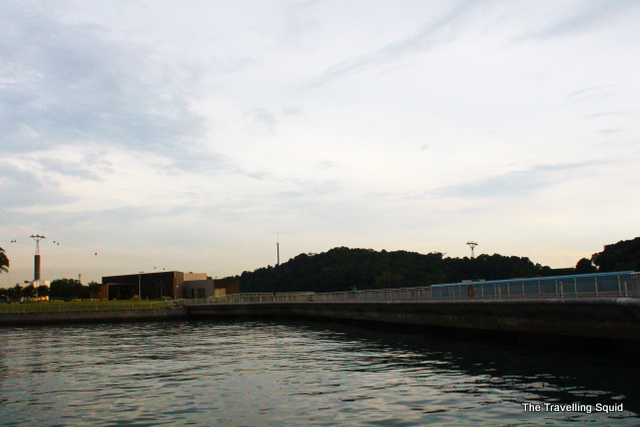 Another obstacle we faced was trying to catch a taxi to Keppel Bay Marina from Vivocity. It had rained earlier in the afternoon and the queue at the taxi stand was epicly long. I would suggest walking from Vivocity if you could as calling a taxi was challenging, perhaps due to the short distance between Vivocity and Keppel Bay. The walk takes less than 10 mins.
* * *
In the yacht – Trillion Star
Our yacht is named Trillion Star – it's not as huge as those you see in movies, but could well accommodate 8 giggling girls and a not-so bashful Bride-To-Be.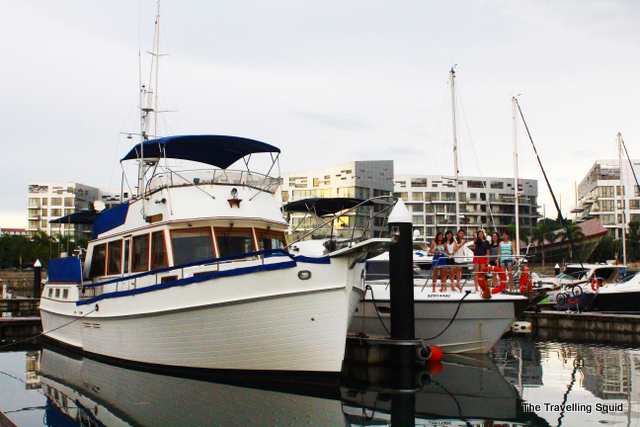 We eventually made it, with the Bride-To-Be being surprised by her band of "Jie Meis" (Sisters) on board the yacht. The yacht comes with a skipper and guide. Our guide Alex was very helpful. He explained the safety rules and helped us bake the pizza which we had bought over. On the yacht, we were asked to remove our shoes. It was for safety purposes and I'm guessing for cleanliness of the yacht too.
The yacht could fit 18 people, and came with a bedroom (queen size bed), a small kitchen and a 'living room' area with two small sofas, a big TV and a karaoke set.
You're not to throw weird stuff in the toilet bowl because it comes with a grinder, says Alex. If it malfunctions, you will not have a toilet to use for four hours.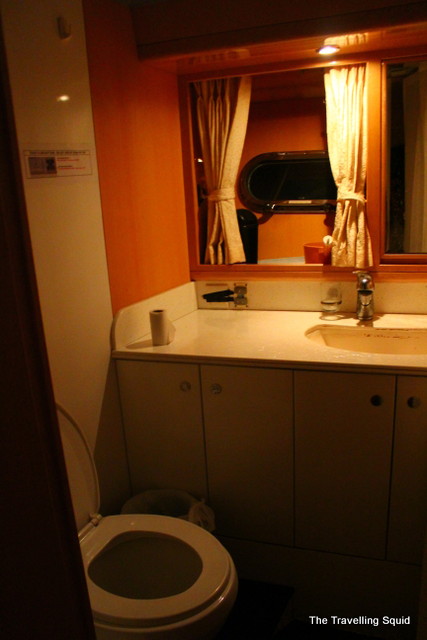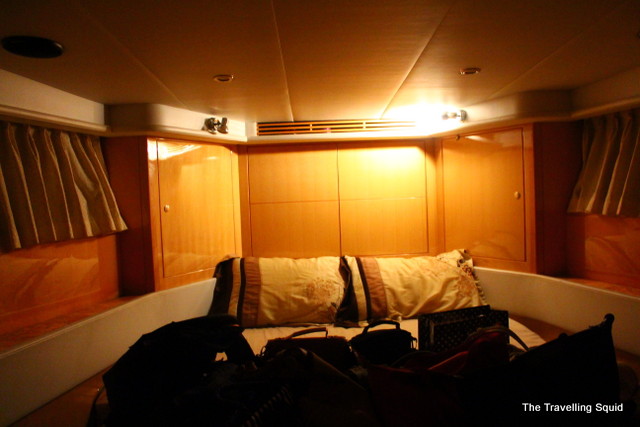 If you get sea sick easily, you may want to consider having some sea-sick pills. The side effect is that they can make you feel really drowsy. I prefer the natural cure, which is to look far out and enjoy the sea breeze in your hair. It helps.
Reflecting at Keppel Bay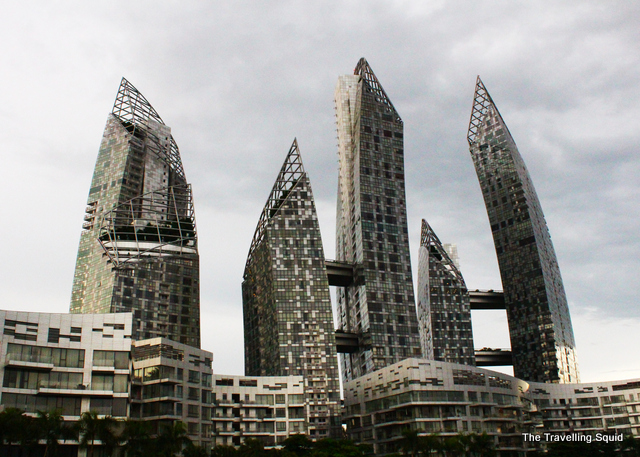 After the safety briefing, we sailed off. As the yacht negotiated the curve of the harbour, I could see Reflections @ Keppel Bay overlooking our little boat. I felt like a tai tai (super rich woman), taking in the scenery while soaking in the luxury of my yacht.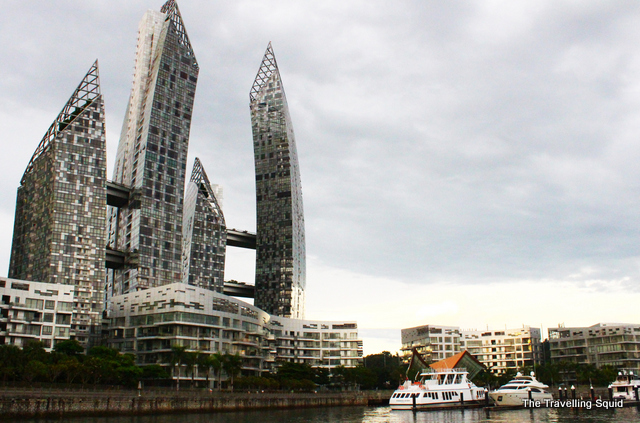 The little boat took a turn, heading in the direction of the iconic Marina Bay Sands and the Singapore Flyer. I go for evening runs around Marina Bay frequently, but to see the Singapore skyline from the yacht was an entirely different perspective all together.
It was like I was an explorer returning from my voyages, arriving to meet a sparkling new city with uniquely shaped buildings and glittering lights.
Then it happened.
It was probably the most beautiful sunsets I would have ever come across in Singapore.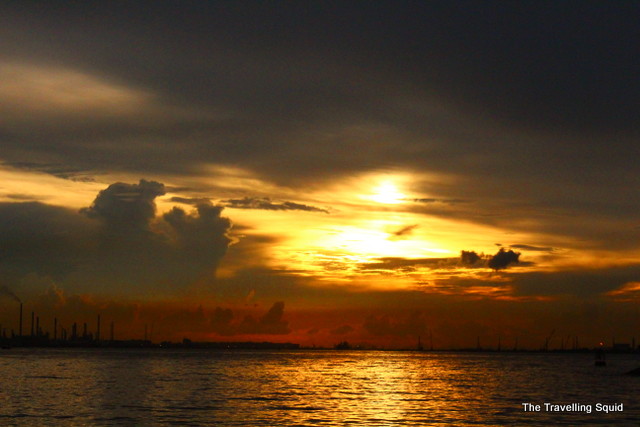 The rain in the afternoon had cleared the skies, and the setting sun lit up the horizon, painting the fluffy white clouds next to it with a tinge of gold.
Across the horizon, we could see tall chimney like structures spewing up smoke of some sort. Friend S was very concern about pollution, to which, I said, "Oh, don't worry, economic growth is more important." She laughed and shook her head.
I personally felt those chimney structures to be quite cool, from a photographer's standpoint. In other countries, sunsets just stretch right across the rolling waves of the ocean. But in Singapore, due to our small land mass, sunsets encapsulate several chimney structures.
It's not ugly but an interesting sight.
As the sun set, the yacht arrives at the islands, Kusus, St John's and Sister's Island. I remember visiting these island's some time ago – they were a tad ulu (remote) but very quiet and serene. As the sun set, we could still see people across the boat enjoying the beach.
While Anchored
The girls sang Karaoke inside while we went out to relax on the front deck. It's really nice. Just sitting down on the front deck of the boat, enjoying the breeze and absorbing the silence of the night. We also spent some time imagining, what it would be like to own a yacht and live in Sentosa Cove.
Fireworks
The yacht stopped at the edge of Sentosa, just as the Songs of the Sea performance was taking place. That happened around 9pm. The fireworks went off – it was really nice!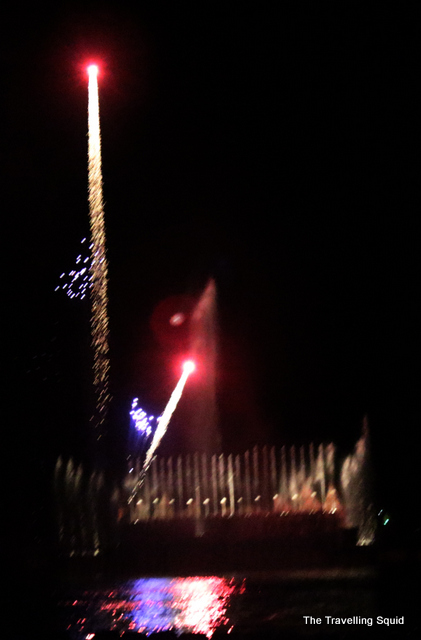 It's real difficult to take photos of fireworks, but Friend S managed to catch them. 🙂 🙂
Night Reflections of Keppel Bay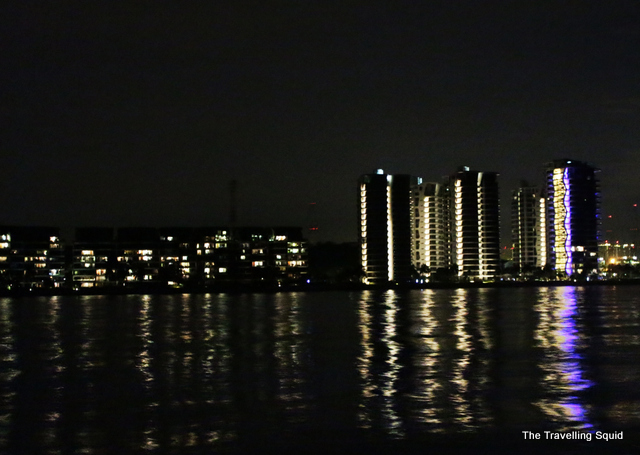 The yacht headed back to Marina at Keppel Bay. Along the way, Sentosa Cove apartments came to sight, so did Reflections of Keppel Bay. Friend K invited us back to her imaginary 'apartment' for tea.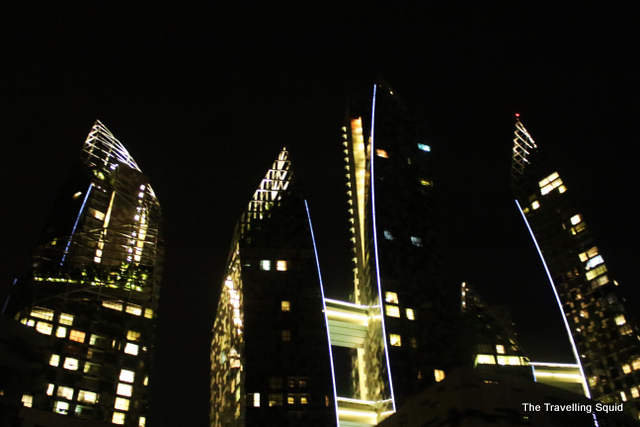 The Travelling Squid's conclusion is that it is really nice to stay in one of those apartments, though it's somewhat of a pipe dream. Therefore, she hopes that Her Friends will work hard, hard enough to buy an apartment at Reflections at Keppel Bay, and one day we can all go over after our yacht trip and have a glass of wine. In the meantime, she is happy to go on 4 hour yacht trips as a short escape from hectic citylife.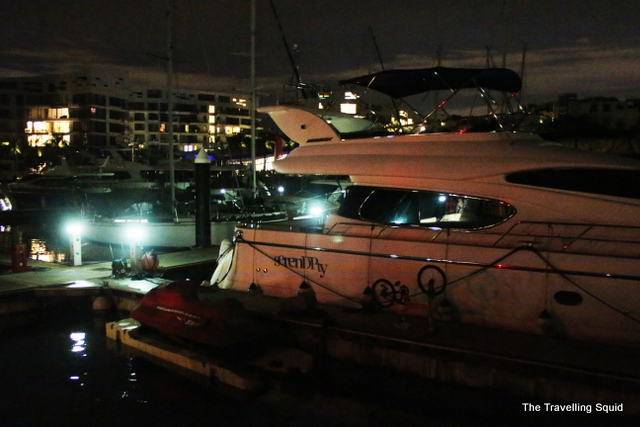 If you are keen to find out more, please contact Alex – details are below or drop a comment.
Enjoy!
Contact details:
Island Yacht Charters Pte Ltd
Contact: Alex Wan
Mobile: 9009 6006
Email: enquiry@island-yacht.com.sg
Website: www.island-yacht.com.sg