People watching at Cais das Colunas and the Tagus River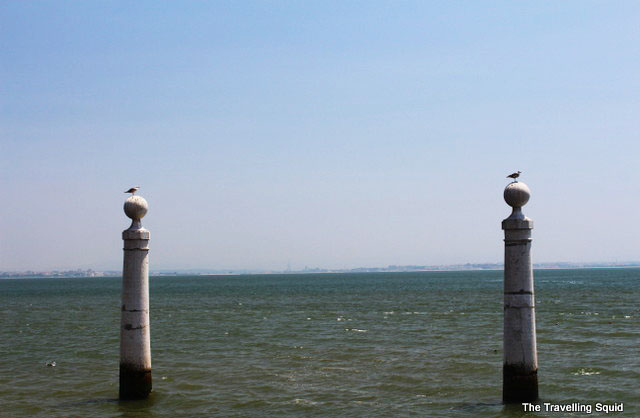 Not much info is available in English on Cais das Colunas, the two columns which rise from the waters of the Tagus River.
However, according to the Portuguese website Ezimute, they are the work of architect Eugenio dos Santos, performed during the reconstruction of Lisbon after the earthquake of 1755. These pillars mark the top of the marble staircase leading down to the Tagus river. They represent the two pillars of the temple of Solomon (wisdom and devotion). The columns are also a symbol of the port of entry to Lisbon.
Cool fact – Right in front of Cais das Colunas lies the equestrian statue of Dom José I and further back, in the same alignment, stands the Triumphal Arch of Rua Augusta (Augusta Street). I knew the Arch was of the same alighnment as the statue – just didn't realise the two columns were as well.
There is no documentation on the construction date of Cais das Colunas, though it is estimated to have been completed before the end of the eighteenth century. Cais das Colunas was torn down in the late nineteenth century and relocated in 1929. It was dismantled in 1997 due to expansion works at Santa Apolonia metro, but were again raised in 2008. Cais das Colunas also served to welcome prestigious figures such as Queen Elizabeth II when she landed in Portugal in 1957.
People watching at Cais das Colunas and the Tagus River
History aside, Cais das Colunas strikes me as a very nice gathering spot. A place where good friends could meet, catch up and watch the world together. Hope you enjoy the pictures below, of how everyone, be it person or bird chooses to enjoy the Tagus River.