5 hard lessons from having to pay €90/ SGD145 for excess baggage on easyJet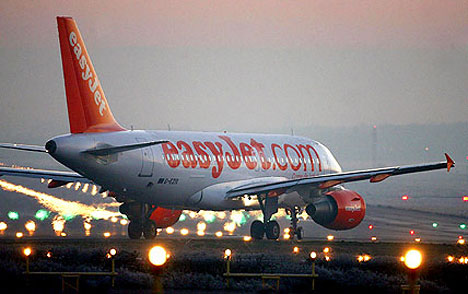 I used to think that I have earned the street-cred as a savvy budget traveller, having made several trips around South-east Asia, India and China. I've also taken countless budget flights from Tiger Airways, Air Asia, Jetstar and Scoot, which led me to think that I could just breeze through budget flights in Europe.
Little did I know the huge differences which lie between budget flights in Asia and Europe, starting from the booking process. What further shocked us (and our wallets) was what awaited us on the budget flight from Lisbon to Madrid on easyJet. Here it goes:
5 hard lessons from having to pay €90/ SGD145 for excess baggage on easyJet
Note: Apart from budget flights, some of these differences apply to full-fledged airlines as well.
1. Paying for air tickets via Credit card can cost more – use your Debit card instead
This is based on booking flights across a number of European airlines. Spanish airline Iberia for instance, had a whooping €10 extra charge for bookings made via Credit card. Therefore it's essential to have a Debit card which can perform online transactions as well.
2. Airport clearance in Europe is very strict. Toiletries have to be placed in clear Ziplock plastic bags at airport security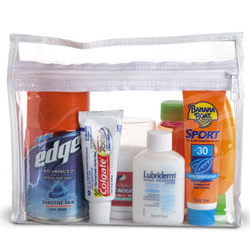 If you're trying to save on baggage allowance, especially on budget flights, remember to pack your toiletries in easy-to-reach compartments. Most European airports require you to take out the Ziplock bag with toiletries. These will be scanned separately from your bag.
Not doing so can mean a trying time attempting to fish out one's small bottles of facial wash, toner and moisturiser, and that holds up the queue behind you.
3. The limit on Cabin baggage can be in the form of size,

not weight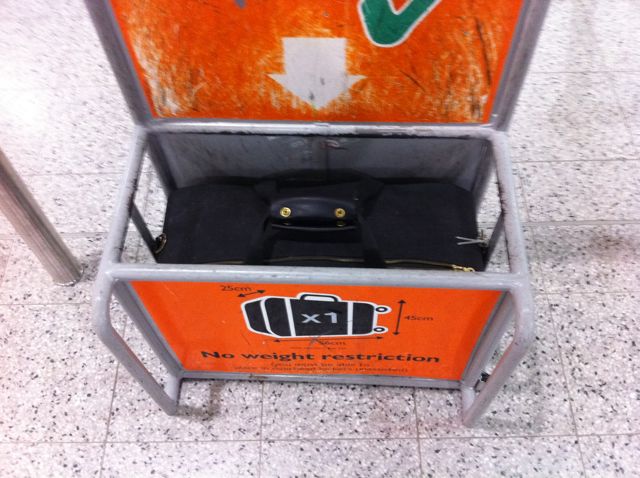 During my student days where saving money was priority, my friends and I used to book budget flights to South-east Asian cities such as Hanoi or Bandung with no luggage requirements. After all, a backpack was all we needed for short trips, and it fit the overhead compartments perfectly.
The only limit budget airlines in Asia would impose on cabin baggage was weight. For instance, if your backpack exceeds the 7kg weight limit, you would have to pay for excess baggage.
Unfortunately, it was not the case for the easyJet flight we took from Lisbon to Madrid. We bought tickets for a steal on Skyscanner.net. The tickets cost us €32 (SGD52) each, which was as cheap as it could get.
Little did we expect the ground staff to stop us from carrying our backpacks up the plane, as they did not fit the measurements – 50 x 40 x 20 cm. We were asked to fit our backpack into a mental container with such measurements. As we were the last in the queue and faced the horrible prospect of the plane taking off without us, we paid €90 for the staff to stow away our two bags in the hold (Grrr…).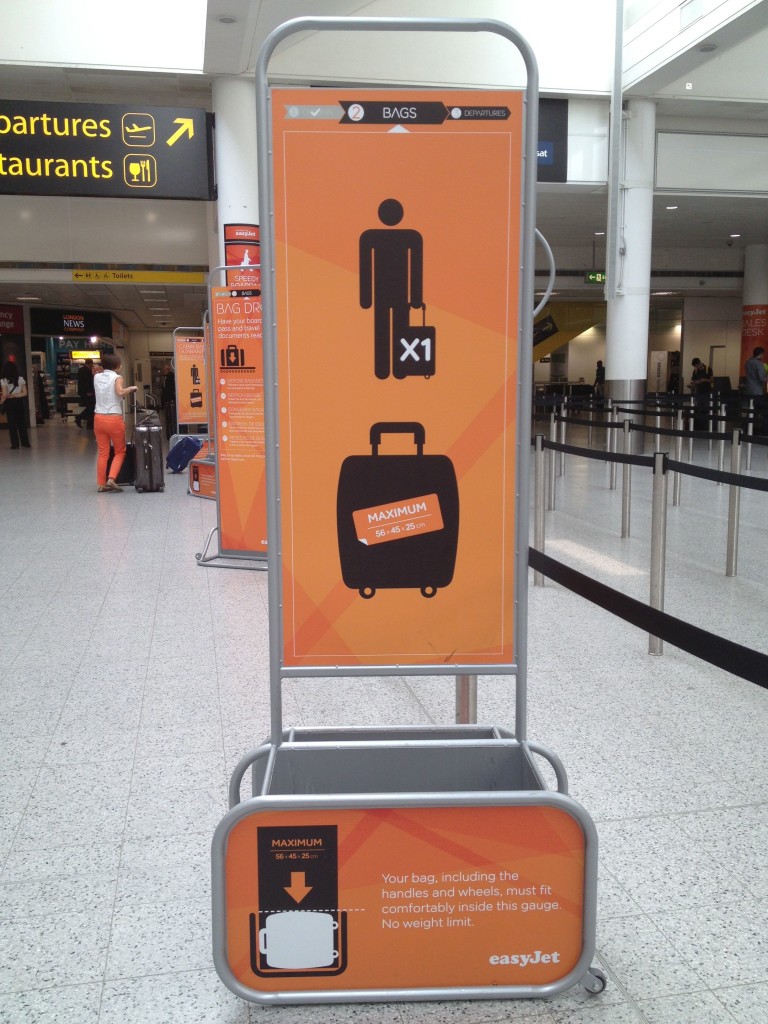 4.
Arrive early

 just in case some re-packing needs to be done. Be prepared to only carry on ONE piece of luggage.
Paying €90 for that two pieces of luggage was a hefty fee, and quite a bummer especially after that super 'shiok' (elated) feeling of getting discounted fares. Therefore, my advice is to arrive at the airport early, instead of having to rush and unpack should you find that your backpack is unable to meet the requirements. In our case, my camera bag had to be squeezed into my backpack, as only one piece of carry on luggage was allowed on board.
If you're uncertain about the amount of baggage you have, it's better to err on the side of caution and buy excess baggage online. It's much cheaper that way. When I last checked, it was €29 for 20kg compared to the €90 we had to pay to cover the two backpacks. Arriving early would give you an opportunity to negotiate with the ground handling staff where necessary.
5. Online check-in saves a huge amount of time – you can get your boarding pass via QR codes for easyJet flights
If you have absolutely no luggage to check-in, checking in online is a must. It saves you a lot of time, especially from the snaking long queues at check-in counters. For easyJet it's literally, really easy. Just print out the QR code or save it on your phone. It's a pretty quick and easy process in all fairness.
Would I still take easyJet after having to pay €90 for excess baggage?
Despite my deep resentment to the easyJet, I was satisfied with all other aspects of the flight. It left on time and arrived at the destination early. The in-flight magazine was very worth a read. The pilots also do a good take off and landing.
That being said, I felt the ground staff at the Lisbon airport to be rather menacing and horrible. It was like he was out to get our money, and judging by the fact that we were the last passengers, it did not leave us much bargaining power.
I wished on hindsight, that I had employed some use of force on that fella. Verbally of course. Paying €90 for two backpacks weighing less than 20kg is just too much – it cost nearly twice as much as our air-tickets.
But yes, I will still be taking easyJet if I have too. The airline has one of the cheapest fares, and now that I've known how strict they can be, I'll purchase baggage space the next time round. The €90, well, let's just treat it as a lesson learnt.