Affordable Eats: El Rei Dfrango in Lisbon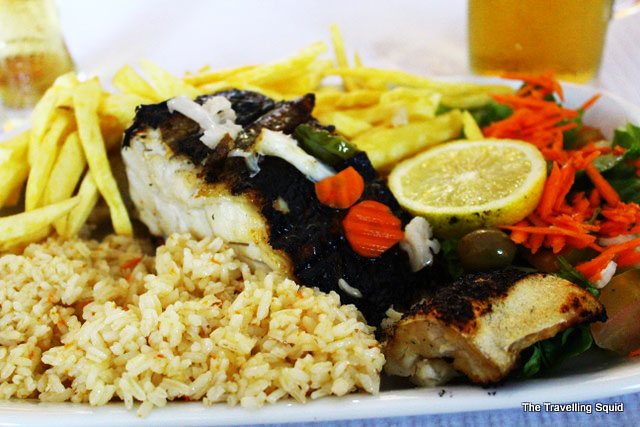 We were looking for an authentic and affordable place for breakfast upon our arriving in Lisbon, and El Rei D'frango sounded like the perfect choice. Our Lonely Planet guidebook described it as having really affordable and good eats. We yearned to try the signature bacalhau, which is the quintessential of Portuguese cuisine, and we thought that El Rei D'frango seems pretty authentic (and legit!) If you're not familiar with bacalhau, it refers to cod and is available in salted or fresh forms. The bacalhau El Rei D'frango offered was salted cod.
Little did we know that fate did not allow us to eat at El Rei D'frango, until the third try.
1st time – El Rei D'frango is closed on Sunday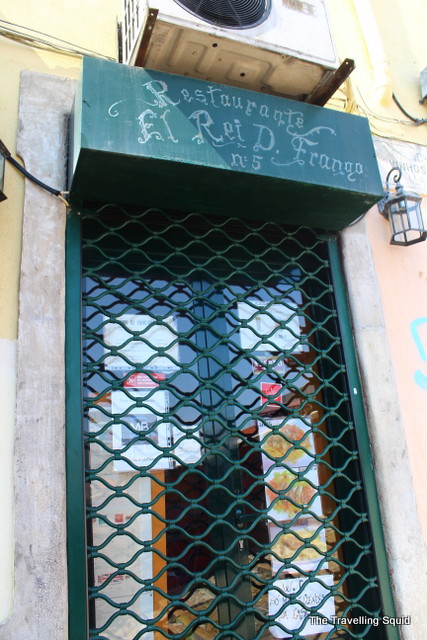 The first time we arrived, it was Sunday and the shutters were closed. What a wasted trip!
2nd time – El Rei D'frango is supposed to open at 9.00am, but at 10.30am, we were still not able to enter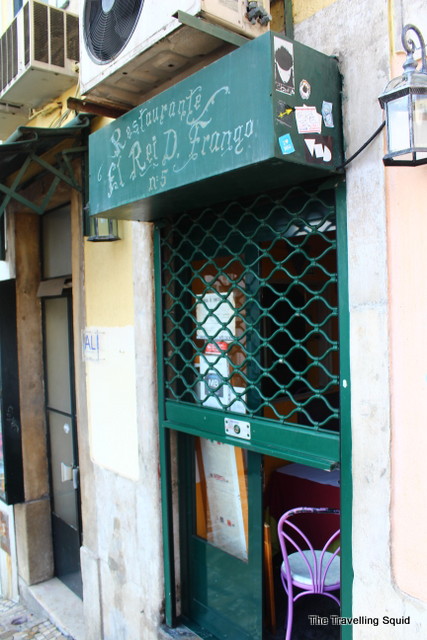 We did not give up. The second time we arrived, it was 9.30am. The guidebook stated the opening hours of the restaurant as 9am. That being said, the shutter was half-open and there was a chair placed under it.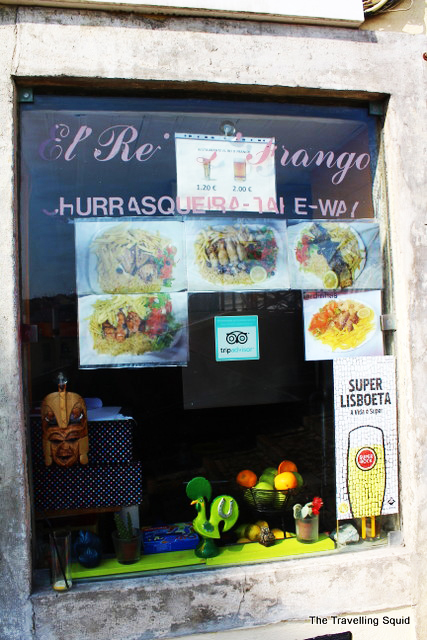 A lady was in the kitchen preparing the food, but did not pay attention to us even though we tried waving vigorously.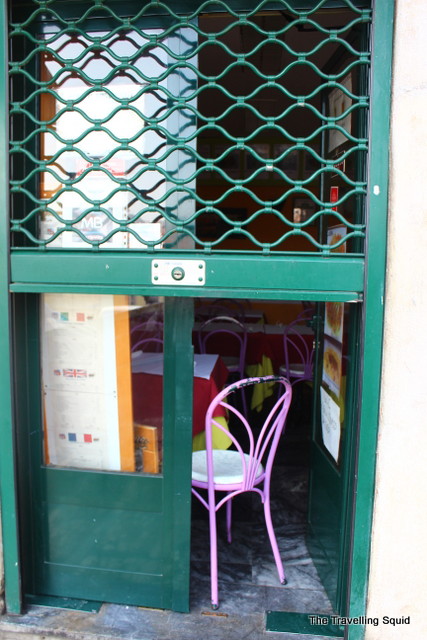 We decided to come back later no matter what.
3rd time – Return on the same day, at 2.30pm = Success!
On our third try, we returned, this time, feeling rather tired from our walk earlier that morning. It was 2.30pm in the afternoon and the restaurant was almost packed.
We learnt that the restaurant is ran by two ladies. An older lady is the chef, and the younger lady serves and takes payment. They appeared to be aloof at first, especially when there were many orders to be filled. But as the crowd slowly thinned out, they were very friendly and smiled a lot.
We sat down and ordered. Companion S ordered a Bacalhau set while I got a salmon steak. Little did we know what awaited us.
While waiting…
The food took awhile to come – I'm guessing about 20 mins. In the meantime, we settled down, and I watched a Portuguese drama serial to pass the time.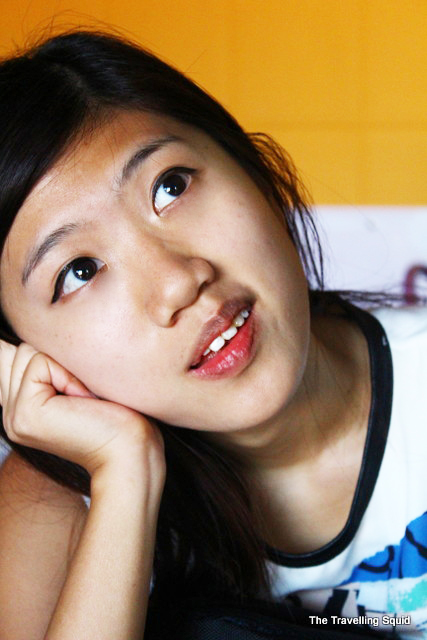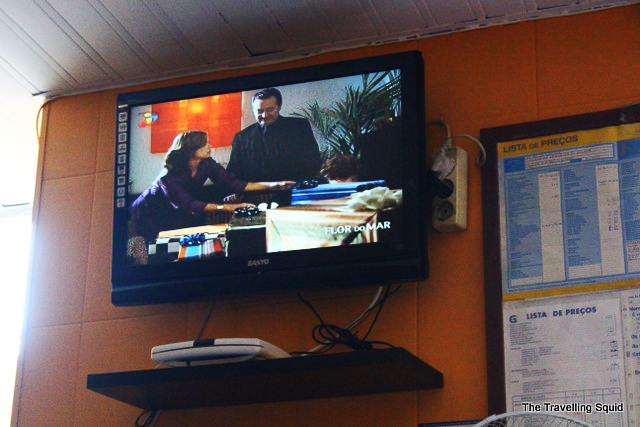 The food came and the portions were humongous, even for a big eater like myself.
My plate came with two huge salmon steaks, lots of fries and veges. Companion S had two huge Bacalhau steaks and similar side servings.
Cheap beer with fizz that never ends
Mug – €2/ 330ml Glass – €1.20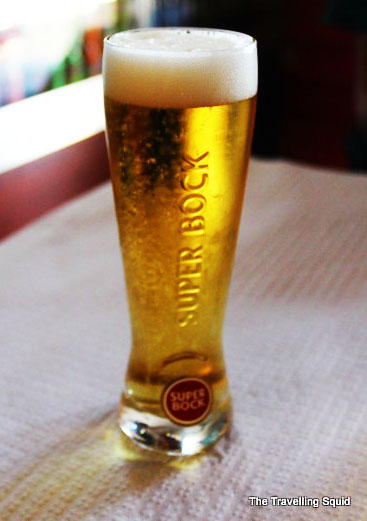 I must say it's really value for money because each set cost us €6-€8. The beer was really awesome – a mug cost €2 and a 330ml glass set us back by €1.20. Coming from Singapore, that's really affordable.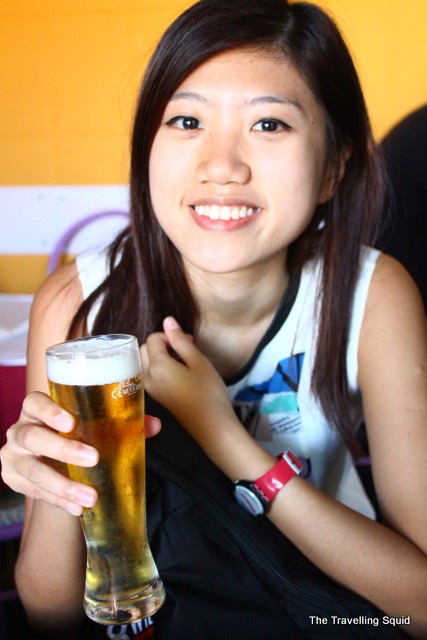 The Food arrives…
Bacalhau set – ~€7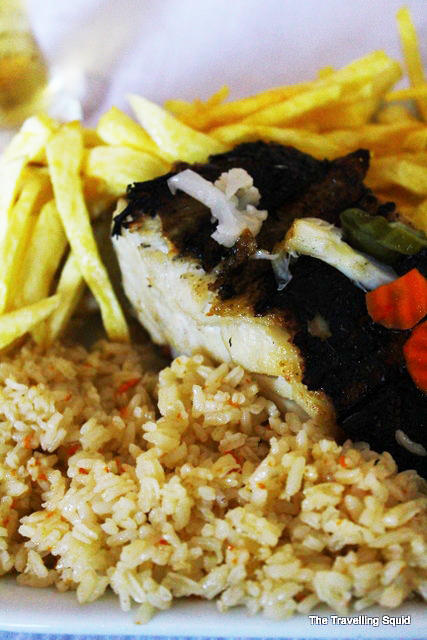 The first few bites of the Bacalhau was nice. It was a little salty, but it had a nice firm texture. We were pretty in awe of the pricing too. In Asia, cod is pretty expensive and for such big portions, it would have cost a bomb. Other than that, we were very shocked by the amount of carbohydrates on our plate. Think not just home-made fries, but rice as well!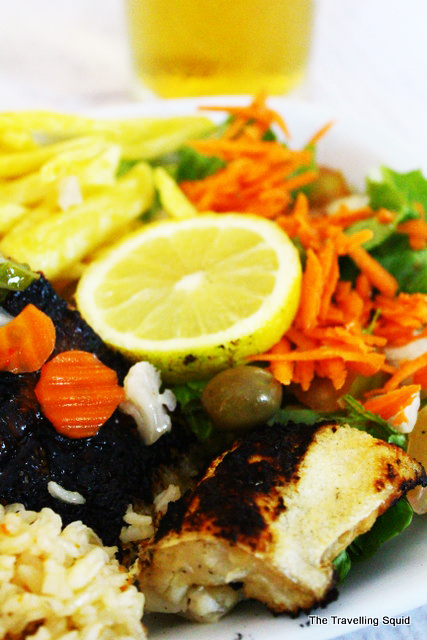 Lets just say, the salted Bacalhau started to exert its effect halfway through the meal. Two mouthfuls were fine, but when you have at least 10, you whole mouth starts to feel very salty. That resulted in Friend S having to take in gulps and gulps of beer.
It's probably fine to leave behind half of it unfinished in a huge restaurant, but we were at a family-run restaurant and we felt that leaving behind half the set unfinished could 'hurt the feelings' of the proprietor, therefore we tried our best to finished at least three-quarters of it (and considerately covering the rest of the meat with fries).
The experience is none other than intense. Apart from drinking lots of beer to wash it down, your tongue loses the ability to tell between the finer textures of the meat. It's just salty, Salty, SALTY!
Thank goodness, the two ladies did not question why we had left so much food unfinished, doing away with any awkward moments.
Salmon set – ~€7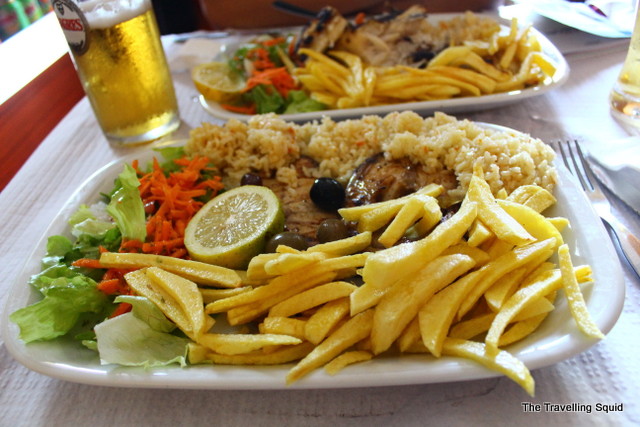 The salmon set we had was pretty decent. It was not as salty as the Bacalhau but the portions were similarly big.
The steak had a couple of bones, so be careful. The meat was rather firm and I guessed it had been frozen before. Everything on the plate was fried except the salad.
Fries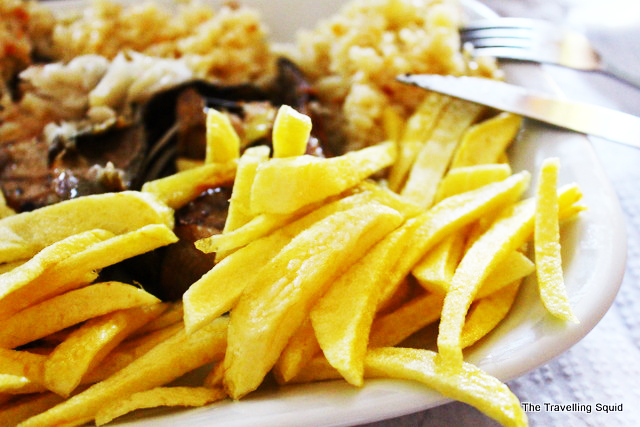 Rice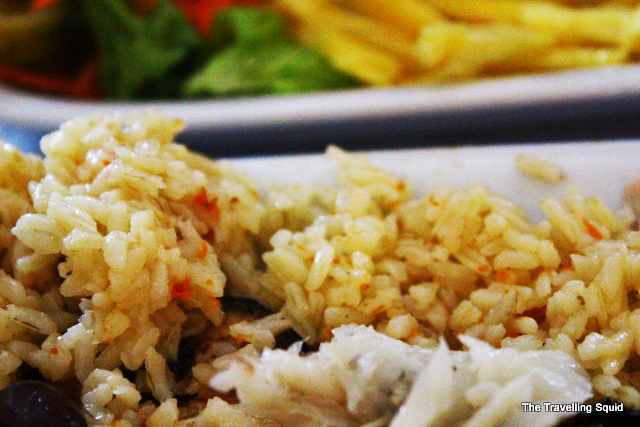 Salad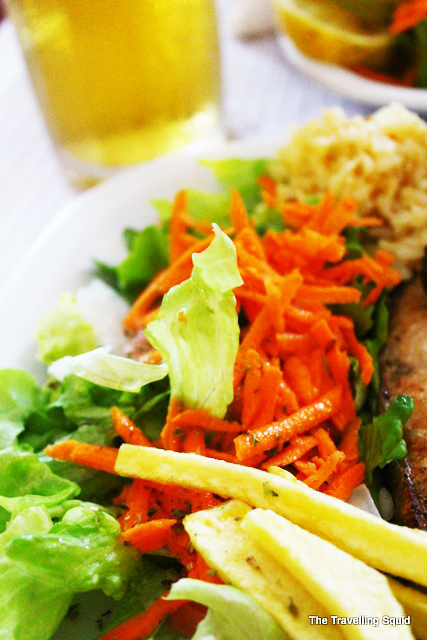 The Travelling Squid's Take
El Rei Dfrango in Lisbon is a charming, really authentic Portuguese restaurant and we really enjoyed the experience, despite having to deal with that super salty Bacalhau. It's perfect if you're looking for budget food options – the portions are huge.
If you're looking for authentic Portuguese food and have small appetites, I suggest ordering one serving and sharing it with a friend. I personally think that it's not that the food is too oily or salty, it's just that as Asians, we are not used to it.
The most safe dish to try is the Salmon steak – it's fine. It is not of the best quality cut but if you're easy on your food, it's a nice little restaurant to dine in.
Try to avoid peak hours and you'll experience some warmth from the proprietors, two very nice ladies. : )
Have you eaten at El Rei D'frango in Lisbon? Please share your experience!
El Rei D'frango in Lisbon
Address:
Calcada do Duque 5, Lisbon, Portugal
213 424 066