Must eat: Visit La Tragantua in Madrid for authentic Spanish Cuisine
If you're looking to try authentic Spanish cuisine beyond just tapas, La Tragantua in Madrid is the place for you. You can tell that the food is pretty legit, especially when most of the patrons are middle/ upper aged Spanish folks who were there in big groups – a reflection of how the restaurant caters to local tastes. 
Like the other Spanish restaurants reviewed, it is better to make a reservation in advance. The restaurant sits 30 odd people and was fully booked during the night we were there. Walk-ins were turned away.
Location
A 5 min walk from the Anton Martin metro station, La Tragantua in Madrid is easily accessed via public transport. It's easy to locate, with its signature red banner standing out from the street – you could spot it 100m away.
Service
The proprietor was warm and friendly and explained to us what the various types of food were, even though he was serving other customers as well. The funny thing is, I found him to be a little impatient, and wished he would cared a little less about us. For instance, I felt that we were rushed into making an order.
Food
In general, I found the food to be very delectable. The flavours were strong, and not overpowering. My favourite was the fried goat cheese. It was crispy on the outside and warm and soft in the inside. The beef risotto also packed a punch – you could taste the finer flavours of the beef and cheese, but unlike other risottos, the taste was not cloying and made you feel like coming back for more.
Korean pastries with little chillies
These fried dumplings were not on the menu, hence I don't have the price for them. They were fried well, and the sweet chilli sauce by the side was a good combination. The dumplings resembled the Chinese dumplings (guo tie) we have in Singapore, hence it didn't come with the cool, or wow factor when I tried it.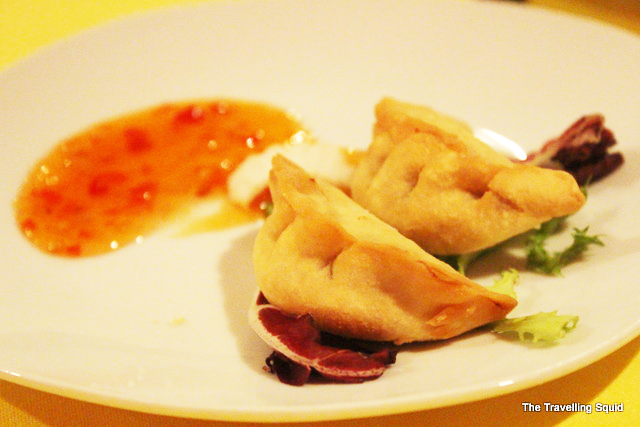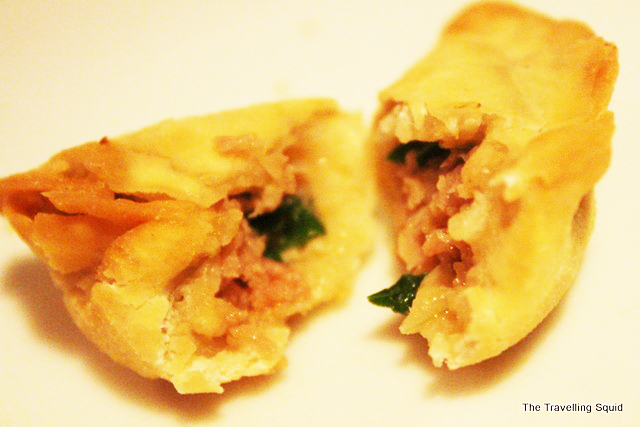 Mille-feuille with fried green tomatoes, mushrooms and goat cheese – €10.60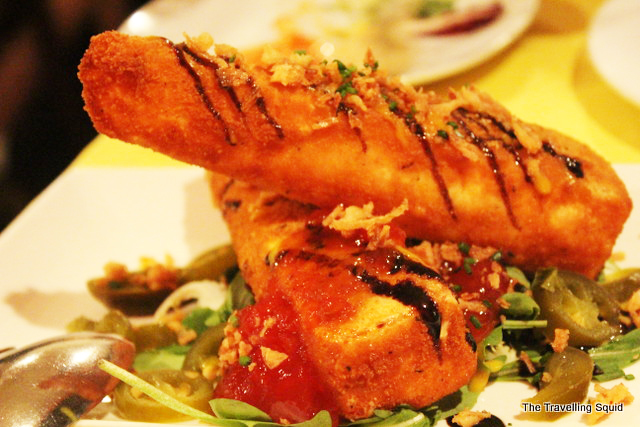 In case you're wondering what Mille-feuille is, it's a type of layered French pastry. I don't think this applied strictly to this case, because the goat's cheese is actually lightly fried, in a block. I like how the skin is fried just right – crispy on the outside and really soft in the inside. It's flavoured with garlic and chocolate sauce, which makes for an eye-opening combination.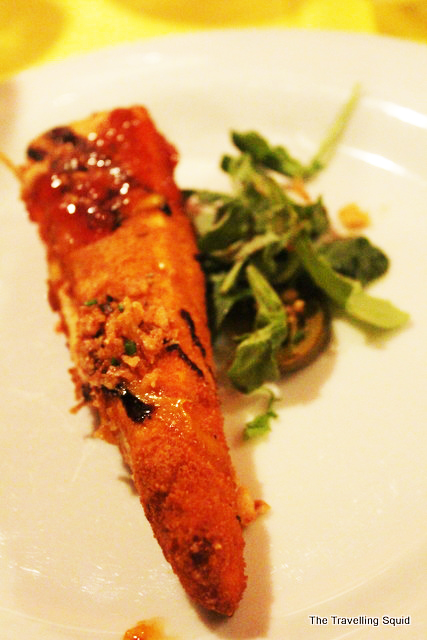 I'm pretty glad that my first time trying goat's cheese was at La Tragantua. I'm sensitive to the strong taste of cheese, and it's important to select ingredients that match the cheese well such that the smell and taste is not overpowering.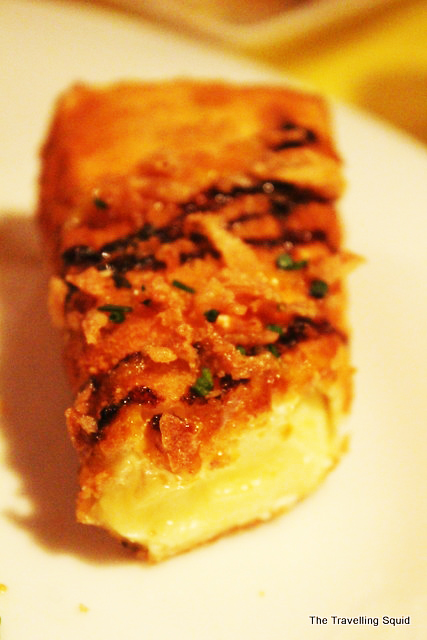 Beef risotto with peppers in red wine – €11.80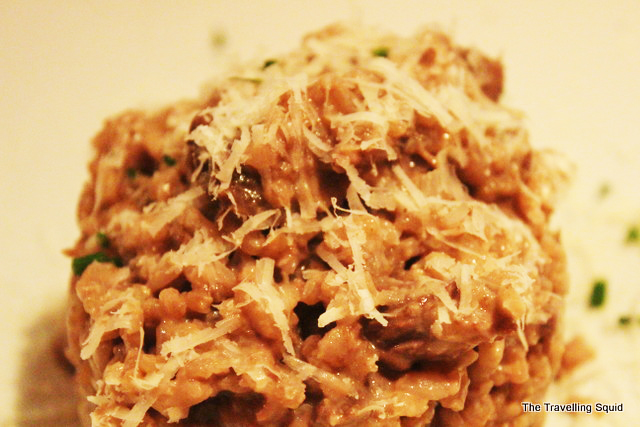 Apart from the goat's cheese, the beef risotto is my favourite of the lot. I'm a big fan of risotto because I make my own, and I would applaud the cook in this case. Risotto can be overly creamy and cloying, but the red wine flavours in the dish helps overcome that. I finished the serving – enjoying every mouthful, savouring the beef bits and flavourful portions of rice in every mouthful.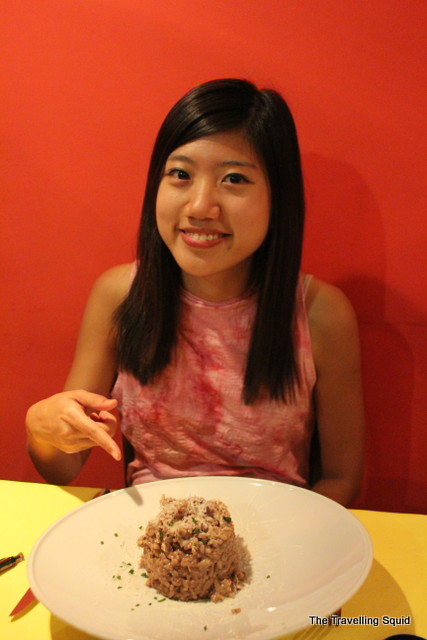 Diced beef in sauce with potatoes – €15.50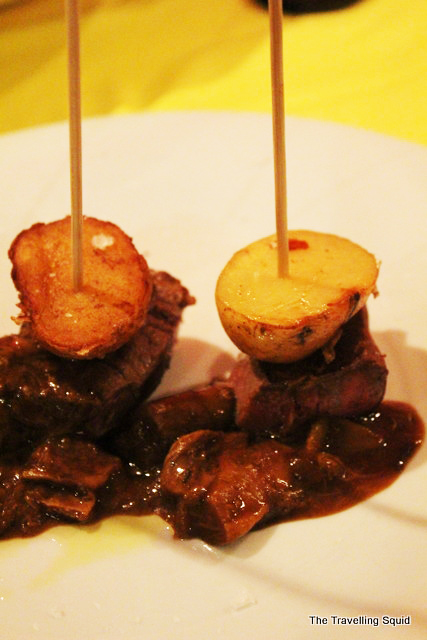 This is one of the signature dish of La Traguanta – it was served to a majority of patrons that evening. I remembered the beef was tender, and the sauce, very flavourful as well. The potatoes made a good finishing touch.
Dessert: Piononos from Santa Fe – €3.60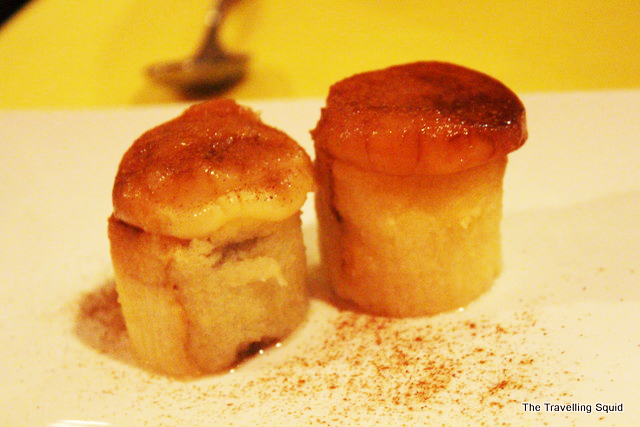 In case you're not familiar with the names, like how I was at first, piononos refers to a variety of pastries, found in Spain, South America and even Philippines. The Spanish version hails for this town Santa Fe, which is located in Granada Spain. Essentially, the pastry is rolled up into a cylindrical form and is fermented in different types of syrup.
In all honesty, I'm not a big fan of sweet stuff, hence I found the dessert to be a little too sweet for my liking. The pastry was well made though, and the syrup, an interesting flavour.
Have you been to La Tragantua in Madrid before? If so, do share your experience in the comments section below!
Opening hours:
Monday: 13:30 – 16:30
Tuesday to Friday: 13:30 – 16:30, 21:00 – 23:30
Saturday: 13:30 – 17:00, 21:00 – 24:00
Address: Veronica Street 4, Madrid, 28014
Tel.: +34 914 20 31 08
Mobil: +34 656 32 37 96