8 scenarios where the Santiago Bernabeu in Madrid is worth a visit
If you're a Real Madrid fan, the Santiago Bernabeu is definitely a place you'll visit when you're in Madrid. It's full of Real Madrid paraphernalia, and it's probably the most realistic Real Madrid experience you can get next to watching a live match.
But what happens if you're not that big a fan? Well, The Travelling Squid presents you the 8 scenarios where the Santiago Bernabeu in Madrid is worth a visit.
1. You are a fan of retired football stars such as Iker Casillas, Luis Figo, Zidane and Raul Gonzalez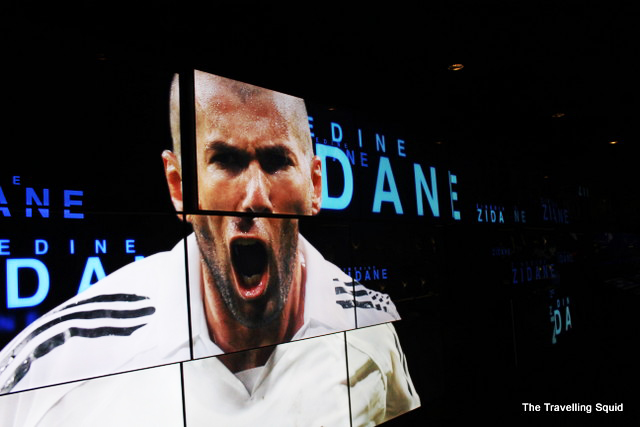 Call it tacky or over the top, but I was personally dazzled by the laser displays and trophy troves in the 'Best Club in History' room and 'Sensations Room'. Essentially it's a darkened room with large LCD TV screens, featuring the glorious moments by former players. You also get to see the soccer boots of the past, autographed soccer balls and most importantly, Iker Casillas' golden glove.
2. You have never been to a football club in Europe before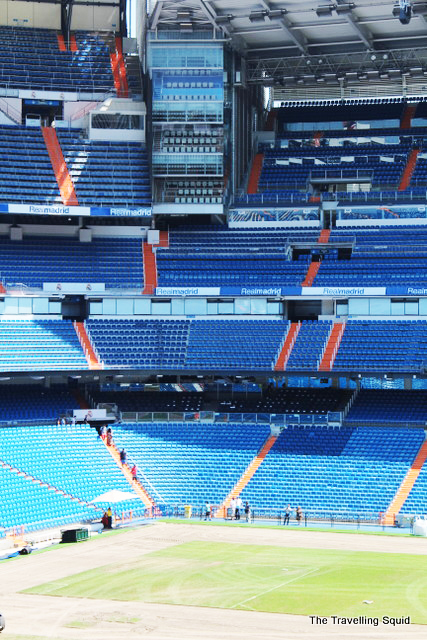 Visiting a football club in Singapore is very much different from that it Europe, I assure you. My favourite part of the tour was being in Real Madrid's dressing room. I could imagine the intensity of the atmosphere during half time, with players dripping in sweat, strategizing how best to play the game. It was very intriguing to me.
3. You're into football history
Real Madrid has been around since 1902. The exhibition is full of memorabilia from the past, including a showcase of the construction of the Santiago Bernabeu, and soccer boots donated by players. As the leading team in La Liga and several other championships, Real Madrid's history is a rich and eventful one.
4. You wanna check out Cristiano Ronaldo's locker room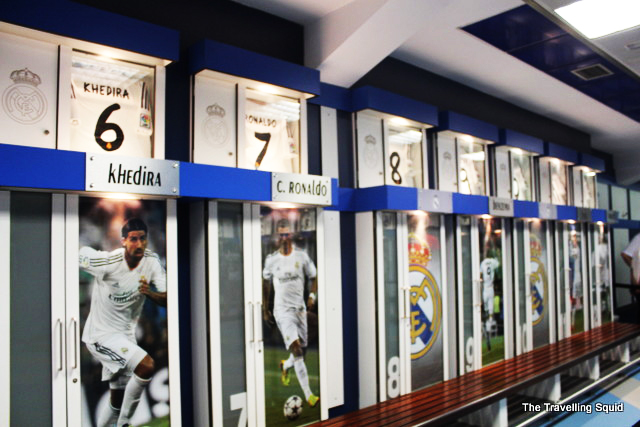 I'm no fan of Cristiano Ronaldo so this scenario is not suited for me. But yes, the locker room does pack a punch, even though you're just there for less than five minutes. Makes a good photo opportunity for bragging rights – 'Hey see, I'm at C.Ronaldo's locker room!' Might be quite an enticing proposition for teenage girls?
5. You embrace the glitz and glamour of victory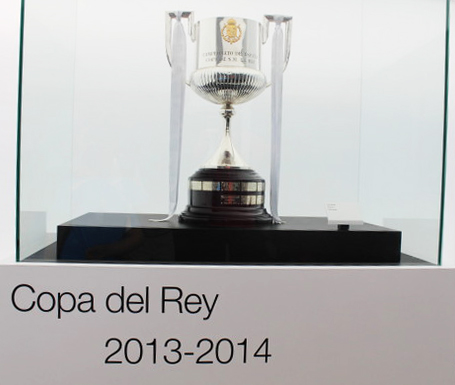 I wouldn't go as far as to say that Real Madrid is the best football club in the world, but it sure does have a history of winning. It's trophy chest is full, with medals which come in all shapes and sizes. You can tell that the trophies are very well polished, given the amount of light it is able to reflect.
6. You need a break from museums
Well if you had spent a long day in the Prado Museum analysing abstract art pieces, the Santiago Bernabeu tour might be just the way to relax and end off the day. There's nothing much to analyse, unless you're the 'numbers-type' and would like to calculate Real Madrid's winning probabilities.
7. You have fallen prey to the lure of Real Madrid merchandising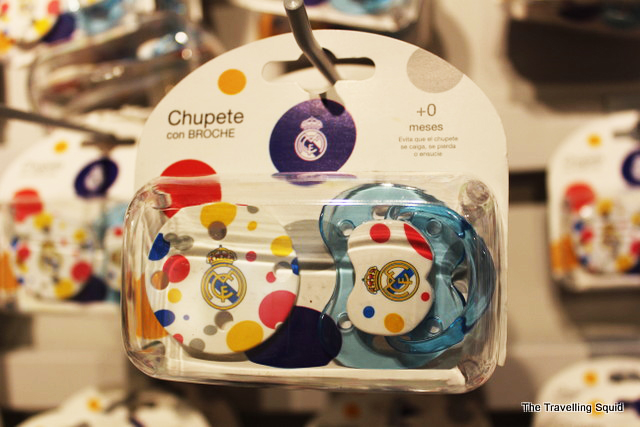 You don't have to embark on a tour of the stadium to visit the souvenir shop, but since you've fallen in love with the jersey (presumably), why not take the chance to learn about the club as well?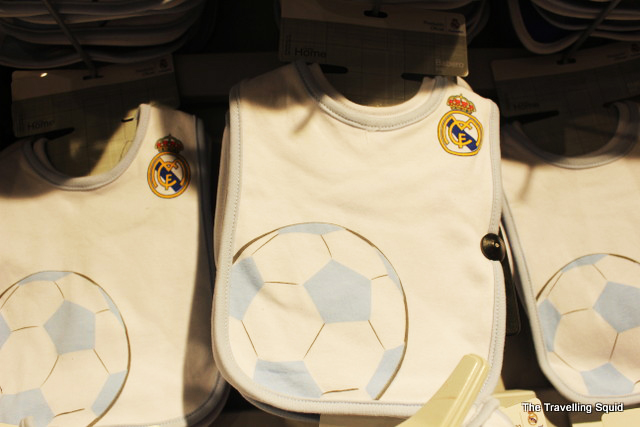 The souvenir shop also has one of the widest selection of Real Madrid memorabilia. Everything from jerseys, to soccer balls to even baby bibs, you name it, they have it.
8. You wanna distract your female friends from outlet shopping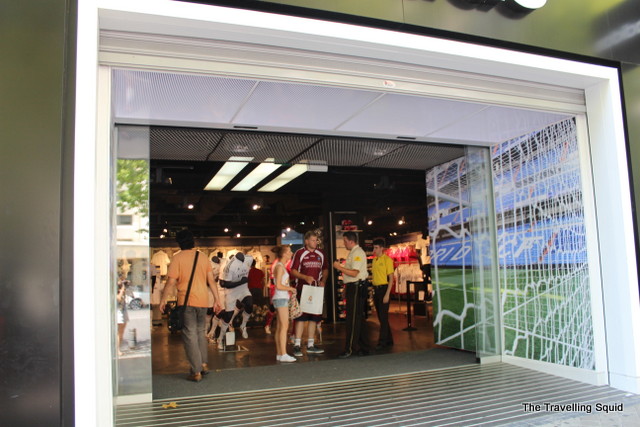 A visit to the Santiago Bernabeu effectively takes up half a day. So if you're unwilling to accompany the girls to outlet shopping, the stadium tour does seem like a very good way to be spending time in Madrid. The main draw is that they will be treated to some serious eye-candy.
Serious reasons to go on a Santiago Bernabeu tour/ and why Real Madrid is properly awesome
Here are they:
Founded in 1902 as the Madrid Football Club, the team has traditionally worn a white home kit since. The word Real is Spanish for Royal and was bestowed to the club by King Alfonso XIII in 1920 together with the royal crown in the emblem.
The team has played its home matches in the 81,044-capacity Santiago Bernabéu Stadium in downtown Madrid since 1947.
Unlike most European football clubs, Real Madrid's members (socios) have owned and operated the club since its inception.
The club is the most valuable sports team in the world, worth €2.5 billion ($3.4 billion) and also the world's richest football club, with an annual revenue of €549.5 million.
Real Madrid is one of three founding members of the Primera División which have never been relegated from the top division, along with Athletic Bilbao and Barcelona.
The club holds many long-standing rivalries, most notably El Clásico with Barcelona and the El Derbi madrileño with Atlético Madrid.
*All info credits: Real Madrid's Wiki page
The Travelling Squid's Take
While the Real Madrid football tour does seem a tad commercialised, it was quite an eye-opener as it was my first time visiting a European football club. It's quite an experience visiting a stadium with a capacity of 81,044 seats, and to be in the dressing room of the famous stars.
While I found the exhibition to be a tad to glitzy and slightly pretentious, it was nonetheless an interesting experience, and helped relived memories of the past. I especially enjoyed listening in to the past commentaries of previous matches (stay tuned for the next post).
So if you're not a fan, but have half a day to spare in Madrid and wanna take a break from museums, the Santiago Bernabeu is the place for you.