The Curious Elderly Gentleman From Across The Bar
Now if you're thinking that this would turn out to be some sugar-daddy romance novel of sorts, sorry to disappoint, but please click away.
This is mostly about my observations of a Curious Elderly Gentleman From Across The Bar. I spotted him at an oyster bar in Napa Valley. It's just a noob attempt at novel-writing. The descriptions are factual, but the observations and analysis are completely subjective.
* * *
I noticed him mid-slurp through an oyster. To be honest, I never really had the time, nor the opportunity to notice people in the States, like in India. The chic cafes I'd been too, at least the ones in San Fran were filled with hipsters, and I'm not in the business of noticing hipsters.
Just in case you're wondering, what do I mean by noticing? I'm far from the age where I visit a bar with a distant hope that a guy would ask for my number. That's definitely not my intent.
Well, I notice people who have an interesting story. Story of their lives. Like Simon, the Italian hippie, or The Holy Man of Tiruvannamalai. Quotable quotes, an interesting perspective to life. People who are true to themselves, who wouldn't mind others judging them.
Back to the Curious Elderly Gentleman From Across The Bar. Now that I've had consumed the oyster and the heavenly liquid that accompanied it,  I looked at the eldery gentleman in greater detail.
He was decked in a formal-looking long sleeve shirt and tie – surprising choice of attire, given the summer's heat. I assure you, that's not the sort of attire the wine-makers in Sonoma and Napa were in. Next to him was what appeared to be a glass of ice-lemon tea. He looked pensively into the distance. The modern world was lost on him. He was distanced from the hustle and bustle of Oxbow Market, mind, spirit and soul faraway from the money, jars of spice and bags of fruits changing hands. He could have been reflecting the past, projecting into the future.
He was alone. Unaffected by the lack of a companion, but comfortable to be on his own.
These questions proliferated my mind.
Why was he there?
Why was he there alone?
What was he drinking? (It's not beer, in case you were wondering. Probably ice tea.)
Why was he in a long-sleeved shirt and tie? In the hot San Francisco summer's heat?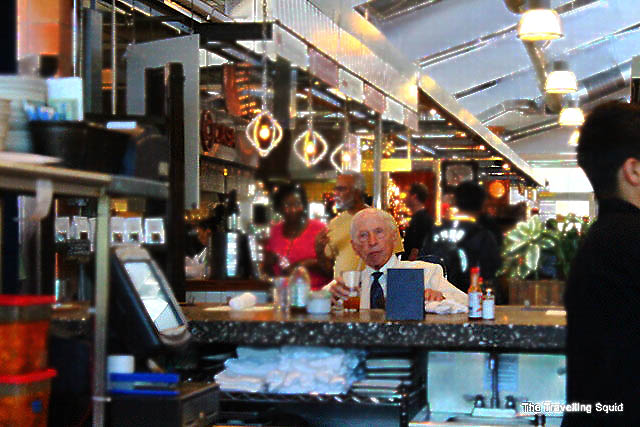 My only conclusion was that he was not from the area, hence the suit and tie. He was here most unlikely for business, despite what the tie suggests, given his solitary presence.
The only other possible reason would be – he was here for love.
Possibly a long lost-love from many years back. He had come with hope, in search of a lady, but was told that she had moved. The thing is, he was aware that the chances of meeting her were very slim. They had lost contact for decades. But he had to try.
He didn't look sad, because his heart had hardened with each passing setback he had faced in his life. Too may setbacks just makes one immune to failure. Deep down, he was sad but couldn't show it. Displays of emotion had only cost him. It did little to set him free.
In this modern society, there is little acceptance for self-indulgence. And the only insulation for that? Is to be alone.
To be honest, I was concerned about the frailty of this elderly gentleman. He wasn't very wealthy, judging by his attire, choice of drink and demeanor. While a torrent of thoughts appeared to have crossed his mind, their was a sense of unyielding firmness and independence.
P.S) If you recognise The Curious Elderly Gentleman From Across The Bar, appreciate if you could drop him my contact – phebe@thetravellingsquid.com. I'd love to hear his story. (Perhaps, it isn't as dramatic).