Sufi Bookstore in Zamalek – Cool cafe in Cairo to check out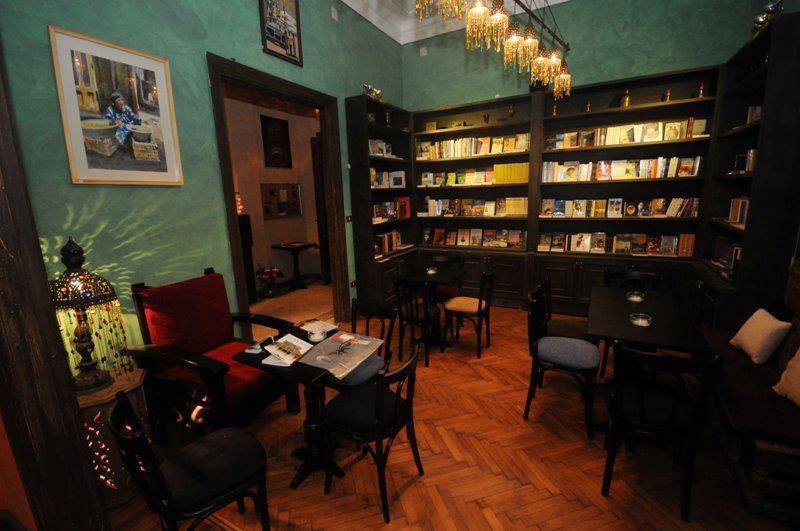 Cairo doesn't strike a first time visitor as a city with cafe culture. That being said, we managed to visit a pretty good cafe – Sufi Bookstore, under the recommendation of Friend M, who has been living in Cairo. If you're missing your morning Americano or Cappuccino, and haven't grown quite use to Middle Eastern coffee, Sufi Bookstore serves a coffee that is easy on a latte-drinker's palette. (To me, Middle Eastern coffee tastes like Indonesian coffee, which it's dark and bitter. It's nice in its own way.)
There's a whole bunch of activities to engage in from a cafe visit, apart from that much-needed caffeine fix. There are certain things which money can't buy, and requires some facilitation from cafes.
Essentially cafes are about relationships. If you see a cafe beyond its primary purpose as drinks provider, you'll find a visit to Sufi Bookstore rather 'happening'. The cool, cultured crowd is here, perhaps the who's who of Zamalek. The cafe also runs performances on certain nights, and is a good chance to get in touch with Middle Eastern culture.
Sufi Bookstore in Zamalek reminded me of my days in Delhi, exploring each little culture enclave. In particular, I visited the area surrounding Nizamuddin Dargah where I witness devout followers praying over sacred pieces draped in embellished pieces of cloth. It was quite a walk to remember.
The Travelling Squid's Take
Sufi Bookstore in Zamalek is a place to read a book, people watch and indulge in a little bit of writing. To me, it was rather intriguing to realise that when I'm inside, the chaos on the streets, the harsh sunlight, piercing through one's skin is no longer a bother.
Sufi Bookstore reminds me of the setting from the Arab tale, One Thousand and One Nights. The plush, velvety red cushions, the Middle Eastern lamps, and traditional Arabic music playing in the background. It's at this place where Ali Baba and Simbad the Sailor was conceived. The night is never too old.
Sufi Bookstore
Facebook page: https://www.facebook.com/Sufibookstoreandmore/
Address: 12 Sayed El Bakry Street, Zamalek, Cairo, Egypt
Phone:+20 2 27381643