Review of Dash Hotel in Seminyak Bali – a great boutique hotel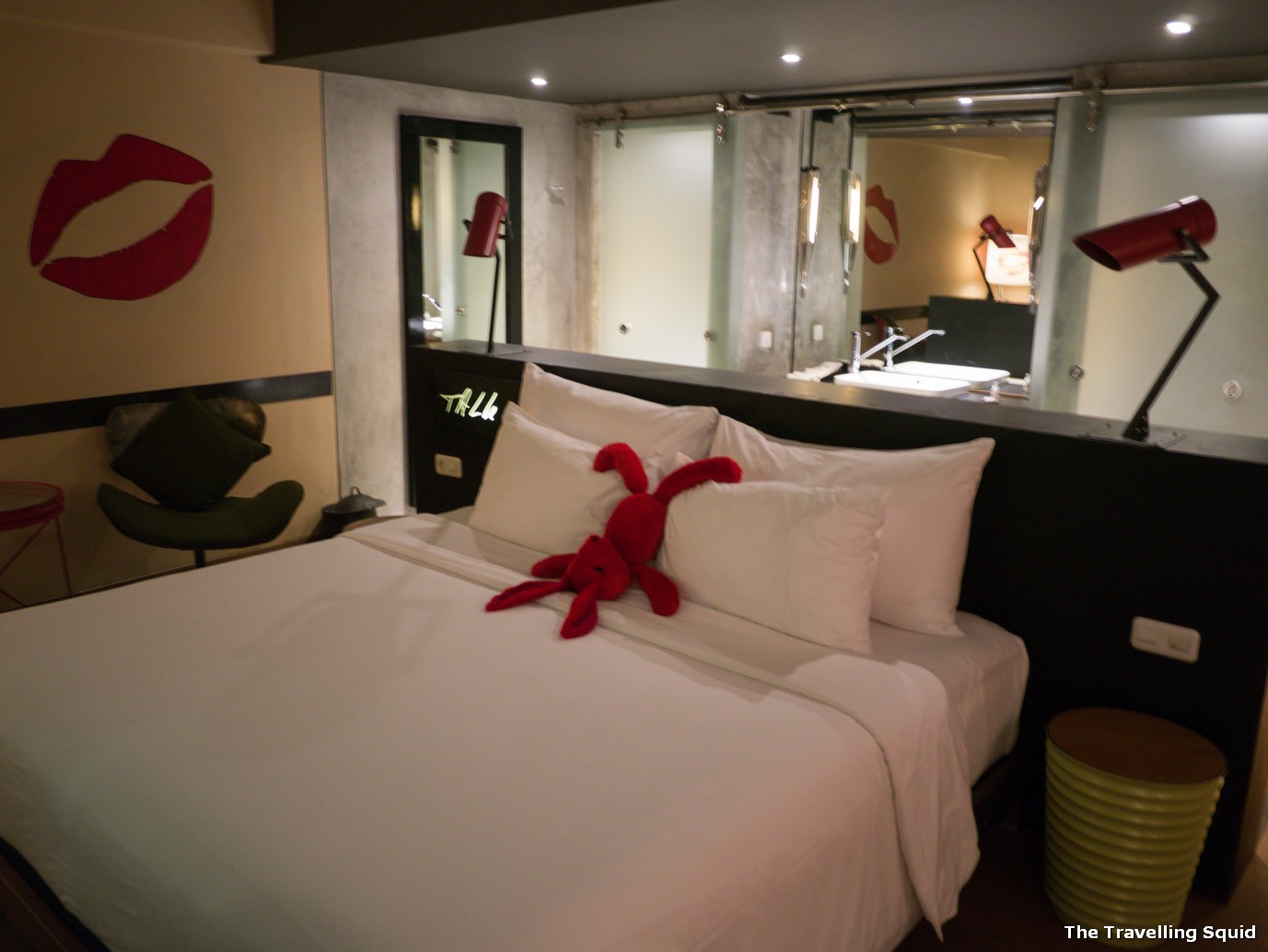 Dash Hotel in Seminyak Bali is perhaps the most memorable of all boutique hotel stays I've been to. There's a broad range of accommodation available in Bali, and a natural choice would be to stay in a relaxing, resort-like sanctuary-ish destination. But if you've been to Bali several times like yours truly, and would like to live in somewhere different, do check out Dash Hotel.
It's not that expensive – it cost us about SGD150 a night including breakfast, so that works out to about SGD75 per person/ night. If you visit during a lull period, you'll be able to get a deluxe room for about SGD120 per night.
The Service
The service was really good throughout. Just a general sense that Balinese are really thoughtful, nice people. They were very helpful with directions, places to eat, and when we had almost no rupiah left, they recommended a local place to have lunch at – Warung Enak which serves a good nasi padang at affordable prices.
The Room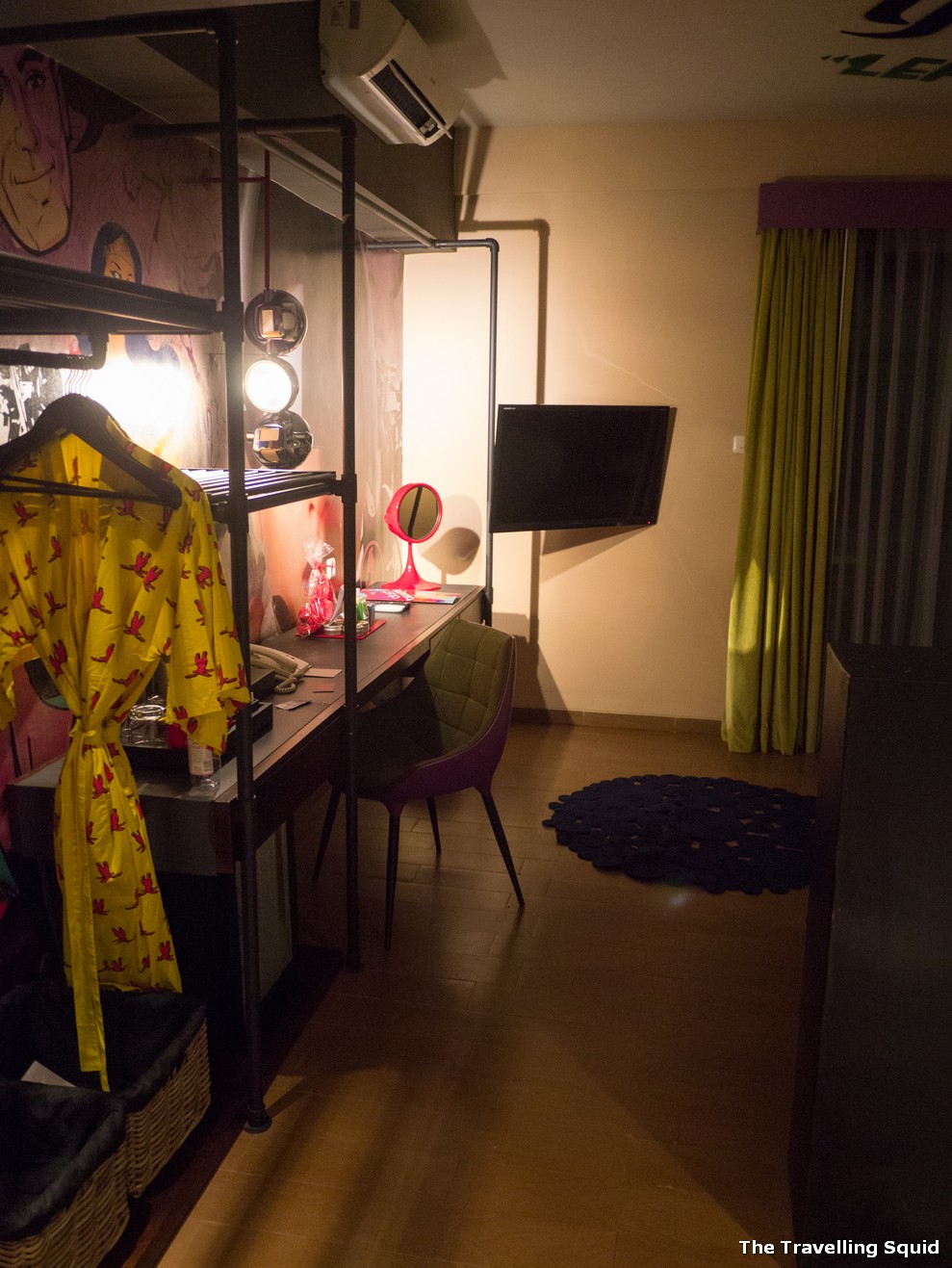 The room came with all sorts of furnishings – quirky lamps in the shape of lips, and cute spotlight mirrors. There were even pictures on the walls – a big fat pair of red lips as graphics, and a quirky looking lady on the wall.
To be fair, a hotel with such furnishings require high levels of maintenance. I noticed some painting peeling off from the headboard, but I was fine with it.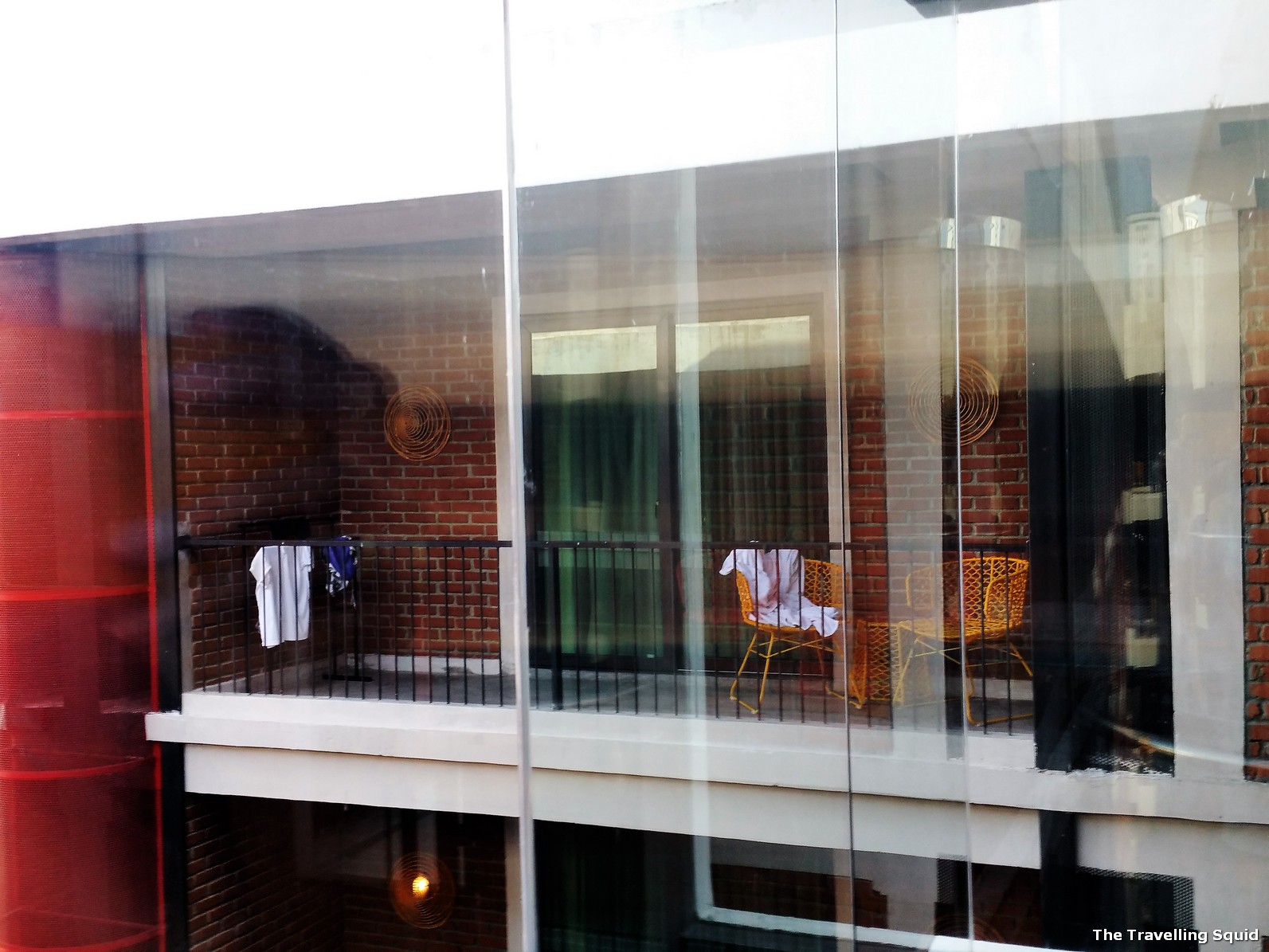 The room also comes with a nice balcony, which overlooks the pool and offers a place for your to air your swimwear or people watch.
The Bathroom
If you're gonna be staying with friends that you're not so close with, the bathroom might be a tad of an issue. Reason being that the layout is really open, and you'd probably have to come out of the shower slightly naked to grab a towel, before putting on your clothes. But fret not, with good friends that you trust, just ask them to look away. No love is lost – it would be more of an epic experience. The room also comes with a tub, which gives you the opportunity to take a good soak while watching TV. Shiok!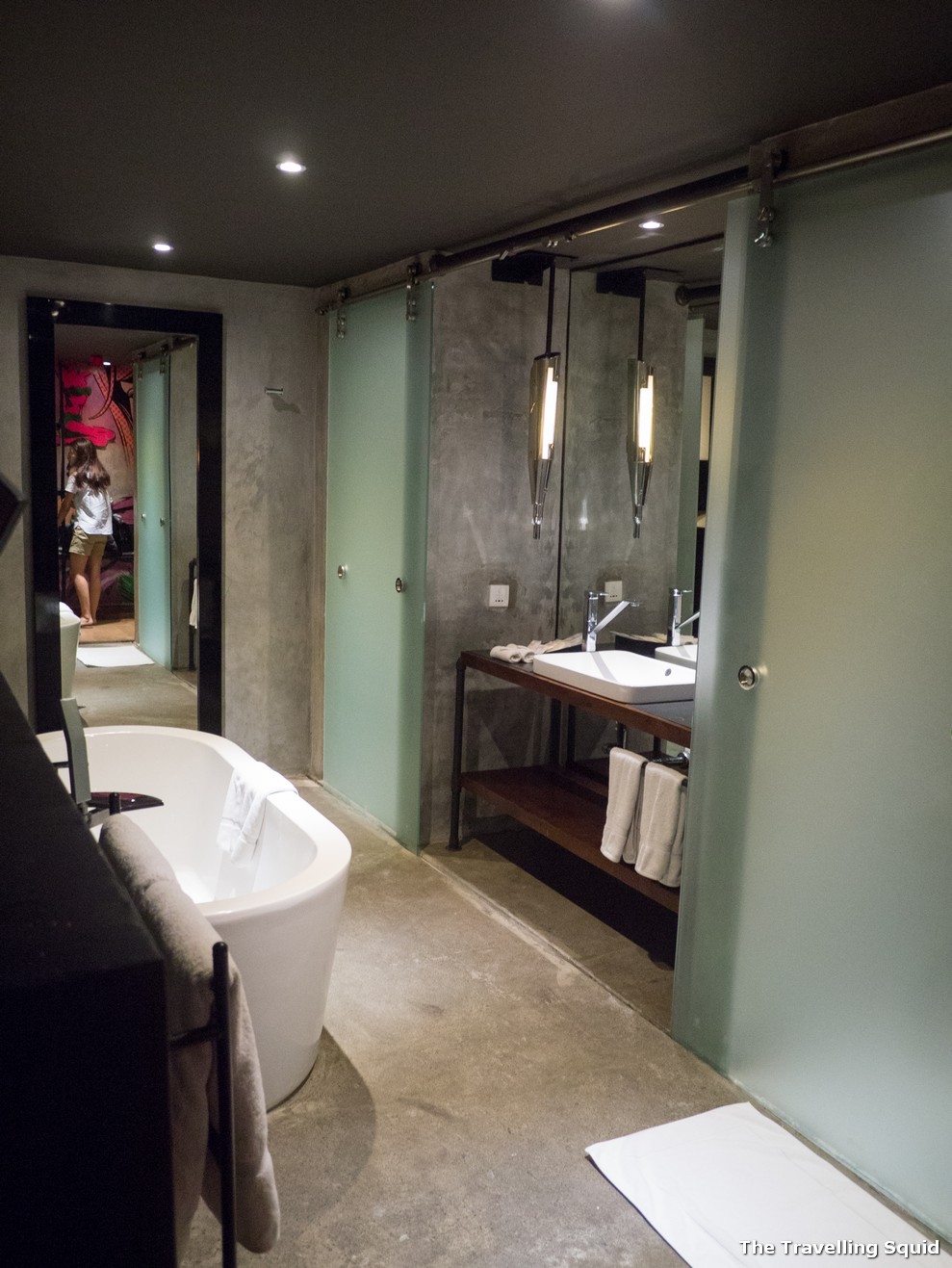 The Facilities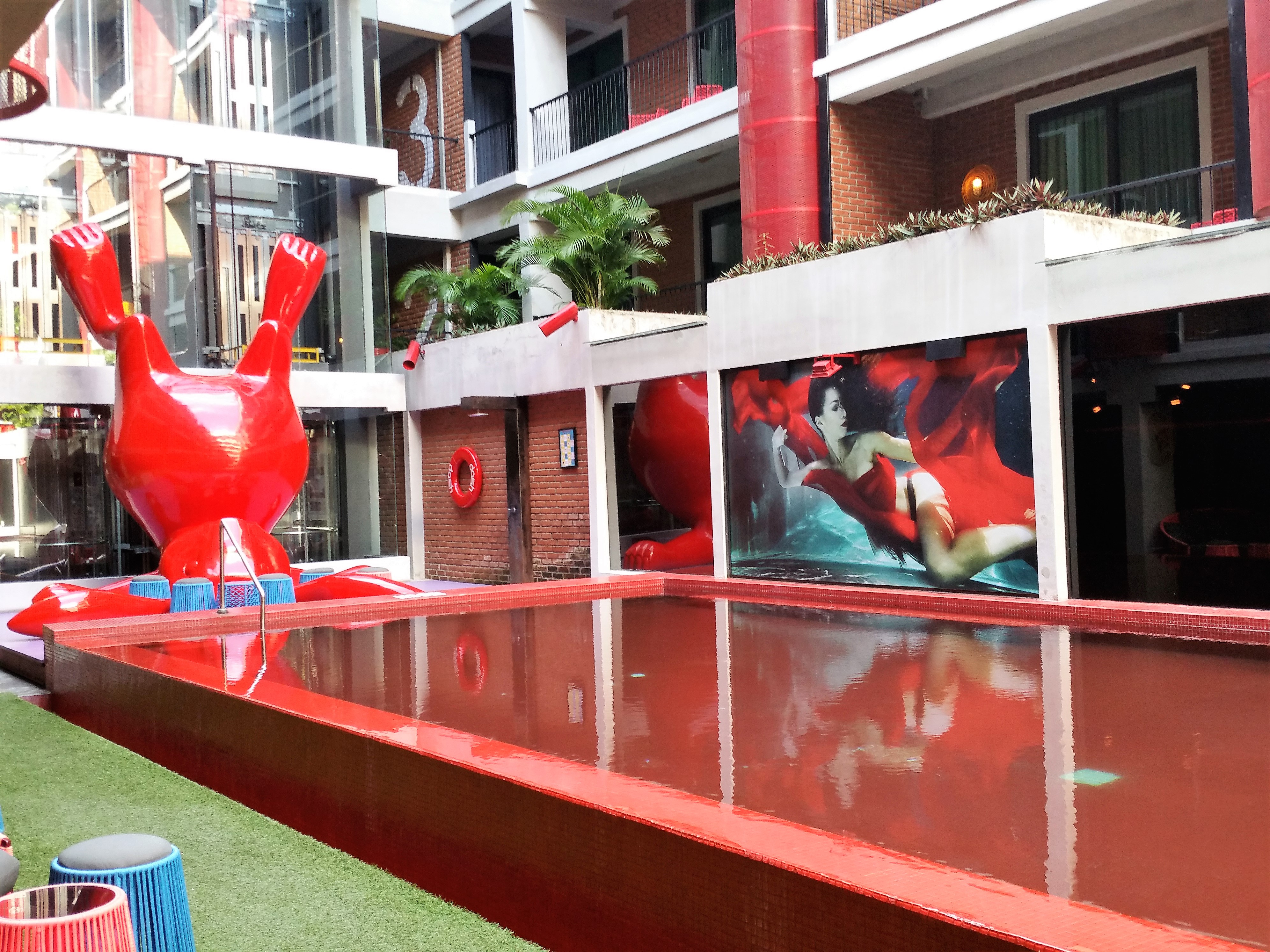 The pool is pretty legit, just somewhat short in length, but deep enough to offer sufficient resistance for a good swim. We swam about 20 laps, which is perhaps 5 laps in an Olympic sized pool. That's  better than having no-exercise at all! The best part of the pool is that it's shielded from the sun, which is great if you have been overexposed to the sun on Bali's beaches.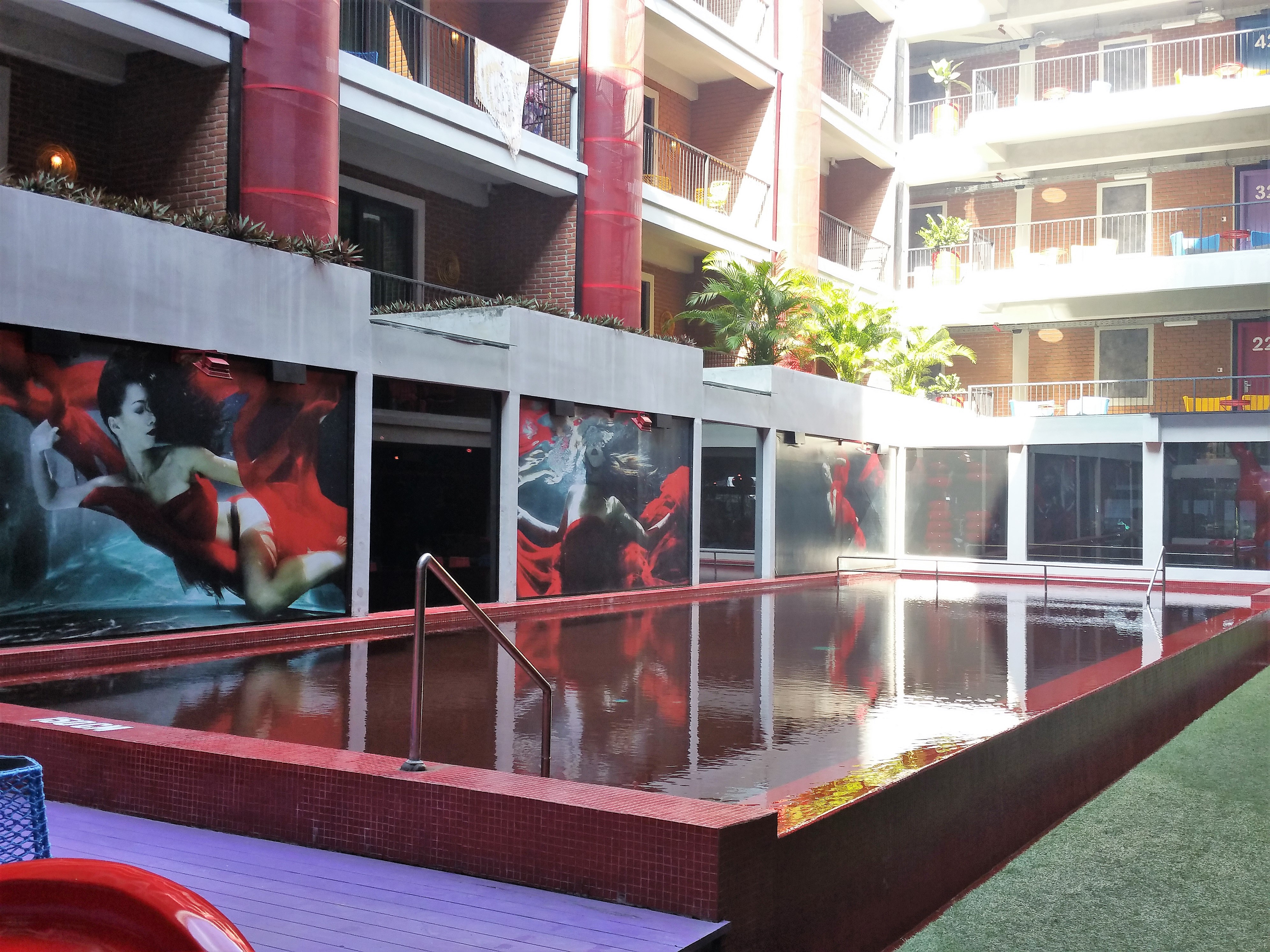 The Breakfast
The breakfast is held at their own restaurant – MYA restaurant, and it's really worth  it, and therefore deserves a post on its own. It's an all-you-can eat ala-carte buffet, and the restaurant is totally not stingy – with the staff asking us several times if we would like more food or drink. There were several mornings in which I had several juices and two mains, and it was actually really good. According to Booking.com, it cost SGD16 for an add-on for breakfast. For other websites, breakfast comes included.
The Travelling Squid's Take
The rate that we got the hotel for was a tad more expensive than the rates offered on booking websites – I'm guessing it's because we had made the booking quite spontaneously, about two weeks in advance. That being said, I was glad we chose to stay at the Dash Hotel in Seminyak Bali. With its eclectic style and excellent breakfast, I may just return to stay there on my next trip. Stay tuned for the next post on breakfast at the MYA Bar & Restaurant in Seminyak.