Great restaurant to try Jeju black pork in Seogwipo
A great restaurant to try Jeju black pork in Seogwipo is 기운네 흑돼지 (the literal translation is Cheer up, Black Pork) [Giunne Heugdwaeji]. The address and contact number has been included below. 
Jeju is renowned for its black pork. According to Wiki, the Jeju black pig s a breed of domestic pig found on the Korean island. It is a smallish pig with a black skin and smooth coat of hair. The Jeju Black pig is said to have a unique taste quite distinct from other breeds of pig and forms the basis of some well-known local dishes. According to Wiki, the pork is smoked over burning hay, allowing the smoke to penetrate the meat juices resulting in a flavour quite unlike regular pork and meat that is somewhat chewier. But to be honest, I believe the meat we had was not smoked over hay, but there were some pieces of meat which was much chewer.
Friend H and I had to try the Jeju black pork as we were in Jeju. We did not do any prior research on Korean BBQ restaurants, mainly because there were a few which lined the street near our hotel. We were also tired from the long day, and wanted to have a good dinner and rest.
To locate the restaurant, we abided by the very Singaporean thinking of "if there's a queue means it's good", and looked out for restaurants which were the most crowded. There were no tourists in most of them as it was not in-season. Most locals were dining with their families. Every restaurant shared something in common – a wide flatscreen TV, and several fridges well stocked with soju and beer.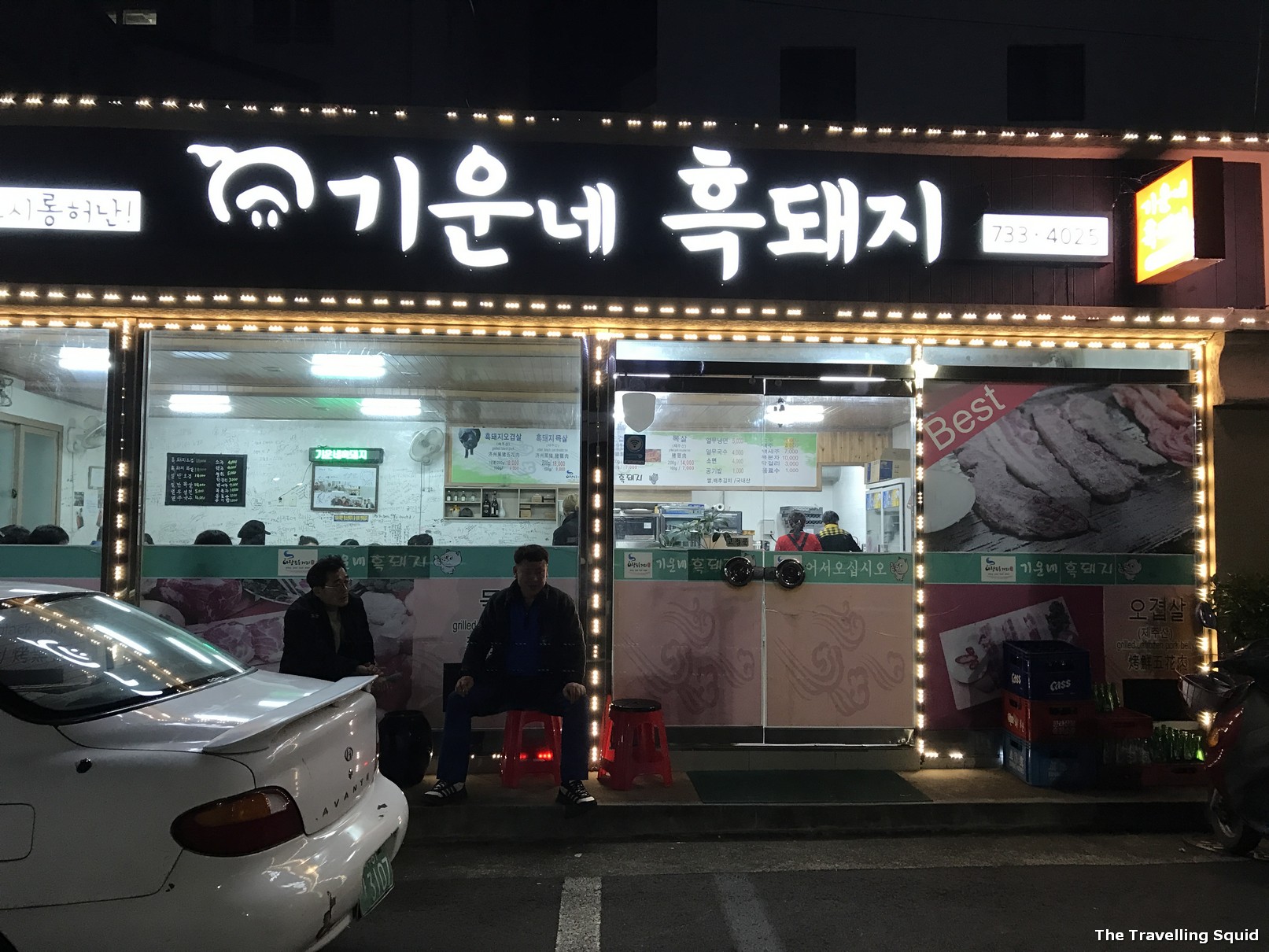 We arrived at Giunne Heugdwaeji that evening and it was rather packed, and I was glad that there was still some space for us. The atmosphere was lively, some locals were having a soju with their BBQ, and their face had turned pink from perhaps the cold, and influence of alcohol.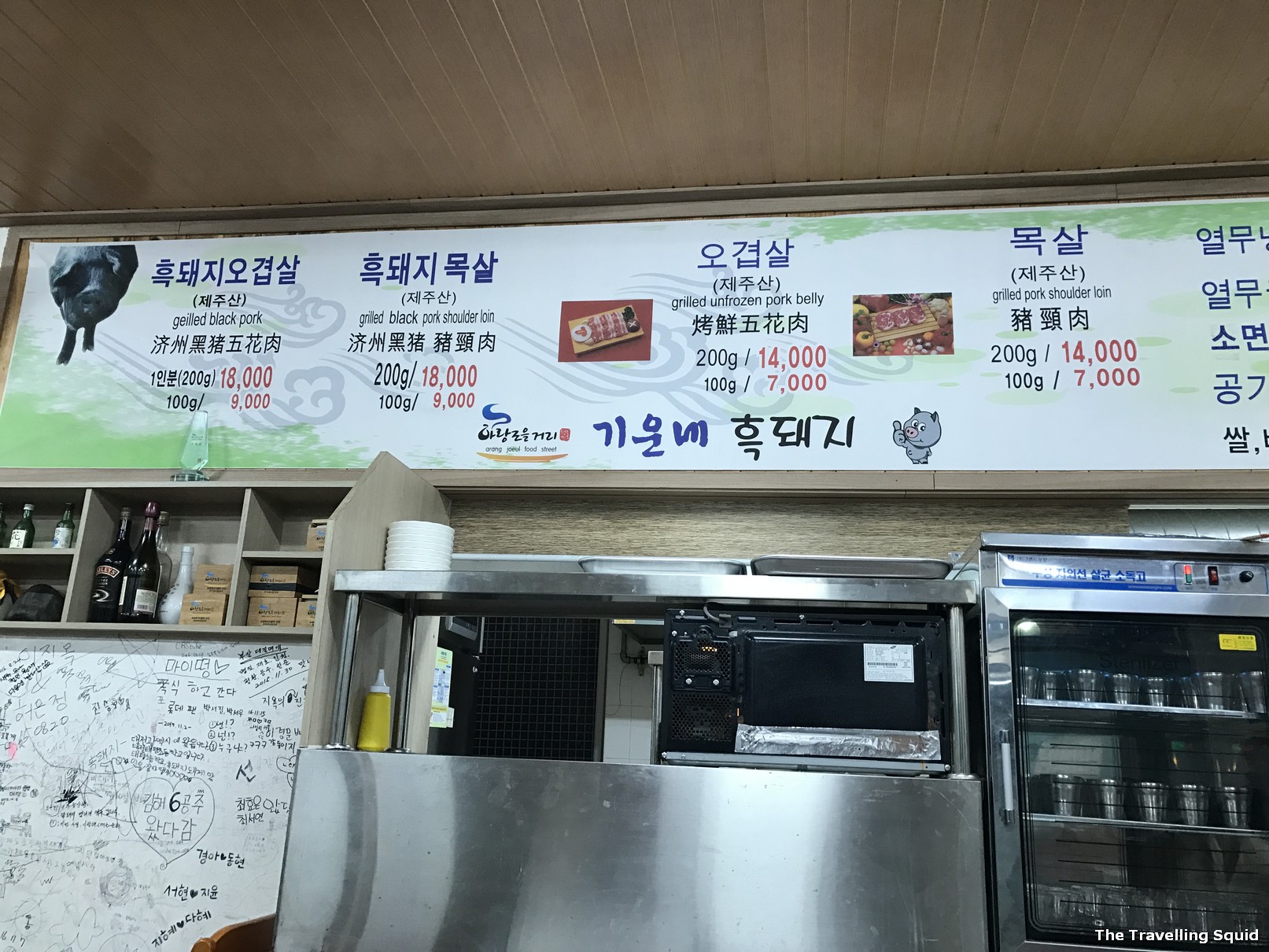 We looked at the menu, and the English options were limited, but sufficient. We ordered the black pork and pork belly respectively, as Friend H doesn't eat beef. The prices were fair, given the amount of side dishes served to us. It cost 18,000 won (SGD22, USD15.30) for 200g of black pork, and 14,000 (SGD16.80, USD11.70) for 200g of pork belly.
Side Dishes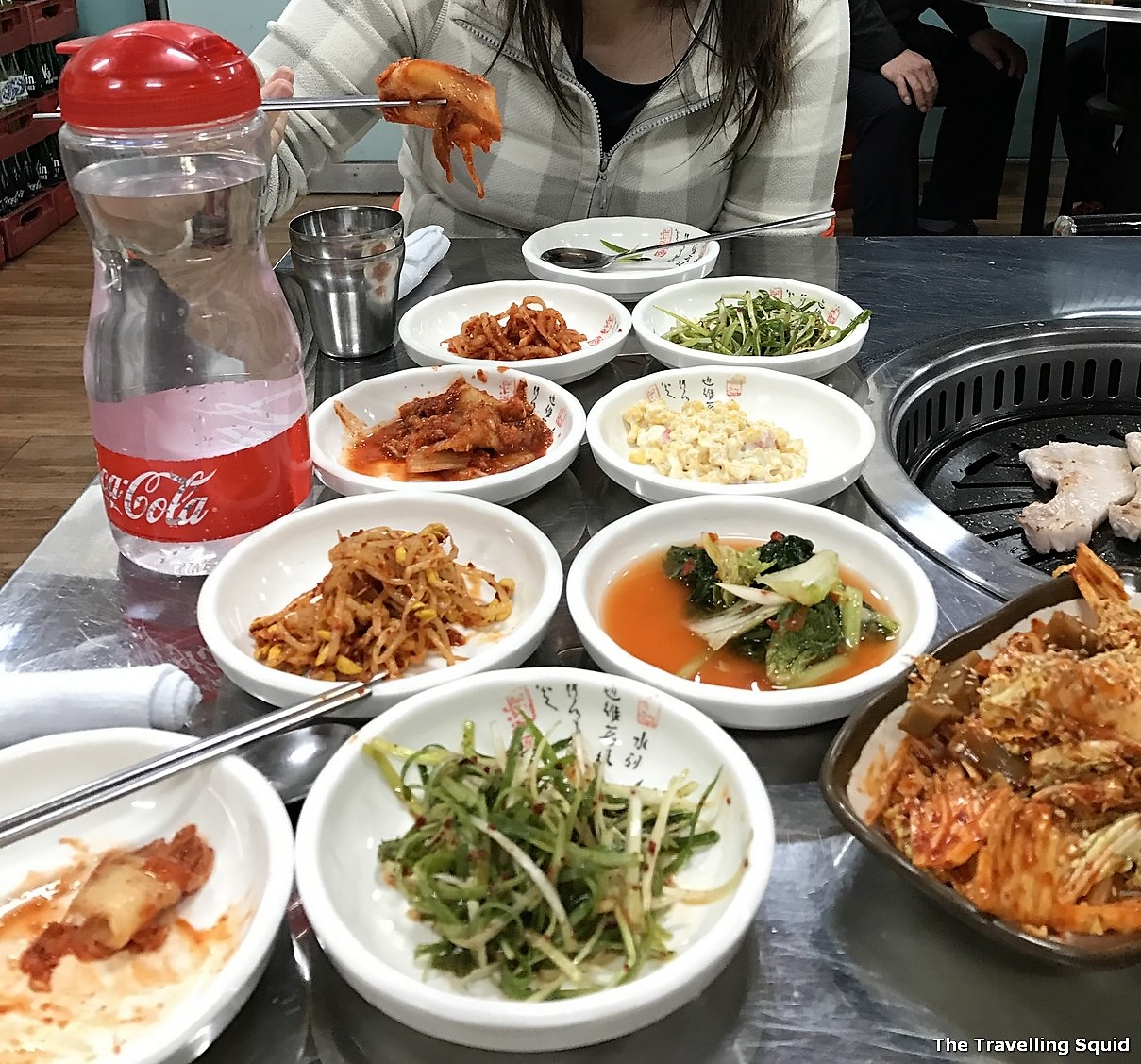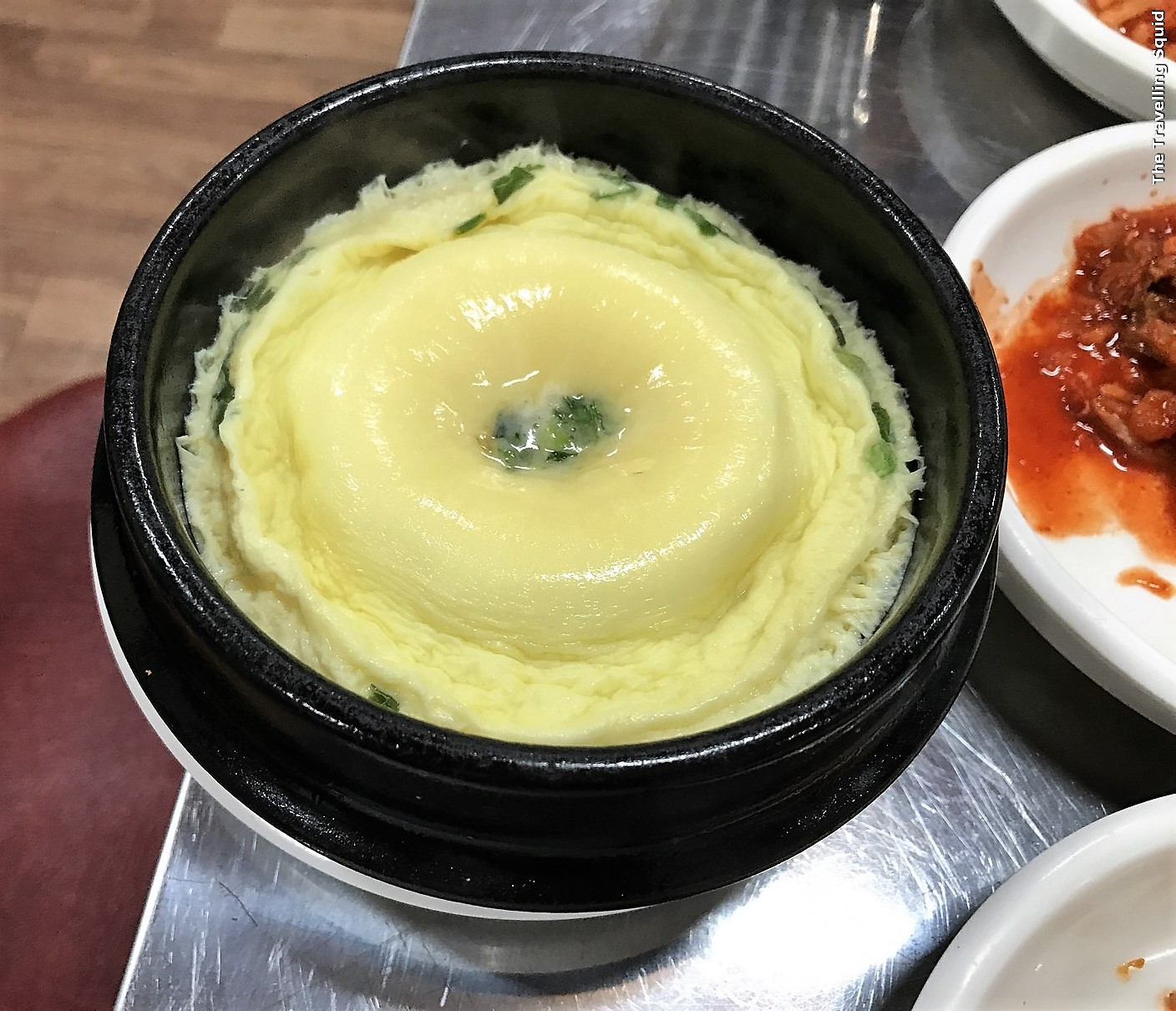 As with Korean BBQ, the BBQ meat came with several other side dishes. Some where really good, like the hot-stone egg, while others appeared to be various items mixed in a kimchi sauce. I didn't particularly like this semi-raw cabbage side with sesame seed in it.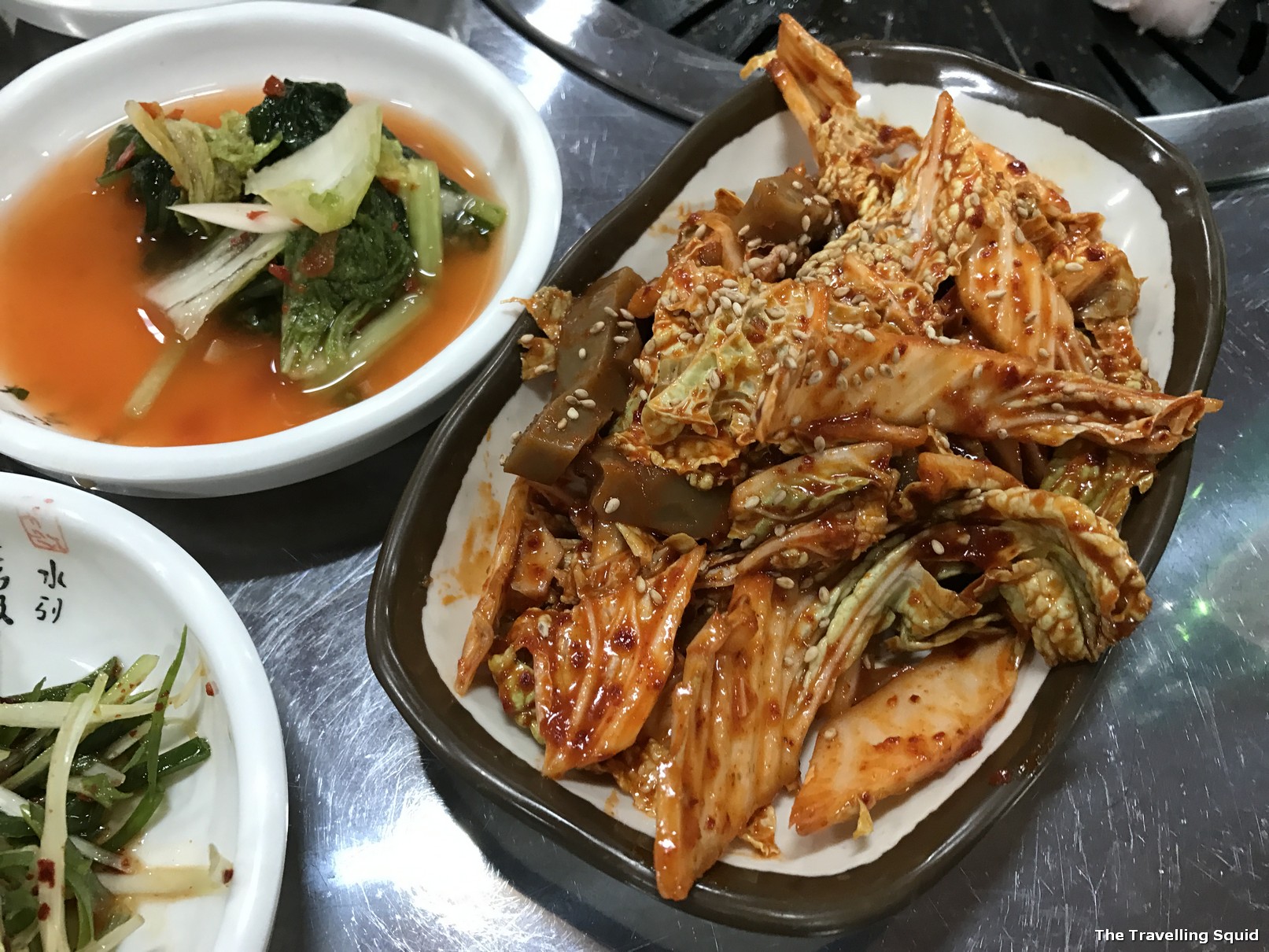 How to eat the meat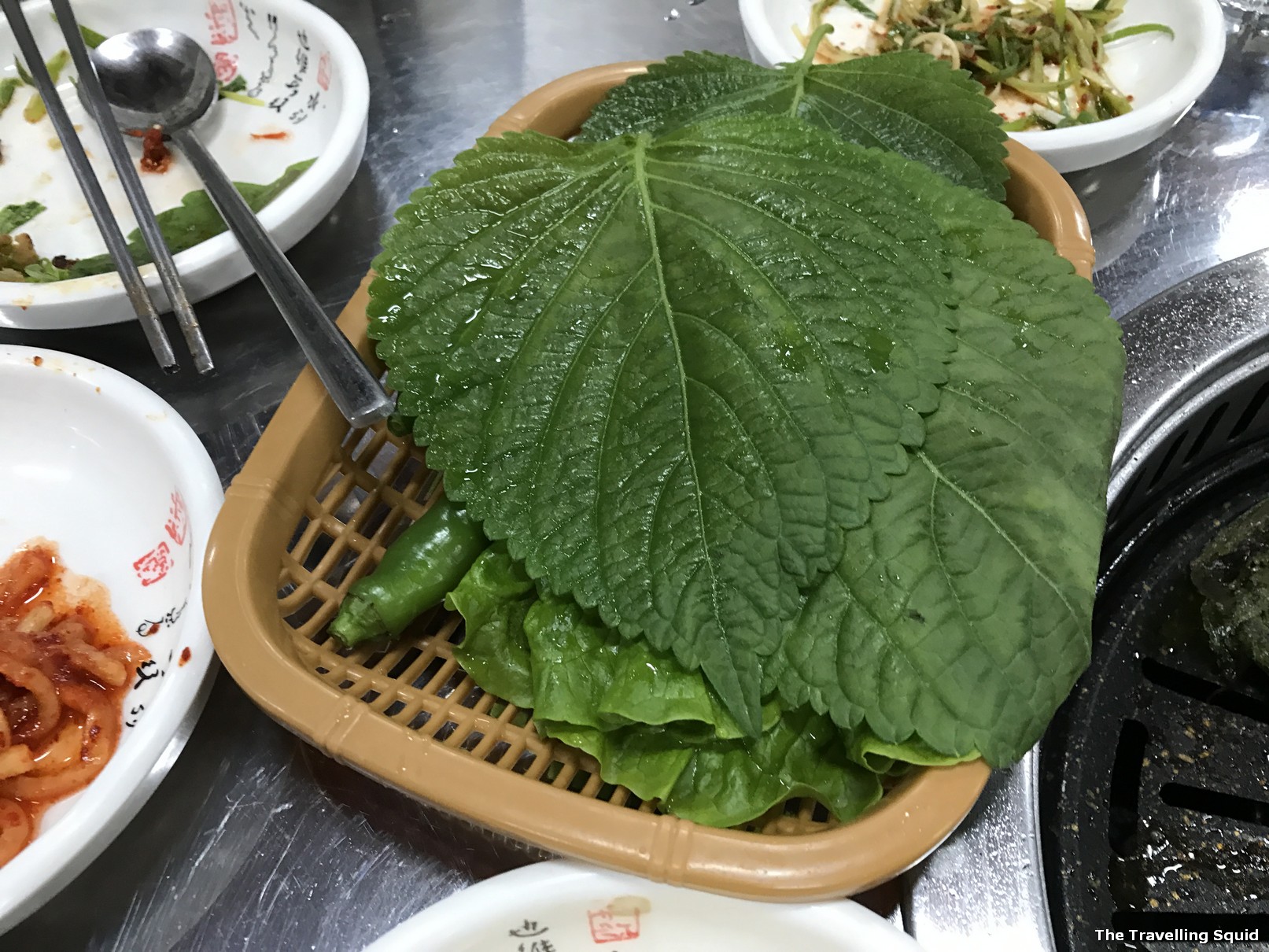 To avoid being overpowered by the grease, the Korean Aunty taught us how to have the meat with the vegetable leaves. Friend H didn't particularly like the perilla leaf, but I loved it as it had a nutty, minty flavour to it. It also made be feel a little healthier eating pork with such a thick layer of fat.
According to Wikipedia, the Perilla leaf is a herb, part of the mint family.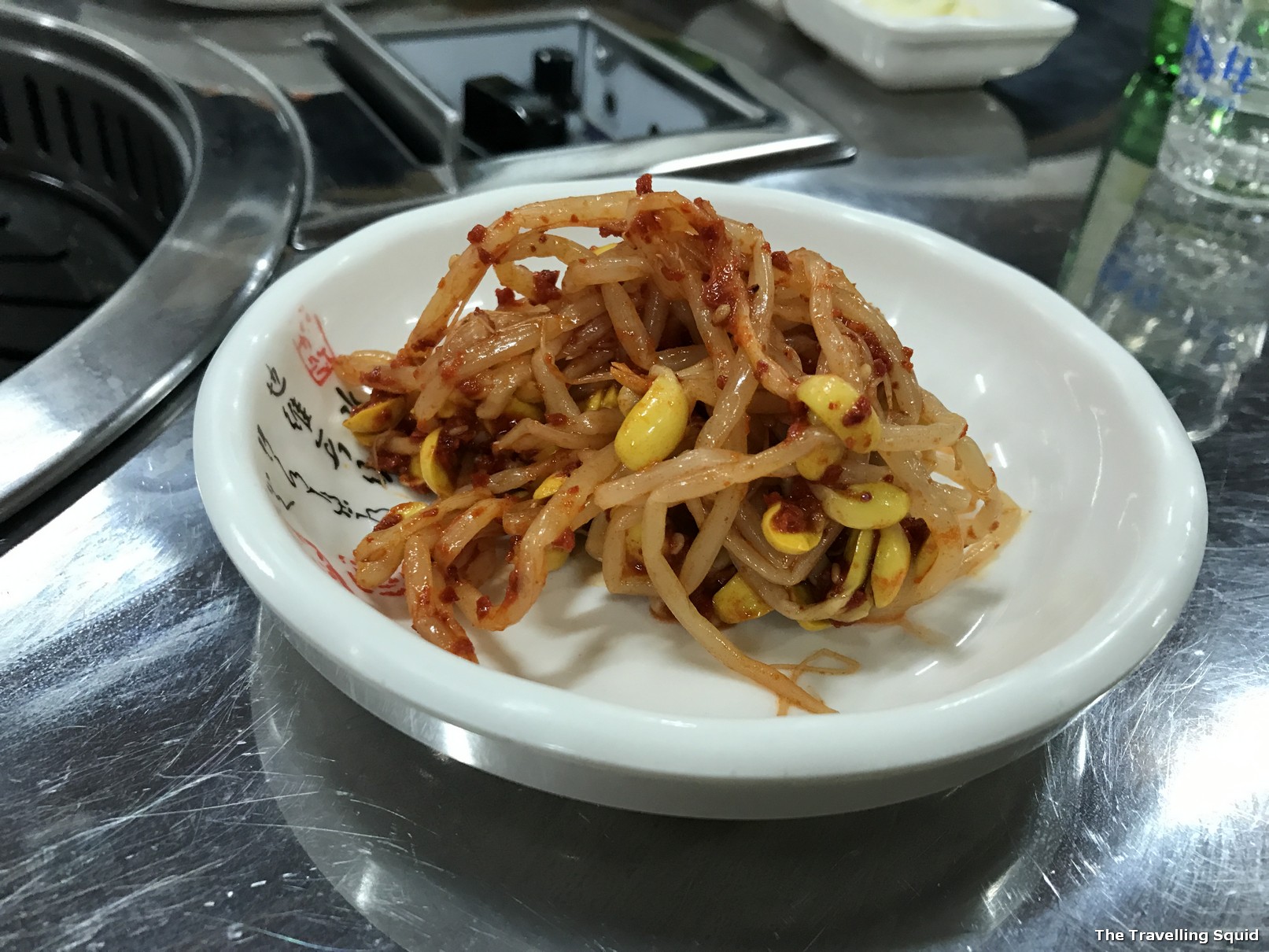 As tourists, the Aunty helped us cook the meat, and also taught us how to wrap the leaf. First, with a deft swipe of her tongs, she placed scallions dressed in kimchi sauce on my leaf. Next, she gestured at the sauce pan, which offered a variety of sauces, salt and a spiced powder. I didn't add any more salt, as the sauce was sufficiently salty.
I'm not an expert an wrapping, so I folded the leaf up like a wanton skin and popped the meat into my mouth.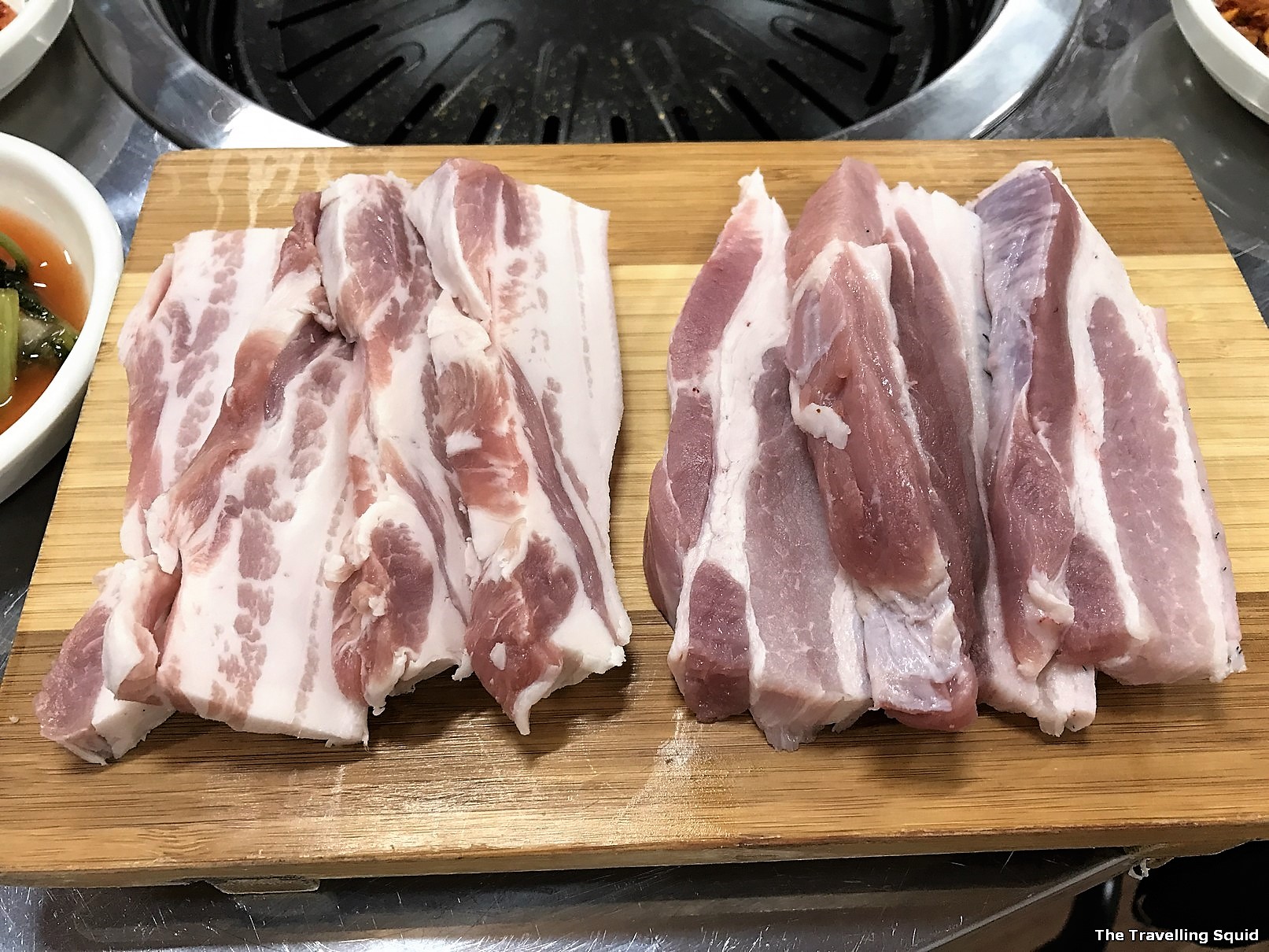 It was delish. To be honest. I couldn't tell the difference between the black pork and the pork belly, only that one of its flesh was of a duller colour. The black pork might be the one which had a thicker layer of flat on the surface, so much so that it felt rather chewy.
I enjoyed the slight charred of the meat. It was not too tough, and I kind of enjoyed drinking it on its own. It went very well with soju, though I must say Friend H had begged to differ.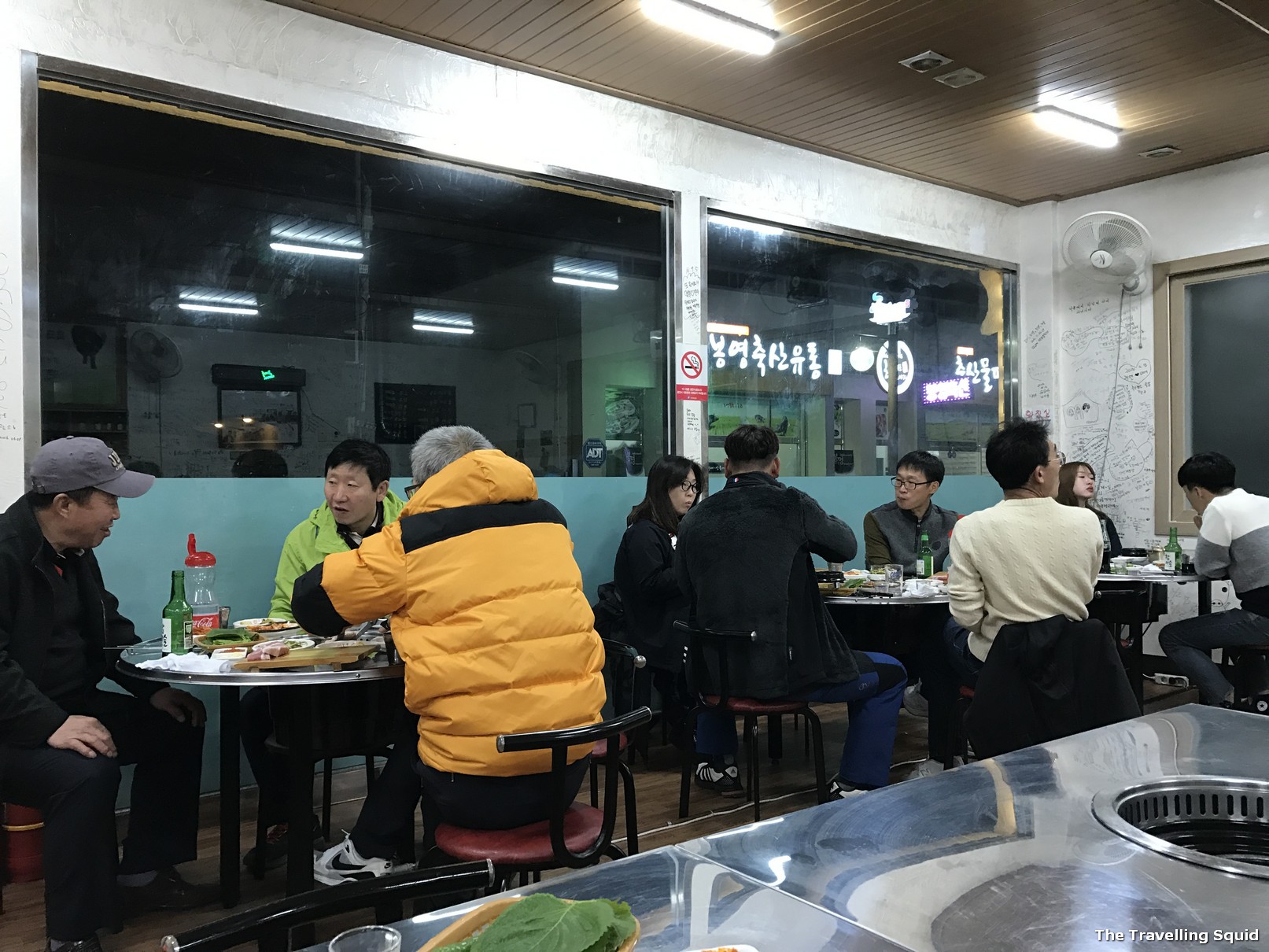 The Travelling Squid's Take
I'm not sure how the Jejus black pork should taste like, but it was a very satisfying meal. Korean BBQ is not one of the things you could eat everyday, but for that few blissful moments, chewing on the juicy meat mixed with a sauce, wrapped in a leaf in is just bliss. What's even better is that you wash it down with a small glass of soju.
It wasn't just the food that I enjoyed, but the service as well. The restaurant, which seems to be family-runned, had a warm atmosphere and the service was good. When one travels, it's always great to dine at local establishments, as if you've been invited to someone's home.
Big thanks to Friend H for identifying this restaurant. It was an eight minute walk from our hotel in Seogwipo
* * *
Awesome restaurant to try Jeju black pork in Seogwipo
Name: 기운네 흑돼지 (the literal translation is Cheer up, Black Pork) [Giunne Heugdwaeji]
Google search term: [기운네24시감자탕] – https://g.co/kgs/7URGMv [They do not have a website]
Address: South Korea, Jeju-do, Seogwipo, Seogwi-dong, 294-12
Telephone no: +82 64-733-4025