Review: A free guided tour of Stirling Castle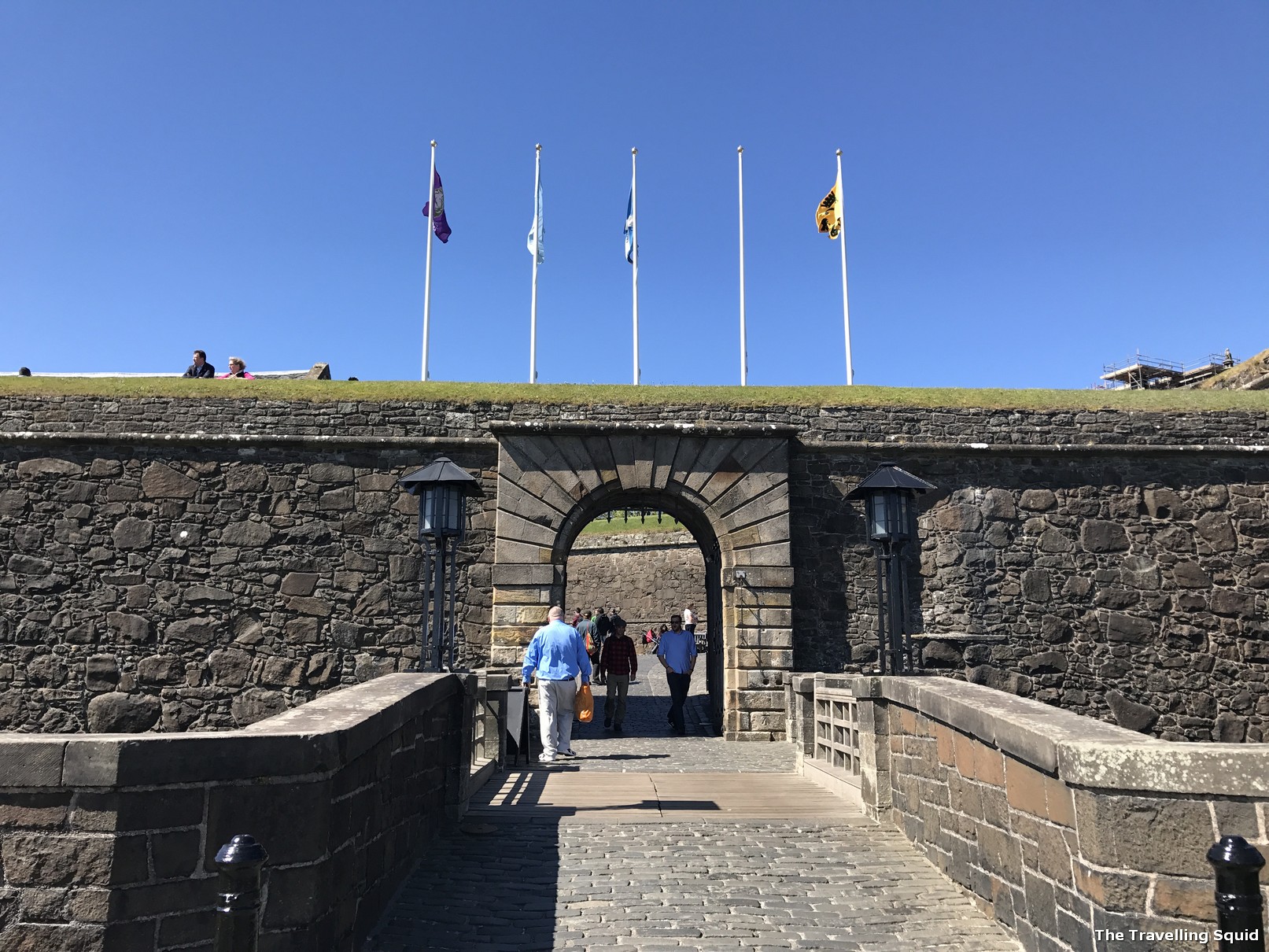 If you're visiting Scotland for the first time, visiting a castle would be useful to help you get a better understanding of Scottish culture. My personal take is that it may not be necessary to visit all castles in Scotland. Stirling Castle however, seems to be the most significant of all. Wikipedia has a lot to say about it, and I'd recommend that if you're absolutely unfamiliar with Scottish or UK history, do go on a free guided tour of Stirling Castle – it's very informative and it does make the place come alive.
According to Wikipedia, the Stirling Castle is one of the largest and most important castles in Scotland, both historically and architecturally. The castle sits atop Castle Hill, an intrusive crag, which forms part of the Stirling Sill geological formation. It is surrounded on three sides by steep cliffs, giving it a strong defensive position. Several Scottish Kings and Queens have been crowned at Stirling, including Mary, Queen of Scots, in 1542, and others were born or died there.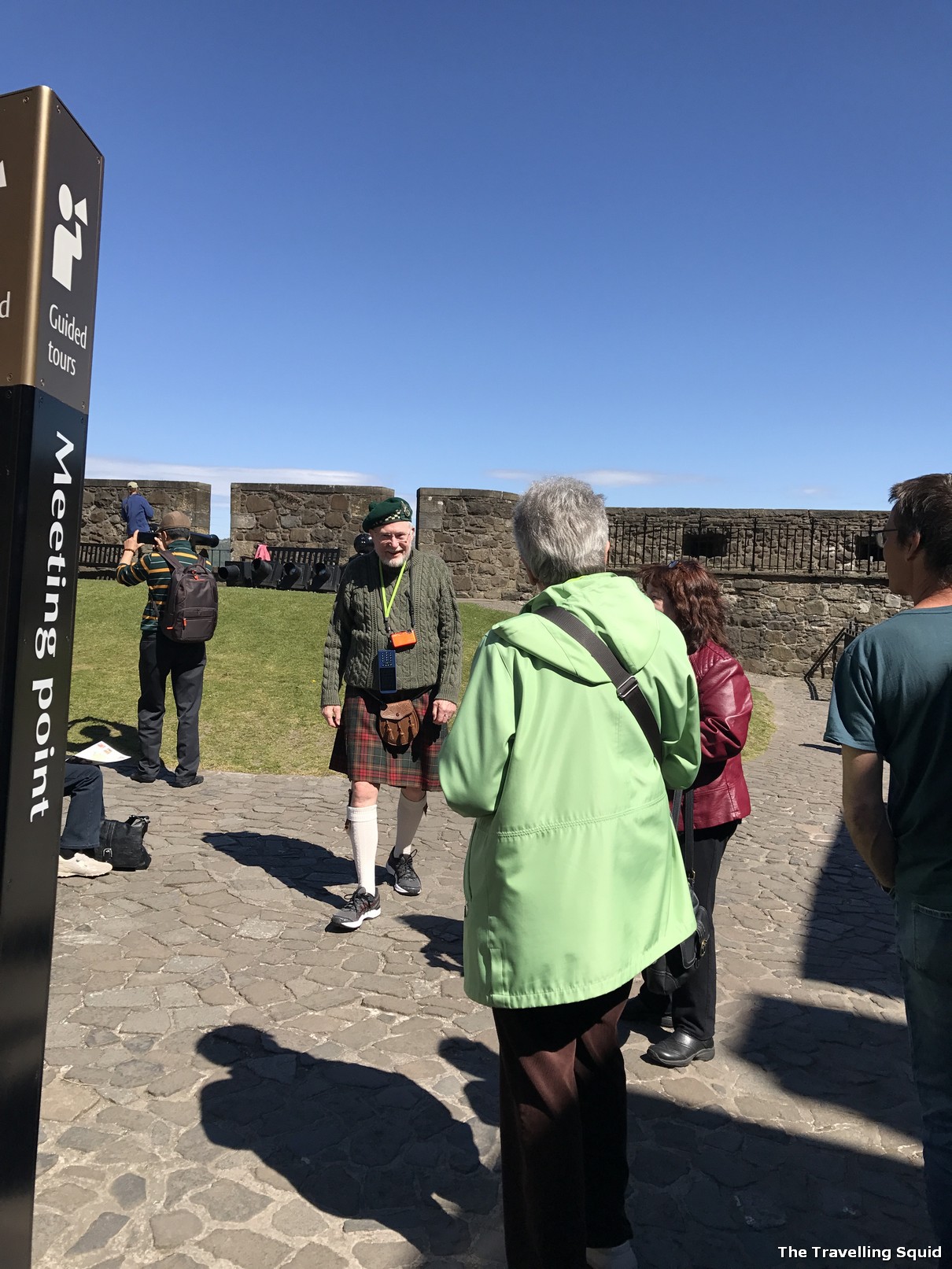 Ticket admission & Parking
Ticket admission is expensive I must say. It cost £15.00 for an adult ticket, and parking was £4 if I remembered correctly. The parking arrangements were very well organised, all we had to do was to drive up, pay the parking fee, and follow instructions from the ushers. There were ample parking lots, so don't worry.
Free guided tour of Stirling Castle
The free guided tour of Stirling Castle is really useful because it highlights certain areas of the castle that you could return to explore should you be interested. It took about an hour. According to the Visit Scotland website, the guided tours are included in the ticket price and take place on the hour between 10am and 5pm, starting at the well outside the Fort Major's House.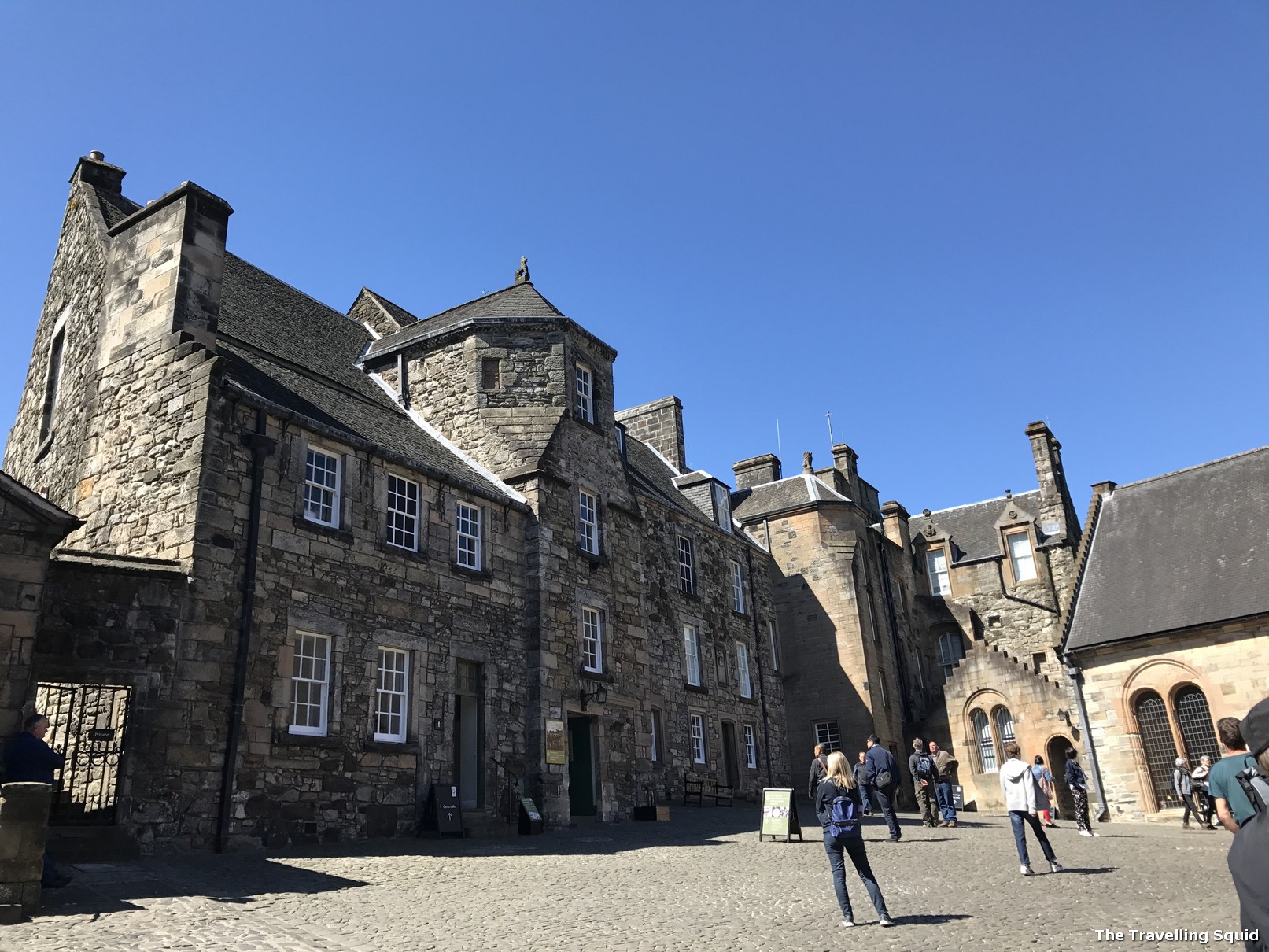 The compound is vast and the best way to get around is through a guided tour. Our guide was a Scottish man in his fifties. He was wearing short sleeves despite the strong winds and he knew his stuff very well.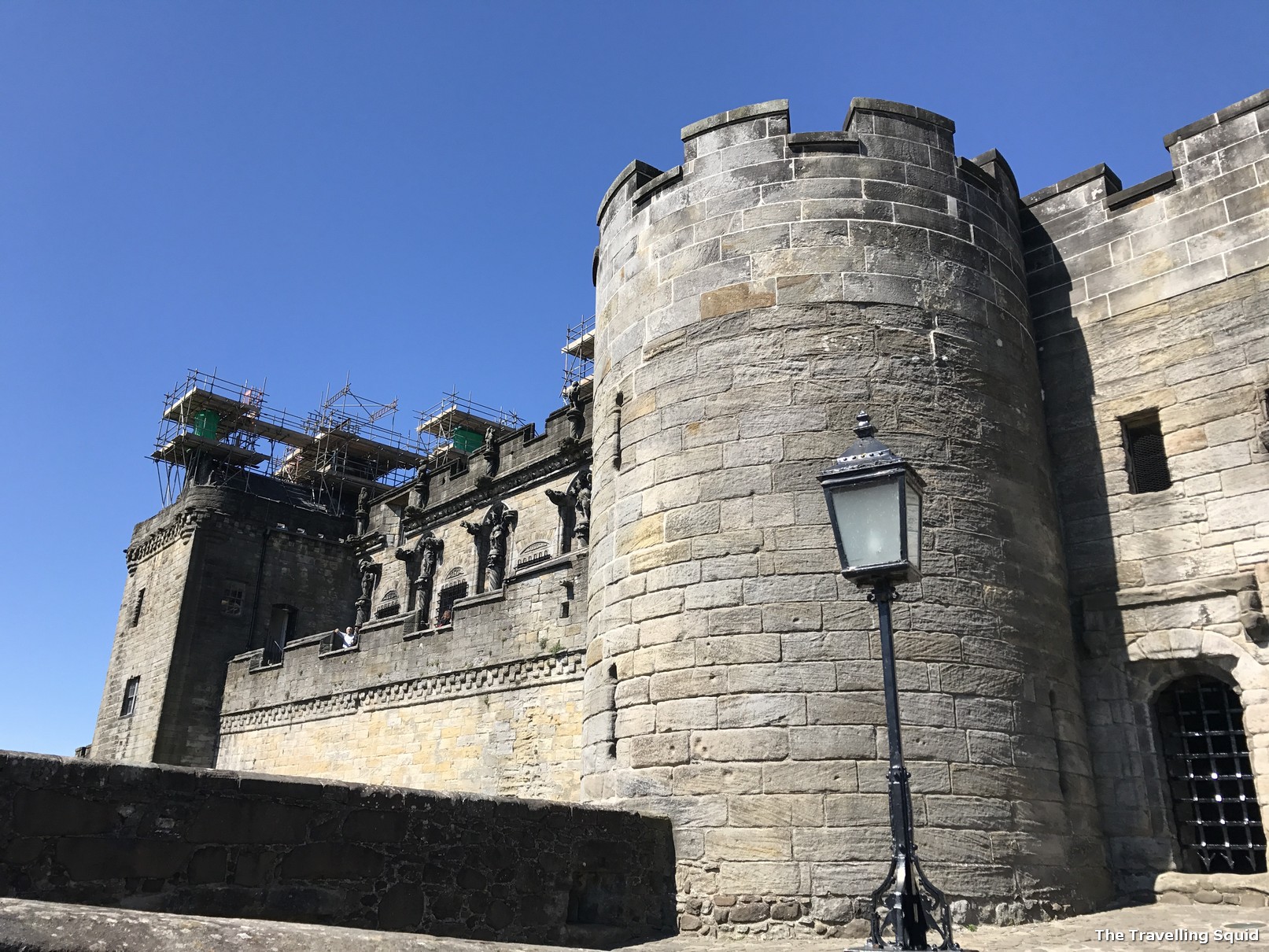 Stirling Castle is steeped in much history, but the most memorable story is how Mary, Queen of Scots was crowned in Stirling. During the guided tour, the guide was so robust in his explanation that I felt that I had to Wikipedia more about this aristocrat to learn more about her. It turns out history has painted her as a really bad person, allegedly killing her husband, and later on, plotting to kill her cousin Queen Elizabeth I after seeking refuge from her. Sounds like so much drama – it's no wonder a film has been made of her, though maybe like the character it sought to portray, it was as great too.
The Fortress
Stirling Castle's defence is said to be one of the best in its day, due to the hill it was built on and the fortified walls. Today, the fortress oversees green fields and some graves, but the view is as good as before.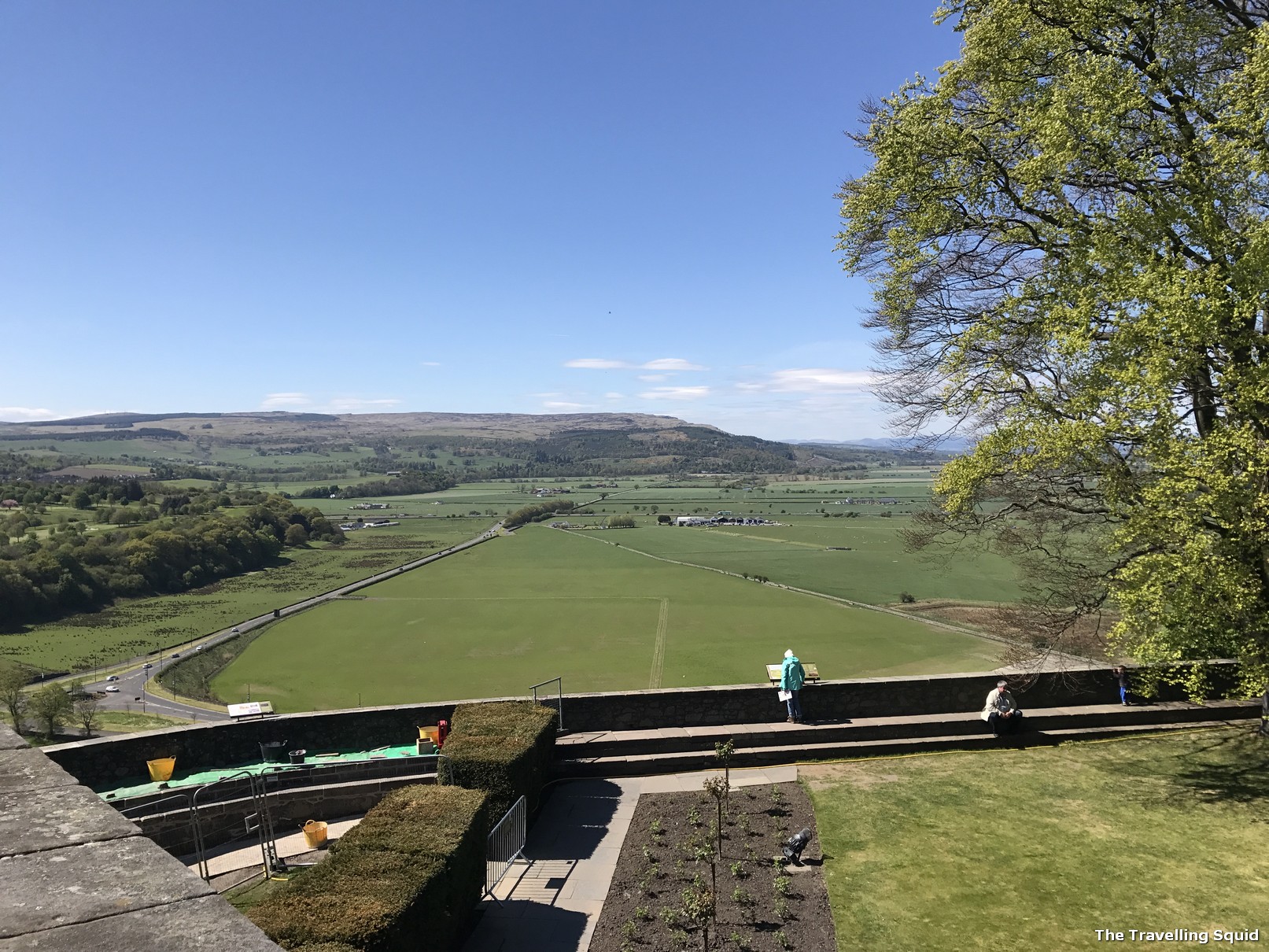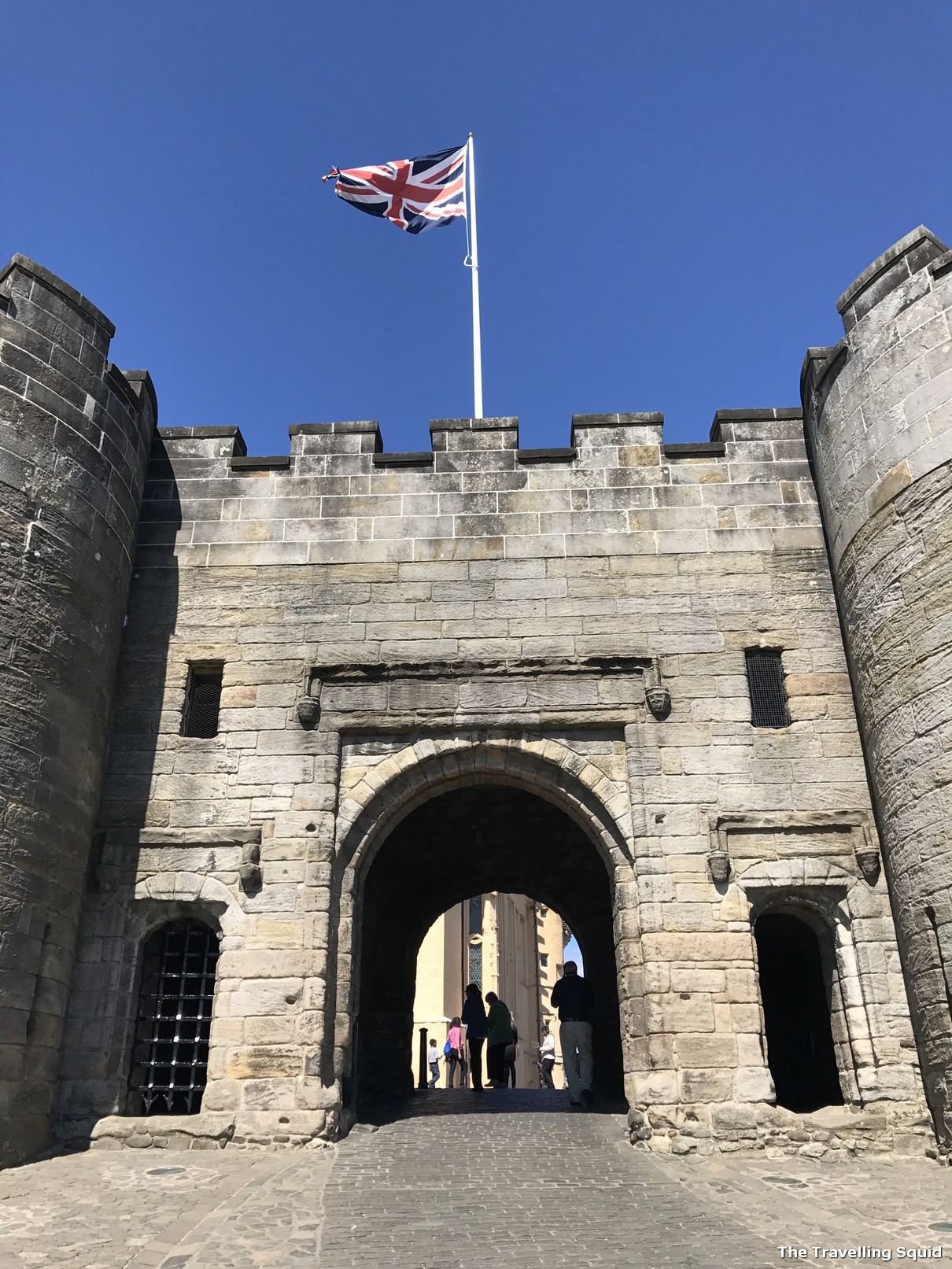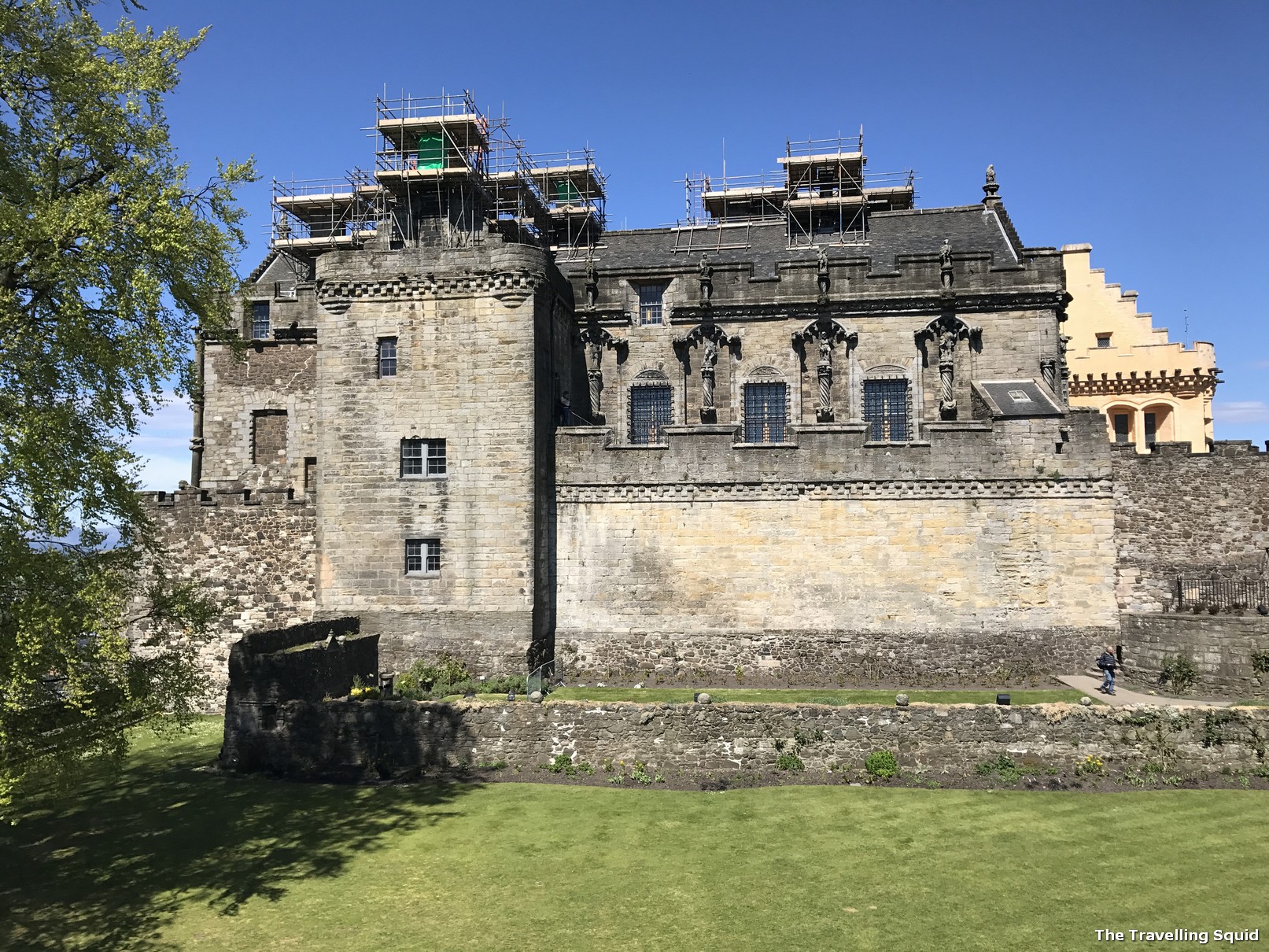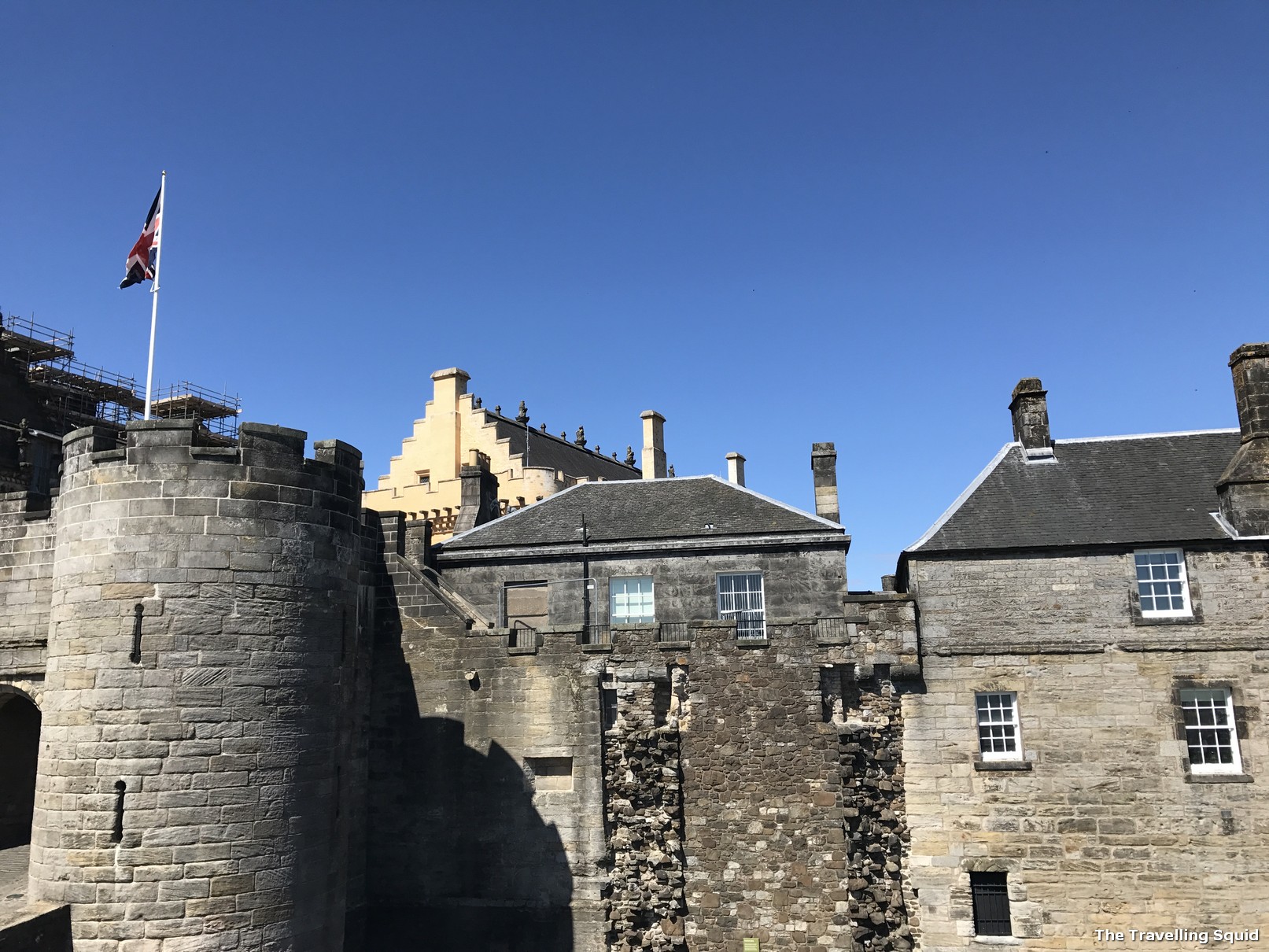 The Great Hall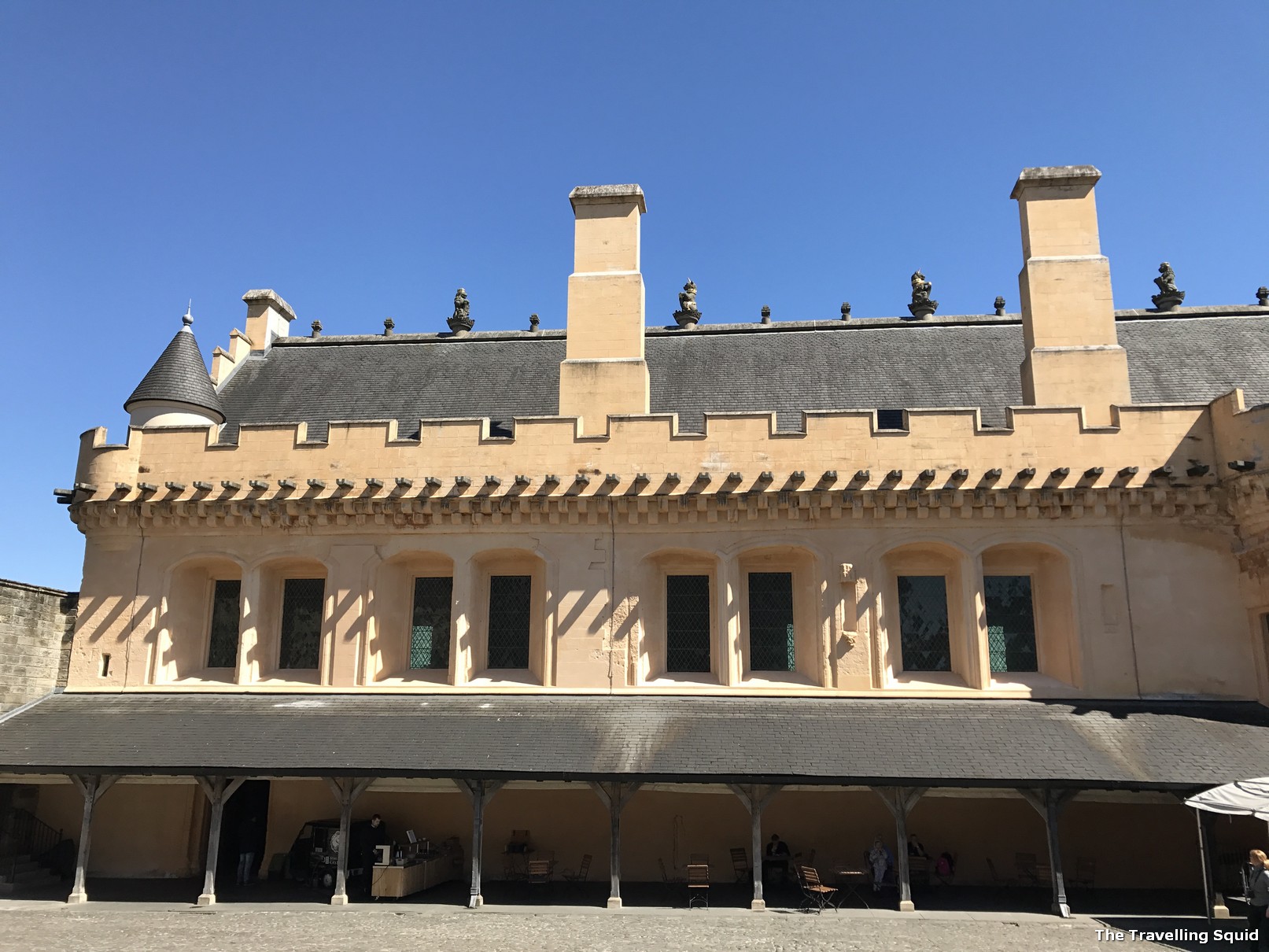 The Great hall is said to be where royal feasts were held previously, and so were key events like the christening of children born to the royal family. Today it is being used as an 'event function room' if you will – for weddings and birthday celebrations.  Our guide told us an interesting fact about the roof of the Great Hall – that it was entirely made of wood panels with no screws – this meant that the wood was joined together by wood joinery, a rather time-consuming process but with a mark of quality.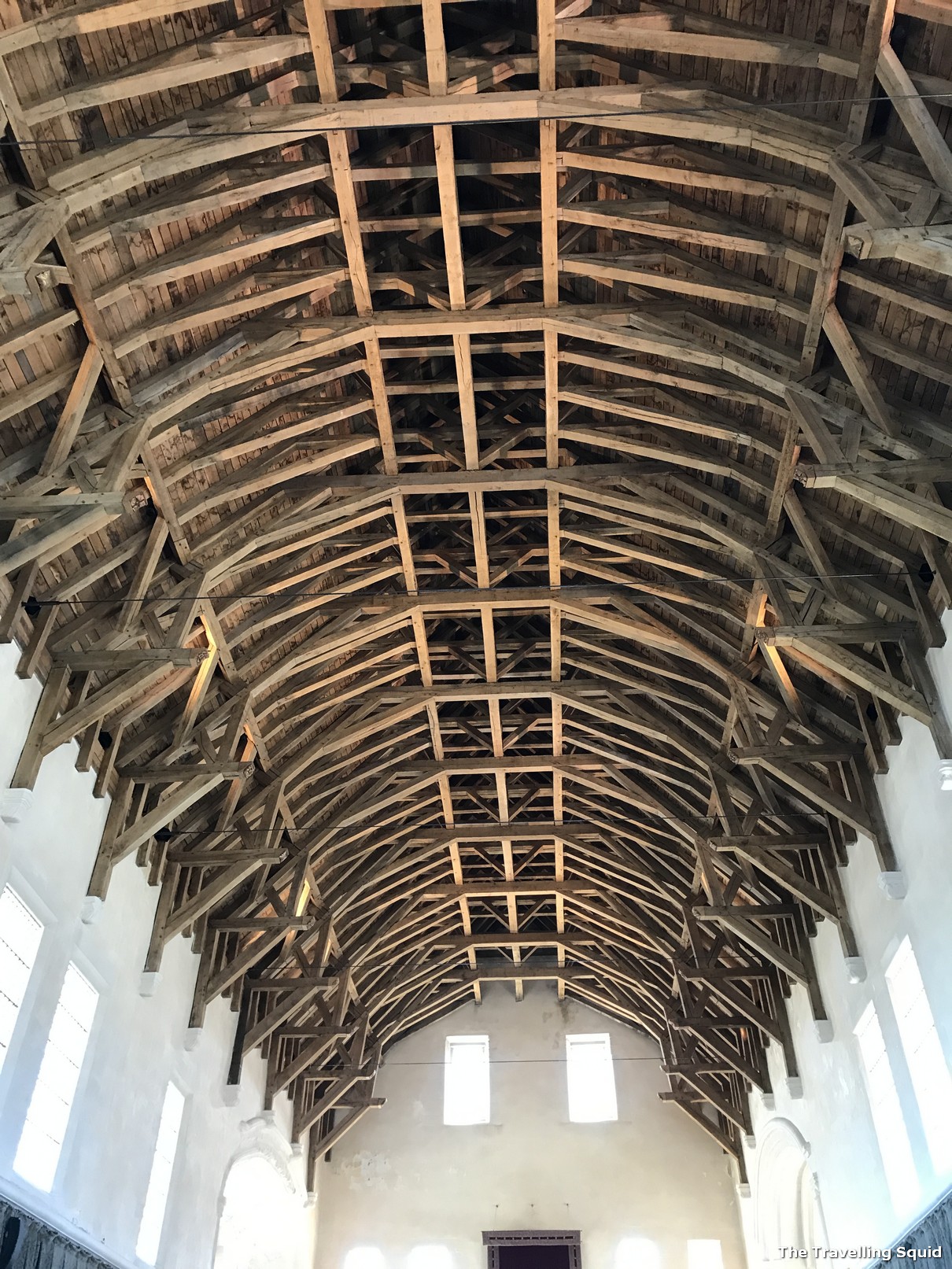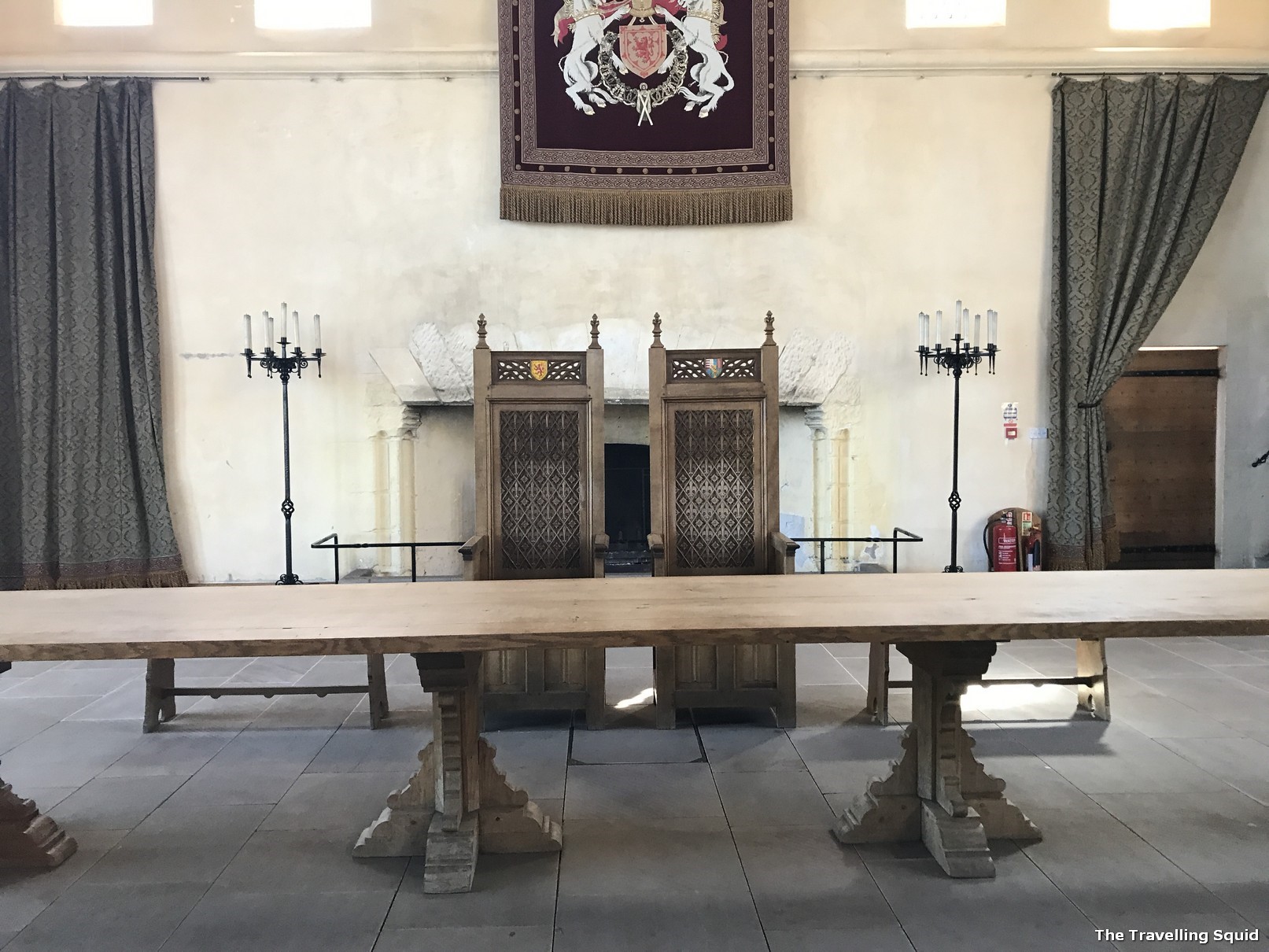 To be honest, this was not I was expecting of a 'throne'. Instead, the windows were my favourite part of the Great Hall.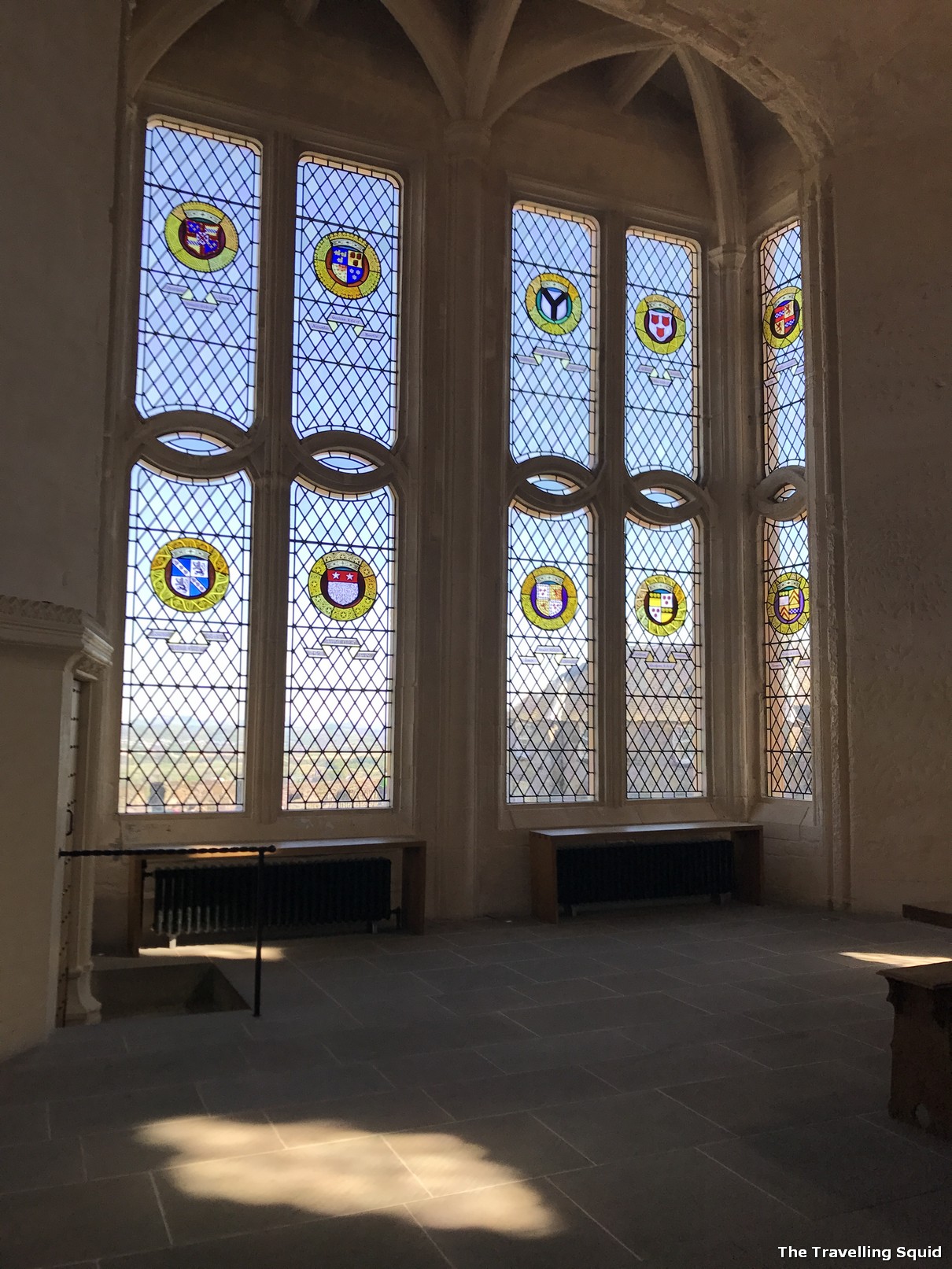 The Royal Halls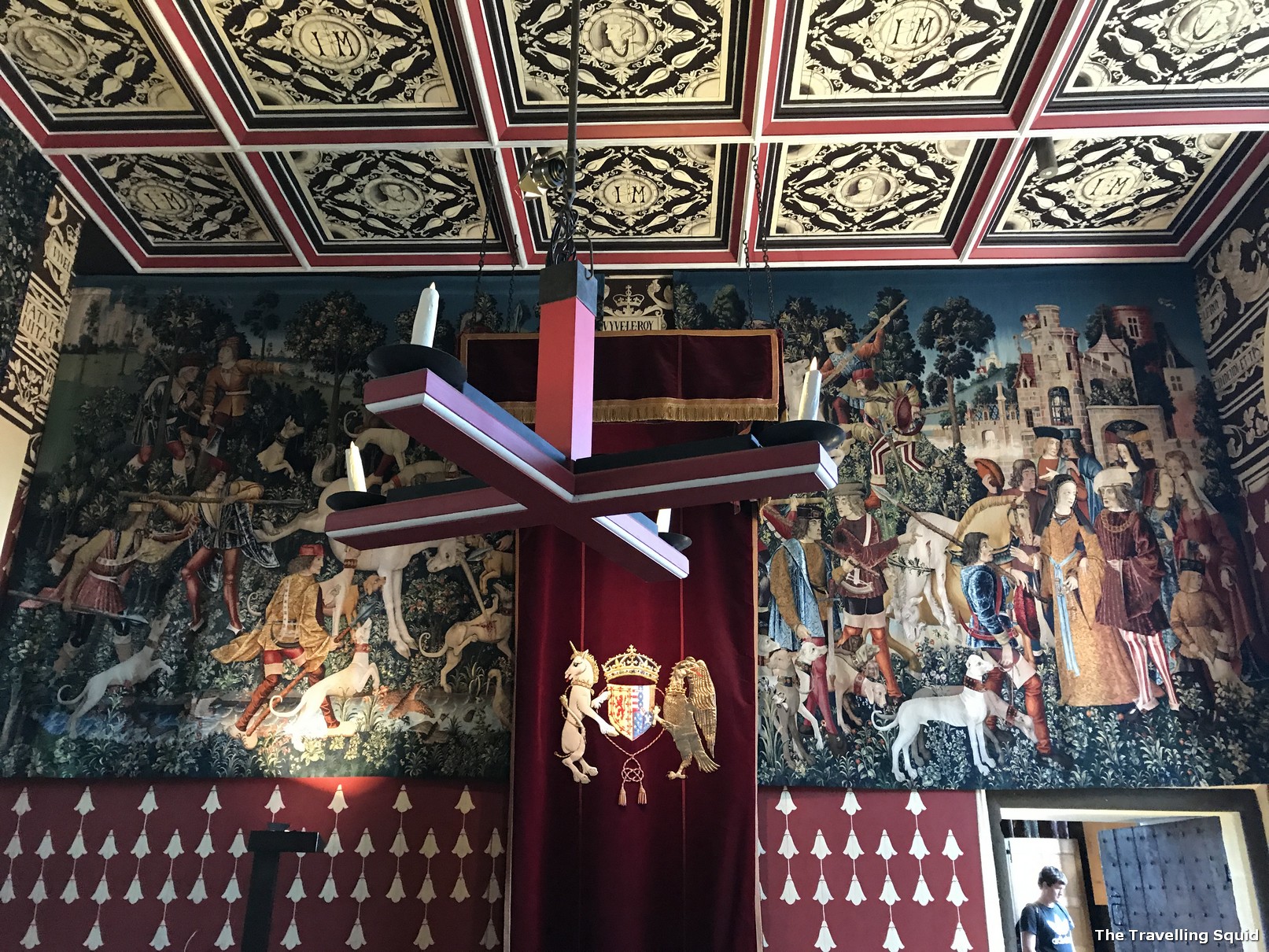 The place where the King and Queen used to rest. In the outer chambers, they would meet people. It's pretty ornate inside, they even have actors there to simulate what it was like in the past.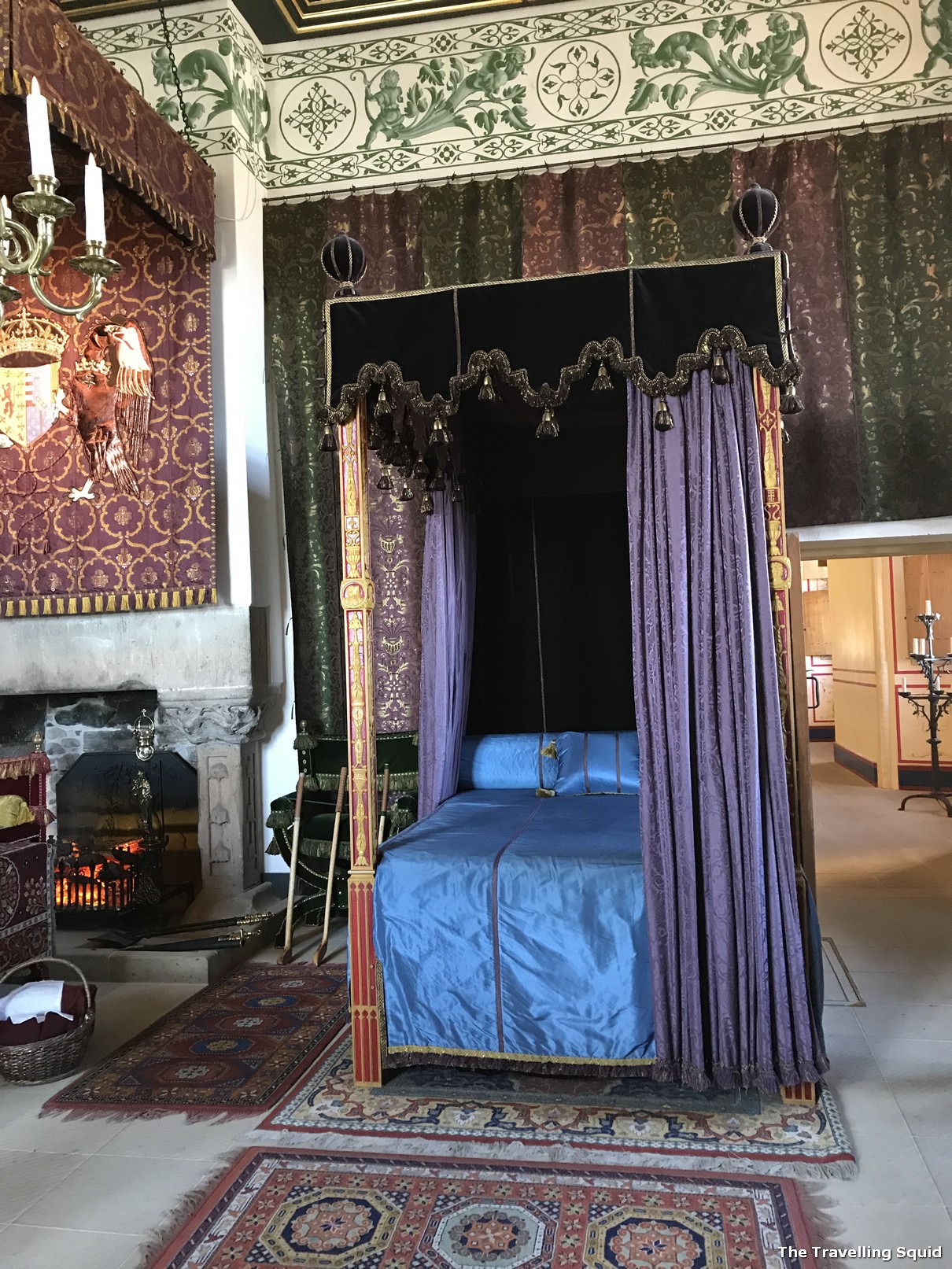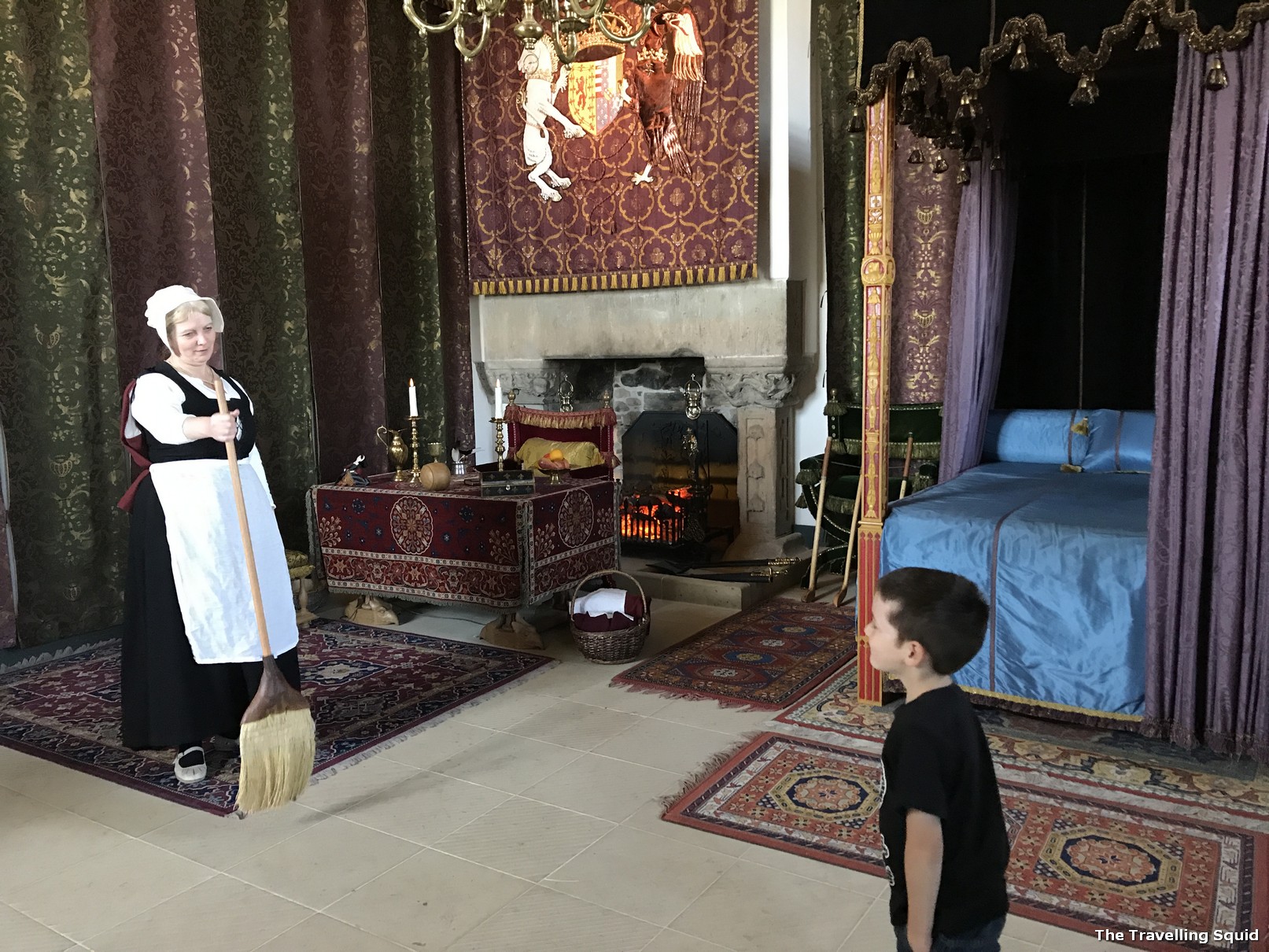 The Chapel
I really liked it in the chapel. Once again, the windows were beautiful, with natural lighting streaming true. It had a calm feel, great respite from the hot sun outside, and the hustle and bustle.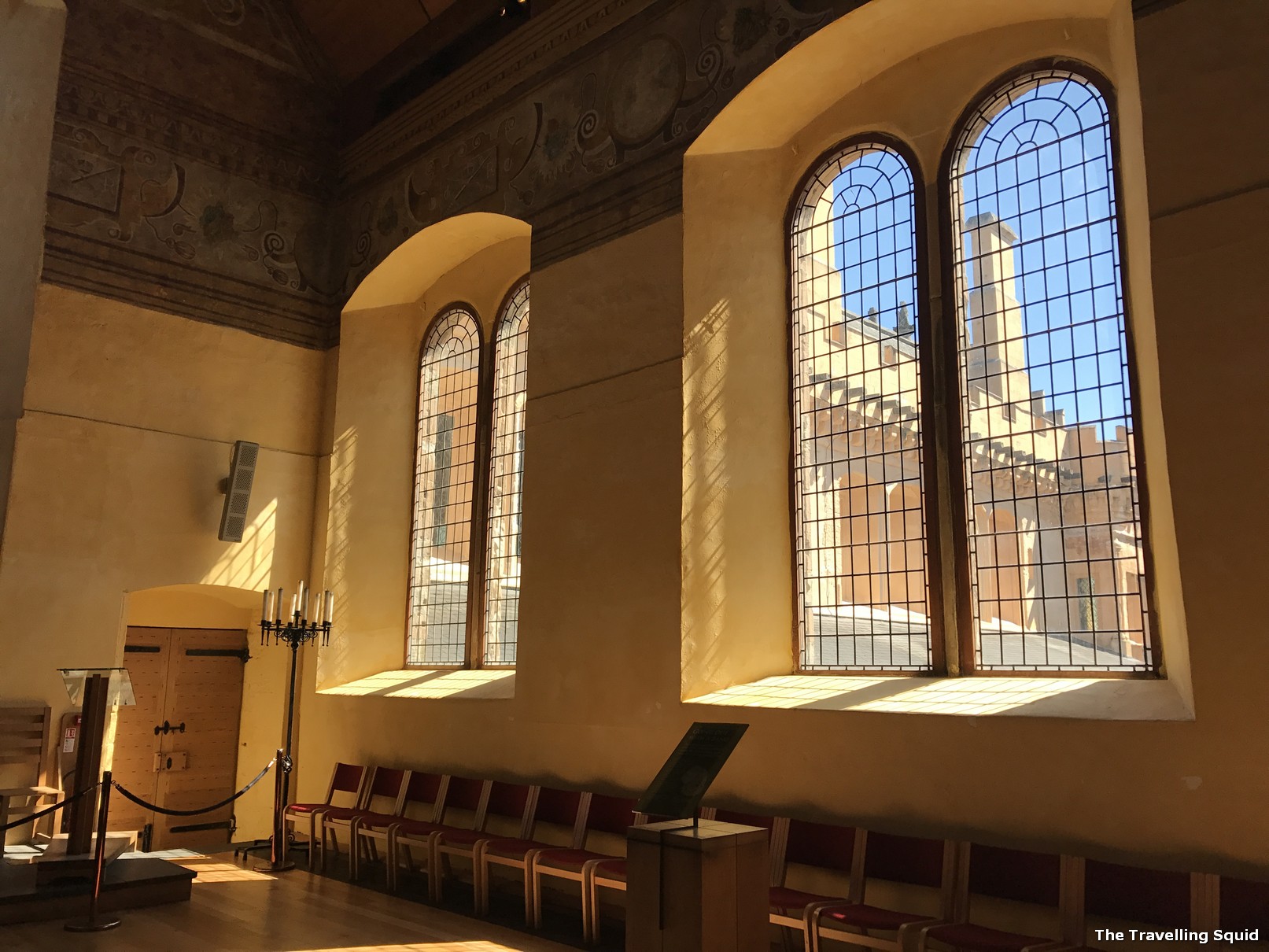 If you're hungry…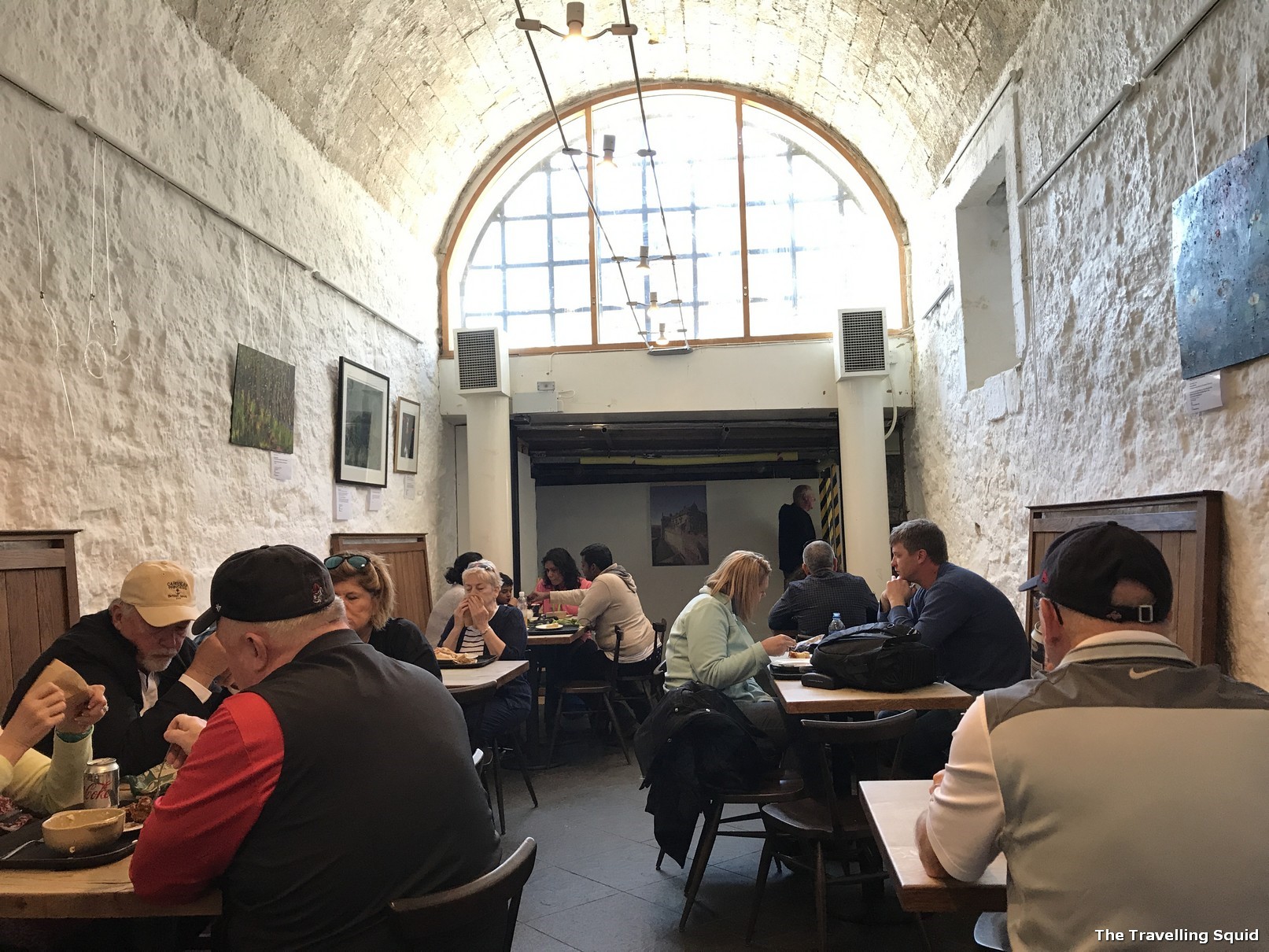 Unlike Singapore where museum prices can be quite pricey, the food at Stirling Castle was priced normally. It cost about £7 for a chicken sandwich, and £12 for a burger if I recalled correctly. There are also ample seats for you to have your meal there.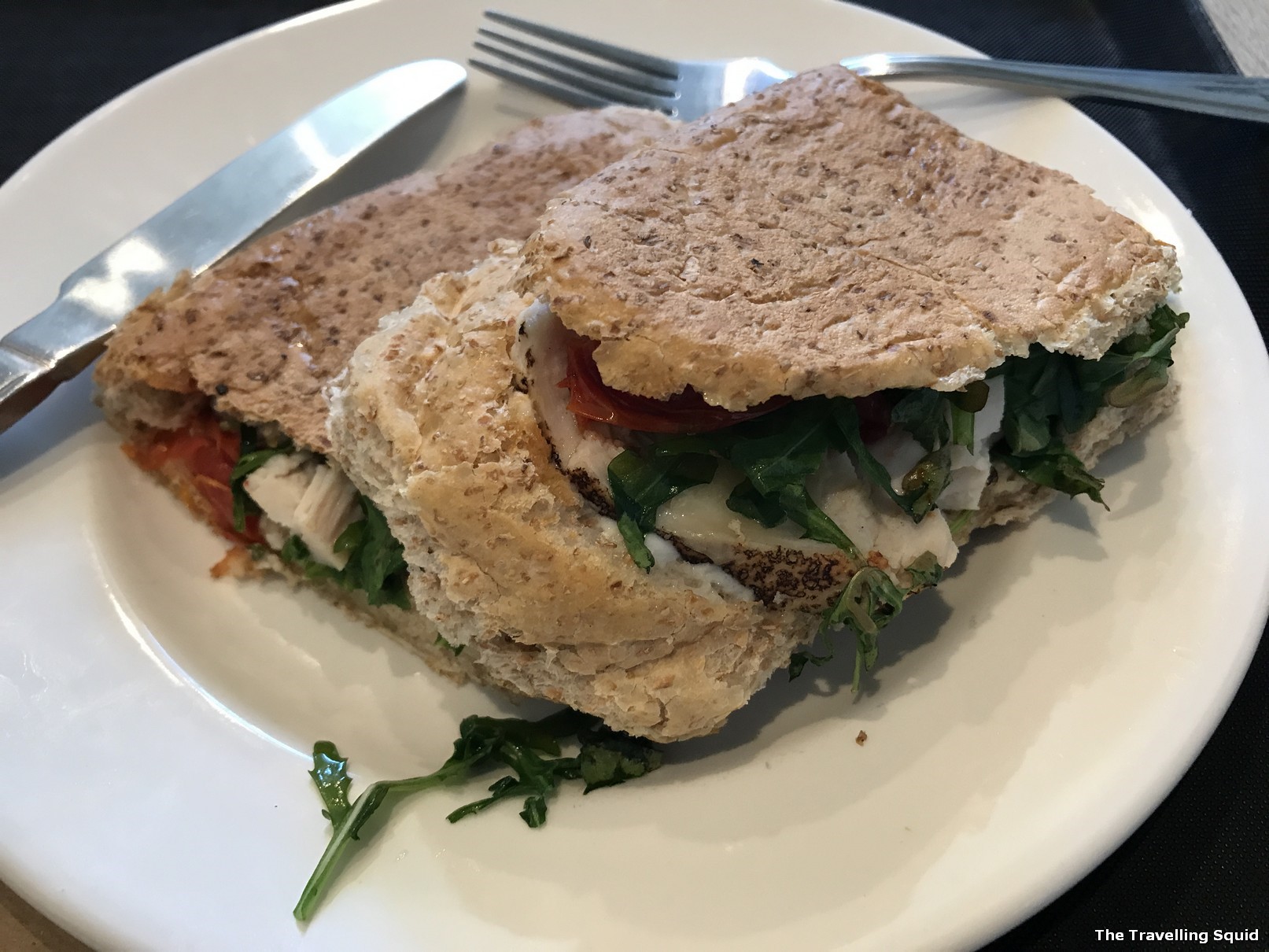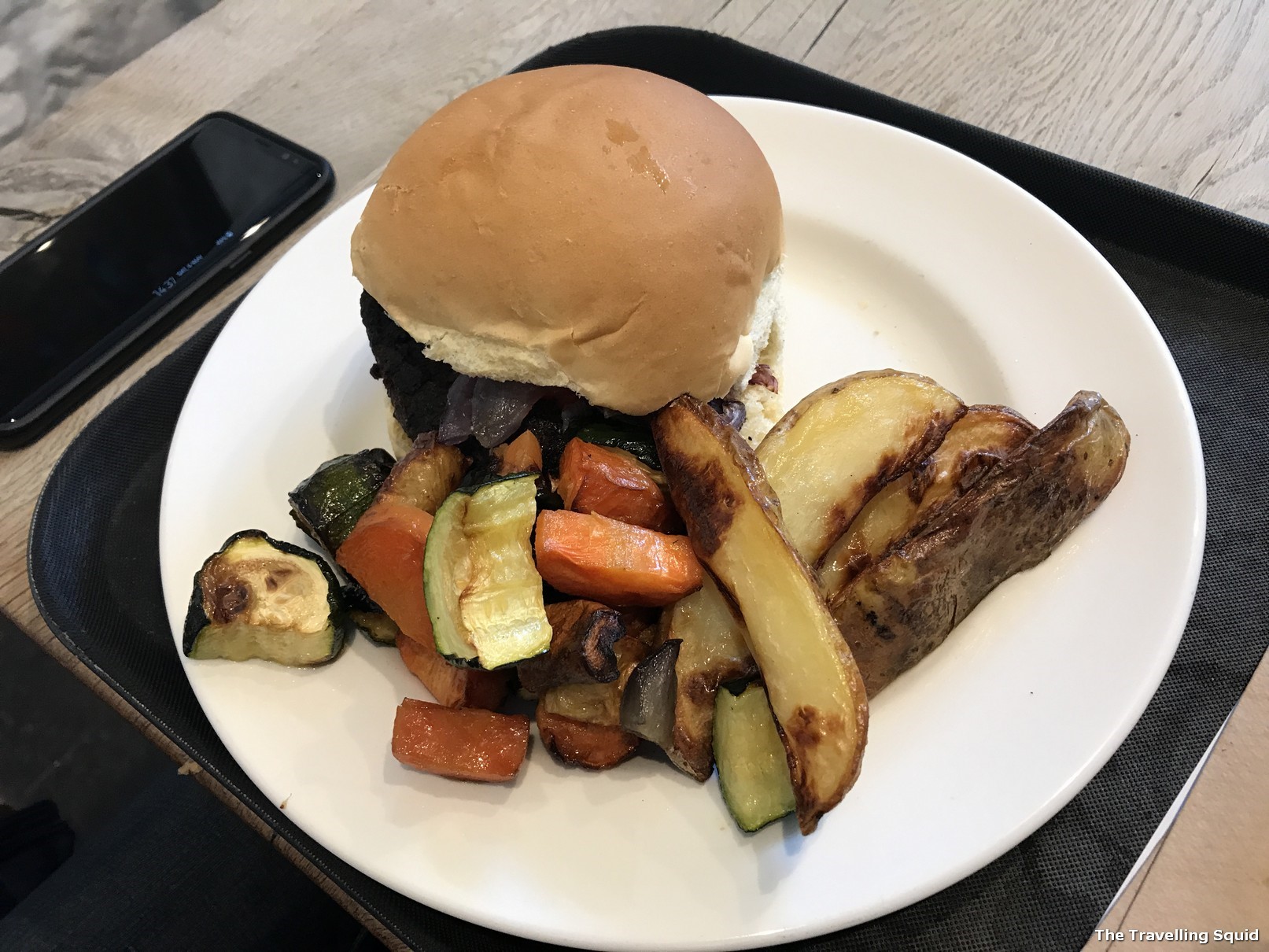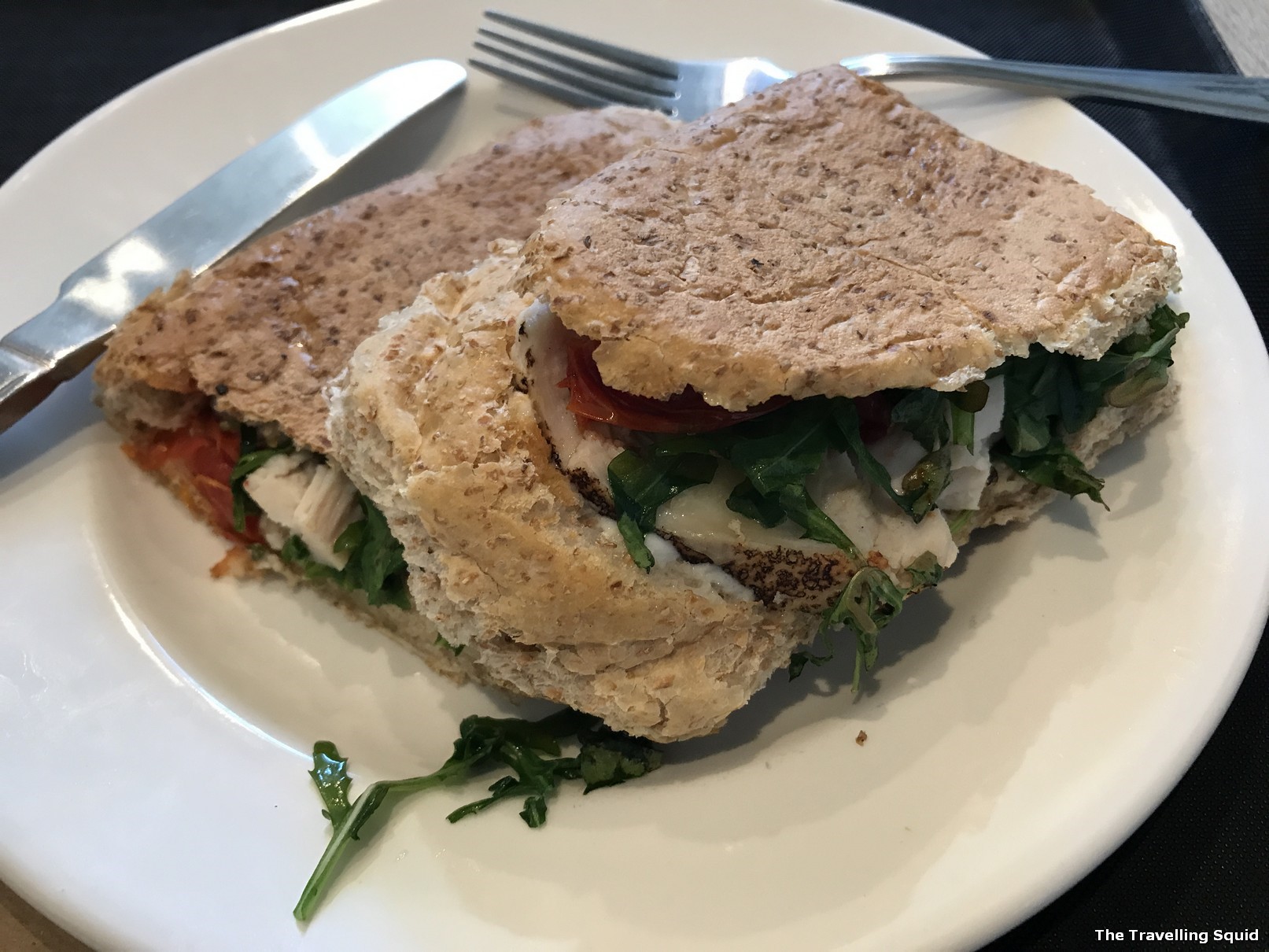 The Travelling Squid's Take
It was my first time to Scotland, I was glad to have visited Stirling Castle, despite its rather expensive ticket price. That said, the free guided tour, which was included as part of the ticket price was very worth it, as it brought the castle to live. I also learnt a lot in the process. We also returned to explore the castle at our own leisurely pace, which was nice. It did seem that if you were not an aristocrat at that point in history, your life was very difficult. I was a step back into history, and I left feeling slightly more knowledgable about Scottish history.
Stay tune for an upcoming post on Stirling Castle's cookhouse. I have left that for another post, having visited the exhibition. It's q a different place from the castle.