Directions for an easy Glencoe hiking trail off the A82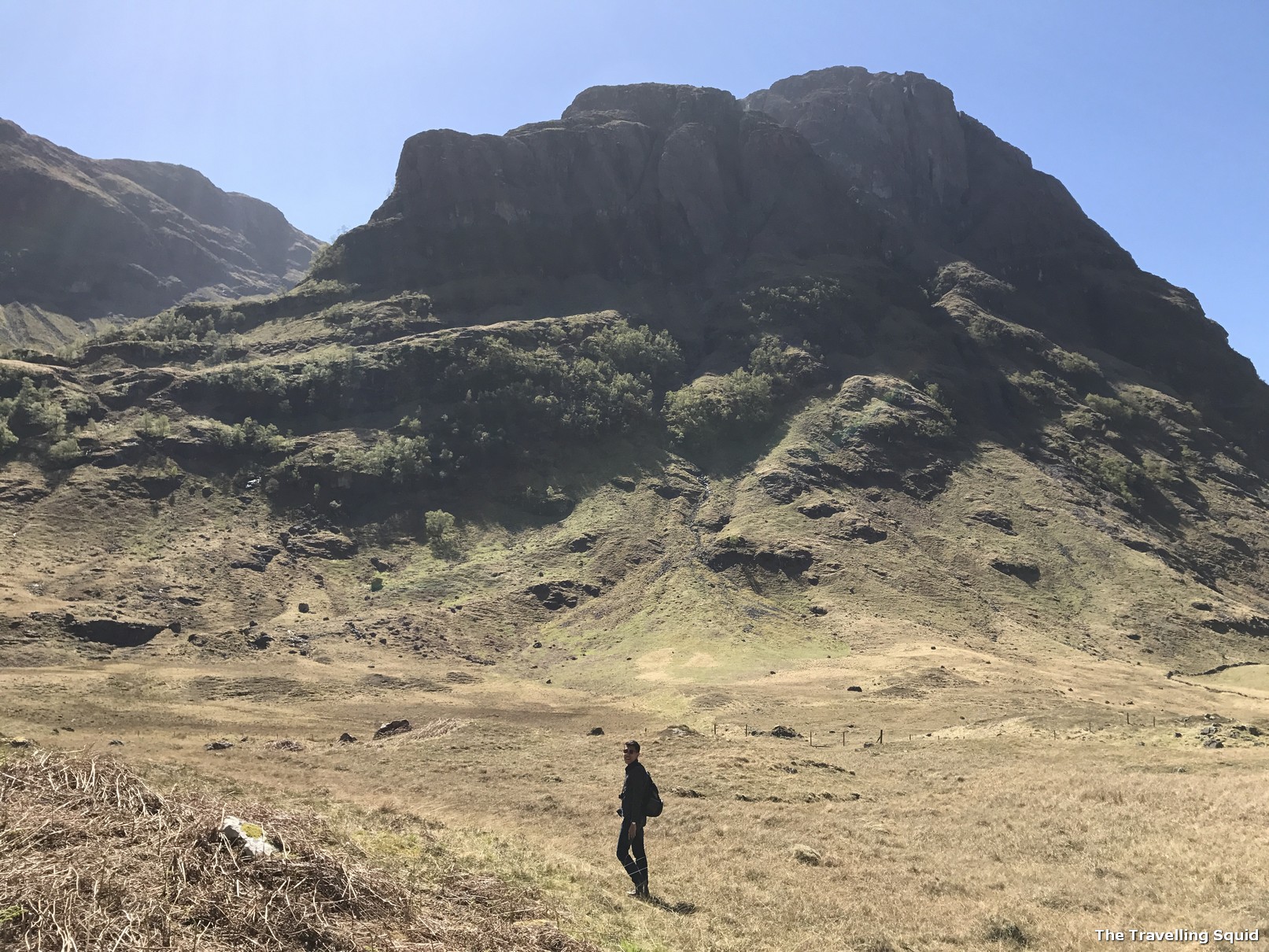 If you're looking for a trail to explore the hills of Glencoe which is easy on the knees, here are directions for an easy Glencoe hiking trail off the A82. I'd recommend that you go for a more challenging one, such as The Lost Valley Walk, which involves walking up several steps to get a better view and appreciation of the mountains and the vastness of nature. This could be just a warm up trek. Several tour buses also stop here, allowing for tourists to take pictures of the sights. Just a heads-up, it's really a short one, just to see how the landscape is. Once you get to the fringes of a farmer's property, you've got to turn back as the gate is locked.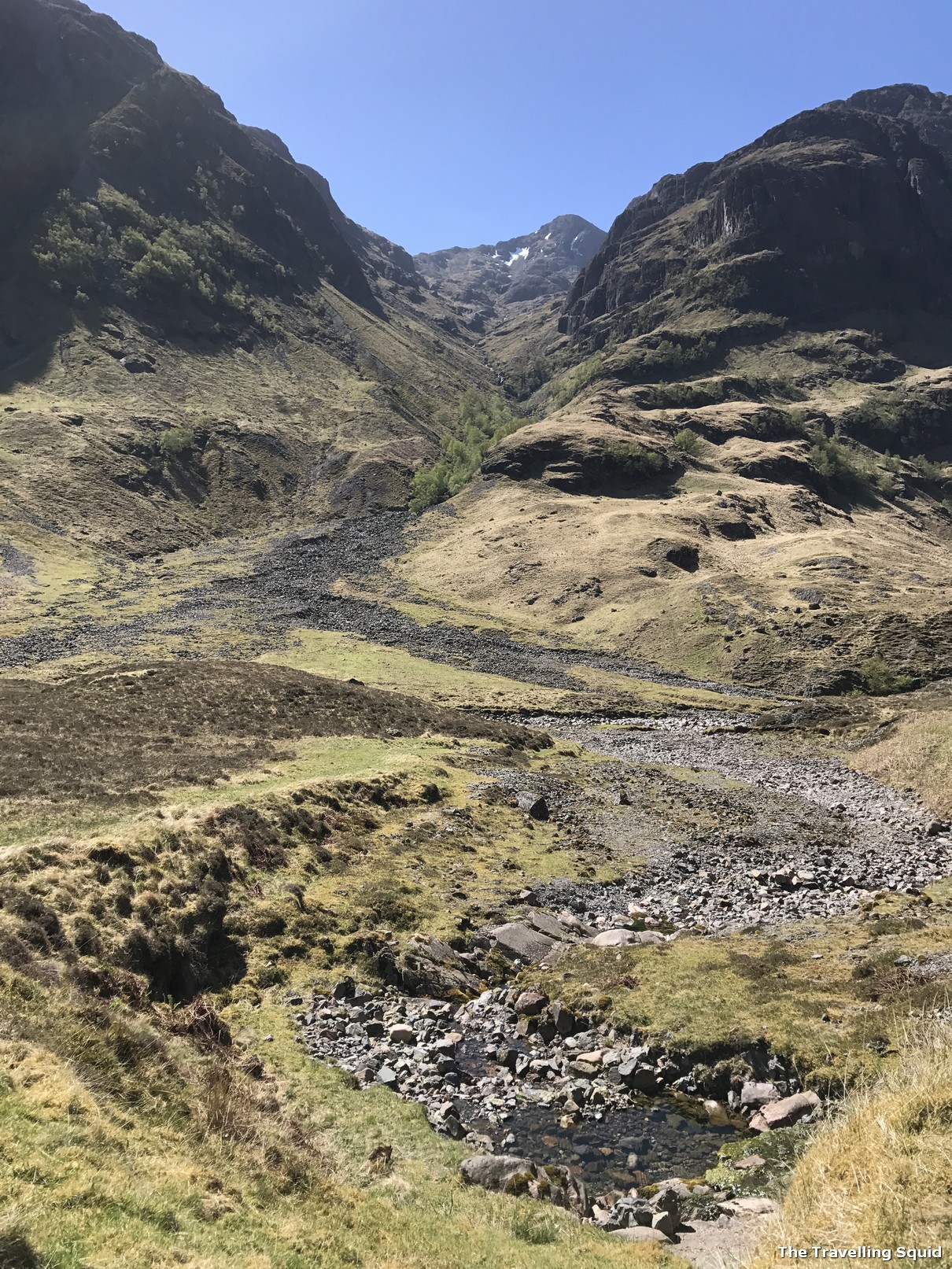 Weather
We visited Glencoe in mid-May, and did not expect it to be so hot then. We thought we were visiting during late spring, but it felt like the full blast of summer. The temperature was cool  and dry, but the sun was shining brightly in a cloudless blue sky. Unlike the usual lush green landscapes one would see if pictures of Glencoe, the land had turned brownish green, and you could see the grass drying out, like stacks of hay.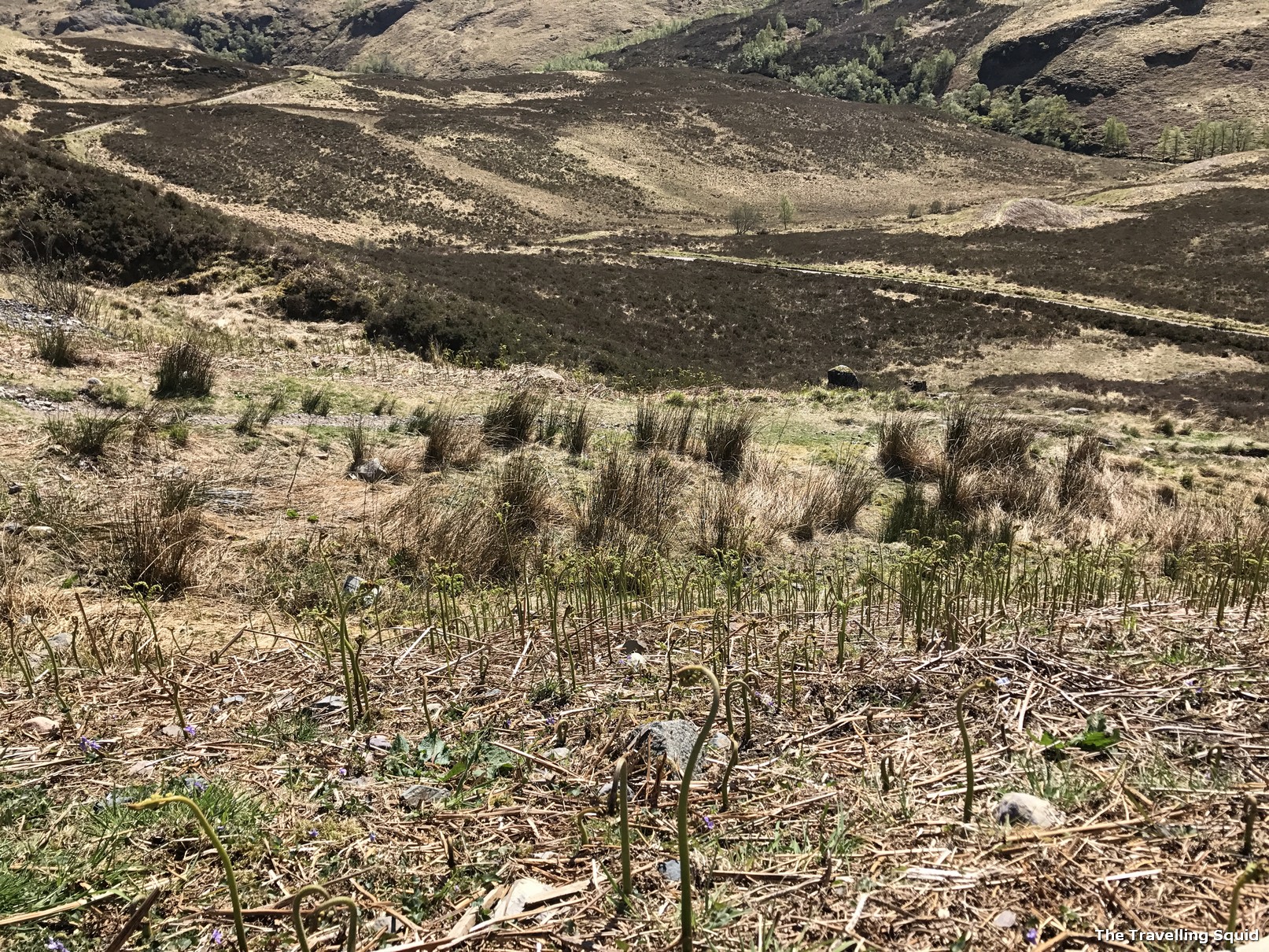 We were quite disappointed as we expected greenery around us and was not expecting such dry weather. But there were benefits. The paths were dry and that resulted in a very stable foot grip, as we attempted to scale the slopes. The streams had shrunk and we did not have to cope with muddy paths.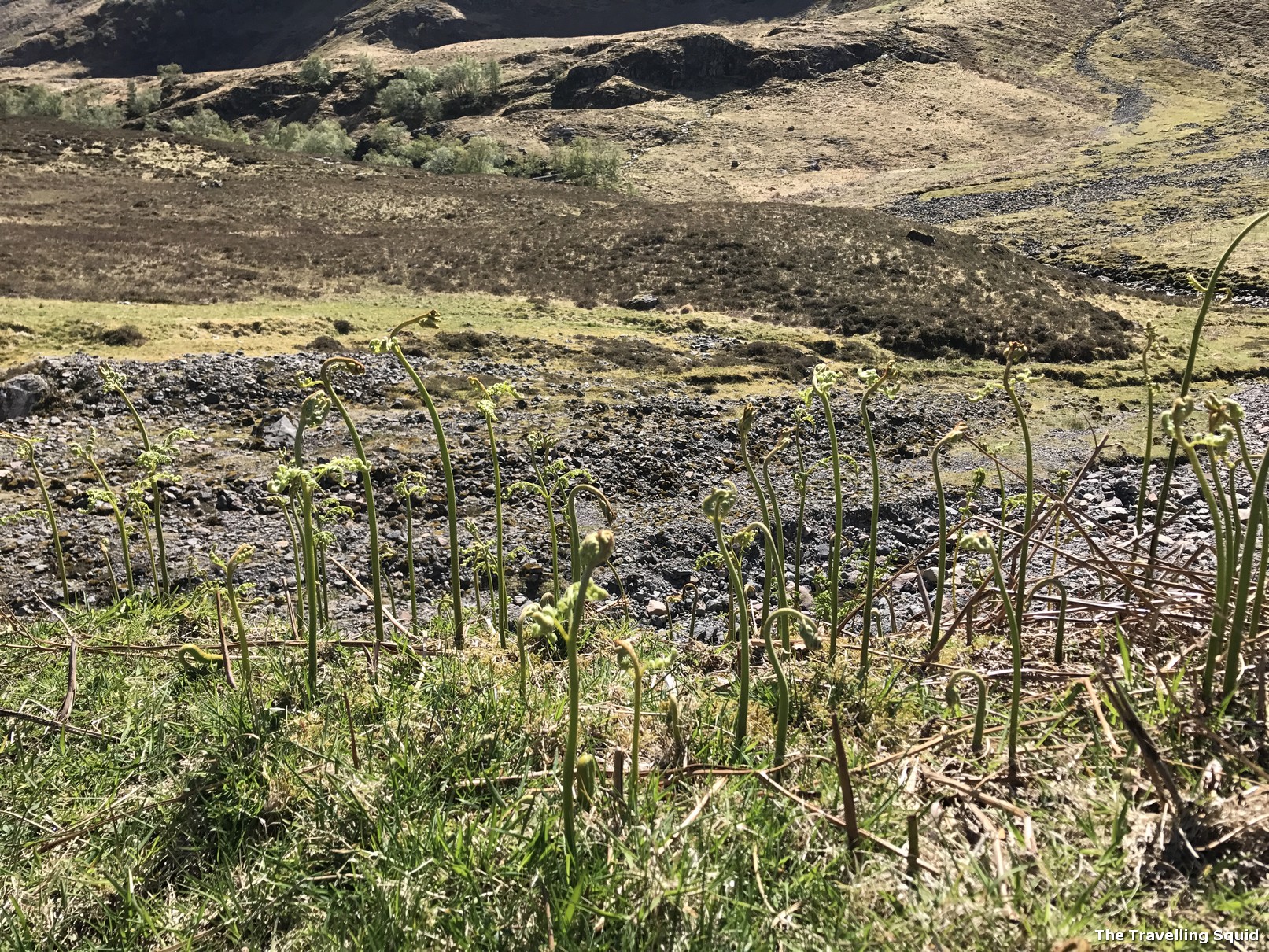 Directions for an easy Glencoe hiking trail off the A82
Distance: About 1.5km there and back
Minimum Time: 20 mins
Ascent: Flat land throughout
Level of difficulty: Easy
Parking: Along the A82 – there is a large carpark, with room for tour buses. It's to the right of the road, when you come in from Glencoe.
Path: Little small stream to cross – it was very small in summer
Dog friendliness: Super friendly!
Parking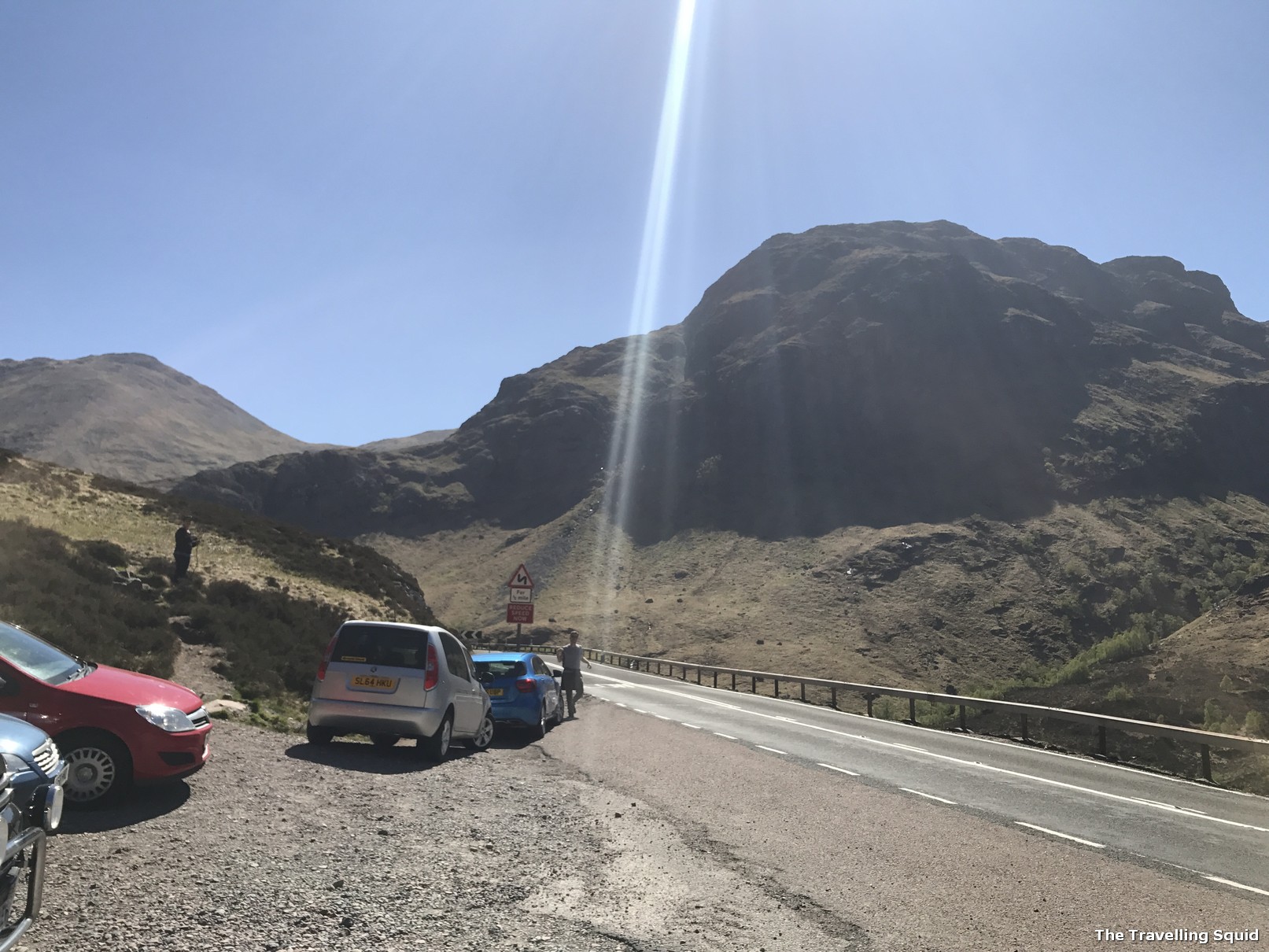 When you come in from the A82 from Glencoe, you'd see parking lots to the right of the road. It's very popular and tour buses stop there too. If it's full there is another parking lot on the left side of the road. That's where we stopped. The view around us was just fantastic. We had to walk along the road, back to the popular carpark for the treks, but it was nice nonetheless.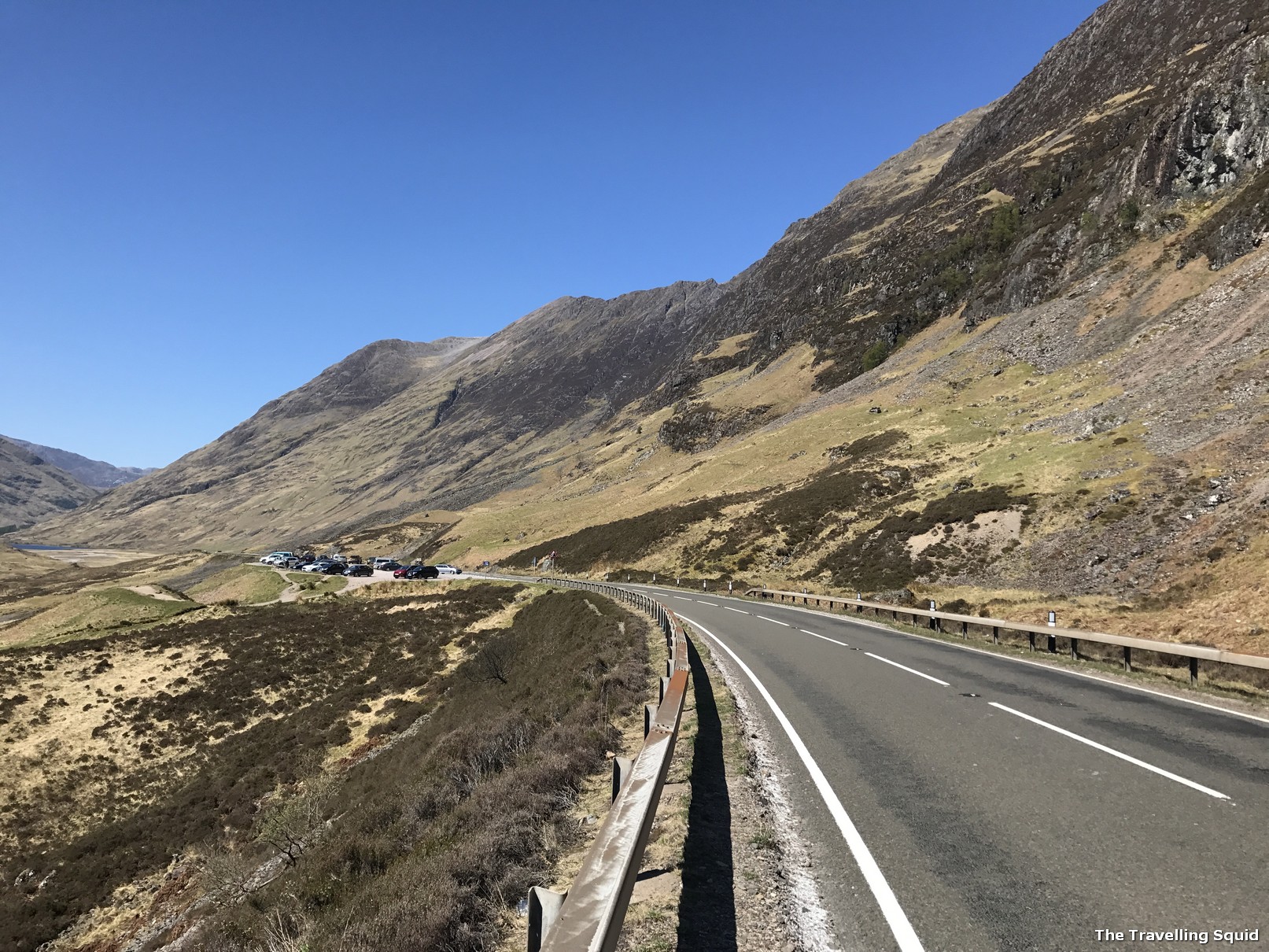 At the carpark, it should be called The Three Sisters Carpark (pic below), but did not find that really helpful. (May it's because we did not do sufficient research and did not find the names familiar.) Thought I should include it nonetheless, if you manage to make sense of it.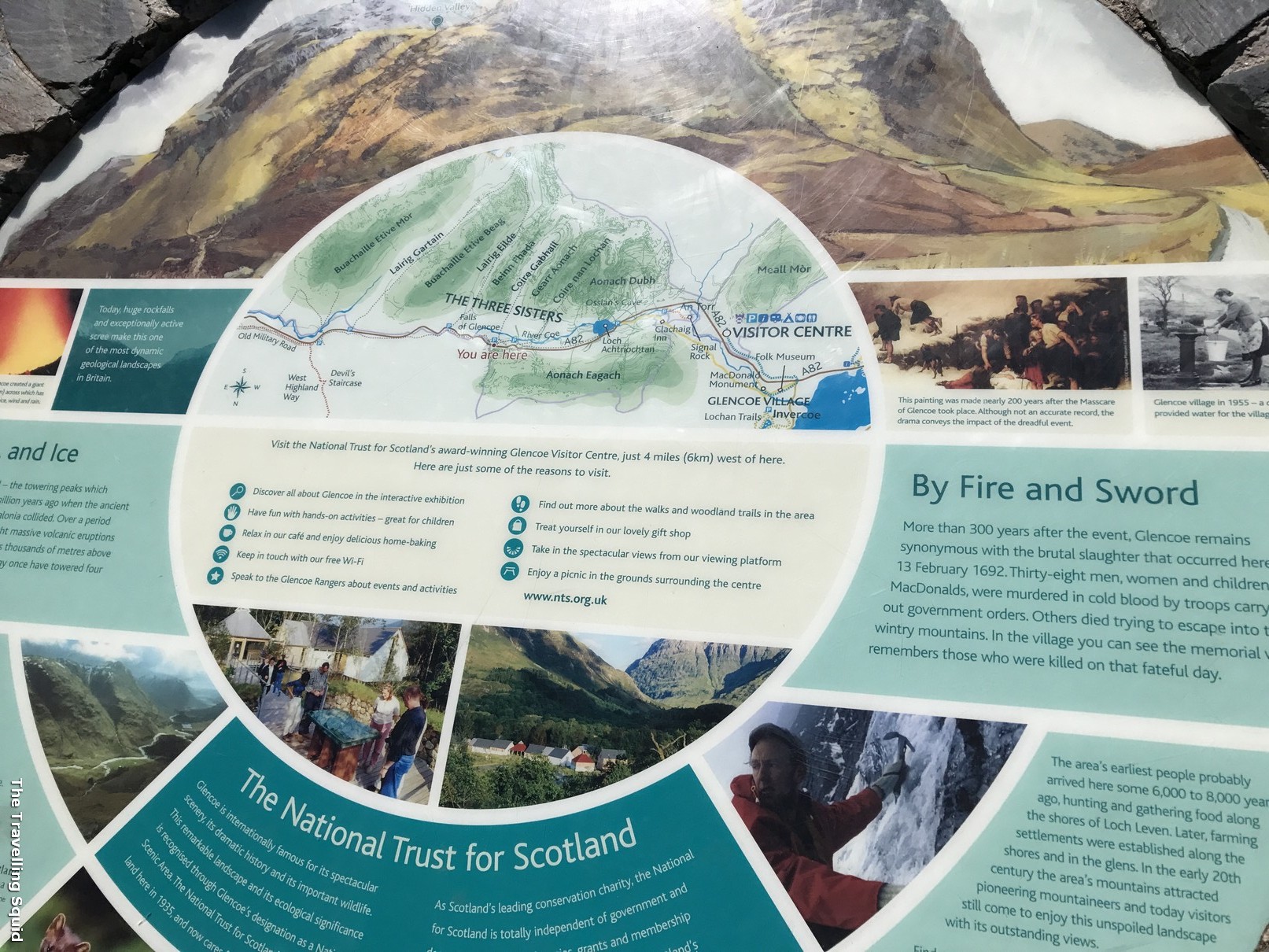 The Trail
From the The Three Sisters Carpark, facing the The Three Sisters, there is a long trail which looks easy, on the right hand side. It leads to the direction of the River Coe, a river which you would have seen while driving in. Follow that trail – it looks easy, and is indeed easy.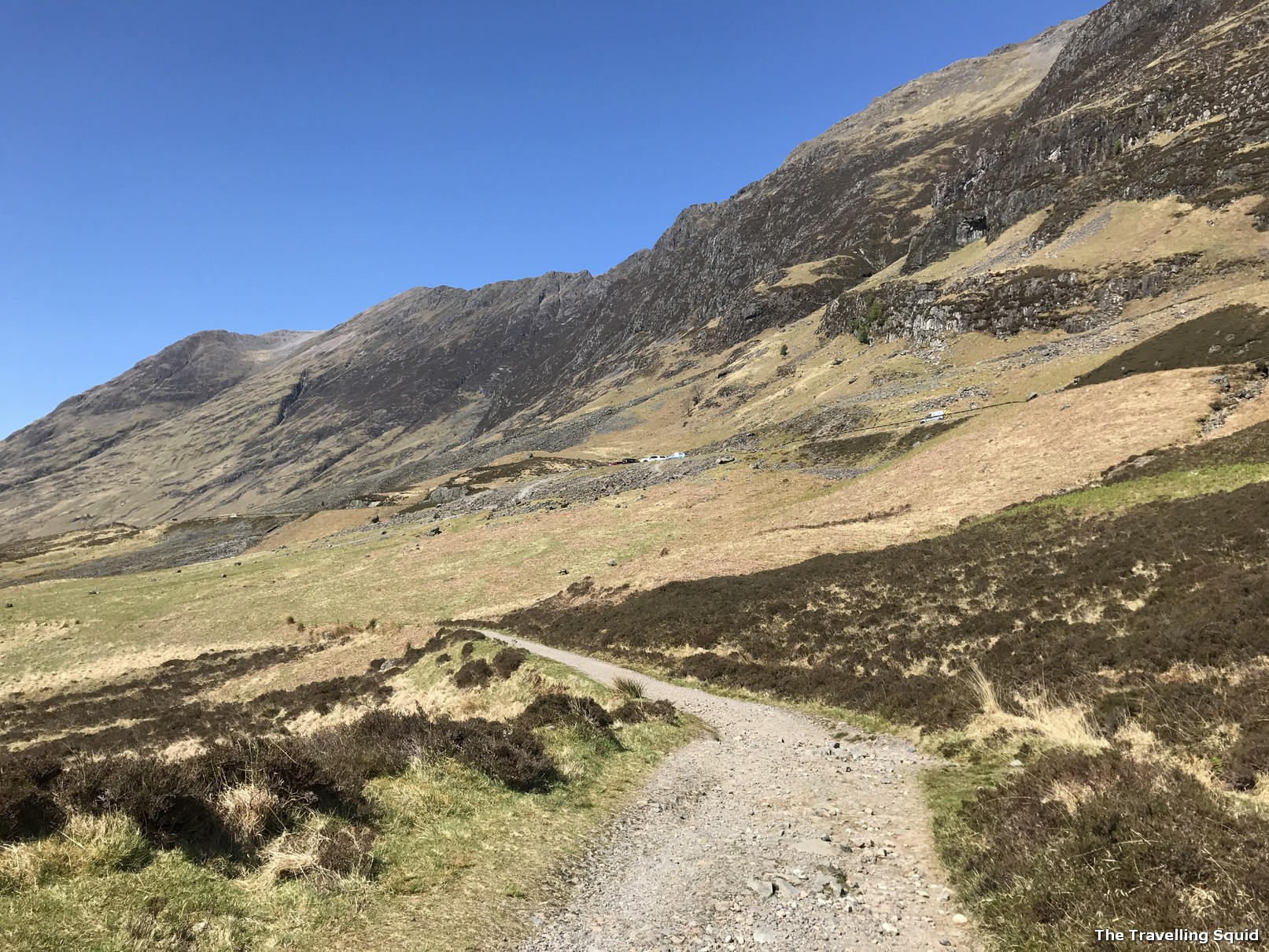 The point is – you need not scale the steep slopes to enjoy what is presented before you. The large plains,  the hills that form a valley come into sight as you walked along the easy path. It's one of those beautiful sights of nature which is accessible to people of all ages.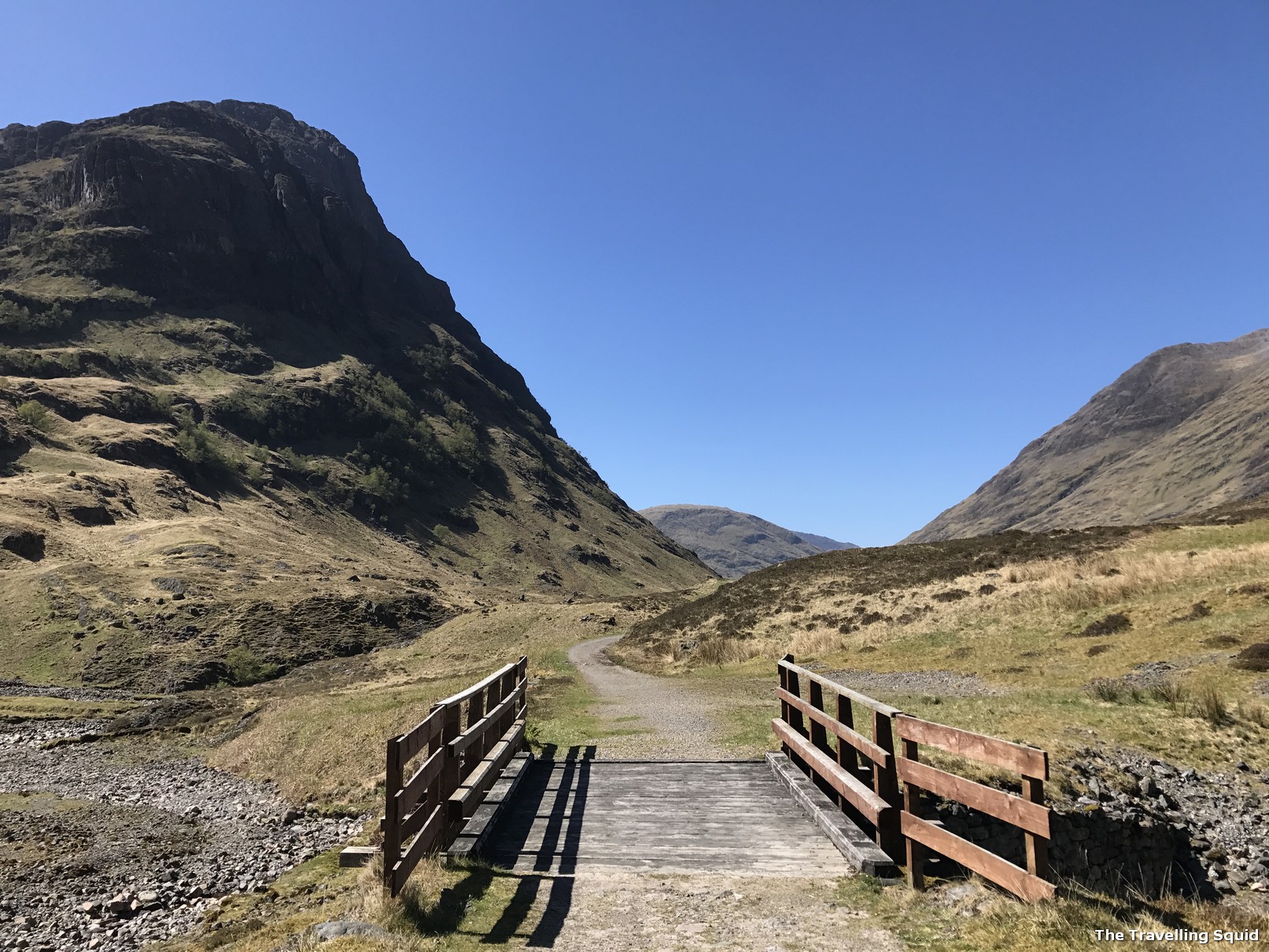 We walked on until we came to a gate surrounded by a wired fence. I recalled this gate wasn't locked so we let ourselves in. (Hope it was not trespassing!) It was just to get a sense of how walking the plains seems like. Up ahead was a little house, which we think could be the home of the owner of this property.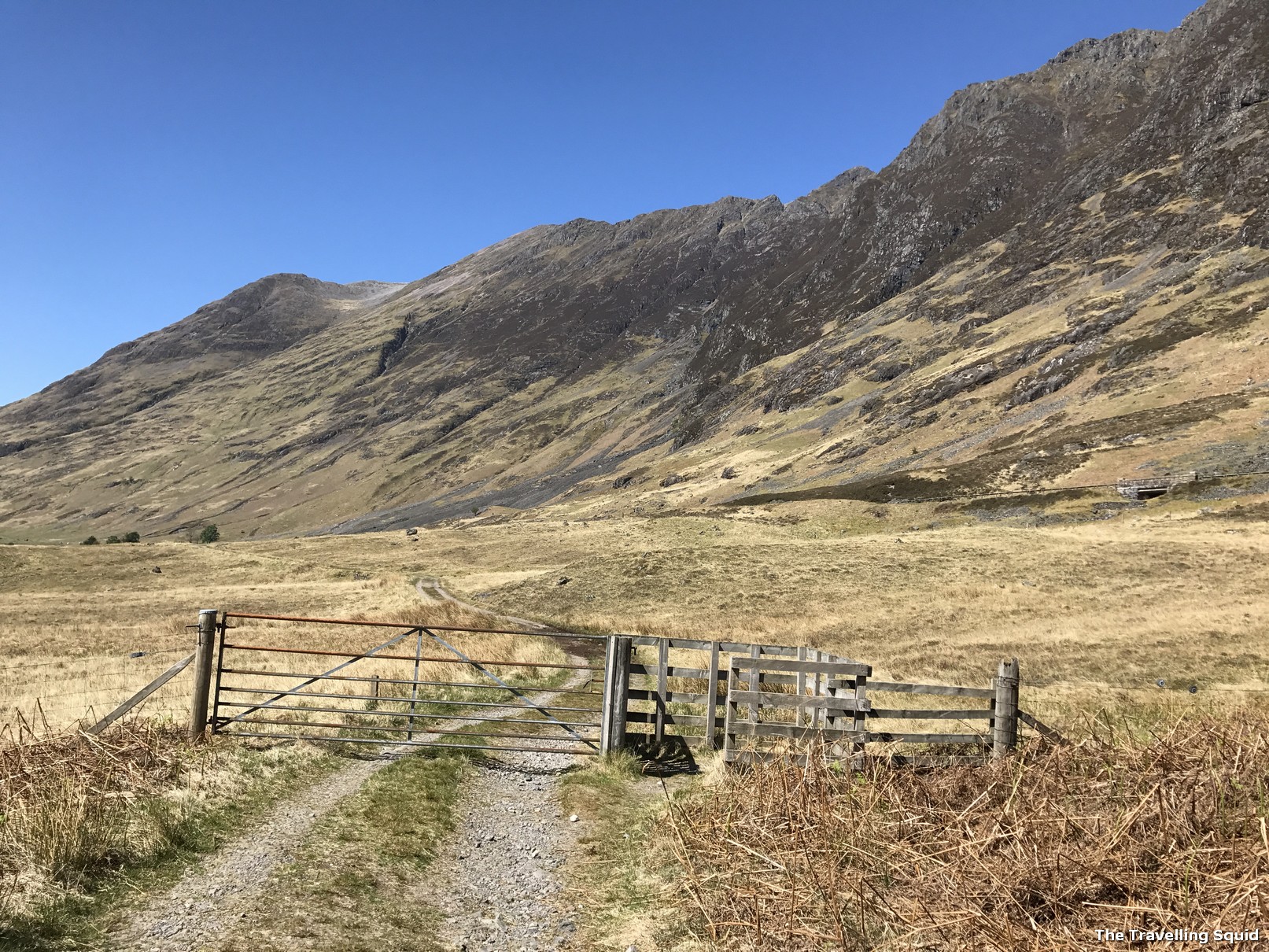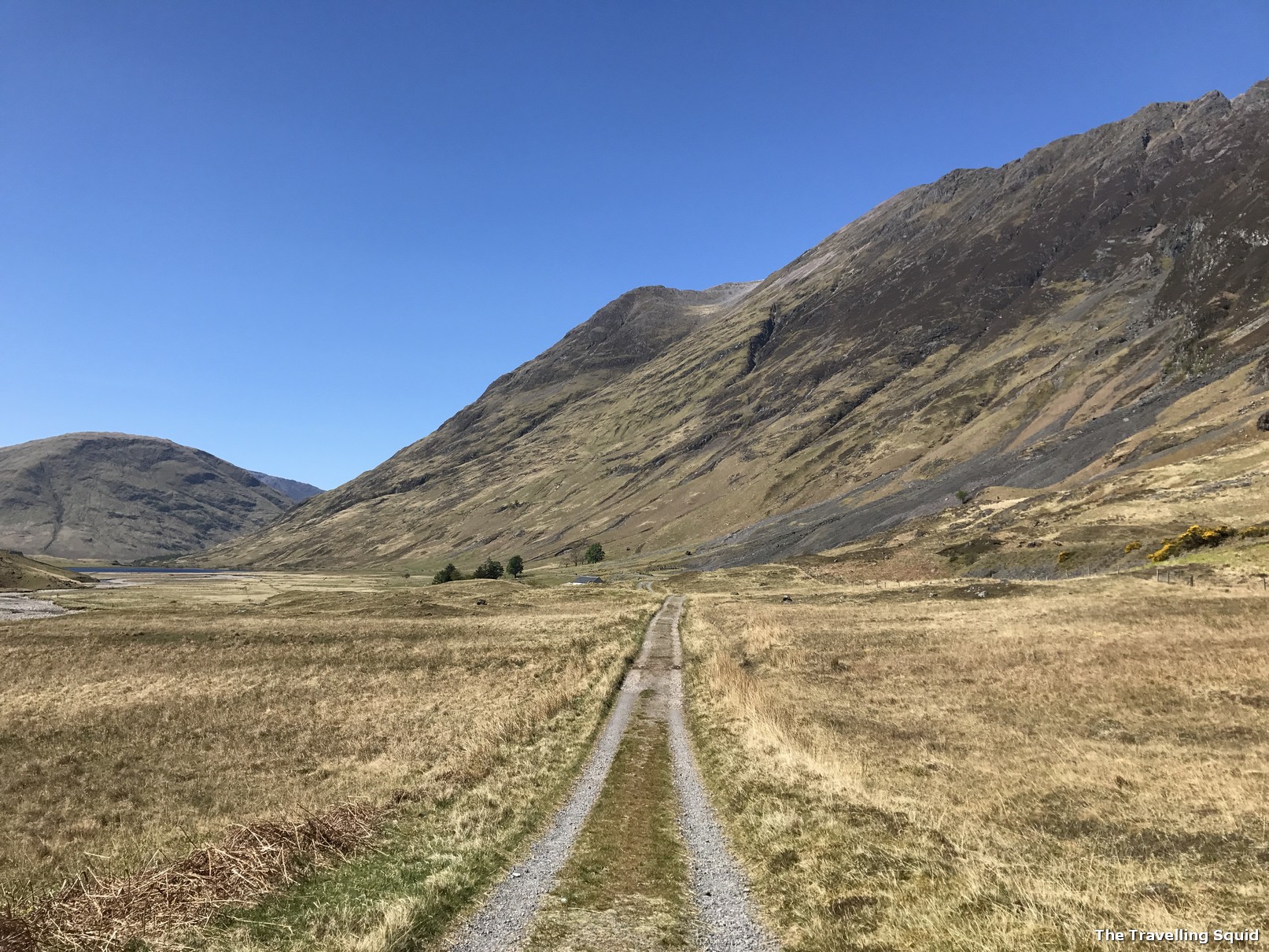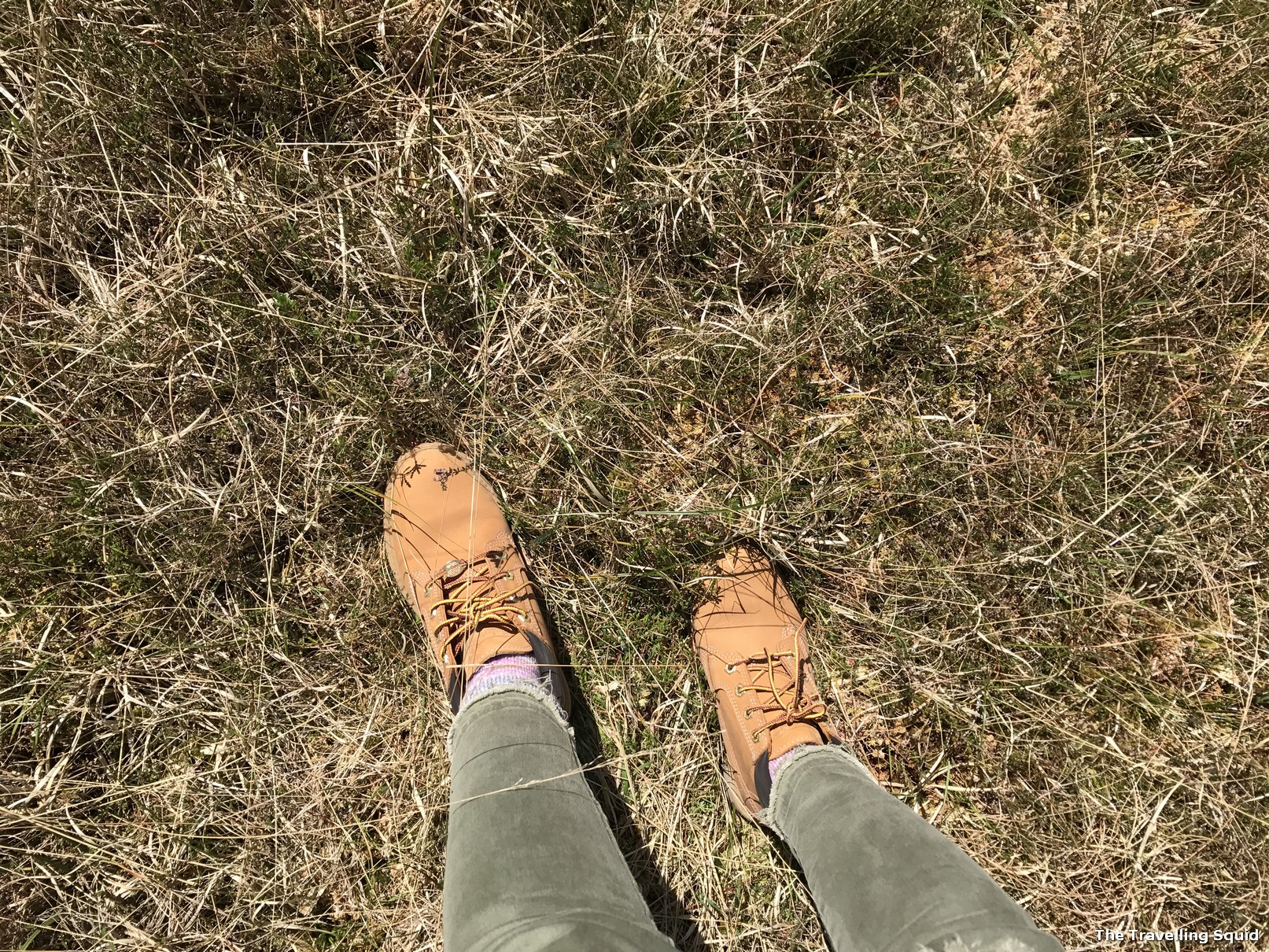 We eventually arrived at a gate where it was locked, supposedly to keep out humans and we thought we better respect that. So we turned back, looking for another trail to challenge ourselves with. This was the only small stream we came across during our walk there.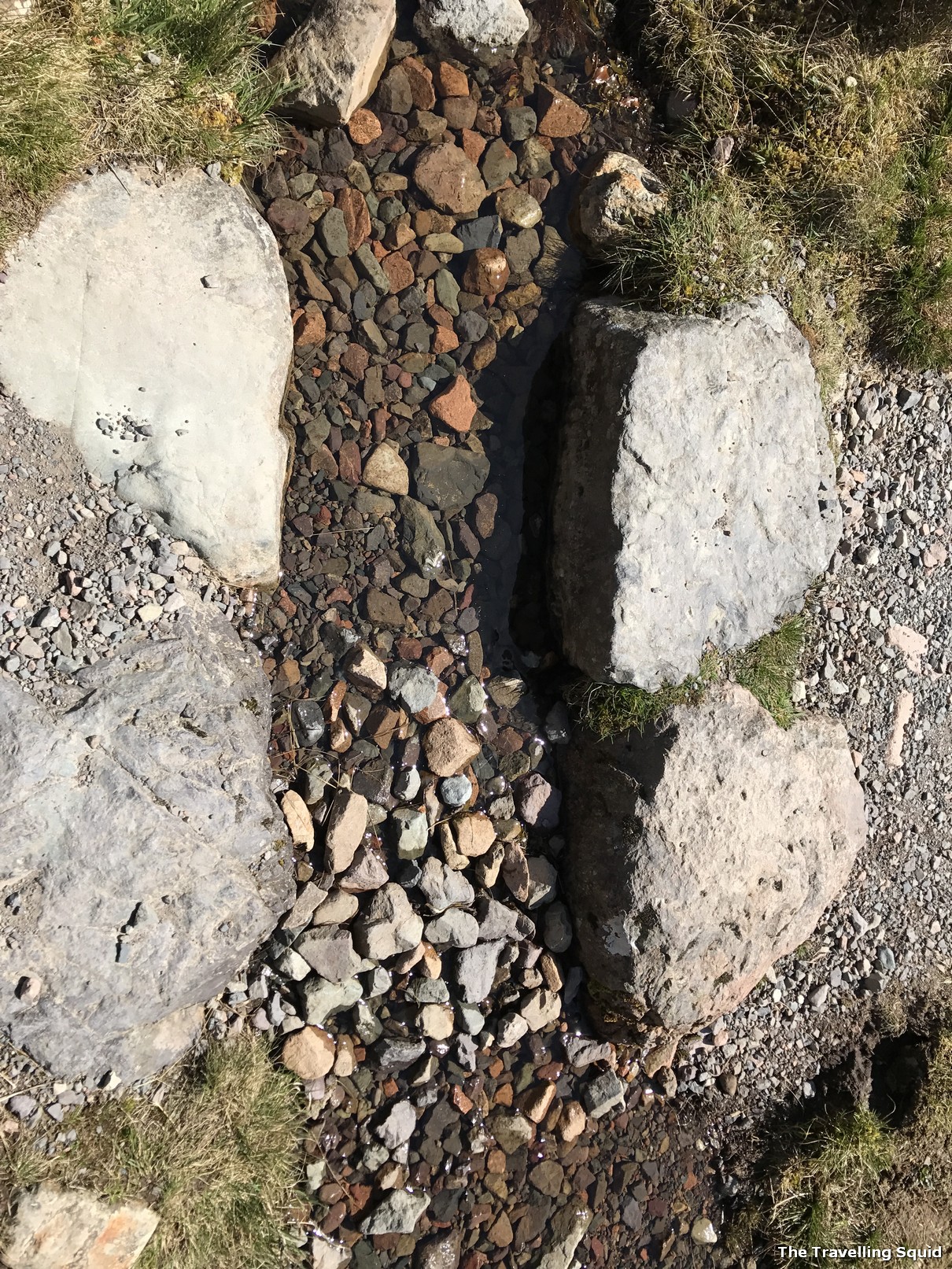 The Travelling Squid's Take
If you're in a hurry and are looking to stop by for a quick sense of Glencoe's huge mountains, I'll recommend using these directions for an easy Glencoe hiking trail off the A82. You may not necessarily have to be dressed in hiking gear for this. Just a normal pair of walking shoes will suffice. That said, if you have a little more time to spare and good sturdy boots, I'd encourage you to try more challenging trails such as The Lost Valley Walk, as you get up close and personal with Glencoe's rivers, streams, waterfalls, and the breath-taking beauty of the entire glen (valley).