Photo story: Driving to the Commando Memorial in Fort William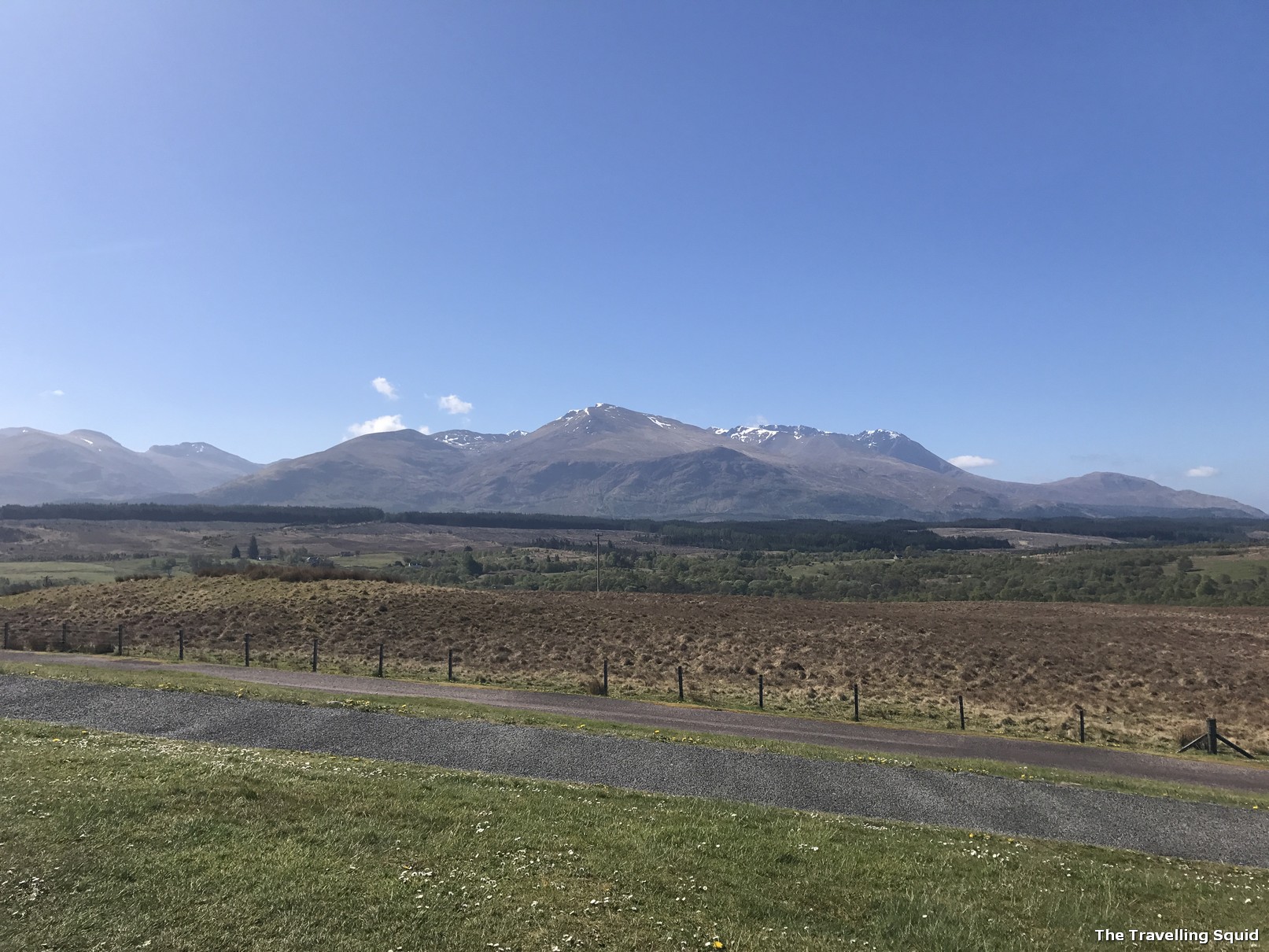 We had planned to drive from Glencoe to Isle of Skye, and decided to stop by Fort William along the way. Specifically, we stopped by the Commando Memorial in Fort William and were greeted with views of flat greenish brown plains, amidst the snow-capped mountain range a few miles ahead. It felt like I was one of the hobbits living in The Shire. Fro-licking in the sun, without a single care in the world.
Here is what Wikipedia had to say about the Commando Memorial in Fort William:
The Commando Memorial is a Category A listed monument in Scotland, dedicated to the men of the original British Commando Forces raised during World War II. Situated around a mile from Spean Bridge village, it overlooks the training areas of the Commando Training Depot established in 1942 at Achnacarry Castle. Unveiled in 1952 by the Queen Mother, it has become one of the United Kingdom's best-known monuments, both as a war memorial and as a tourist attraction offering views of Ben Nevis (highest mountain in Britain) and Aonach Mòr (another legit mountain in Scotland).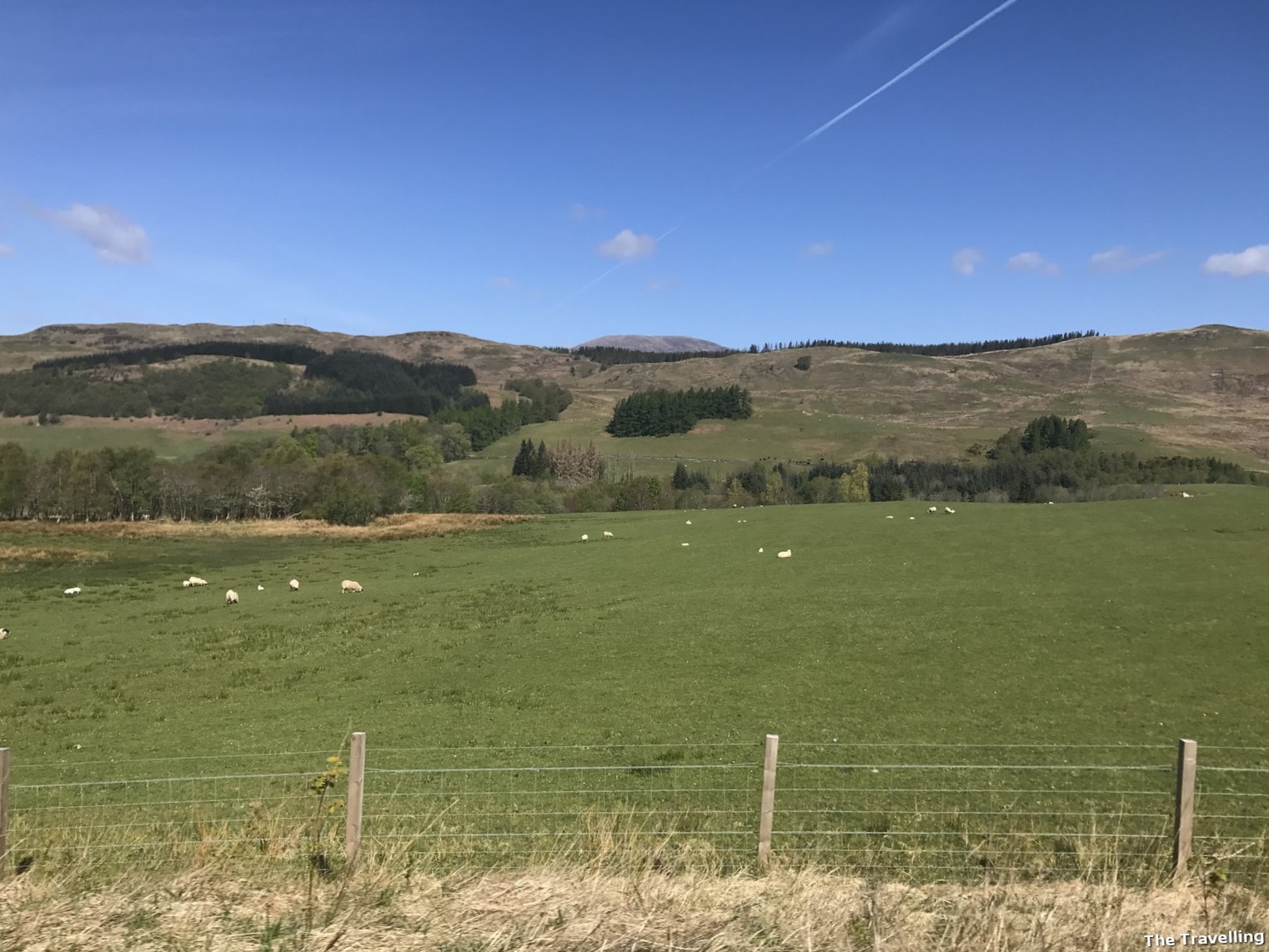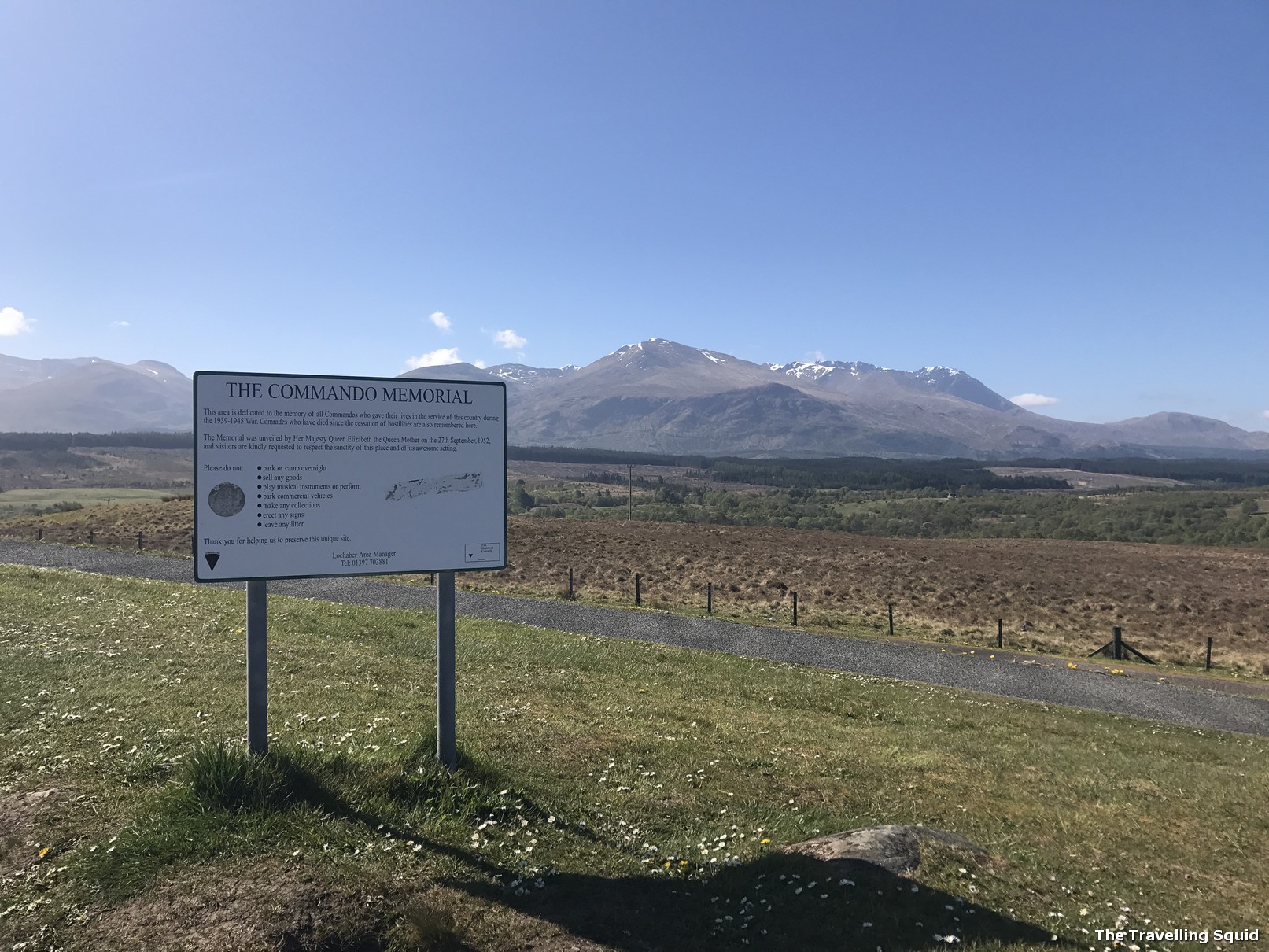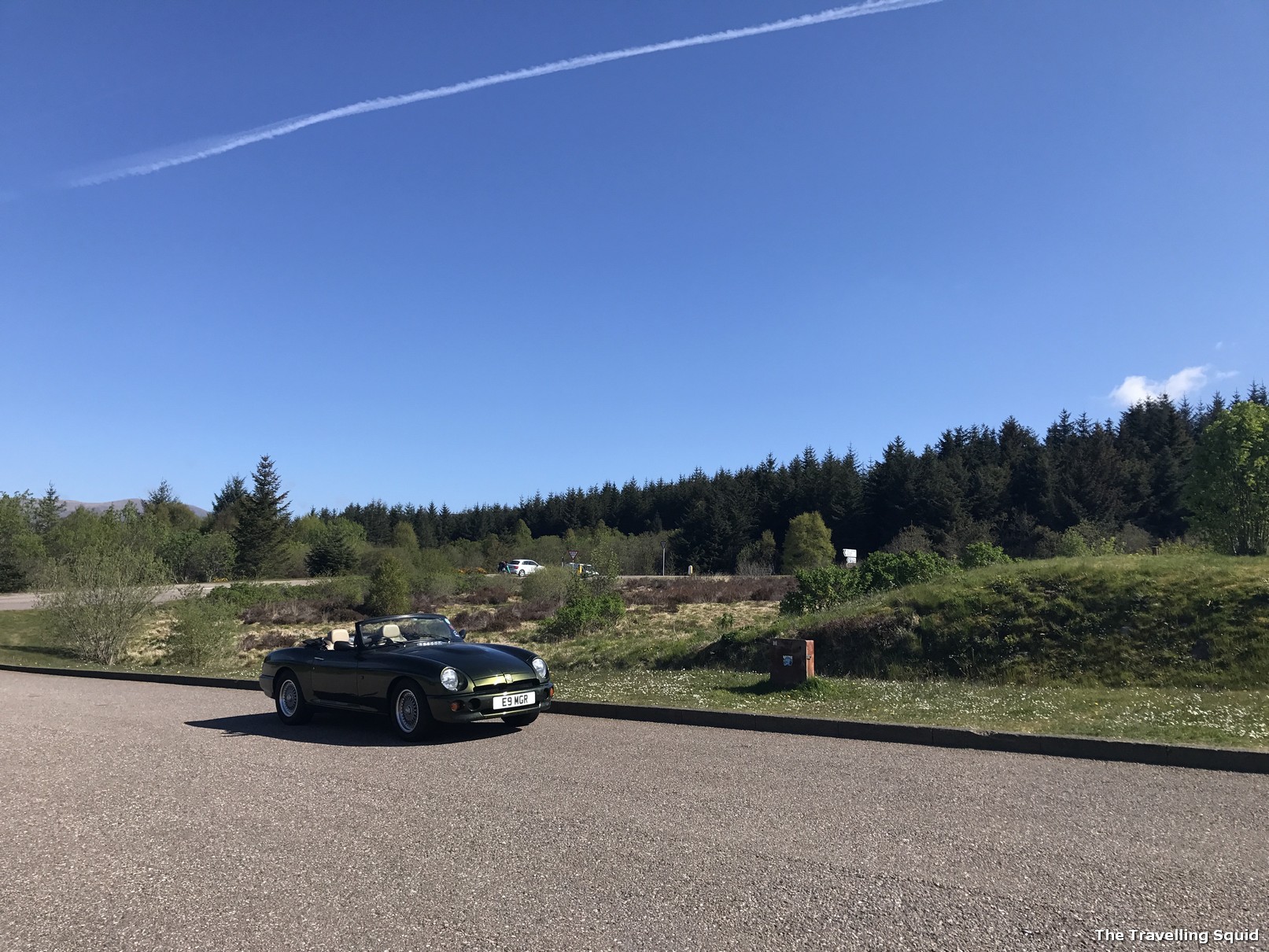 The Statue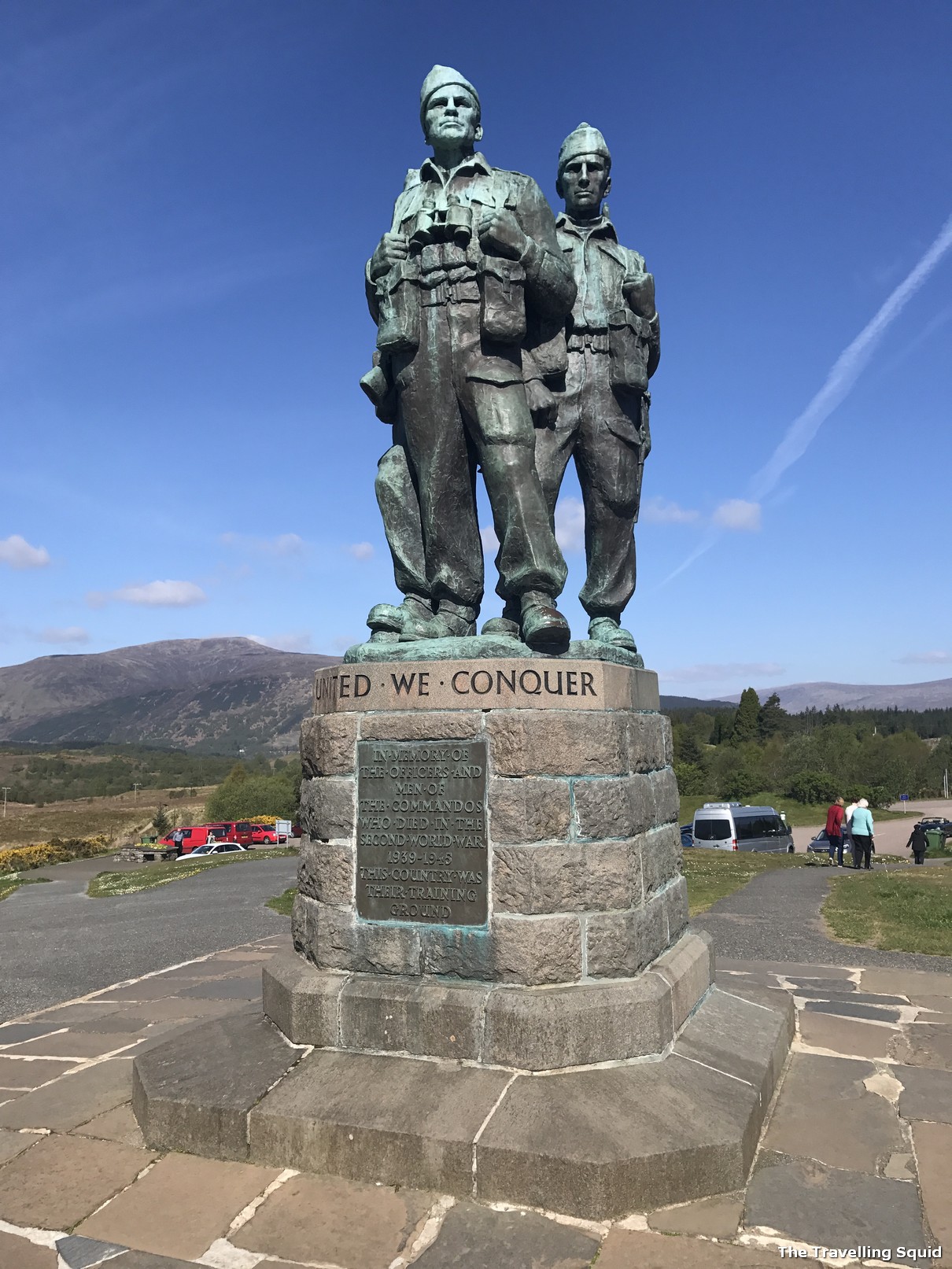 According to Wikipedia, the monument consists of a cast bronze sculpture of three Commandos in characteristic dress complete with military wear and a rifle.
The soldier at the front is thought to depict Commando Jack Lewington who frequently attended Remembrance Services at the monument during his lifetime. One of the other two soldiers is Frank Nicholls (rank unknown) the other is alleged to be Patrick Hynan. The three Commandos are depicted looking south towards Ben Nevis. The entire monument is 17 feet (5.2 m) tall. The monument has been variously described as a huge, striking and iconic statue. "United we conquer" is inscribed around the top of the stone plinth, while the original plaque on the stone plinth reads: "In memory of the officers and men of the commandos who died in the Second World War 1939–1945. This country was their training ground."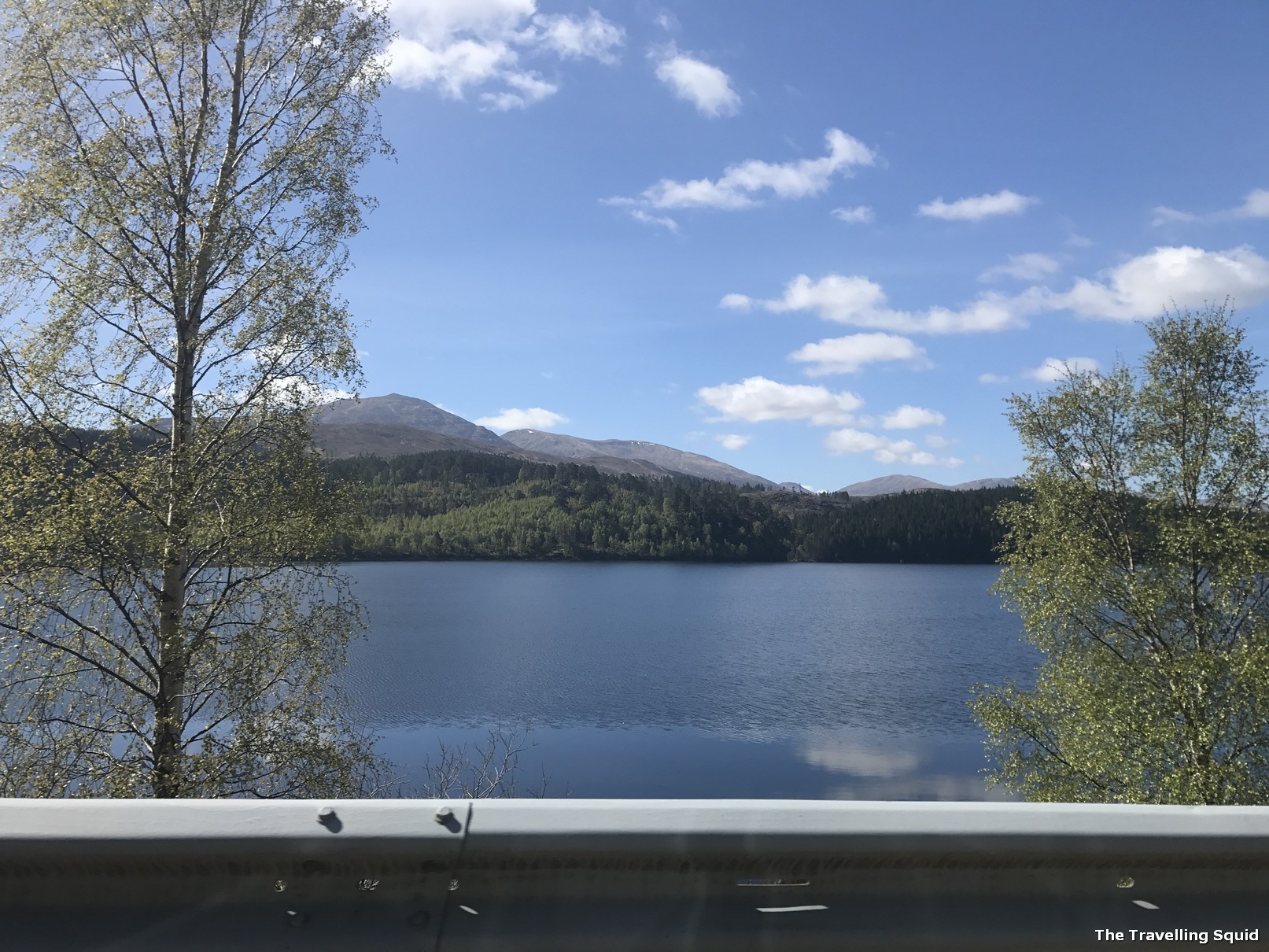 The Travelling Squid's Take
It can get pretty windy and cold at the Commando Memorial in Fort William even in summer, so do bring a wind-breaker, or jacket. While we did not get a chance to scale Ben Navis, one of the highest mountains in the UK, it was nice to admire it from afar. The drive there from Glencoe and to Isle of Skye was pretty scenic too. It was hard to believe that epic battles had taken place in the peaceful pastures that lay before us. Do check it out if you have a chance!