A Visit to the new Cathay Pacific Lounge at Changi Terminal 4
As you may already be aware, Singapore's acclaimed Changi airport recently opened its newest terminal, T4, on 31 October to some fanfare.  The Travelling Squid and Friend S were privileged to have the opportunity to visit the innovative new terminal, as well as the elegant Cathay Pacific lounge located there.
The check-in experience
Upon arrival at the terminal, we were received warmly by Cathay Pacific staff at the check-in area.  Speaking of checking-in, we took some time to admire the snazzy innovations intended to make one of the most painful aspects of travel a tad more bearable.  The process is essentially an introvert's wet dream.  First, you can head to the automated check in kiosk to print your boarding pass and bag tags (not new, we've seen and used this service at multiple airports).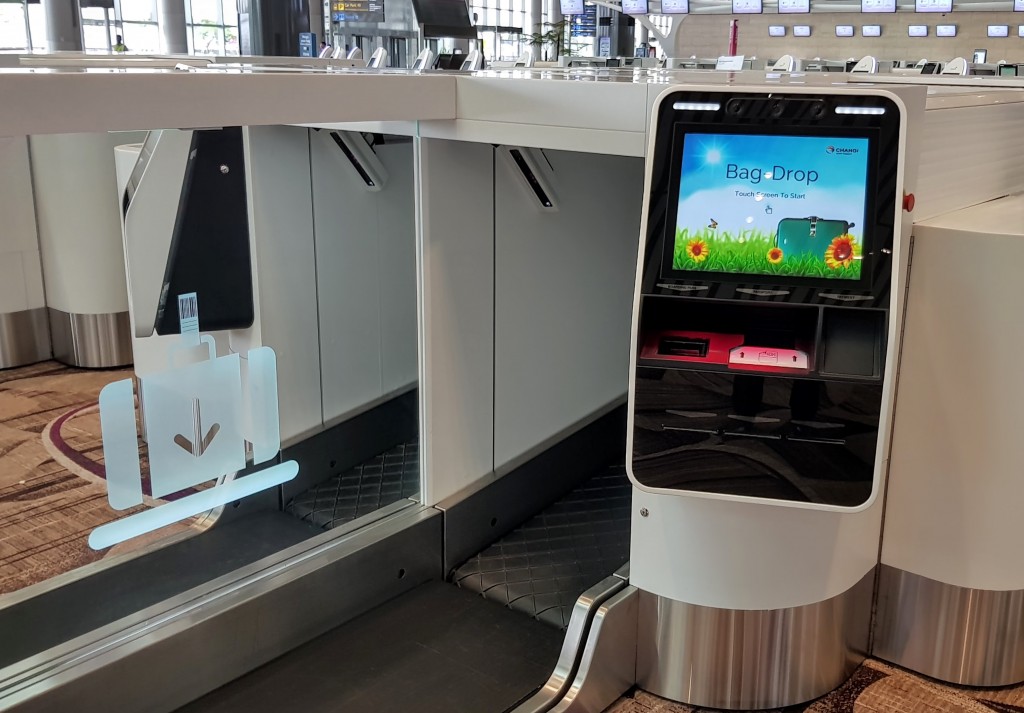 Here's where it gets interesting.  You can then proceed to a human-less automated bag drop which weighs and checks your baggage in.  Finally, you get to breeze through the bio-metric immigration as long as you're Singaporean/PR or have registered your fingerprints previously during arrival.  Security screening, the other most tortuous part of travel, has also seen minor improvements, with new CT scanners allowing laptops and tablets to remain in your carry-on baggage.  We actually weren't aware of this and had unintentionally left a laptop in one  of our backpacks.  That went right through, much to our surprise at that point.  All in all, the check-in experience was an A+, albeit at an almost empty, pre-opening terminal.  Check out this video for an overview of the process, with far more smiles than one would probably wear in the airport.
First impressions of the lounge
After "checking in", we were ushered briskly through the admittedly beautiful new terminal.  It was a fairly surreal experience to walk through an empty, but almost functional airport.  It felt like the world's glitziest private terminal.  Here are some pictures of our journey to the lounge.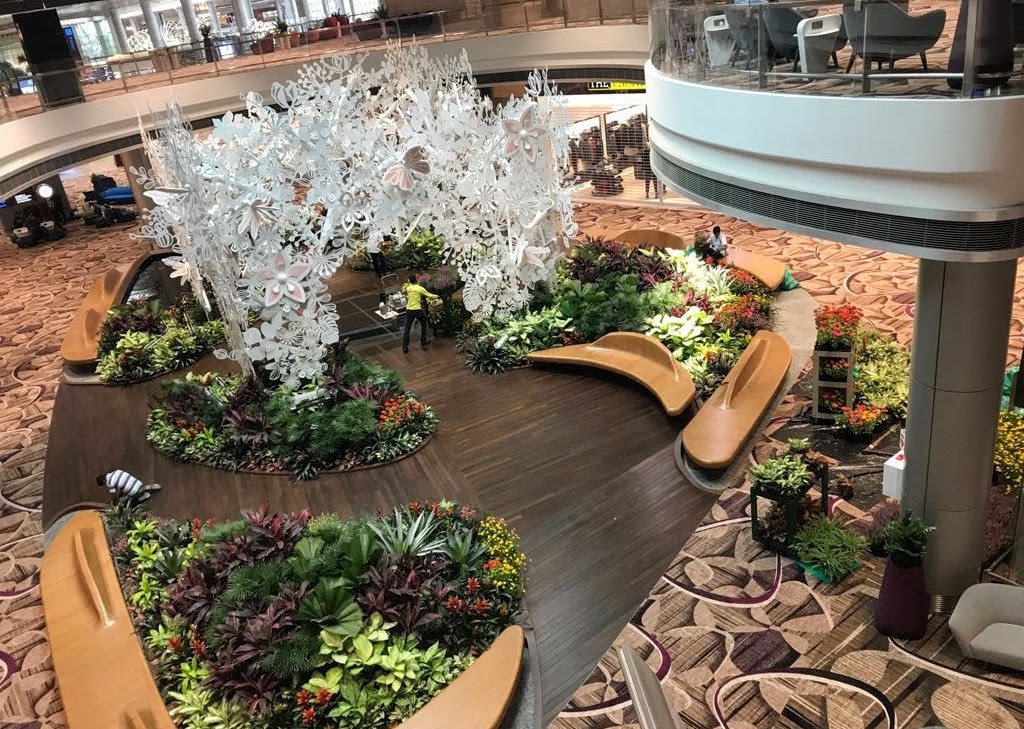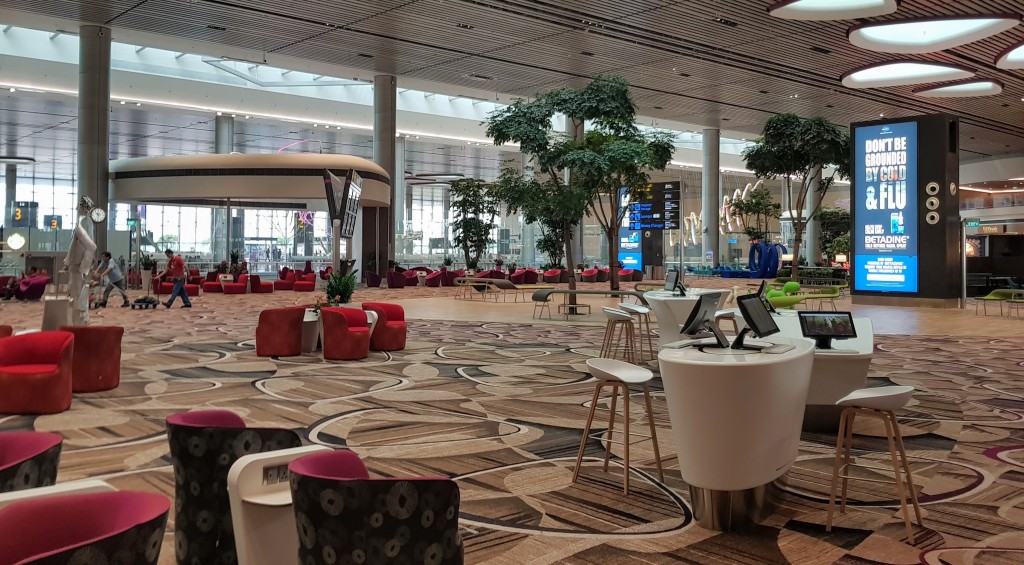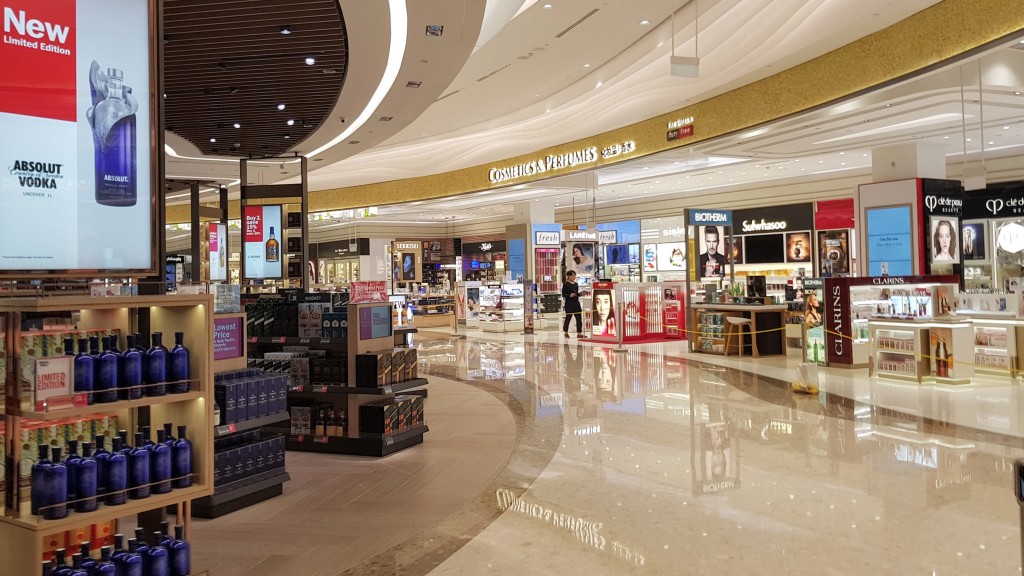 After our brief tour of the terminal, it was on to the highlight of our visit, the brand-new Cathay Pacific lounge.  After being warmly welcomed with a glass of bubbly, we were given some time to roam around the lounge before the guided tour commenced.  This wasn't a particularly large lounge, and the term "cozy" would not be inappropriate.  However in the case of this lounge, I'm definitely not using "cozy" euphemistically.
Cathay Pacific describes the lounge at Terminal 4 as one of the airline's largest lounges outside Hong Kong, with seating for more than 200 customers.  It is described to be similar in style to the acclaimed the Pier lounge in Hong Kong, though we haven't had the privilege of visiting and providing a first-hand comparison.  There were indeed plenty of comfortable seating options in the lounge, with tasteful mid-century style furniture.  The washrooms lacked showers, but were tastefully adorned and functional, and came with Aesop toiletries.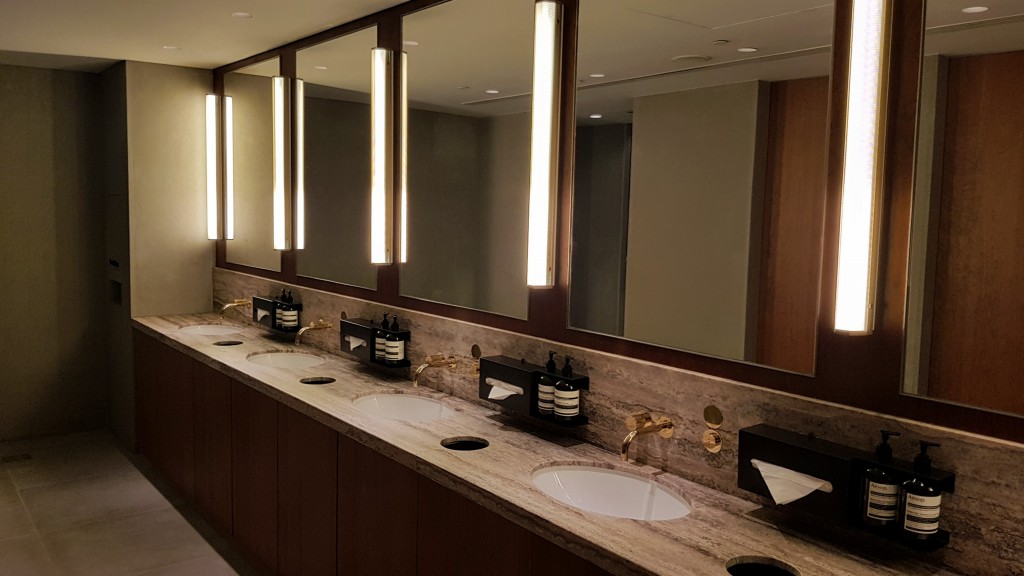 Food and drink
As this is a Cathay Pacific lounge, we were eager to experience the famed noodle bar – perhaps the raison d'être for Cathay lounges in general.  We fortuitously ran into a friend at the event, and therefore sampled all three offerings.  They were namely Cathay's signature wanton noodles and dan-dan noodles, and a local special – laksa.  You can't go wrong with any of the three choices.  I particularly liked the wanton noodles, which was reminiscent of the piping hot bowls I had in Hong Kong.  Besides the noodles, there was a typical self-service selection of beverages and booze, and a small buffet spread.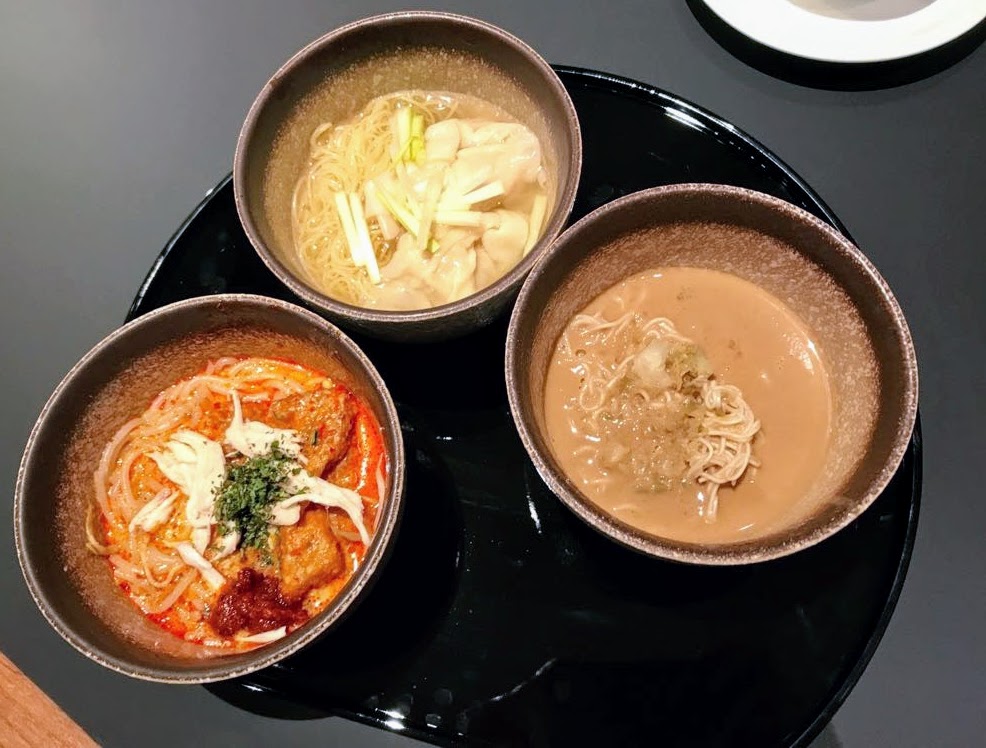 Design, details and ambience
This is where, in my opinion, the Cathay Pacific lounge distinguishes itself.  Cathay made use of a design template by Studioilse, Ilse Crwaford's London-based design studio.  Staff mentioned that the inspiration for the lounge was the sense of stepping into an apartment, and I was inclined to think that this theme was well-implemented. The lounge was sectioned into a "kitchen" area (noodle bar), a "pantry"" (buffet area), and a living area.  The considered use of understated, tasteful furnishings lend both elegance and a sense of home to the space.

I appreciated the subtle attention-to-detail throughout the lounge.  When we first reached the lounge, we noticed a distinct lack of power outlets in the seating area.  Later during the tour, Cathay staff demonstrated the use of the hidden outlets built into the side tables.  The side tables had to be custom-made such that the wiring could run through its legs and be hidden from view!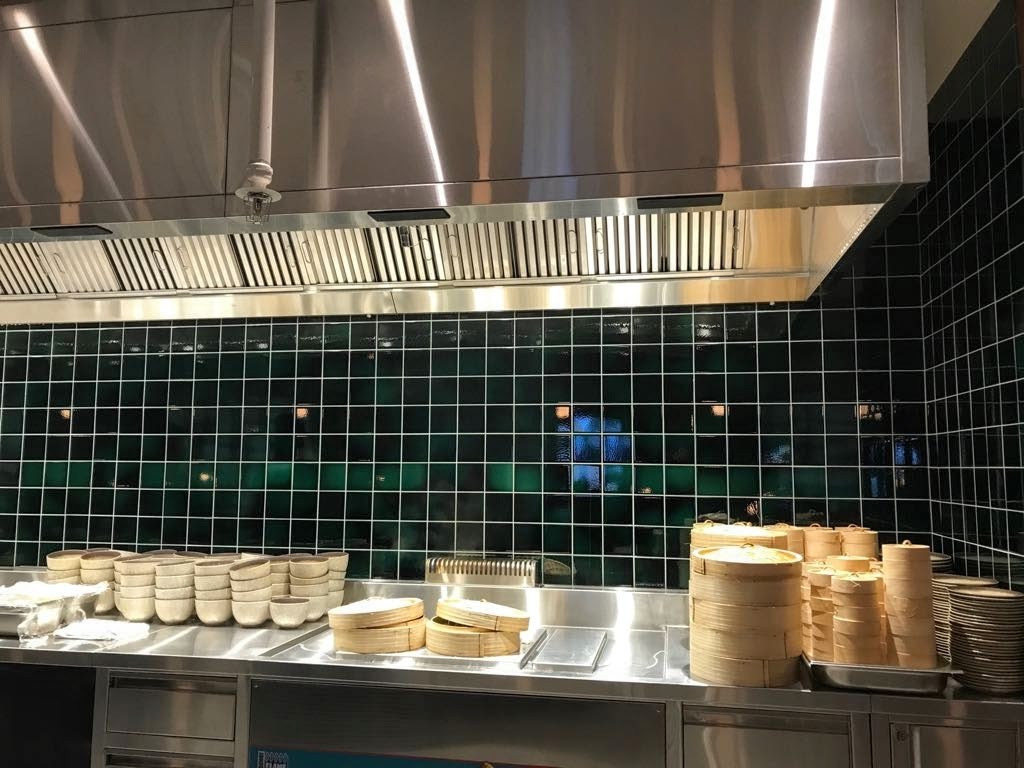 Cathay staff also waxed lyrical about the wall tiles used in the noodle bar.  What's the to say about tiles, you may ask.  A fair bit, as it turns out.  These are hand-made Japanese glazed tiles, and the process by which they're made leaves slight inconsistencies in colour and tone.  They described how each tile was painstakingly selected to find an aesthetically pleasing arrangement.  This brings to mind the Japanese philosophy of wabi-sabi, the approach of seeking beauty in imperfection, for which I have neither the wisdom nor word count to elaborate.  Perhaps because I'm not blessed with supermodel looks, I have quite a soft spot for subtle, organic, imperfect beauty.
Concluding thoughts
It was quite a privilege to visit Terminal 4 and the Cathay Pacific lounge pre-opening, and the experience did not disappoint.  While the lounge may not be the most opulent, I'd gladly take tasteful and functional over chintzy any day.  A big thank-you to Cathay Pacific for the invitation and generous hospitality!