Four drama series which will inspire you to visit Japan
Still undecided on whether to travel to Japan? I would like to recommend four Japanese drama series which will inspire you to visit Japan. Mainly because of the food, but the bustling neighbourhoods in Tokyo and its people play a part too. Some part of me makes me want to enter these little Japanese izakayas (bars) to relieve the atmosphere customers in Shinya Shokudo experienced at Master's little diner in Shinjuku, or at the chestnut sweet shop Waguriya where Kantaro had his orgasmic-tasting Mont Blanc (a chestnut cream dish).
1. Shinya Shokudo (Midnight Diner)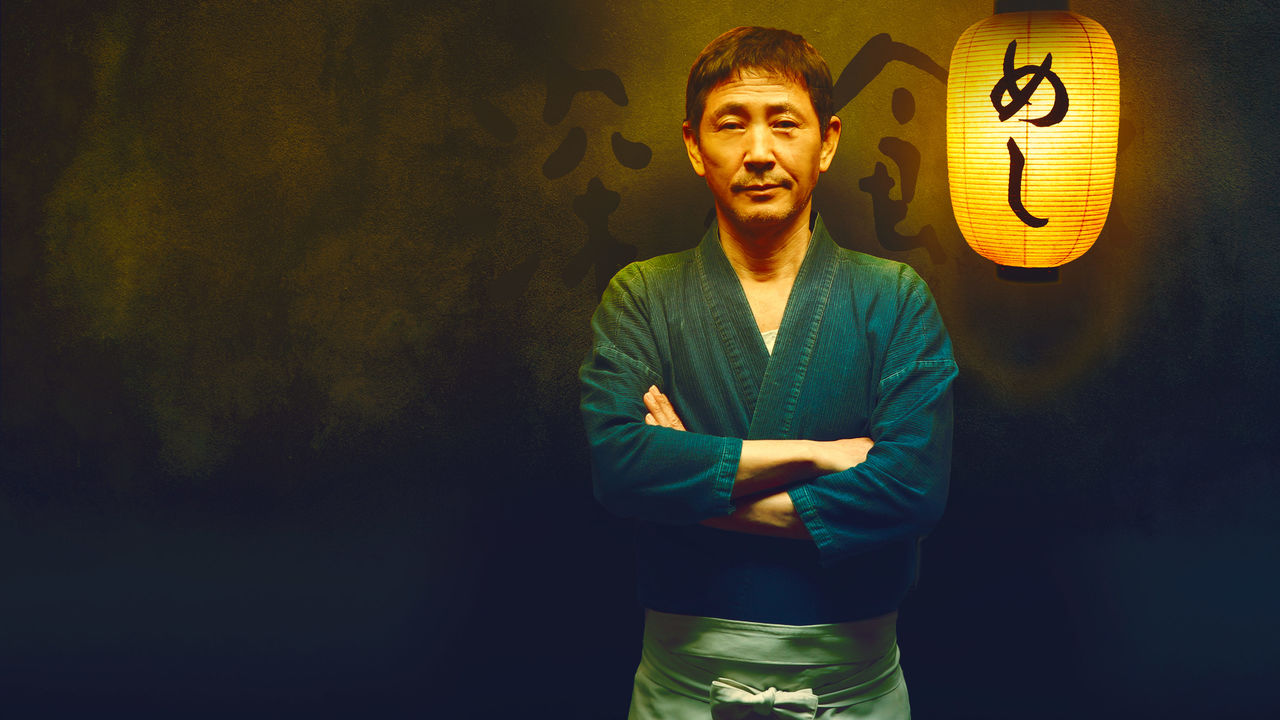 Shinya Shokudo is set in a little diner in Shinjuku. The midnight diner, as its name suggests, opens from 12am – 7am. Only beer, sake and pork miso soup is on the menu. But that's not all – the izakaya's proprietor Master will be able to make you a dish of your choice, as long as he has the ingredients for it. Through simple dishes such as little cocktail sausages and tamago (Japanese-style egg), we enter the lives of characters that patronise Master's diner and are shown flashbacks of their memories and experiences.
The introductory scene is the series' centerpiece. With the song 鈴木常吉 – 思ひで playing in the background, the audience sees Shinjuku at night, from the view of a moving vehicle. The scene later shifts to Master's diner, which shows him in the midst of making pork miso.
What I like about Shinya Shokudo is that no one is judged at Master's diner. People from all walks of life are treated equally, including the Yakuza, cleaners and bar hostesses. They share their problems, and Master dishes out advice in a few simple sentences. Yet, his wise words typically get to the heart of the problem, or sometimes, right to the heart. Shinya Shokudo is not only a show about delicious Japanese izakaya food, but also about humanity.
2. The Solitary Gourmet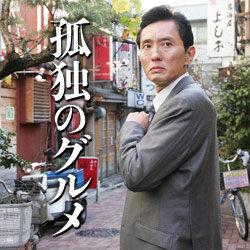 The Solitary Gourmet is about a self-employed salaryman who visits various districts in Tokyo for business. He cannot focus on work if he is hungry, and has to eat before making decisions. He eats a lot for a man with a slim figure. What I like about the show is the segment at the end where comic-writer Masayuki Kusumi brings the audience on a tour of the actual restaurants where the series was filmed at. He drinks beer, unlike the  show's stoic star Gorō Inogashira, and talks about how certain things came to be, such as the pairing of raw green capsicum with yakitori chicken meatballs.
3. Samurai Gourmet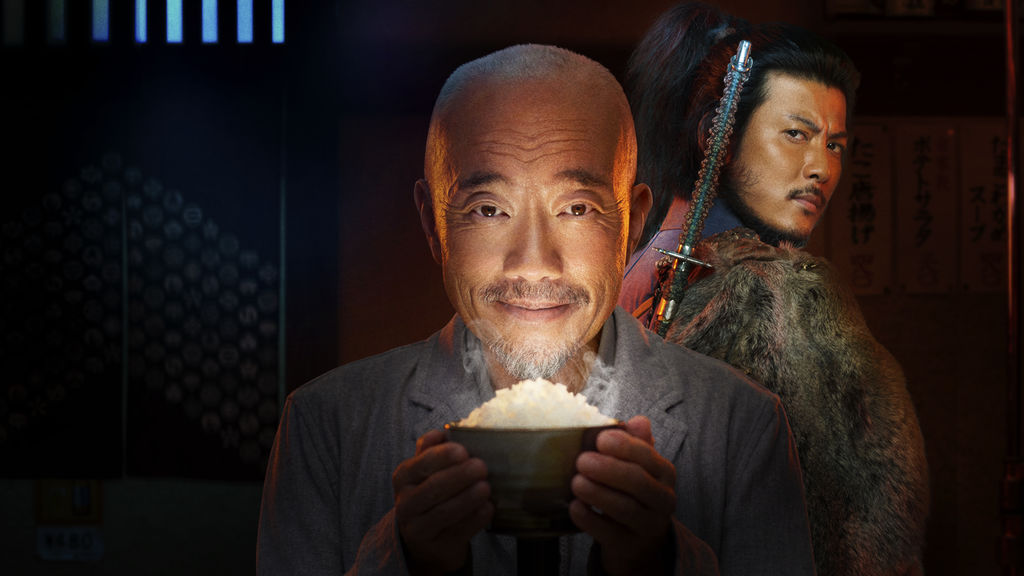 Samurai Gourmet is about a non-confrontational retired salaryman (a Japanese term for an office worker) who visits restaurants around Japan to satisfy his cravings. Along the way, he faces annoyances but does not dare to voice out his discontent. In his mind, a samurai appears and tells off those who have stepped on his toes, including a fearsome Chinese lady who served him cold ramen, and a bunch of giggling girls distracting him from his plate of Napolitan pasta. I had a new-found appreciation for Japanese beer after watching this series.
4. Kantaro: The Sweet-Tooth Salaryman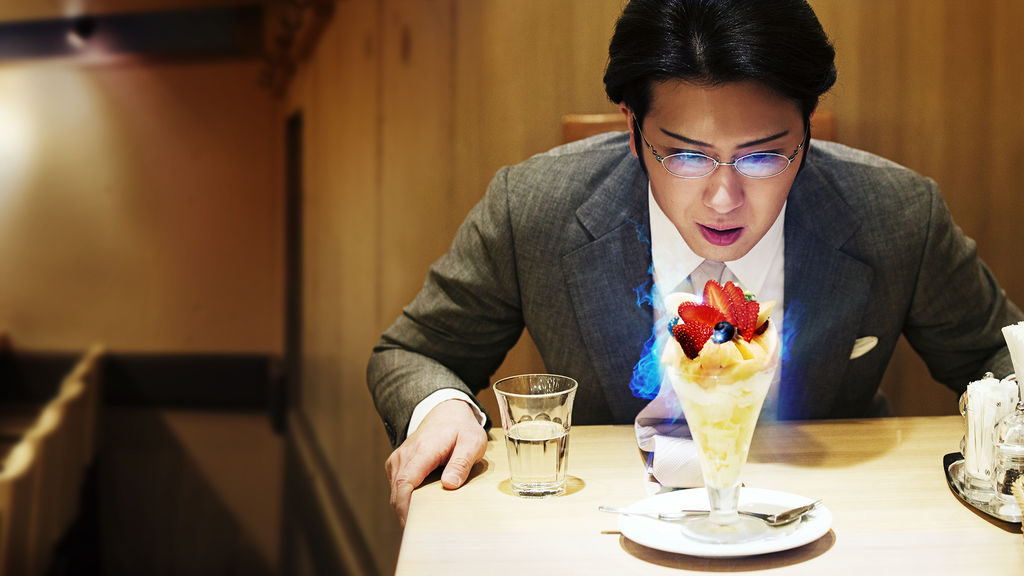 Kantaro: The Sweet-Tooth Salaryman may make one feel a tad uncomfortable at the start, but it promises to be oddly hilarious if you can get pass some strange scenes. Kantaro is a salaryman who skives of work while making sales visits, to have sweets at popular sweet shops around Tokyo. His experience with sweets each time is orgasmic. It is an utter transformation from his usual emotionless, reserved self. His eyes roll back and he is transported into a different world, where he sees himself and sometimes, the people around him as ingredients in the dessert he is partaking in; such as a red bean, chestnut, cacao bean. He also gets splashed with matcha syrup. Our hero Kantaro-san also has to make very tough decisions such as choosing between white and dark syrup to complement his dessert, making sure he doesn't get caught enjoying desserts during office hours, and of utmost priority, making sure his dentist mother doesn't catch him eating sweets.
The Travelling Squid's Take
Of the four drama series, my favourite is Shinya Shokudo. Not only does it focus on simple, delicious Japanese bar food, but the ability to use food to convey emotion and the struggles of life is touching. Master's somewhat ambiguous and generic stream of wise words brims with aptitude and empathy; it is not prescriptive but somehow nudges the characters towards finding what they truly wants in life.
The four drama series which will inspire you to visit Japan as listed in this post – while highlighting the best Japan has in terms of food and sweets – is not just about food. As the series develop, we get to see Tokyo from a soulful and light-hearted perspective, quite disparate from the chaotic, confusing and unnerving emotion one may get as a first-timer to Tokyo. The drama series gives us a glimpse of Tokyo and insights to its people, far beyond what a rushed shopping trip in Shibuya would have inspired you. I urge everyone to watch the 'Four drama series which will inspire you to visit Japan' if you have the time.
Do you have other shows about Japan to introduce The Travelling Squid and its readers? Really appreciate it if you could drop a comment in the box below.