If you enjoy eating alone, you're not the only one. Of late, I've found myself experiencing the joys of eating alone. I've also realised that there's a Japanese TV series supporting this approach, called Kodoku no Gourmet (The Solitary Gourmet) (孤独のグルメ).
Kodoku no Gourmet is adapted from a comic about a man eating alone. He gets to visit several restaurants around Tokyo as he moves around selling his wares as part of his job. The restaurants he visits are usually small family run businesses, serving simple food done well. Don't watch this on an empty stomach. Better still, watch this before a meal.
There is an allure to the concept of eating alone. According to Washington Post, Kodoku no Gourmet was a hit TV show over the new year (2018). Instead of the usual countdown variety shows, people were more keen to see a man eating alone. I wouldn't say the show's star, Goro-chan is handsome or hot. He looks like the average man on the street, with a prominent jaw line that moves up and down as he chomps on the yakitori or barbecue meat he has been waiting eagerly for.
***
Personally, I have experienced the joys of eating alone. I'd like to think it's not because no one wants to eat with me. It's just that I haven't managed to find the right company at the right time, to be eating the kind of food that I had been yearning for. I'm quite introverted and if I had to make unsuccessful attempts at conversation or frantically search my mind for conversation topics during the meal, I'd rather dine on my own.
Ramen at Amoy Food Centre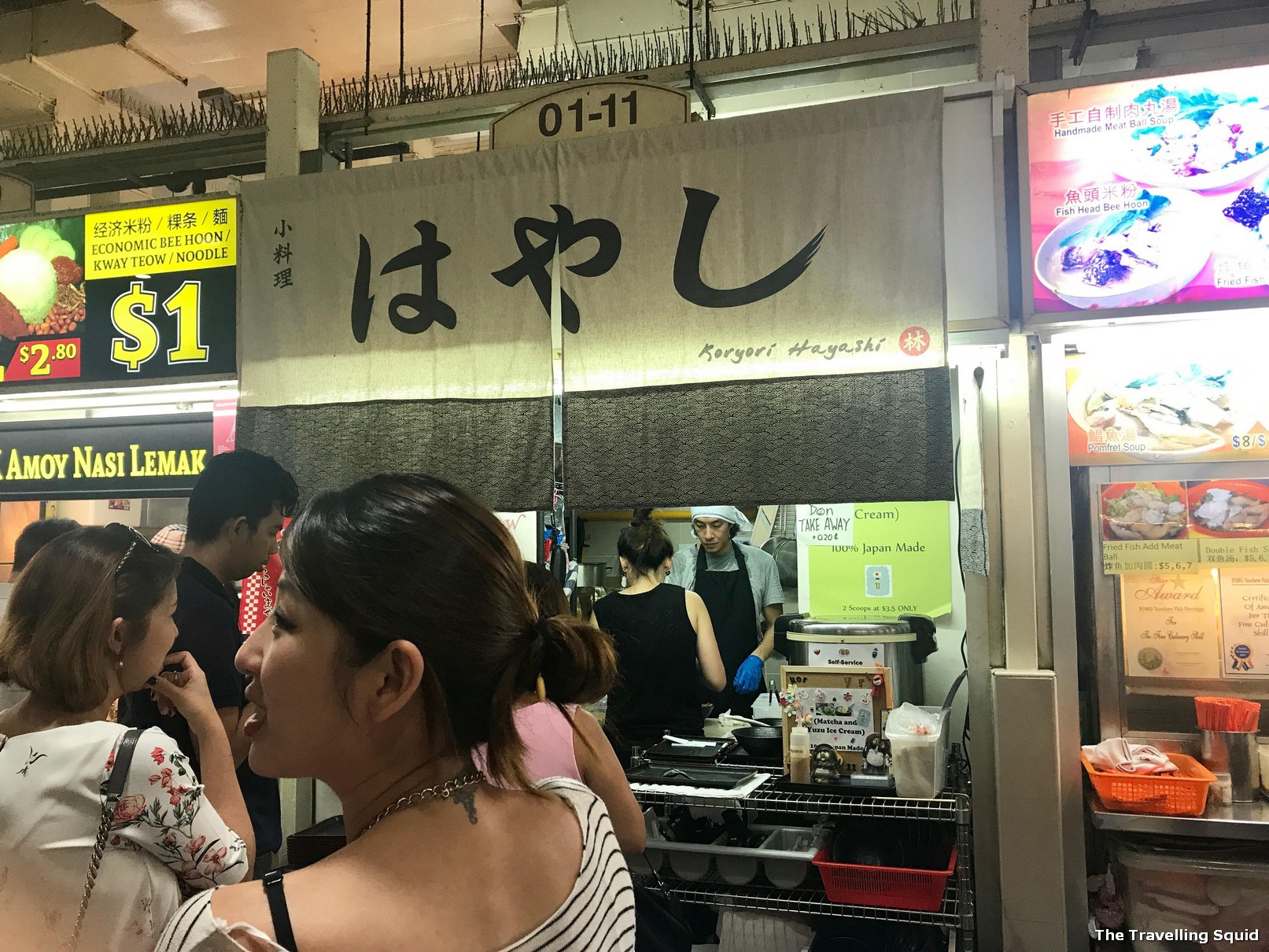 Last year, a lovely Japanese stall opened at the first floor of Amoy (Koryori Hayashi). It's helmed by a rather suave Japanese chef, who from time to time, wears a white "Good morning towel" on his head (ah – that brims with legitimacy?). Sorry, I digress, but going back to Koryori Hayashi, the stall does not allow one to take away ramen noodles. I'm not a ramen aficionado but I do love eating ramen and so decided to have a bowl at Amoy food centre.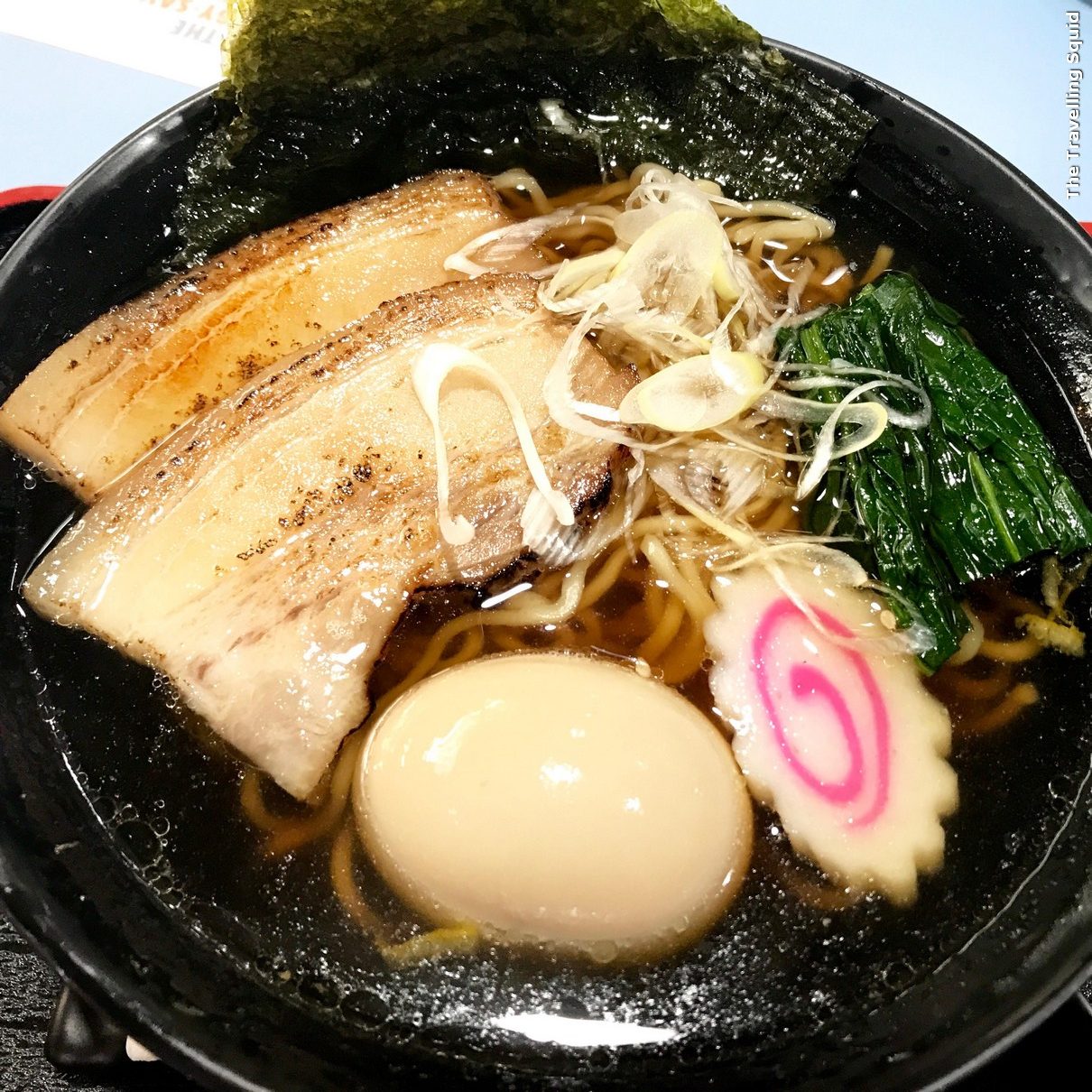 I wasn't about to pressure fellow colleagues into eating the ramen with me, at a rather congested and warm environment at Amoy Food centre, hence I decided to proceed with this task alone. I succeeded at my second attempt (during my first attempt the ramen was sold out). I later learnt that eating alone is advantageous especially when it comes to finding seats. Strategically, I found one next to an uncle who was about to finish his meal, but a group of mature office ladies soon took over the space next to me.
As I slurped down the al-dente noodles in shoyu broth, the aunties proceeded with their lunch time talk on politics in the office.
"Aiyo, this person <probably a fellow aunty>, is really hard to work with. I send the trading invoice to the client, still ask me to send again," said Helpless Aunty.
"Aiyo, eh make sure you get this down in email. Black and white. Make it clear to her, how can she like that," said Righteous Aunty.
"Yeah, I told you, that day at the pantry, she …." said Gossipy Aunty.
Their voices fade as I joyously slurp the ramen. Noodles, good. Broth, yum… Ooh.. there's a bit of yuzu in there as well. Oh wait, there's a leafy veg – which taste a bit like cai xin. Interesting. The Char Siew. It's okay. But not as charred as I'd like it to be. But it's still very legit for a hawker centre ramen. Though I got poked on the back by random passers-by as I was seated near a crowded walkway, it was worth it.
* * *
Ma La Xiang Guo at People's Park Food Centre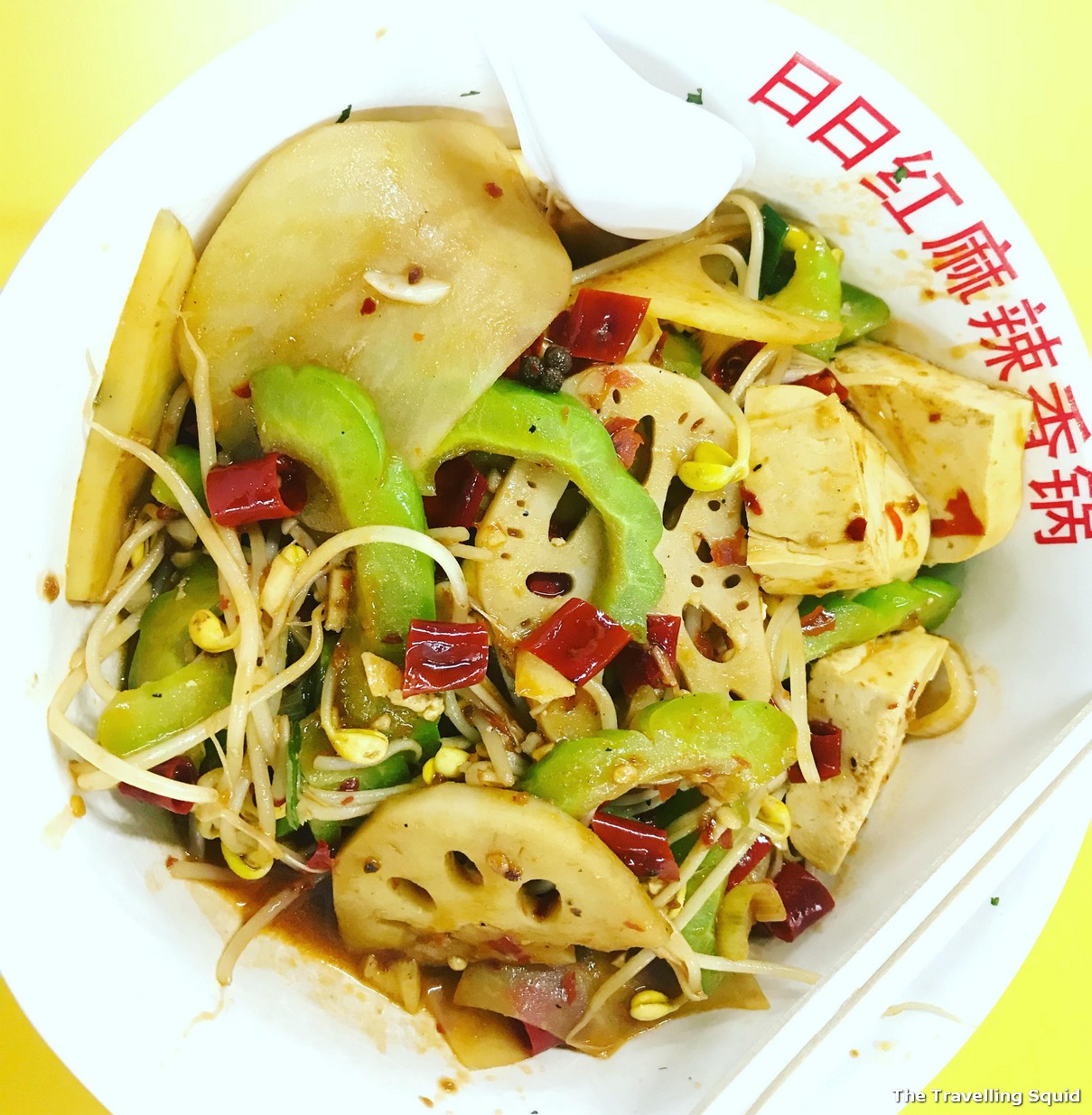 This is also one of my haunts for eating alone, though I admit that eating a rather oily and spicy meal at 9pm in the evening may not be healthy. But my resolve is not strong. On my way home, I tend to pass by Chinatown. I'm usually ravenous at 9pm, hence the decision to stop by the '日日红麻辣香锅' stall at People's Park Food Centre.
My favourite selection of food items for the mala hotpot would be as follows. It cost about SGD6, and the portion is huge – perfect for two. But like the dude from Solitary Gourmet, I'm having as much food as I can.
Lotus Root
Bitter gourd
Straw mushrooms
Potato
Tofu
These are relatively firm items and hold up even though they have been so stir-fried in spicy ma la sauce. As I dip the lotus root into the mala gravy, my mouth thrills in anticipation of what to expect. Will it be too spicy for me? Or will the heat be just nice…. I start to perspire. Alas the straw mushrooms have absorbed a fair bit of mala sauce, and it is spicy. I frantically search my bag for a packet of tissues to wipe my mouth and blow my nose. I must persevere (and not buy a cup of sugarcane juice, due to the added calories). I pick my favourite lotus root up and bite into it. Yum. My tongue gets used to the chilli-hot sensation but oh wait.. think I just bit into a peppercorn. My tongue turns numb. I continue eating.
I'm oblivious to the less than ideal surroundings around me – the rowdy beer drinking uncles, the Tiger Beer ladies, the other diners talking audibly in vulgarities. Finally, I scoop up one last bitter gourd. My tongue is no longer sensing. I'm concerned about the aftermath of digestion. I leave the food centre satisfied. The only bit of residual guilt is the calorie intake at 9pm in the evening.
The Travelling Squid's Take
If you have a strong urge to dine at a restaurant spontaneously but are alone, I urge you to go ahead. The joys of eating alone – they are best experienced when you try it out on your own.