Must visit: For a good Izakaya in Tokyo visit Andys Shin Hinomoto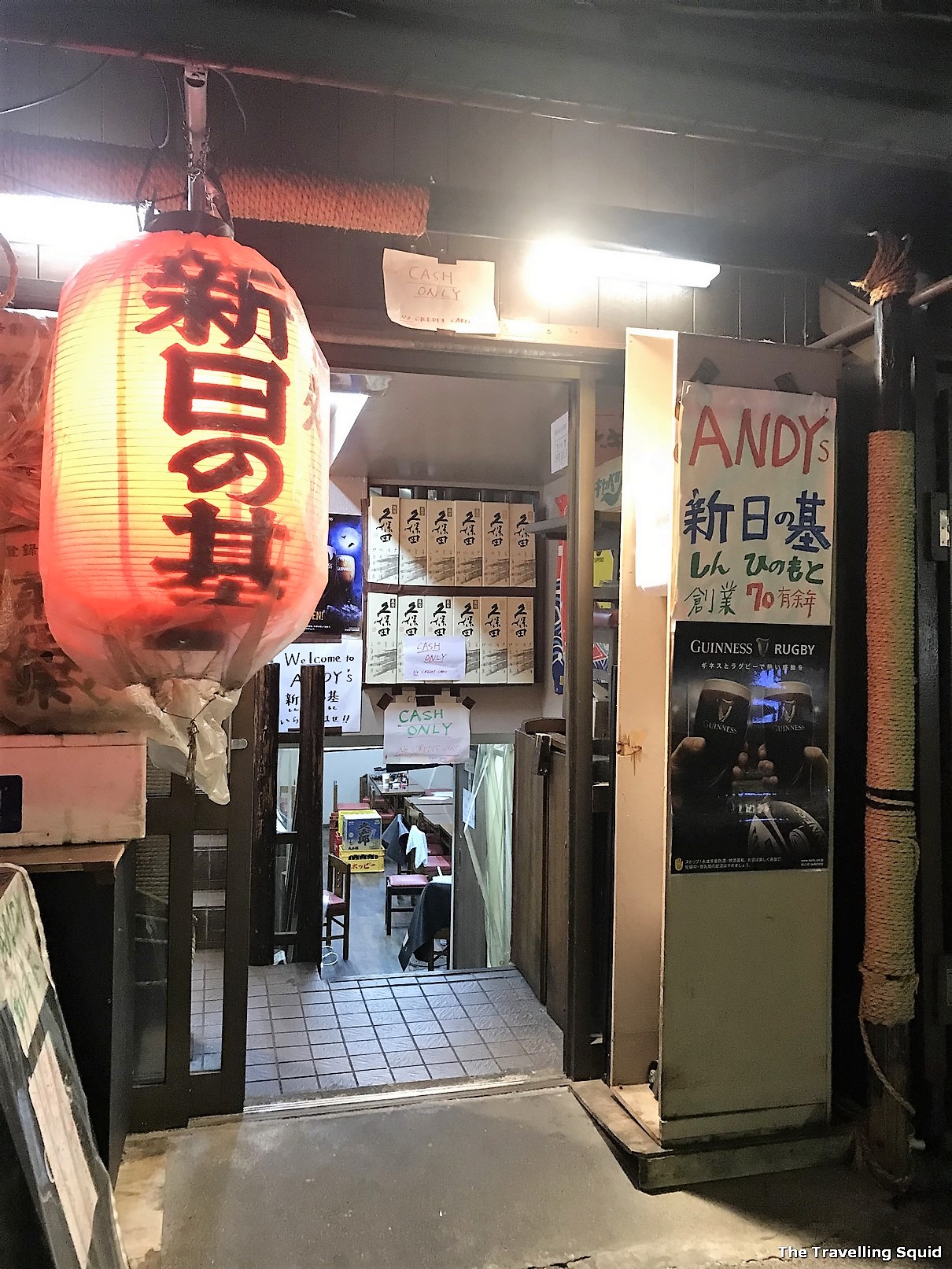 In my opinion, visiting an Izakaya* is a must-do activity while one is in Japan. And there's no better way to do it than at Andy's Shin Hinomoto. Located right next to Bic Camera in Yurakucho, it's a great place to have dinner after a day in Ginza (a 10 minute walk away). Not only is the food delicious, the prices are reasonable as well. I did not visit that many Izakayas during our recent trip, but I can say with certainty that for a good Izakaya in Tokyo visit Andys Shin Hinomoto!!! ☆*:. o(≧▽≦)o .:*☆
*Just in case you need to know, an Izakaya is a Japanese bar serving small dishes to accompany alcoholic drinks. 
The Ambience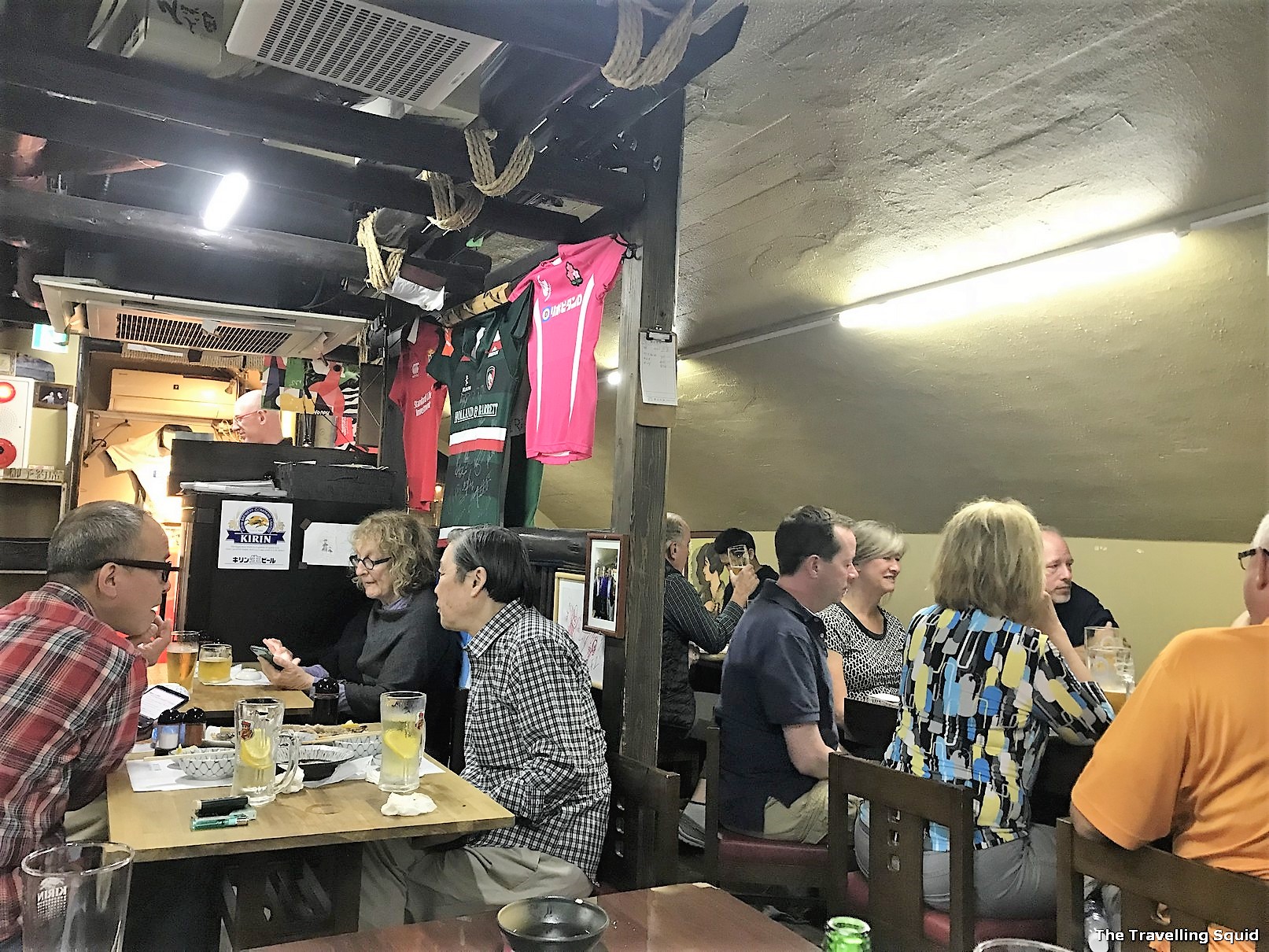 We visited Andy's on a Monday evening. It was quite packed during dinnertime,  but we managed to get a seat with a reservation. The patrons were quite a mixed group – from elderly Japanese gentlemen slightly tipsy from a few bottles of beer, to young Japanese couples on a date, to a big group of Westerners. Andy's reminded me of an episode in Kodoku no Gourmet when Goro was seated in a small Izakaya, with a buzzing atmosphere, made up by people talking animatedly and loudly after a few drinks. Similar to that Izakaya scene, the food was delicious.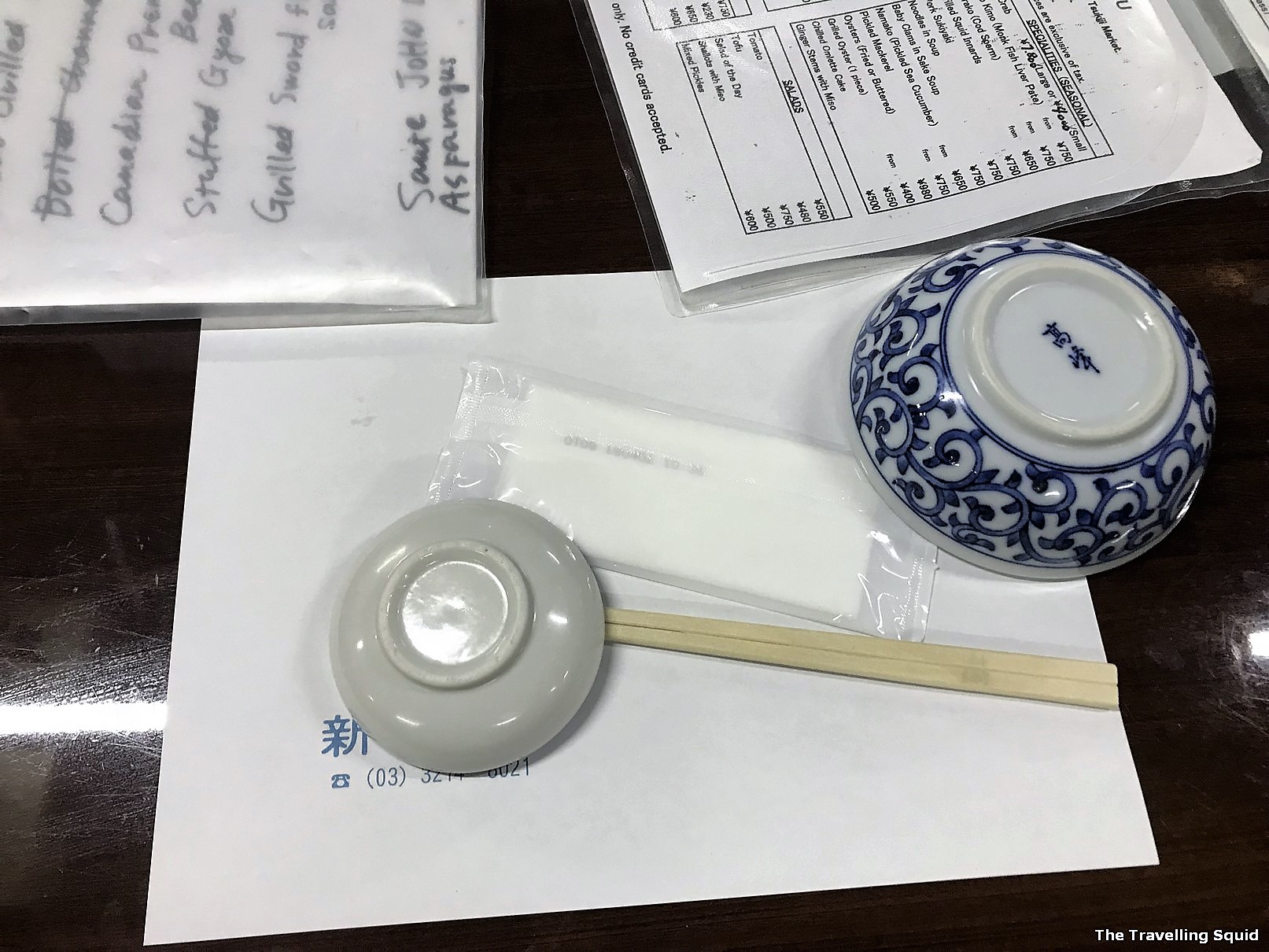 The Izakaya is located in one of the most unexpected locations ever – under railway tracks. In a faint distance, you could hear the activation of brakes each time the train pulls into the station, and the clattering of wheels against the tracks. It's not too noisy and hard on the ears – I'm guessing due to Japanese engineering.  It's quite charming especially if you like train sounds in the background, and prefer the rough, casual setting of Izakayas over the polished restaurants and bars in Ginza.
The Menu
There's a wide selection of Izakaya food on the menu – they also have specials. It was our first dinner in Tokyo and we ordered lots of food!
1. Asparagus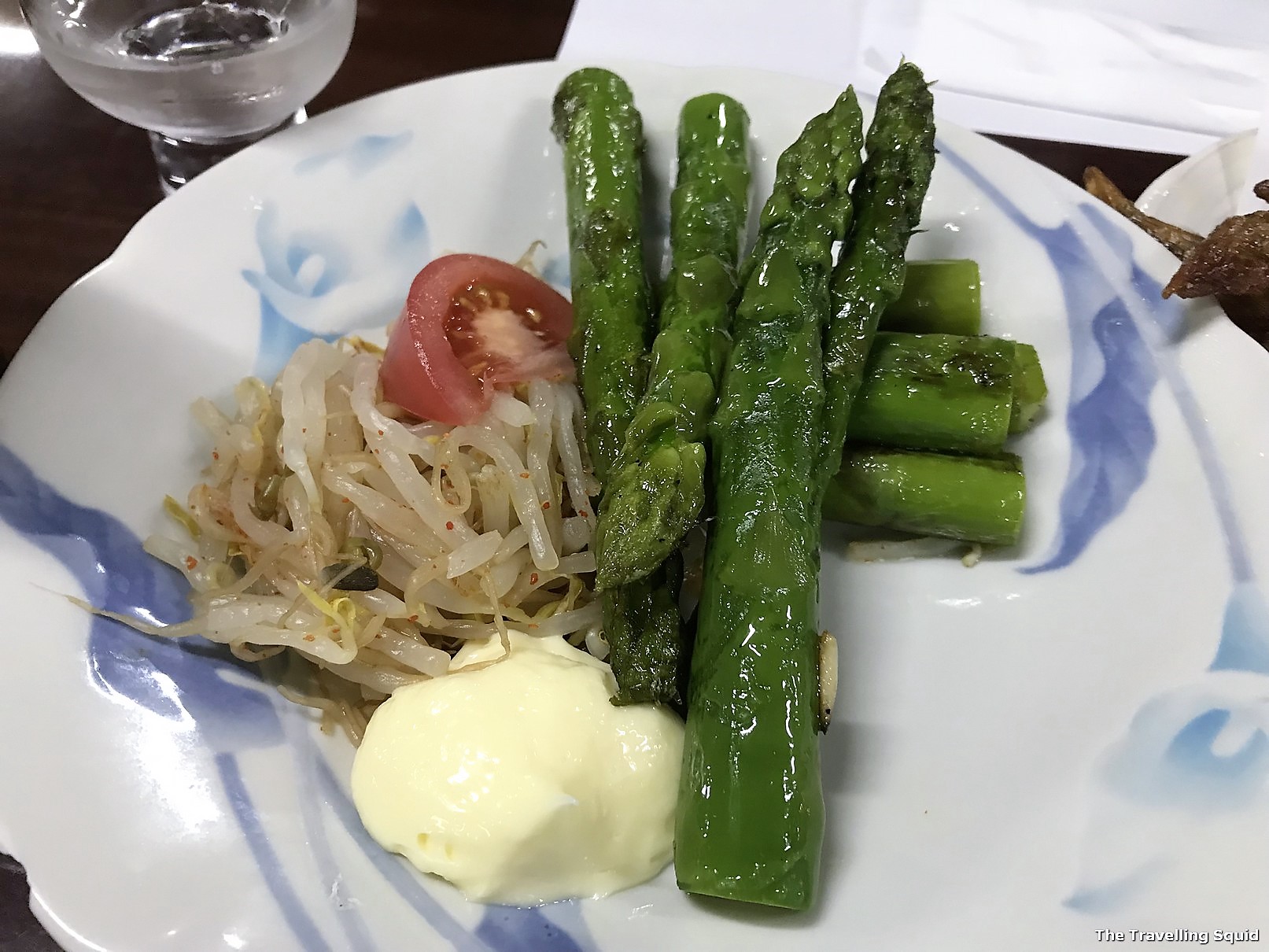 It was one of the tastiest and most juicy  asparagus I've ever tried. Probably fried with lots of butter and oil, but it was delicious. Tasted great with the spiced beans sprouts that came with it.
2.  Beef steak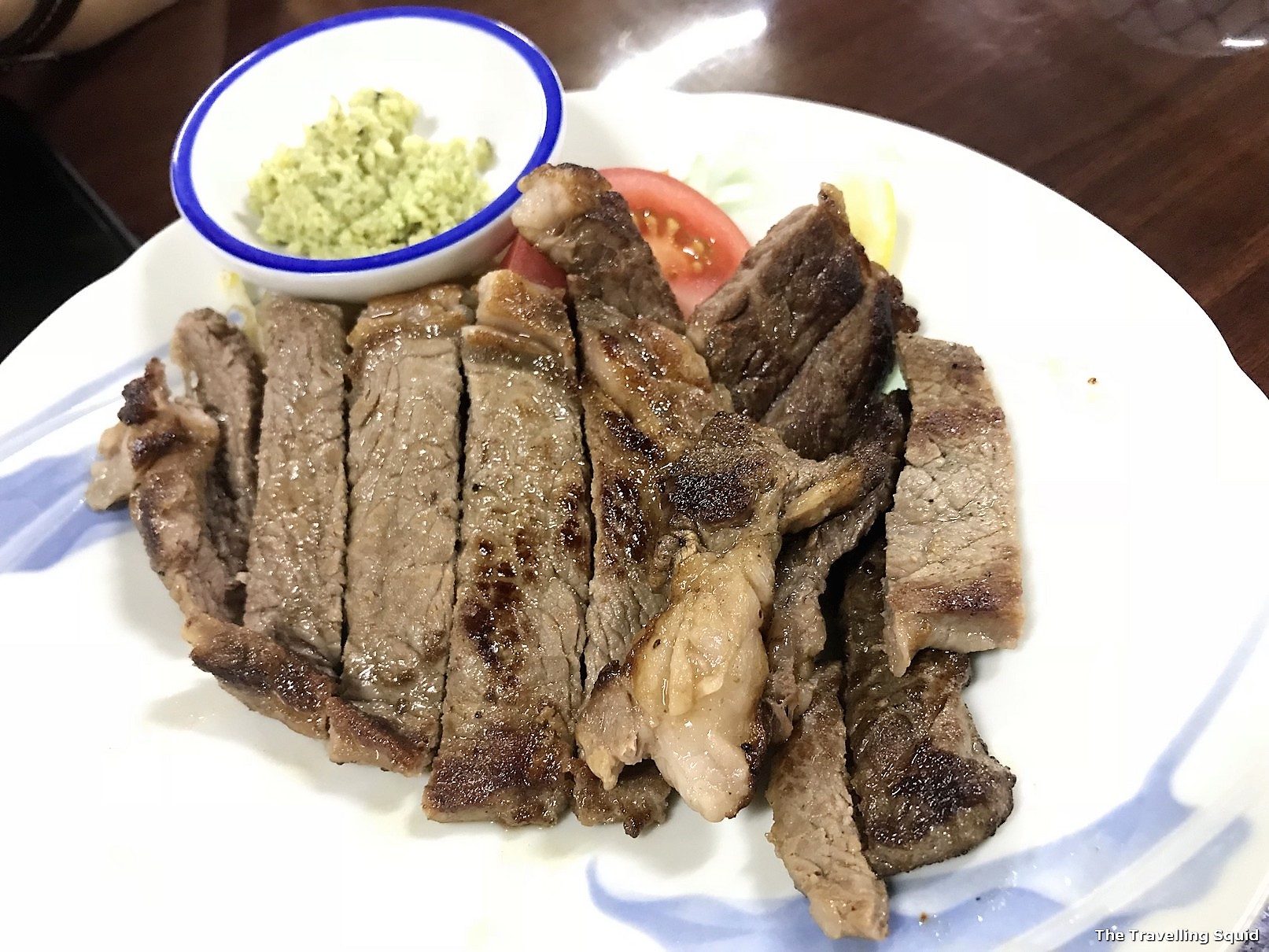 I found the beef steak to be a tad well done, but it tasted really good with the mustard sauce. For the amount of meat, the price was really worth it.
3.  Stuffed chicken wings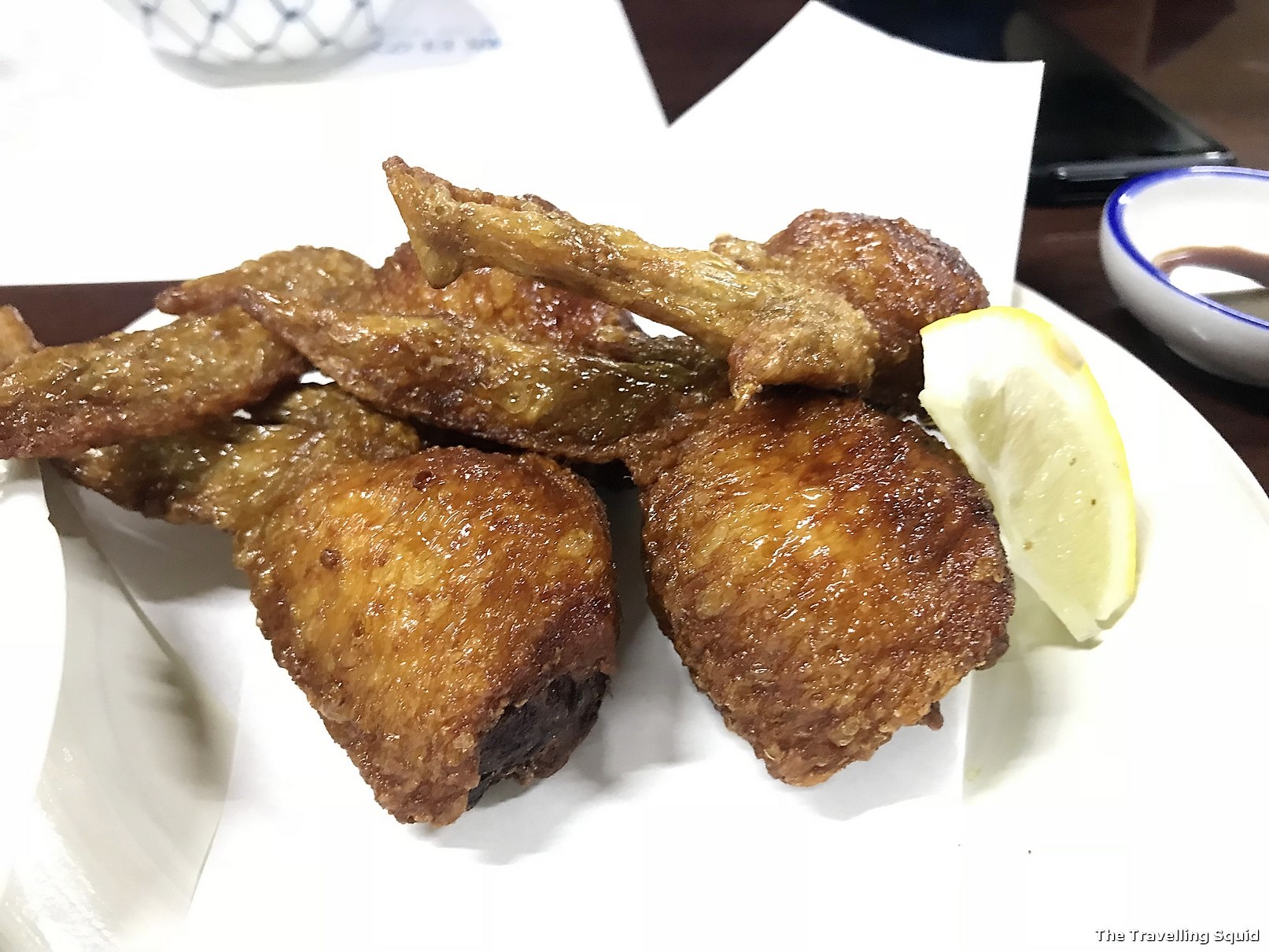 To me, it's quite a miracle how they made this happen. My biggest annoyance with eating chicken wings is the bone around the meat. And this comes boneless filled with gyoza meat, well wrapped with the chicken skin from the wing. It was so delicious and convenient – and the way they did it really piqued my interest.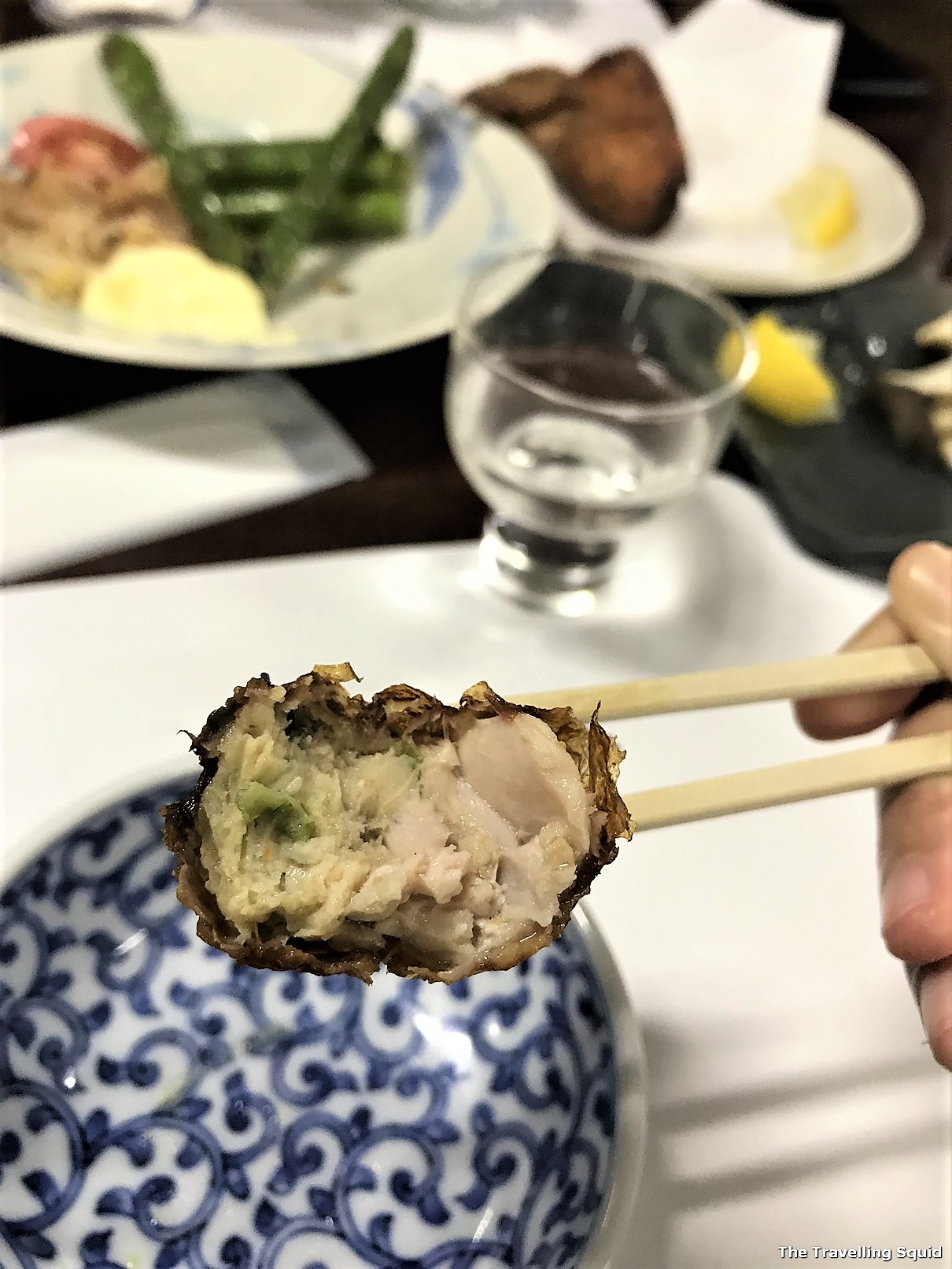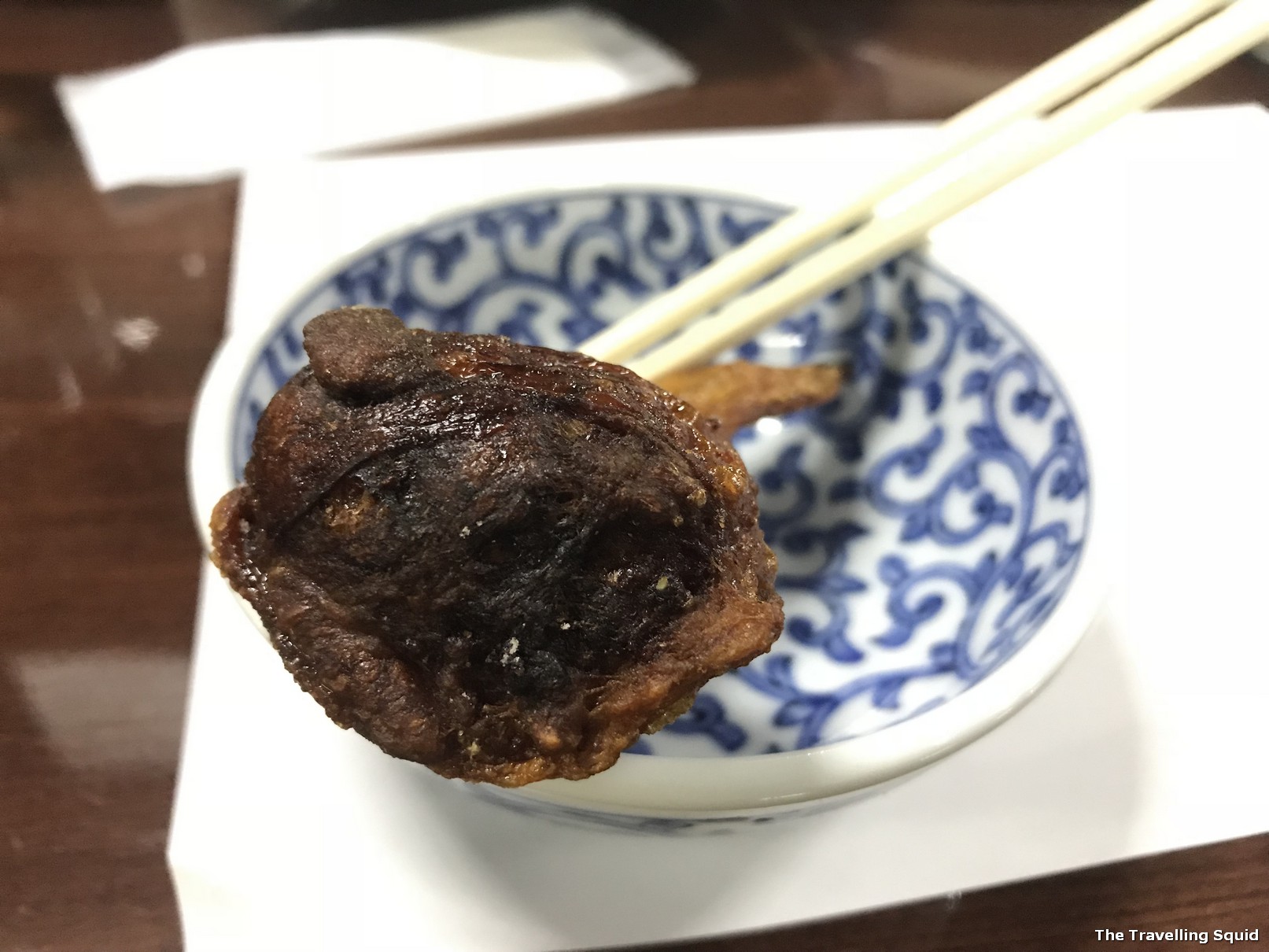 4. Grilled mushrooms
The mushrooms were not on the menu, and we requested that they help to grill some mushrooms for us. Tasted really good.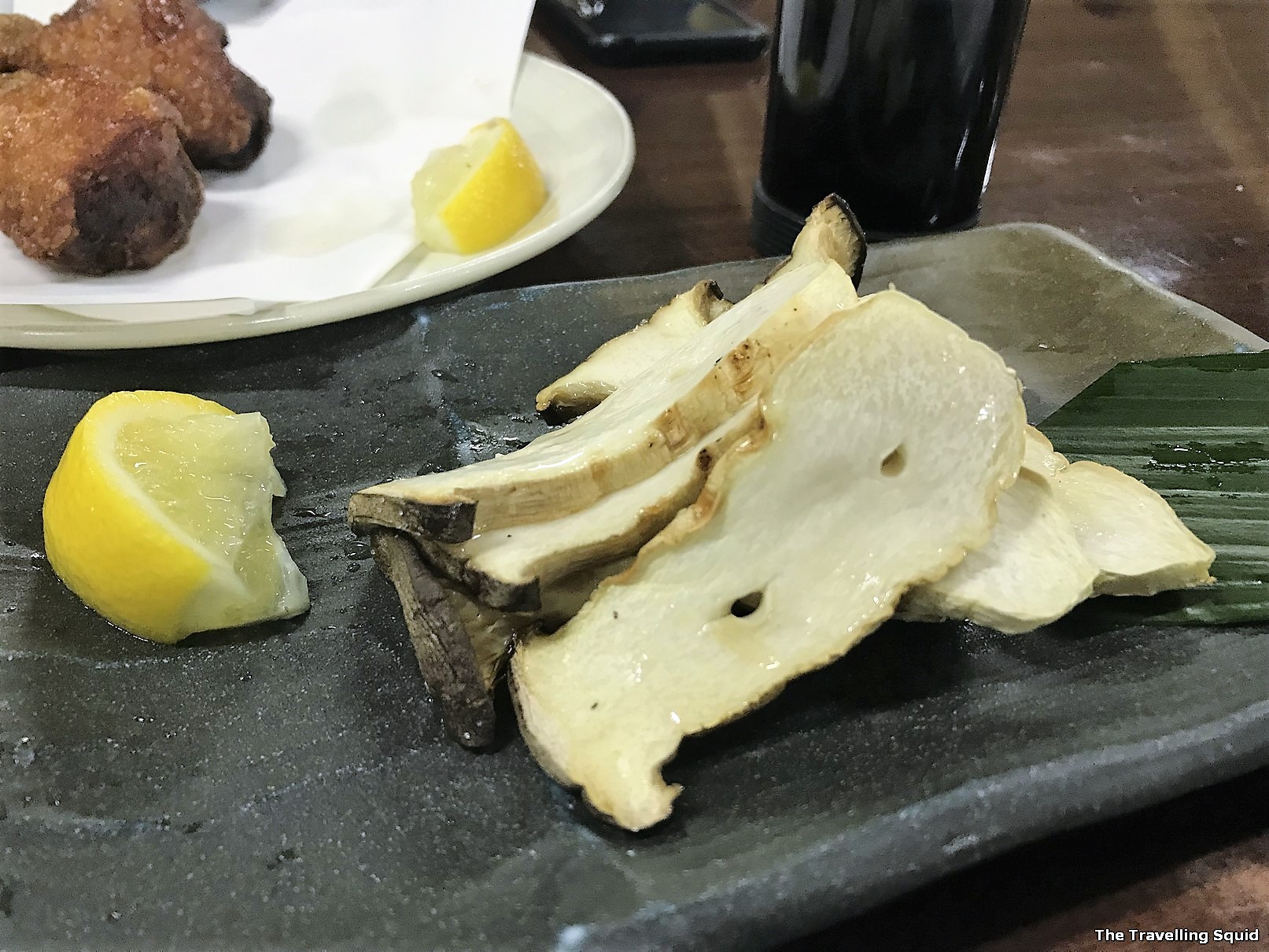 5. Grilled snapper!
The grilled snapper was delicious. I thought it was the best dish because I did not expect to eat such a fresh fish in an Izakaya (later I found out that Andy does fish deliveries too).  The meat was done just right – not overly cooked, still juicy and tasted great with a sprinkle of lemon juice and radish by the side. We spent a long time polishing it off and cleaning the meat from bone. The fish's eyeball was quite amazing.
6. The Sake
We didn't know which sake to get, so we ordered the second cheapest sake. Tasted quite nice,  as most sake's in Japan are.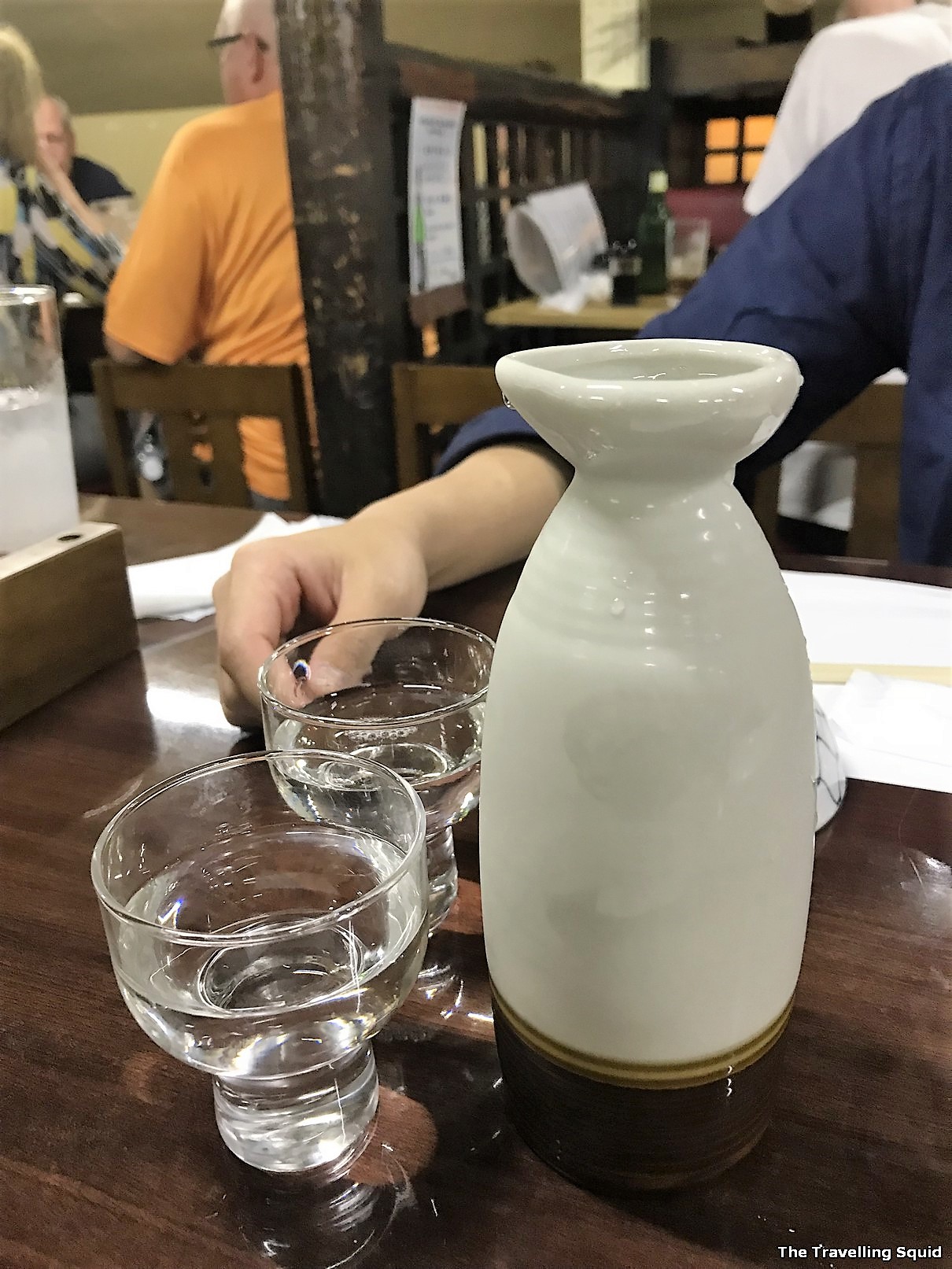 The Travelling Squid's Take
We spent about ¥6,500 / SGD80 / USD60 for two people on food and drink at Andy's Shin Hinomoto. This was pretty affordable given that we had a sake, a huge fish, a beef steak and some other vegetables. In Singapore, that would have set us back by about twice the amount. What I really liked about Andy's was the chill atmosphere. You could talk as loudly as you wanted – it would be drowned out by sounds from other customers and the train.  It's also a great place for people watching because people from all walks of life come here. This included a Japanese couple who was dating next to us, and a Chinese couple with the lady besotted with taking photos than with her beloved. The best part of the experience was the food. My favourite was probably the asparagus.
***
For a good Izakaya in Tokyo visit Andys Shin Hinomoto
Address: 〒100-0006 Tokyo, 千代田区Yurakucho, 2 Chome−4−4
Tel: +81 3-3214-8021
[Reservations are encouraged, so please give them a call!]
Opening hours: Monday to Saturday (5pm – 12am)
(Andy has a fish-delivery service in the Tokyo and Yokohama areas too, if you're interested.)