Review: For a good bar in Dotonbori visit Bar Masuda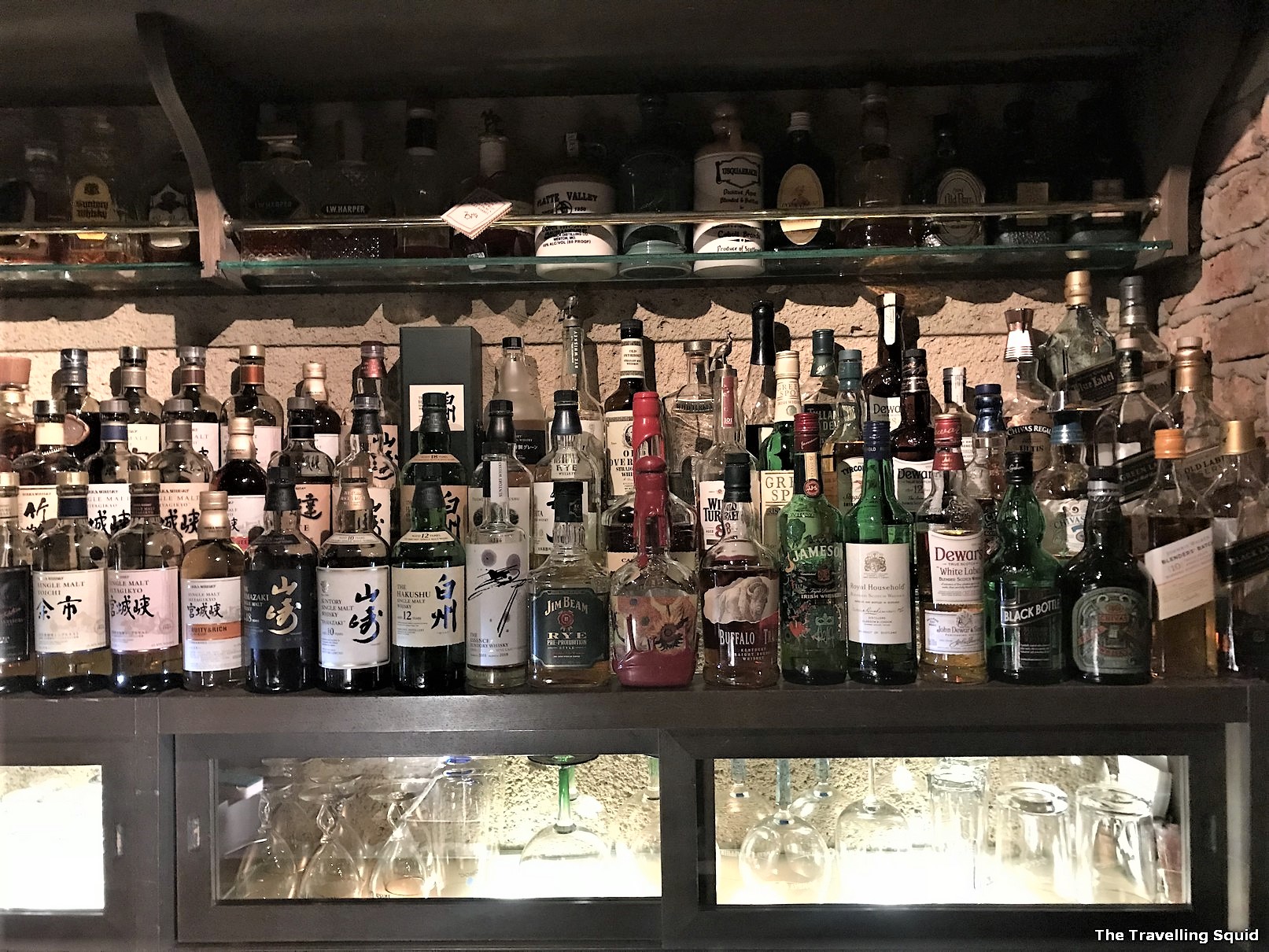 If you're looking for a drinking place in Osaka, look no further than Dotonbori. I know it can be touristy and some of the shops there can be a little questionable, but hidden between what appears to be a pachinko (a Japanese arcade game) shop and a yakiniku restaurant is Bar Masuda. To be honest, I don't visit that many bars to know which are good. But this is probably one of the bars I've been to with the widest selection of spirits and places an emphasis on good cocktail techniques. It is also probably one of the rare bars I've been to where I had sat by the bar counter to watch the bartender in action.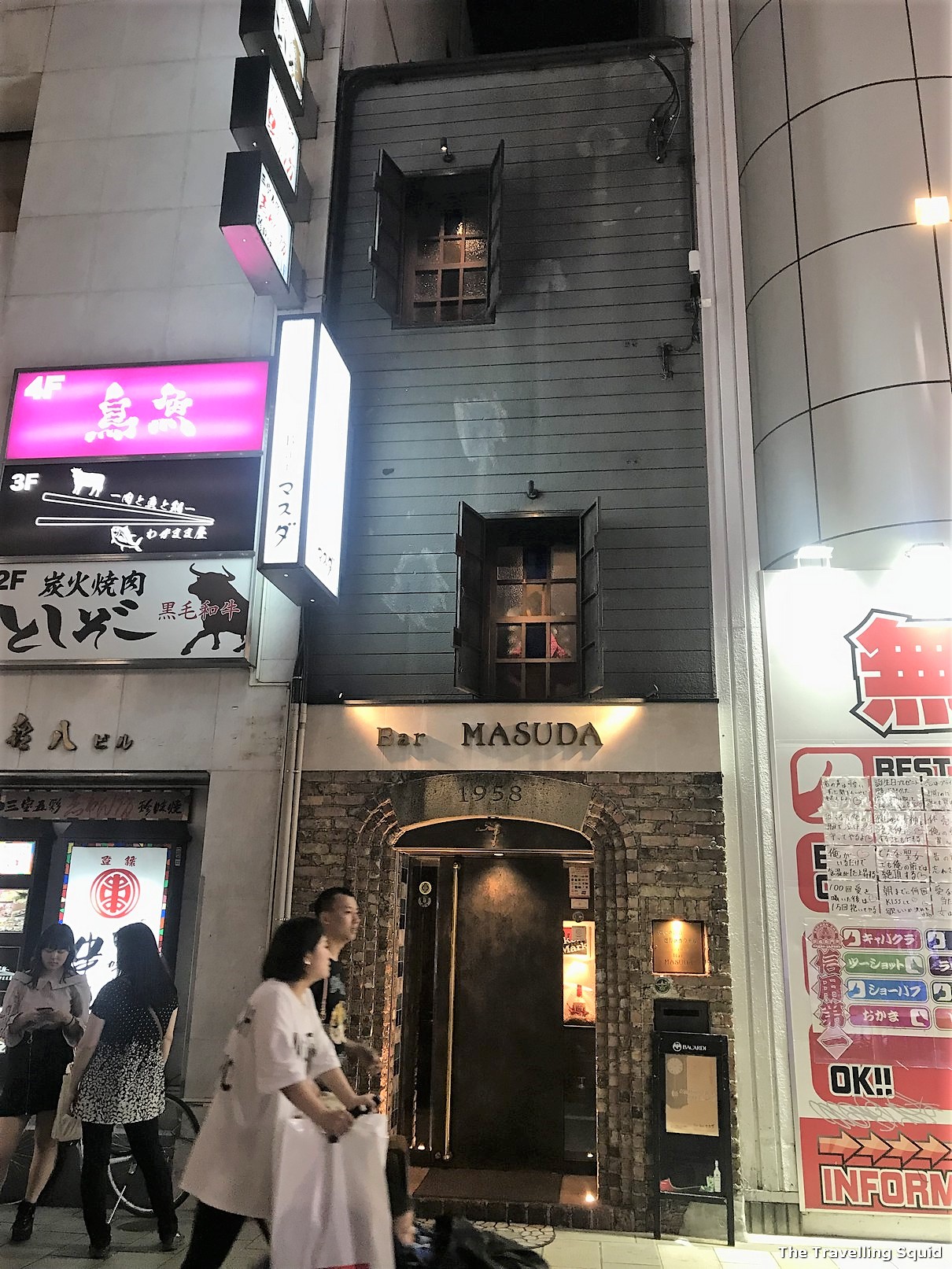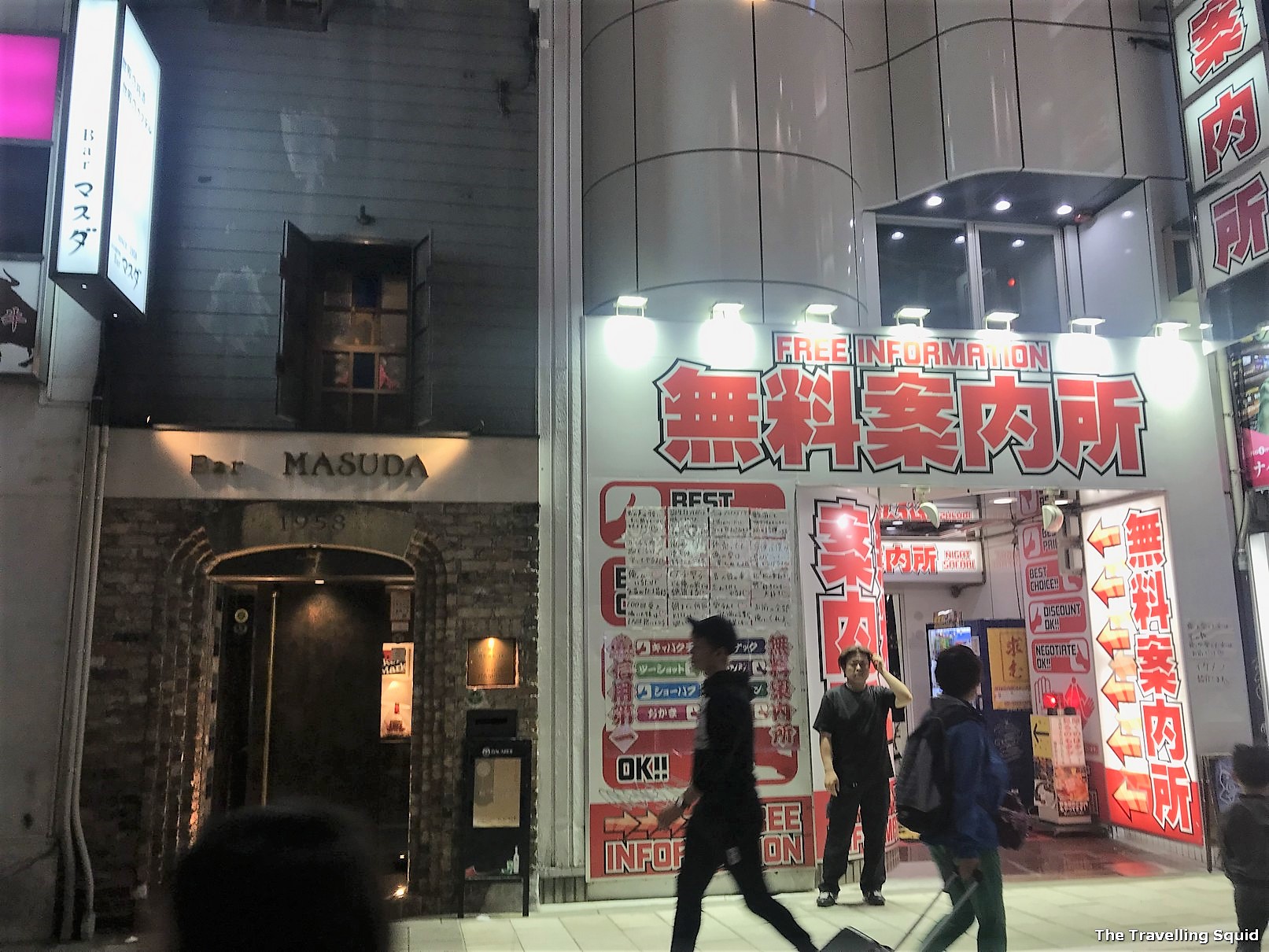 We were in Dotonbori and had almost run out of things to do. We had tried the takoyaki balls and were still full from the barbecue dinner we had earlier. S did a quick search on Google and found Bar Masuda located a 5 minute walk away. I was exceedingly doubtful because the place was so touristy and wondered if it was legit. But in the spirit of trying new things, we decided to enter the bar, which had a sign 1958 engraved at the doorway.
When we first entered, I was a little taken aback by the cover charge, which the lady proprietress highlighted to us the minute we stepped in. It was ¥1,000 / SGD12.40/ USD9 per person, which was more often seen as a requirement for clubs (not bars). But we decided to continue due to the lack of options and also because it was little awkward to leave thereafter. The drinks were reasonably priced though. The cocktails and good whiskies were going for about ¥1,200/ SGD15 / USD10.80 per drink, which was pretty decent. In Singapore, they would have cost 1.5 times the price. Hence it made sense to go for more rounds of drinks to average out the cover charge.
The Negroni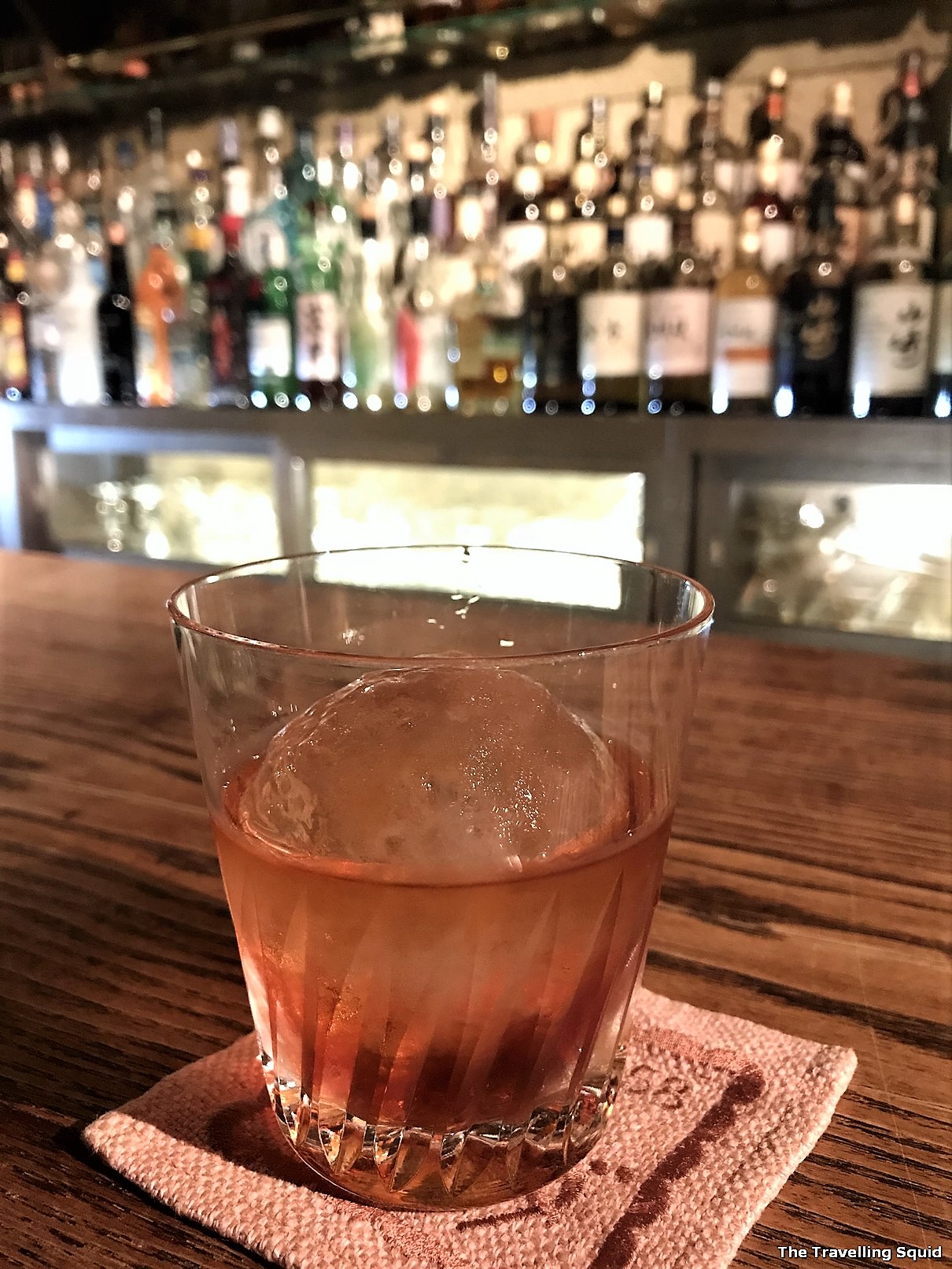 When we arrived, there were just four seats left at the 10 seater bar counter on the first floor. The bar spans three storeys, but for that night only one floor was open. We settled down comfortably and ordered our first drink. I ordered a negroni and S an old fashion. I liked how the negroni came with an ice ball. It was also sufficiently boozy and yet easy on the palate. A great drink to kick off the night.
The Old Fashioned
I liked the old-fashioned though I think it could have a little bit more strength. I would have preferred if they didn't add the fake cocktail cherry in the old-fashioned.
The in-house special cocktail (sorry I forgot the name)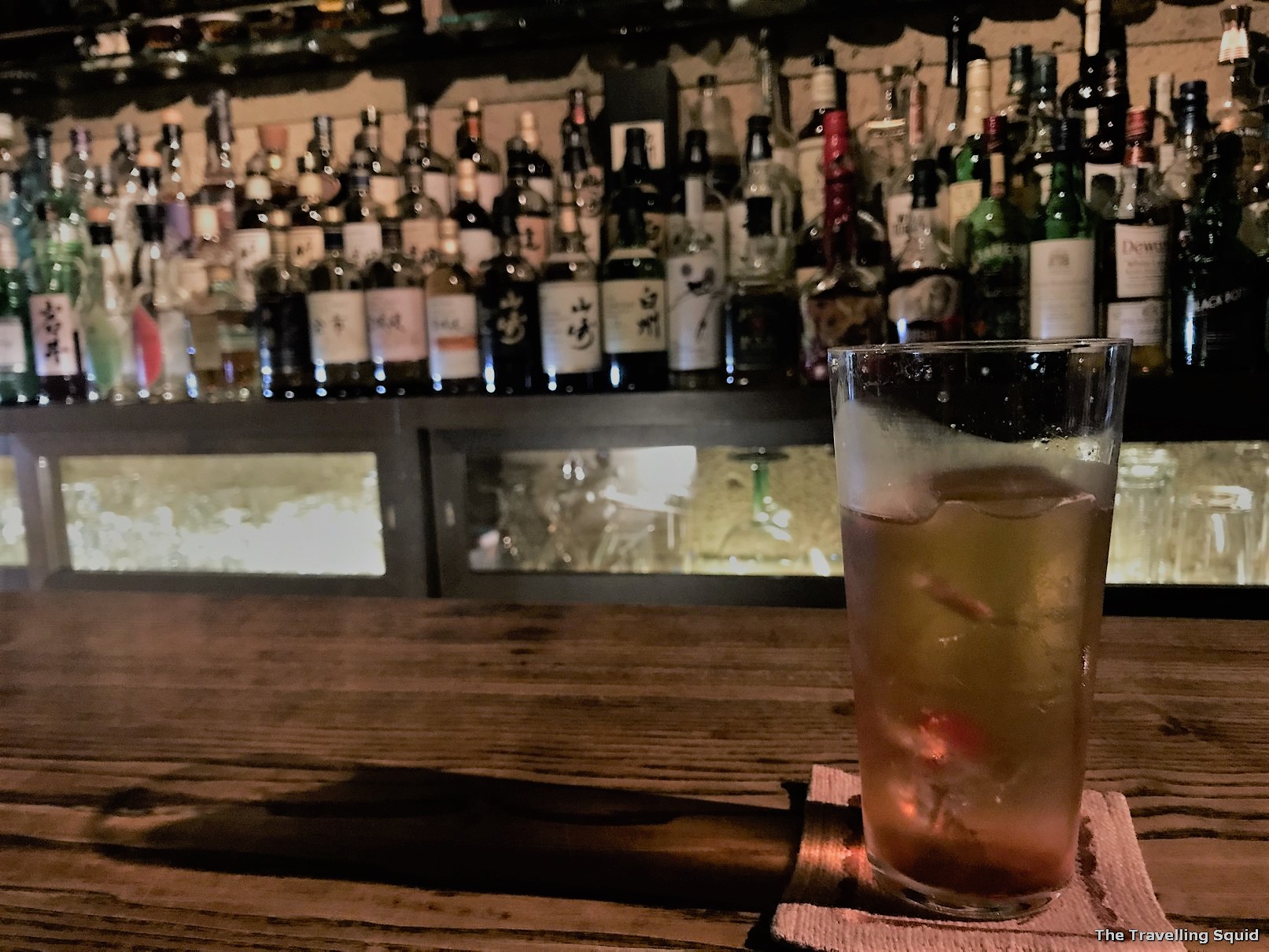 If you're new to cocktails and would like something light-tasting and refreshing, Bar Masuda's in-house cocktail would be good for this. It's also a long drink – great to take your time to sip through if you're not planning on drinking too much that evening (though you really should because the drinks are good 😛 ᕙ(▀̿̿Ĺ̯̿̿▀̿ ̿) ᕗ).
The dirty martini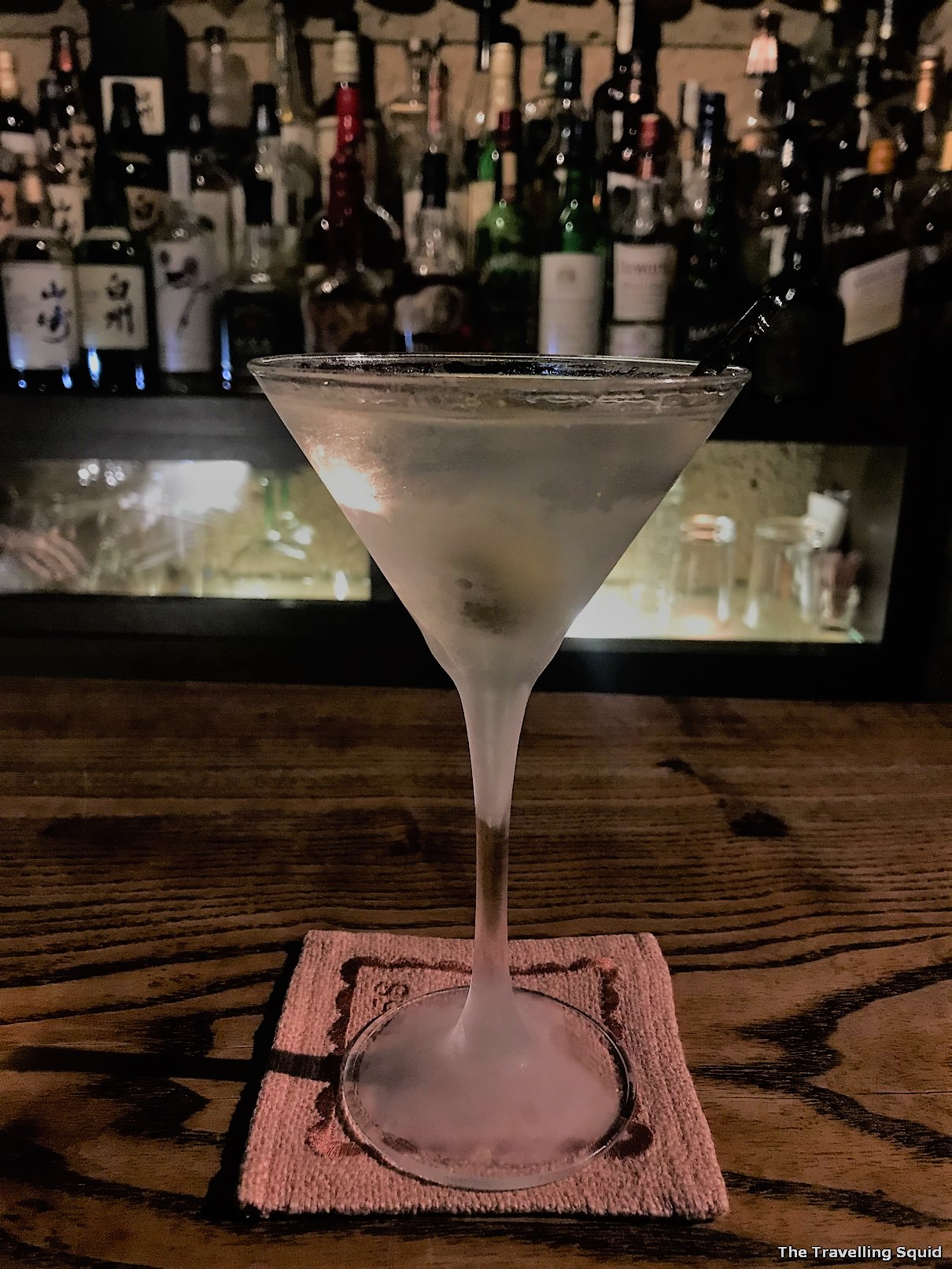 S ordered a dirty martini, with a request that it be made with Ki No Bi gin, one of the artisanal gins made by the Kyoto Distillery. It's light, flavourful and is made with several botanicals, giving it a unique taste. The best way to tell if a gin is good is through a martini, as it's two parts of gin and one part of vermouth.
This was also when the bar-tender (Masuda I presume) demonstrated his skills by mixing the components and shaking them, before straining them into a chilled martini glass. We enjoyed watching the process immensely.
The Hakushu 12 years
For our last drink, we decided to share a glass of Hakushu 12 years, which was almost impossible to find in most places we visited in Japan. Later, we realised that this was a rarity especially even in Tokyo, as all the liquor stores no longer carry it.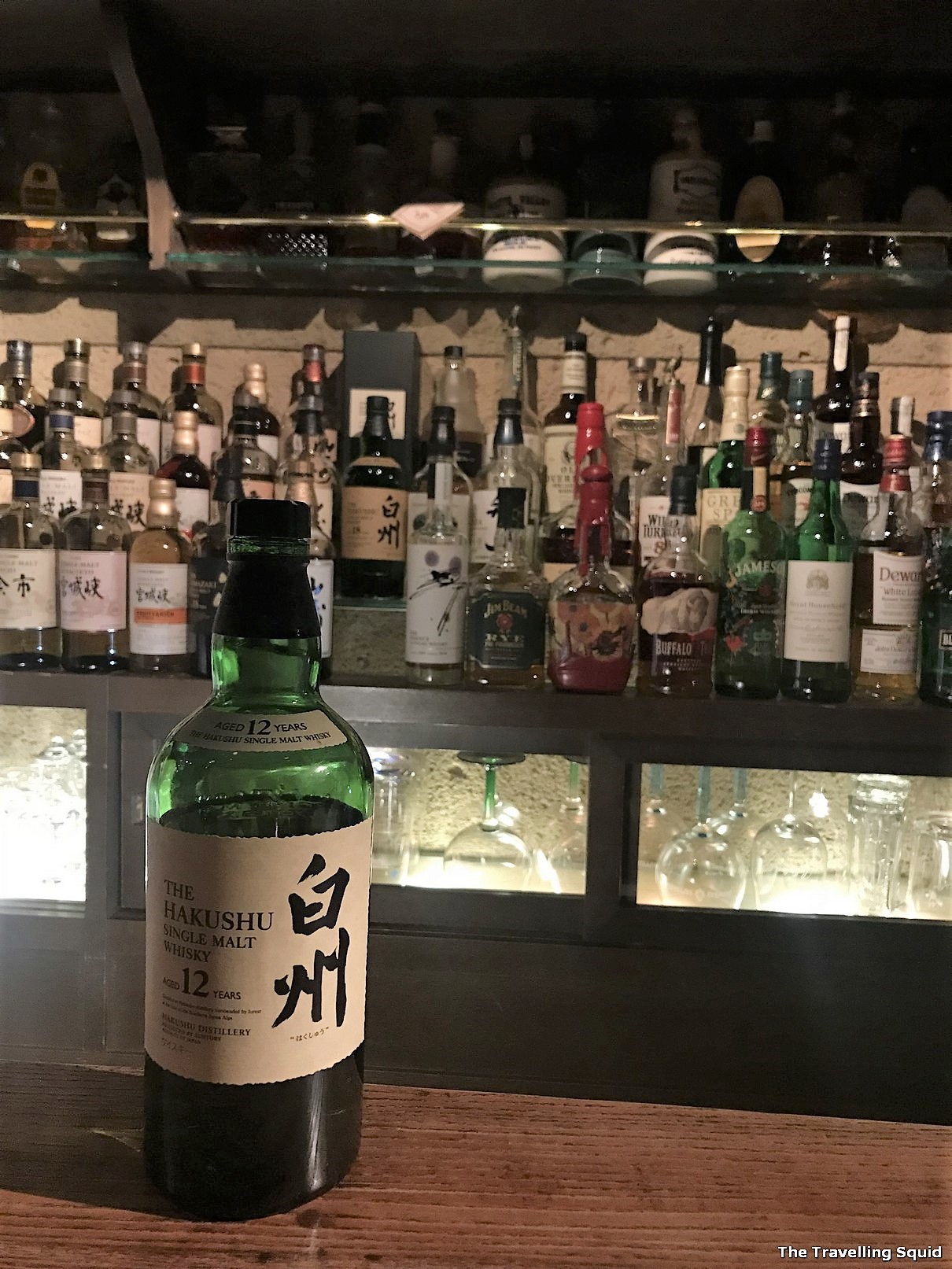 The stewed nuts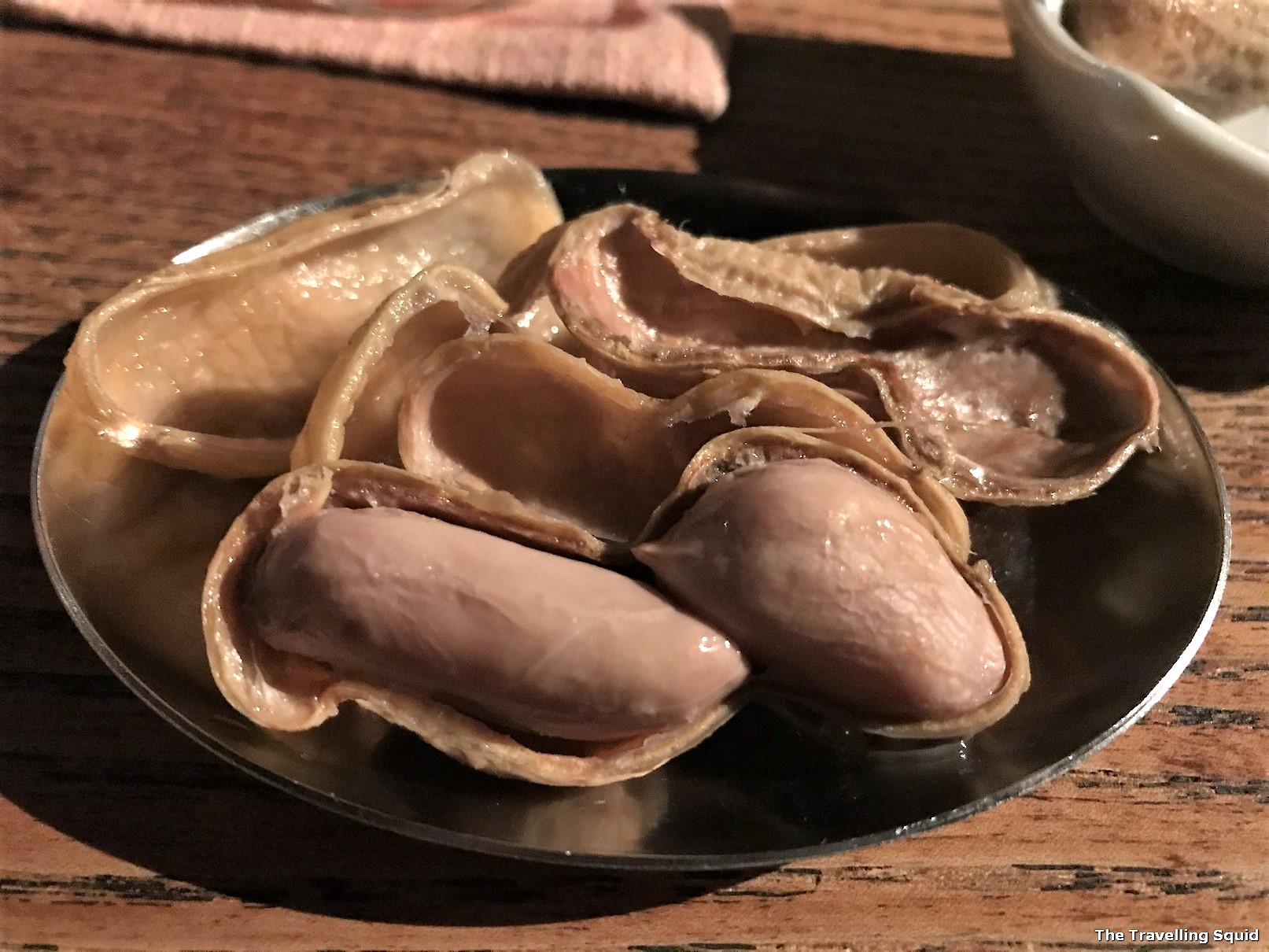 One of the highlights of Bar Masuda would have to be the complimentary stewed nuts which  they served us when we first arrived. Unfortunately we didn't get a refill but I think you can put in your request after having several rounds of drinks.
The Travelling Squid's Take
Bar Masuda strikes me as a place which is a little more fancy, but it did feel quite welcoming a while after. The drinks which were served were very good, and I urge you to come and try the extensive collection of spirits available. After all, as Mr Masuda has been in business since 1958, he would have definitely accumulated a wide range of bottles, and a deft pair of bar-tender hands. It made me realise that bar-tending involves a little bit of showmanship, just like sushi chefs as well.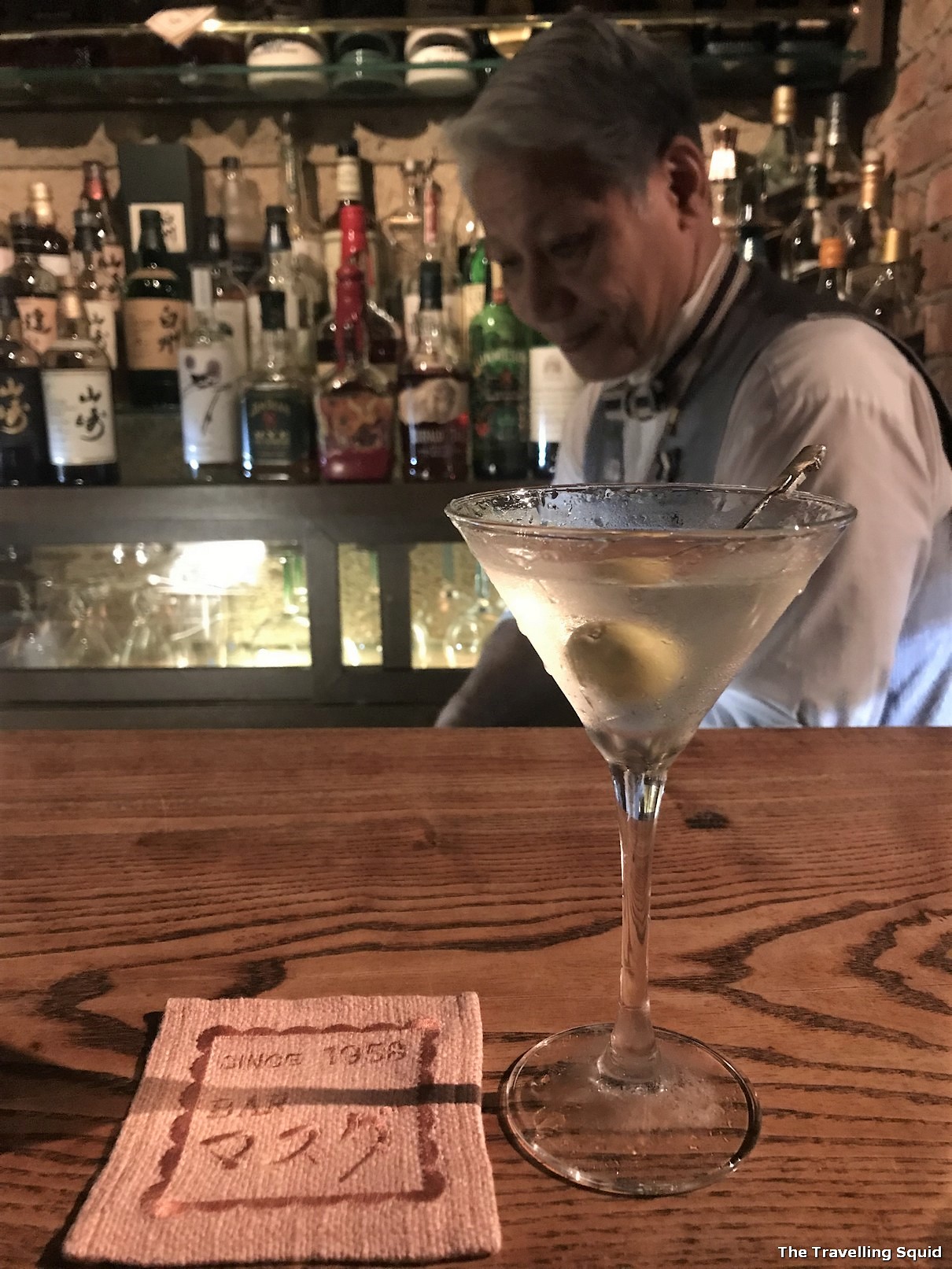 While we were there, there were a group of girls who took really long to sip their drinks. They also ordered some fruity drinks, which in my opinion, was not the best option for this bar. That said, Bar Masuda's long-term customers also came for his whisky – I saw Mr Masuda opening a new bottle for them to appreciate. Bar Masuda also gets quite crowded during the later hours of the evening, at around 9pm. While we were there, many walk-in customers were turned away due to the lack of seats.
I liked the drinks because first, the bartender was not stingy on the alcohol. Some of the more premium spirits did go into the cocktails we order. What I liked is that despite the fancy decor of hundreds of liquor bottles, this place wasn't over the top. Mr Masuda also spoke a little bit of English and made us feel welcomed. Hence if you're looking for a good bar in Dotonbori visit Bar Masuda!
***
For a good bar in Dotonbori visit Bar Masuda
Address: 11 3 2丁目, Shinsaibashisuji, Chuo Ward, Osaka, Osaka Prefecture 542-0085, Japan
Tel: +81 6-6211-0690
Website: http://www.bar-masuda.com/
Opening hours: 6pm – 1am