Review: Exquisite edomae sushi at Sushi Satake in Tokyo
If you're looking to try good sushi, do have edomae sushi at Sushi Satake in Tokyo. For the uninitiated, edomae sushi refers to sushi done in the style of the Edo period, when refrigeration had not been invented. In order to preserve certain cuts of meat, soy sauce and vinegar were used on certain types of fish, such as gizzard shard for the latter and tuna for the former. Simply put, edomae shushi is a relatively more traditional way of making sushi based on techniques used in the past to preserve the texture of the fish, in an era without refrigeration. Here's our experience about having edomae sushi at Sushi Satake in Tokyo.
Price
As we were foreigners, we paid slightly more than what local Japanese would have paid for the same omakase meal. In May 2018, we made a reservation through the website Pocket Concierge and it cost us ¥16,000/ SGD200/ USD140 per pax for dinner. The same meal had cost ¥12,000 / SGD146/ USD106 for locals. Based on a check on Pocket Concierge and Sushi Satake's website, the dinner set now costs ¥25,000 for locals, and ¥34,155/ SGD415 / USD 301 for foreigners (who have to make a reservation via Pocket Concierge). The lunch option is not available for foreigners. Glad we visited Sushi Satake before the price increased!
According to Sushi Geek, Sushi Satake is a relatively new sushi restaurant which opened in August of 2016. The chef, Takeshi Satake, trained at famous edomae sushi restaurants Sushiden and Kyubey prior to opening his own shop. The 8-seater restaurant is located a quiet neighbourhood in Ginza, not far from Tsukiji (where Tokyo's main fish market was – it shifted to the Toyusu fish market on 11 Oct 2018.). About a year ago, Satake-san started experimenting with serving hot shari (sushi rice), finding that steaming hot rice paired particularly well with tuna. This deviation from tradition made Satake very popular, and resulted in Sushi Satake gaining very high Tabelog ratings.
My view is that the hot shari wasn't the only reason for Sushi Satake's high ratings. I think Satake-san was very skilled, and he managed to engage with local customers very well. He could do so while slicing the fish, at the same time chatting with his customers (See pictures below for the knife slices). There was laughter which ensued from the conversations several times – which showed that he did make his customers feel at ease.
Exquisite edomae sushi at Sushi Satake in Tokyo
Starters – a glass of nihonshu (sake) and some seaweed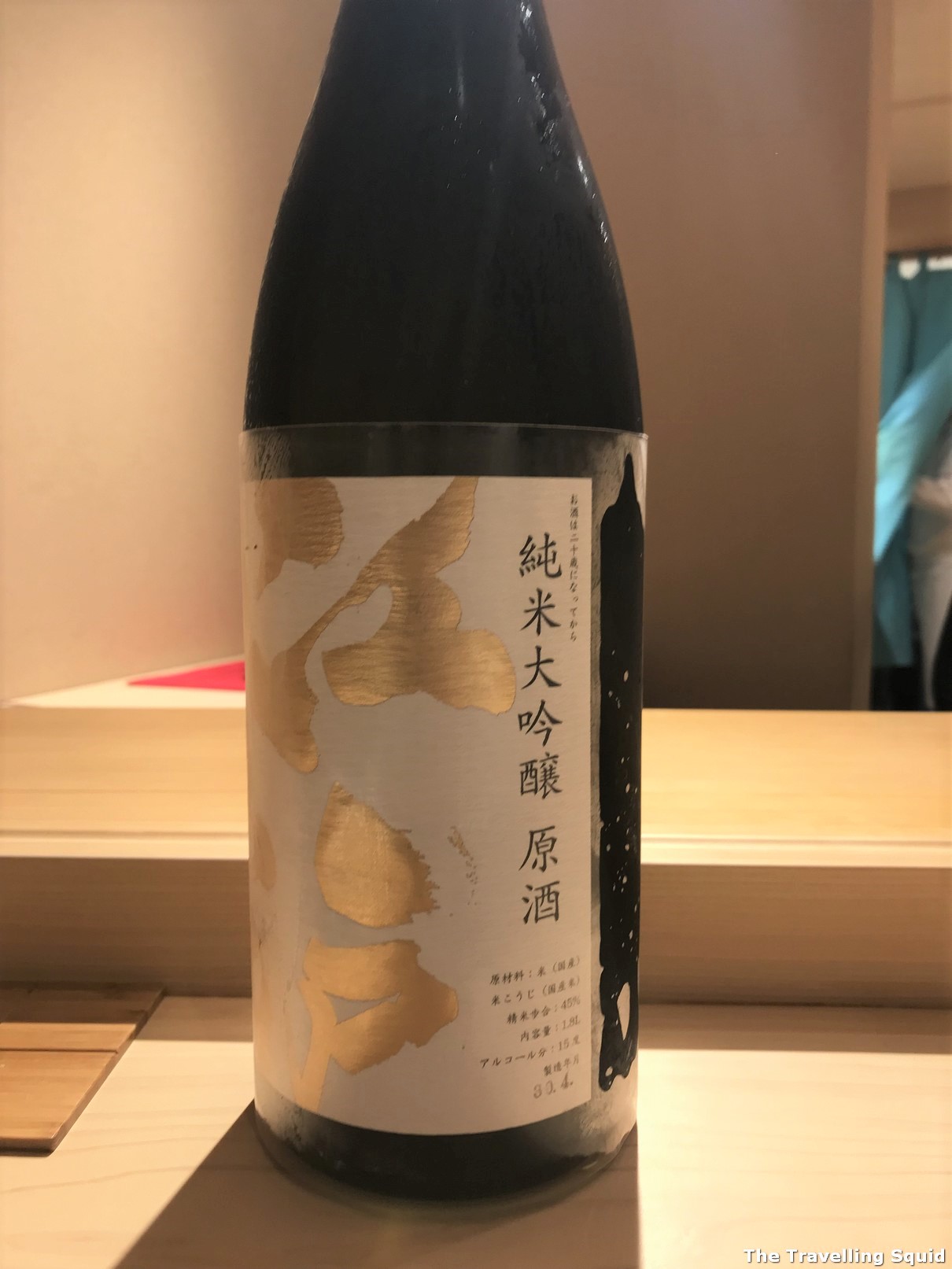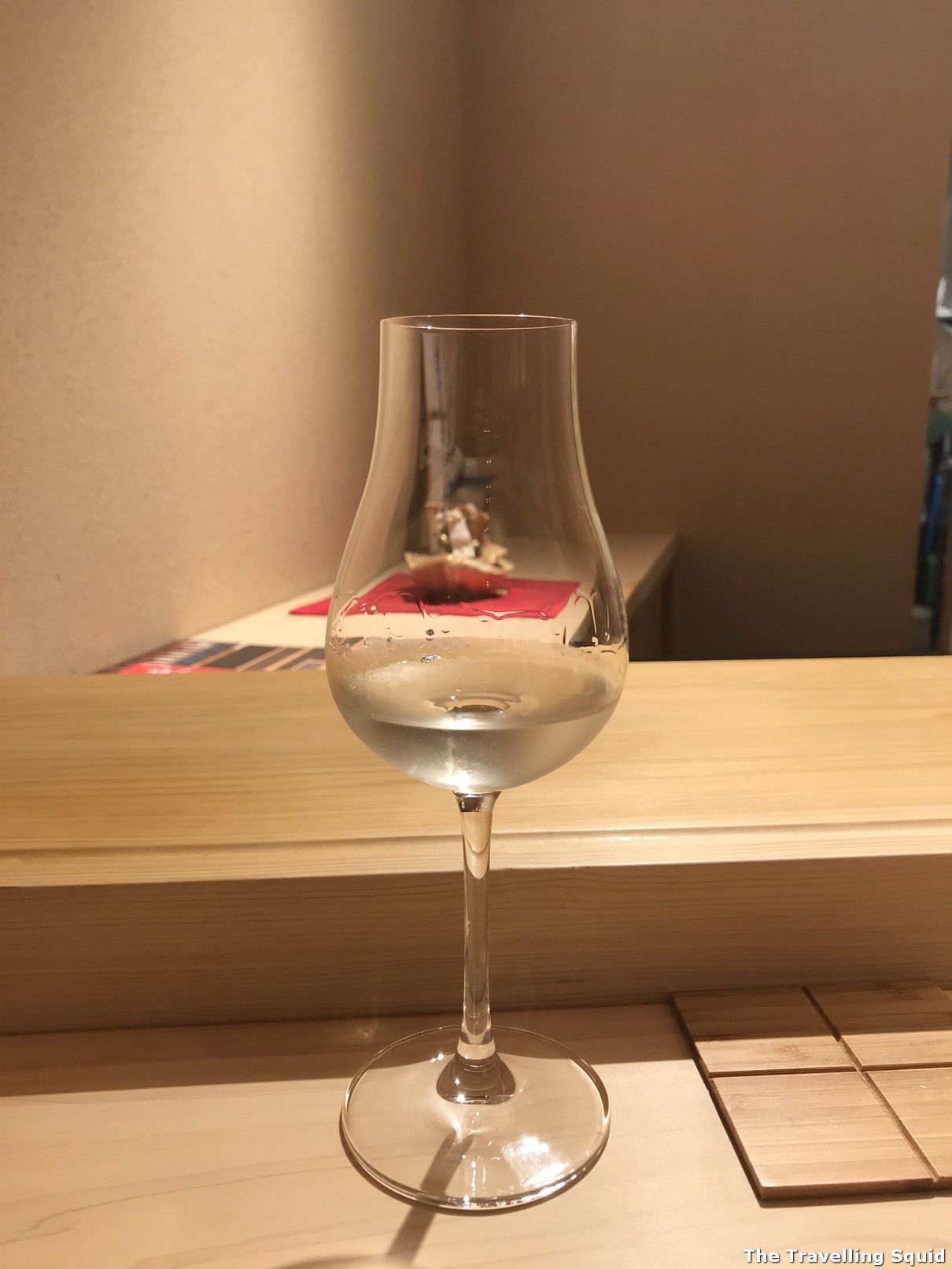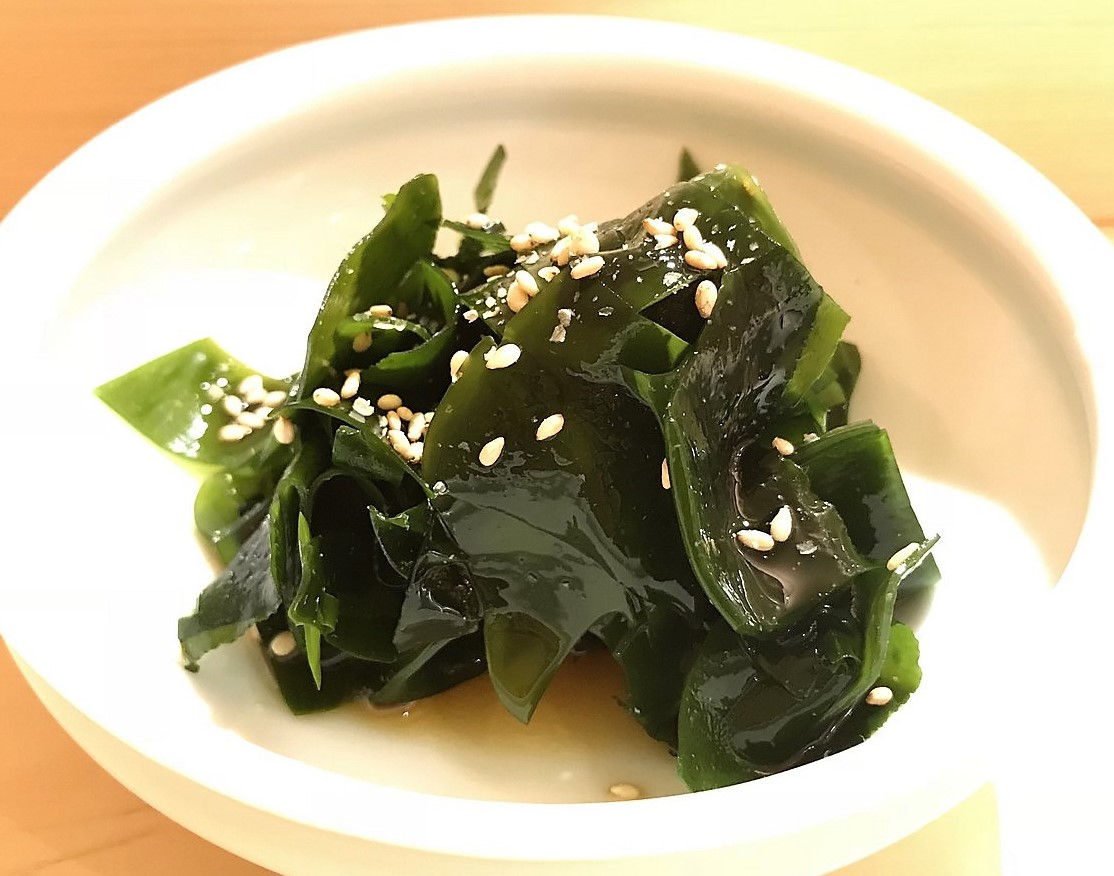 The sake served was light and refreshing. I really enjoyed the seaweed too. It was flavourful, acidic and had a nice crunch to it.
1. Tuna (Chutoro)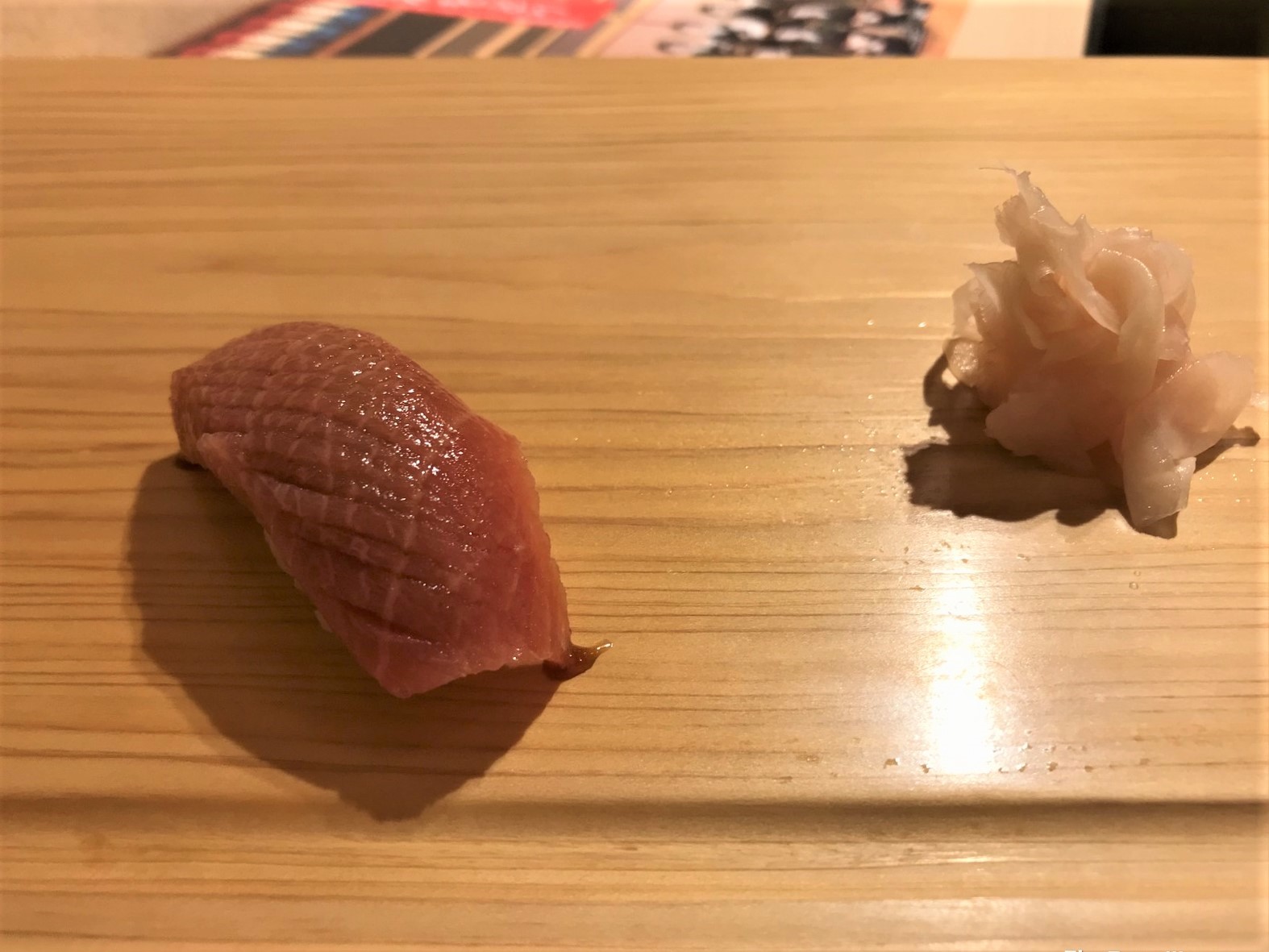 I recalled this Chutoro to be quite tasty.  Notice the knife cuts into the meat, less than 1mm apart. The rice was warmer than usual, and it did taste quite comforting when had with tuna. You could see steam emerging from the rice when Satake-san was making the sushi.
2. Yellow Tai (Kampachi)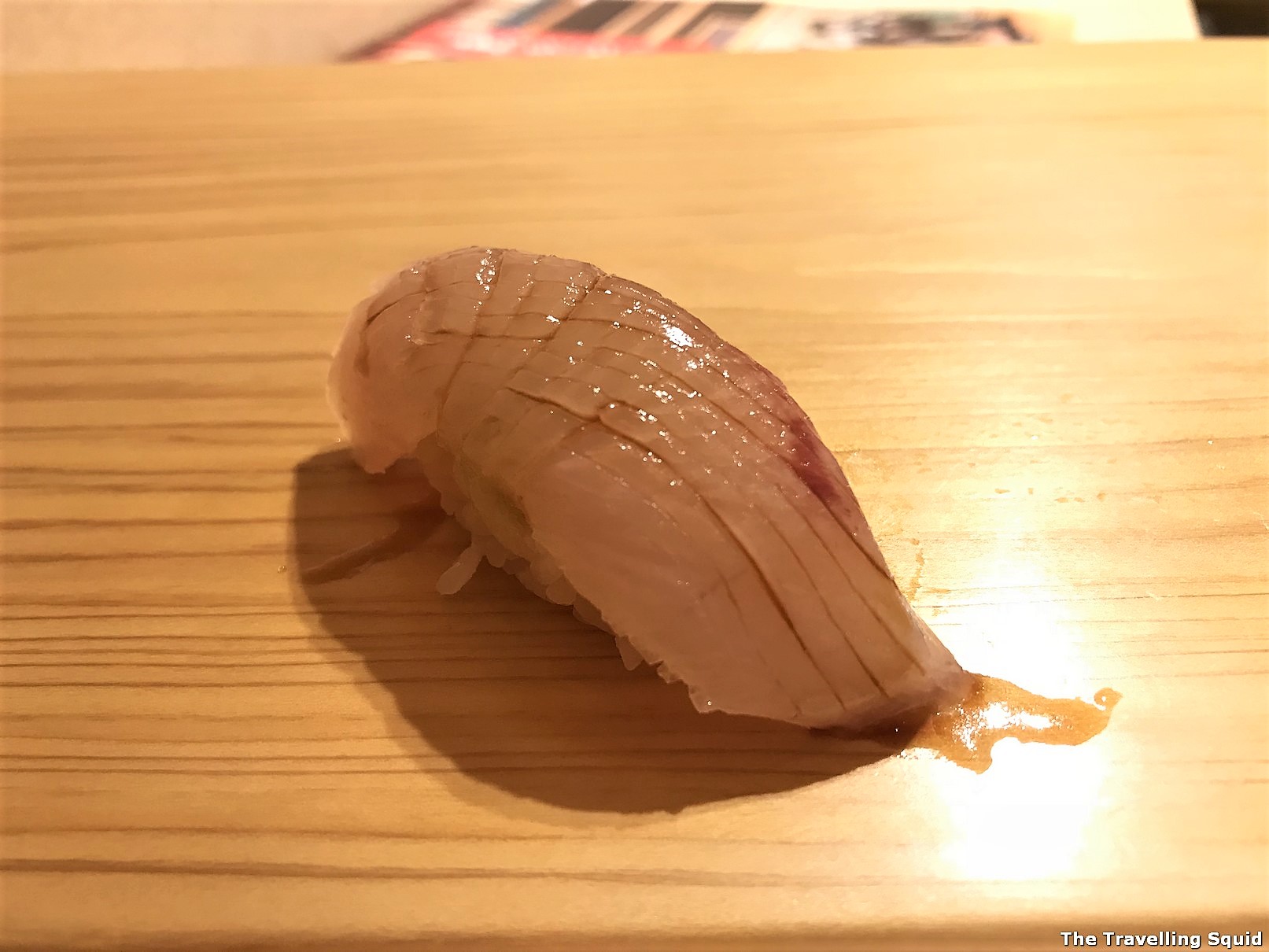 The kampachi went very well with the soy sauce dressing. It was one of S's favourite sushis of the meal.
3. Sea Bream (Tai)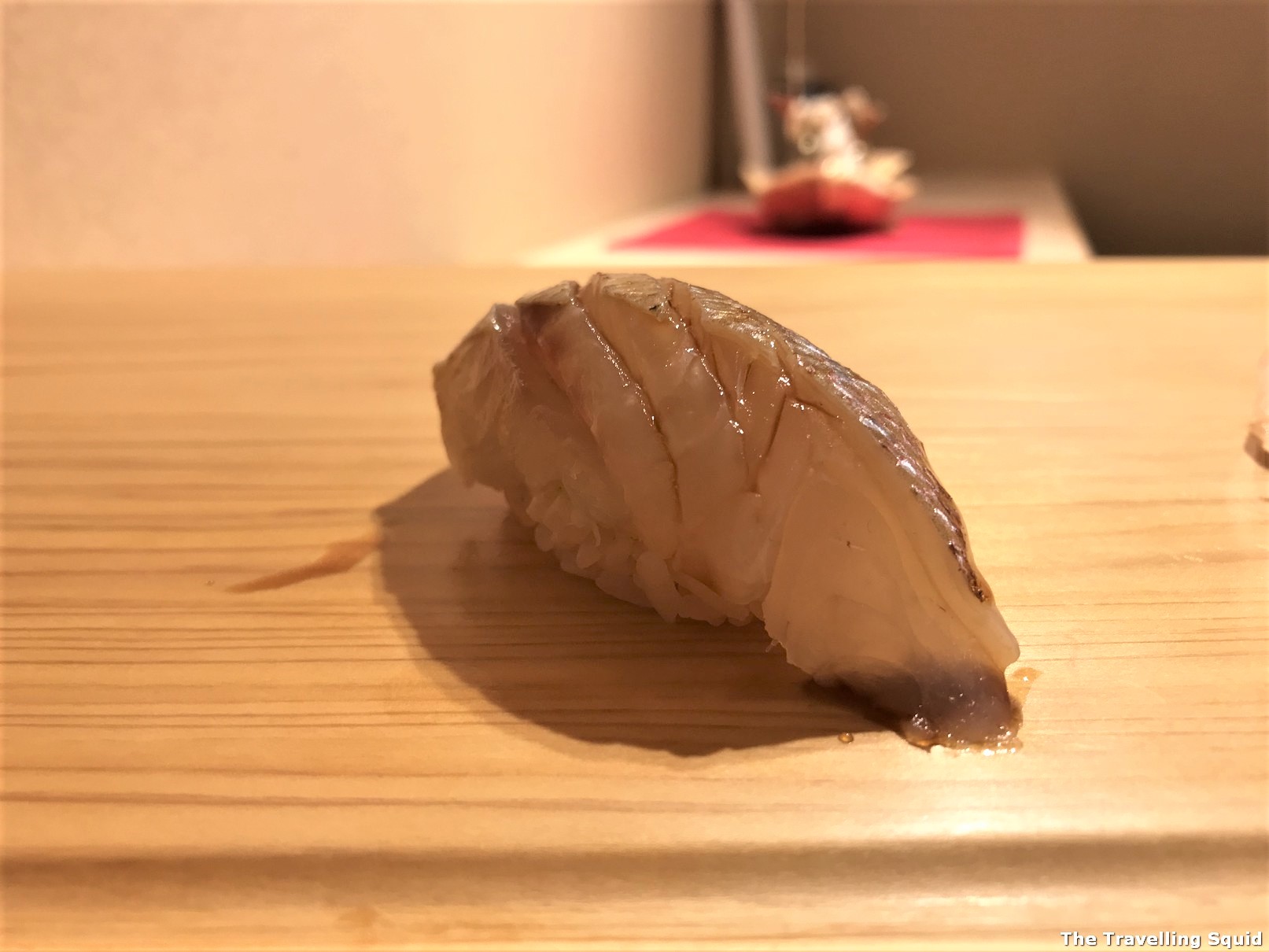 The meat was very fresh and smooth. There was hardly any tendons in the meat. Sadly, I was seated quite away from the chef and the lighting casts some shadows on the pictures.
4. Clam Anadara (Akagai)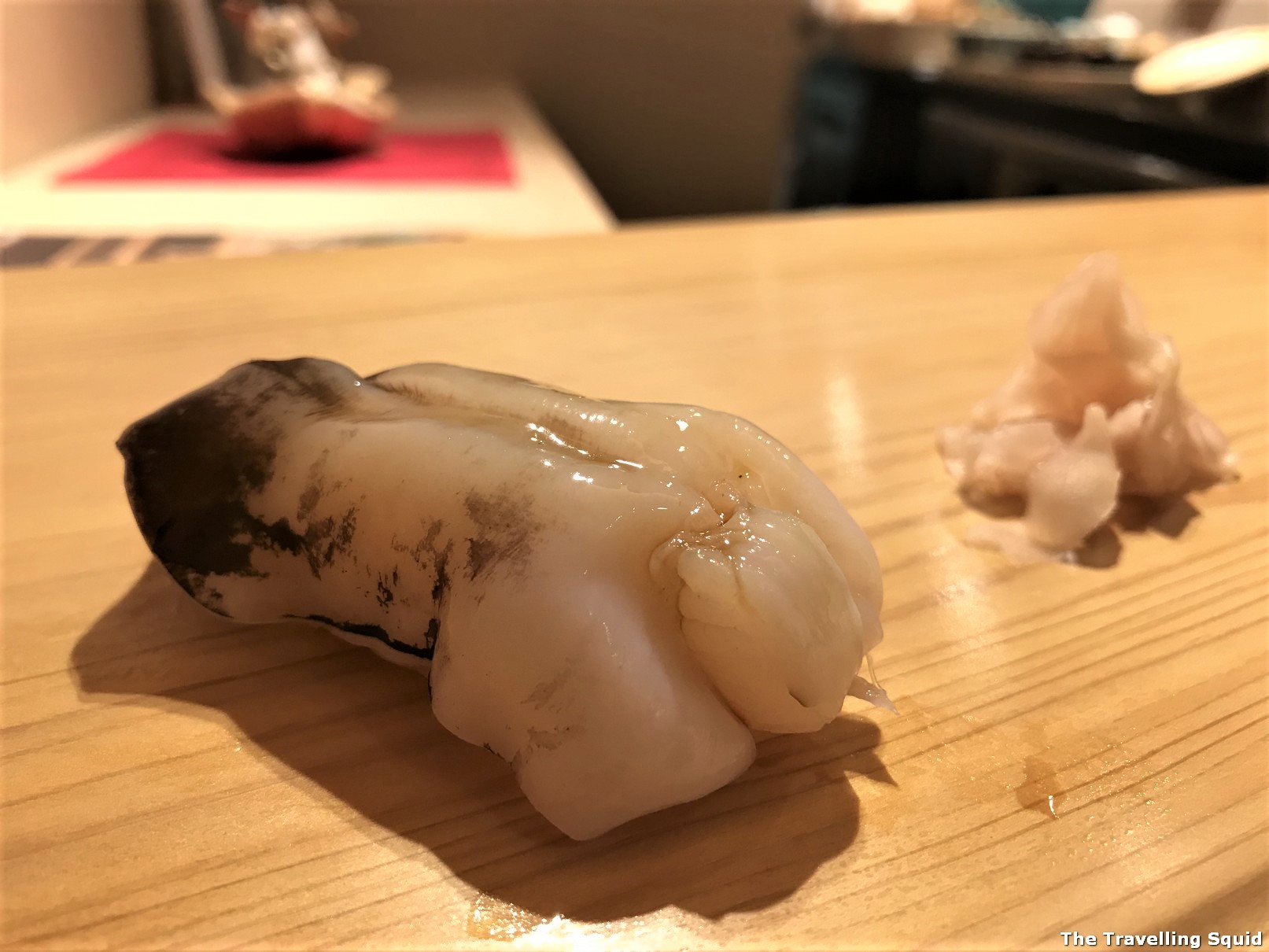 It's a beautiful clam and it's very tasty. Took me a while to chew it slowly as most of it was quite big and didn't fit into my mouth well. The seafood flavour from the clam and the soy sauce dressing went very well together.
5. Tuna (Otoro)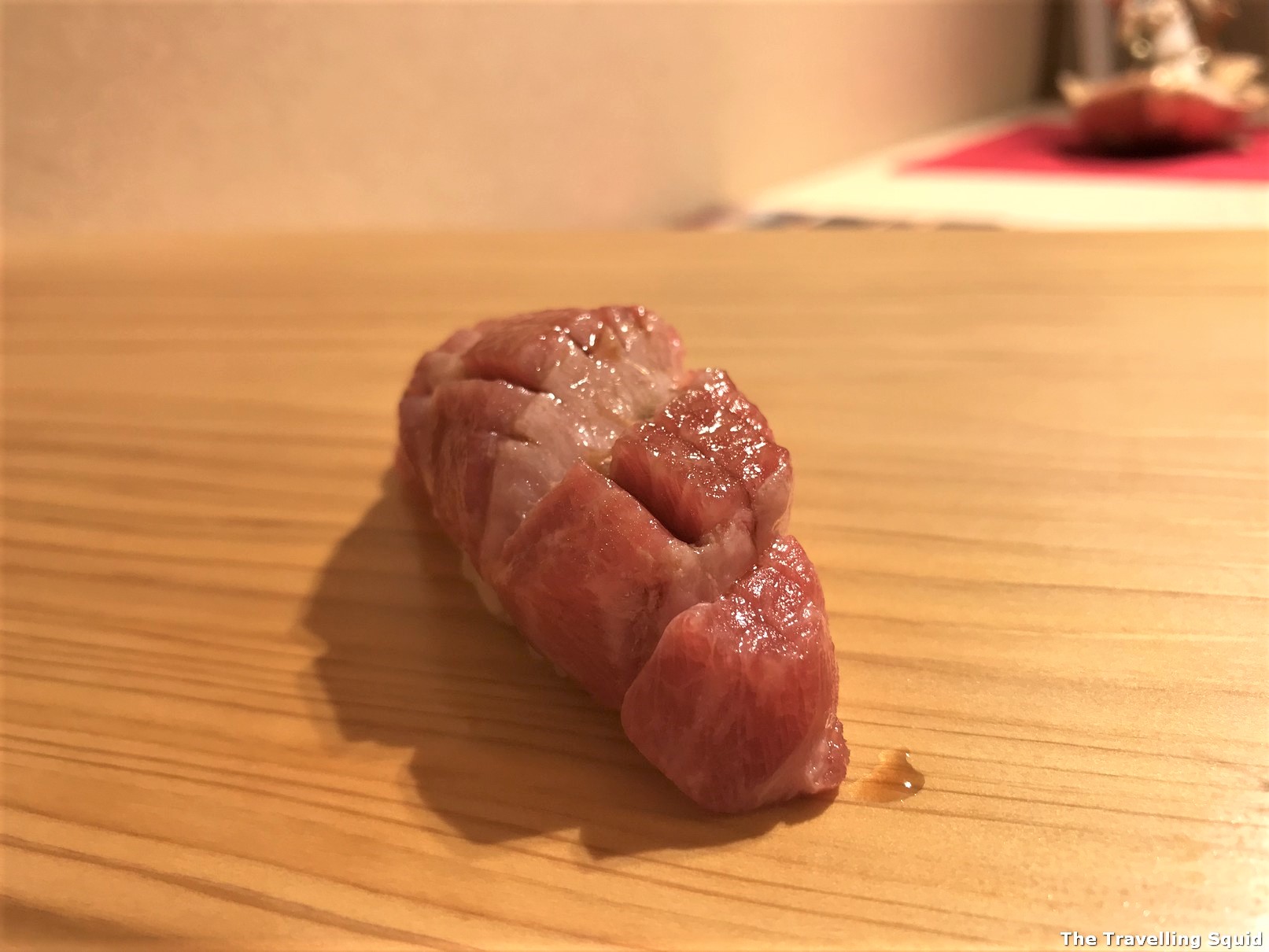 The Otoro would have been my favourite part of a sushi meal, but I detected a small tendon  in the meat, and it didn't quite melt in my mouth as a result.
6. A tuna relative (bonito)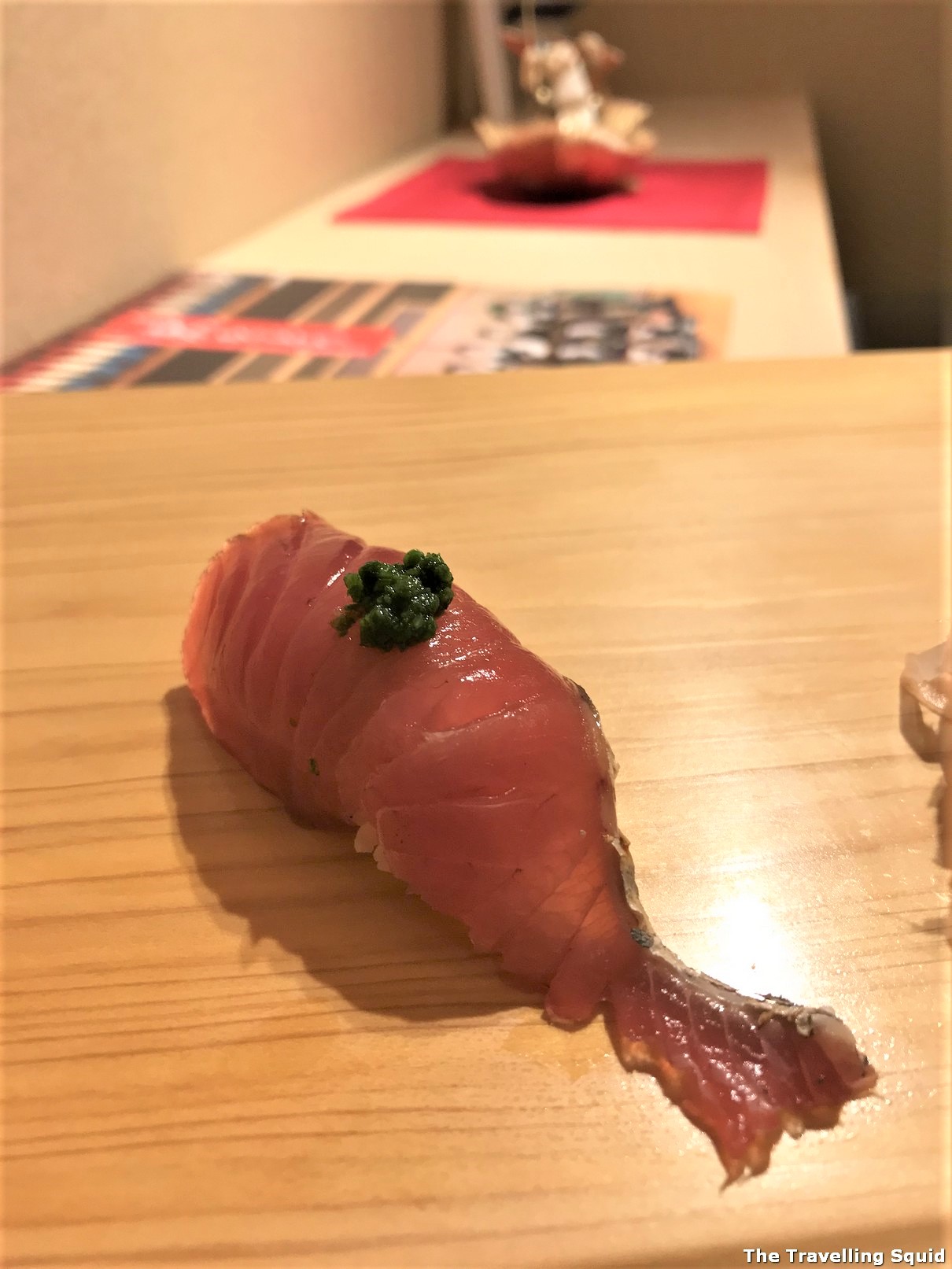 I wondered about the fish to rice ratio, but was glad that Satake-san did provide that extra bit of fish. It was quite pleasant aesthetically too, with that little meat tail at the end. This was one of my favorite pieces. I thought the fish was marinated well in vinegar –  a good balance of acid and salt.
7. Surf clam (Tori-gai)
I love clams and I thought this was quite good too. There was a little more chew to this. I loved  how the sushi maintained its form from the sushi-master's hand to us, and the rice then fell apart with a single bite into the sushi.
8. Marinated gizzard shad (Kohada)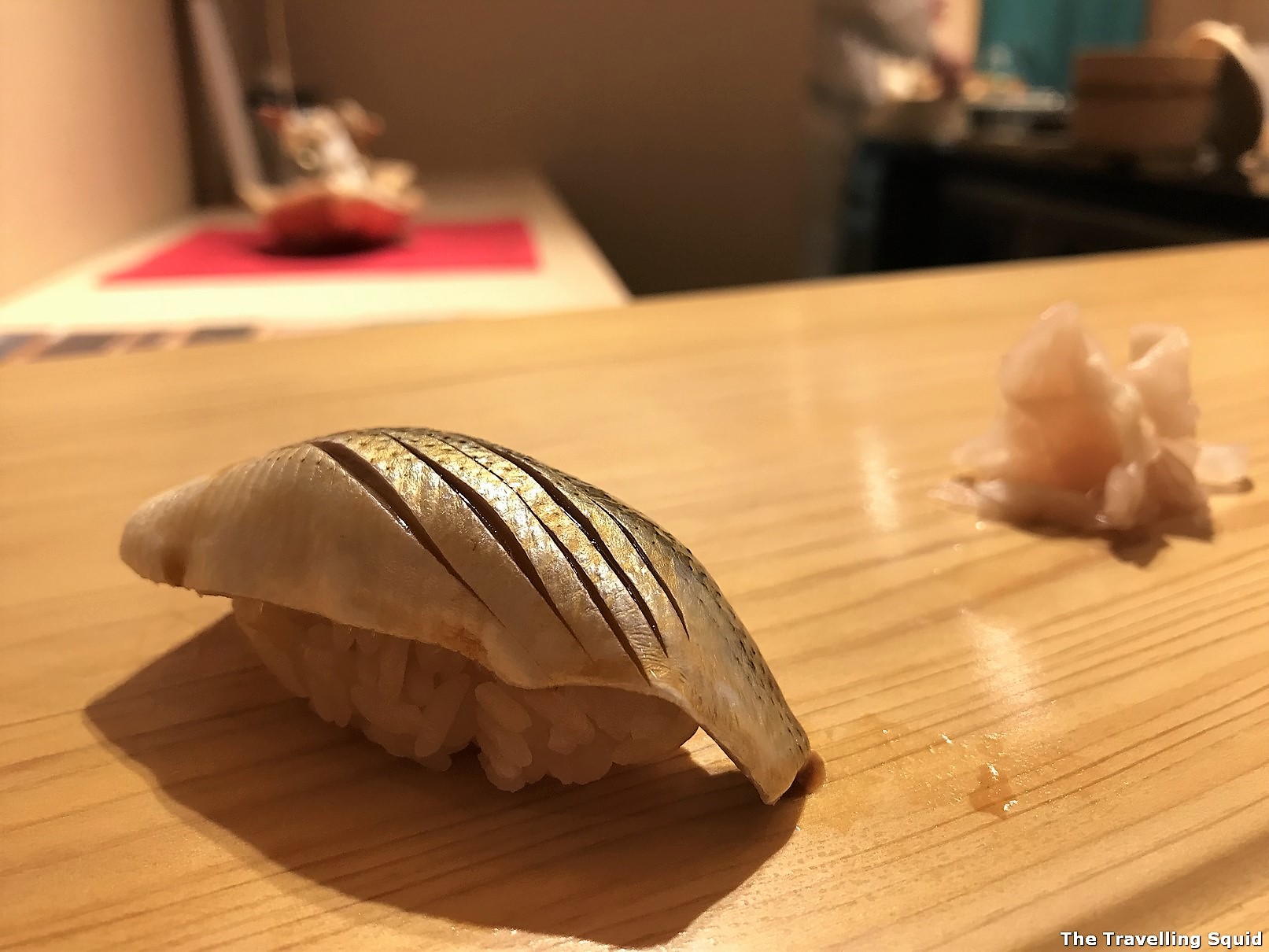 Loved how clear and shiny the skin of the gizzard shard was. This was also one of my favourite pieces due to the acidity and saltiness brought on by the soy sauce.
9. Mantis shrimp (Shako)
It was my first time having mantis shrimp (shako) and the experience was very interesting. The texture of the shrimp was grainy, like we were eating a pasty type of vegetable instead of a piece of meat or seafood. There were some mindset shifts to be made. According to Wikipedia, mantis shrimps can inflict painful gashes if handled inappropriately. They have powerful claws to attack and kill prey by spearing or dismembering them. Some are also known to break through aquarium glass.
10. Sea Urchin (Uni)
To me, the uni rice was quite a treat. I thought the helping of uni was very generous. Unlike some types of uni which come with a metallic taste, this was nothing but pure richness from the sea, and melted right into the rice. I wished this course never ended.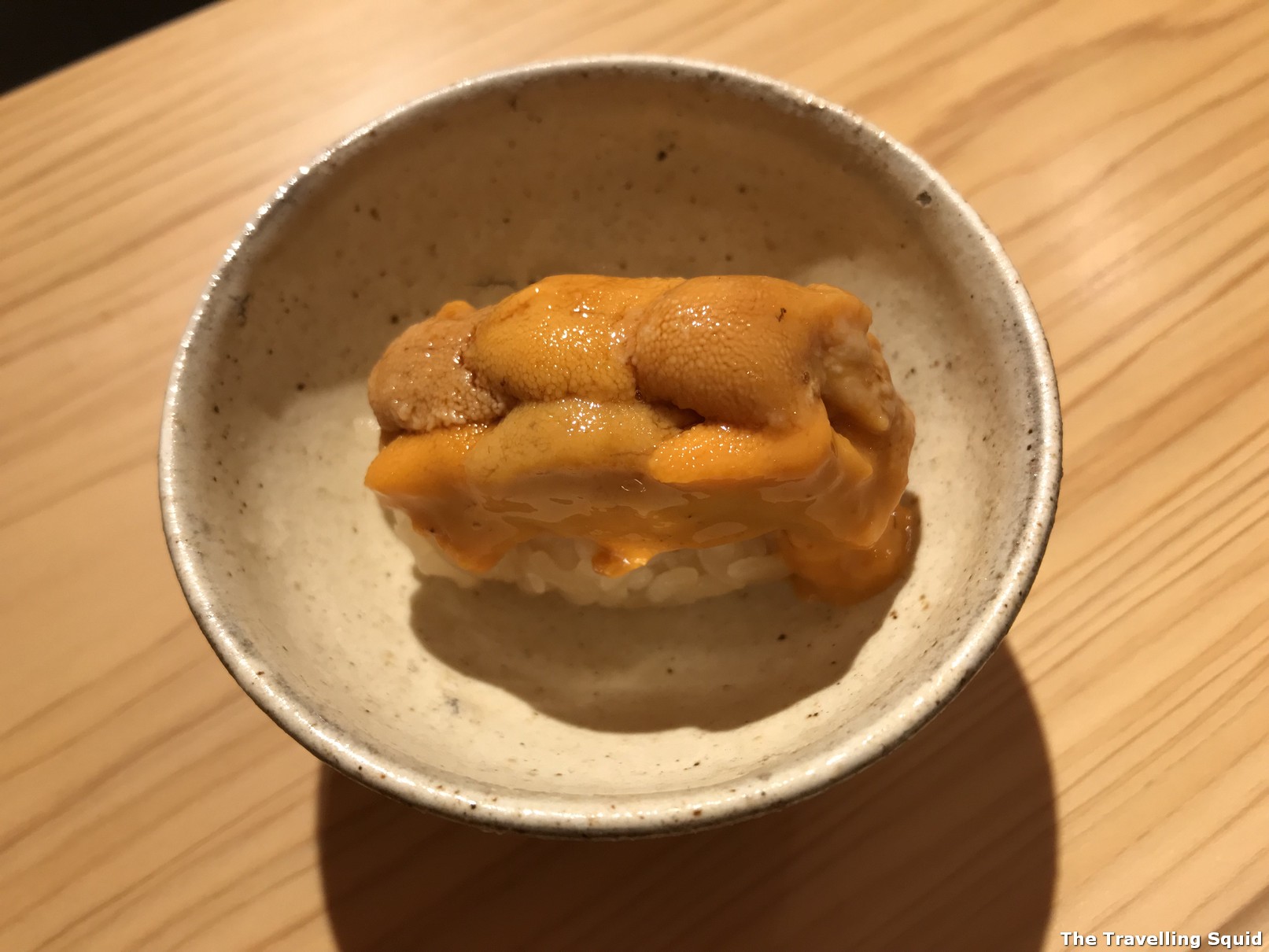 11. Codsperm sac (Shirako)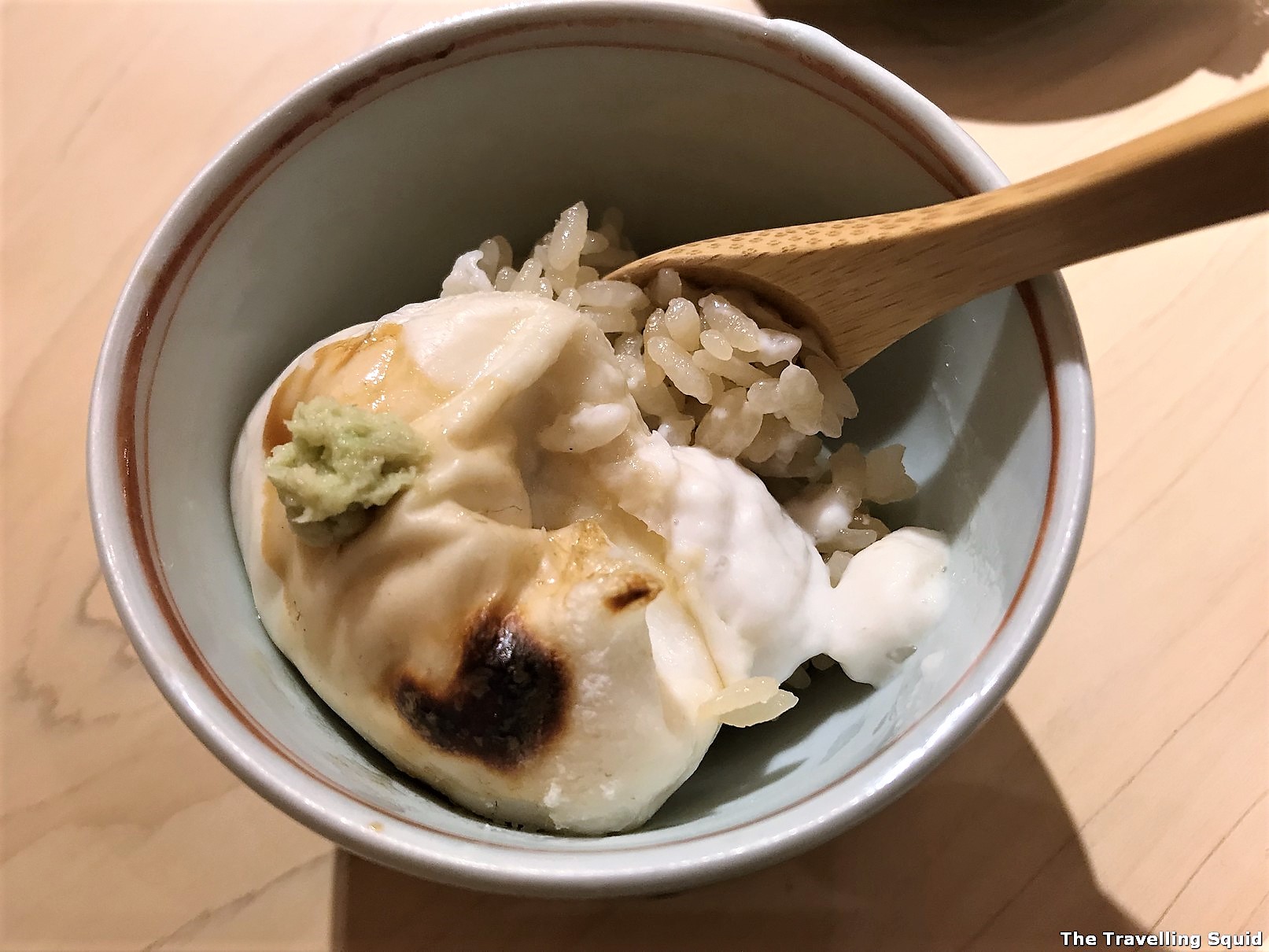 Shirako (codsperm sac) is a Japanese delicacy served during the months of Spring. It was my third time having it – I know I should attempt to appreciate it, but the thought that it was the sperm sac of a cod was a tad unnerving. To be fair, it's fairly tasty and had a creamy, fishy flavour,  if you don't think too much about where it came from.
12. Satake-san
Satake-san is crucial to our experience because he's the only one preparing the food. I liked how he did articulate (in English) what type of sushi we were having each time. That enabled us to understand what we were eating. It would have been perfect if we could converse with him in Japanese, because he did seem to be quite open to conversation, unlike other more traditional, aloof sushi chefs. Do check out his knife skills based on the sushi we tried above.  It's quite amazing.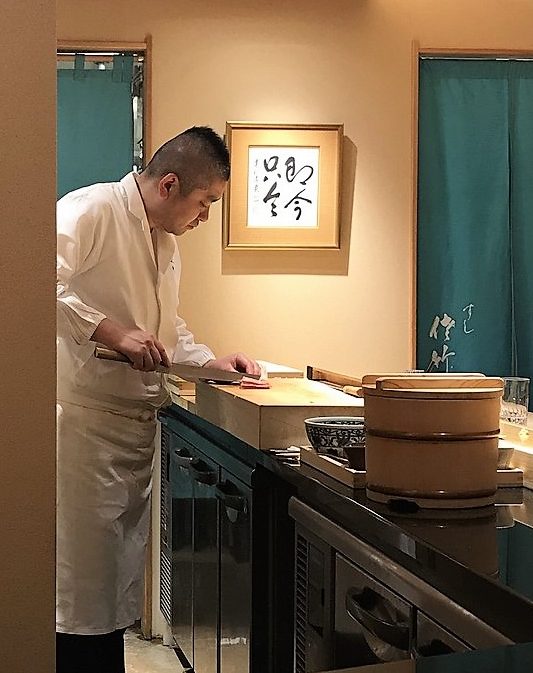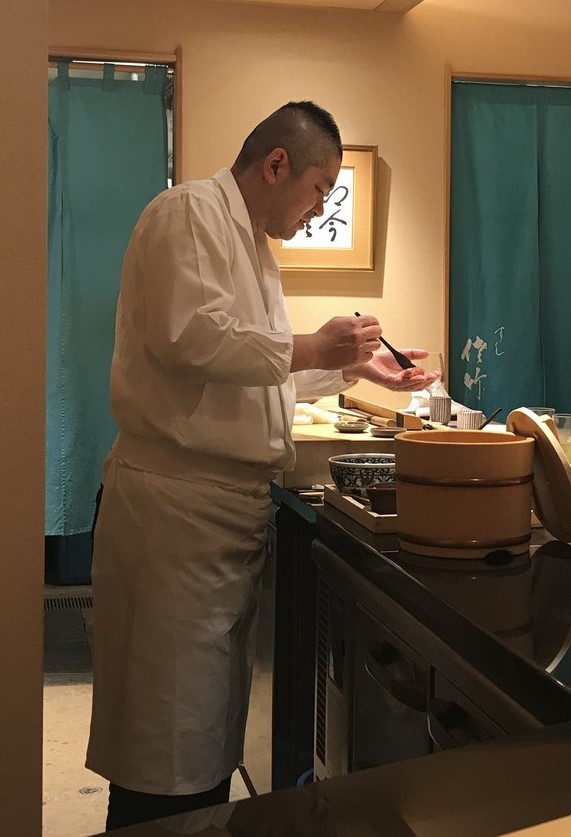 The Travelling Squid's Take
Despite the fact that we as foreigners had to pay more for a meal, I thought the price of ¥16,000 was quite worth it based on the quality of the fish and balance of the sushi. Now that the price of the dinner menu has more than doubled, I'm not sure if I will be visiting Sushi Satake again, because one does get access to other famous sushi restaurants for ¥34,155. In general, I  really liked that Satake-san kept things very casual and the environment was relaxed even for a non-Japanese speaker like me. I liked that his patrons were happy to be there eating sushi. I thought his multi-tasking skills, that of conversing with his patrons and slicing fish at the same time, was the highlight of our experience.