Review: Visiting Yona Yona Beer Works in Shinjuku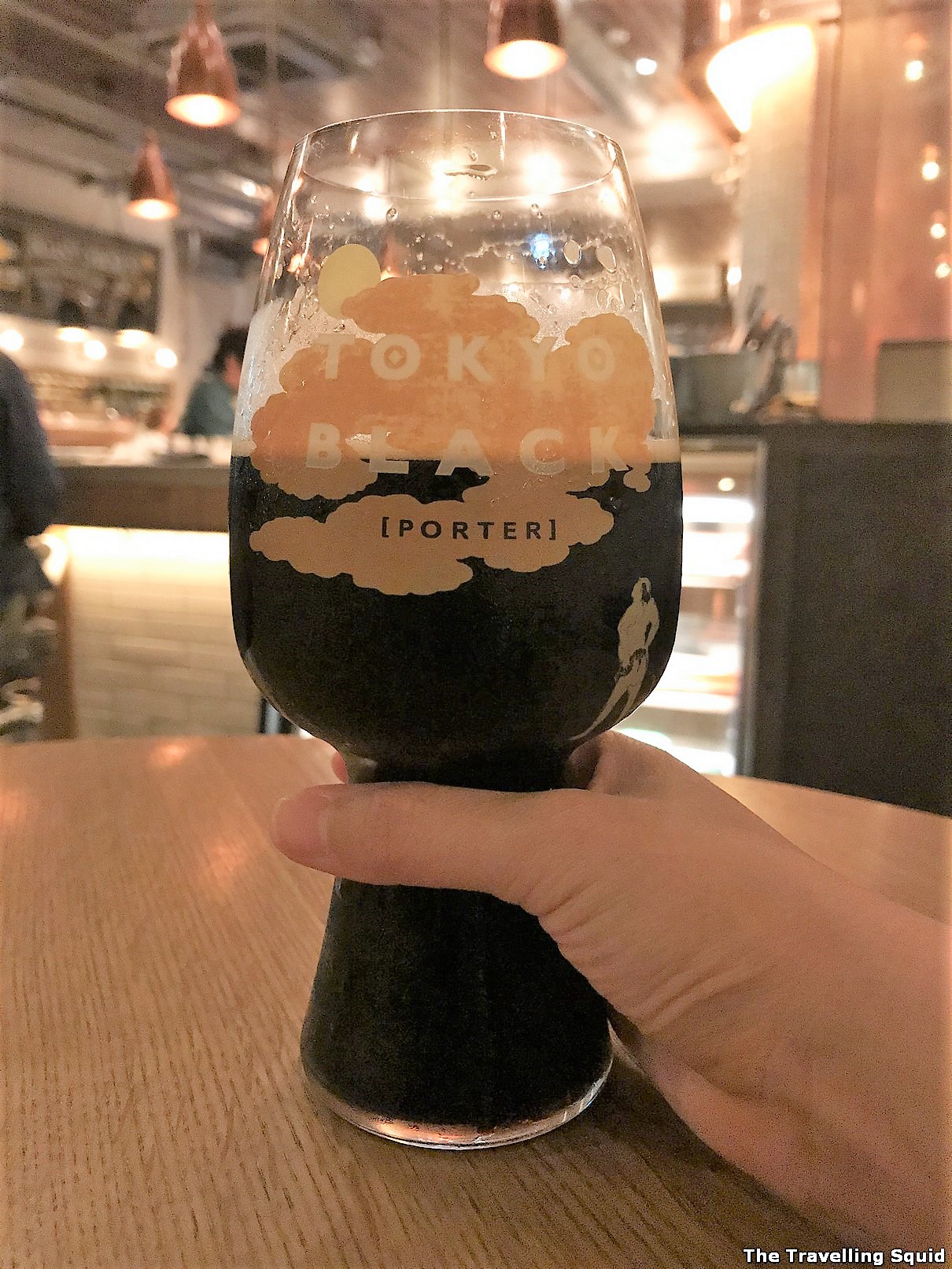 I used to love drinking Japanese craft beer Wednesday's Cat (the canned version is sold in Singapore). The beer is light and refreshing, and I thought the design of the can was cute. We have also tried the other beers from the same brewery which include Indo no Aooni (the translation is India's blue demon), the standard Yona Yona Ale and Tokyo Black. So when we passed by Yona Yona Beer Works in Shinjuku, we decided to head there for drinks. In case you're wondering, Yona Yona means 'night after night', according to Digijapan.
According to the same blog, Yo-Ho Brewing is a Japanese craft beer brewery from Karuizawa, a city in Nagano prefecture. It produces a variety of beers like the popular Yona Yona, its flagship ale. Yona Yona Beer Works is Yo-Ho Brewing's official beer bar in Tokyo. Since the first bar opened in Akasaka, its popularity led to a quick expansion with new branches in Kanda, Aoyama and Kichijoji. It later opened a bar in Shinjuku.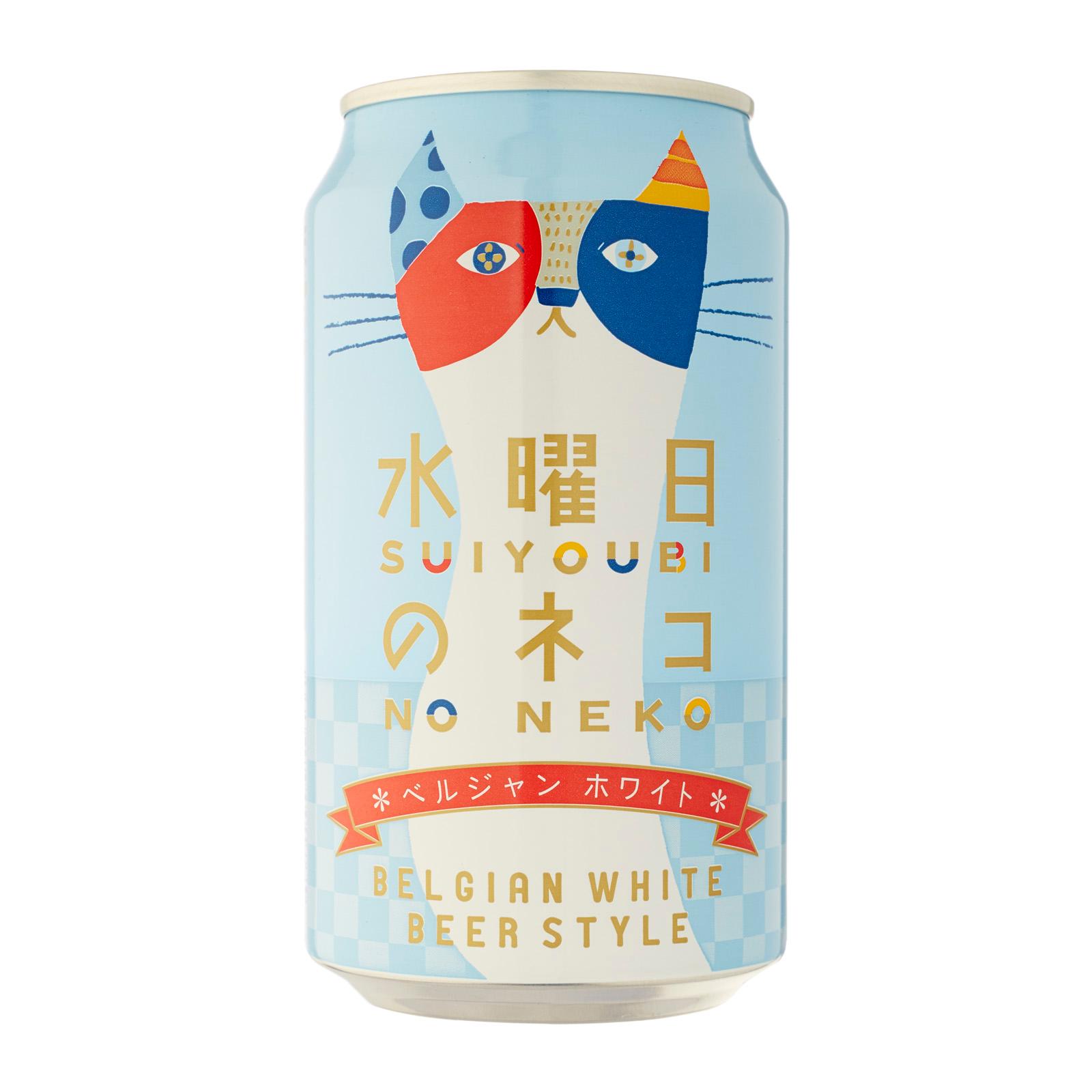 Location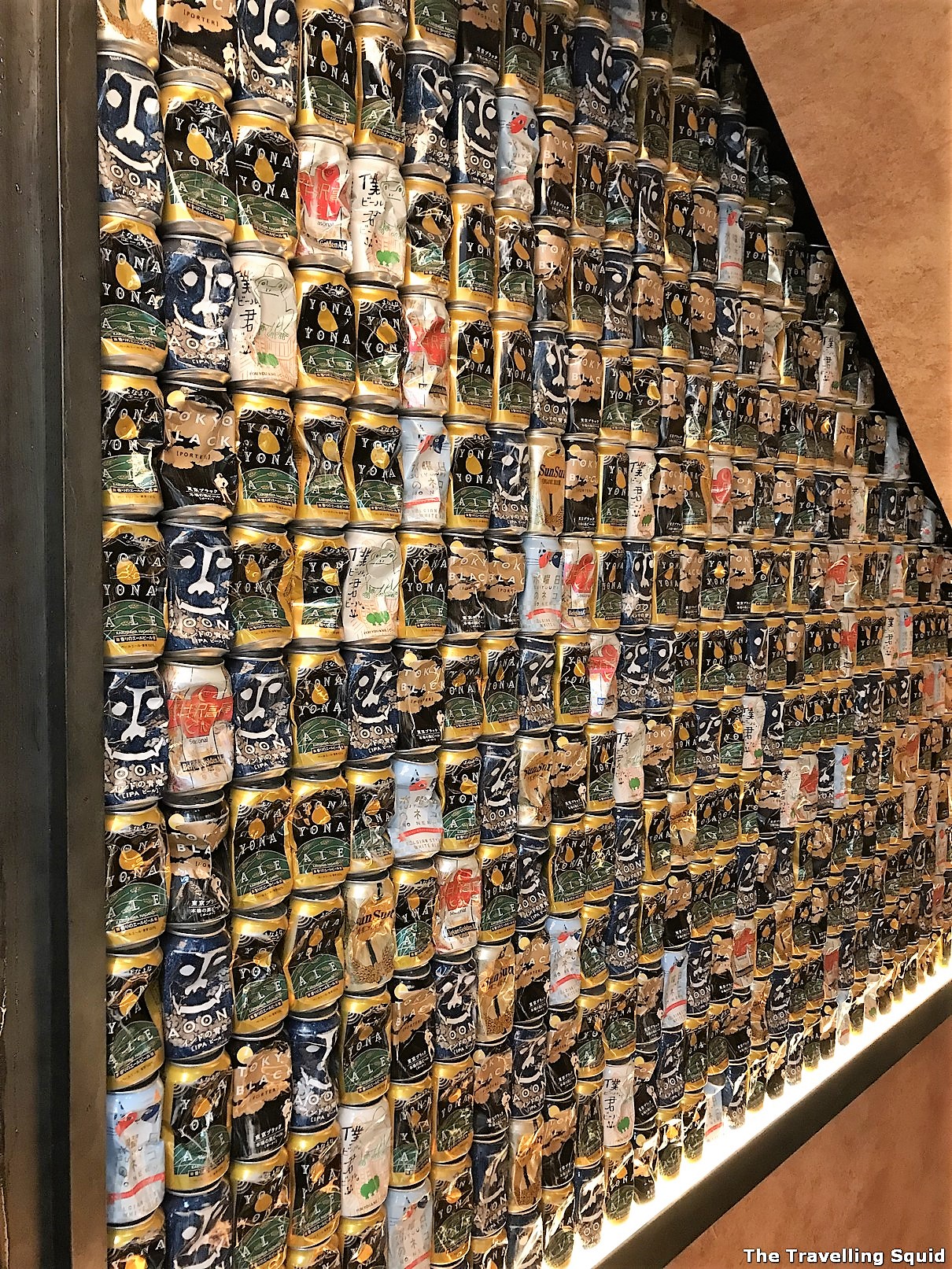 Yona Yona Beer Works is located within walking distance from Shinjuku station. It's located closer to the Shinjuku East Exit, at the basement of a shopping mall. It's easily spotted by the wall of Yona Yona beer cans. It was the cans which lured us to check out the bar.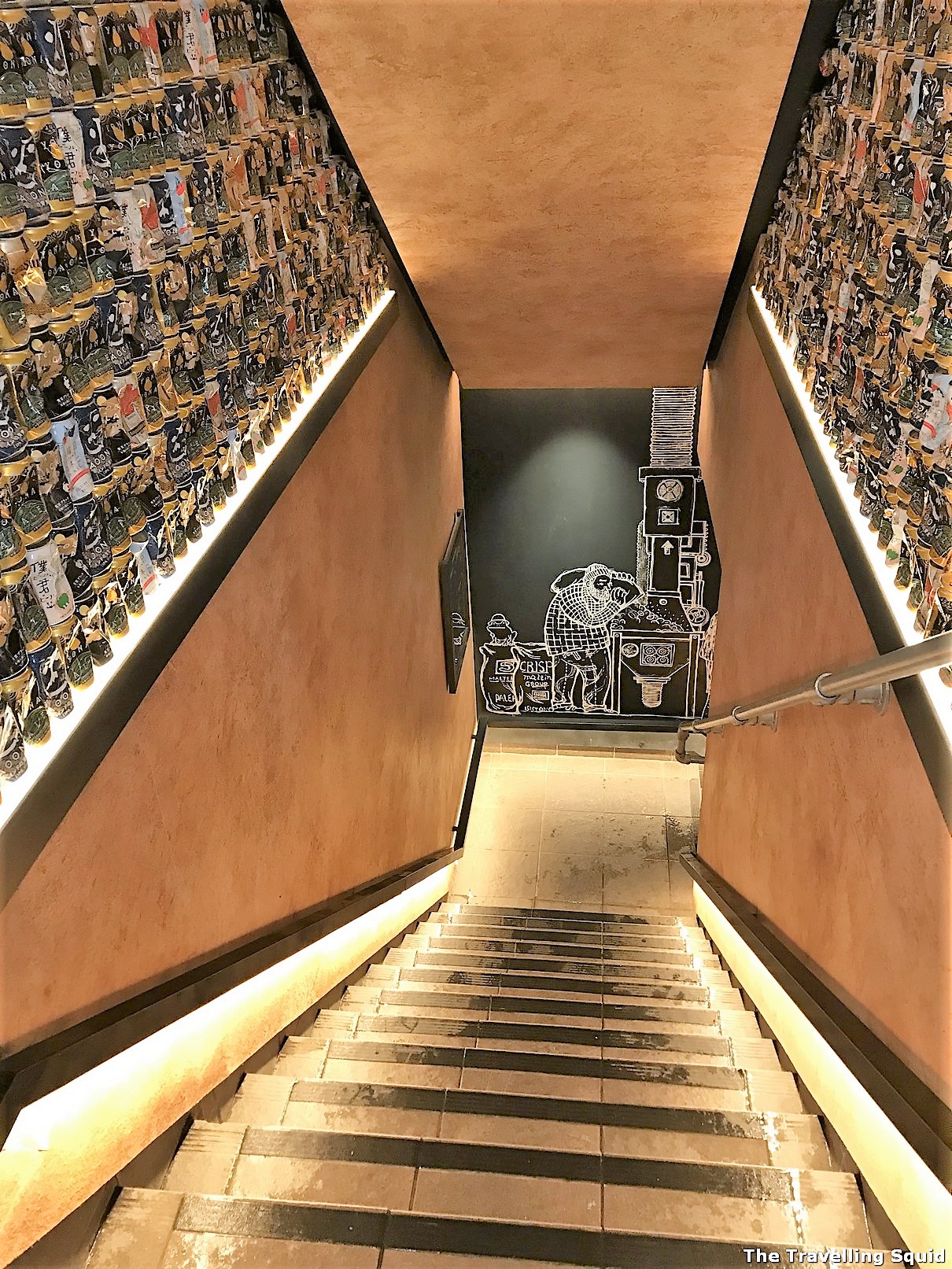 Ambience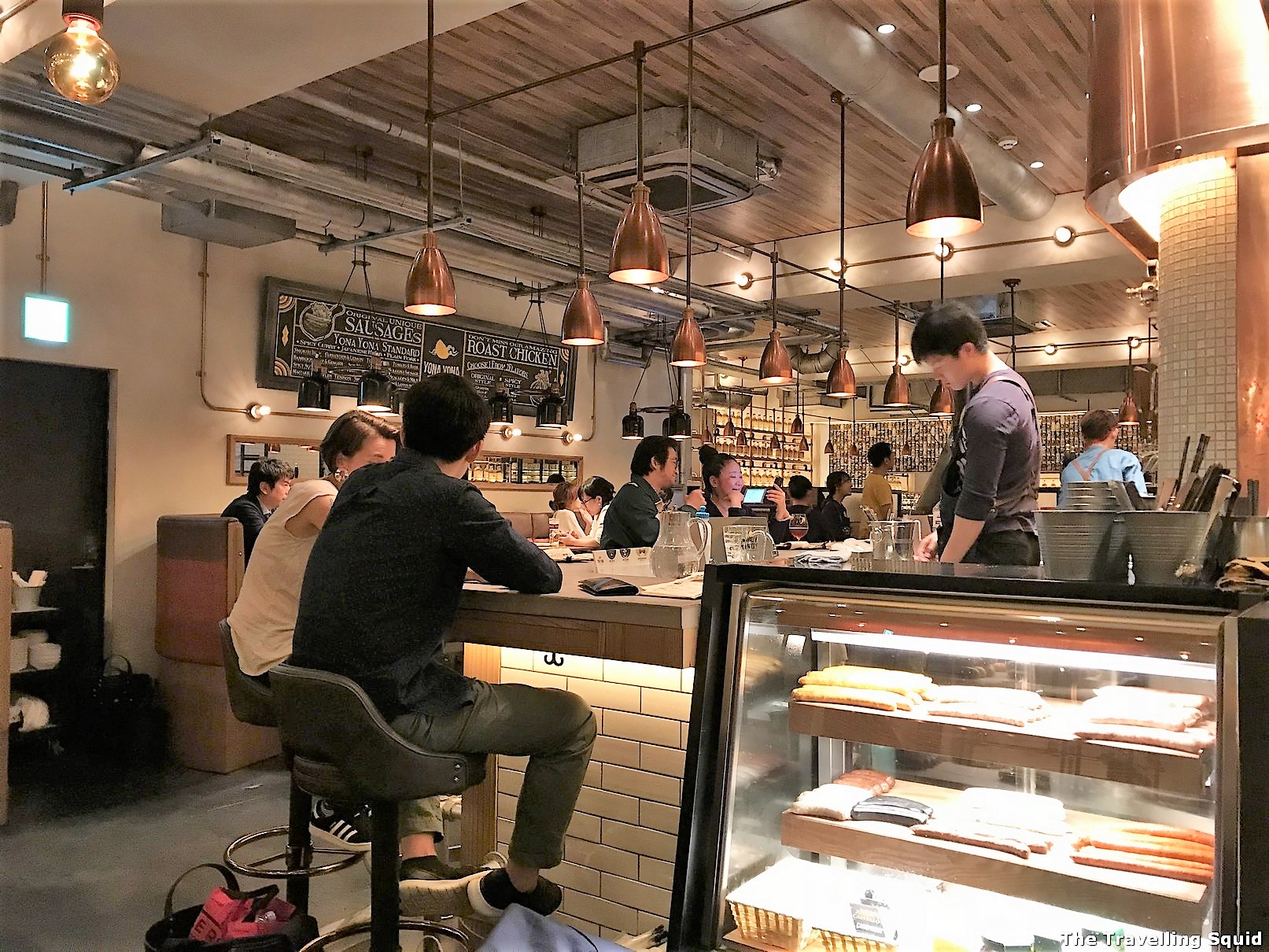 The bar is modern and the decor is pretty cool. It strikes me as a comfortable little location to meet up for drinks after work, or to hang out with friends. A group of locals were celebrating their friend's birthday. They were enjoying themselves. We were there at about 8pm and the crowd drifted in only at 9pm. Throughout my time at Yona Yona Beer Works, I could not help but stare longingly at the delicious sausages on display. They came in all sorts of sizes and colours too. Unfortunately S was too full to have more food. 🙁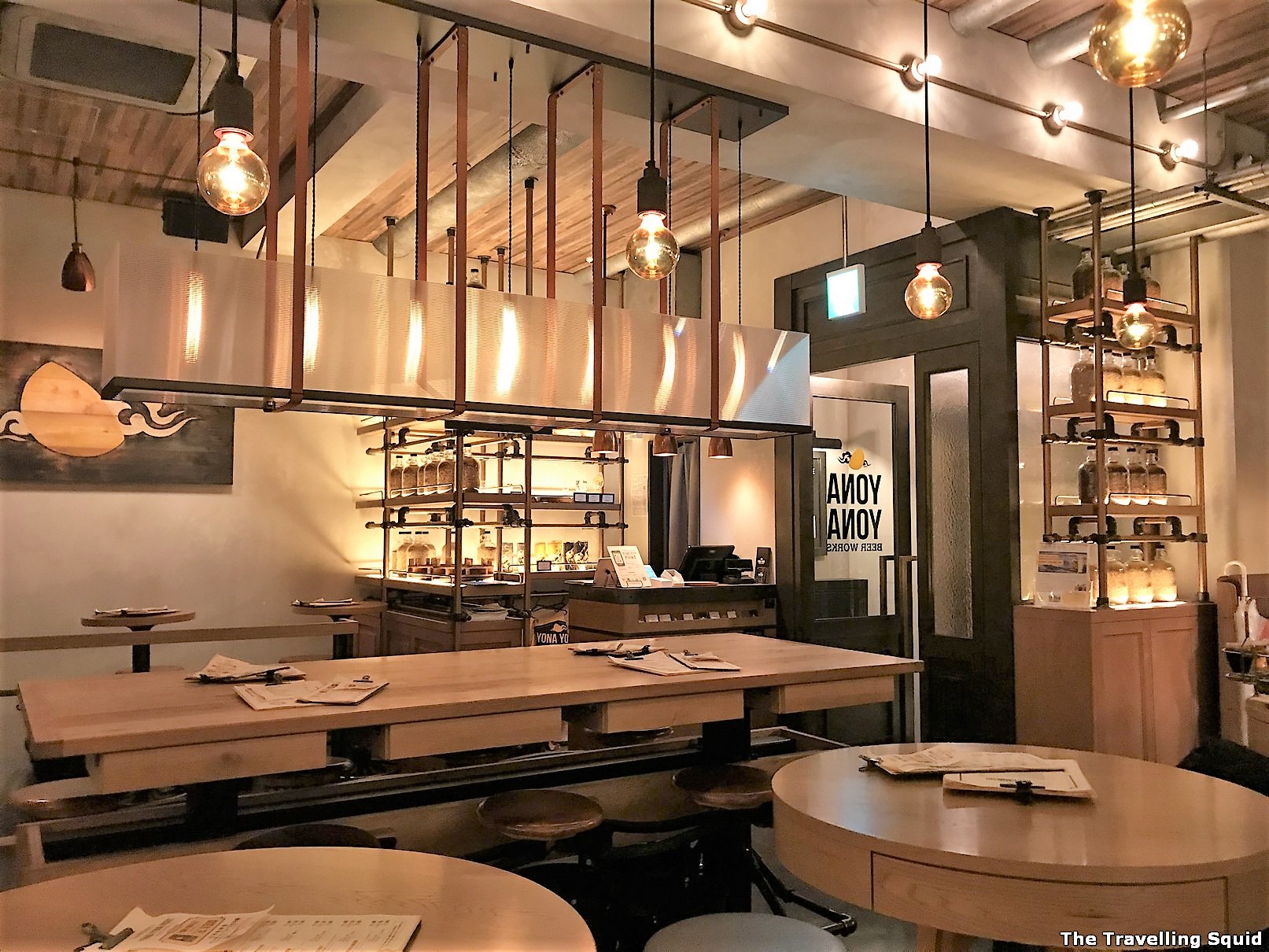 The Beers
There is a wide range of beers available. The first four beers on the menu are sold on Redmart and we've tried some of them before. We wanted to see how different they would taste as draft beers, so we got the Yona Yona Ale to start.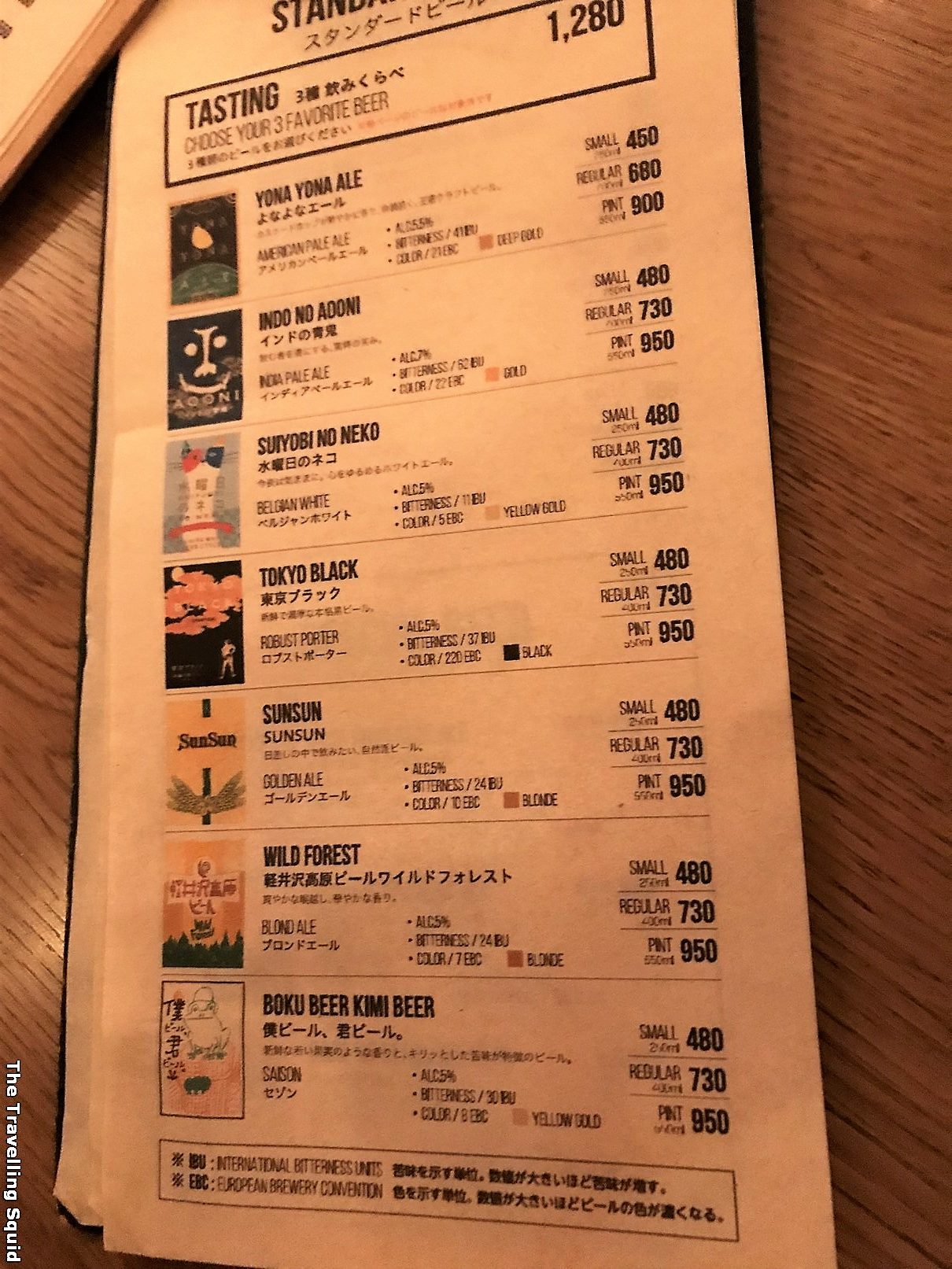 Yona Yona Ale
The standard Yona Yona Ale is light and refreshing. It's definitely more tasty than the canned version. It's a simple chuggable beer – the price ¥500 /SGD6 / USD4.40 for a 400ml serving was worth it, because in Singapore it used to cost SGD5.50 for a 330ml can. The price has gone up to SGD6.30 as of the time this post was published.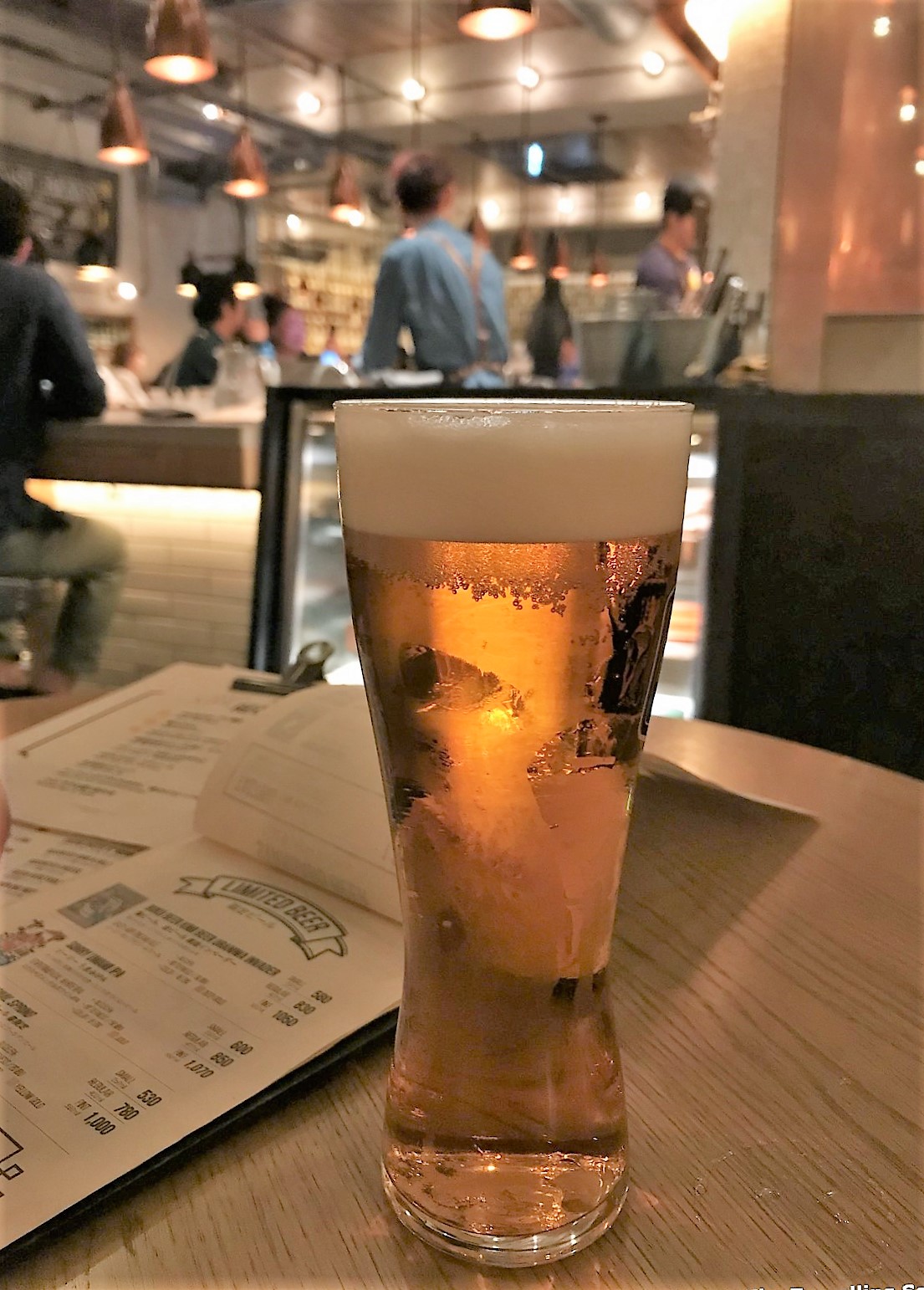 Our next order was the Sunsun and Tokyo Black. I was very pleased with the pint of Tokyo Black because of the glass (see below). It looked quite charming when full, and I absolutely loved the ergonomic shape of the glass and how it felt secure in my hand. The Sunsun was hoppy and had good flavours.  Tokyo Black was my favourite because of the dark, rich and roasted flavours.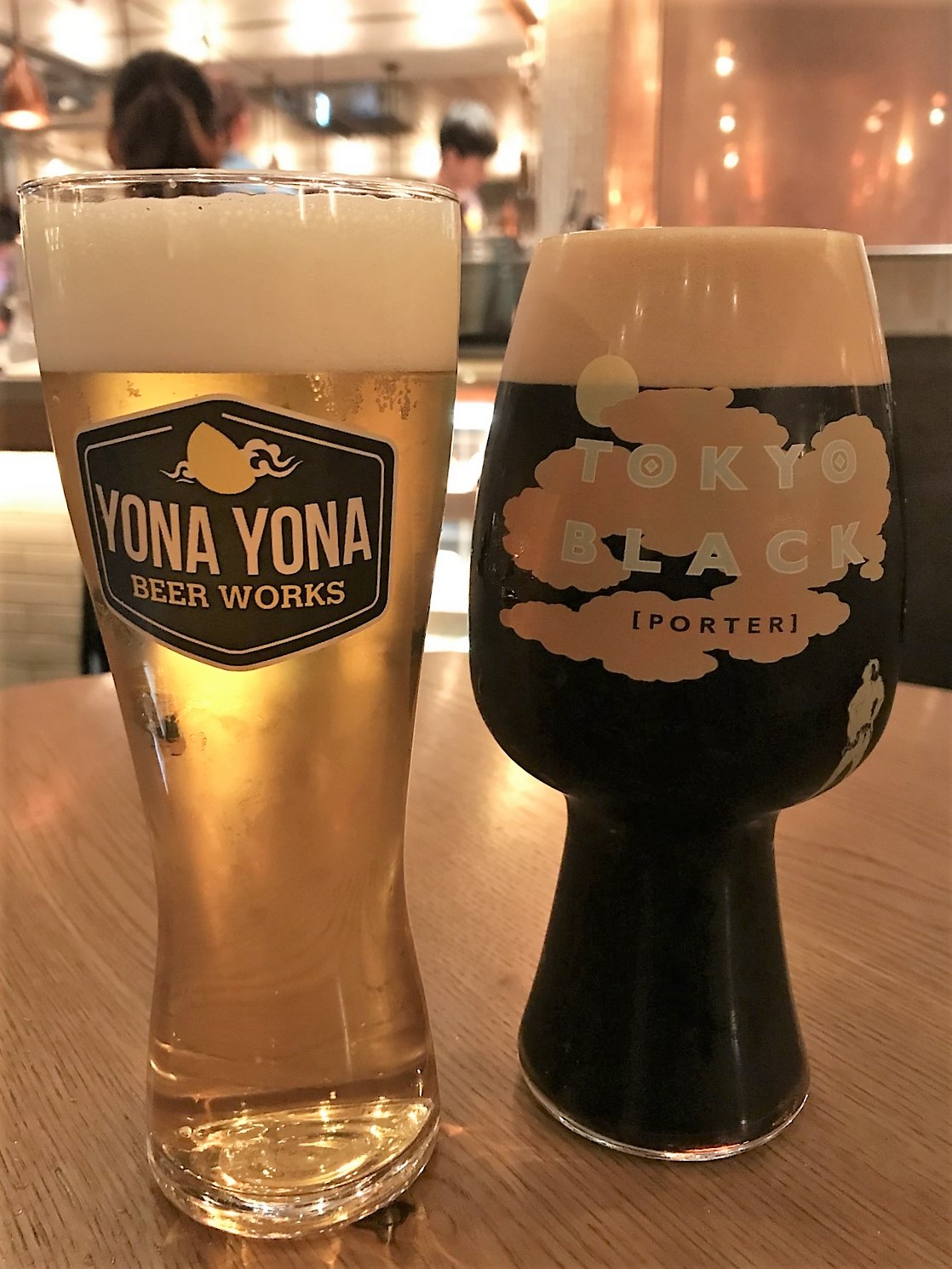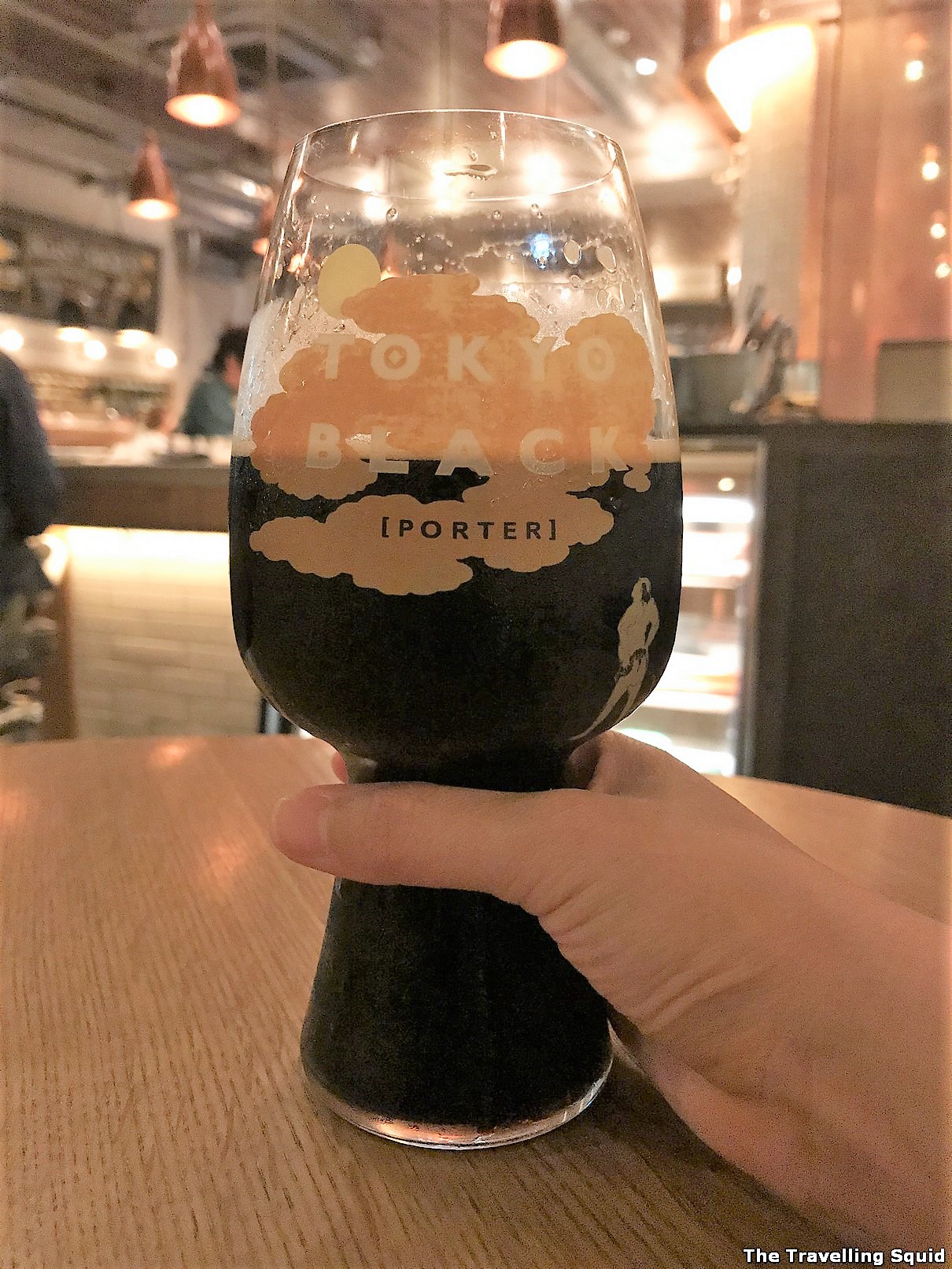 The Travelling Squid's Take
In essence, I think Yona Yona Beer Works is a comfortable beer place to chill and hang out. It's a must-visit especially if you have tried their canned beers. The draft beers are much tastier. Yona Yona Beer Works also serves dinner and the pub grub looks actually quite tasty. If you do get a chance to try the sausages, let me know how it is!
* * *
Yona Yona Beer Works in Shinjuku
Address: Humax Pavillion Shinjuku East Exit B1F, 3-28-10 Shinjuku, Shinjuku-ku, Tokyo/ Japan, 〒160-0022 Tokyo, Shinjuku, 3 Chome−28−10 ヒューマックスパビリオン新宿東口B1
Tel: +81 3-5361-8147
Opening hours: Open daily from 11.30am – 11.30pm. (With a two hour break in between.)