Visit Jia Jia Tang Bao in Shanghai for good XiaoLongBao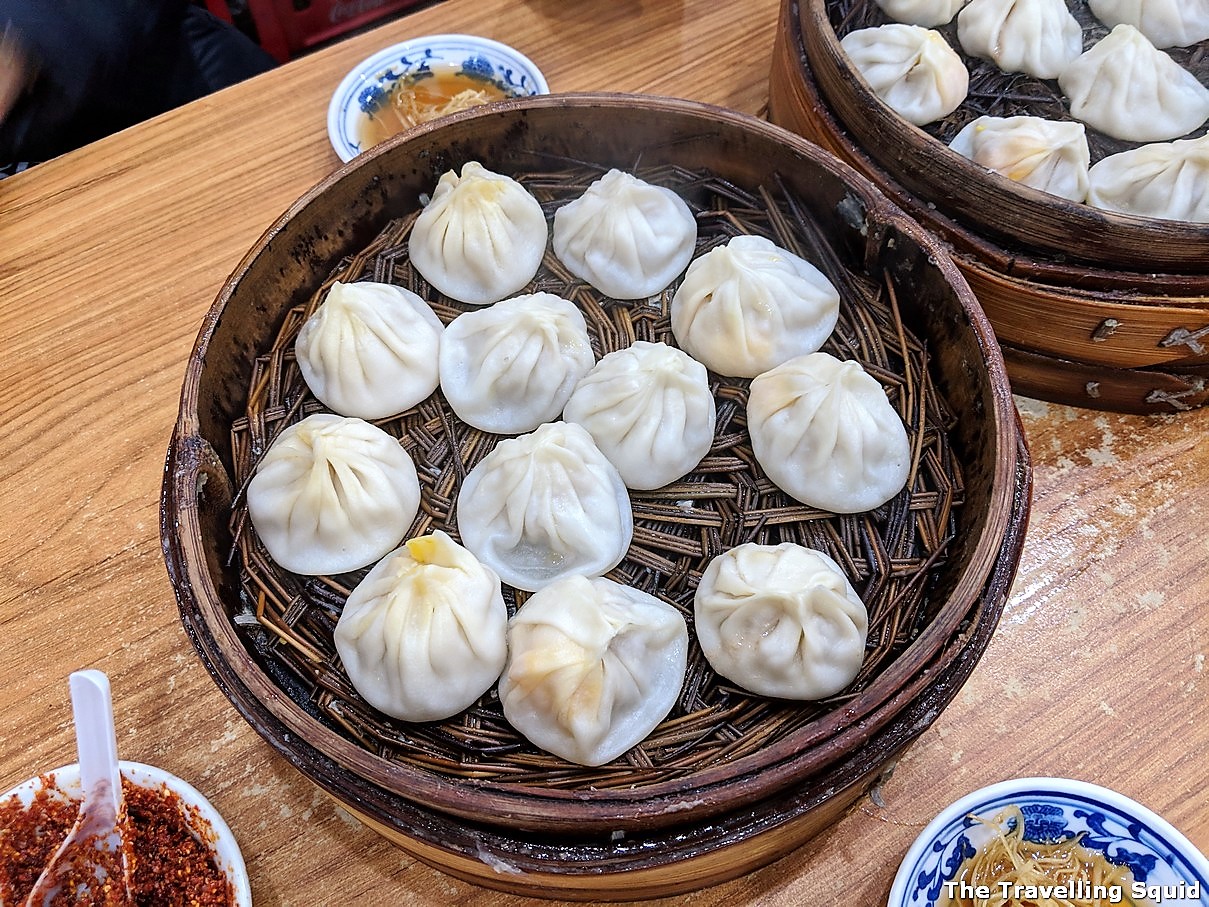 Xiao Long Bao, also known as a Chinese steamed dumpling with 'soup' in it is a specialty often associated with Shanghai and Wuxi. If you're in Shanghai, having the Chinese steamed dumpling is definitely a must. This makes it to the list of eateries we have recommended, including the Shanghai Grandmother Restaurant. Here is why you should visit Jia Jia Tang Bao in Shanghai for good XiaoLongBao. The lines may be long, but the turnover is fast. Do note, once you're done eating, you plate and chopsticks are immediately removed. There is no chance of reordering.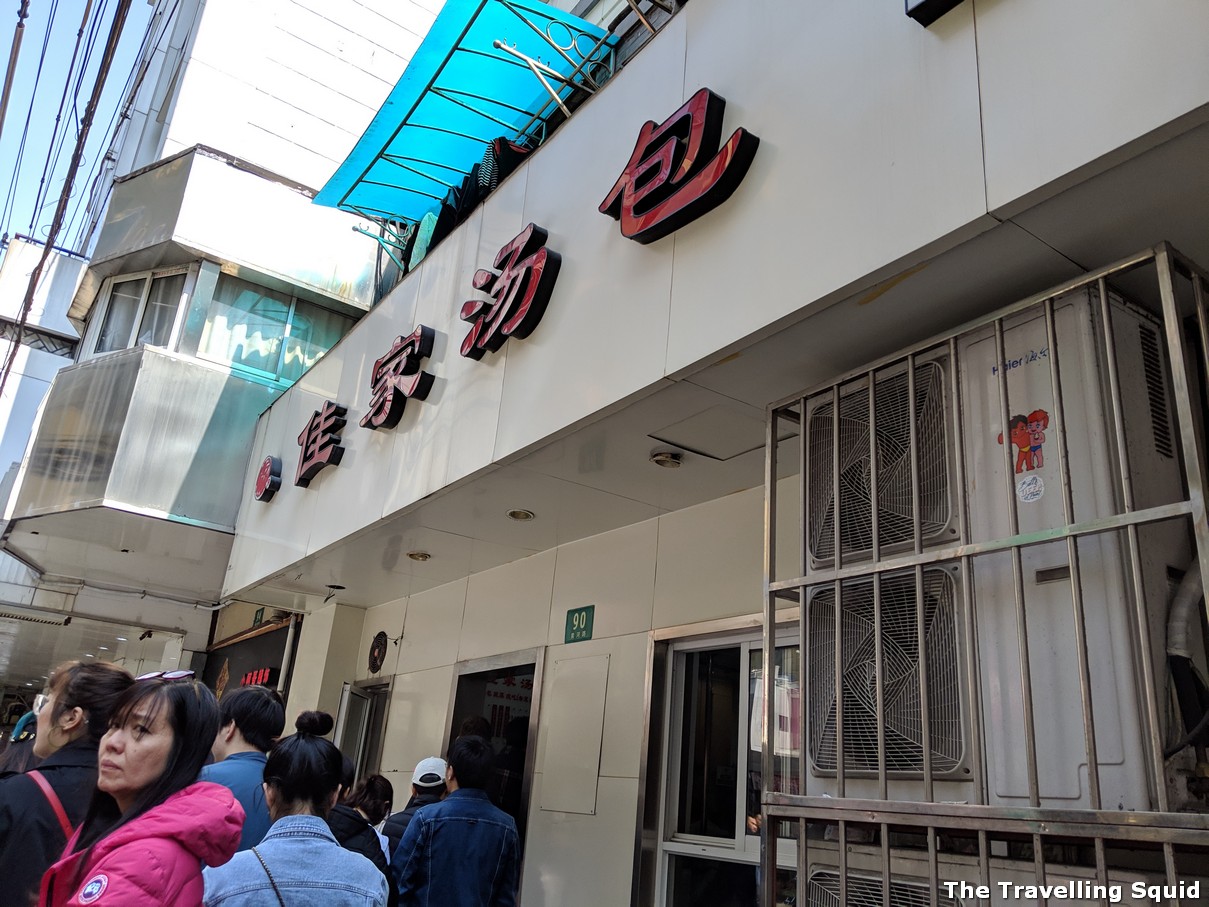 Location
Jia Jia Tang Bao 佳家汤包 is a 10 minute walk from the Ren Ming Guang Chang 人民广场 subway station (Exit 8). It's located along a street with many other eateries as well, including a big shop which sells really tasty Cong You Bing 葱油饼 (bread fried with spring onion oil).
The experience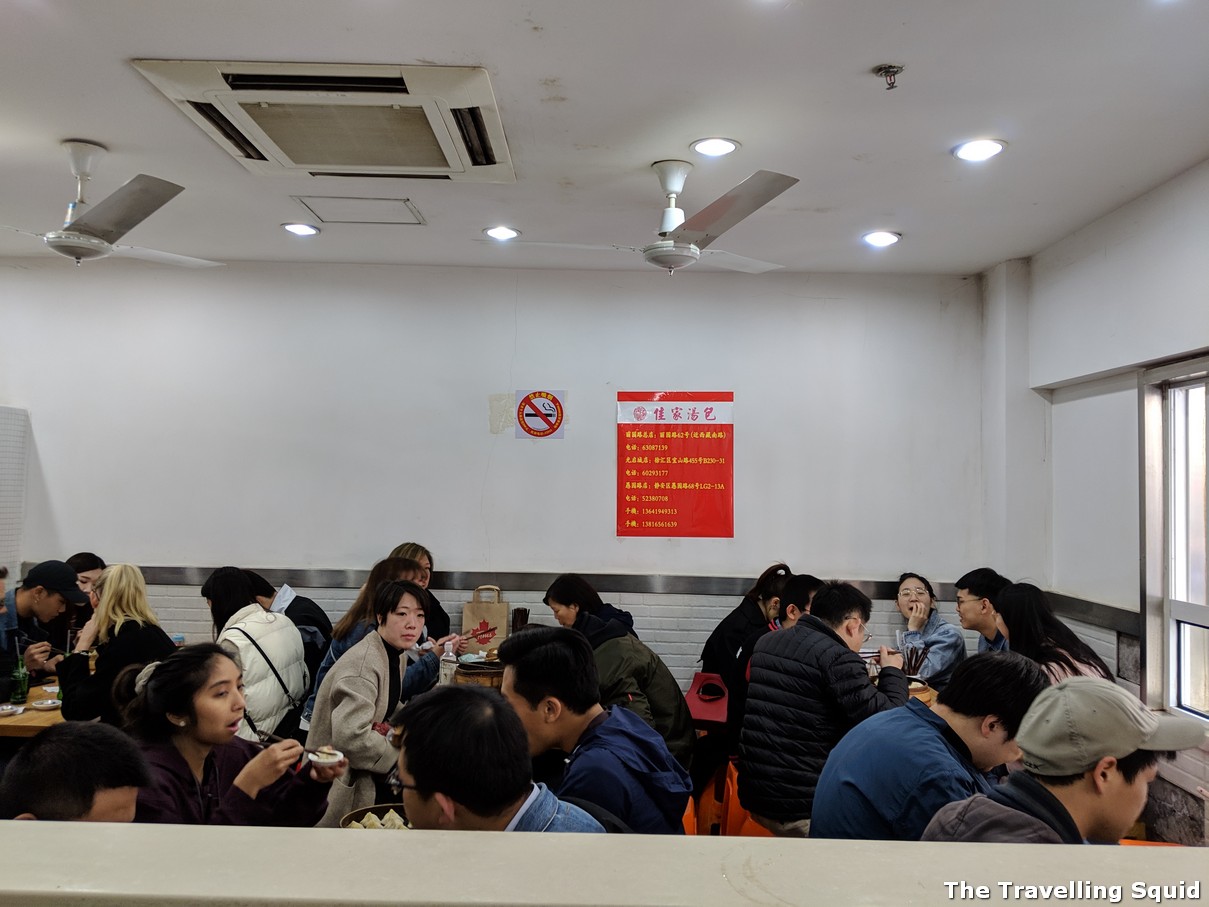 Jia Jia Tang Bao was a recommendation by S's friend, who is familiar with Shanghai. It proved to be a very popular eatery. A long line had formed outside the shop that Sunday, but it moved quickly and we were seated in less than 30 minutes. The eatery was frequented by both locals and foreigners alike. The eating area is small. It fits about 25 people each time.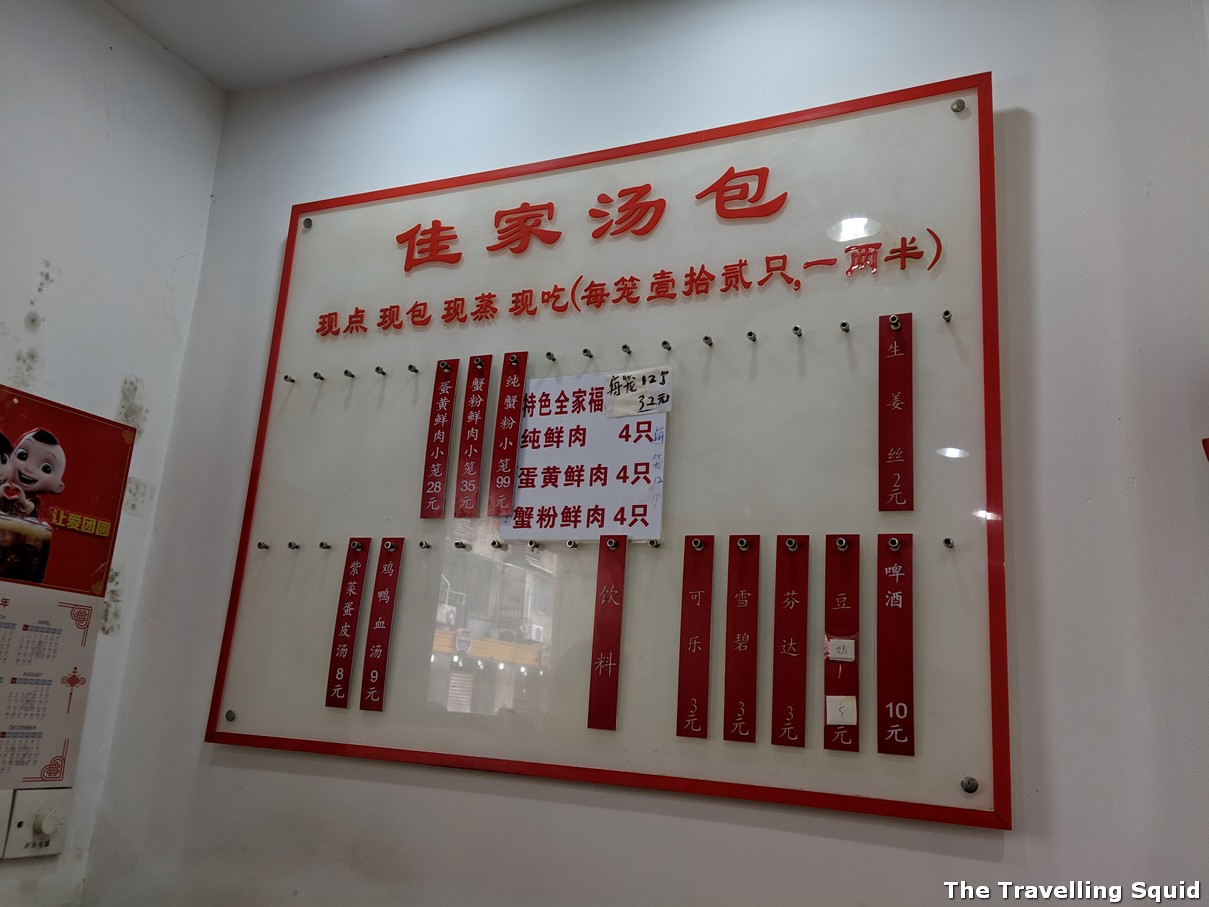 When ordering, it helps if you can speak Mandarin. If you can't, you can ask for an English menu, or simply seek the help of a bilingual person next to you. There are a variety of steamed dumplings to order from. These include the Xiao Long Bao with pork in it and Xiao Long Bao with pork and crab roe. Each bamboo steamer contains about 12 dumplings. We ordered two bamboo steamers for sharing between four of us. We were then asked to wait by the side of the restaurant for a seat. It cost about RMB28 – 35 per steamer (depending on what you order), which is very affordable compared to the Xiao Long Baos we get in Singapore, at Din Tai Fung.
Do note that once you put in an order, you are not allowed to order again, so order a big enough portion! I also encourage you to order more servings of ginger slices and vinegar as they go very well with the dumplings.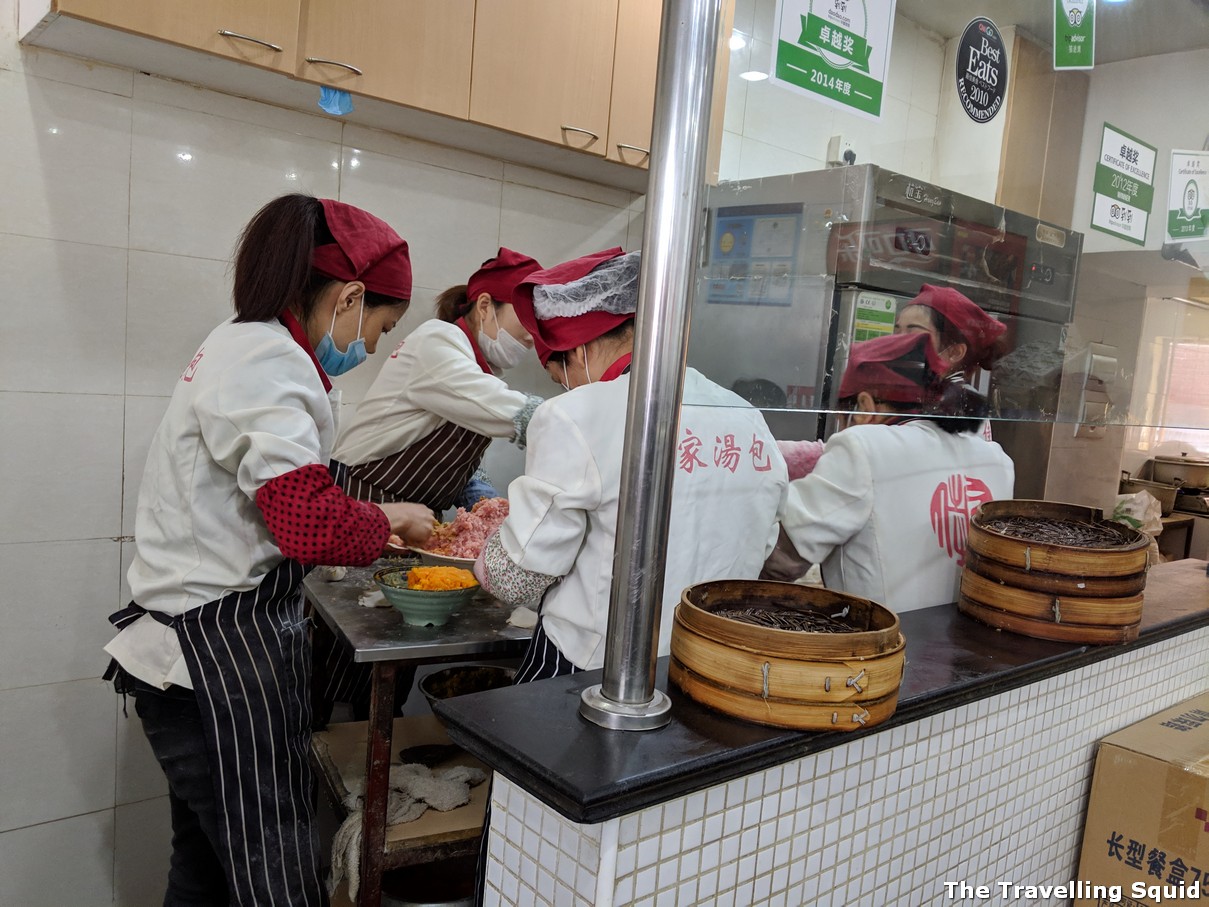 The main bottleneck of Jia Jia Tang Bao is the preparation of the Xiao Long Baos. When we arrived, we found the staff hard at work, wrapping the dumplings as quickly as possible. Upon watching them, we discovered that the secret behind the soup in the dumpling was the gelatinous filling added to the minced pork, which dissolves into a type of soup when steamed.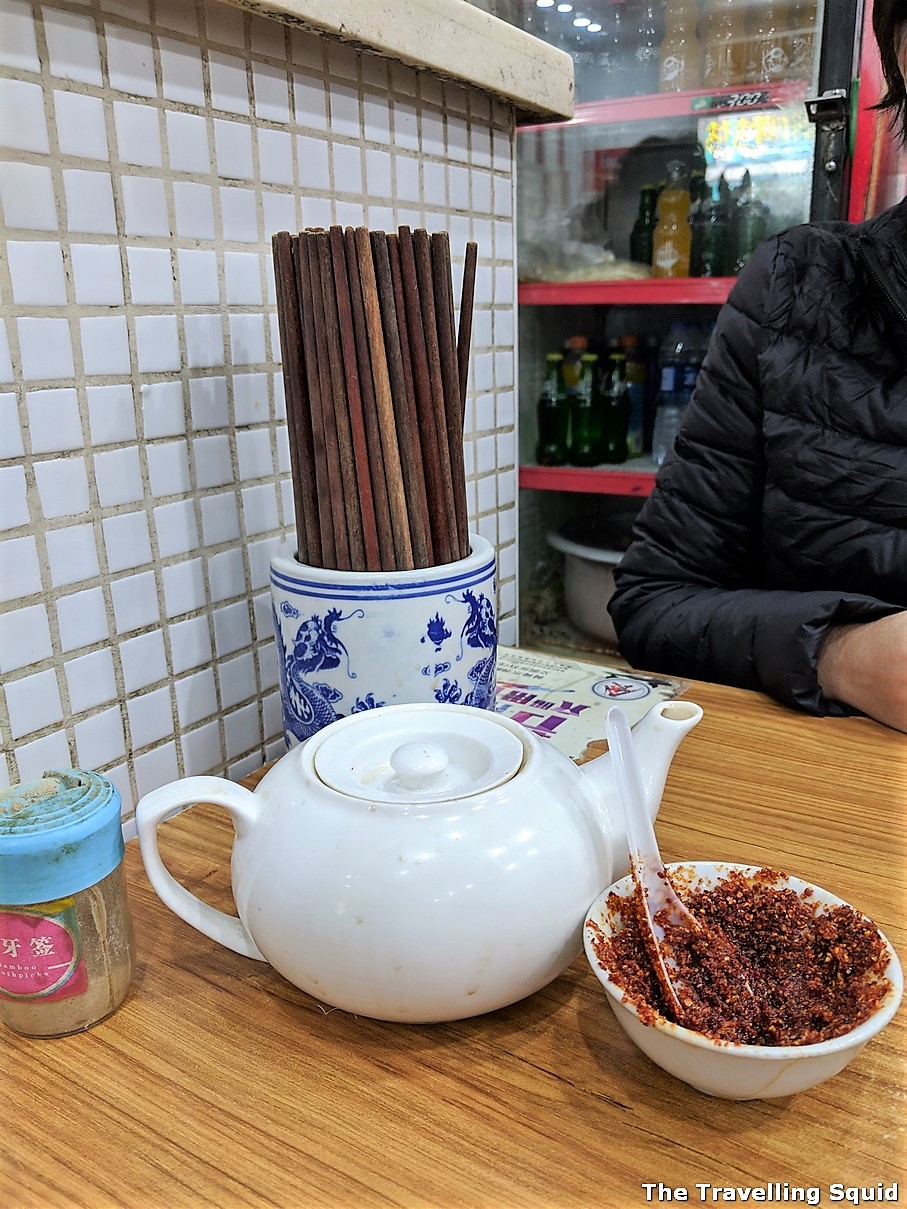 When the dumplings arrived, they were very much well-received. There were plenty of soup in the dumplings and they were delicious. Do avoid having your tongue burnt by popping the whole dumpling in your mouth when it first arrives. My suggestion would be to use a spoon, and bite a small part of the dumpling to let the steam out. You can also add the ginger slices and vinegar to the dumpling. That way, you will not lose the soup as it collects on the spoon.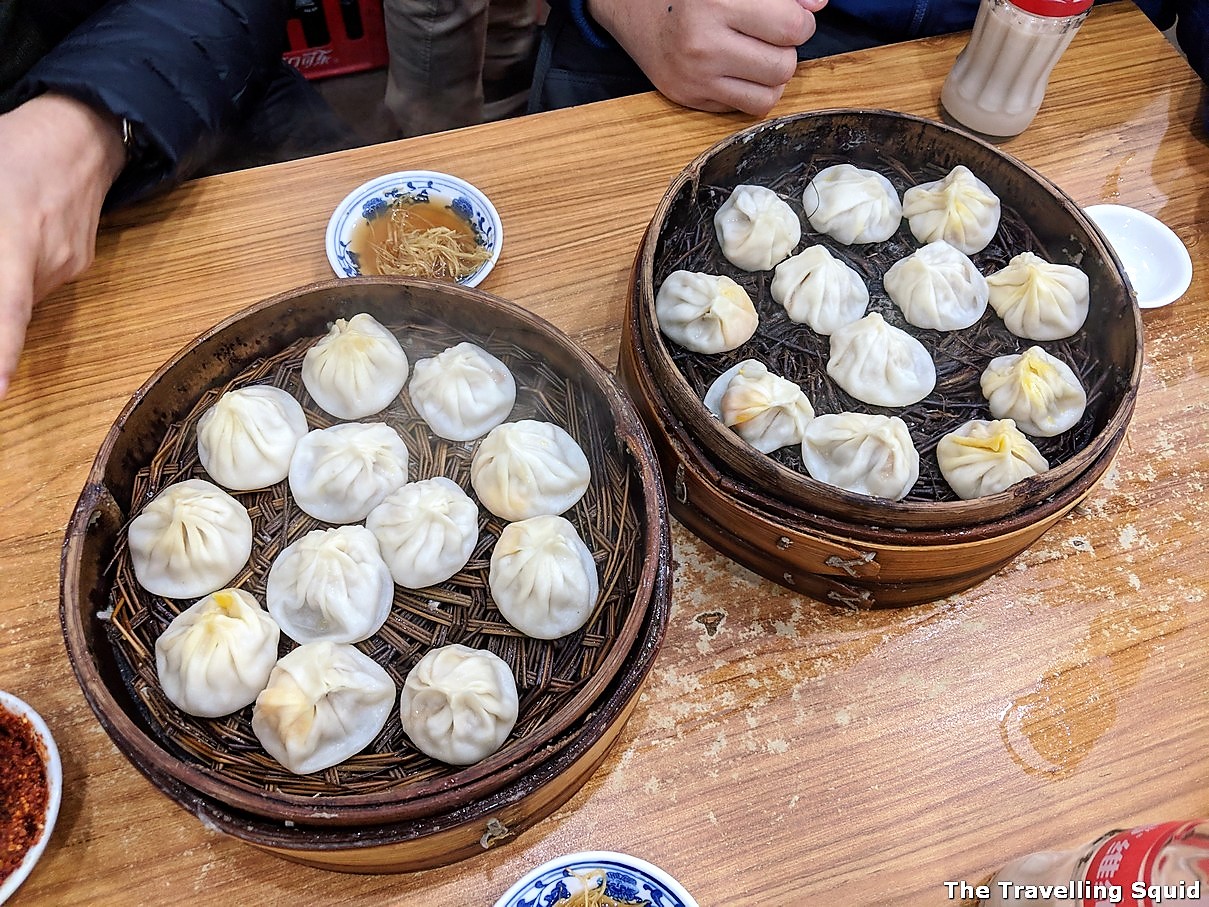 The Travelling Squid's Take – Visit Jia Jia Tang Bao in Shanghai for good XiaoLongBao
If you're hoping to reduce time waiting, come early in the morning to queue for the dumplings, or during a weekday afternoon. It's worth a trip as the location is convenient and the dumplings are very tasty, comparable or even better than the ones we get in Singapore. Hope you found this article about visiting Jia Jia Tang Bao in Shanghai for good Xiao Long Bao useful. If you have recommendations on other good Xiao Long Bao places, do drop a comment in the box below.
***
Jia Jia Tang Bao in Shanghai
Address: 90 Huanghe Rd, Huangpu Qu, Shanghai Shi, China, 200333
Directions: Take Exit 8 of the People's Square Station (人民广场) of the Shanghai metro
Phone number: +86 21 6327 6878
Opening hours: 6.30am – early evening (6pm is a safe estimate).
Reservations: Not available, just come early!