Visit Niajo for good Spanish food in Beijing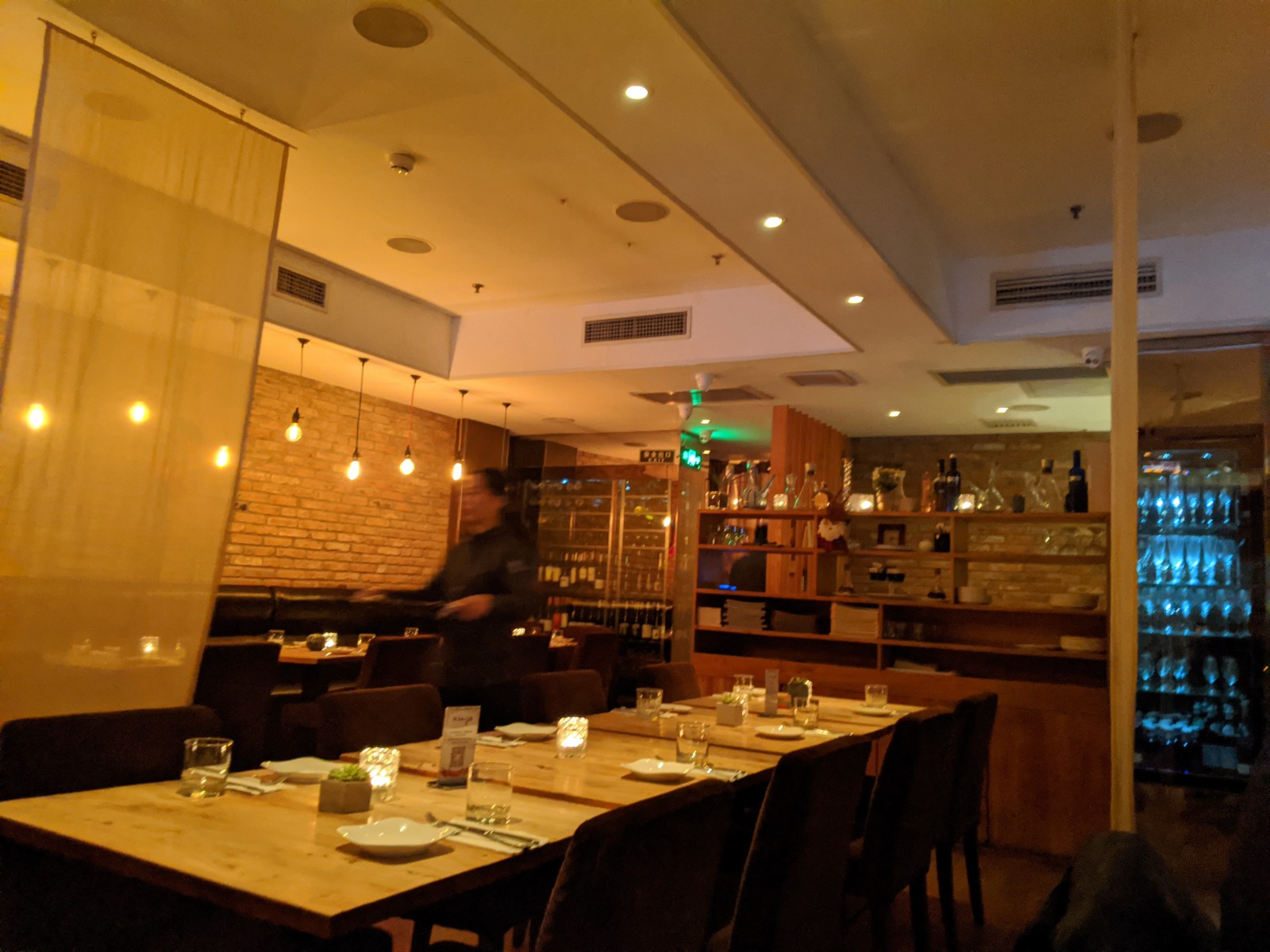 It has been a while since we had Spanish food (most of the time it's our friend in Singapore cooking for us) , and we decided to check out Niajo in Beijing at the recommendation of another friend. Niajo is located in Sanlitun, one of the most bustling places in Beijing for foreigners. While I wouldn't give the food full marks, I would say that given the fact that it was made entirely by local chefs, it was a great accomplishment as the flavours felt very authentic. Tripadvisor rates Niajo pretty highly too. Here are some good reasons to visit Niajo for good Spanish food in Beijing.
Location – Nali Patio (那里花园)
The location of Niajo is great – it's located right in the heart of Sanlitun, at a little mall known as Nali Patio (那里花园). After our dinner, we visited two other bars located on the same floor of the restaurant and they both made really good cocktails. You can get there easily by DiDi, or you can choose to walk to the subway station (团结湖),it's a short 10 min walk away.
The restaurant was about half full on a Friday evening. I'm guessing it's not as popular given that the food was more expensive than average.
The Wine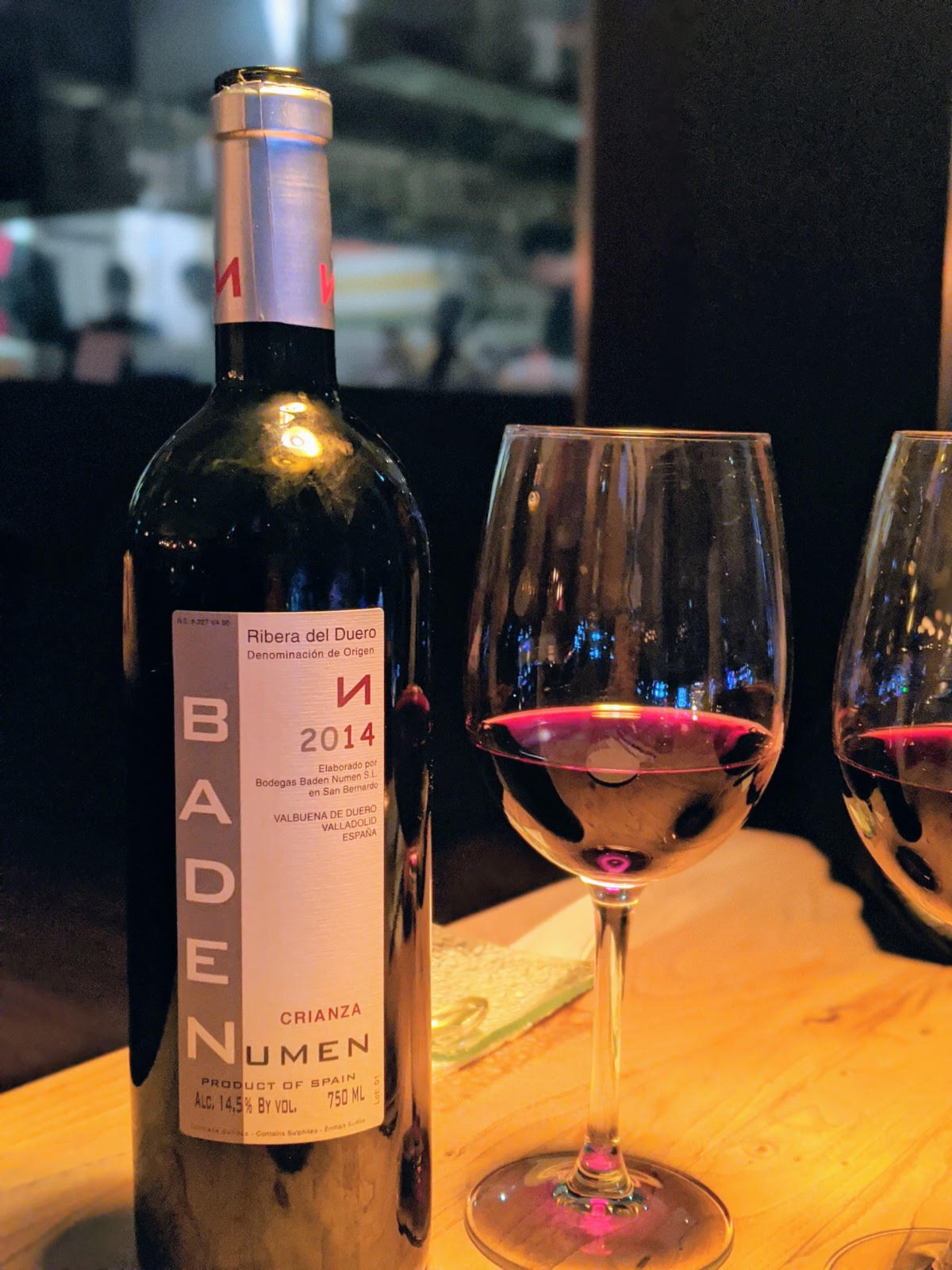 We ordered a bottle of Ribera Spanish wine Baden Numen И to go with the food. It was Baden Numero which cost us about RMB450. I did a check and it typically cost about RMB160 for a bottle off the shelf, but I guess it was just nice to have some wine to have with food. Friend V who recommended me this place also suggested that we could bring our own wine the next time and pay for corkage, as corkage would typically be around RMB150. This actually makes sense because it is possible to get good wines at a place like Carrefour in Beijing.
The Food
Olives, green pea soup and bread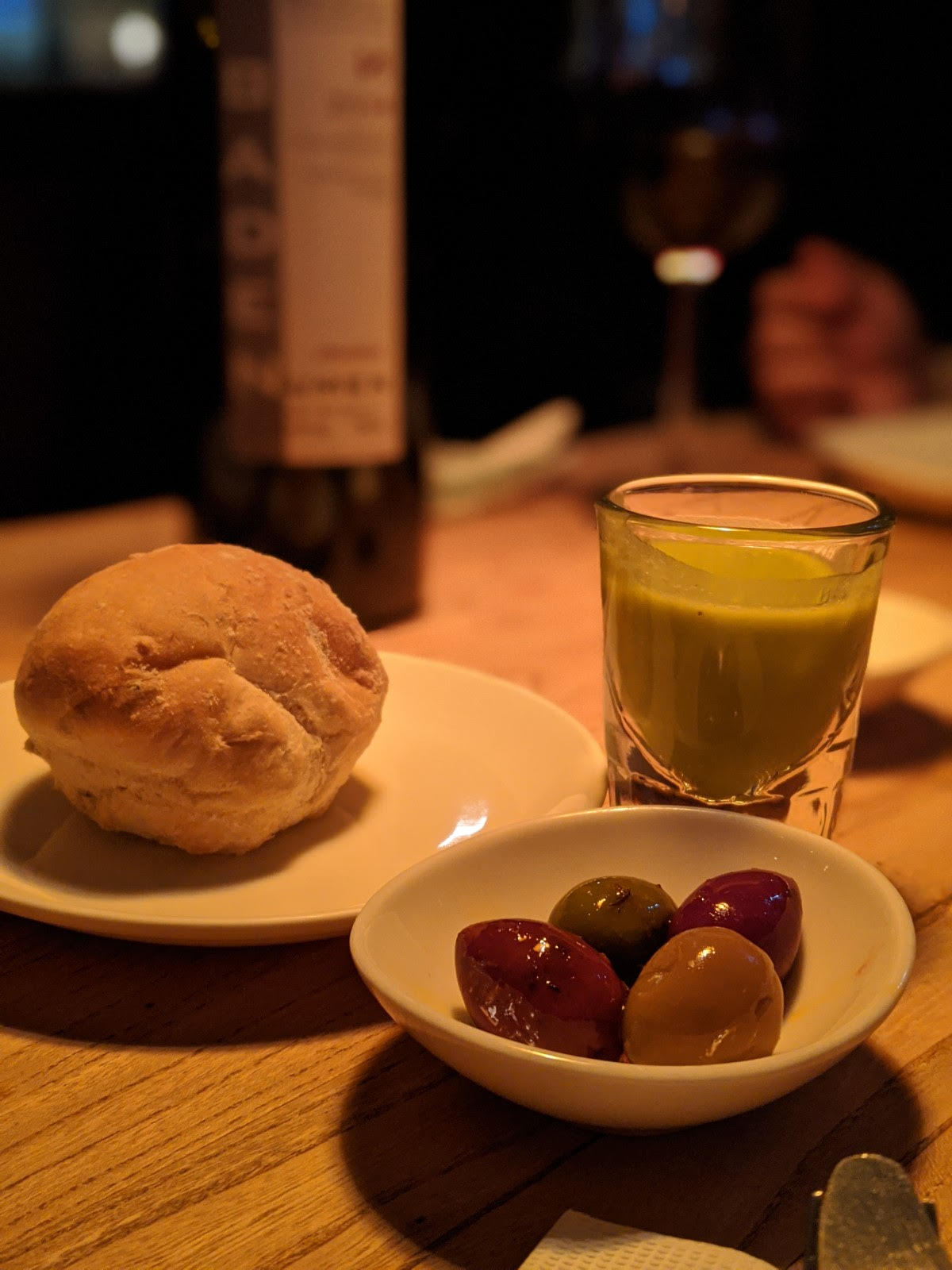 The green pea (青豆汤)soup was really good. I liked that it went quite well with the bread. The olives were a godsend – it was nice having some after a long while.
Anchovies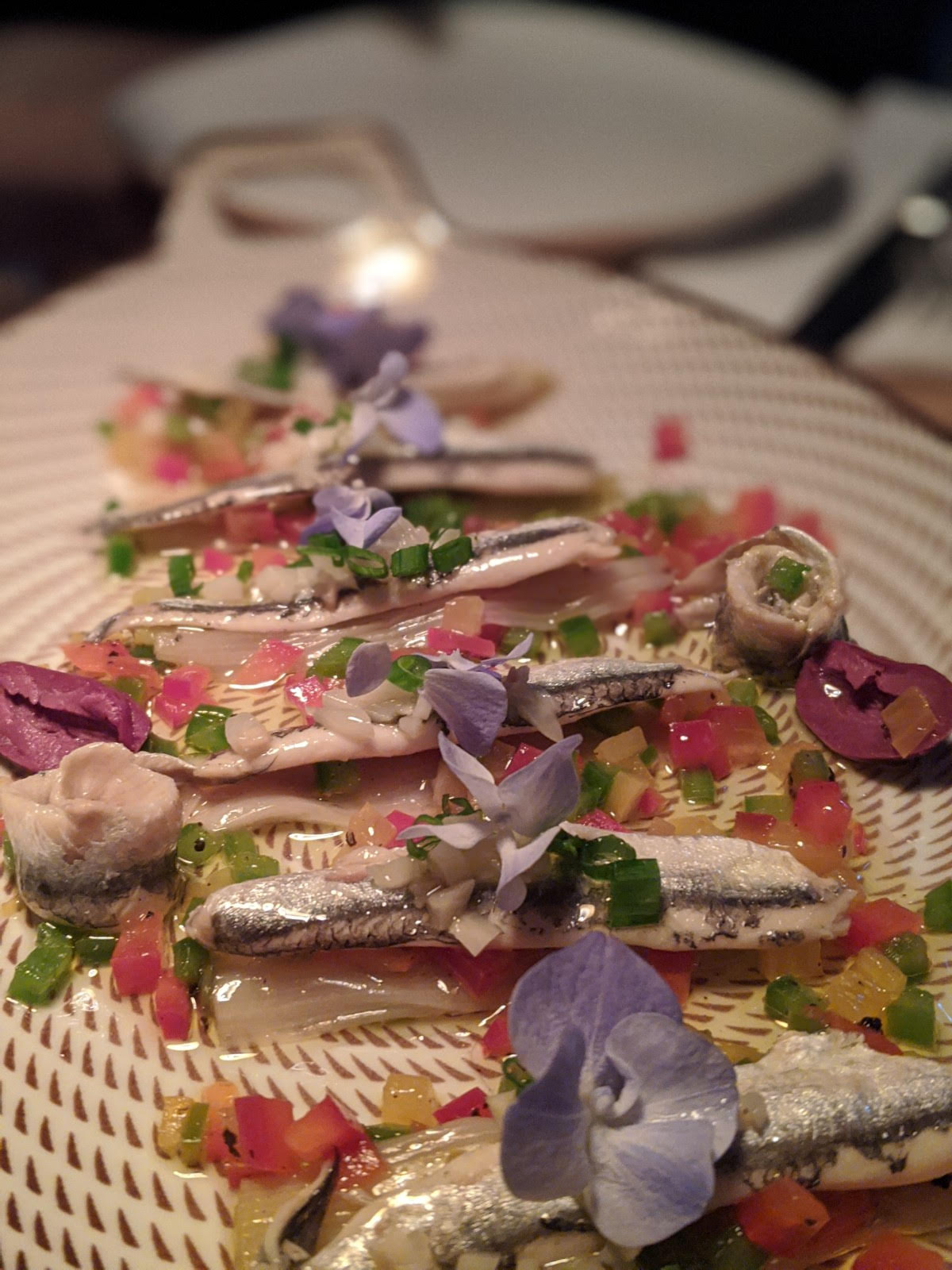 The anchovies were by far the prettiest dish of the night. I guess they had to jazz it up for such a simple dish and I do appreciated the effort. There was a mix of red, green and yellow peppers, purple flowers and olives. The flower did not have much taste but the colour anchored the plate. The anchovies were of the right acidic balance and savoriness. It was a plate to behold.
Beef Skewers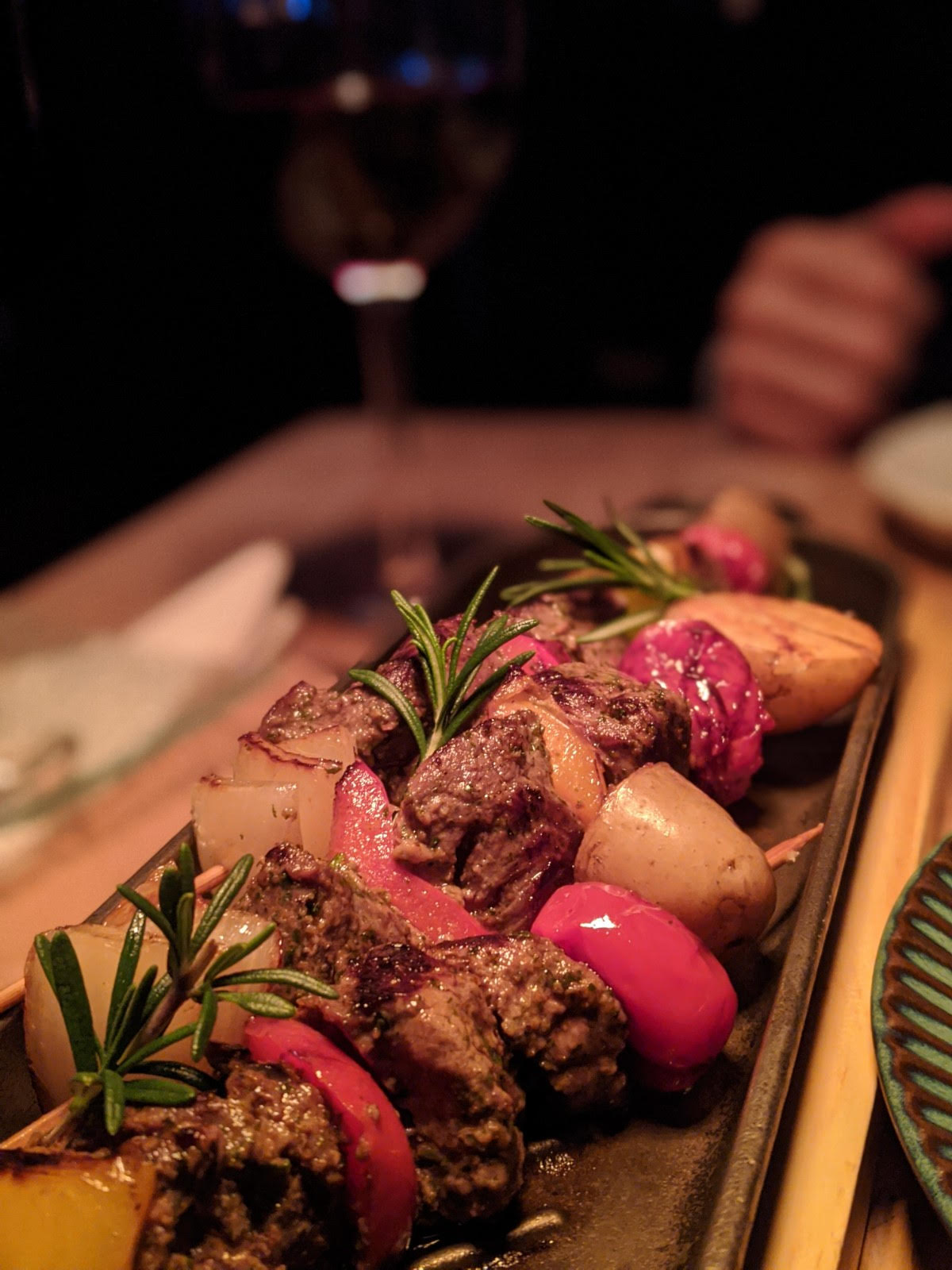 I really like how they did up the presentation for this too. There was a nice mix of colour from the capsicum and the green rosemary leaves. The meat was juicy and the flavours were really good.
Tortilla and chorizo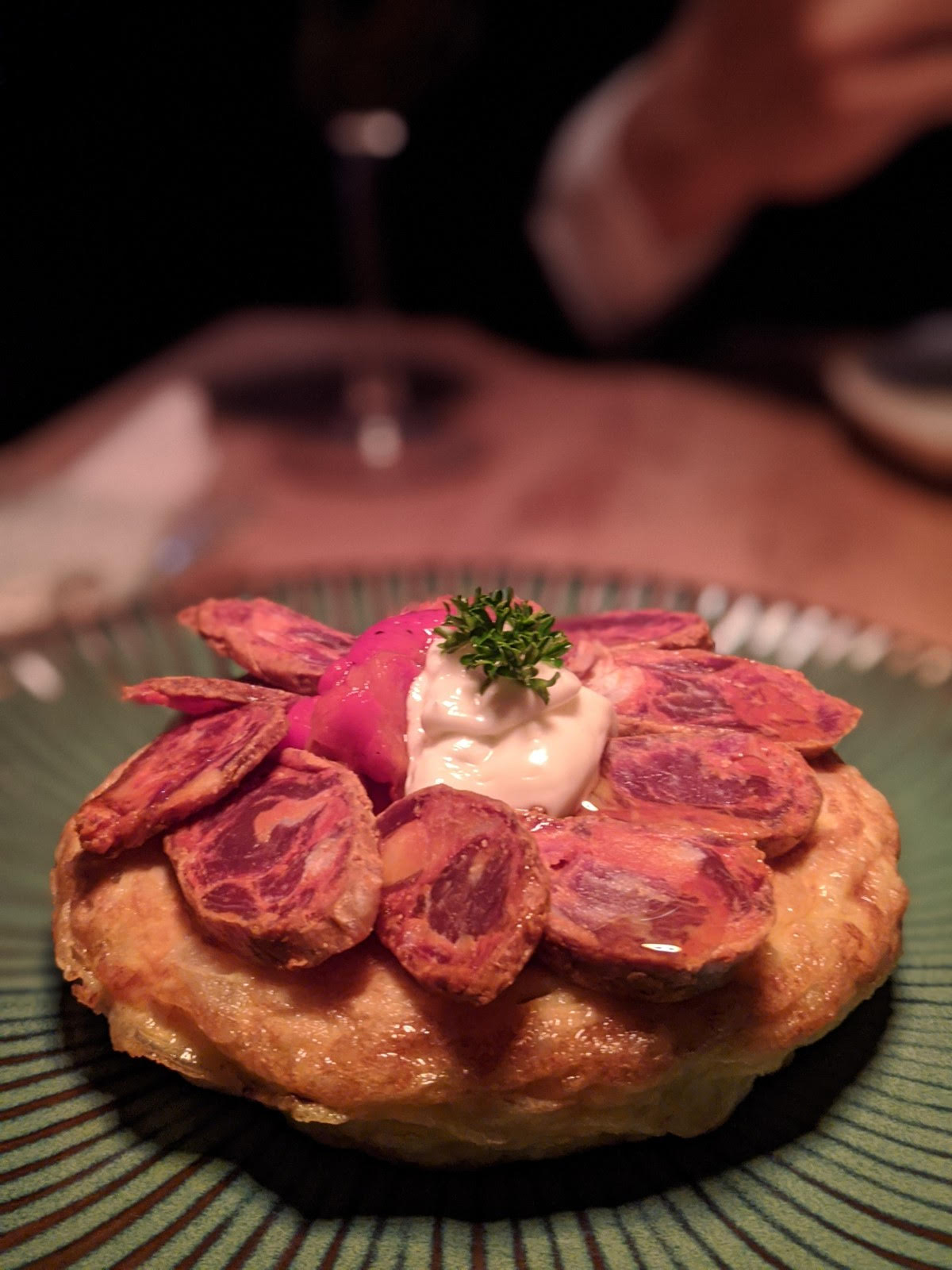 I personally thought the chorizo in this dish could have been cooked a tad longer, but it was still a tasty meal. To be honest, we might have over-ordered as I was pretty full from the tapas at this point, and we still had a paella which was about to be served.
Seafood Paella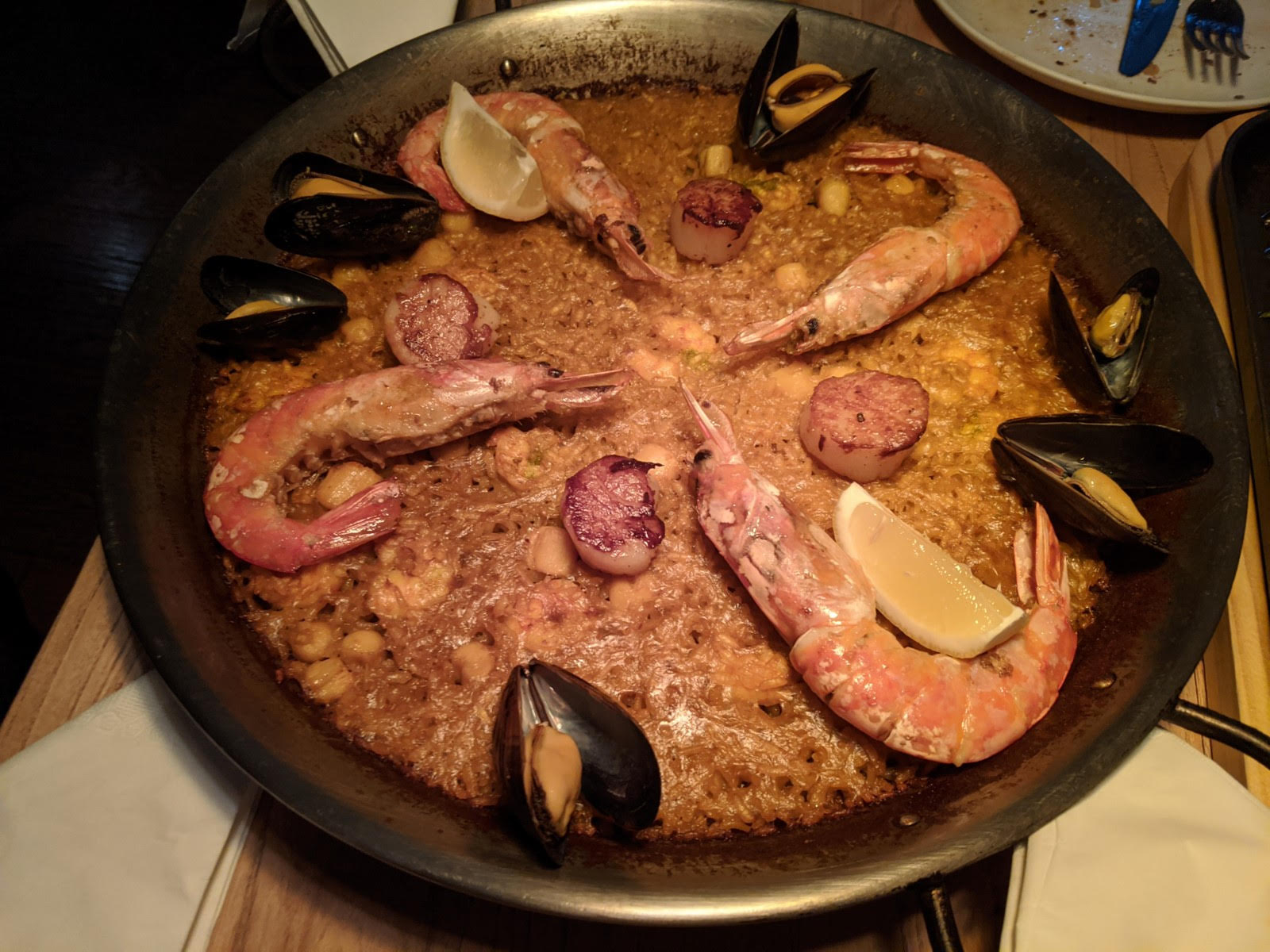 The paella had really good flavours though I thought that the base could be a tad crustier. Typically, I like rice which had harden at the bottom (hard but not charred yet) and I thought the texture could be improved. Other than that, the dish  was quite a wholesome one, with a good balance of scallops, prawns and mussels. I love making paella back in Singapore this dish made me seriously consider buying a paella pan on JD.com or Taobao.
The Travelling Squid's Take – Visit Niajo for good Spanish food in Beijing
The whole meal set us back by about RMB1,200, which was a little on the high side as we had ordered wine. Other reviews said that a meal typically cost over RMB700 for a meal for two without a bottle of wine. While the food was priced a little on the high side, I did enjoy the flavours and most importantly the plating for the simple dishes. Therefore, if you're looking for a place to celebrate a special occasion, do visit Niajo for good Spanish food in Beijing.
***
Visit Niajo for good Spanish food in Beijing
Address: 3rd Floor Nali Huayuan (Nali Patio)
81 Sanlitun Bei Lu, Chaoyang District
Beijing, China
北京市朝阳区三里屯北路81号
那里花园三层邮编100027
Tel: +86 010 5208 6052.
Website: http://www.niajo.com/ [For reservations please use this form: http://www.niajo.com/en/book]
Opening hours: Monday to Sunday, 12:00 – 22:30