Trekking in Ubud Bali at Penestanan and Sayan (Part 2) – Mystery of deserted houses
This is a continuation from: Photo story – Trekking in Ubud Bali at Penestanan and Sayan (Part 1)
The trek went on with me being mostly the only human around, especially at the initial paths. What got me really curious was the deserted houses along the way. Some were downright shabby, while others looked well maintained. But there was no one living inside. For some reason, the houses gave me a strong sense of foreboding. Why didn't anyone want to live there?  Why were there pieces of artwork outside the houses, but no artists around? It was a nice location, with the rice paddies, rushing river and good weather…
And the story continues…
Meeting a wild dog
Eventually I gave up and told myself there's got to be some trail on higher ground, and following the river just isn't going to be it. And I found the path. But just as I was about to continue, a black dog emerged from the path. I am not afraid of dogs but my previous run in with Bali dogs hadn't been very pleasant, and a wave of fear shot through my heart. It didn't move and I didn't move. I then looked away, and pretended that I was interested in it. It relaxed and trotted past me. I heaved a sign of relief and carried on.
The mystery of deserted houses
Along the way, I met an old man with a long following beard who was gazing across the river. Happy to see someone, I asked him for directions in my broken Bahasa Indonesian. He did not understand me. I gestured vividly in that direction, and I think he nodded his head. I can't remember. I continued on. Along the way, the path was as quiet as ever. I passed by many houses, artist villages which were empty. There were some paintings outside, but there was no one in sight.
Finally, a village with people
Finally, a village drew close. I was so comforted to hear the cry of babies and voices of families. A motorbike zoomed past me. I continued walking on. It was nice to see how the locals carried out their daily lives.
The Finishing Point for White water rafting (but not the end of the hike)
As I walked on, not knowing when I will reach the end, I heard gushing water. There's hope! I said to myself. Alas, I had come to a dike-like structure – and I saw humans! But they were right across me on the opposite bank. And there was no way I could swim over, so I had to turn back and continue walking along the trail.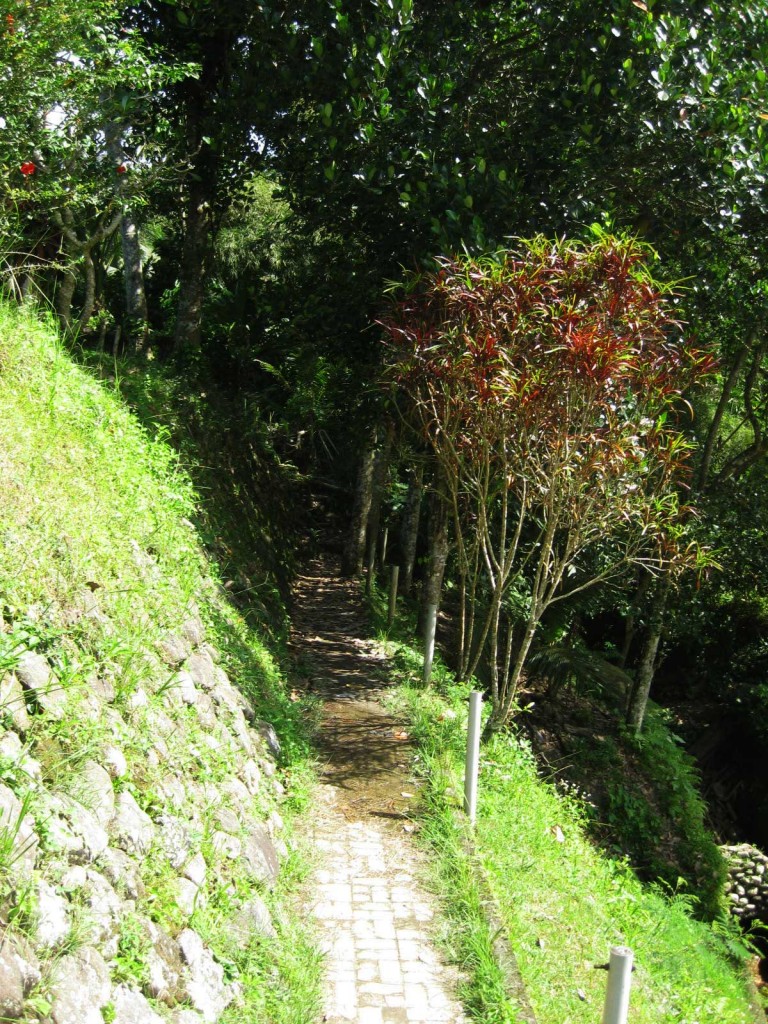 Finding the way to the main road
I know I said that I couldn't wait to get out of the trail and hit the main road, but the photos on the way out were really as breath-taking. The flooded paddy fields, Sungai Ayung from a different angle. It was worth it, looking back.
A school in Kedewatan
Thought I'll pop along some photos of a local school which I passed by along the way back.
Passing by local art stores
I also passed by some art stores. And sat down at a coffee place to REST.
Home Sweet Home
I enjoyed myself thoroughly, but I never felt so relieved and happy to be back. In spite of my gung-ho, adventurous self, these empty houses along the way did give me a sense of fore-boding for some reason, and I thank God that I found my way back safely. : )
If you ask me, would I be trekking in Ubud Bali at Penestanan and Sayan ever again? I would say yes, but with a companion or in a group. That's because I found my inner peace. And It tells me it needs the company of friends.