Four things to do with a 10 hour lay over in Helsinki
In the summer of 2014, Friend S and I had taken a Finnair flight to Barcelona. It was the cheapest flight available. The only catch was that it had a 10 hour lay over in Helsinki, even after discounting the time for disembarking and boarding. Our flight arrived at 6.35am in the morning and departed at 5.25pm on the same day.
And we thought, rather than hanging around at the Helsinki airport waiting for time to pass, why not pay a visit to Finnish capital? And I must say, it was very worth the €5 return bus ticket from the airport to the city.
Here are four things to do with a 10 hour lay over in Helsinki:
1. Have breakfast at the Kauppatori market
The Kauppatori jetty is where you can take a ferry to the Suomenlinna Fortress. The Sea Fortress of Suomenlinna is a 15 minute ferry ride away. Before you head to the fortress, grab a coffee and some pastries at one of the market stalls.
If you arrive at Kauppatori at 8am in the morning, you will see shopkeepers busy setting up their stalls, with all types of food and fruits – think fresh blackberries, strawberries and blueberries as well as souvenirs like towels, scarves and key chains.
To get to Kauppatori, take bus 615 or 620 to Rautatientori (Railway Square). You don't have to worry about when to get down because it's the last stop. From Rautatientori, getting to the harbour can be quite straightforward. It will be easy with the use of Google Maps. Cache a copy of the offline map before you set off.
If you manage to locate the Järnvägstorget road, head south and walk straight until you see the huge departmental store Stockmann. It took us time to locate that road, and we enlisted the help of a Finn who was very nice and could speak English very well. Kauppatori is a well-known place in Helsinki, therefore you shouldn't have difficulty asking for directions.
2. Visit the Sea Fortress of Suomenlinna
Suomenlinna is a historical sea fortress, which is a lovely place if you're into nature, a bit of history stuff and cannons. And what's important, is the presence of some very cool hobbit houses. If you're a Lord of the Rings fan and love Hobbits, you'll totally love it.
3. Indulge in some seafood at the Kauppatori market for lunch
We were wandering around Suomenlinna, looking for a place to eat. Unfortunately the restaurants were not open before 12pm, and we were really, really hungry. We decided to head back to the city for a large bite. And the seafood stall at Kauppatori did not let us down. Friend S ordered a salmon steak and got a really big portion. I ordered a Mediterranean platter which came with small crispy fish, potatoes, and roasted vegetables. It costs us €11- €13 (~SGD20) for each platter.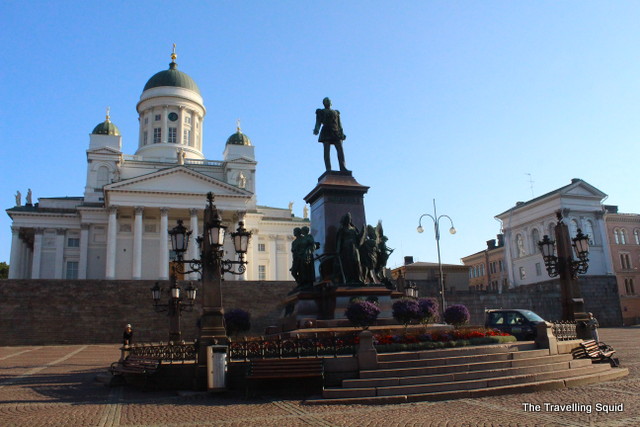 4. Visit the Helsinki Cathedral at Senate Square
If you are tired from the plane ride and have no energy to enter the Helsinki Cathedral and explore, it's fine. Nonetheless, the Helsinki Cathedral is still worth a trip to take some photos from the outside. Arrive before noon because thereafter, the place might be swarming with tour buses and tourists.
You will pass by the Senate Square on the way back from Kauppatori, to take the airport bus from Rautatientori.
* * *
The Travelling Squid's Take
We had more than enough time to arrive comfortably at the airport, even after accomplishing these four activities. There was enough time to have a break and take a sip of water before heading on to the next flight.
I wouldn't recommend a transit flight with such a long lay over, especially if you have limited time and don't sleep well on planes. But if you ever find yourself in such situation, it's worth making a trip to the city. Helsinki has so much to offer. It may bear semblance to other European cities, but on a closer look, you will be pleasantly surprised.