Must-try: The El Quim de la Boqueria tapas bar in Barcelona
This a continuation from: Photo Story: Exploring the famous Spanish market La Boqueria.
We learnt about El Quim de la Boqueria from Tripadvisor – it was one of the most recommended eateries, with a rating of 4.5/5. And we thought, for the best of tapas in Barcelona, why not give it a shot? El Quim de la Boqueria certainly did not disappoint. We ordered simple dishes like anchovies and escalivada and they tasted really great. We also spotted customers having wagyu beef and they looked like they were having a great time.
 The question is not whether you should eat at the El Quim de la Boqueria tapas bar in Barcelona, but what you should order.
Have patience!
El Quim is undoubtedly very attractive among tourists and locals alike. As most tapas bars are, it is much smaller than a restaurant, but big among its peers. This accommodates 18 stools at one time only. So either go really early, or prepare to wait for about half an hour. But your patience will be rewarded.
If you are wondering about the name El Quim, Quim is actually the name of the owner. He wasn't there when we visited, but he is quite popular in the food circles in Barcelona I must say.
Do enjoy the pictures, and scroll to the end, because we have some recommendations on what to order.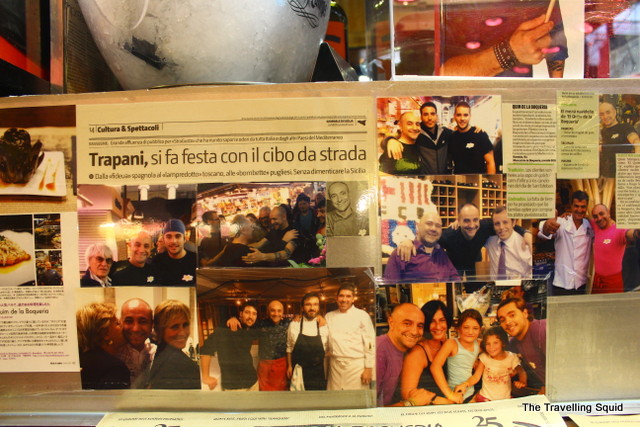 At the bottom right photo, El Quim is the one on the far left.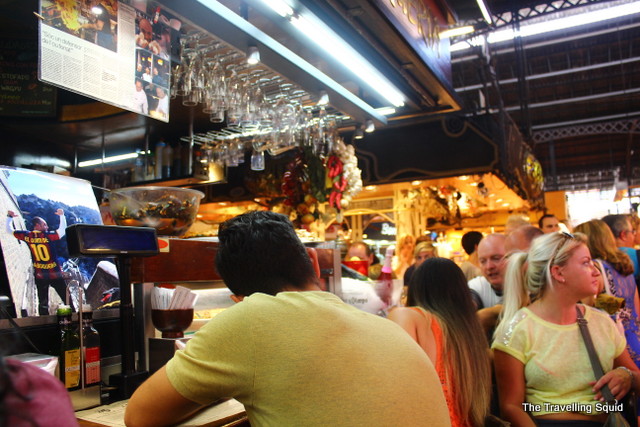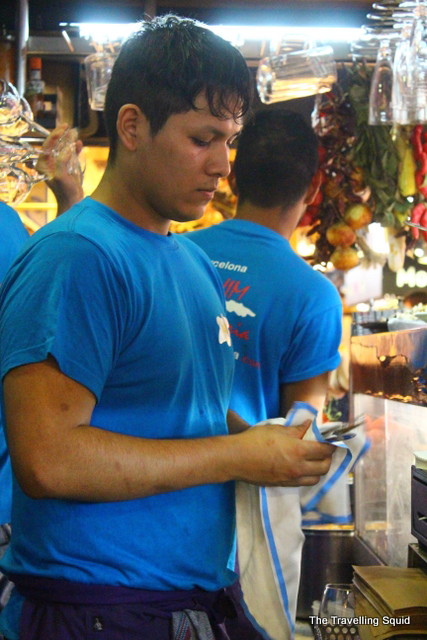 Our choice of drinks/ tapas
 Sparkling wine – brut and rose – €3 per glass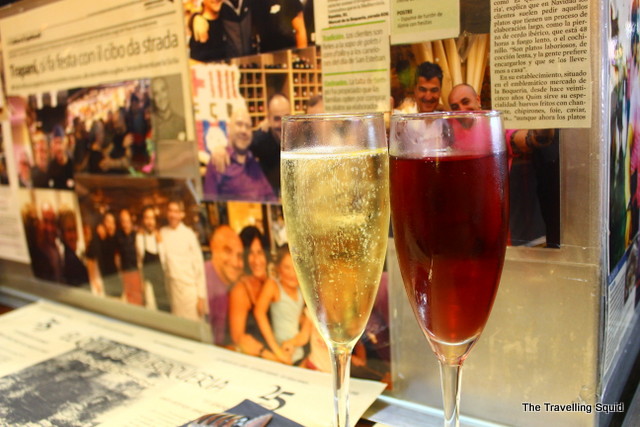 The wines were nice. I preferred brut though – it's unsweetened and taste like how wine should be, with gas.
Fresh anchovies in vinegar – €7.95
This is perhaps my most favourite dish of them all. The anchovies were really fresh and went very well with the vinegar sauce. The olives come with pits but were nice nonetheless.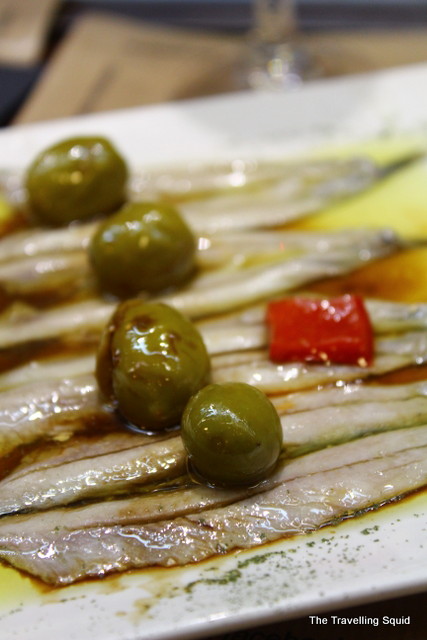 * * *
Escalivada – €7.50 
According to Lonely Planet, Escalivada is one of the must-try tapas on the list. And it did not disappoint, (though I was hoping for some semblance of meat in it.) Nonetheless, think of Escalivada as a salad with a Spanish touch. Red peppers and aubergines are arranged according to layers in this dish. I really admire the plating process – how did it stack up so well together?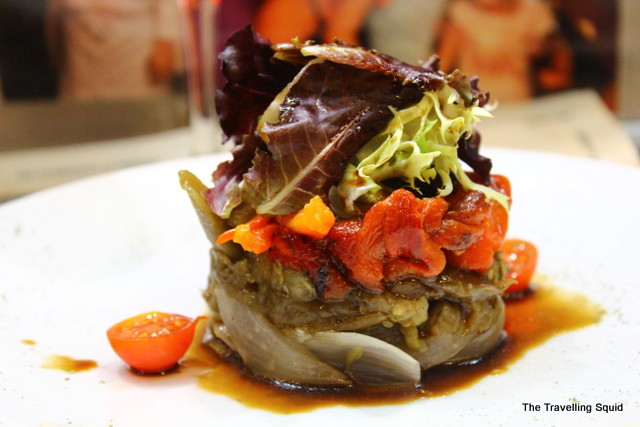 * * *
Croquettes – €0.95 per piece
To be honest, I think it is hard to go wrong with a croquette, and most tapas places in Spain served pretty decent Croquettes. If you visit El Quim de la Boqueria, you should be saving the stomach for more than just croquettes. Think fresh seafood or Wagyu Beef – it's more worth the trip that way. But definitely, the croquettes make good bar food, especially when taken with sparkling wine or beer.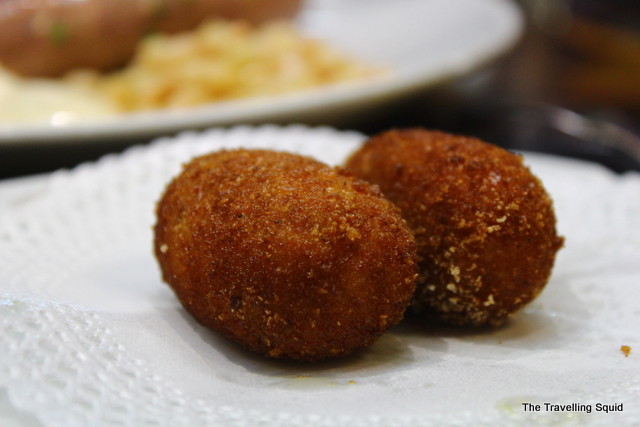 * * *
Butifarra sausage with beans and garlic sauce – €7.50
To be honest, this Butifarra sausage was a little bit disappointing, because it felt like any normal sausage that could be bought at home. I did a little bit of research and it does seem that Butifarra sausages are an important dish in Catalan cuisine. They are also served with beans.
It does seem that from the picture, the sausage was of the white butifarra type. And it did go well with beans. It's just that we would have preferred something a little more exotic with a Spanish touch. This felt almost American.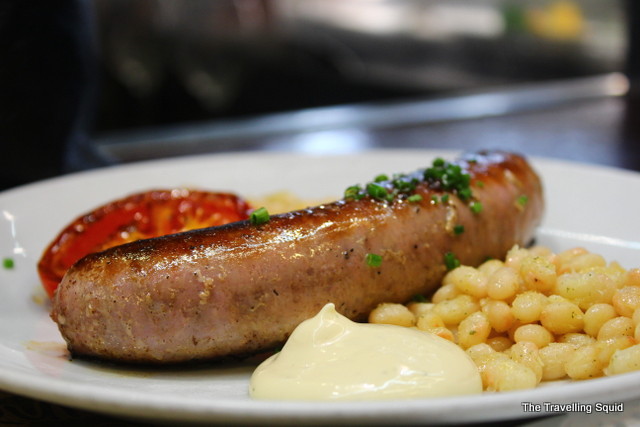 * * *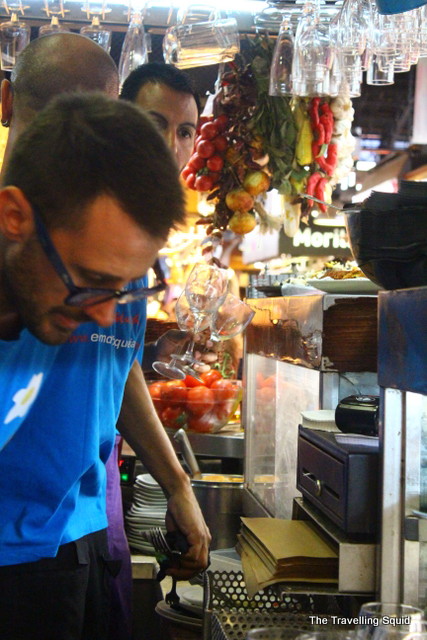 The Travelling Squid's Take
Based on our observation of what people have ordered, El Quim del la Boqueria does well with seafood, meats and authentic Spainish dishes. As mentioned earlier, maybe it's better to leave the orders of the more simple dishes like croquettes and tortillas to some other time. Instead, let go of the purse strings and dig into 'Chef Aitor's wagyu beef cutlet' (€24) (it looked very good when someone ordered), prawns in garlic with cava reduction (€19), red tuna with soya and seasame reduction (€18)  and the Quim's Super Burger with foi gras (€23.95). These are under 'Specialities' in the menu, so take your time to go through it.
The El Quim de la Boqueria tapas bar in Barcelona
Opening hours:
Tuesday to Thursday
7:00 a 16:00 h.
Friday and Saturday
7:00 a 17:00 h.
Closed Mondays, Sundays and holidays.
No reservations are accepted.
Address: 
Stalls 584-585-606-607-608-609
Boqueria Market
Rambles 91
For more information, please visit: http://elquimdelaboqueria.com/. The website is available in English, Catalan and Spanish.
Bon appetit!