Top eight things to do at Barceloneta Beach in summer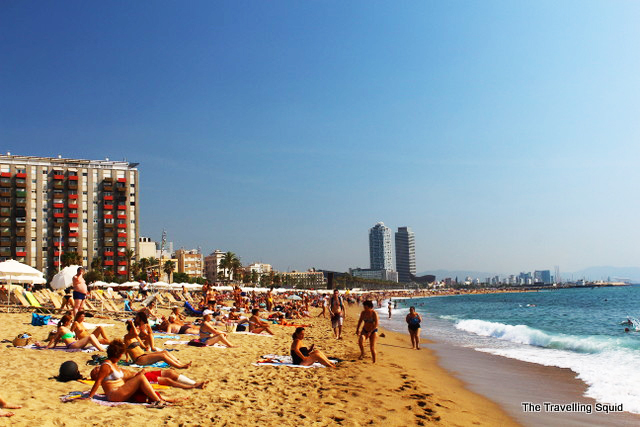 If you think that the Barceloneta beach is just like any ordinary beach, think again. In the previous post, '10 interesting sights to see at Barceloneta Beach', I said that it is a must go, even for those who come from countries with 365 days of summer.
How long should I spend at Barceloneta Beach?
It really depends on you – as mentioned, if you come from a tropical island like Singapore, the appreciation of the sun shining across the Mediterranean Sea may be less from someone who has to go through three-quarters of the year living in single digit temperatures. The question would then be – do you want a tan? If it's yes, I'm guessing you need about 3 hours for some results to show.
Simply just pop in the essentials for a beach holiday (topic for a next blogpost) into your backpack, and take the metro down to the Barceloneta station. You'll find the Mediterranean right before your eyes after a 10 minute walk.
Here are top eight things to do at Barceloneta Beach in summer – have fun!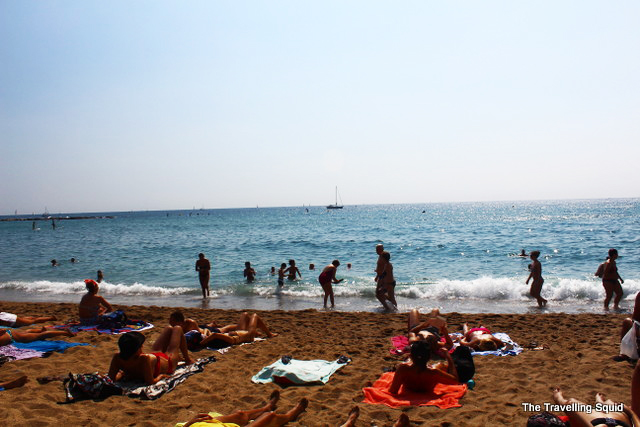 1. Get a tan
This is the most obvious thing to do, and really because 90% of people are there to do that. It's simple, just pull out a towel or beach mat, remove your outerwear to reveal your sexy new swimsuit or board shorts, relax and enjoy the sun.
Girls, this is the best time to get an even tan. After all, it's most unlikely you're going to be meeting your mum's friend, or your work colleagues at the beach, especially if you're from a country outside Spain.
However, if you hail from a land of perennial summers and do not want to get freckles or any more darker, you can still engage in other activities while your friends get a tan.
* * *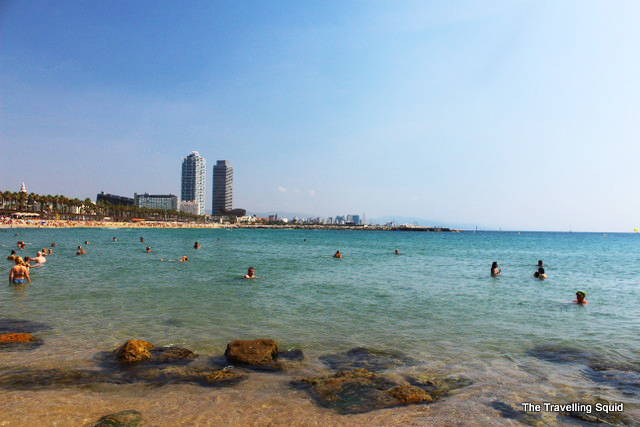 2. Take a dip
With the waters so clear and cool, take a dip to escape the summer's heat. Or at least let the foam of the waves wash up against your feet. It's really nice. There are bathing facilities available, though they are a little crowded. Make sure you bring the essentials – a clean towel and a change of clothes.
* * *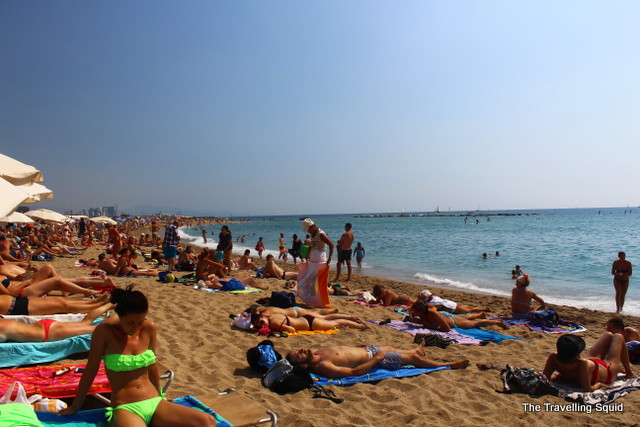 3. People watch
It's much easier on the eyes if you have a pair of sunglasses for this. Sunglasses not only reduce the glare, but helps make the people-watching much less obvious. Guys, if it's your first time to a beach in Europe, you're in for some serious eye candy. Just remember not to be Mr Obvious – close that mouth and keep in the drool.
* * *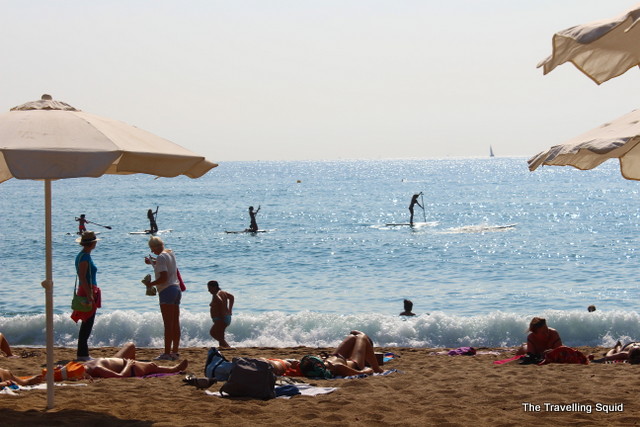 4. Do some water sports
There are lots of options available. When we were there were people engaged in paddling (it's like a kayak, only standing up) and parasailing.
* * *
5. Read a book
If you're waiting for the tan, why not read a book instead? Just take out those shades and cover your face in the shade of an umbrella. Sipping a glass of margarita while reading romance novels can be quite a 'chic' way to spend the day.
* * *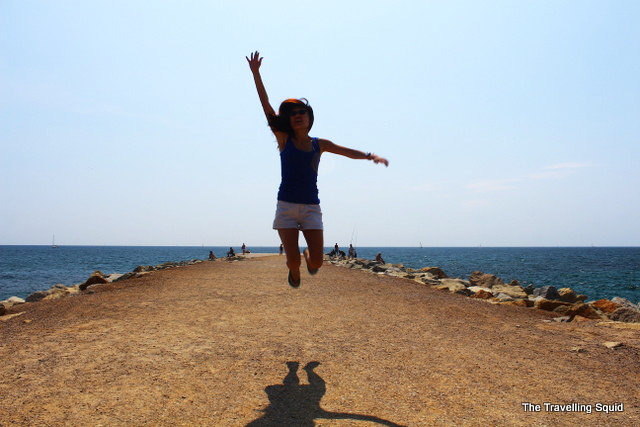 6. Take a jump shot
Fancy a shot with the Mediterranean sea as the backdrop and the sun in your hair? The Barceloneta Beach is the best place for this. Other alternatives include taking a we-fie (group selfie) or forming letters in the sand with your hands and legs. Very cool.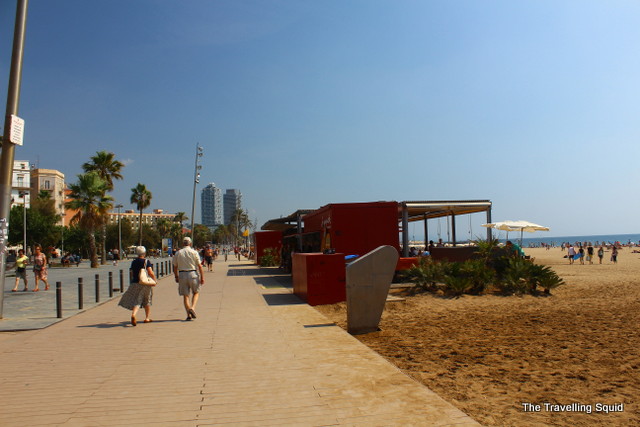 7. Go running
Beyond the sandy beaches, we spotted a nice stretch of concrete pavements suitable for a long jog. It's about 1.1km in length, so you are bound to get a hearty workout while taking in the cool sea breeze. The best times to jog in summer are around 9pm, when the sun is just about to set.
* * *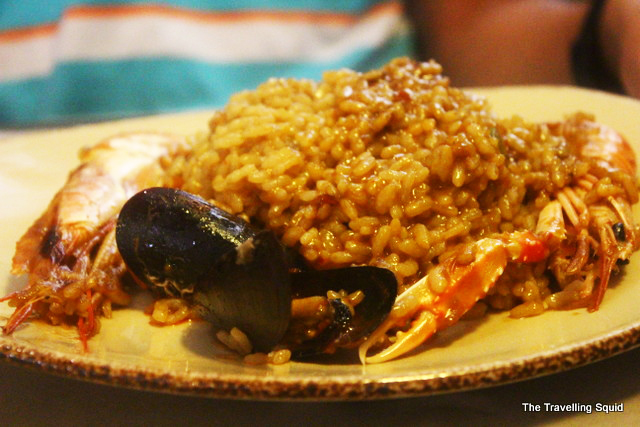 8. Have a paella
Unless you're a frequent visitor to Barceloneta, make time and money for a paella. We had Spain's best paella at the restaurant Can Ros. It was amazing – the rice had the freshness of the Mediterranean and the seafood was sweet and succulent. It was the best dish I had during my trip to Spain.
* * *
 Have you been to the Barceloneta Beach in the summer? Are there places you would like to recommend? Please drop a tip in the comments section below.