Five reasons why shopping at Rua Augusta in Lisbon is not boring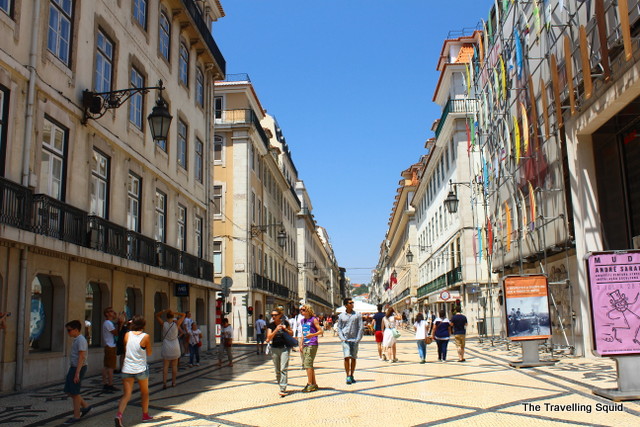 According to Wikitravel, the pedestrian street Rua Augusta has the most boring and mass-visitor tourist stores, including several European chain clothing stores like Zara, H&M and Campers.
For someone who spent two hours on that very street, including a 1.5 hour shopping stint in Zara, I had a very different experience – thrilling if you would call it.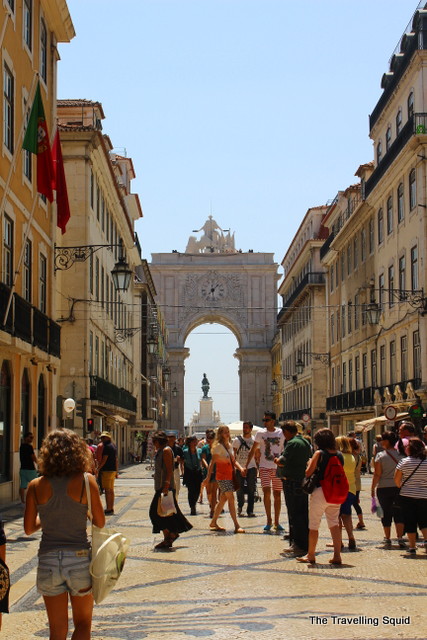 Apart from shopping, which makes Rua Augusta a dream destination for tourists on the lookout for big European fashion brands, there were other reasons why I enjoyed strolling along Rua Augusta, and even started getting worried that we may not reach the end – to Praca do Comercio. Here are five reasons why shopping at Rua Augusta in Lisbon is not boring – in fact I would go as far as to say that it's one of the most lively shopping streets in Europe.
1. The kickass band from Portugal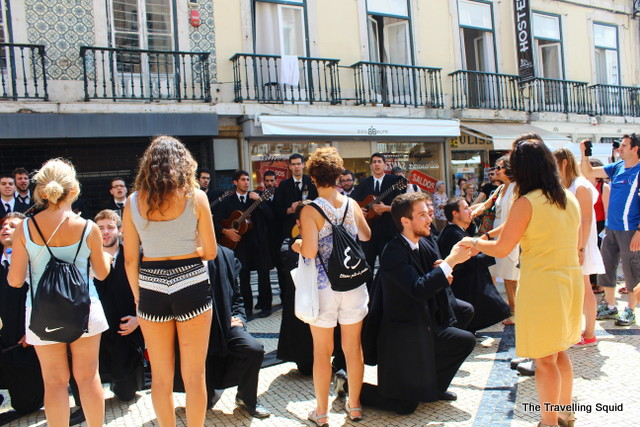 As we were walking along Rua Augusta, we heard the sounds of a guitar in the background. Looking in front, a crowd had gathered and a group of 10 – 15 men had gathered around in their suits, tie and overcoat that one hot summer's day.
The performance starts off with the band leader sharing about the group – I have forgotten the name but these guys are pretty young I must say. He also talked about the two songs that they were going to sing.
But what was most interesting is that halfway during the song (which was in Portuguese), the men in the front role went down on one bended knee, to hold the hands of the ladies who were standing in front (see picture). It was a really pretty sight, because in Singapore, I'm guessing the ladies would have probably had a shock of their lives (yours truly included) and probably back away with a few steps and dissolve into the crowd.
But these ladies, Portuguese and tourists alike, gamely let their hands be held by the charming Portuguese singers until the song ended, to a rousing applause. It was a very nice gesture. I mean it's not everyday that you walk along the streets and a charming gentleman with a good voice comes and holds your hand on a bended knee.
I'm not sure if it was acoustics of the street, but the singing made me feel like I was back in Lisbon in the 1970s. It was nice.
2. Zara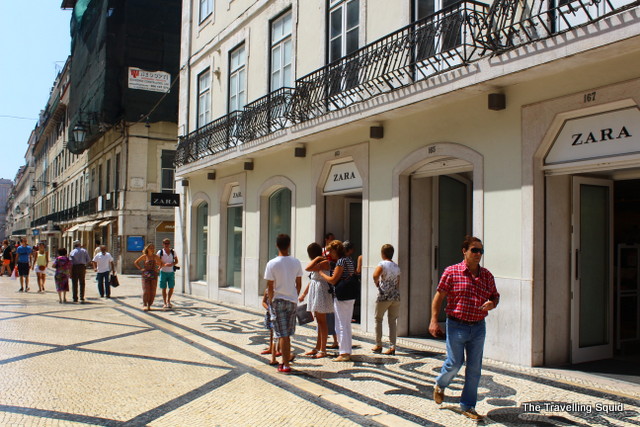 If you're living in Europe, you may not understand this. But the cost of Zara items in Asia is about 1.4 times higher than that in Europe, so for Asians visiting Zara outlets, it's a must-buy sort of situation. And with the summer sale when we were there back in July, it was like a godsend. After searching and trying out 9 different pieces, I settled with 6. I suppose that's why it took 1.5 hours.
3. Stores selling quirky stuff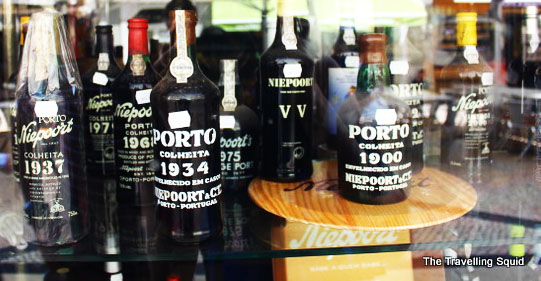 Unlike what Wikitravel has shared, Rua Augusta is not just about mass-market tourist brands. When we were there, we came across several shops selling the most interesting things. Think Port wine from 1900s. There was even a gigantic lobster/crab and oysters staring at us from the shopfront. I wouldn't say this is the place to have seafood though. It's a little too touristy and it may be overpriced. An awesome seafood restaurant recommendation will be coming up in the next few posts.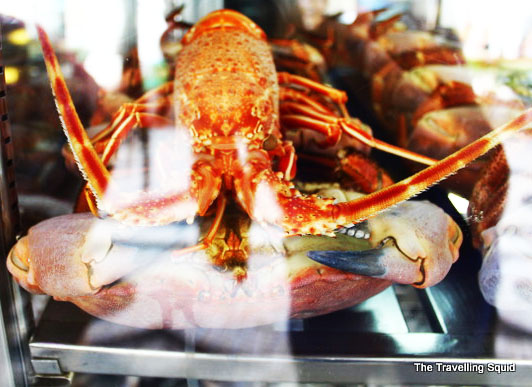 4. Cool street performers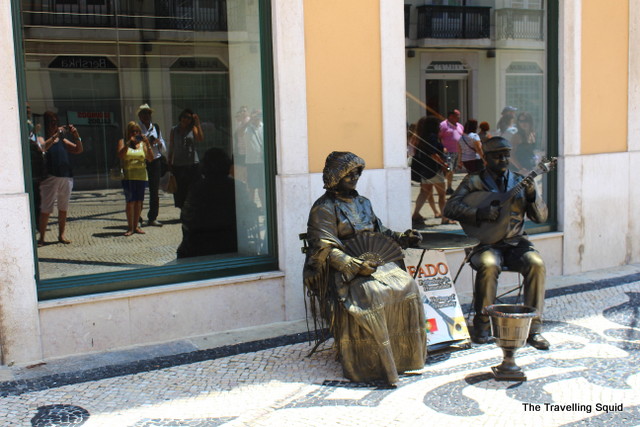 Street performing is not an easy art – you are faced with the elements – in this case it was the piercing summer's heat. And if your art is that of a still life, you can't really be wiping those beads of perspiration down your cheek, or scratch that itch on your chin. It's really an achievement to be there, and I salute these bronze couple, who remained still for as long as I was there to photograph them.
5. People watching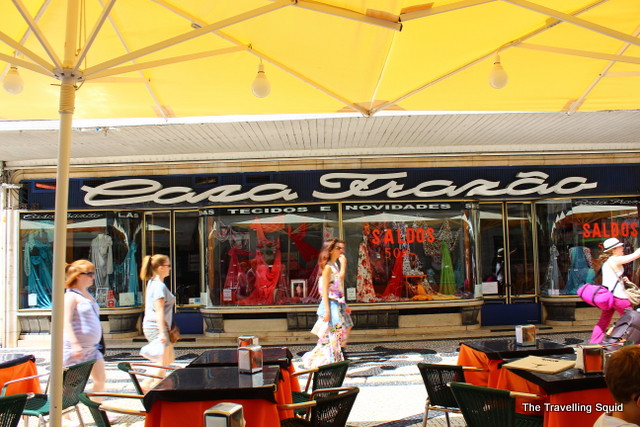 Be it on the beach, in a cafe and on the streets, people watching is always fun. And Rua Augusta, being one of the most frequented streets by tourists is a good place to nurse a beer while checking out the people who trot on by. People who contribute to the atmosphere of this seemingly over-commercialised street. While you're at that, be sure to appreciate the graffiti of the Pimenta shopfront too. I'm not sure who is Lars, but I have seen this signature several times in Europe.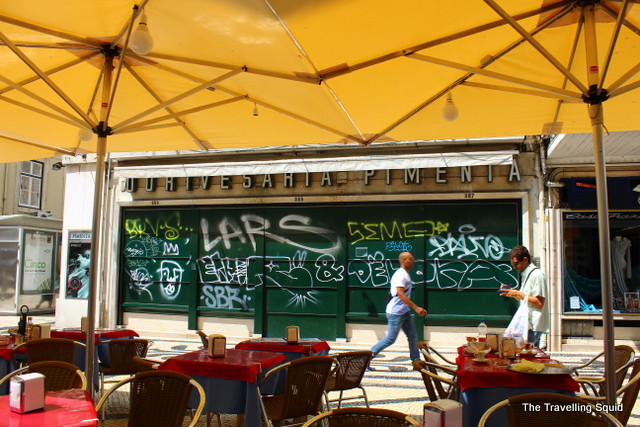 A tip – if you're thirsty, there's a vendor which sells a 1.5l of water for €2. You don't have much choice other than to buy from him as there is no supermarket in the vicinity.
Finally, after enjoying these 5 aspects, we close in on Praça do Comércio after two hours…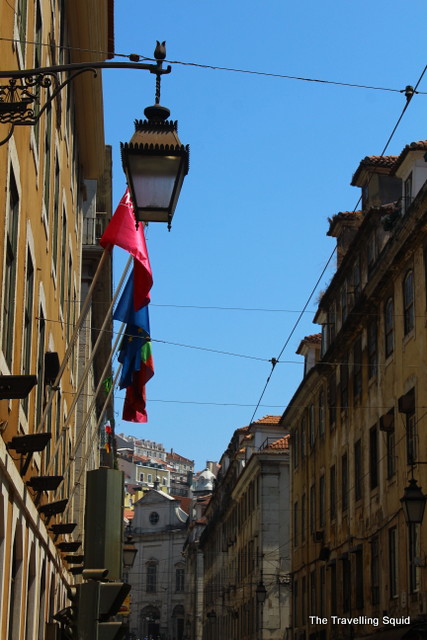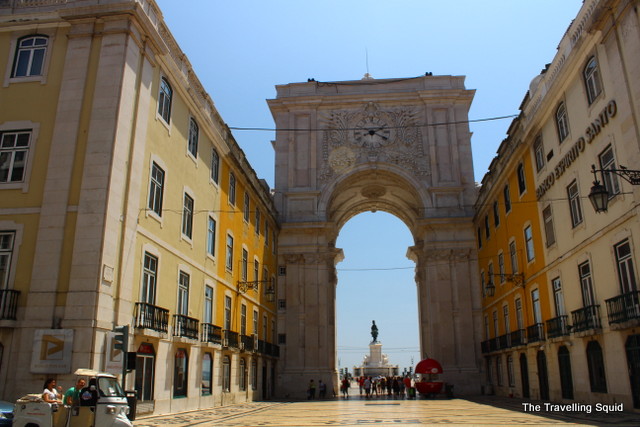 Stay tuned for what lies ahead at Praça do Comércio. 🙂
Have you been to Rua Augusta in Lisbon? If so, let me know what you think of it.