Photo Story: Is Diocletian's Palace in Split overrated?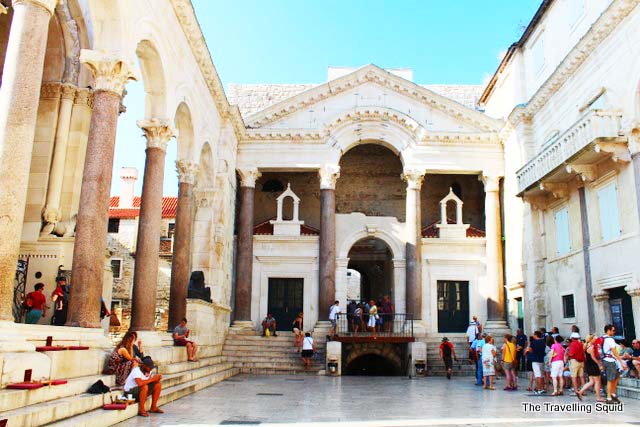 While researching on the places to visit in Split, all the guidebooks and websites were waxing lyrical about Diocletian's Palace. Lonely Planet called it 'one of the most imposing Roman ruins in existence' while The Independent said it was a 'fine place to get lost'.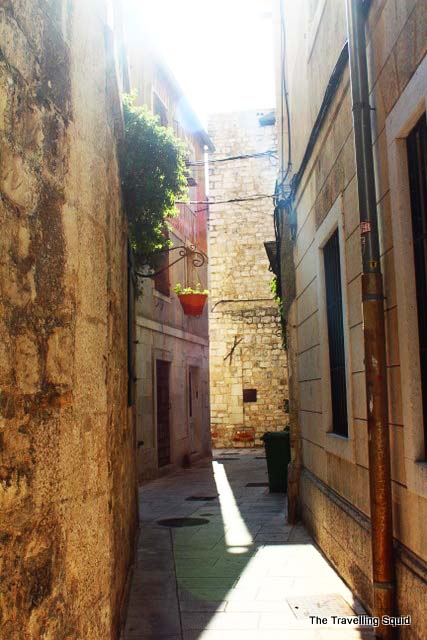 Well, for someone who has never been to Rome, the Diocletian's Palace was certainly an eye-opener. I felt like the comic character, Asterix, who had made my way from a faraway village to this mighty complex of century-old architecture. (Only that I didn't have my magic portion with me and felt sleepy at times.)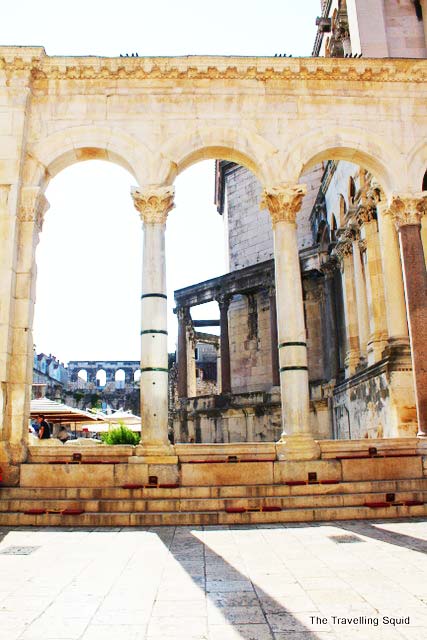 According to Wikipedia, Diocletian's Palace was actually built by the Roman emperor Diocletian for his retirement. It appears that half of it was for Diocletian's personal use, and the rest housed the military garrison. (Today, it's packed with shops (Prada, Zara and Pandora, you name it, they have it), and bars, which I mentioned in a previous post on the 'Top five things to do in Croatia in July', allows you to imagine yourself to be Roman generals at the Diocletian's Palace in Split. Sorry to digress, but here are three simple steps to feel like a Roman general at Diocletian's Palace: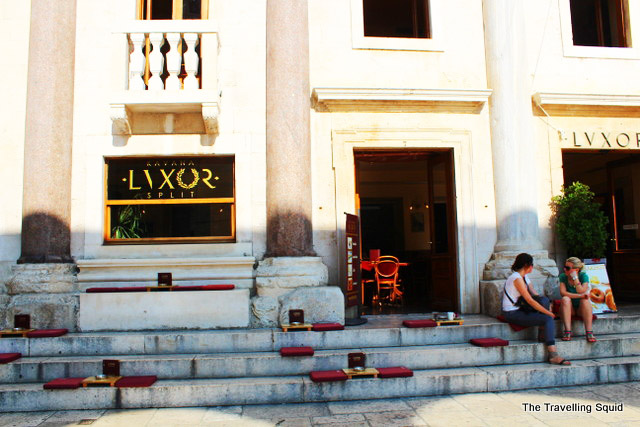 * * *
Three simple steps to feel like a Roman general at Diocletian's Palace
1. Wear sandals
Sorry for generalising, but Roman soldiers back then used to wear open-toe metallic boots. Sandals would do the trick in summer.
2. Bring some money or a credit card
Unlike ancient time, the wine served in the halls of Diocletian's Palace is not complimentary. Seat yourself at a restaurant, preferably on the steps of Diocletian's Palace to enjoy the view.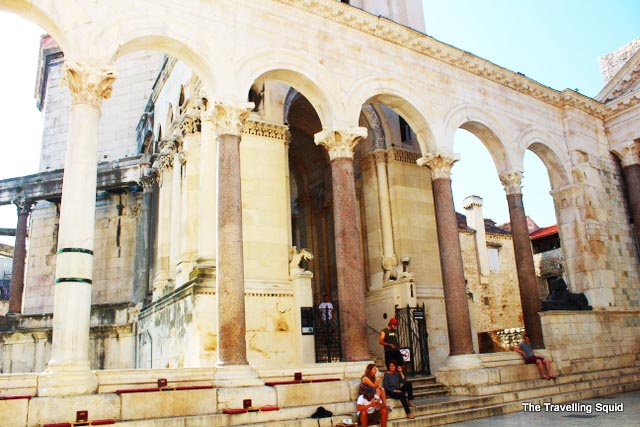 3. Use your imagination. 
With the aid of some red wine (assuming that is the beverage frequently drunk by soldiers during that era), anything is possible. It's best to go early. That way you can avoid the throngs of tourists and have some peace and quiet to yourself.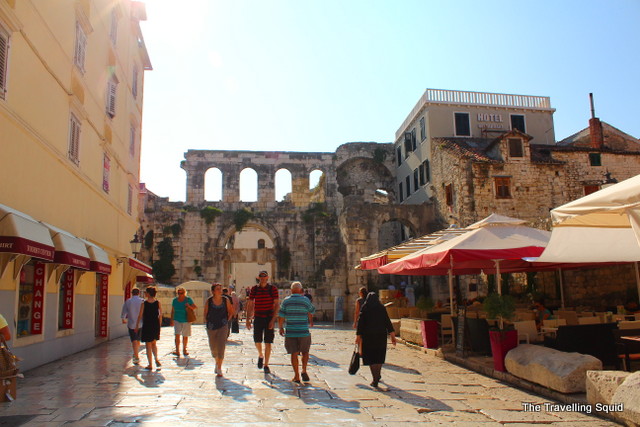 * * *
Musicians
I was lucky to catch a group of musicians singing at the bottom of the tower. The acoustics were great – you could hear the sound travel up and reverberate against the walls.
That being said, I would advise thinking twice when purchasing their CDs. The olden folk songs may resonate in an ancient monument like the Diocletian's Palace, but would you be playing it in your apartment in the city? Hmm…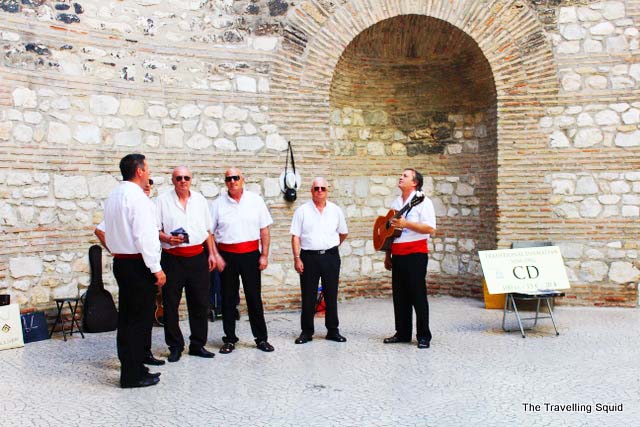 * * *
Cathedral and Bell Tower of St. Domnius
Admission to the Bell Tower costs approximately HKR10 (SGD2, USD1.45). The flight of stairs is really narrow and the steps are steep, so do think twice if you're claustrophobic. I remember the views to be rather picturesque, though I had to take them with my phone and I've since lost the pictures :/ It's worth heading up if it's your first time visiting the Diocletian's Palace.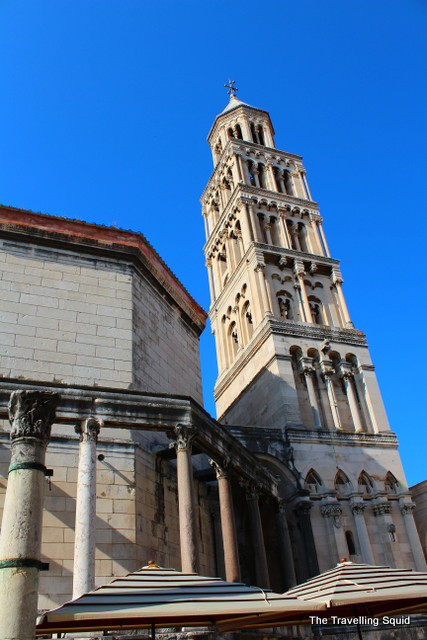 The Travelling Squid's Take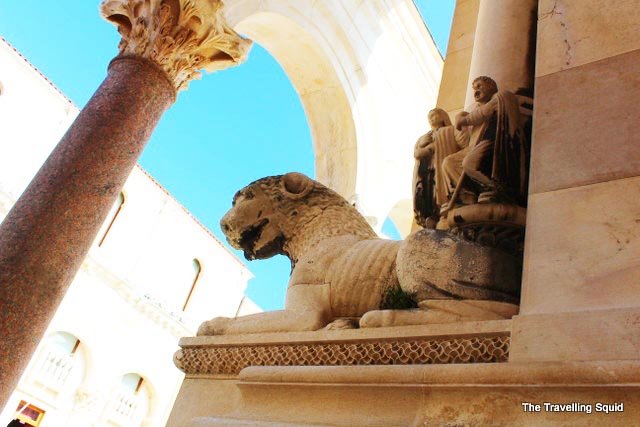 I am sorry to digress. I found the palace to very interesting architecturally, as I have not been to Rome before. I agree with The Independent that it's a nice place to get lost. The preservation work has retained a certain charm about the complex, and you feel that you're being brought back in time. That being said, Diocletian's Palace is not a place I would re-visit if I was back in Split. I would perhaps wander through the bazaars, but to pay an entrance fee to go up the bell tower? Maybe not.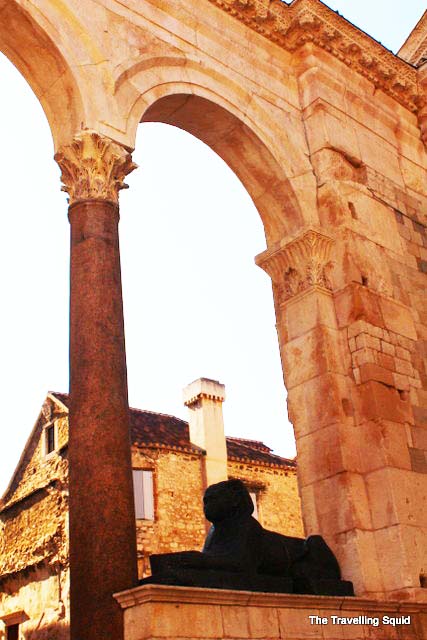 In my opinion, the Diocletian's Palace would be an eye-opener to someone who is new to Roman architecture. I'm not sure if it would be as awe-inspiring if you had been to Rome before and visited similar Roman palaces of similar stature and size.
Any thoughts? Watch this space for the post on the bazaar around Diocletian's Palace.