Visit Cairo Kitchen for great rotisserie chicken 
Cairo Kitchen reminds me of a cool hangout with friends. The decor is modern, bright and funky. We were there on a weekday night and it wasn't too crowded, perfect for a good meal and conversation. Here's why visiting Cairo Kitchen for great rotisserie chicken should be on your to-do-list.
We had Cairo Kitchen for dinner on the second day of our time there and it was good. Like Zooba, I am aware it caters to the foreigner's taste buds, but it's always nice to have something familiar. Unlike the other restaurant Taboula, which I will be writing about in an upcoming post, Cairo Kitchen serves a fusion of Western and Middle Eastern. Some of the specials we had there were rotisserie chicken, koshary and creamy meatballls. Our favourite was the rotisserie chicken.
Cairo Kitchen is the top 24 restaurant in Cairo, and is rated 4/5 stars on Tripadvisor.
The Food
As new visitors to Egypt, the menu was interesting and it helped that the food photography was excellent. We took sometime to mull over what to have. It was a weekday and the restaurant was not crowded.
Sides – soup and grain (2 additions for €19, and 3 additions for €24)
There was an option of ordering two more sides for our meal. We ordered the lentil soup and fereek, which is a type of Middle Eastern grain. It tasted like quinoa.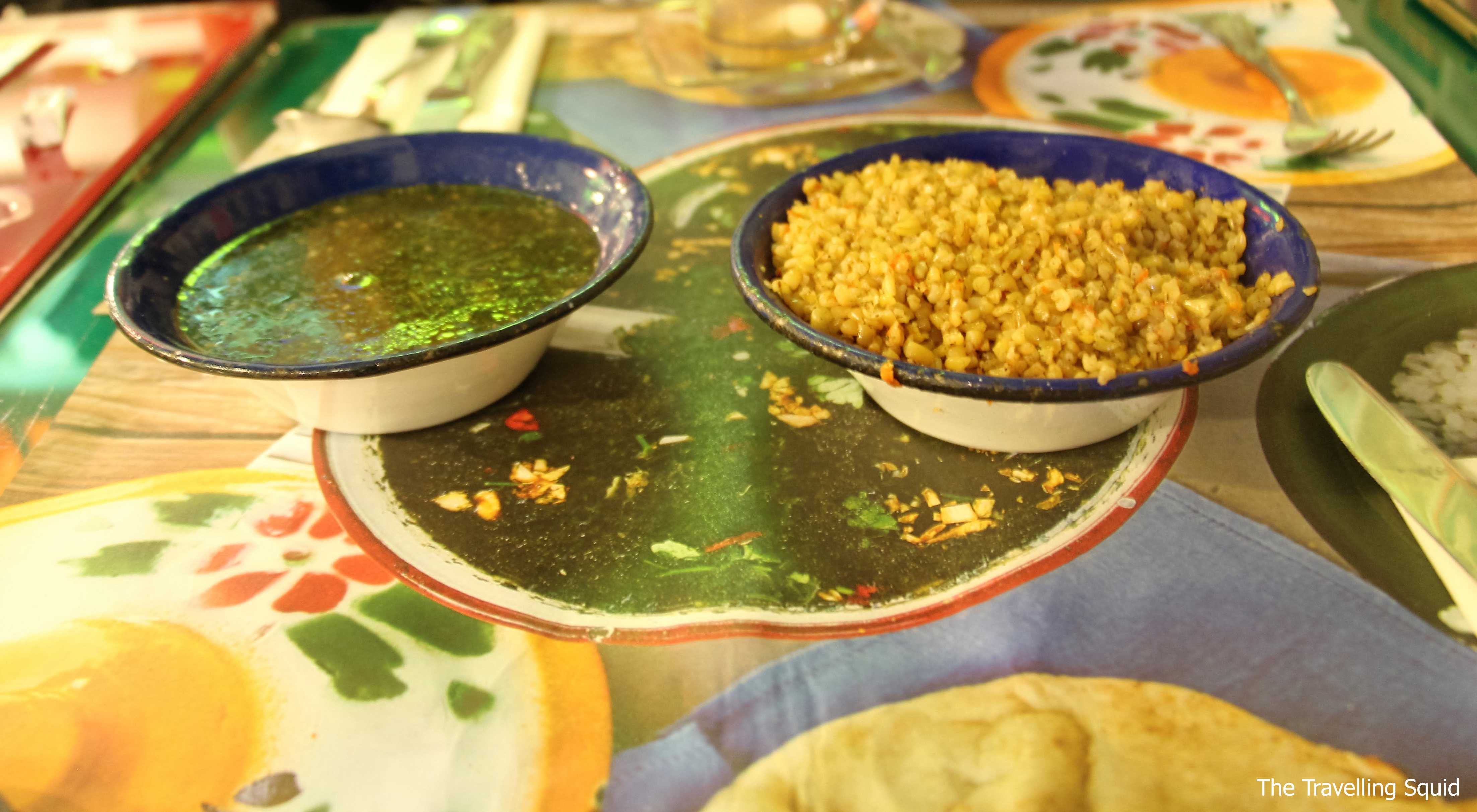 Koshary – €18 – large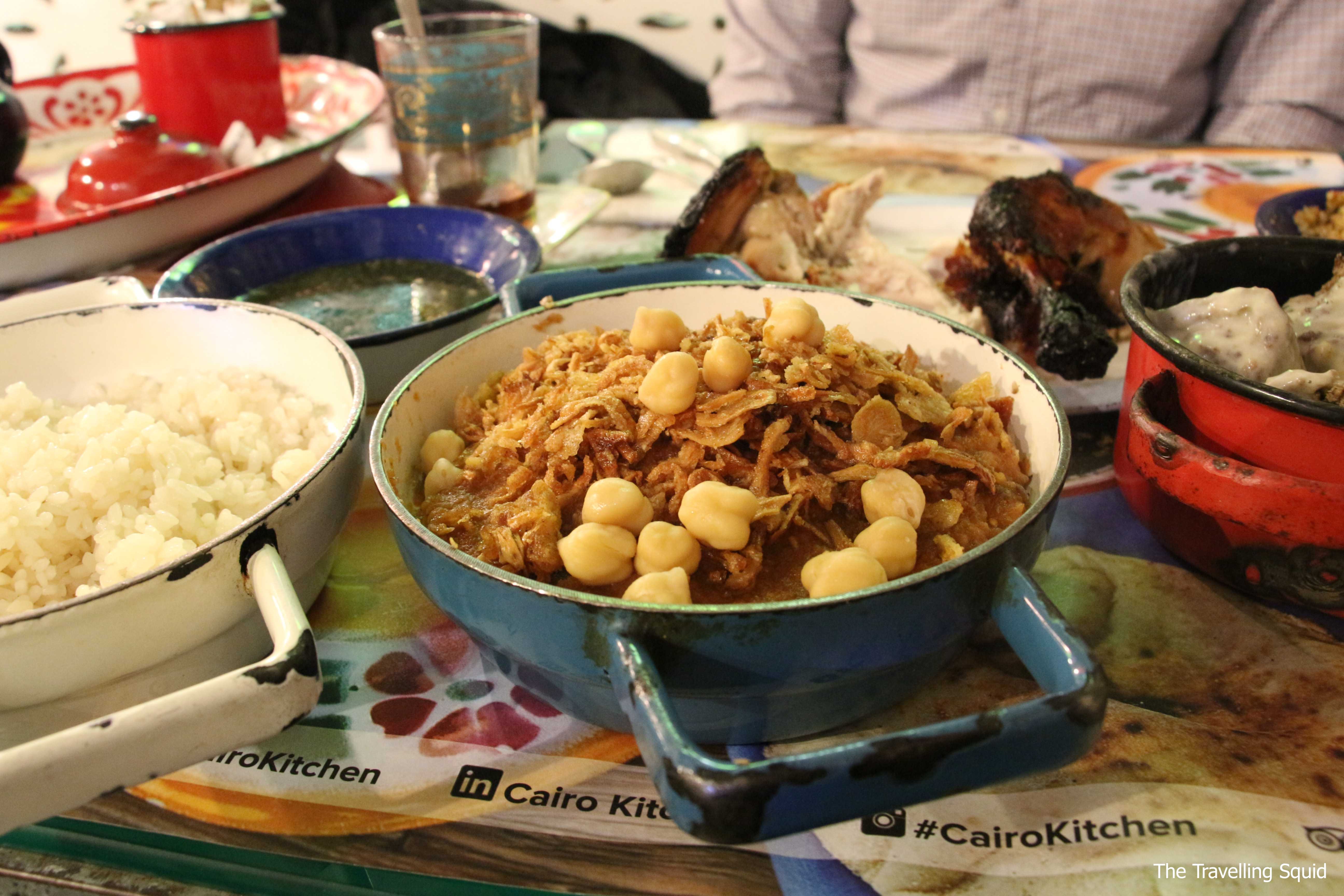 Meatballs – Kibbeh (couldn't find this on the menu)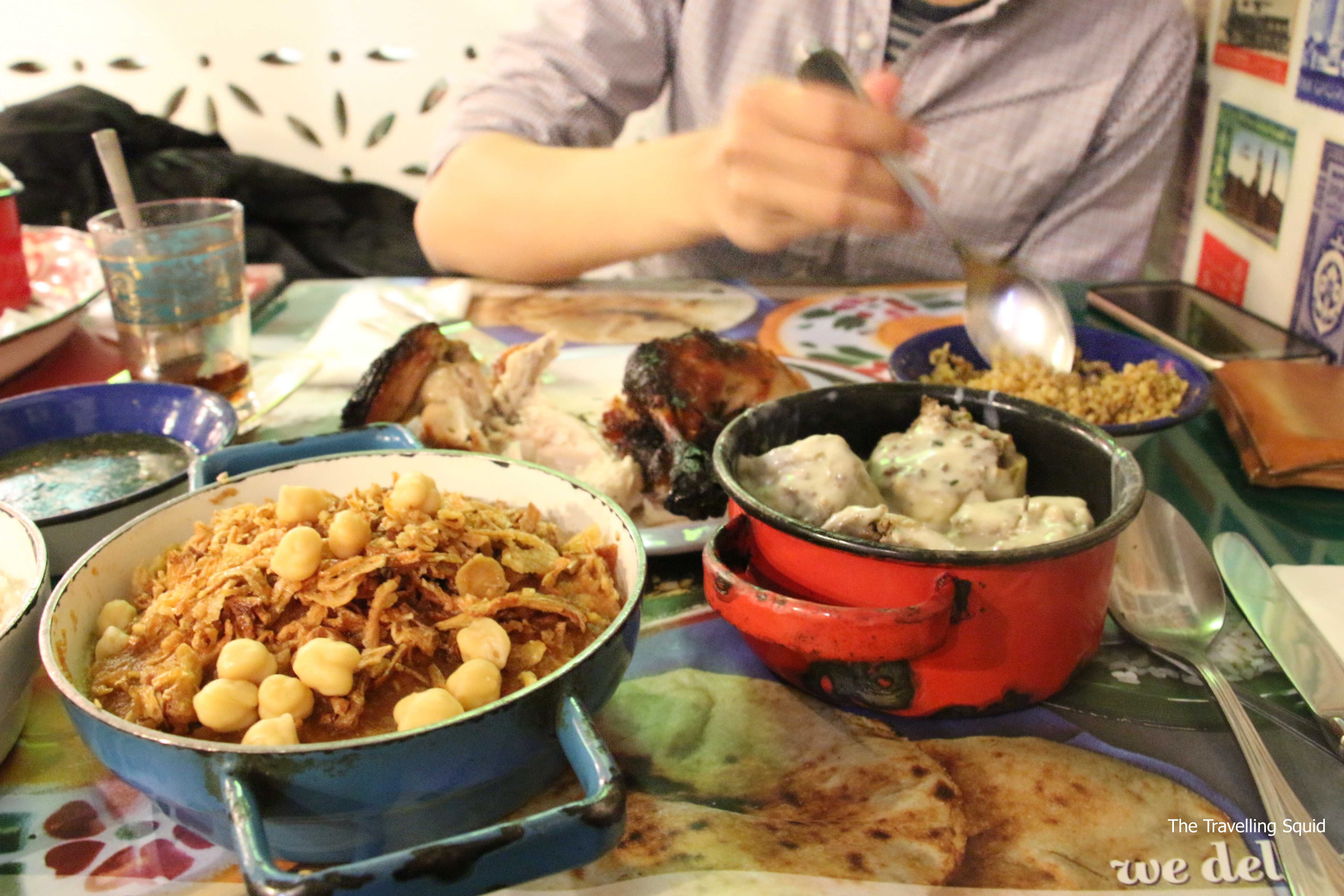 Rotisserie chicken (Quarter) – €18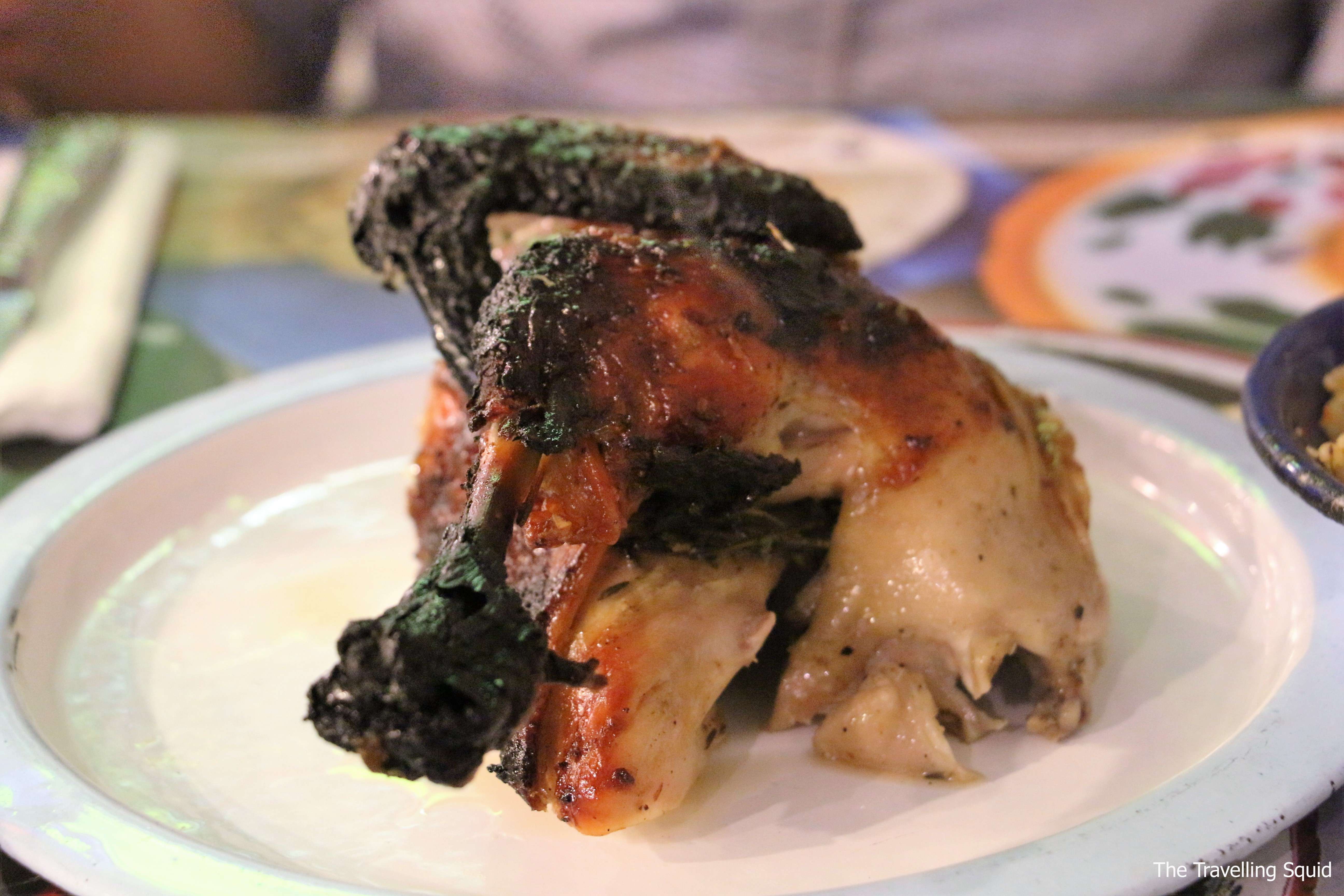 The Drink – Black tea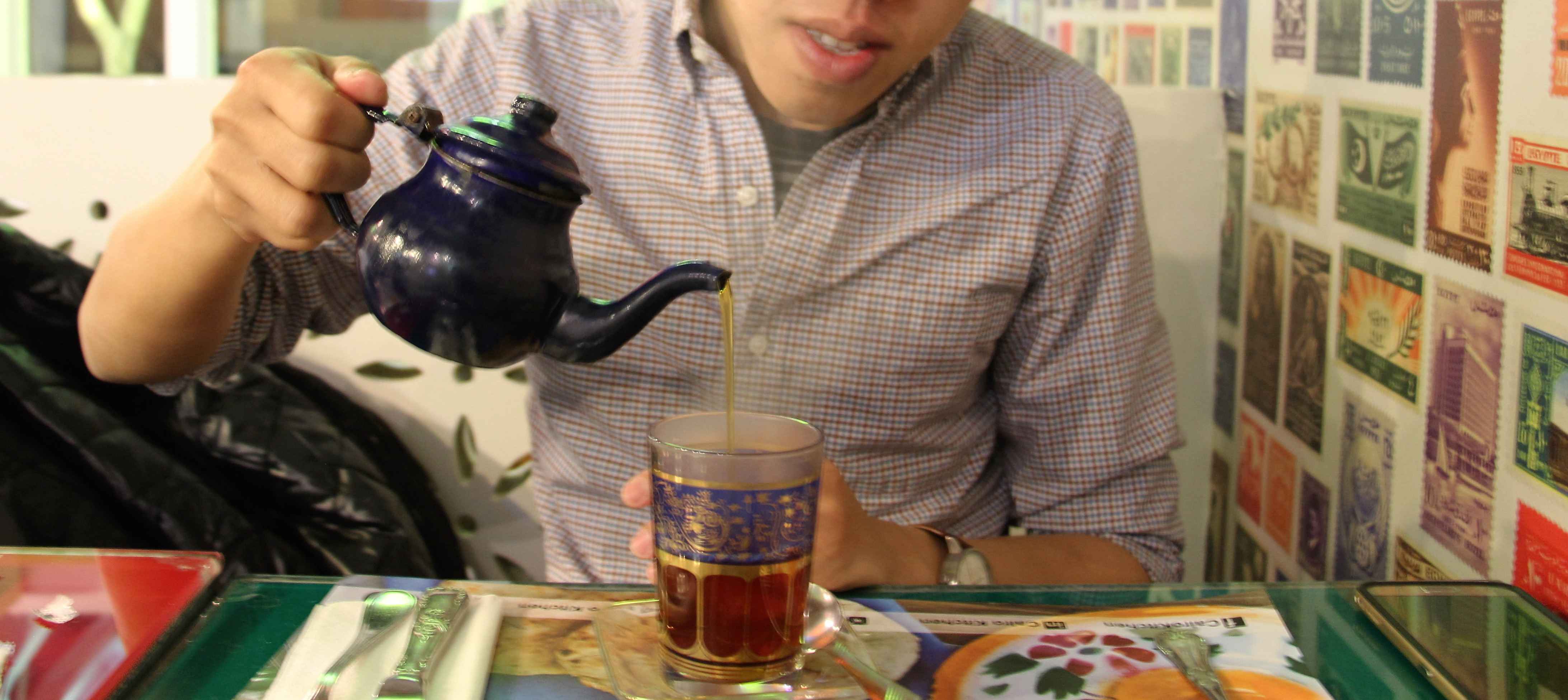 The drink was alright – it was just sweetened black tea. Though I would encourage you to pour it in a glass slowly. Shortly after this photo was taken, the glass broke and tea started flowing out onto the saucer. Which seemed to symbolise what we had experienced so far – that simple, normal things that are done in every day life do not go the usual way, in Egypt.
The Travelling Squid's Take
We may have over-ordered, as the koshary and rice were very filling. The prices were a little higher than that of the restaurants we had been so far, but cheaper than what it would have cost us in Singapore.
I like it that this place was deck in colour. The deco, the table, and even the enamel pots which the dishes were served in. It brought a little cheer to the somewhat scammy experience we had at the Pyramids.
The best part of Cairo Kitchen's location is that it is right next to a supermarket. Perfect to load up on the mineral water bottles before heading back to your hotel.
* * *
Cairo Kitchen