Baby stops crying as AirAsia steward sings live on flight
If you think budget flights are all a hassle and can't wait to leave the plane, this story might change your mind.
I've travelled to Indonesia on numerous occasions, on both full-fledged and budget airlines, and my recent AirAsia flight from Bali to Singapore was the most pleasant of all experiences.
There was a crying baby on board, which was is a story for another post. But more importantly, towards the end of the flight, we were surprised when a man in the front mumbled something over the PA system. Now we were seated at row 20-something, and could only see that he was in a cap and sunglasses. Soon after, he passed the handset to his colleague, and took up his guitar and started singing.
I can't be sure if it was due to his singing, but several seconds after that happened, the baby stopped crying and fell asleep.
At the initial stage, I thought someone was going to propose on the plane. "It's so public! Why would anyone do such a thing in the presence of so many strangers.." I thought to myself, sympathising with that imaginary bride-to-be.
It was only after the first song did I realise that the dude singing was an AirAsia steward, and he was pretty damm good. Now I'm not musically trained, but Friend S who is a proficient pipa/guitar player approved of his singing and guitar skills, so I guess he must be pretty legit.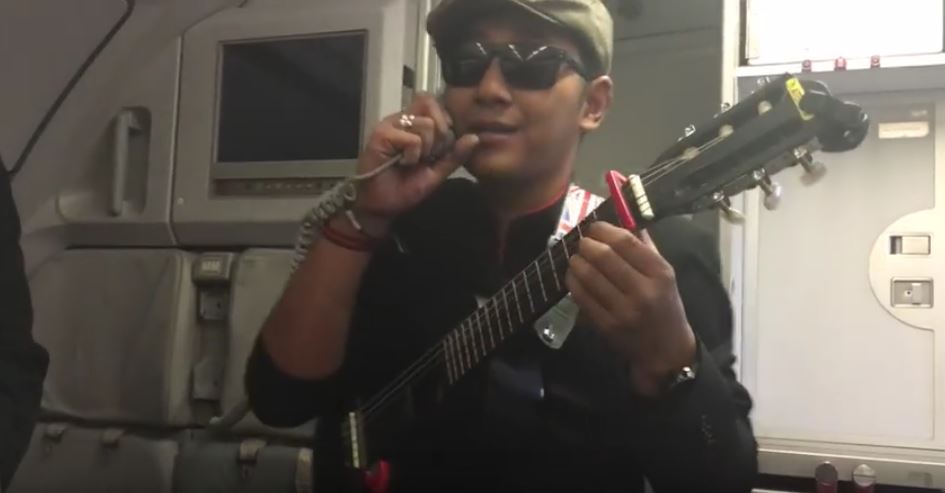 The climax of the performance was his rendition of Alicia Key's "If I Ain't Got You". I'm so glad someone caught it on video, so you could actually listen to it for yourself. Boy, it sounded really good, even though it was through the airplane's PA system. The Mystery Musician totally aced it with at the most challenging part of the song, where Alicia Key's goes "You .. u.. u.. u.." at a really high pitch. With proper acoustics and a quiet environment, I'm sure it would have been great. If you'd like to do a comparison, you can click on Alicia Key's original MV here.
*Video credits: DenisNYkulin – https://www.youtube.com/watch?v=Cv-G-BWzseY
Needless to say, everyone on board cheered him on. It was a great start a Baliday (holiday in Bali). 😀
When I returned from Bali, I wrote in to AirAsia, thanking them for the lovely experience and asked if they could indulge me with the name of the Mystery Musician and some questions. I was absolutely delighted when they replied, and here's an excerpt from the email reply, by the man himself, Mr Raditya Alamanda. I've taken the liberty to make some changes in his reply, for editorial purposes : )
Interview with Mr Raditya Alamanda, AirAsia steward and talented musician
The Travelling Squid: Thank you for that performance. It was very memorable and much appreciated by fellow passengers. Why did you decide to sing on the flight?
"Each AirAsia flight hosts special guests from different walks of life. This singing gig was by accident and was a brand new story for me too. I decided to put in some effort, to take a step further and make the flight more fun and friendly for guests, while still taking safety as a topmost priority. That's the AirAsia culture.
I was hoping that each guest could leave the flight with a memorable experience and could fly with us again. Please take this as complimentary music. "
The Travelling Squid: Where did you pick up the singing and guitar skills from?
"It was awful wasn't it?
But since you asked…
I picked up my singing and guitar skills from a number of talented artistes. There is just too many of them and I am unable to list them one by one. That being said, there is still room for improving my guitar skills and I cannot be compared to them."
The Travelling Squid: Any parting words?
"I'd love to show how grateful I'm to have my guests on each flight. I'm sorry if the singing may not sound too good (or be to your liking).
I'll see you on another amazing AirAsia flight if I'm lucky."
The Travelling Squid's Take
I was very touched by the humble words of Mr Raditya Alamanda. Despite very good singing, (which to me is of bar/restaurant-standard), Mr Raditya felt that there was still room for him to improve.
It brings back memories of my time travelling in Yogyakarta in Java, where there were people just singing and strumming their guitars – on the streets, on local buses, and by the side of street food stalls.
A dose of spontaneity and great talent, that's how I would describe Indonesians. Perhaps that's also the reason why I enjoy visiting Indonesia so much.
And by the way, Mr Raditya, if you're reading this, I don't think your singing is awful, it is far from that. : )