Four alcoholic drinks to try in South Korea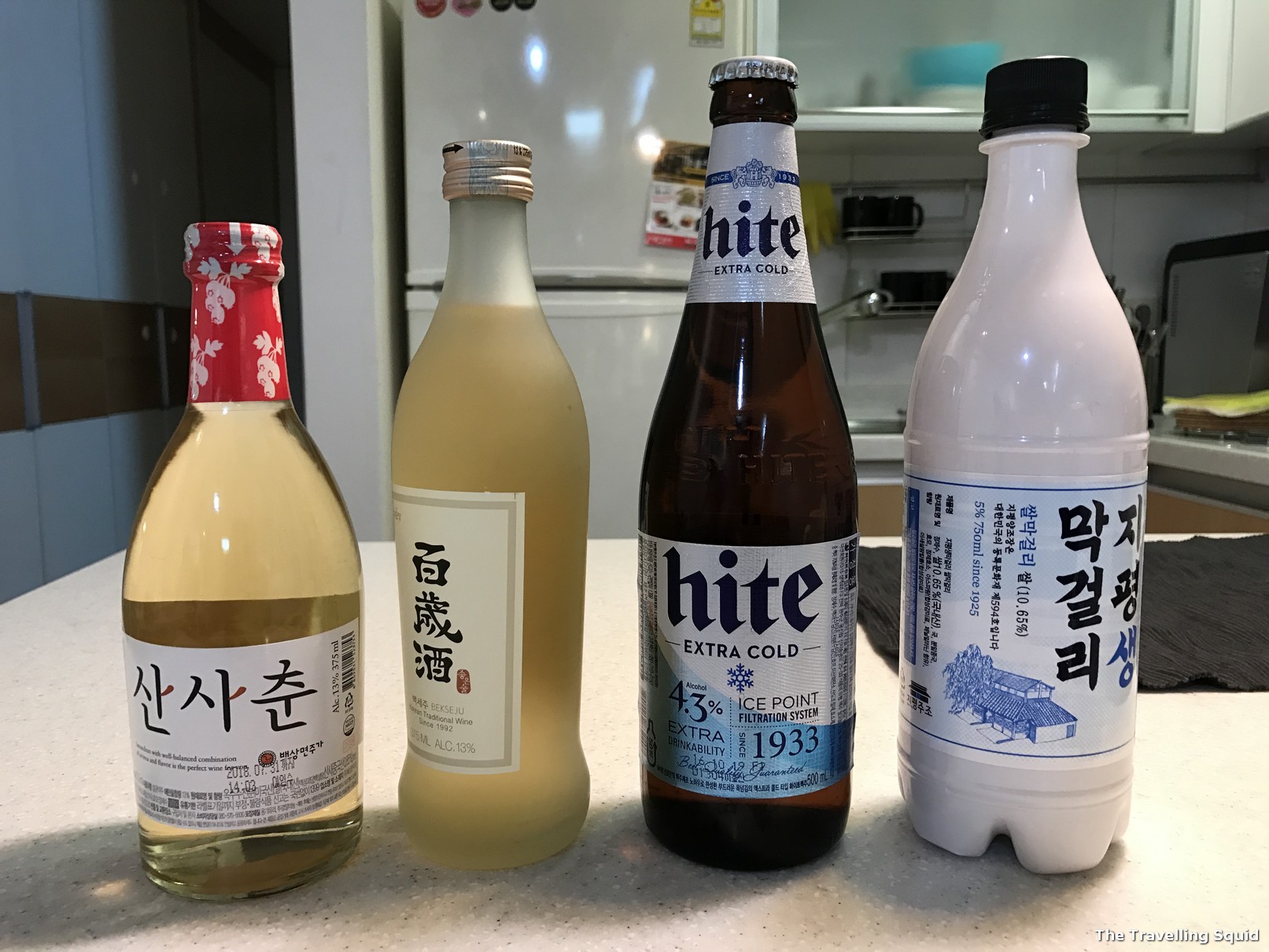 When I visited Korea last December, I had a chance to try a variety of alcohol options. My honest view is that Korean alcohol is not as awe-inspiring as that of Japanese alcohol. But the options are affordable, and that is important especially if you would prefer to spend your money on food or shopping. There is one drink that is an absolute must try. Called San Sa Chun – 산사춘, it is a rice wine brewed with fruits and hawthorn berry, giving it a slight sweet and sour plum taste. It was the most pleasant of all drinks. Here are the four alcoholic drinks to try in South Korea – they are easy to get – I got them off a local Korean supermarket near our Air BnB.
1. San Sa Chun – 산사춘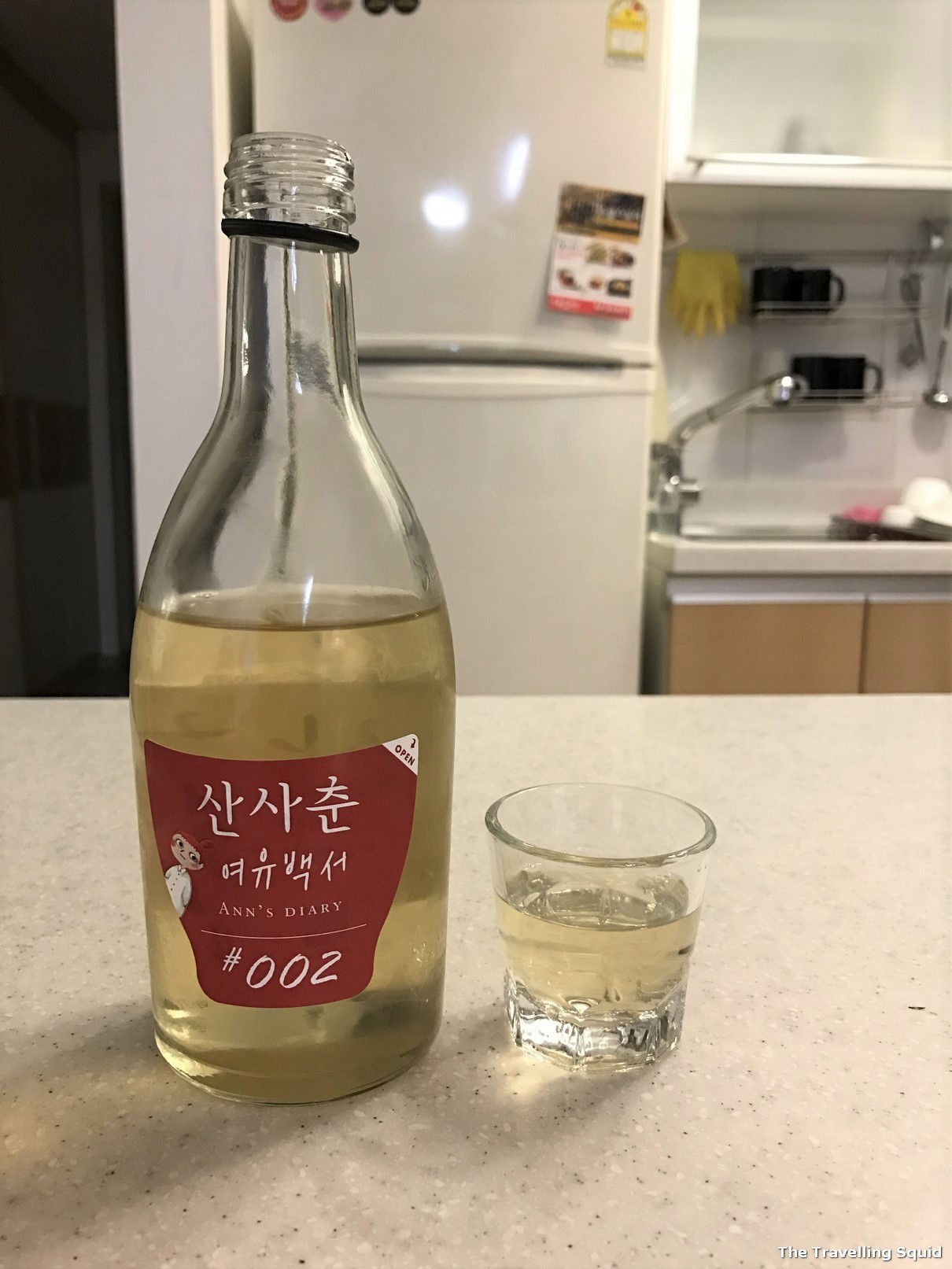 According to this blog – Look At Korea.com, it is a rice wine brewed with fruits and hawthorn berry. This was my favourite – by far better than any of the sojus I've ever tried. It's not too sweet too and there's a pleasant sour plum note to it too.
According to the blog, the meaning of Sansachun is "Sansa (hawthorn) + Chun (springtime)". Chun (春) is a suffix for good wines. That means a wine jar (dialect) as well as springtime.
Chun (springtime) implies the new start of a traditional alcoholic beverage. Sansachun: "An alcoholic beverage which brings hope and springtime of life (vitality) to the traditional alcoholic beverage markets in Asia"
It was by far, the best of all the four alcoholic drinks that I have tried. I could have San Sa Chun – 산사춘 the whole night without battering an eyelid. You could get it at local supermarkets, or at certain restaurants too.
2. Maegeolli
Maegeollis are great with kimchi pancakes, as I discovered during my first trip to Korea. I first had it at a traditional restaurant which a Korean friend brought us to – it was lovely, unfortunately the place was burnt down eventually. :/ It's the kind of drink that you could consume in large amounts, without realising its alcoholic properties.
3. Beer
I'm personally not a big fan of Korean beer, as it's extremely light on the palate. There isn't much taste, and it tastes a tad like fizzy water. I'd prefer Japanese beer anytime. Hite beer is an average kinda of beer. Taste a bit like water. Mix this with soju for a quick high.
4. Baekseju (백세주; 百歲酒)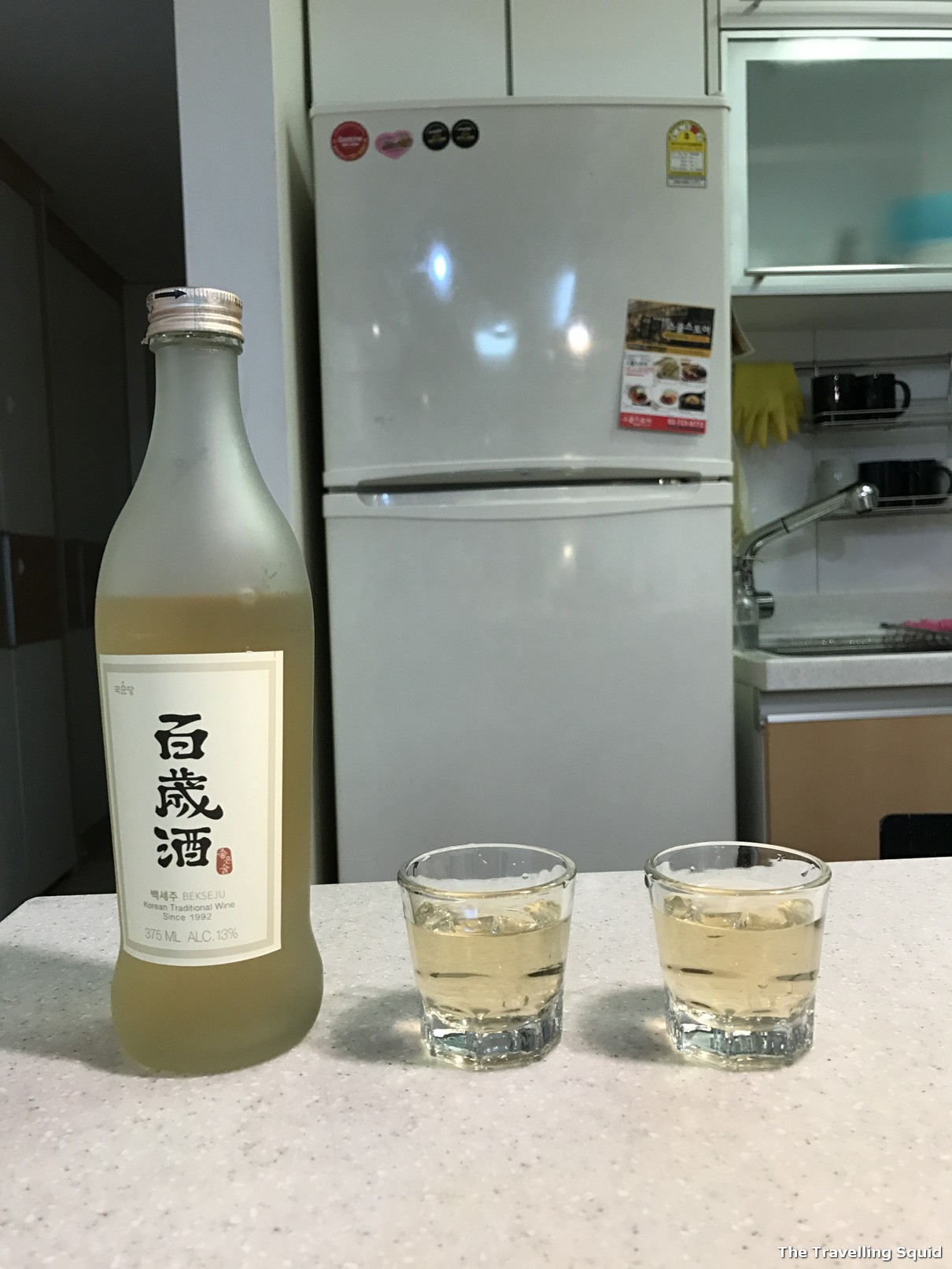 Despite its purported health benefits, Friend H and I were unable to take a liking to this drink. The taste was just too strong, and it was strongly medicinal. I doubt we were in the rush to be living until 100 years old, so I guess, we would probably not try it again. But it's definitely worth a try if you're into medicinal wine.
According to Wikipedia, Be Se Ju is a Korean glutinous rice-based fermented alcoholic beverage flavored with a variety of herbs, ginseng most prominent among them. According to some, the name comes from the legend that the healthful herbs in baekseju will help you live to be 100 years old.
The drink is infused with ginseng and eleven other herbs, including licorice, omija (Schisandra chinensis), gugija (Chinese wolfberry), Astragalus propinquus root, ginger, and cinnamon.
The Travelling Squid's Take
If you're looking for a quiet night out, taking away some alcohol and having them with chips in your Air BnB is always ideal. The best part is, you get to do all these while watching Korean dramas. Don't forget to try San Sa Chun – 산사춘, it's the best of four alcoholic drinks to try in South Korea 🙂
Have your tried any of these? Do drop a comment in the box below.