Four reasons to visit Lantana Cafe in Fitzrovia for brunch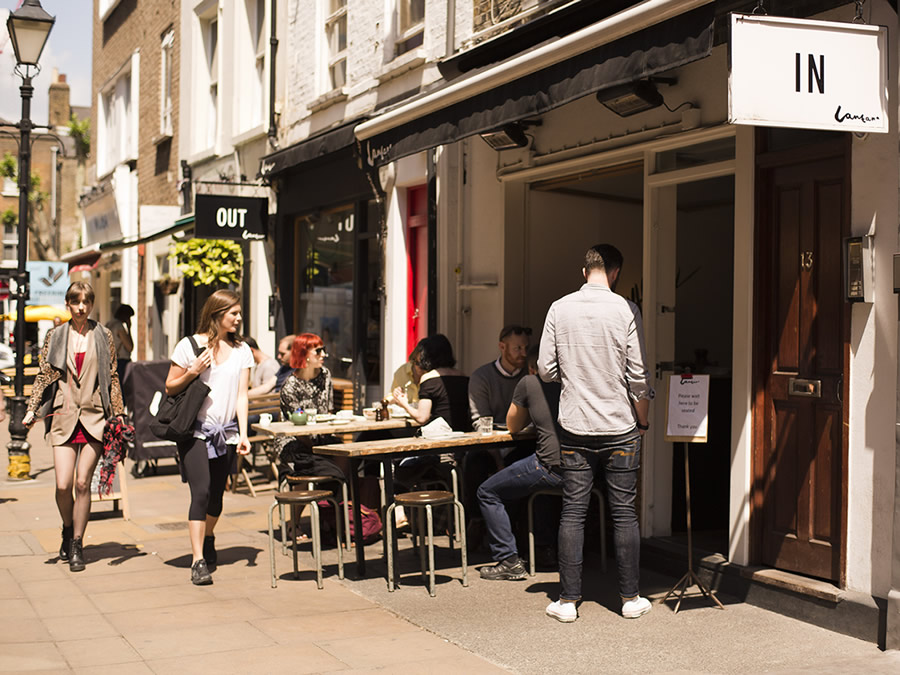 If it's your first time in London and you're planning on visiting the awe-inspiring British Museum, I'll encourage you to visit Lantana Cafe in Fitzrovia for brunch, before heading there. It's a 12 min walk away, perfect on a summer's day. We know it's really good, because we visited on a Monday (a bank holiday) and at 11am, it got really packed. There were people forming a line to enter, and that really stood out in an otherwise quiet neighbourhood.
1. There is an unlimited coffee and booze option.
I know it could be a bit hard-core to be sipping Bloody Marys first thing in the morning. But Lanatana has this special option called 'the Lantana Blowout' where they offer unlimited Bloody Mary's, Prosecco, Mimosa and coffee with any brunch menu item for £35. There's a time limit of 1.5 hours – great if you are in the mood for a boozy start of the day. After all, it's the weekend.
2. The food is creative and most importantly, delish
I've been to some hispter cafes where they try to be creative and old-school, but the dish just comes out a tad odd or hints at a bit of 'try too hard'. Latana Cafe serves up a delish brunch which aims to replicate elements of a traditional English breakfast.
For instance, its dish 'The big bubble' comprises Bubble 'n' squeak with cumberland sausage, poached egg, black pudding and sautéed spinach. (For the uninitiated like yours truly, Bubble and squeak is a traditional English dish made with the shallow-fried leftover vegetables from a roast dinner. It is often served with cold meat from the Sunday roast.) The way they arranged it and tweaked the flavours was interesting because it wasn't full on modern, but there was this cute way of stacking the ingredients up, like a burger. Which was kind of interesting.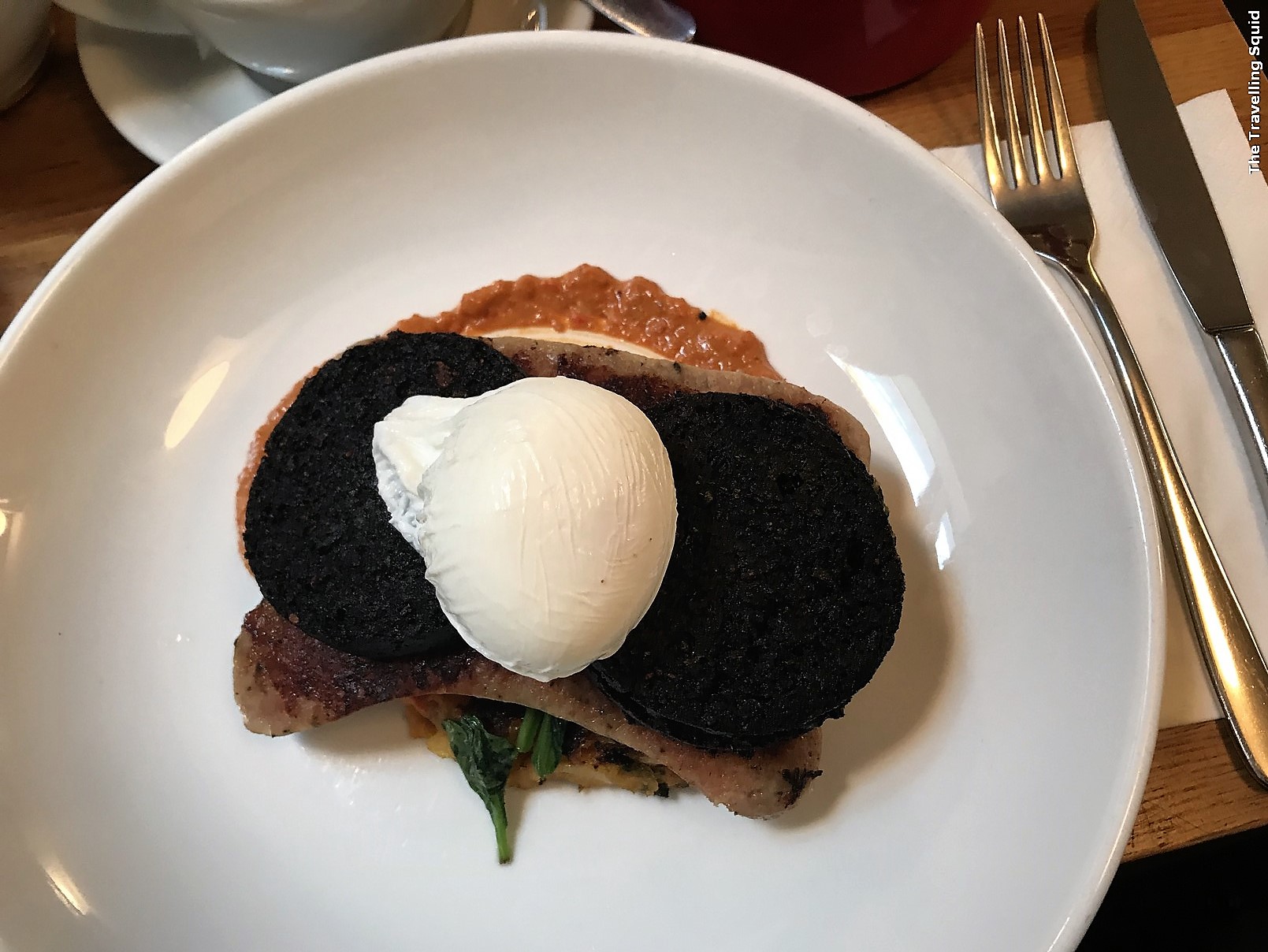 The flavours of their house-cured salmon bagel were really good too. It came with wasabi mascarpone (thoughtful way to cut through the strong cheese taste), poached egg, pickled cucumber, red onion and radish. The arrangement was spot on too, which brings me to my next point.
3. The plating is amazing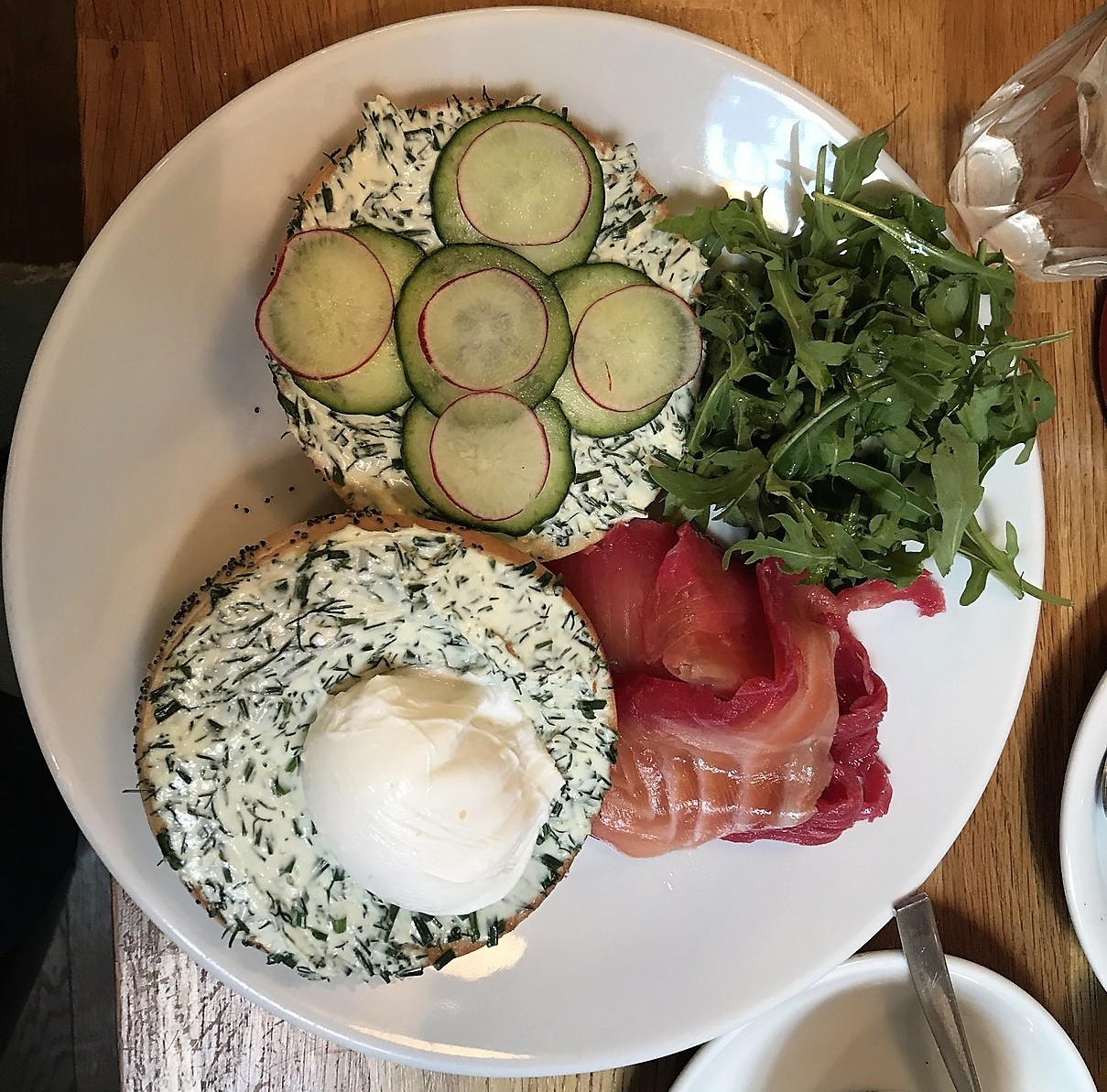 I'll have to score them well on their plating, as you have seen from the photos. For instance, the salmon bagel was really pretty. Really liked the cheese spread, which reminded me of a spread with dill in it.
Perfect for the instagrammers/ influencers of the social media space. (Just in case you're wondering, those photos you see here are #nofilter)
4. They do a good coffee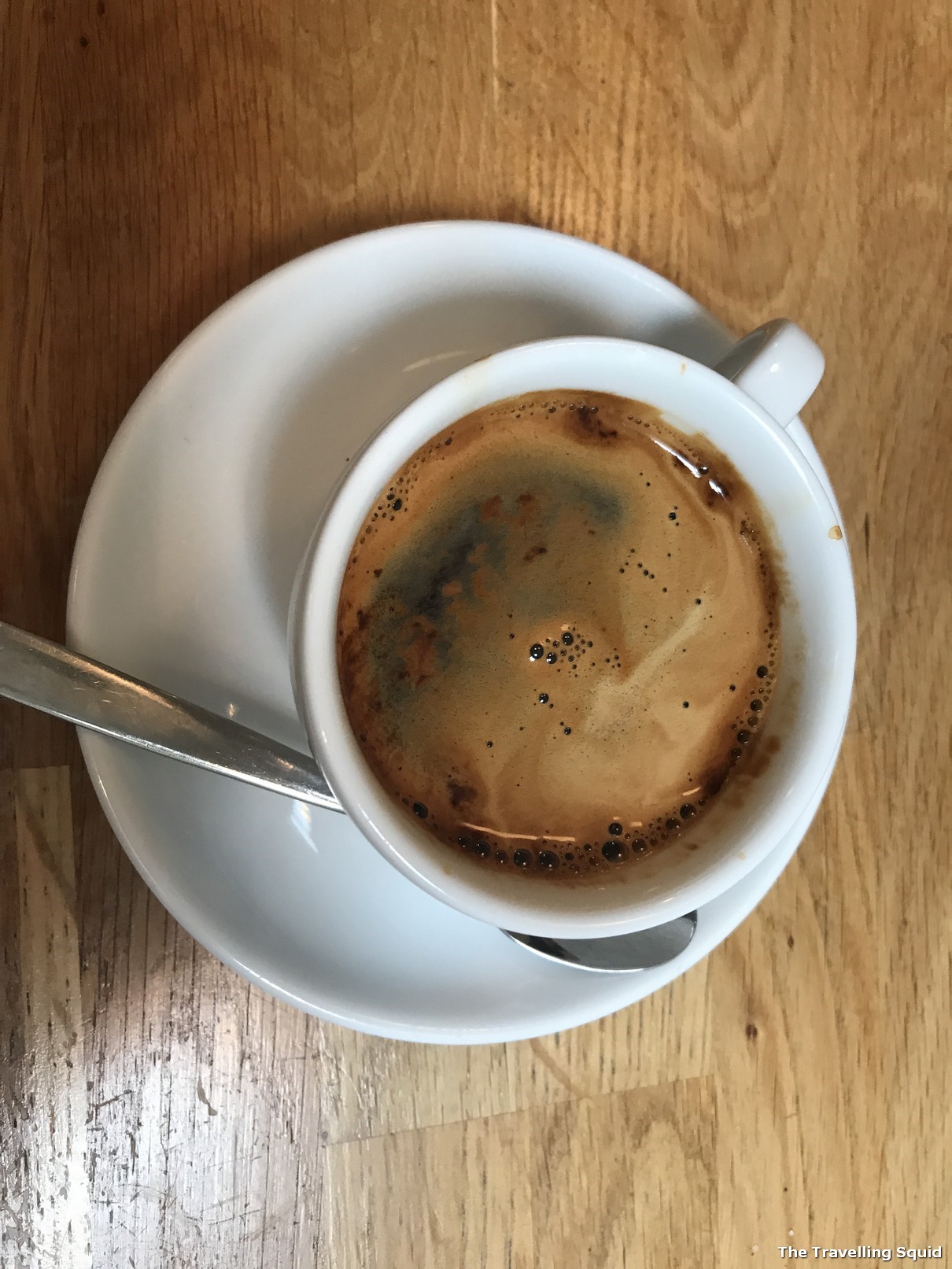 Most cafes tend to focus on food or coffee – it's an either-or kind of situation. But as I was pretty jet-lagged, I ordered another long black after the visit to Kaffeine. The coffee was strong, slightly acidic and balanced, and went well with the food we ordered. It was a good perk-me up too. I can totally understand how the unlimited coffee and booze option would work : ).
The Travelling Squid's Take
As mentioned earlier, if you're tired of having the traditional English breakfast, I'll strongly encourage that you visit Lantana Cafe in Fitzrovia for brunch. They have made some fine touches to traditional meals, which is a delight to have on a weekend. When you could slowly dig in and appreciate the flavours without having to hurriedly rush to work. If you're heading to the British Museum, stop by Lantana Cafe in Fitzrovia to fuel up first as you have a long day ahead of you.
* * *
Visit Lantana Cafe in Fitzrovia for brunch
There are three Lantana Cafes in London – Shoreditch, Fitzrovia and Camden.
Visit Lantana's website for more information on the address and opening address. We went there without a reservation – it was fine as we were early. You could call the cafe and try to make one. Enjoy!
Menu: Please see this link.