Review: Lunch at Bo Bo Cafe in Hoi An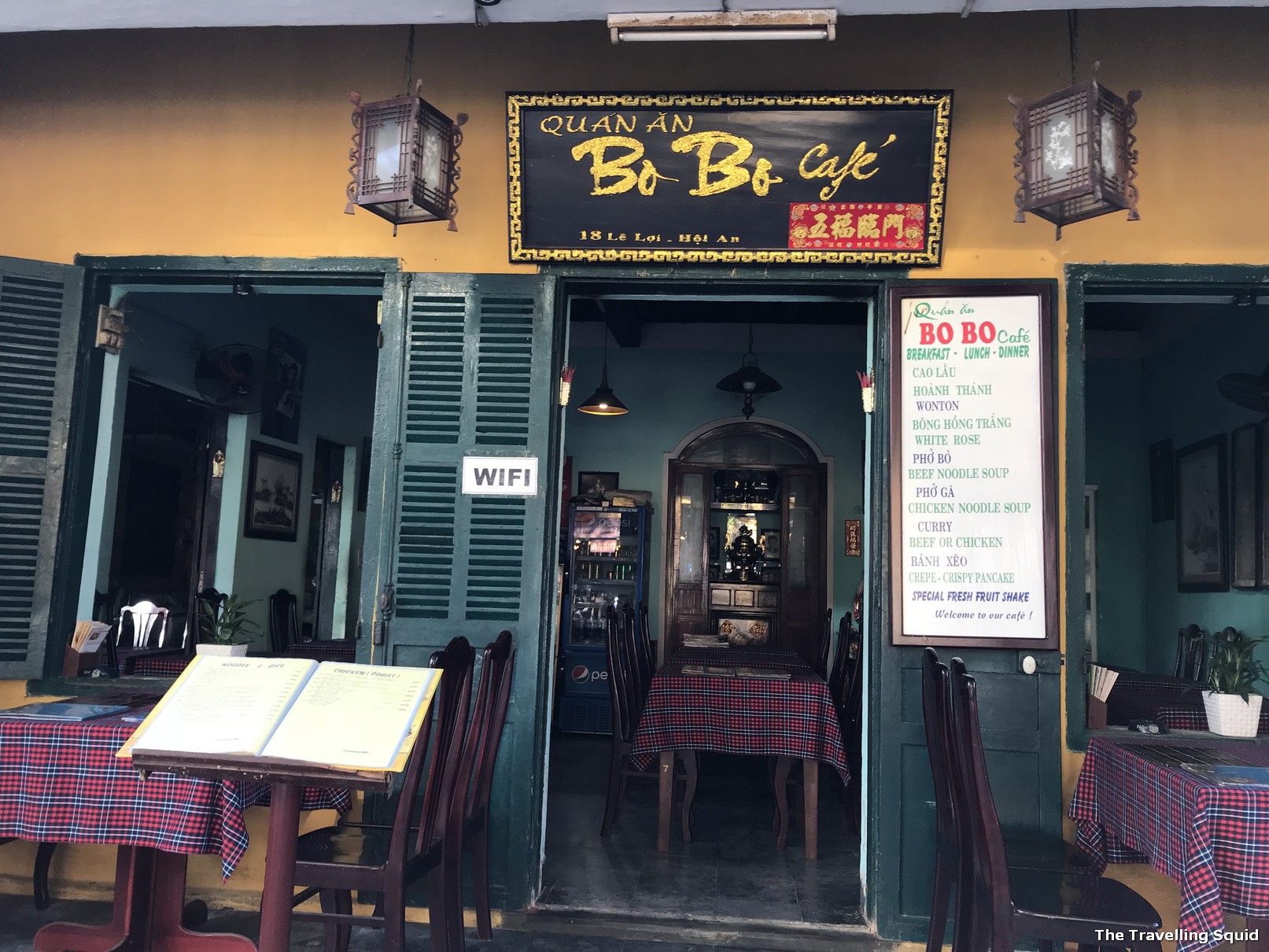 Hoi An is a tad touristy, and finding a place for lunch may be challenging, if you're looking for somewhere relatively authentic and not too pricey. After walking through several streets hunting down a suitable restaurant, we came across the Bo Bo Cafe in Hoi An. It was located in one of the shophouses in the Unesco heritage site zone. The decor was welcoming enough, with dark green doors, a red checkered table-cloth and yellow walls. A big plus is that the Bo Bo Cafe in Hoi An serves several dishes unique to Hoi An and the Quang Nam province (where Hoi An located in). For lunch, we ordered two popular dishes from its menu, Cao Lau and White Rose, and wantons in soup.
Cao Lau (noodles, pork and greens)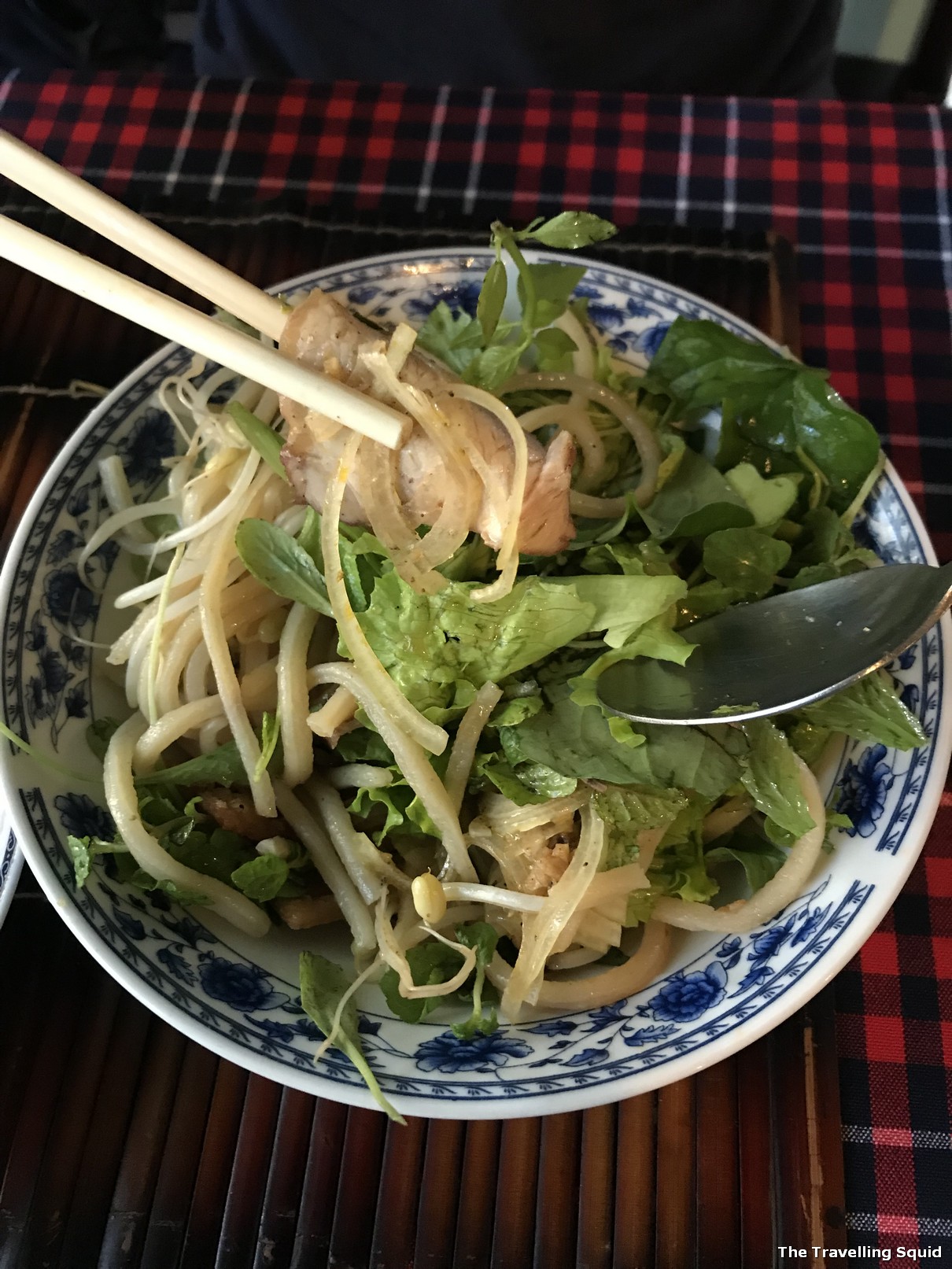 According to Wikipedia, Cao Lau is a dish made of noodles, pork and local greens. Urban legend says that its unique taste and texture is achieved by using water from an undisclosed ancient Cham well, just outside the town. There are many variations of this dish in Hội An, some vary the way the pork is cooked (or omitted), using different greens (or absence of mint), sometimes topped with fried pork rind, peanuts, rice crackers, and/or scallions; and sometimes served with lime or chili jam.
I found the sauce pretty flavourful. It's largely fish-sauce based. It was quite a lightly flavoured dish, made up of noodles with  a light texture, lettuce, bean sprouts and what appears to be turnips. I didn't think Cao Lau was filling, but was full after the two dishes to come.
White Rose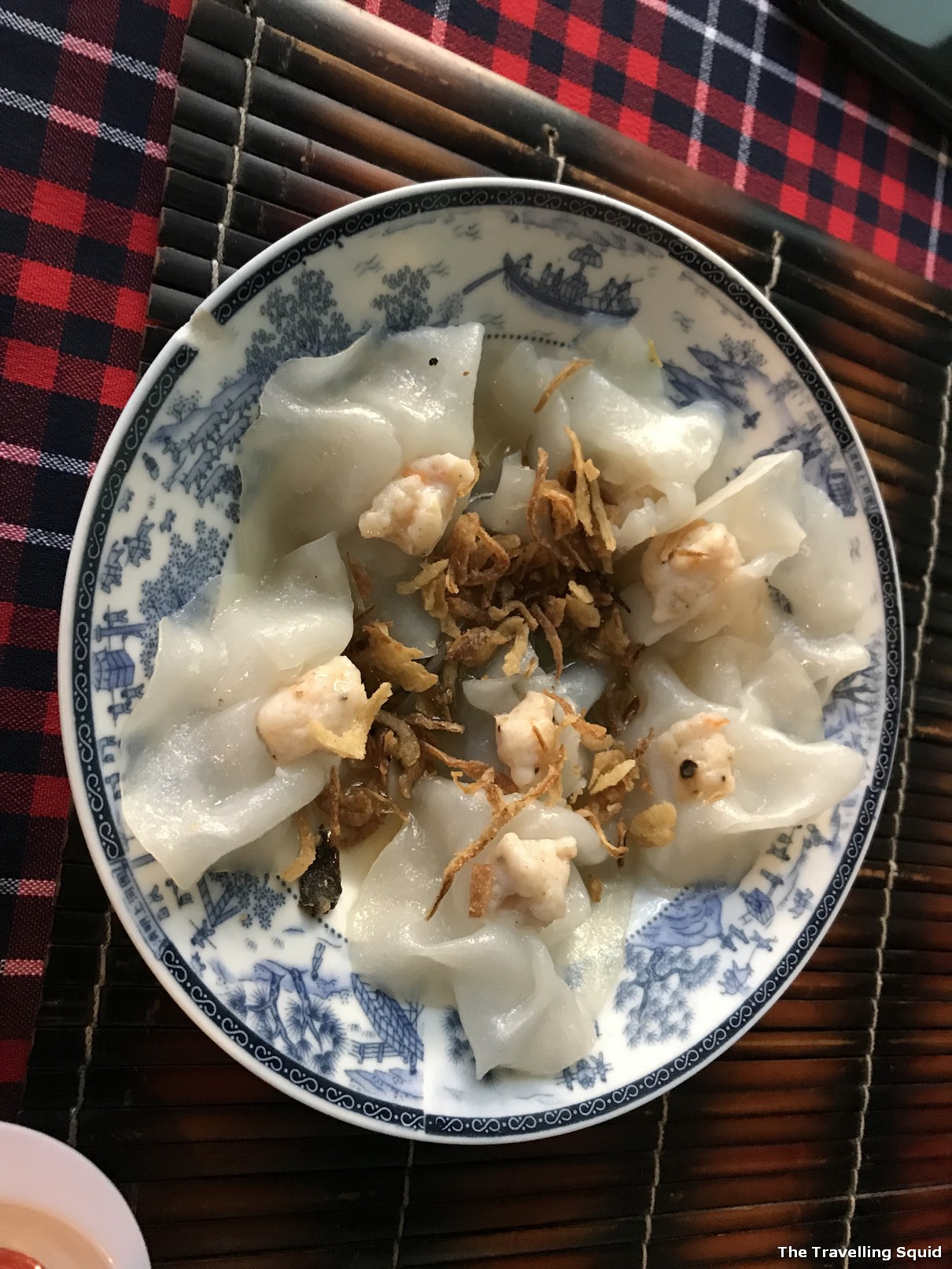 Similar to Chinese dumplings, White Rose is a dish made up of shrimp wrapped in a translucent rice paper skin. As the skin wraps around the dumpling in a clingy sort of way, one could imagine them to be 'white roses' with a stretch of imagination. It's served with a savory and slightly sweet dipping sauce (once again).
I personally found White Rose fairly enjoyable. It's very much similar to Chinese cuisine, (one such example was the garnishing of fried shallots on the top). I would say in additional to Cao Lau, this is a must-have at the Bo Bo Cafe in Hoi An.
Wantons in Soup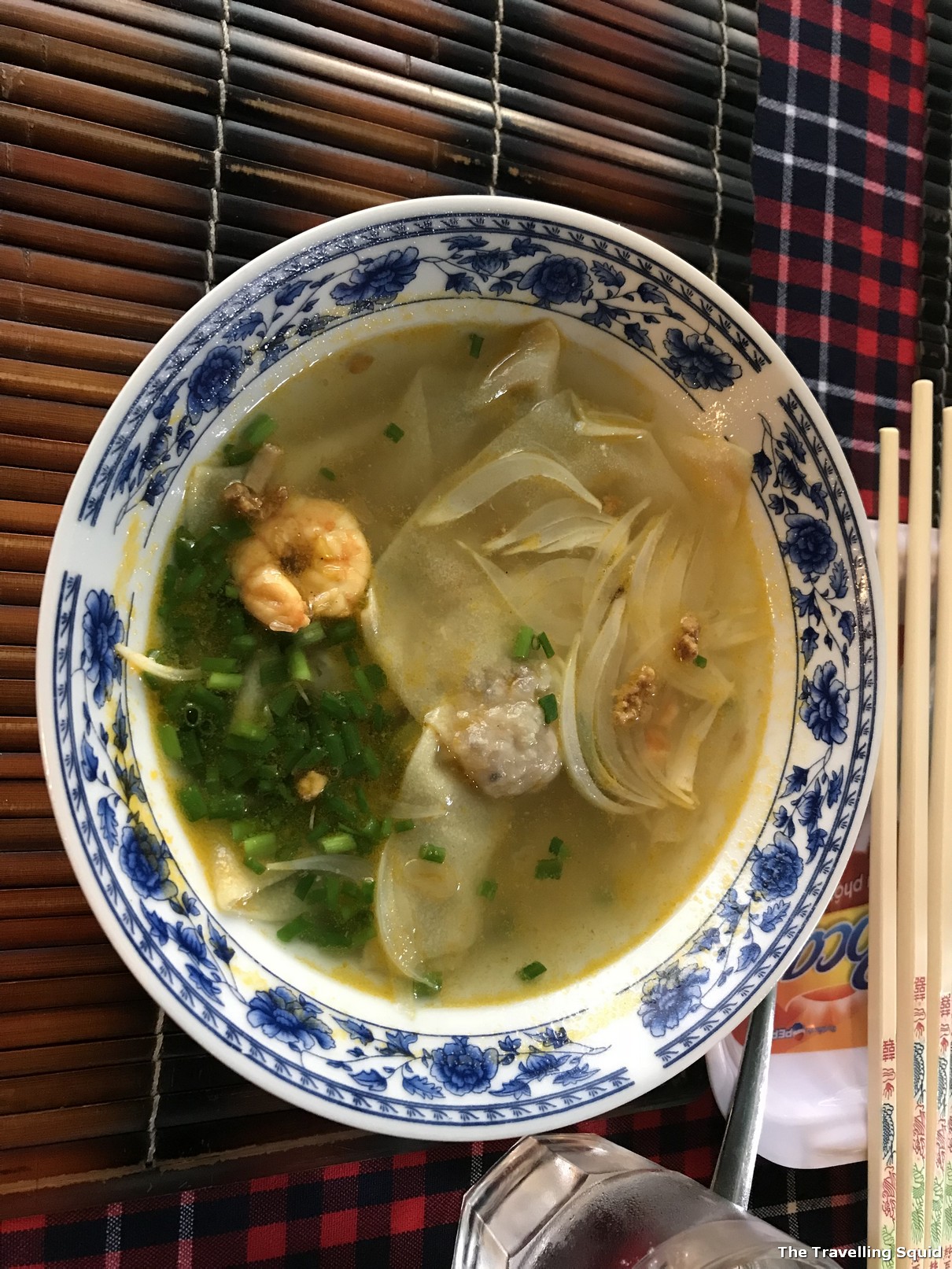 We separately ordered wantons in soup. It was legit-ly Chinese wantons in soup. I suggest that if you order White Rose, avoid ordering the wantons or you might have a dumpling overload. The dish was pretty good. I don't like dumplings with a hard starchy skin, and this passed the test.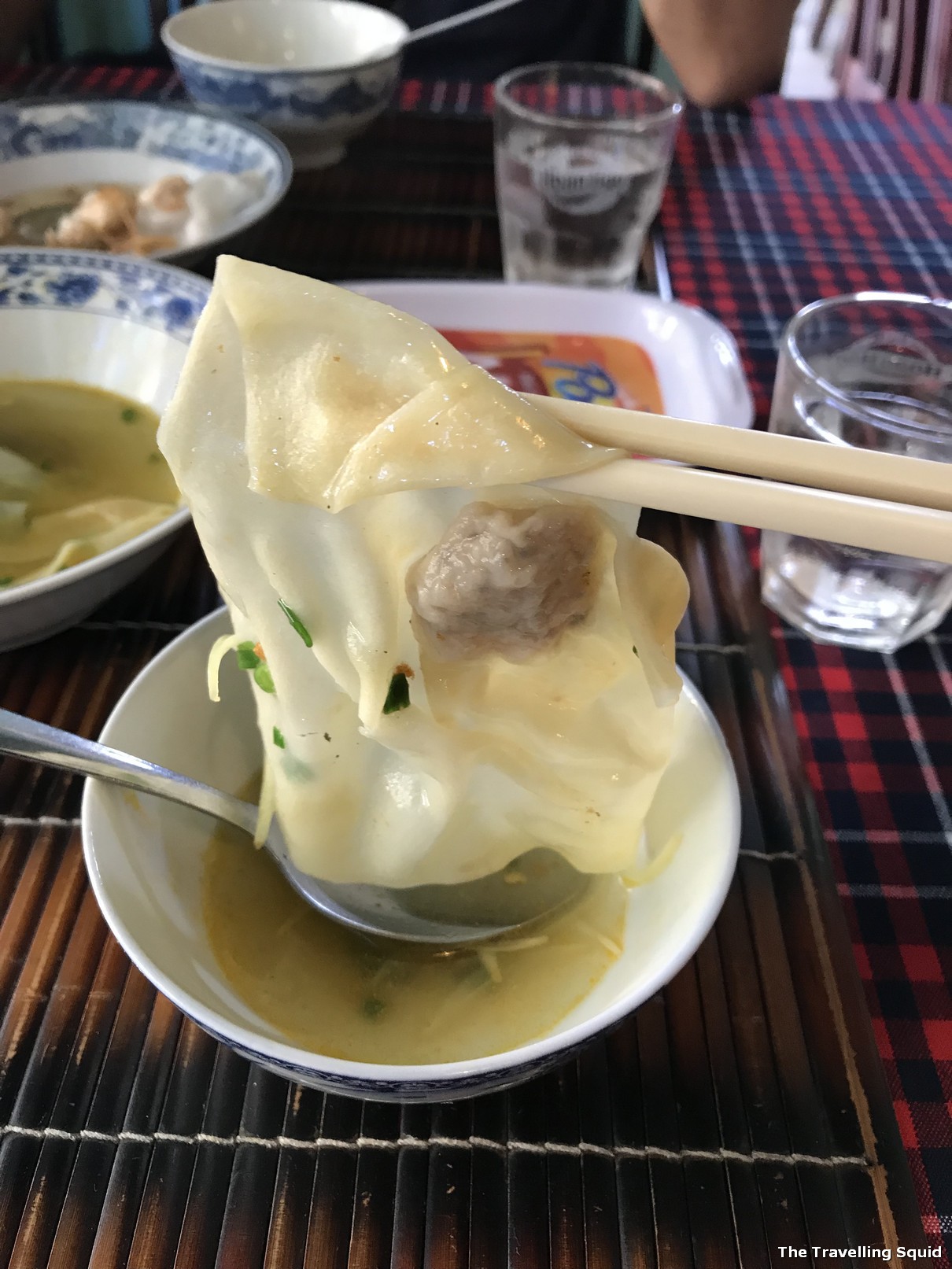 The Travelling Squid's Take
In general, I'd recommend that you have lunch at Bo Bo Cafe in Hoi An. It's largely catered to tourists and may be slightly more expensive than local restaurants or stalls, but I did appreciate the warm, complementary colours of the restaurant (though it was a bit dark inside). The toilet was quite clean too. It's easy to put in your order, as the owner knows a bit of English.
Our hike around the Marble Mountains near Hoi An left us ravenous, and we were glad to slurp up the dumplings and Cao Lau. The three dishes and a 1.5 litre bottle of water cost us about SGD15/ USD12 – which was fairly priced in our opinion, especially since the restaurant was located in a Unesco Heritage site. Just to caveat that there is little protein in the dishes, and you may wish to order more to stay full for long. A bulk of the dishes are made up of vegetables and carbohydrates (dumpling skin/ noodles).
Hope you have an enjoyable lunch at the Bo Bo Cafe in Hoi An. I'll give it 3.5/5 stars.
***
Lunch at the Bo Bo Cafe in Hoi An
Address: 18 Lê Lợi, Phường Minh An, tp. Hội An, Quảng Nam, Vietnam
Phone: +84 235 3861 939
Usual opening hours: 9.30 am – 9.30 pm
Link to Tripadvisor reviews