Review: Breakfast at Hotel Konanso in Kawaguchiko and the lounge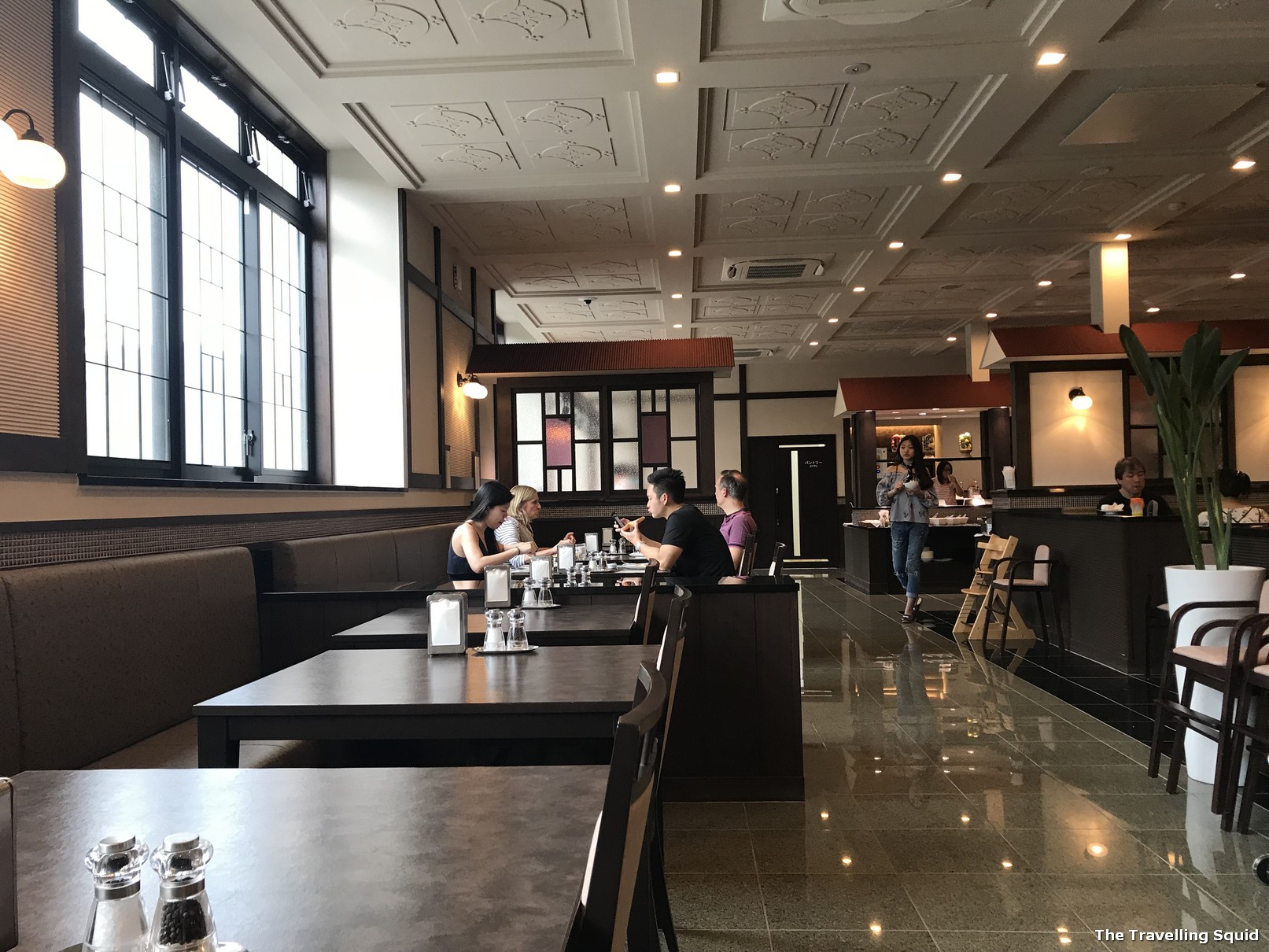 In an earlier post, I talked about the first time staying in a ryokan at Hotel Konanso. However, I would like to say that my biggest gripe about breakfast at Hotel Konanso in Kawaguchiko is that it ends super early. Breakfast was from 7.15am – 9.30am, which is early for people like me, who like to sleep in on a holiday. We had planned to do a private onsen in the morning, during daylight, so we could have sight of Mount Fuji. Therefore, we booked the onsen from 8am – 8.50am. After our onsen, we then had to rush to the dining hall to have breakfast. It was only then did I realise that my fellow guests had woken up really early, and most of the food was gone by then. (ʘᗩʘ') Fortunately, we did manage to get a few staples, such as miso soup  and rice.  Here's a review of our breakfast at Hotel Konanso in Kawaguchiko.
Breakfast at Hotel Konanso in Kawaguchiko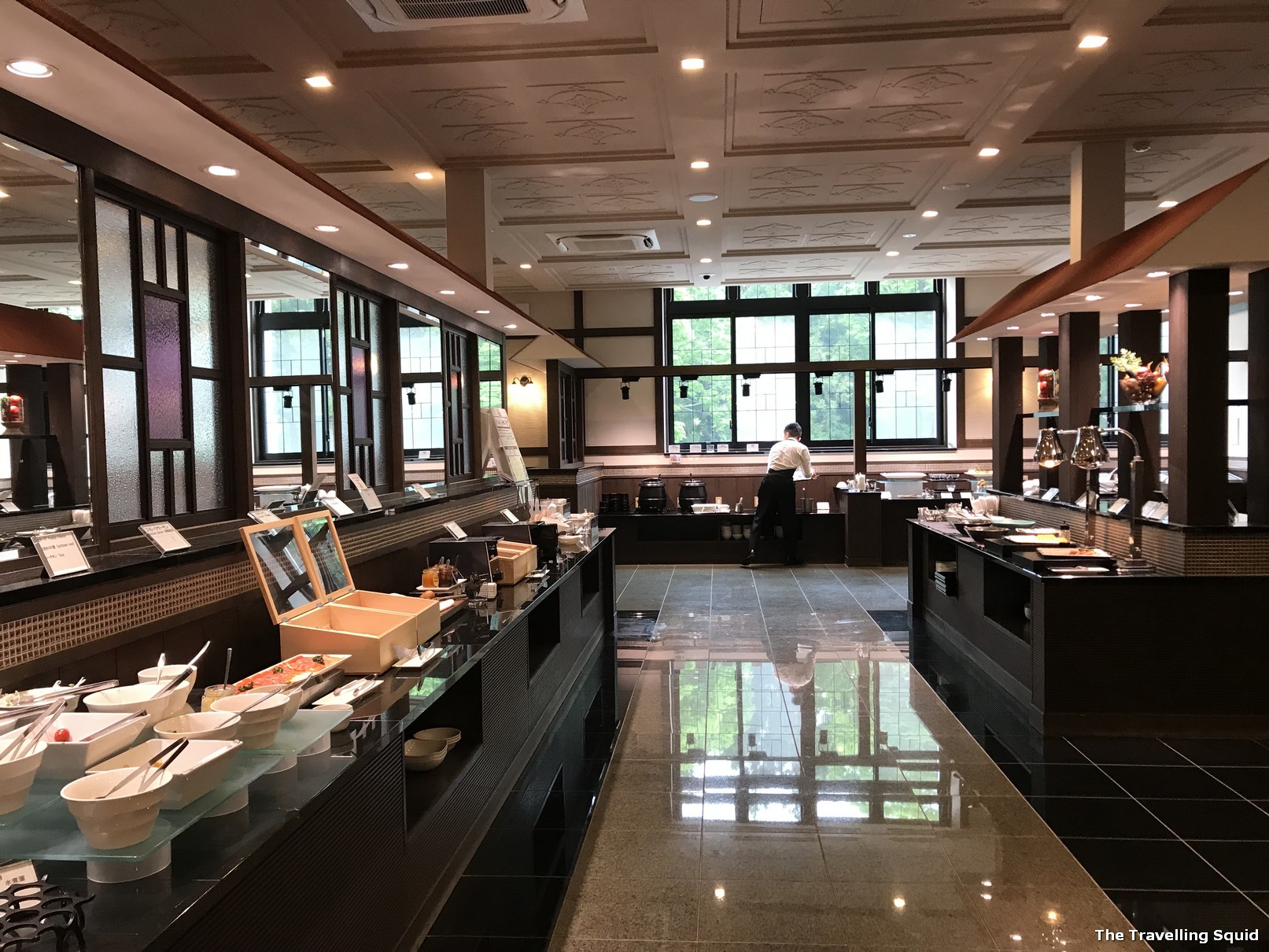 To be honest, we didn't get a chance to fully appreciate and enjoy most of the food items. By the time we got there at 9am, most of the food was already gone. The restaurant staff were not big on topping up the food, given that breakfast service was ending at 9.30am. That said, we did have a quick browse of the food available. The intercontinental breakfast was pretty standard stuff. There were mushrooms, sausages, potatoes and fried beancurd. There was a bit of Asian vegetables like Chye Sim, meatballs and the usual stir fry of chinese mushrooms, red pepper, and black fungus. I made it a point to try the tamago (Japanese egg) – which was alright, not fantastic. The 'egg service' was really good though, and the chef was kind enough to give me a fresh sunny side egg – yum.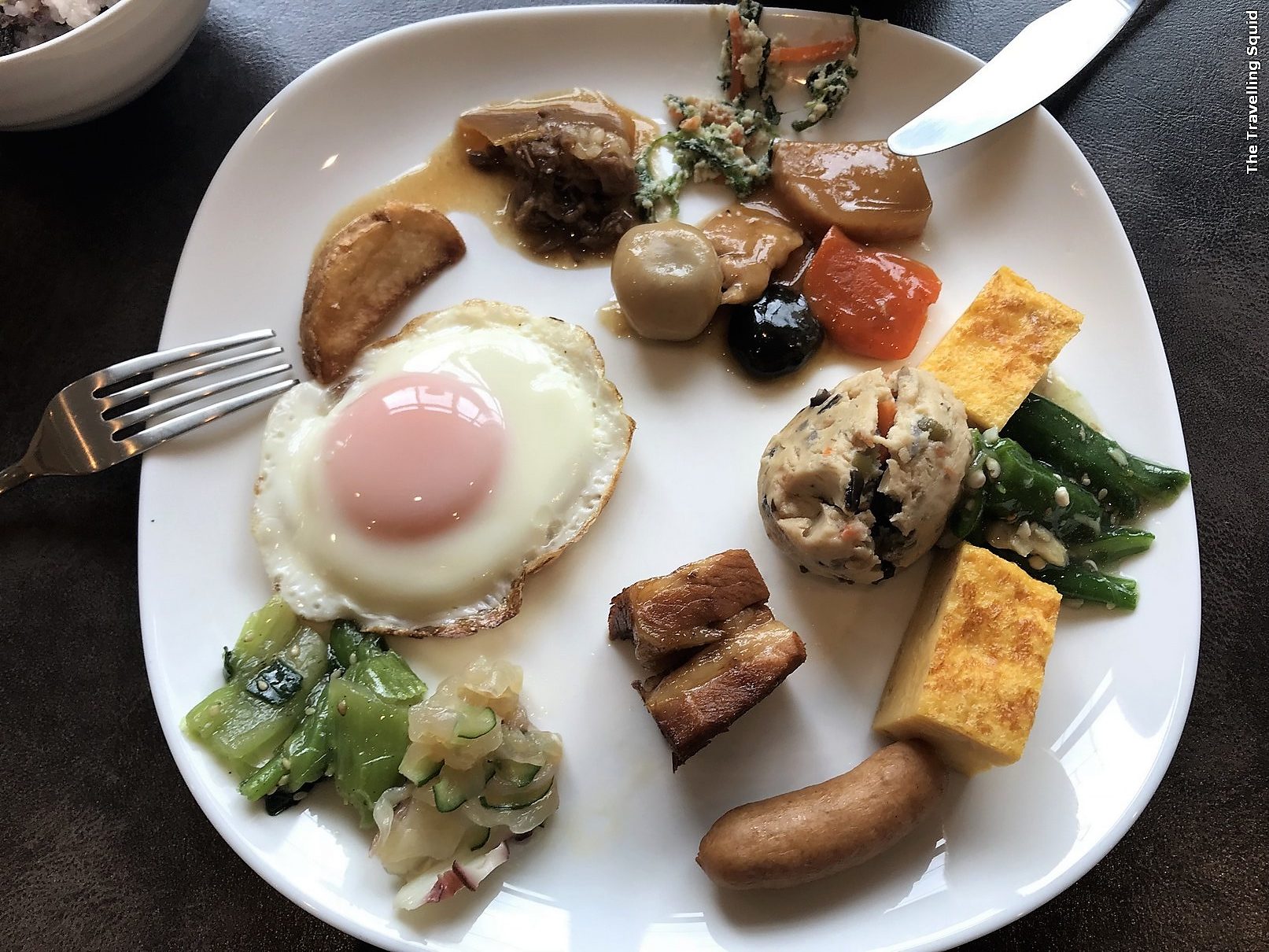 I had a quick look around. There was miso soup and congee. There were toppings provided for the miso soup – which was great because for the longest time, I wished for restaurants to add more spring onions and seaweed into my miso soup. Right there, I had the option of adding as much wakame (a type of Japanese seaweed often found in miso soup) and spring onions as I liked. ᕕ( ՞ ᗜ ՞ )ᕗ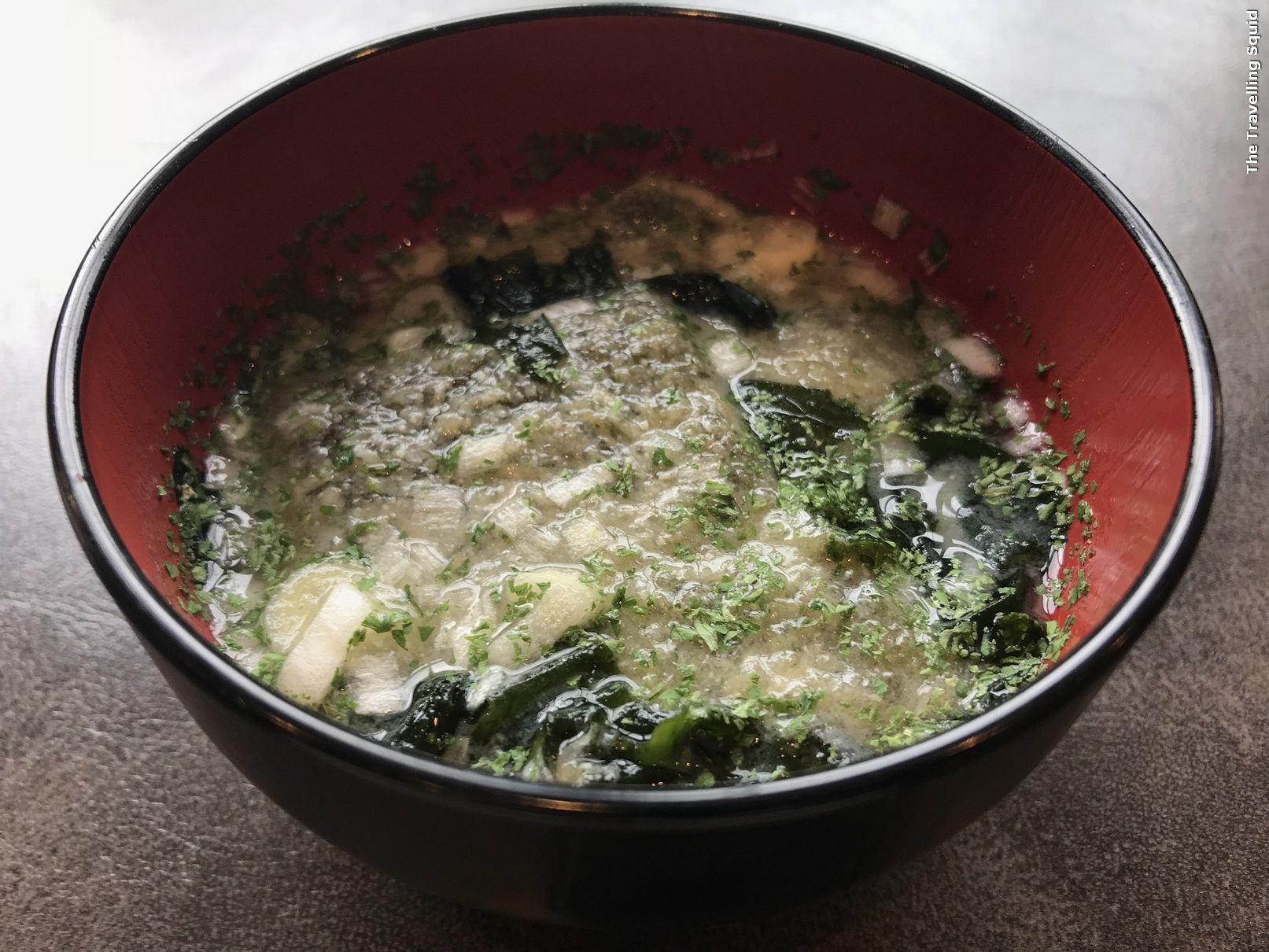 As I was about to fish out some congee from the part, there wasn't any left. But as a Japanese rice-lover, I took the chance to try their brown rice with pickles and a bit of dried seaweed. And oh my, it was probably one of the best combinations with rice, ever! The pickles really whetted my appetite – they were mildly acidic and savory, which was a perfect match to the rough rice texture by the brown rice. It was probably the most delicious, simple dish I've had in a while.
For dessert, I had green tea ice-cream, which was of average standard. I also had a sesame mousse cake which was quite legit. It was not too sweet and the texture was light, not cloying. It came with a green tea base. Mmmm.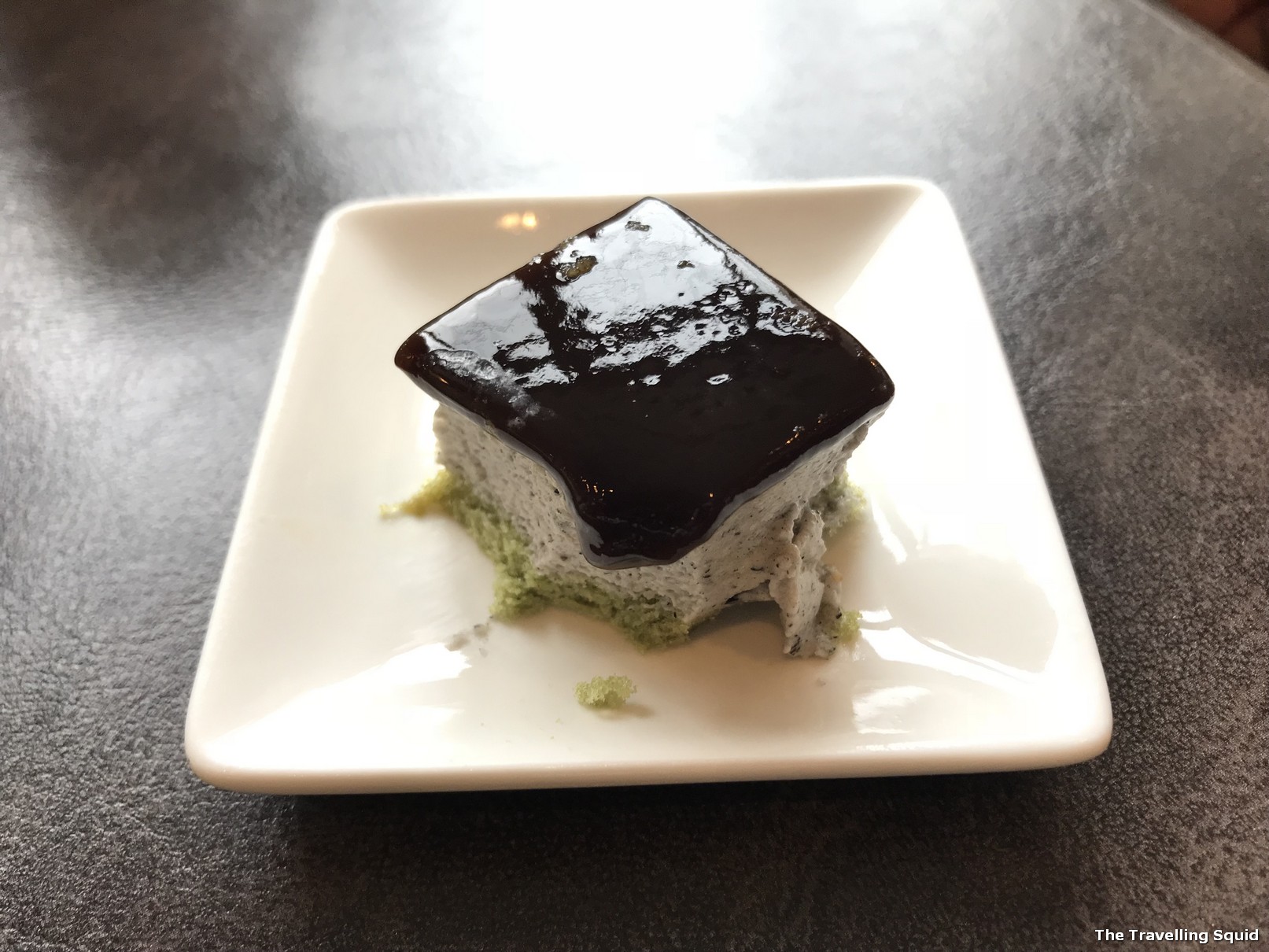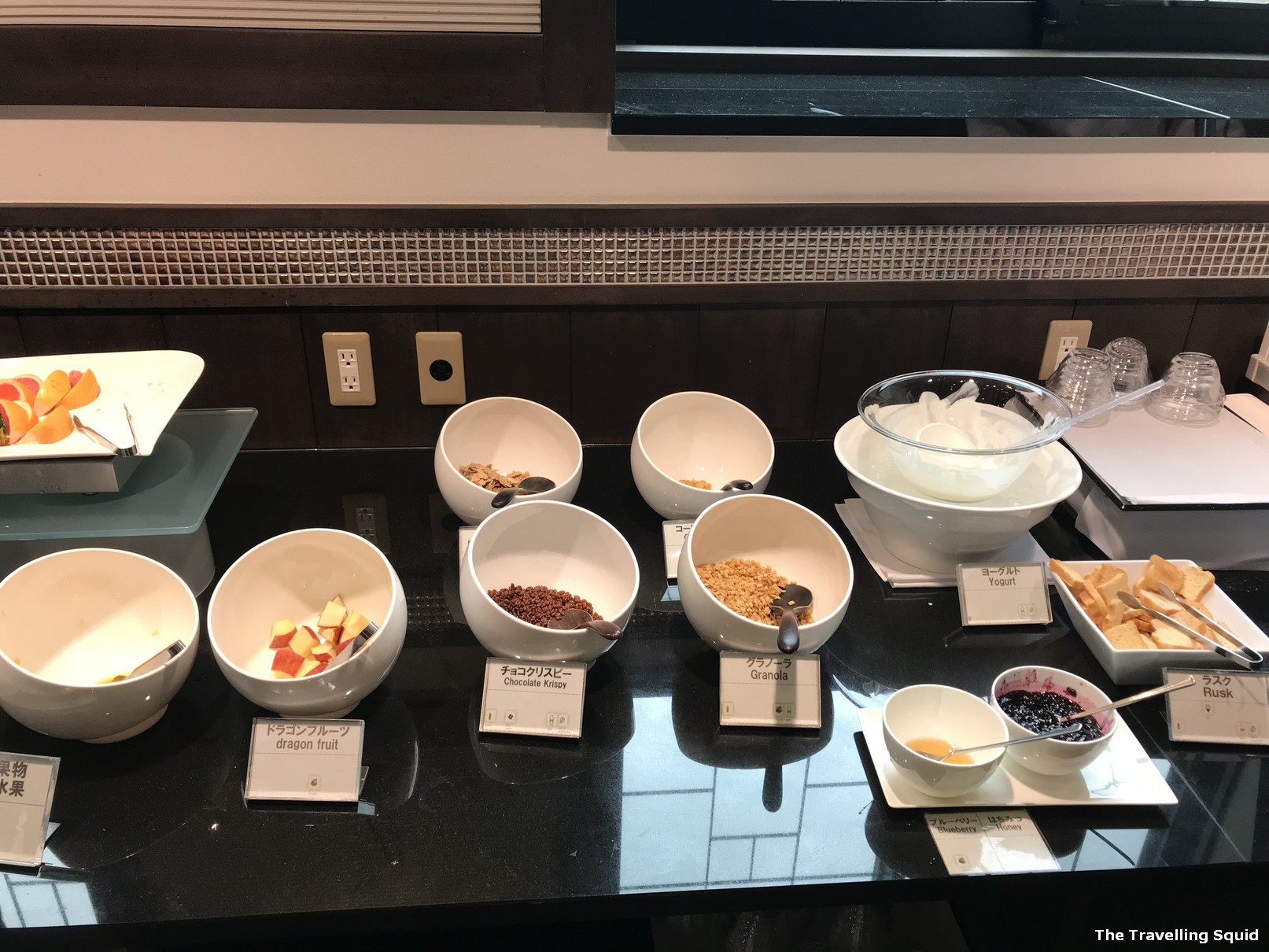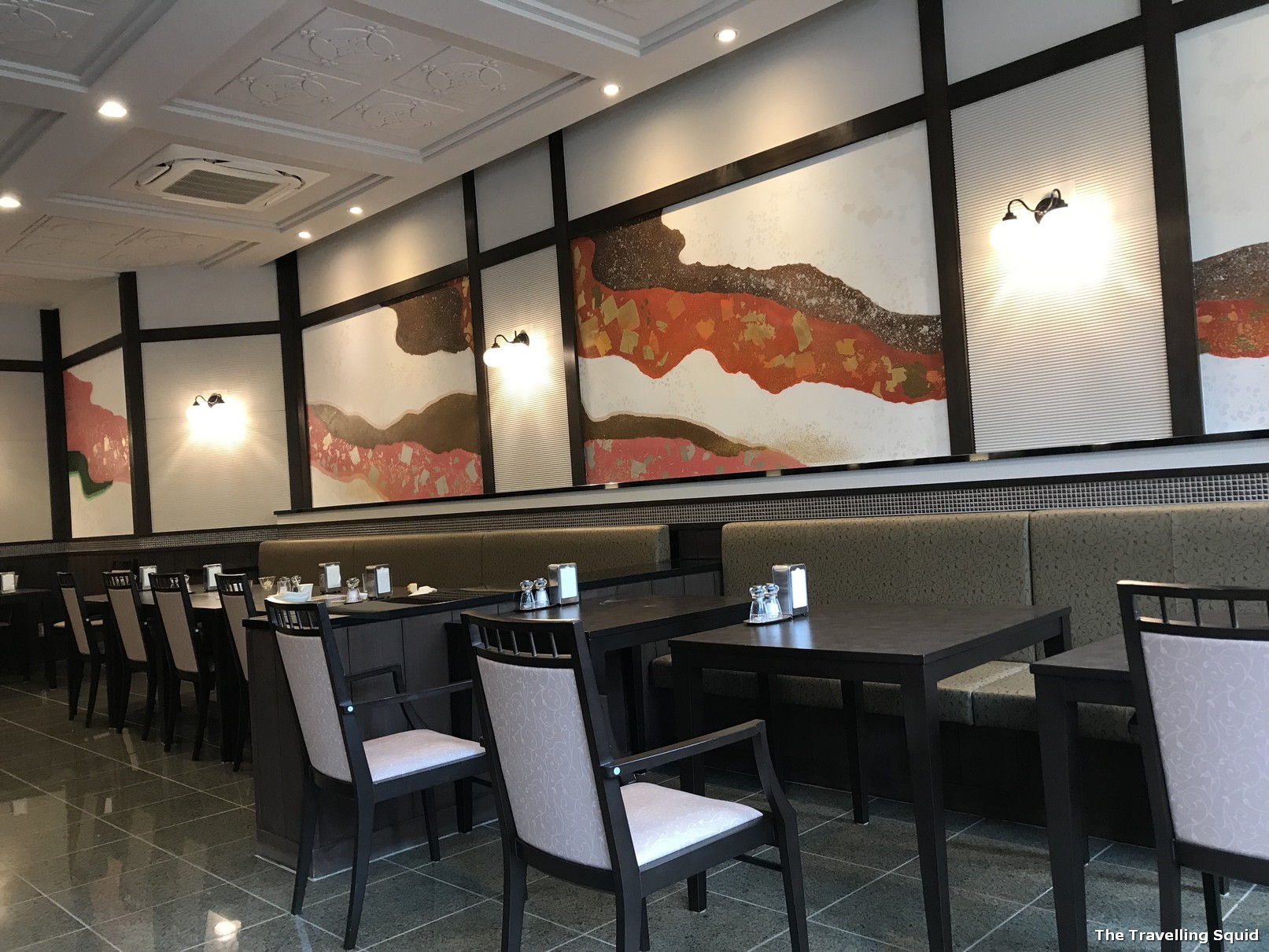 The Travelling Squid's Take
Alas, 9.25am had arrived. We got up and left, largely because most of the dining hall had now emptied out and we felt bad to stay behind. I was also conscious that we were in Japan and punctuality was all that matters. I'm guessing the breakfast time ended early in view of the check-out time at 10am (which was really early by hotel standards :/). Perhaps, some more time is required to clean the open air baths in some of the rooms.
As we left, we walked past rows of food, remnants from the breakfast earlier. Would I miss having breakfast at Hotel Konanso in Kawaguchiko? Perhaps, not so much. But I was glad to discover a gem – the brown rice with pickles. I could have that for breakfast every other day. Maybe, with miso soup as well.
***
The Lounge of Hotel Konanso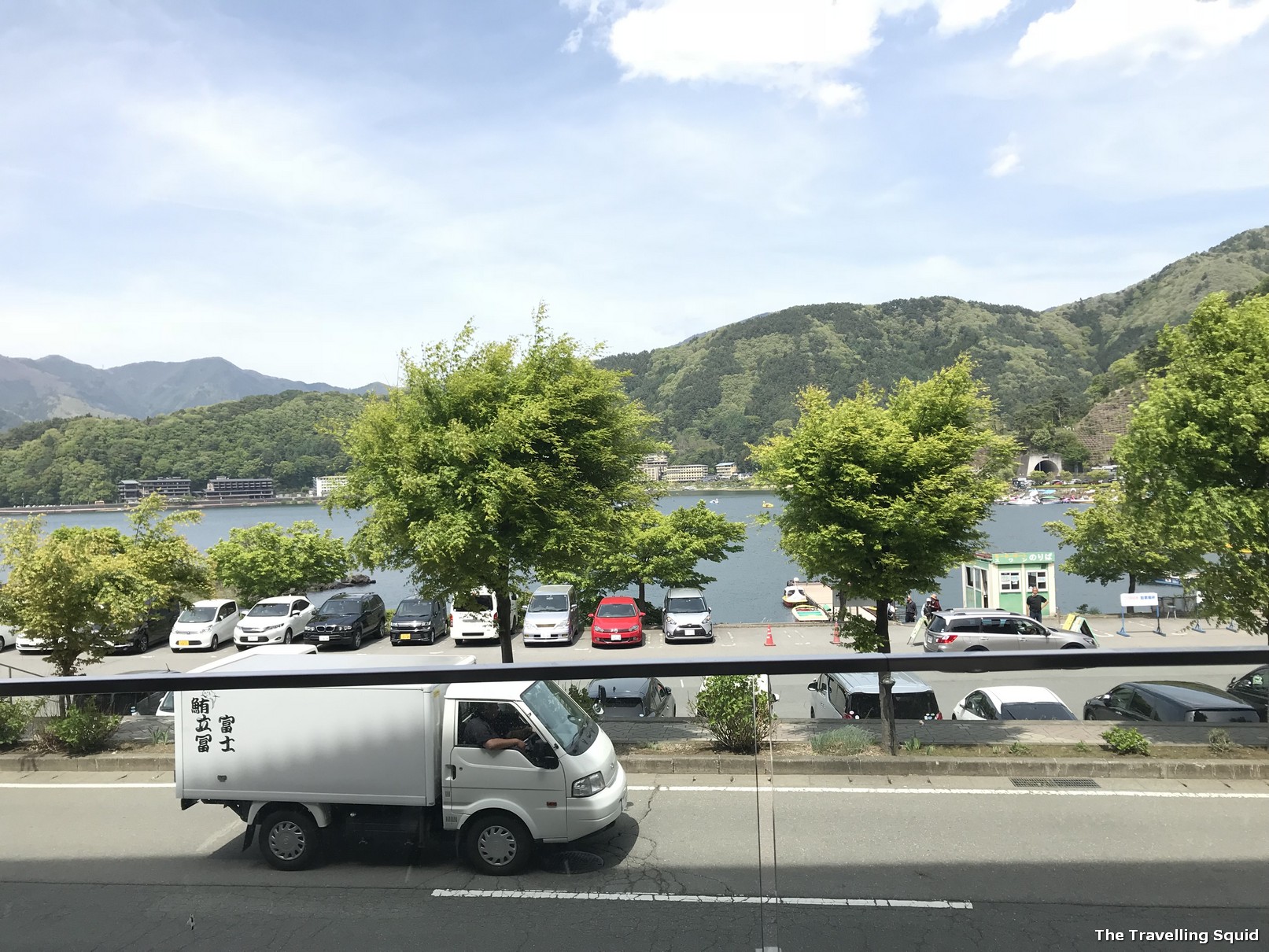 I've written a side post on the lounge of Hotel Konanso, largely because the scenery is really nice. We arrived at about 12pm, and check-in was only later, at 3pm. That said, you get a free coffee token to get a coffee from the lounge's machine, which made for a refreshing beverage after our approximately 2 hour bus ride from Tokyo to Kawaguchiko.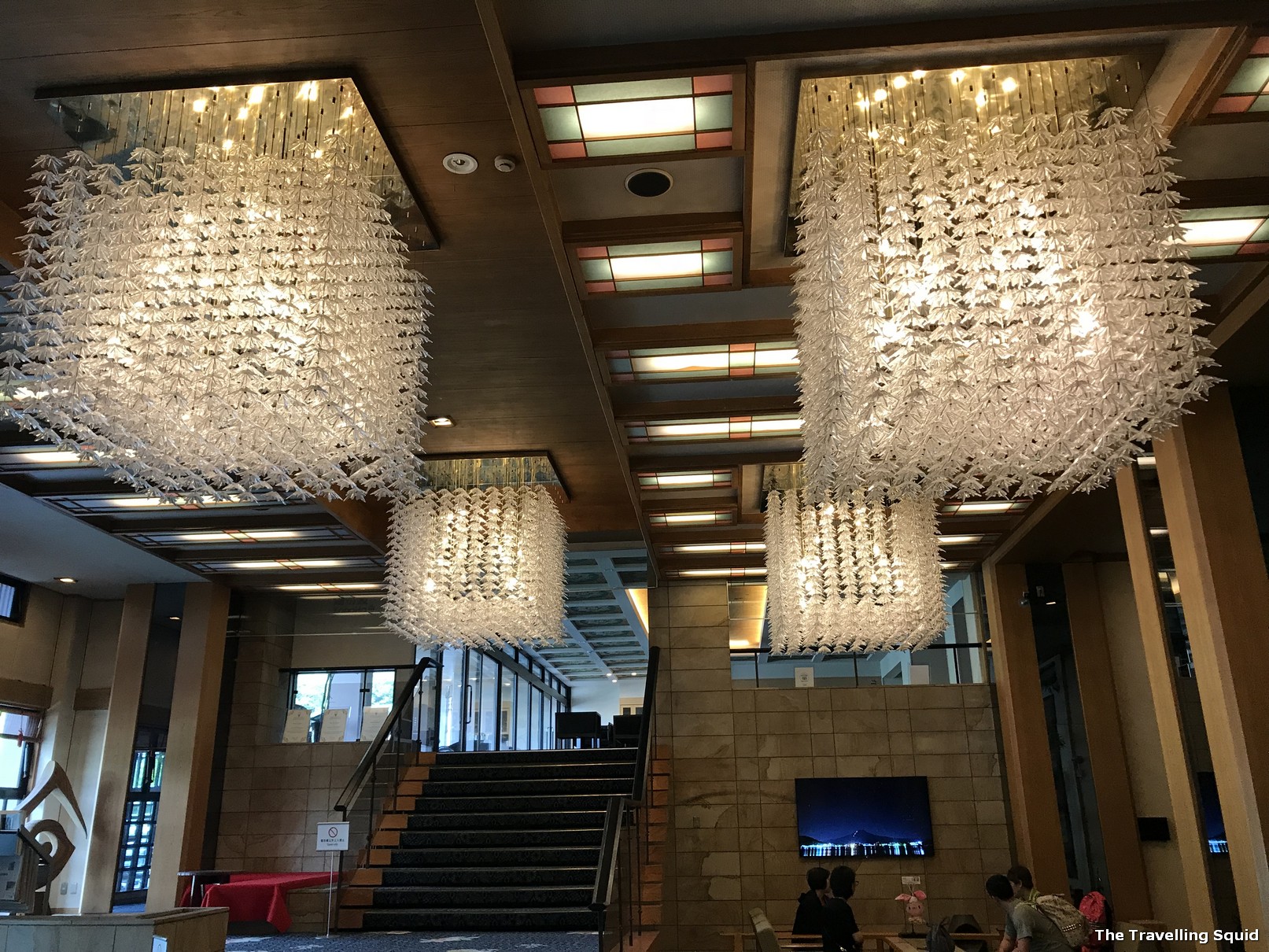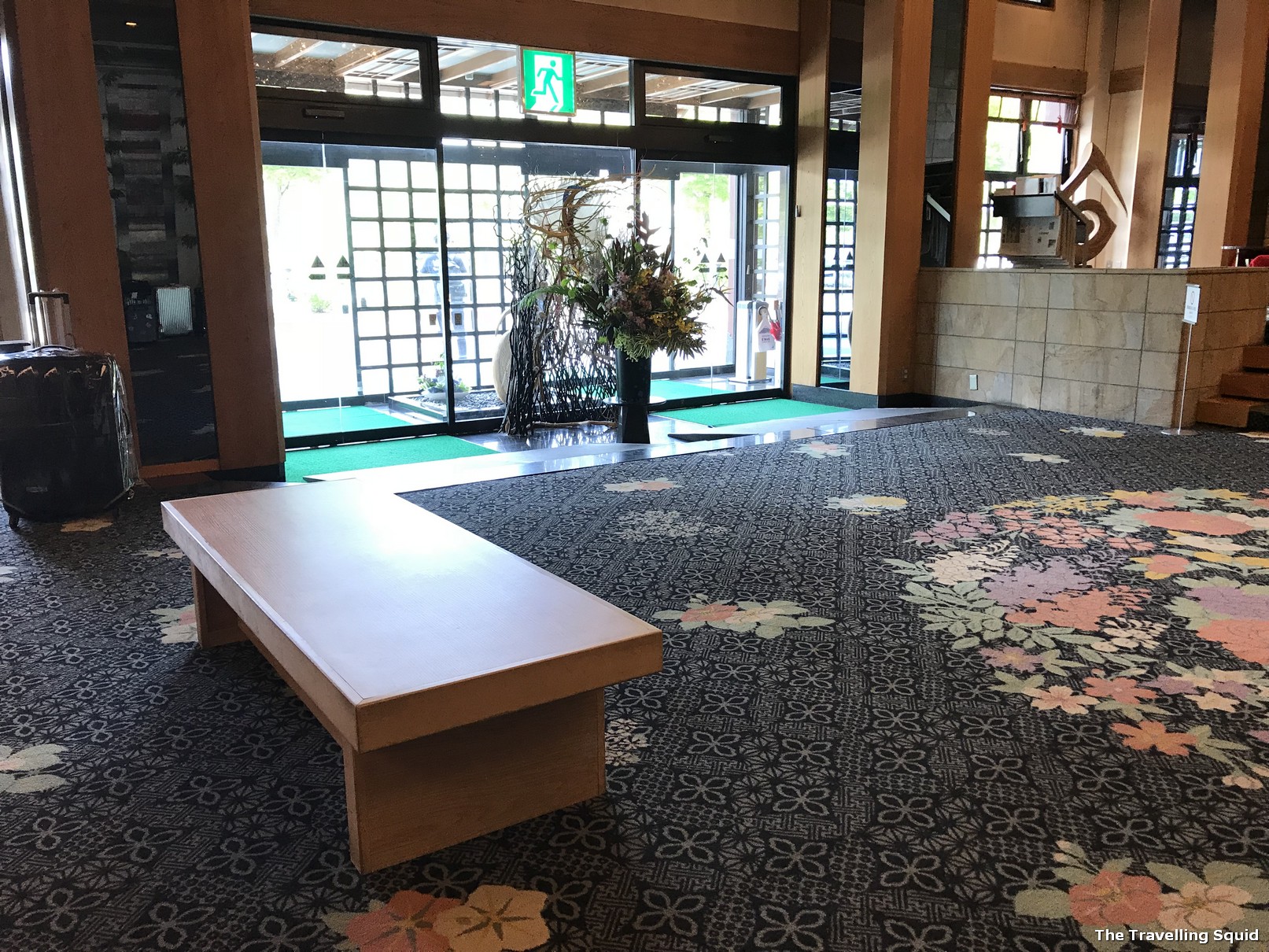 When we first stepped in, I thought the lobby was a tad dated. The floor was of a dark coloured carpet. And the chandeliers were in the design of ferns – which was quite ornate and yet a little over the top in my view. But the view from the lobby was good.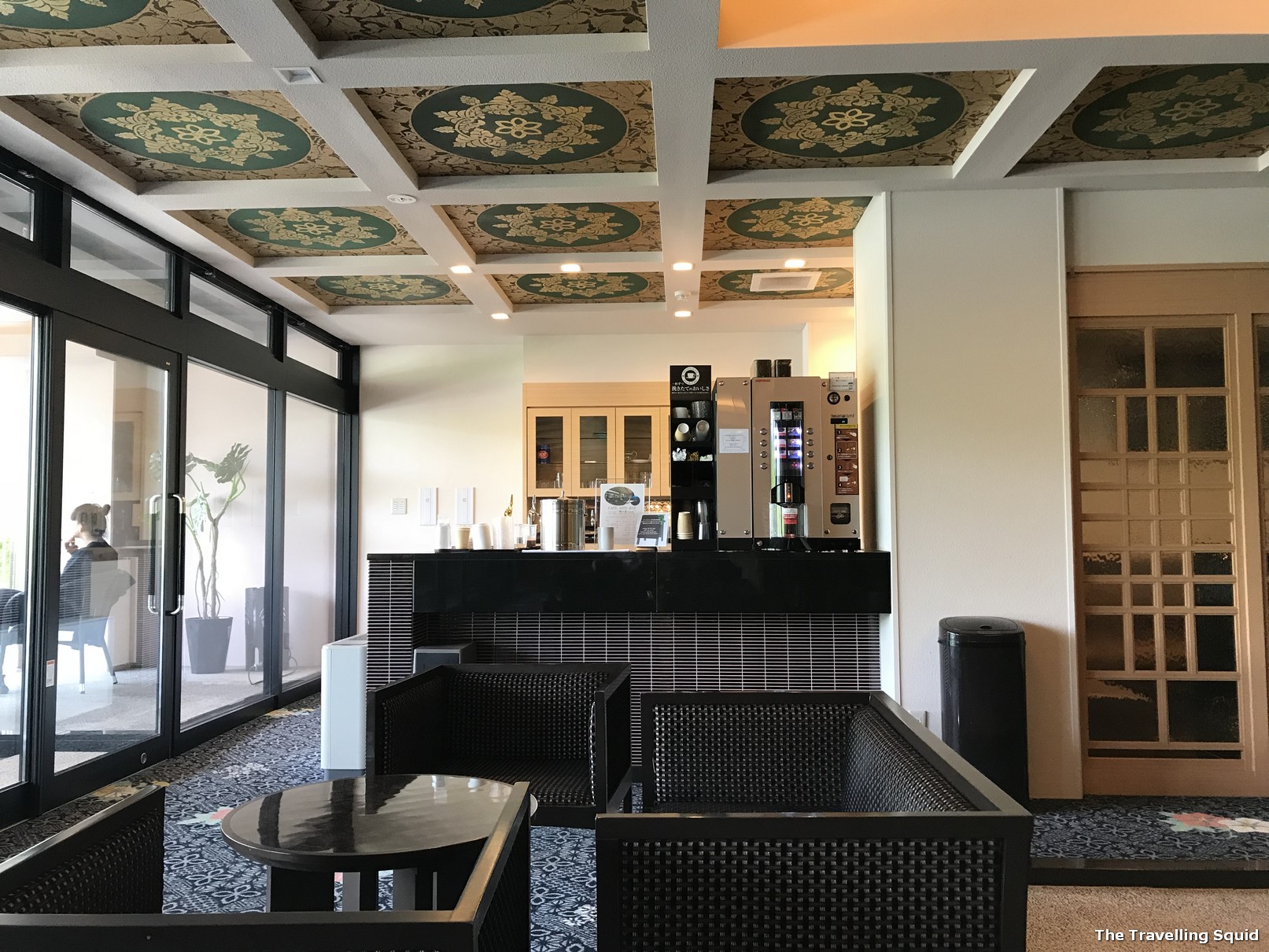 The coffee was alright. The real attraction was the view – I'd encourage you to go out into the balcony.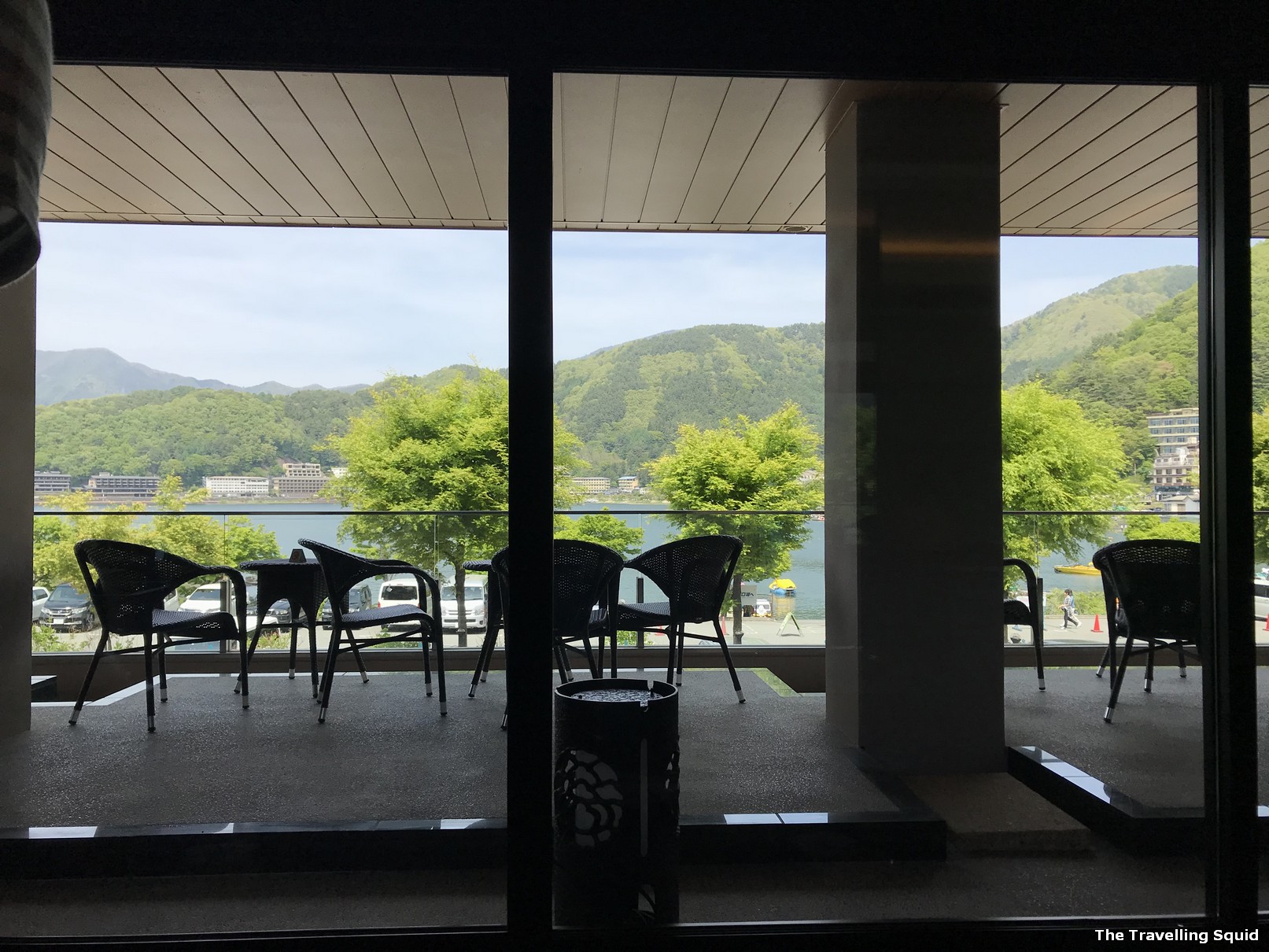 The Travelling Squid's recommendation
I found Hotel Konanso's check-in time of 3pm and check-out time of 10am a tad tight. It was quite a rush in the morning and we didn't get a chance to fully enjoy the breakfast! That said, if you're arriving early to check-in, I'll advise you to have a sip of coffee at the coffee lounge before heading out. It's quite refreshing to enjoy the view from the hotel lounge. There's also a toilet located near the lounge, which is fully automated (ie. the toilet lid lifts up automatically, upon your arrival). Pretty cool stuff. Enjoy! After 3pm, you'll be in good hands.