Review: Our Ryokan in Hotel Konanso in Kawaguchiko with a Lake View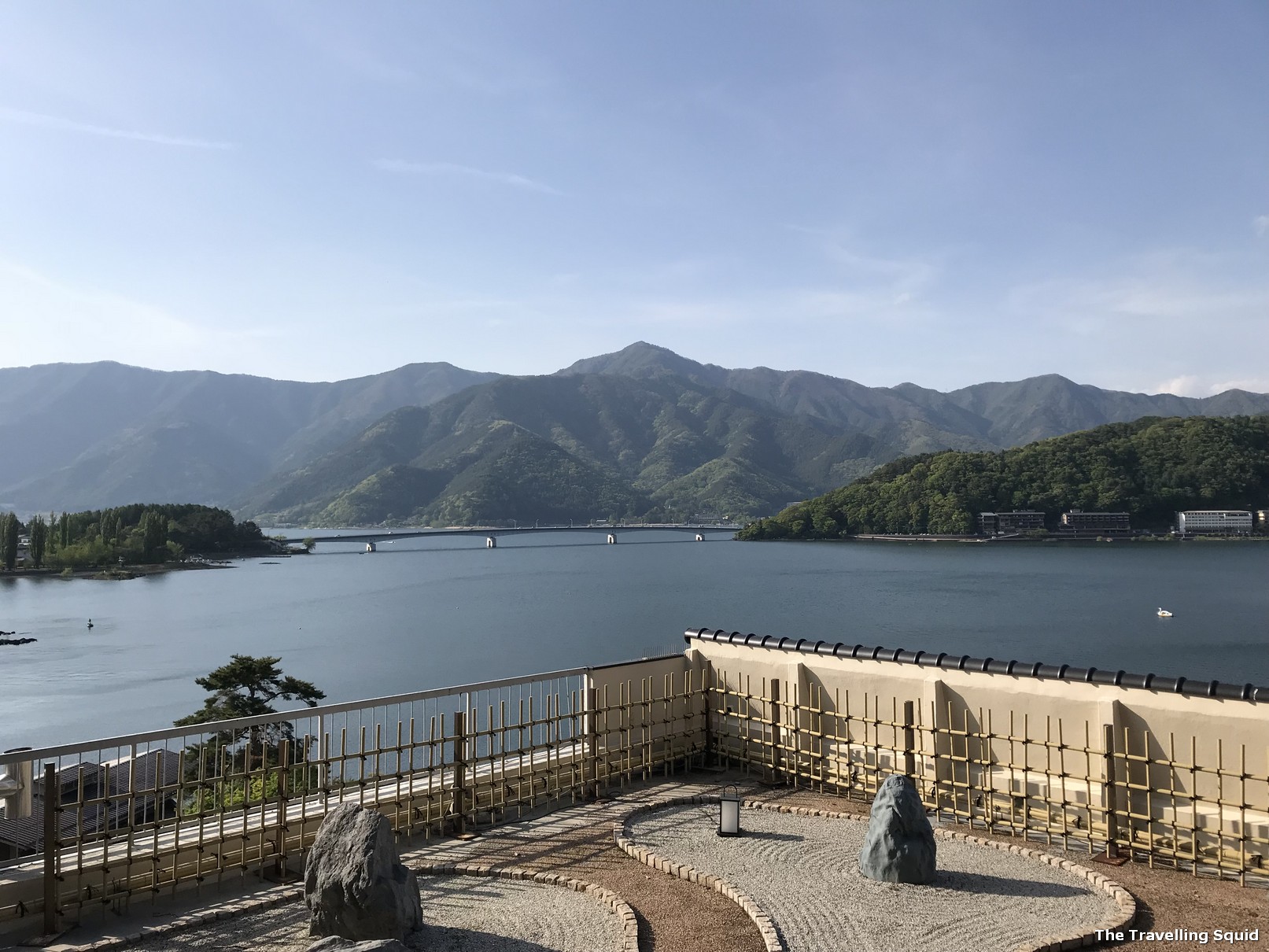 Just in case you're wondering what a 'ryokan' is, it's a Japanese-style inn. The main difference between a ryokan and a Western hotel room is that the bed and tables in a ryokan are of a much lower height. There wasn't a bed in our room during the day. At Hotel Konanso in Kawaguchiko, the staff came to help us prepare futons in the evening, after dinner. It was pretty comfortable. The room came with low tables and chairs for resting, which meant that one had to sit cross-legged while having a meal or watching TV. Here's the review of our Ryokan in Hotel Konanso in Kawaguchiko with a Lake View: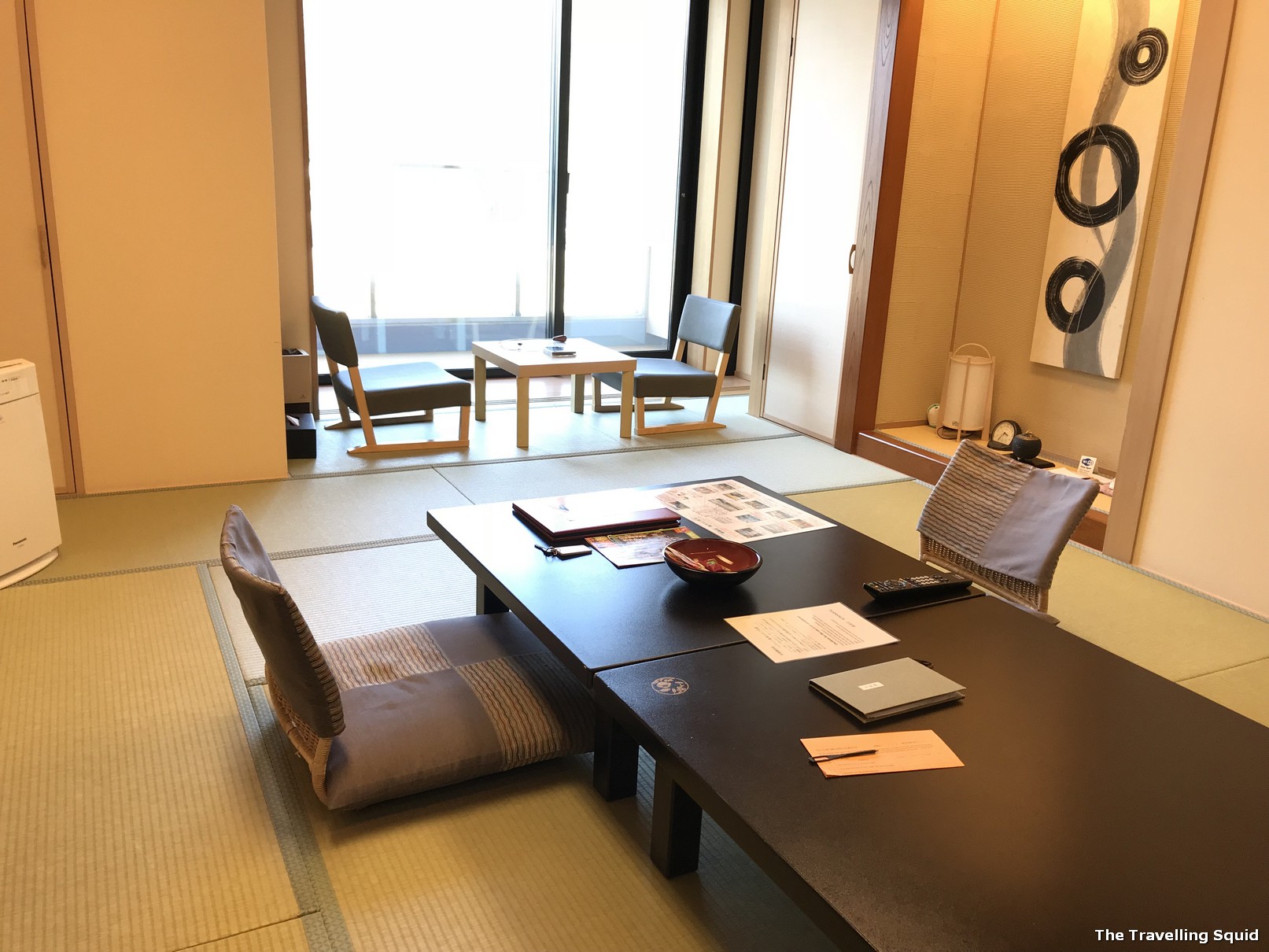 The Room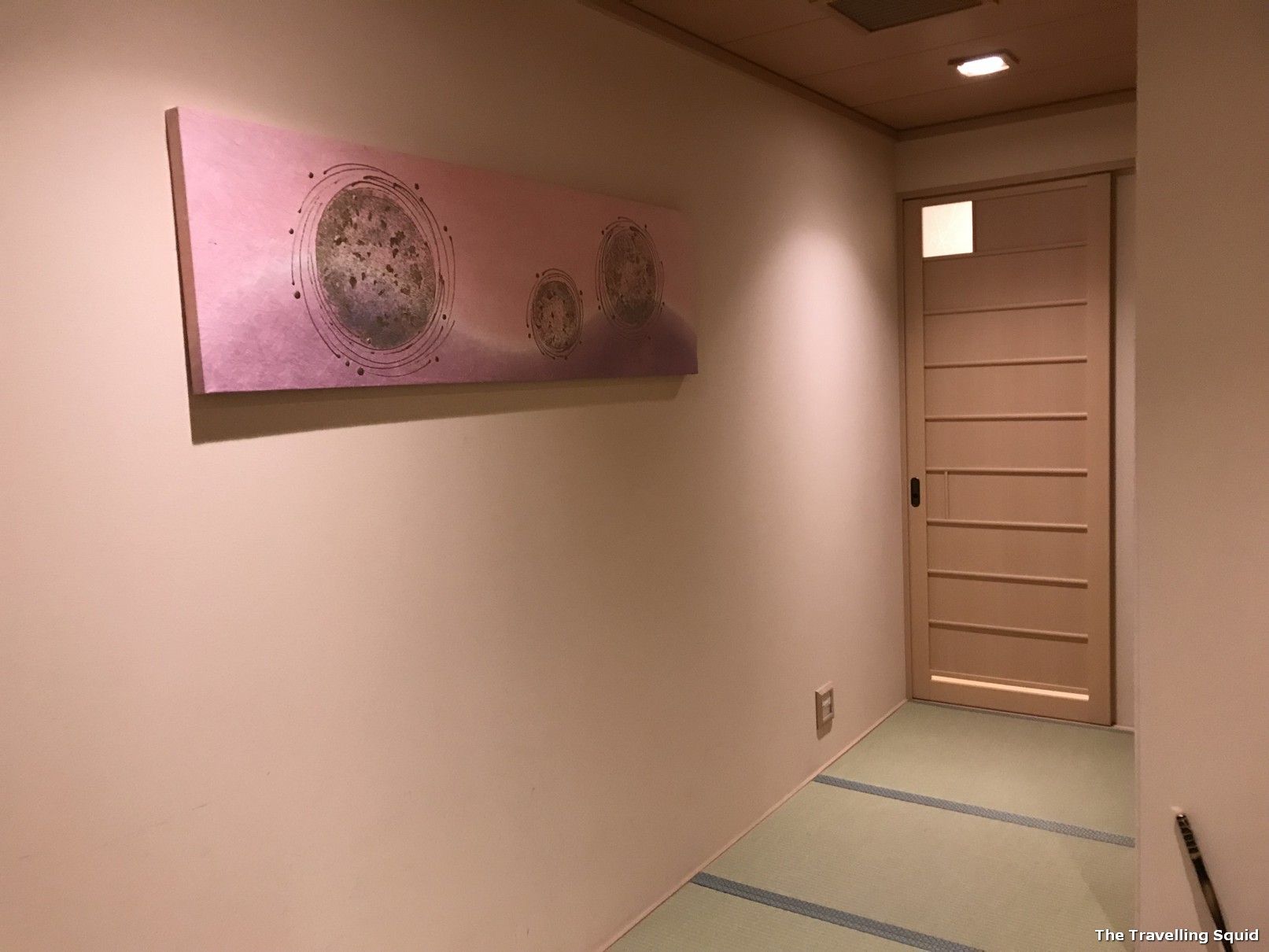 The room was really spacious for two. There was a large doorway for you to sit and put on your shoes. (A luxury we did not have at our guesthouse in Kyoto (ha! more to come in the series of posts on Kyoto).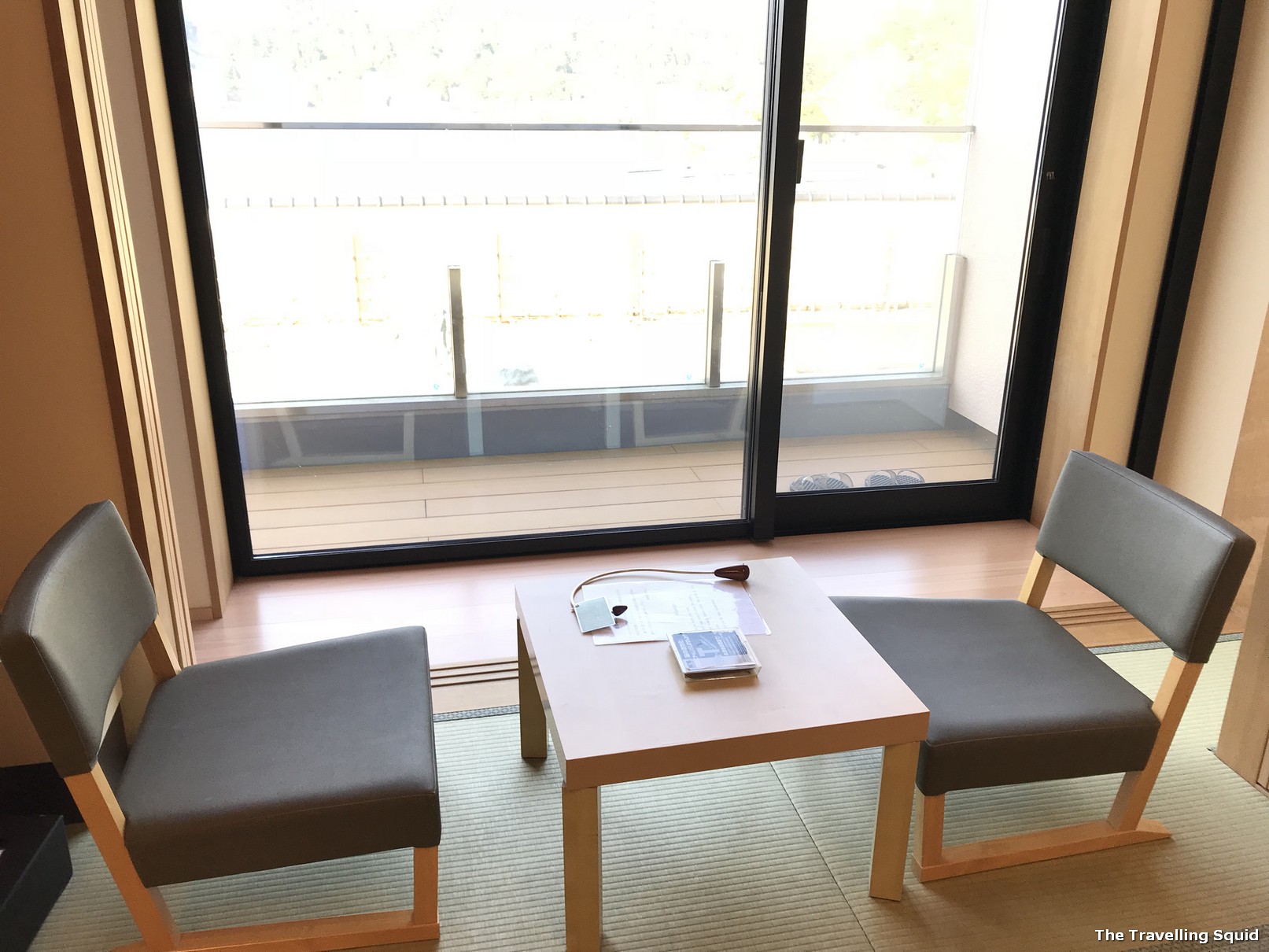 The room was covered with tatami mats, which acts as an insulator against the cold, especially during winter. There were no sofas or beds, only low chairs, two low tables and a television which was mounted at a sitting height. If you're wondering what is that 'back-scratcher' on the right in the picture below, it's actually used to press one's pressure points for better blood circulation.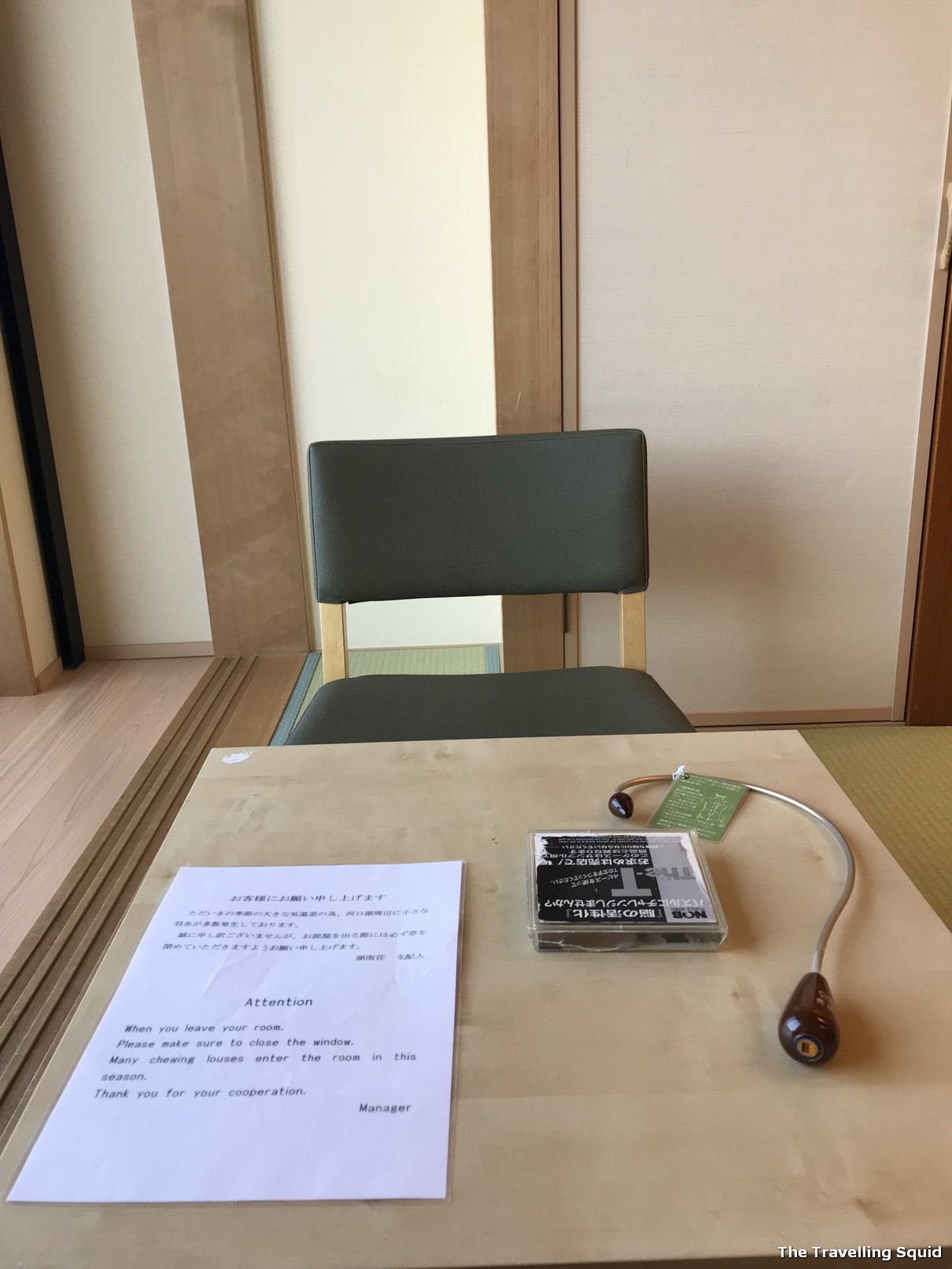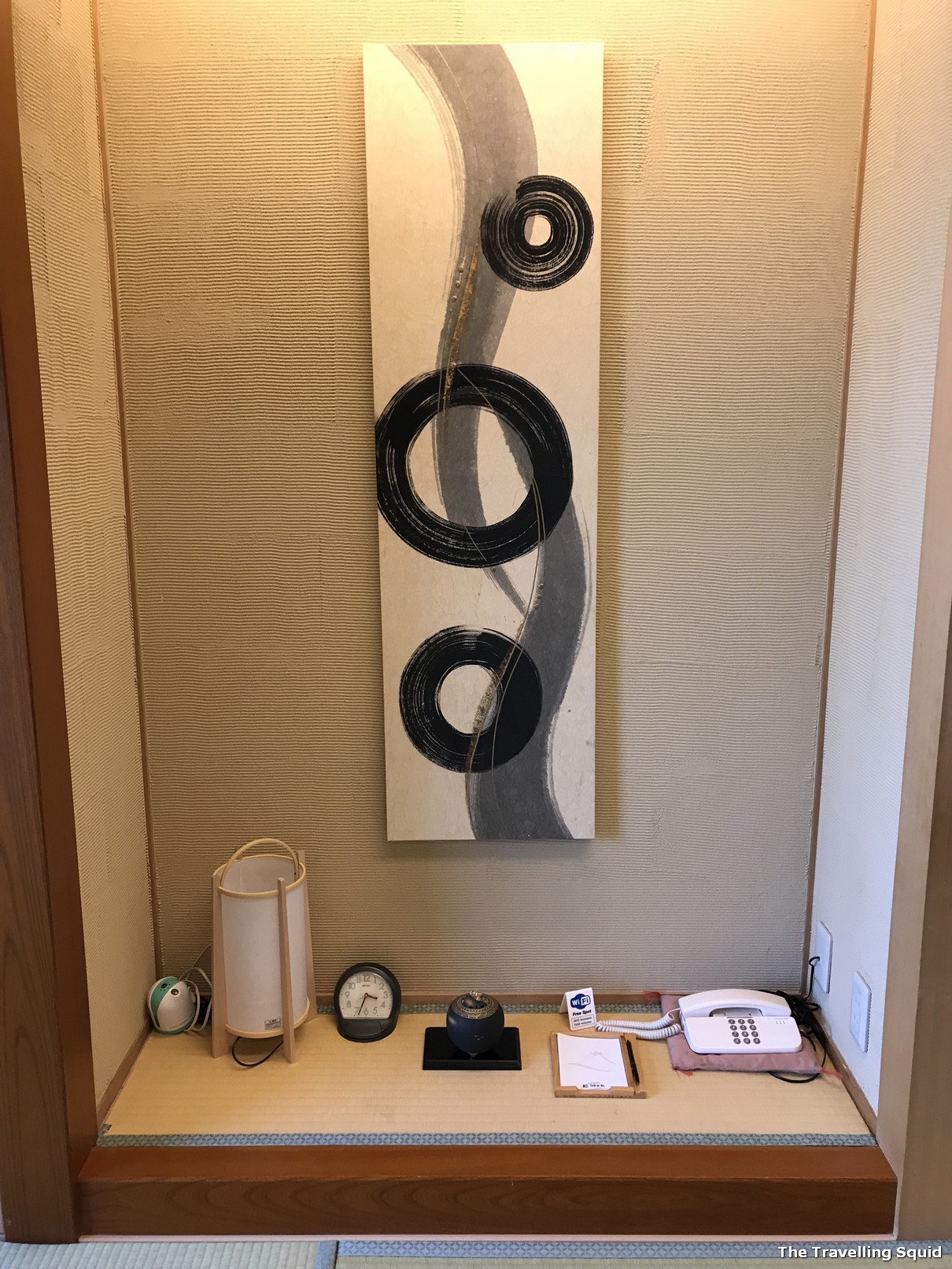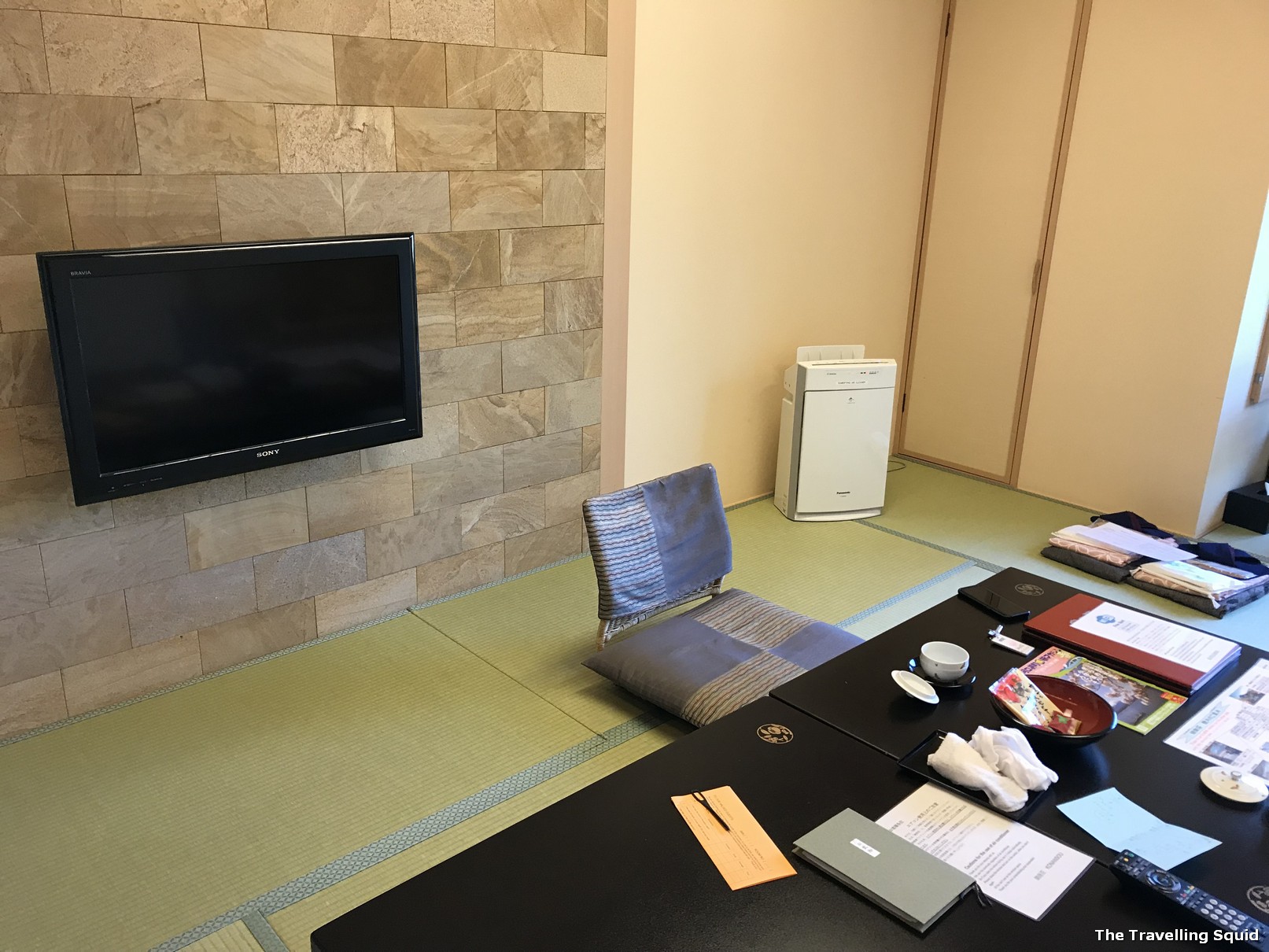 The issue with sitting cross-legged on the floor was that the chair was too light. When I sat too close to the edge of the chair near the back rest, it tilted and I nearly felt over! It's also a bit tiring on the knees, having to get up and down each time I stood up.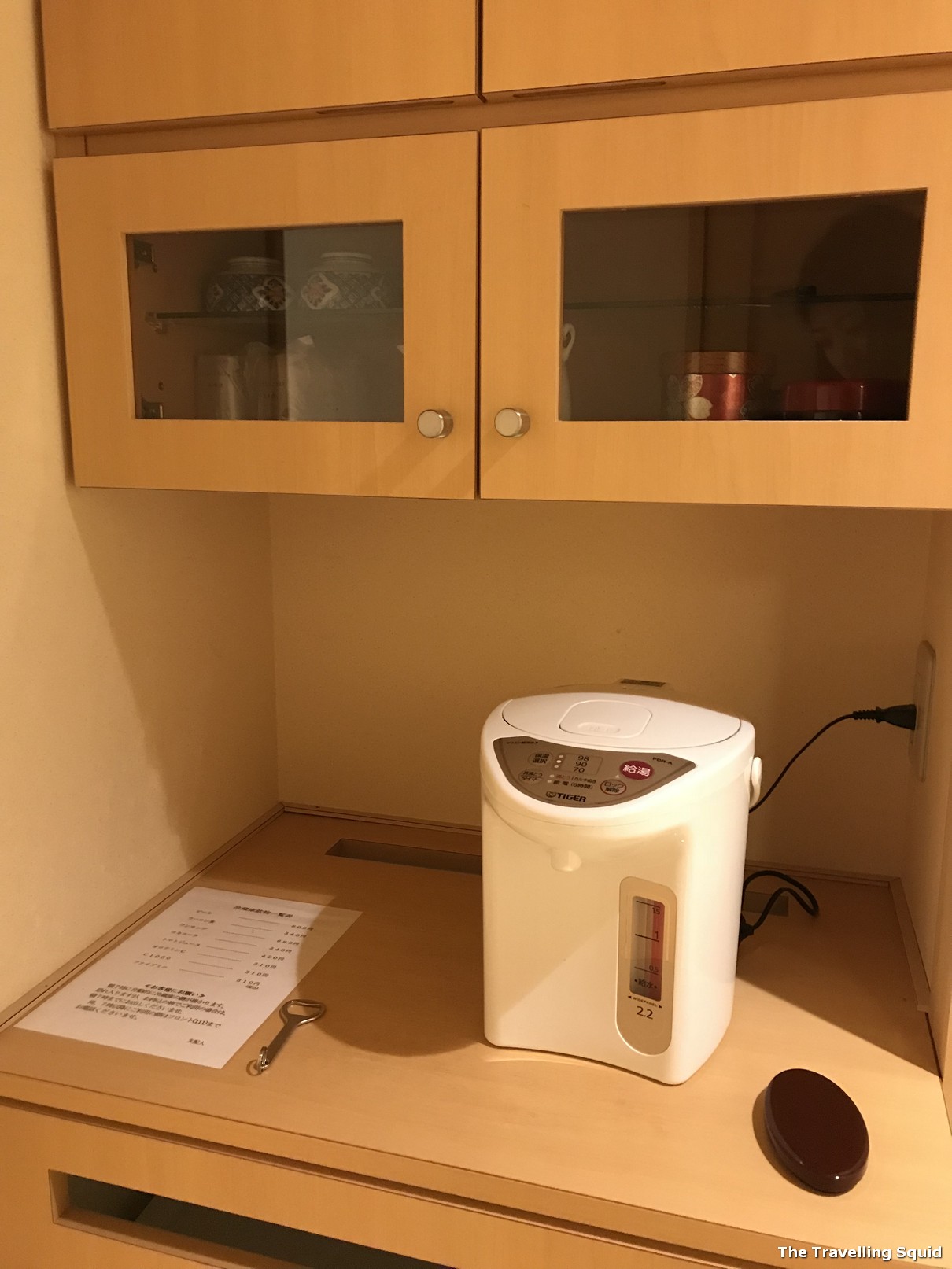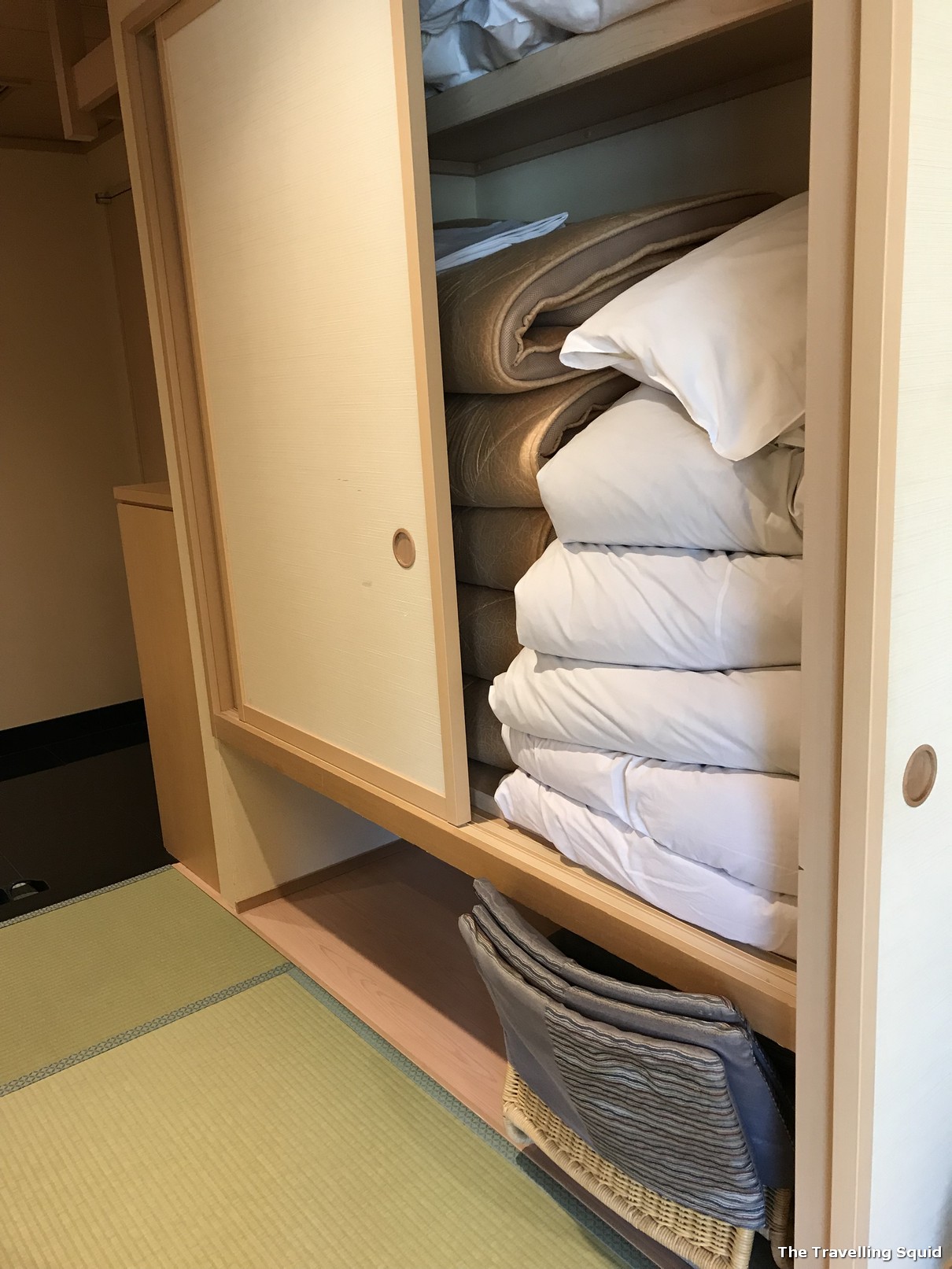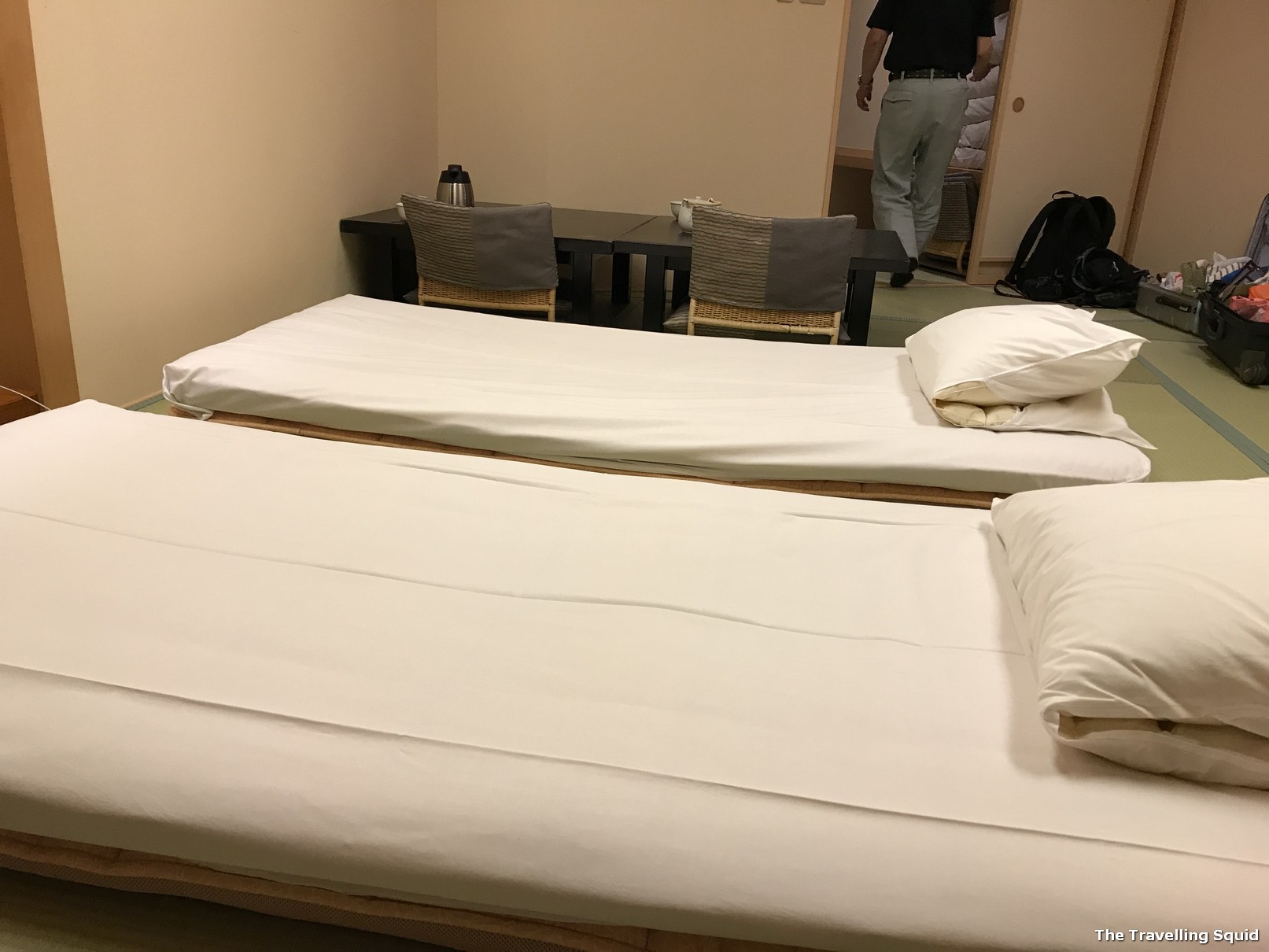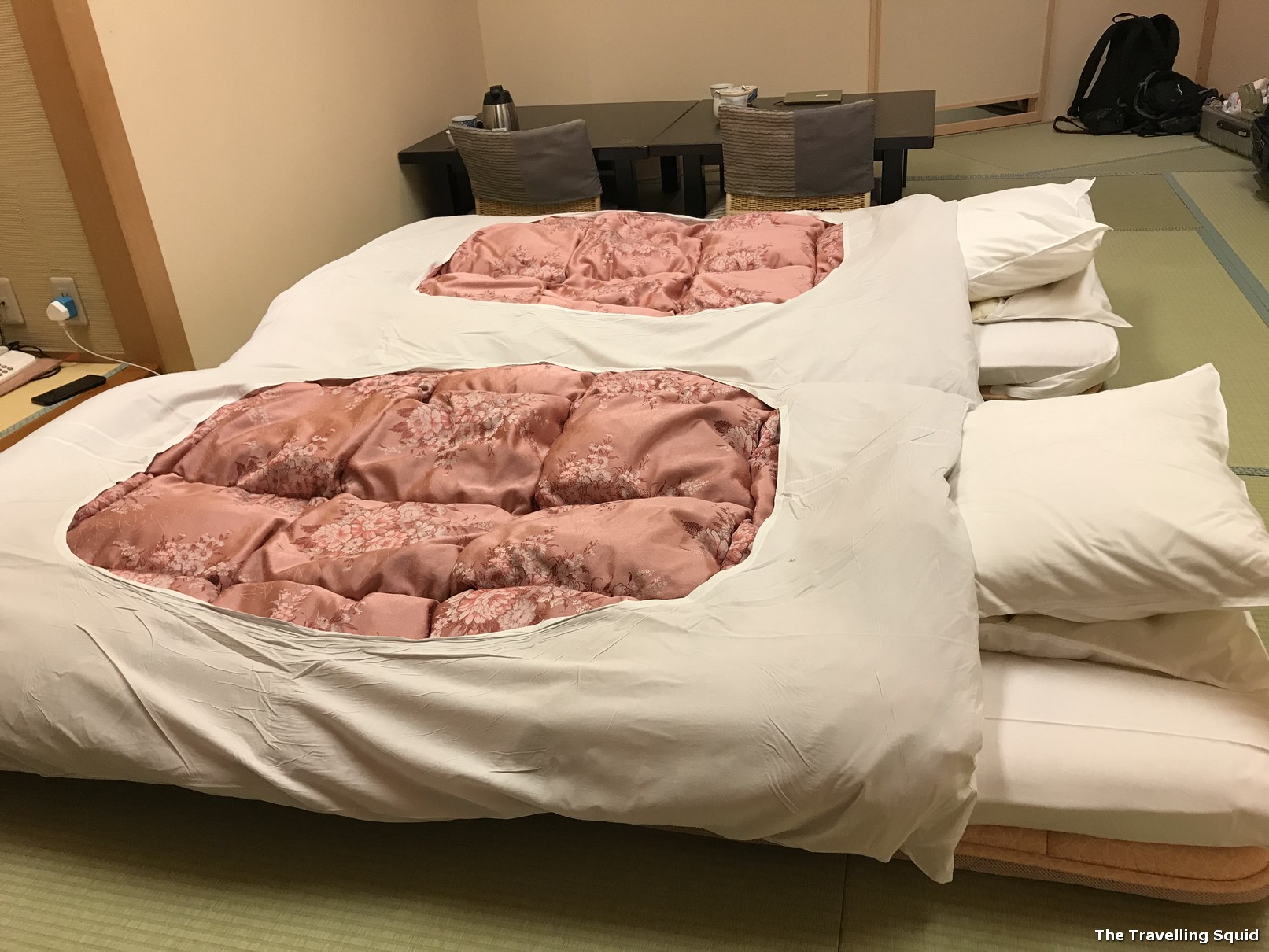 If you're thinking that sleeping on a futon is less comfortable than sleeping on a mattress, it's not quite the case. The feeling is different, but I fell asleep right away. The pillows are most interesting. They come with beads sewed into the case, so that gives you the option of adjusting the height of your pillow.
The Balcony
The room came with a balcony which looked out into the lake and landscaped garden in front of us. It was quite a nice touch. It was nice to hang out by the balcony and watch the sunset.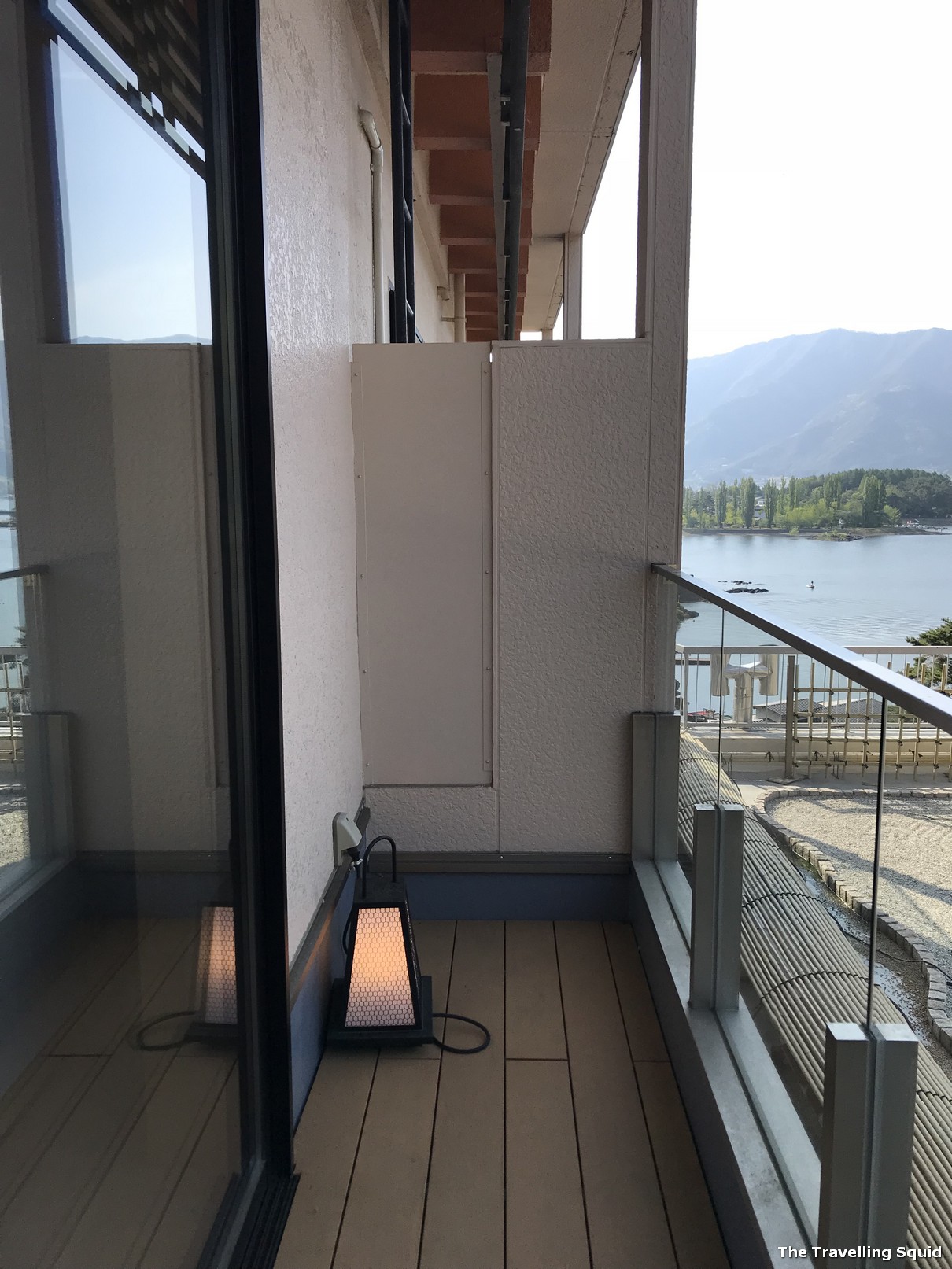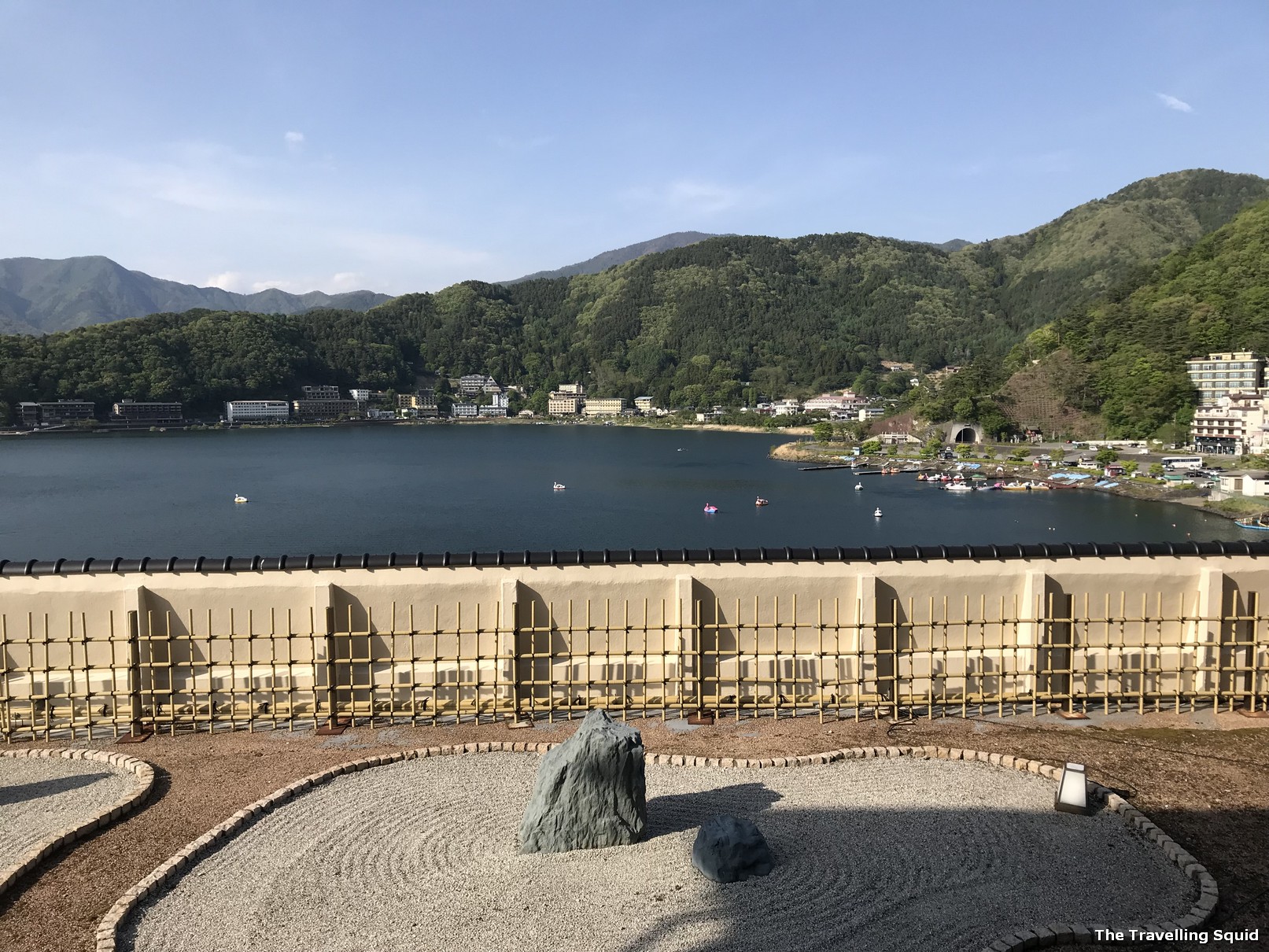 The Bathroom and Toilet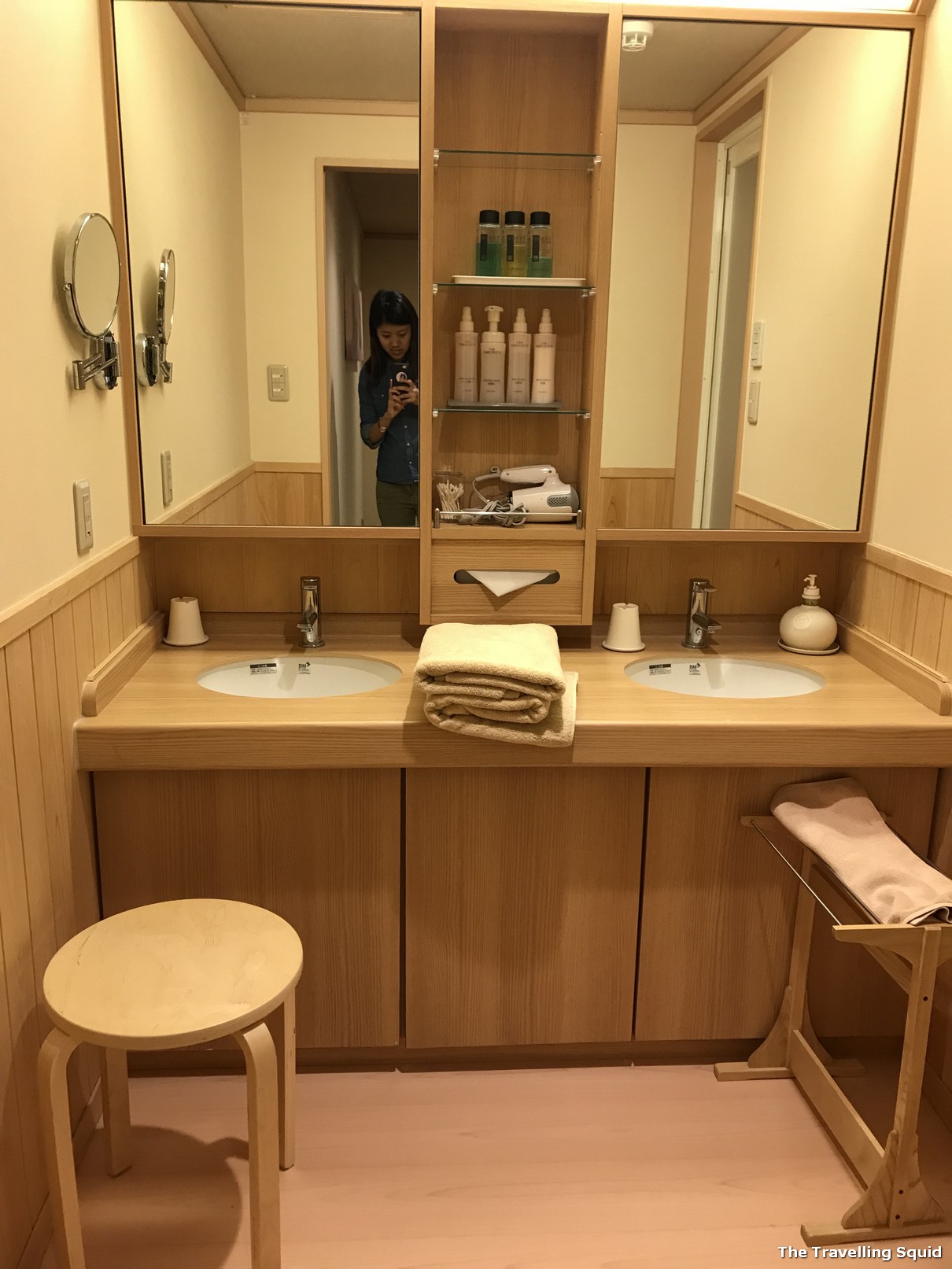 The bathroom and toilets were in separate rooms.  I must say it's probably the best bathroom ever, given that there's a stool for one to sit down and dry one's hair. I suppose you could also sit on it and brush your teeth. I was suffering from sunburn after queuing for a bowl of delicious ramen in Ginza, and the Shiseido skincare products did help very much!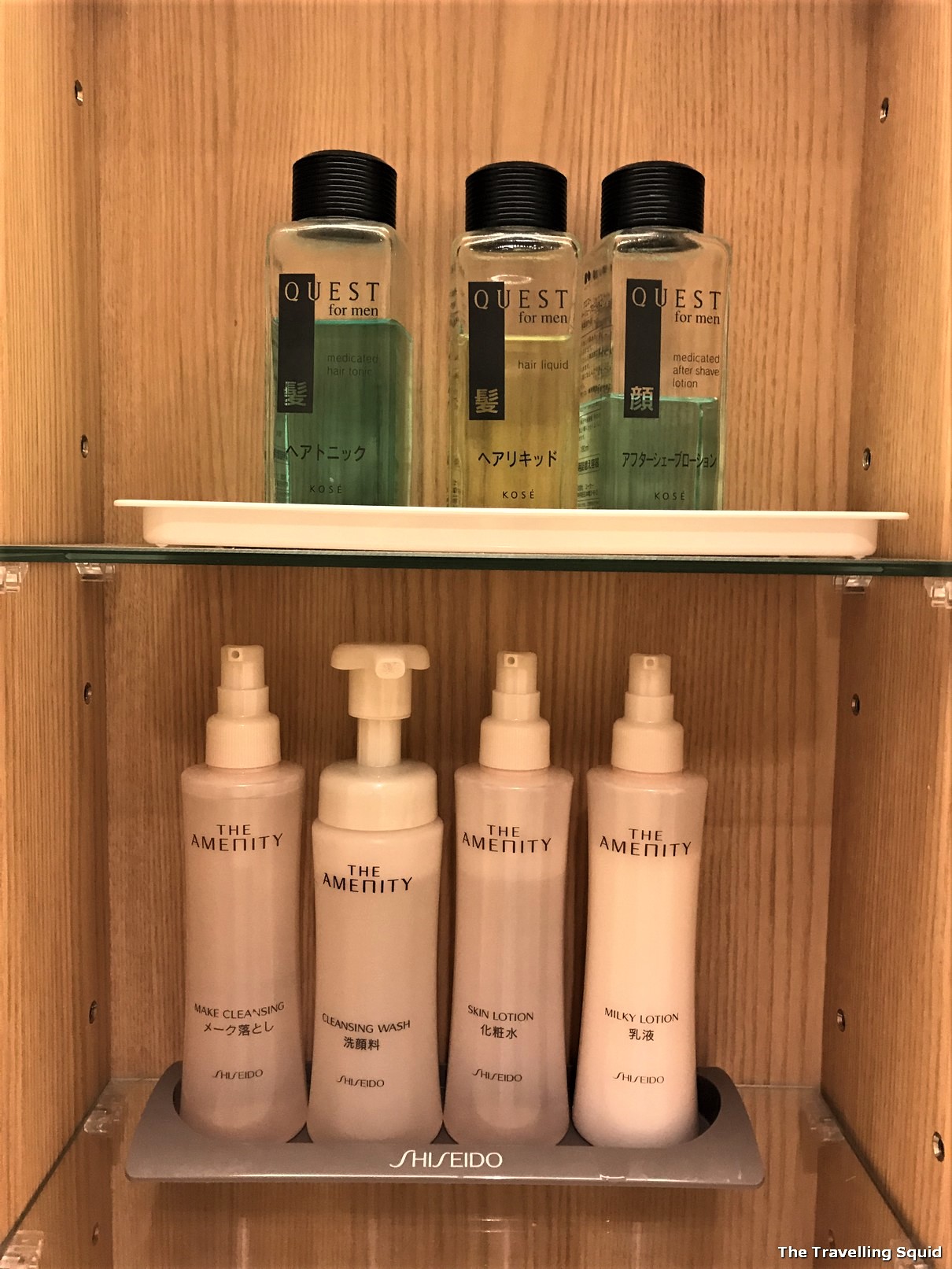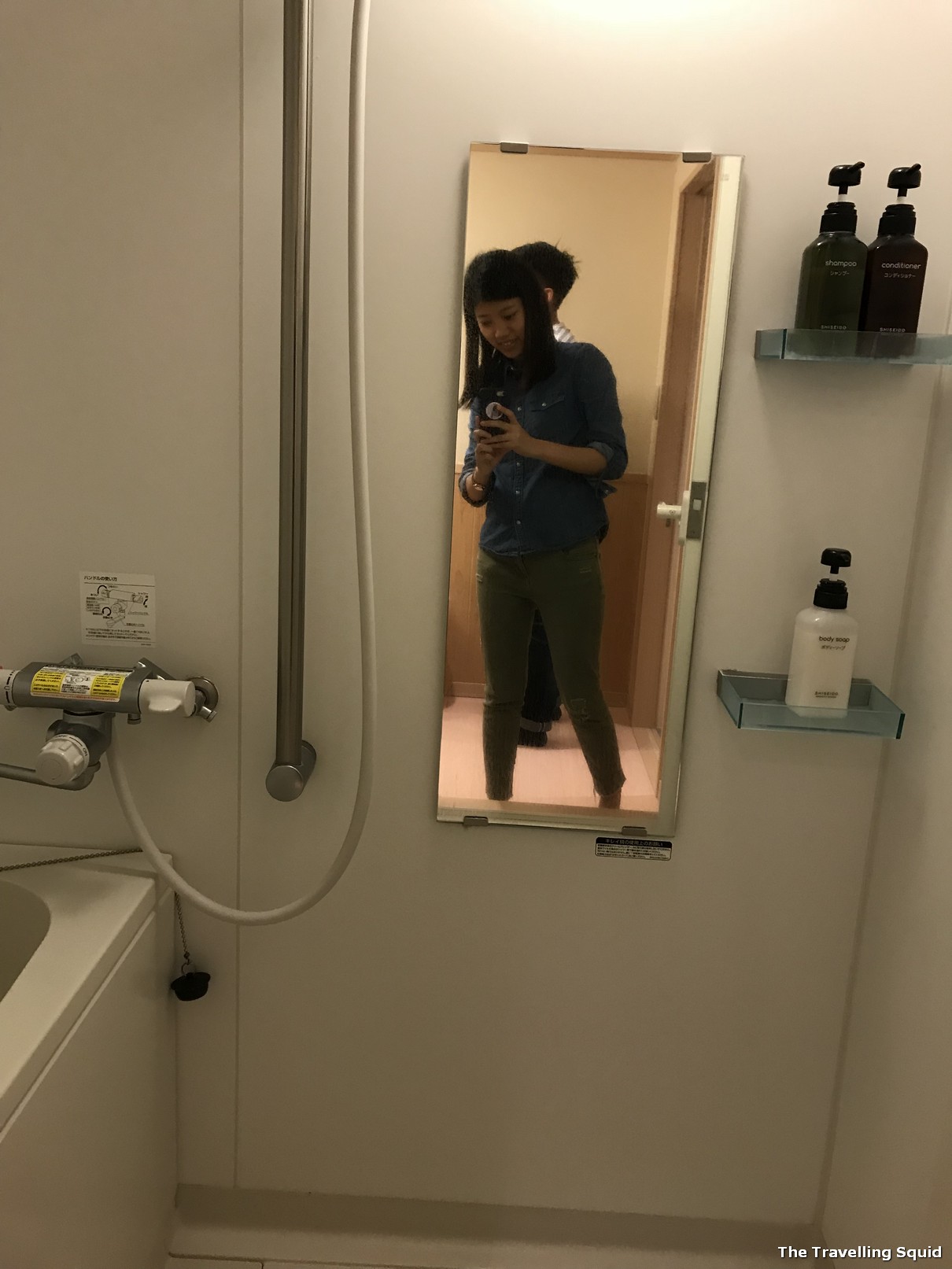 I really like the bathroom. It was the cleanest, most simple bathroom ever. There was also Shiseido shampoo and conditioner! ໒( ͡ᵔ ▾ ͡ᵔ )७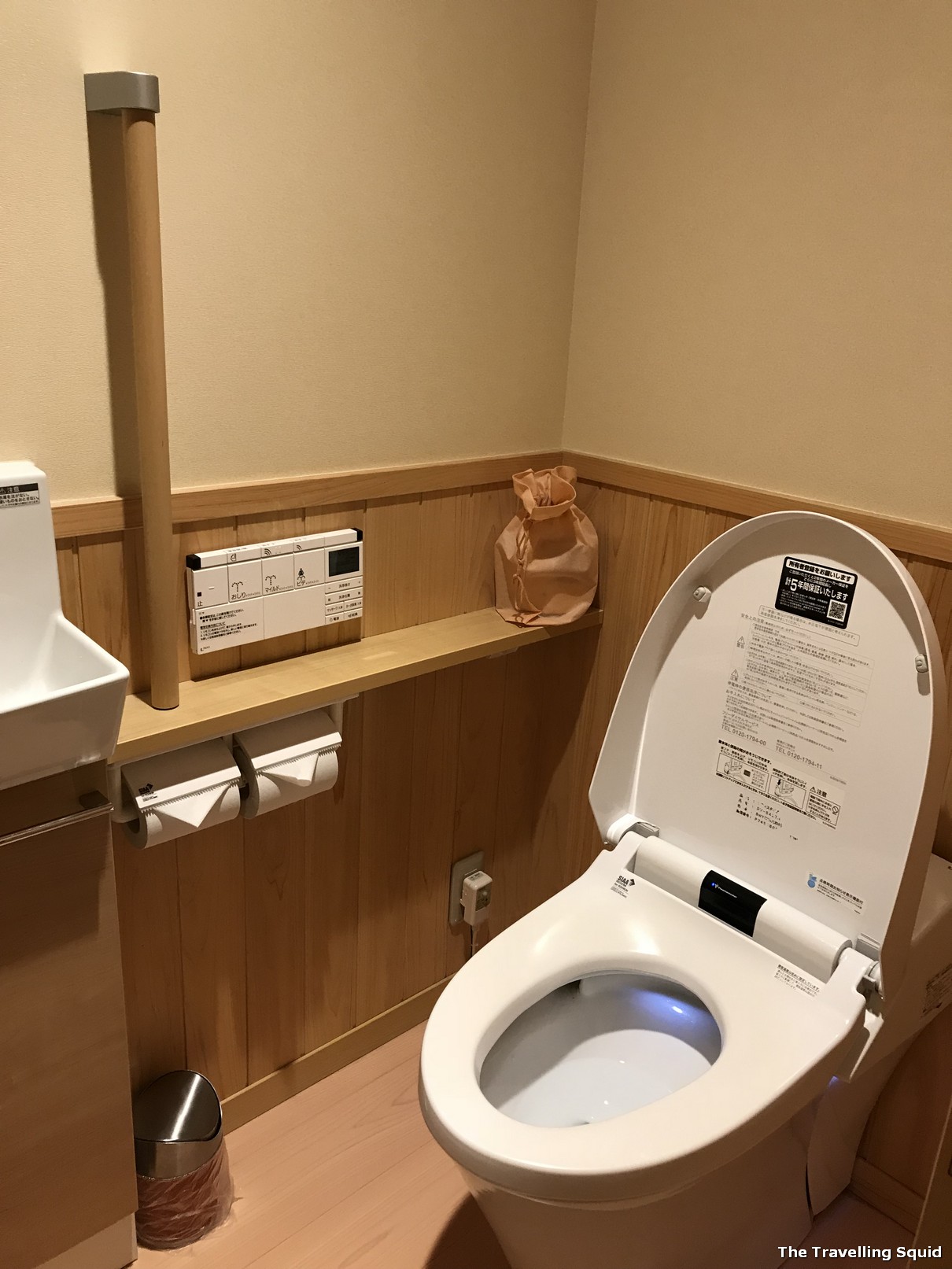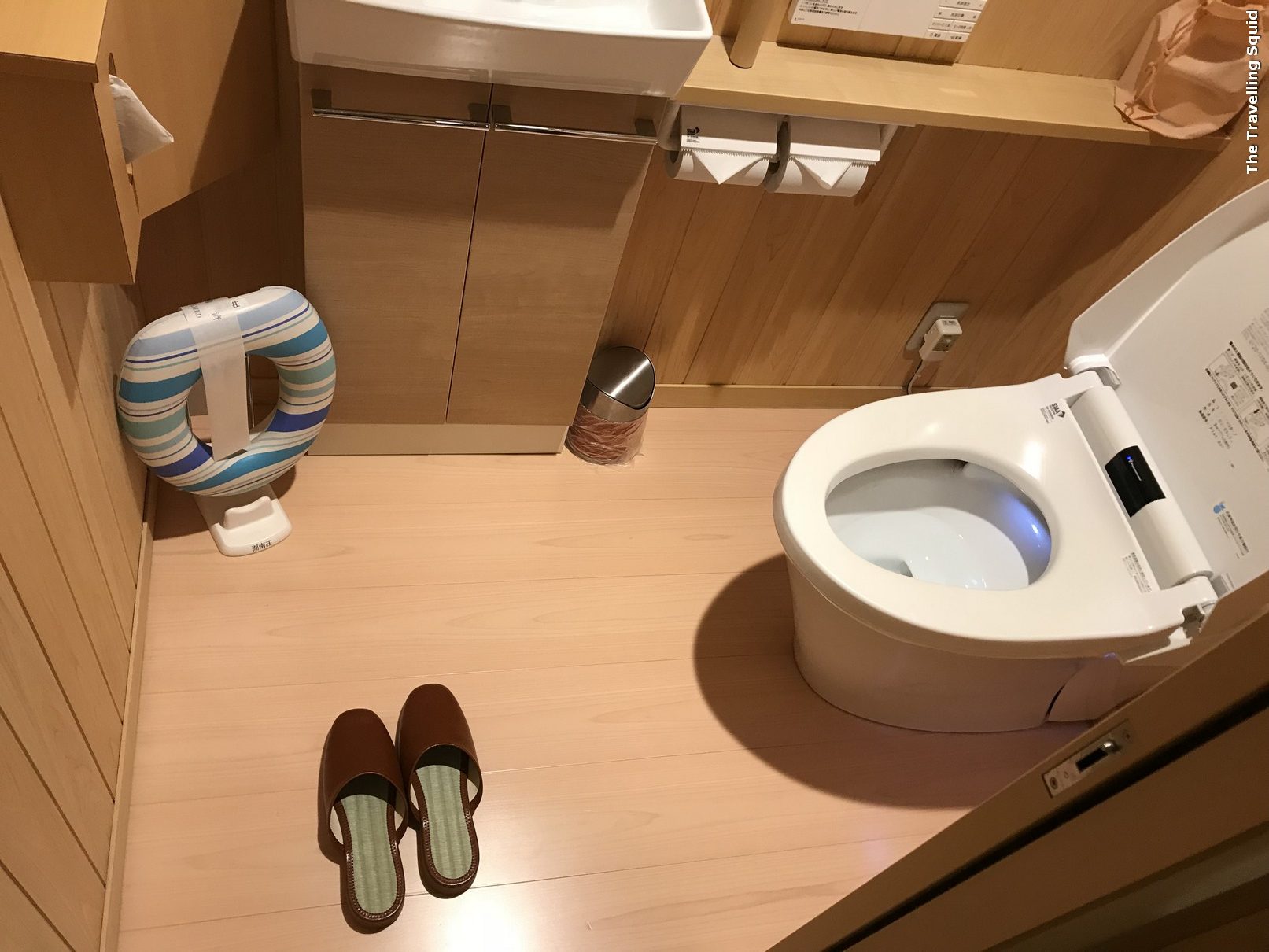 The Service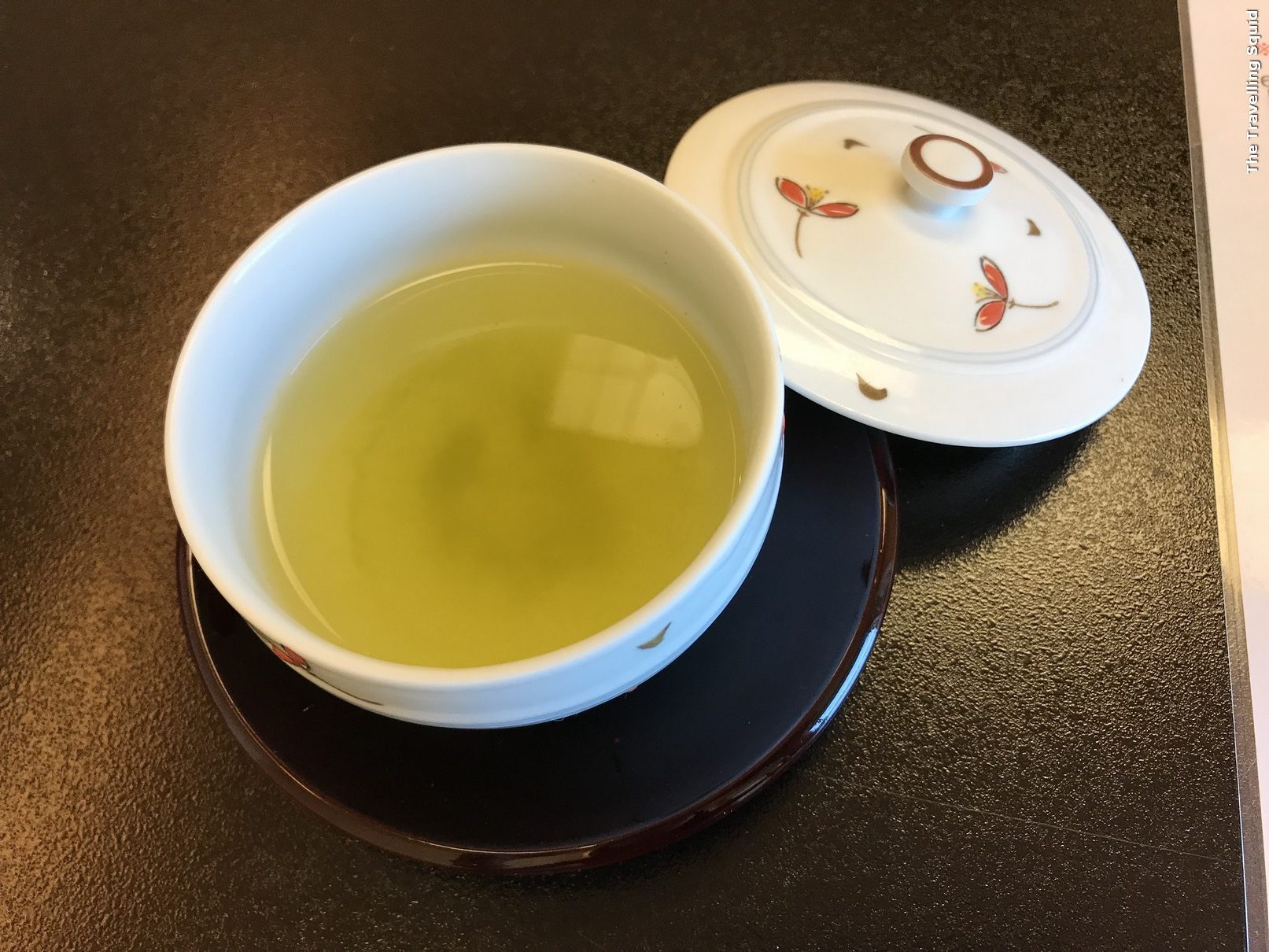 The service was really good. A middle-aged Japanese lady came in to explain to us the various functions of the room. She first made green tea for us using a 'kyusu', a traditional Japanese teapot used mainly for brewing green tea. Then, she explained to us how to use the facilities that are available in the hotel, including the various onsens (a Japanese hot spring) available (more to be covered in a separate post). She also asked us about our meal preferences, for the 'kaiseki' dinner which would be served later in the room. Should you be wondering – Kaiseki refers to a traditional multi-course Japanese meal involving a variety of techniques, such as steam, boil and grill.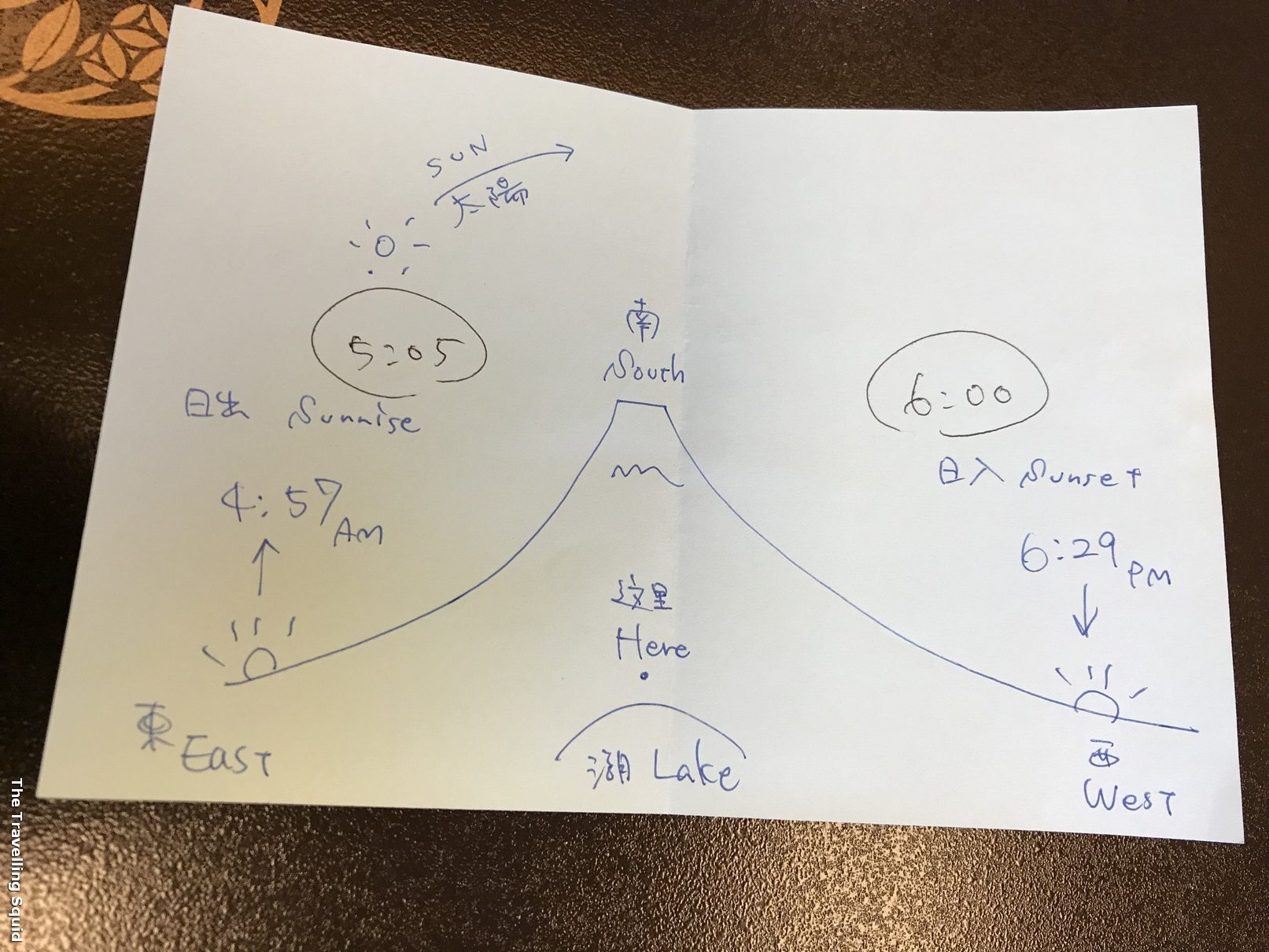 The lady also drew us a map with the sunset and sunrise timings, as well as the directions, which was easily understood even for me, a person with a bad sense of direction. Last but not least, she also provided us with the yukata (a light cotton kimono which is worn by both men and women.) That came in really handy when we were about to have our kaiseki dinner and go to the onsen. There was also a toiletry bag which came with socks, a toothbrush and a wash cloth for the onsen.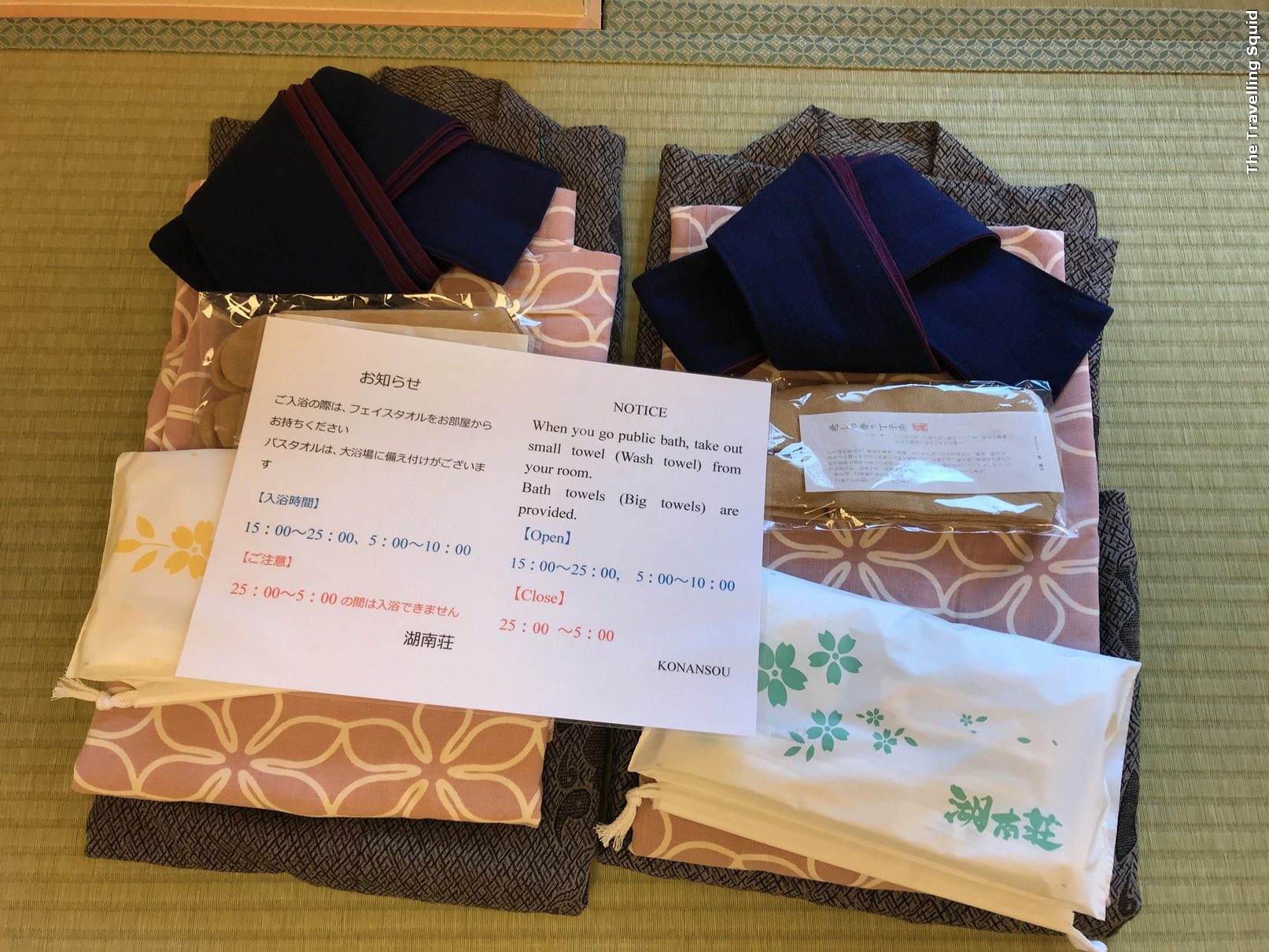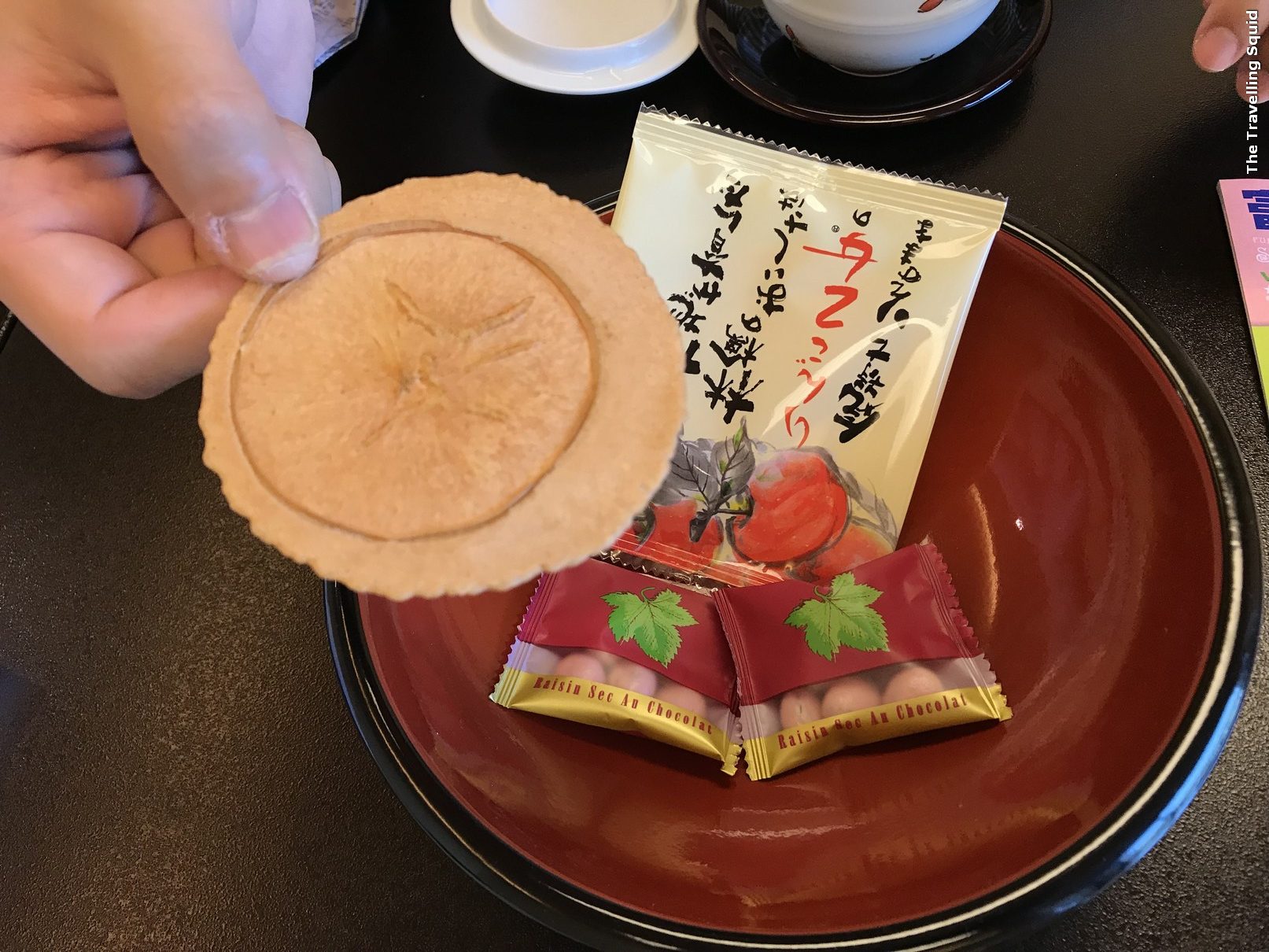 There were also some welcome snacks prepared for us – I polished them off.
The Travelling Squid's Take
I have prepared three more posts on Hotel Konanso in Kawaguchiko largely because it's a new experience worth relating. Having a dip in the onsen was my first, and it was a memorable experience. (Made me feel quite sleepy afterwards).  The kaiseki dinner was perhaps the most interesting aspect during our stay at Hotel Konanso.
The stay cost us SGD473/ USD355 with dinner inclusive. The difference between the options with and without dinner is SGD50/ USD38. In other words, the meal was extremely value for money – I'd encourage you to opt for it when booking the room. We also paid an extra 3,400 yen (SGD40/ USD30) for a 50 minute private onsen in the morning, over-looking Mount Fuji.
I would say that while living in a ryokan may not be as comfortable as a Western five-star hotel with a high bed, a higher chair and luxurious marble bathrooms, it was an experience. A ryokan is not a room I would like to live in for many days, but that one night's stay was memorable, and taught me a lot about Japanese culture.
Stay tuned for more!
***
Our Ryokan in Hotel Konanso in Kawaguchiko