Review: Having Tendon Makino Kyoto Teramachi in Kyoto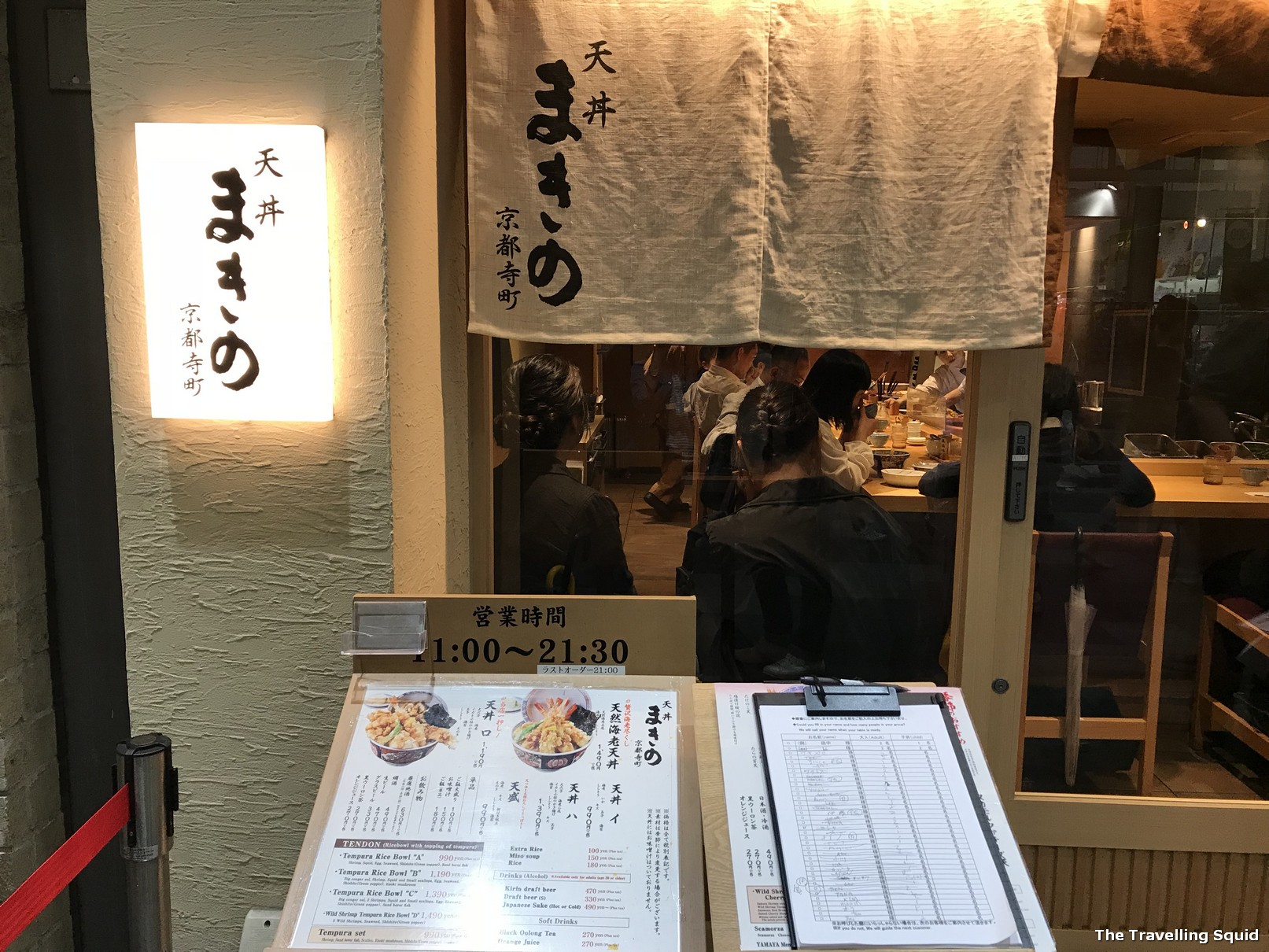 Tendon is a quintessential part of Japanese food. If you're wondering what it consists of, it's a mix of tempura (battered fried items including mushrooms, fish, prawn and vegetables) on a bowl of rice, drizzled with a sweet soy sauce. We had a chance to try it, at Tendon Makino Kyoto Teramachi in Kyoto. The portions were generous and we were glad to see that they had female chefs, in a traditionally male-dominated cooking scene.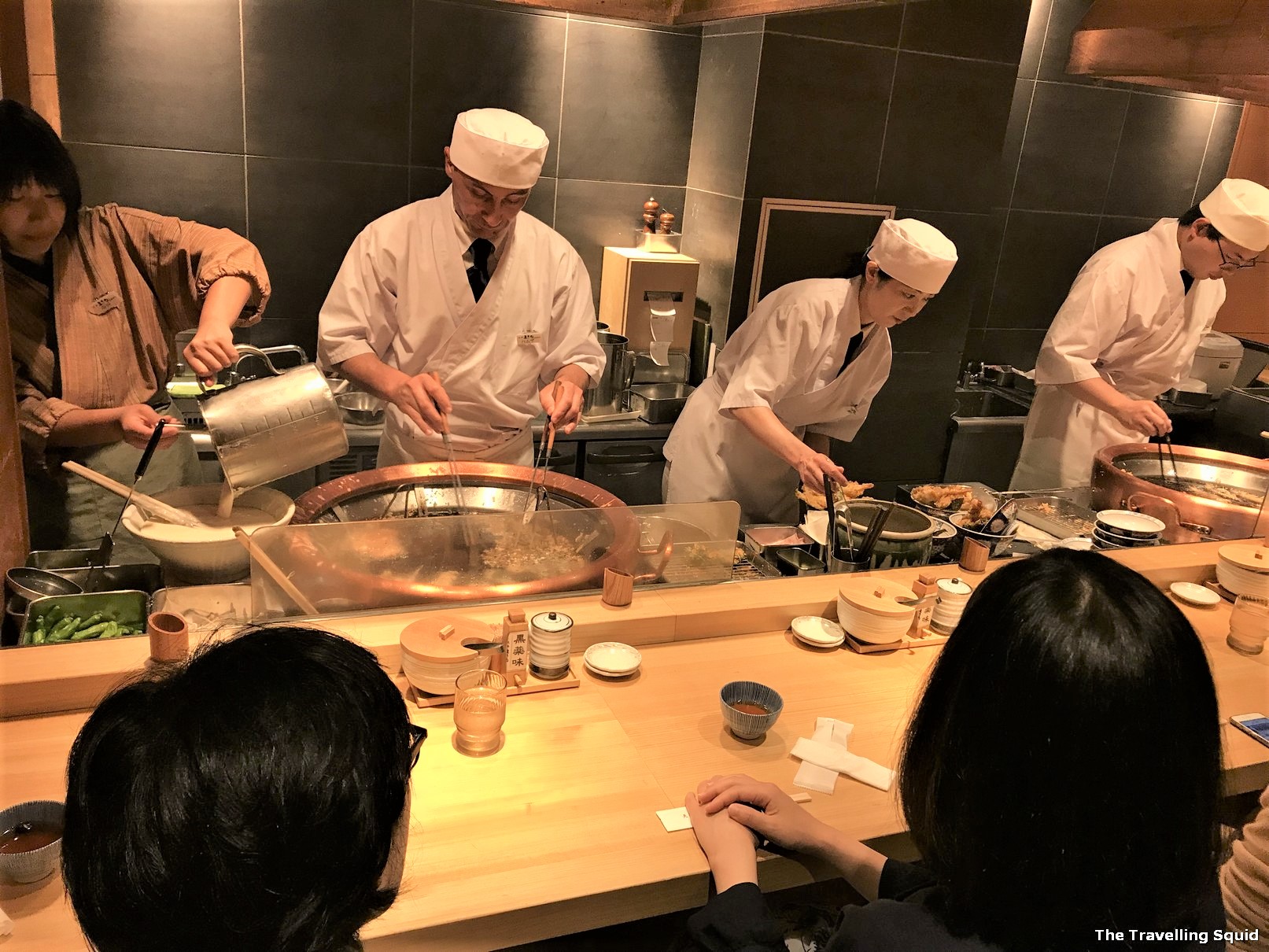 History of tempura
According to Wikipedia, Tempura became popular in the Tokyo Bay area during the Edo period. There was plenty of seafood in the area, and cooking oil was not expensive due to advanced oil extraction techniques. As the serving of tempura was not allowed in homes due to the possibility of it being a fire hazard, people would have tempura at food stalls instead. (Apparently, traditional Japanese homes which were constructed with paper and wood could catch fire easily when in contact with tempura oil.)
Having Tendon Makino Kyoto Teramachi in Kyoto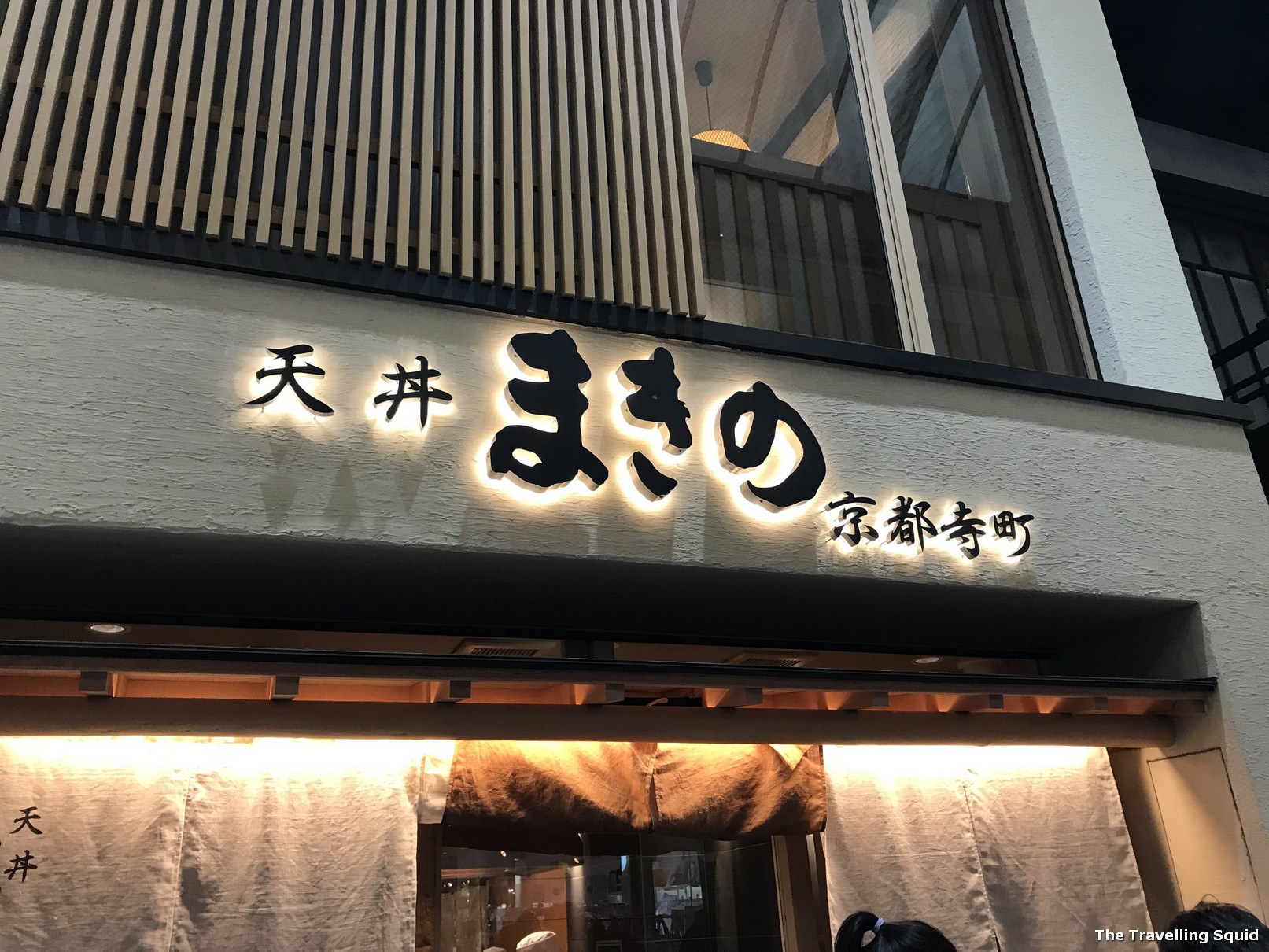 We had arrived in Kyoto at about 3pm in the afternoon. After settling down into our accommodation at Kaeda Guesthouse near Shijo Station, we headed to the vicinity of Kyoto Station to look for food. Our last meal was a bowl of soba noodles at the Mishima Railway Station, so we were feeling slightly peckish. We walked around the Teramachi Shopping Arcade and had a little wagyu beef burger (it was good). Then we came across Tendon Makino Kyoto Teramachi in Kyoto. It was 5.50pm (an early hour for dinner) and there were 3 groups of people in the queue.  We joined the queue and waited for about 20 minutes. It was just nice to see that there were female chefs who were involved in  the preparation of the tendon. I can imagine it being a hot and somewhat tiring process – so kudos to them.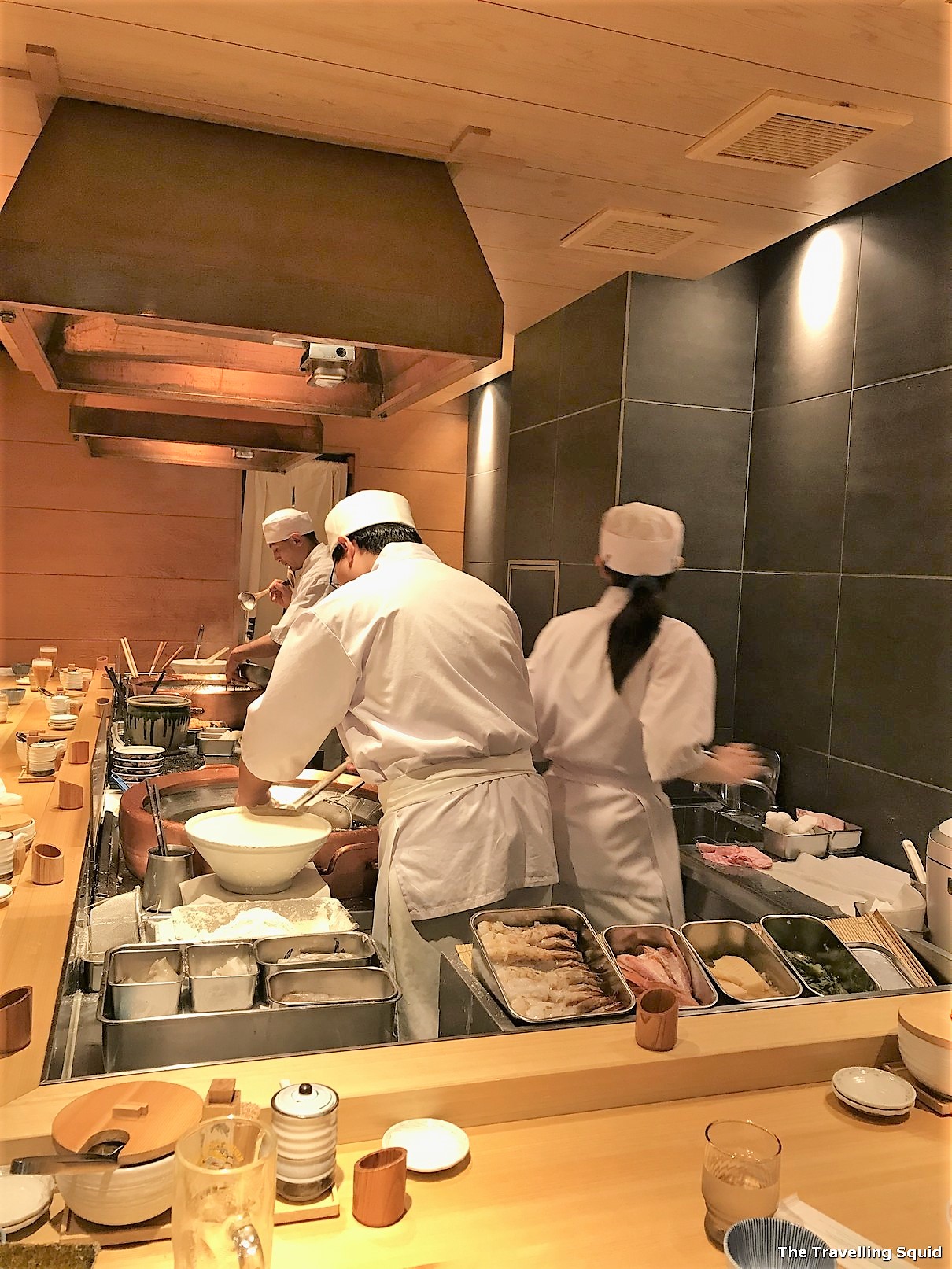 Tendon Makino Kyoto Teramachi occupies two floors. The first is the Japanese-style setting where you sit around the chef. The second level is a typical restaurant style with four seats per table. When it came to our turn, we got the second floor seats. I was mildly disappointed. It was only when I came down to the first floor and was about to leave did I realise the air was warm and somewhat oily.
The Tea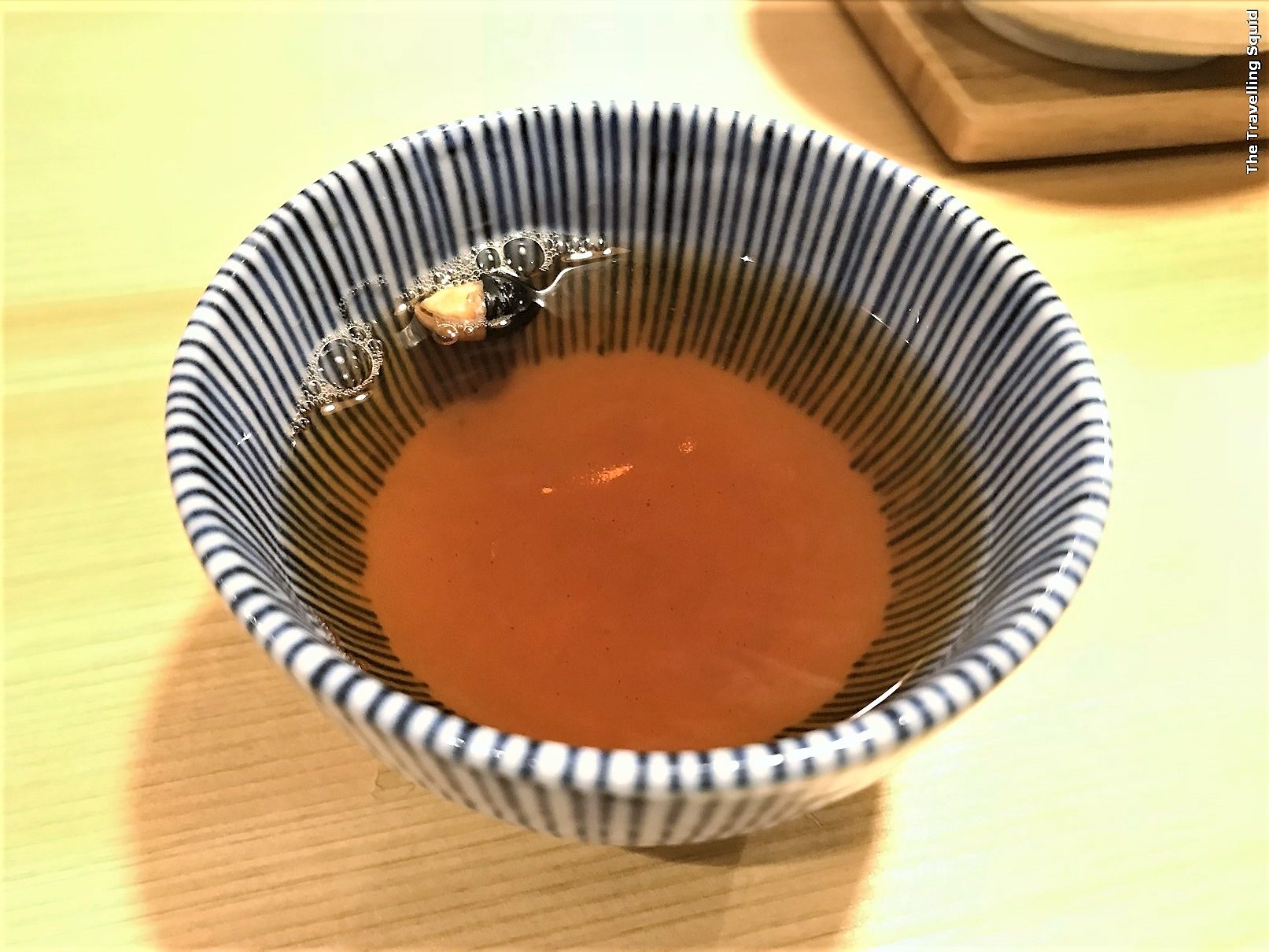 We were first served a fragrant tea that reminded me of red dates. It was mildly sweet and regretted drink it all up on the first instance as I was pretty thirsty. The subsequent food items which arrived made me realise how important the tea was to balance one's palate.
The Tendon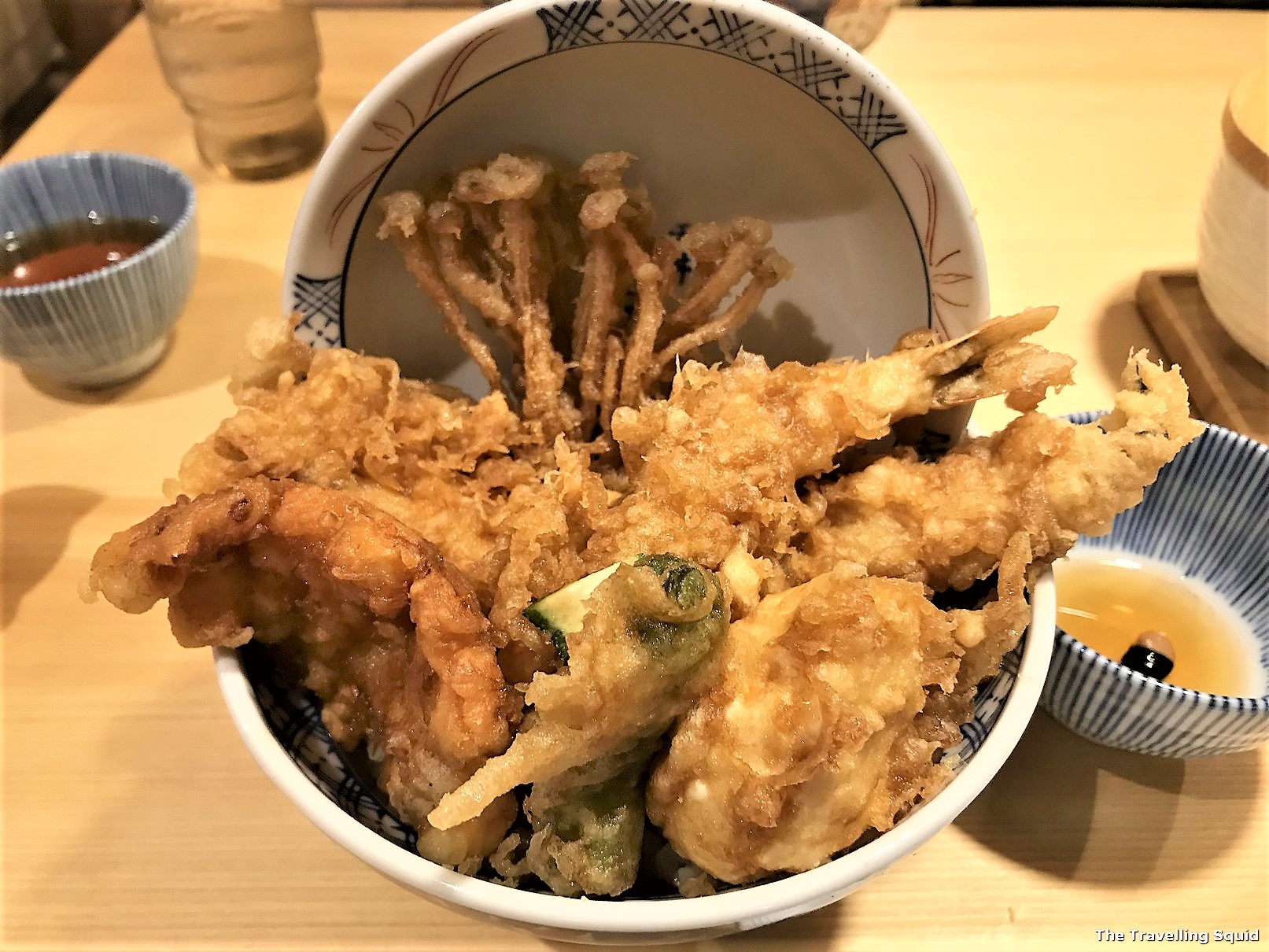 We ordered the normal tendon bowl – the full set which includes a tempura prawns, enoki mushrooms, pumpkin, vegetables, fish and an egg. The portion was huge, and the tendon bowl came with a supporting bowl as well, to prob up the ingredients. It was most interesting.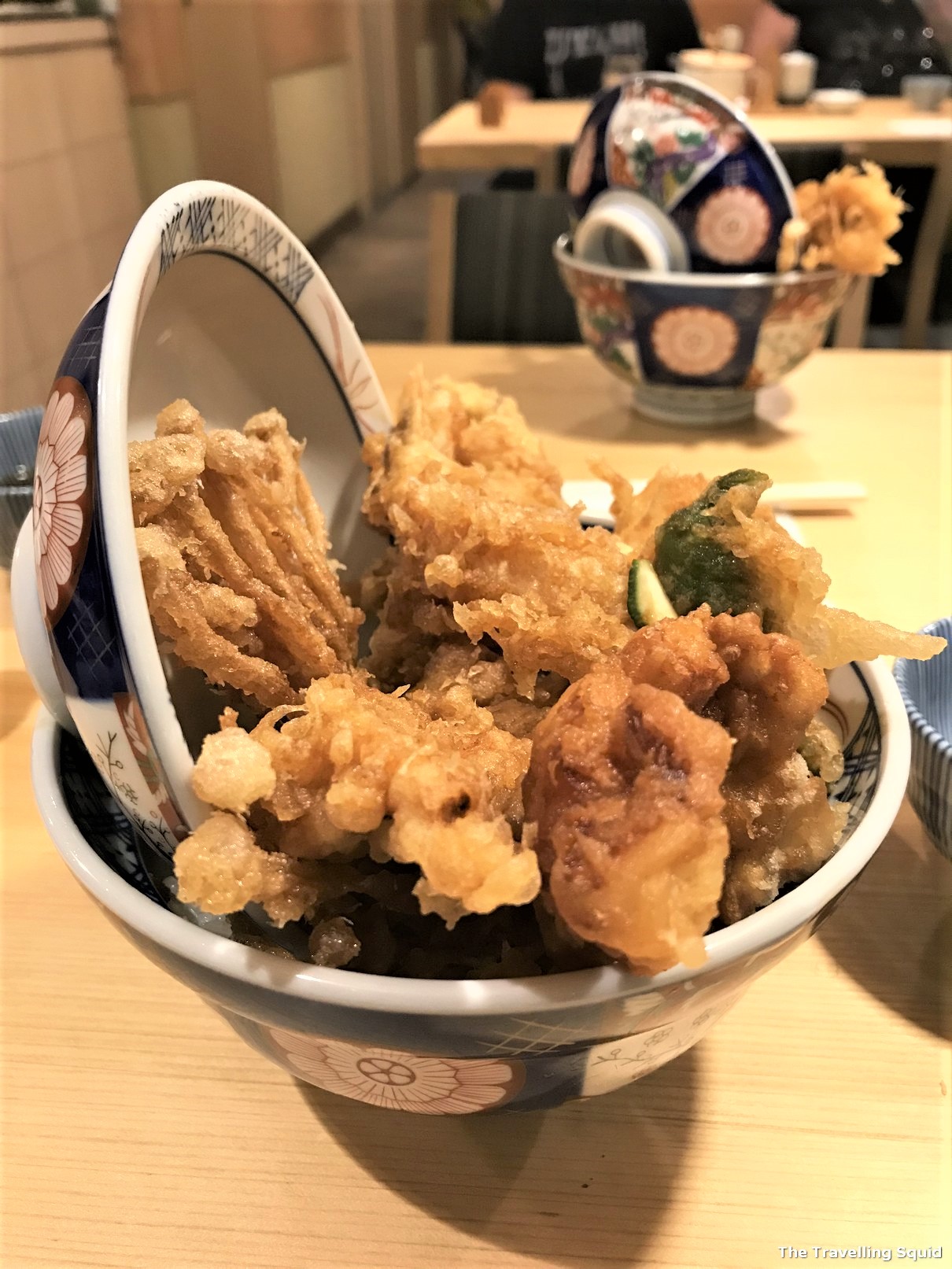 My favourite were the enoki mushrooms. They were crispy and went well with the tendon sauce which was drizzled over it. To be honest, it was hard to identify some of the items as they were mostly golden brown. I was very full when we came to the last item – the tempura egg with a soft centre.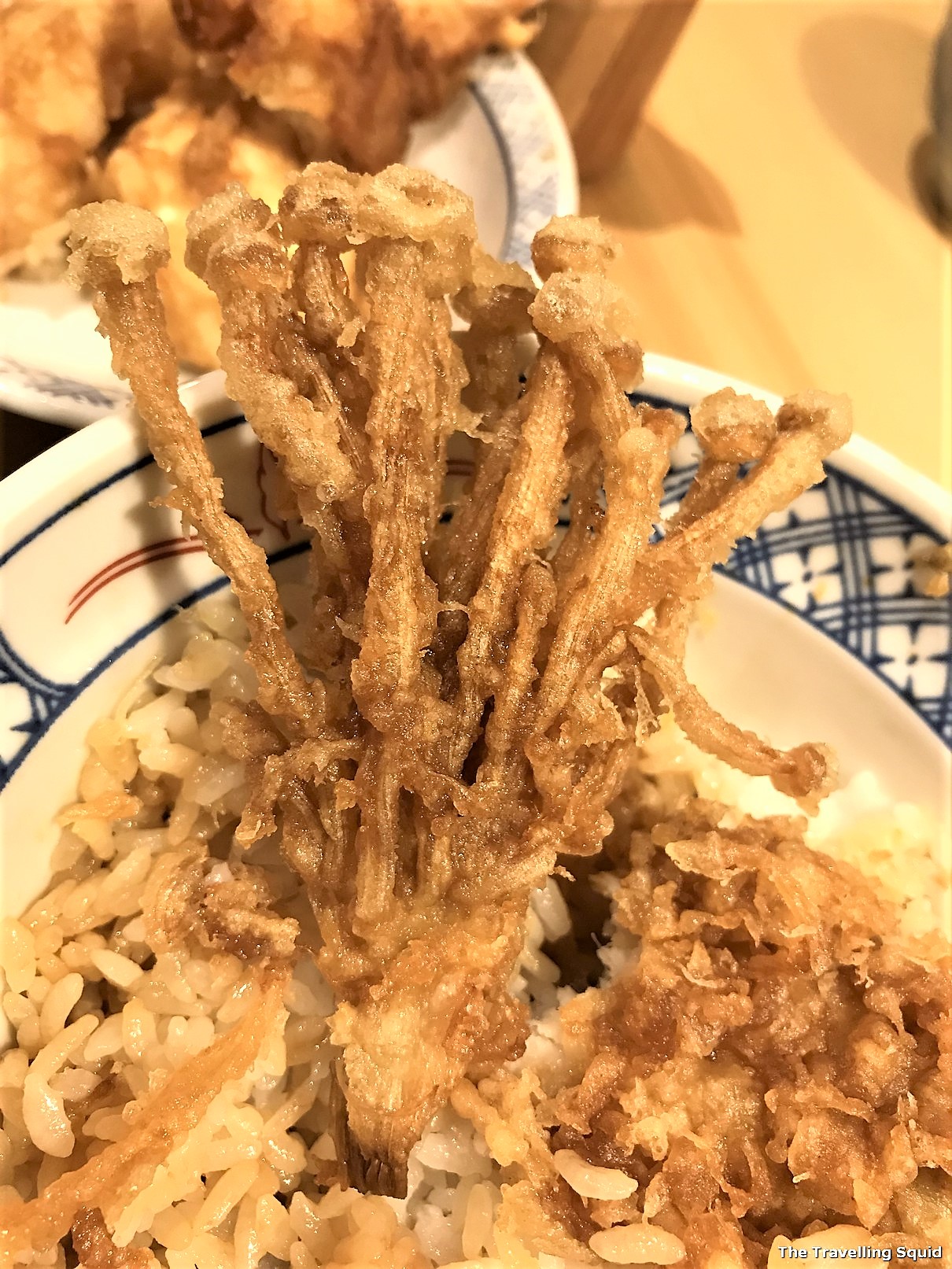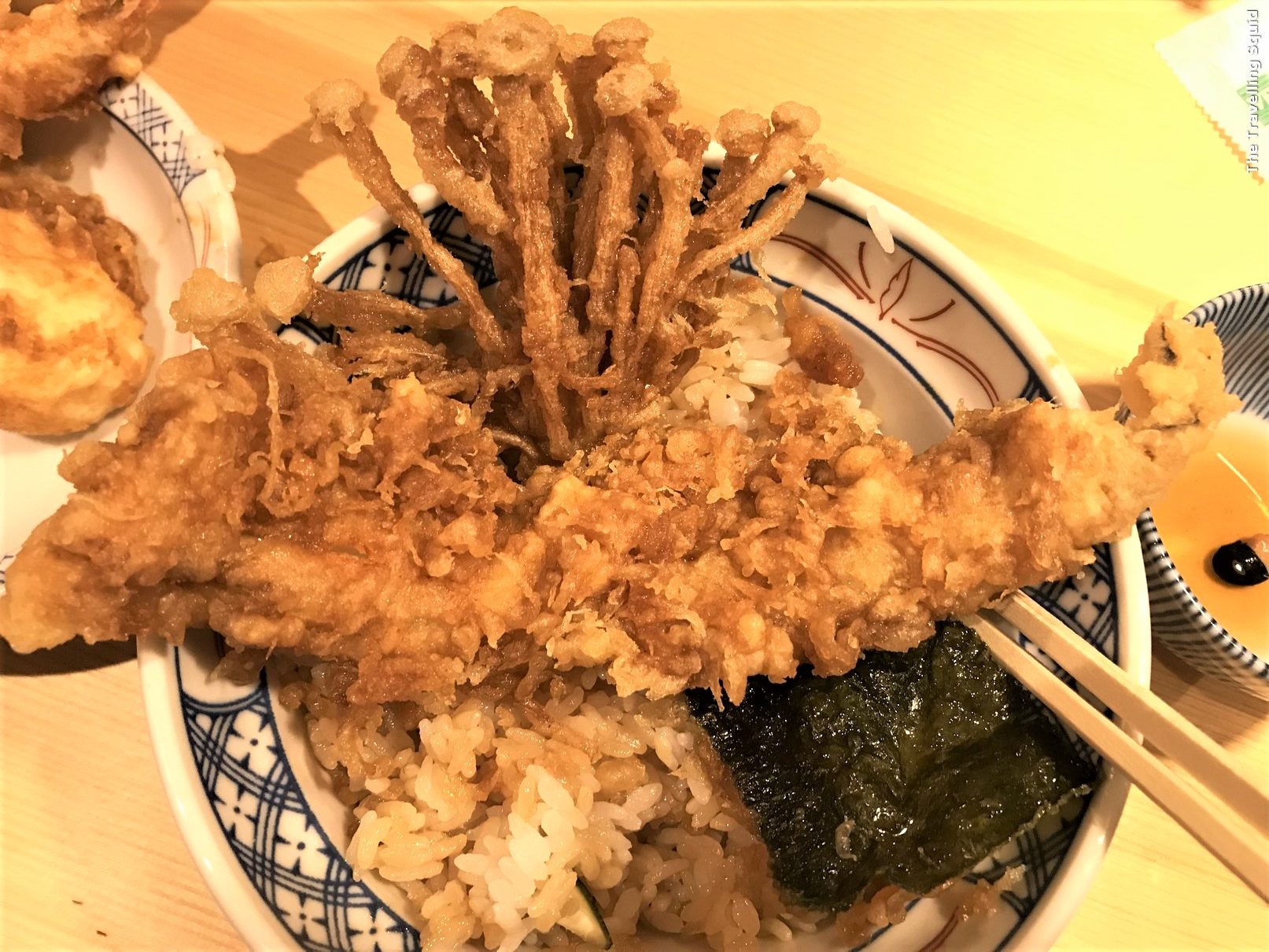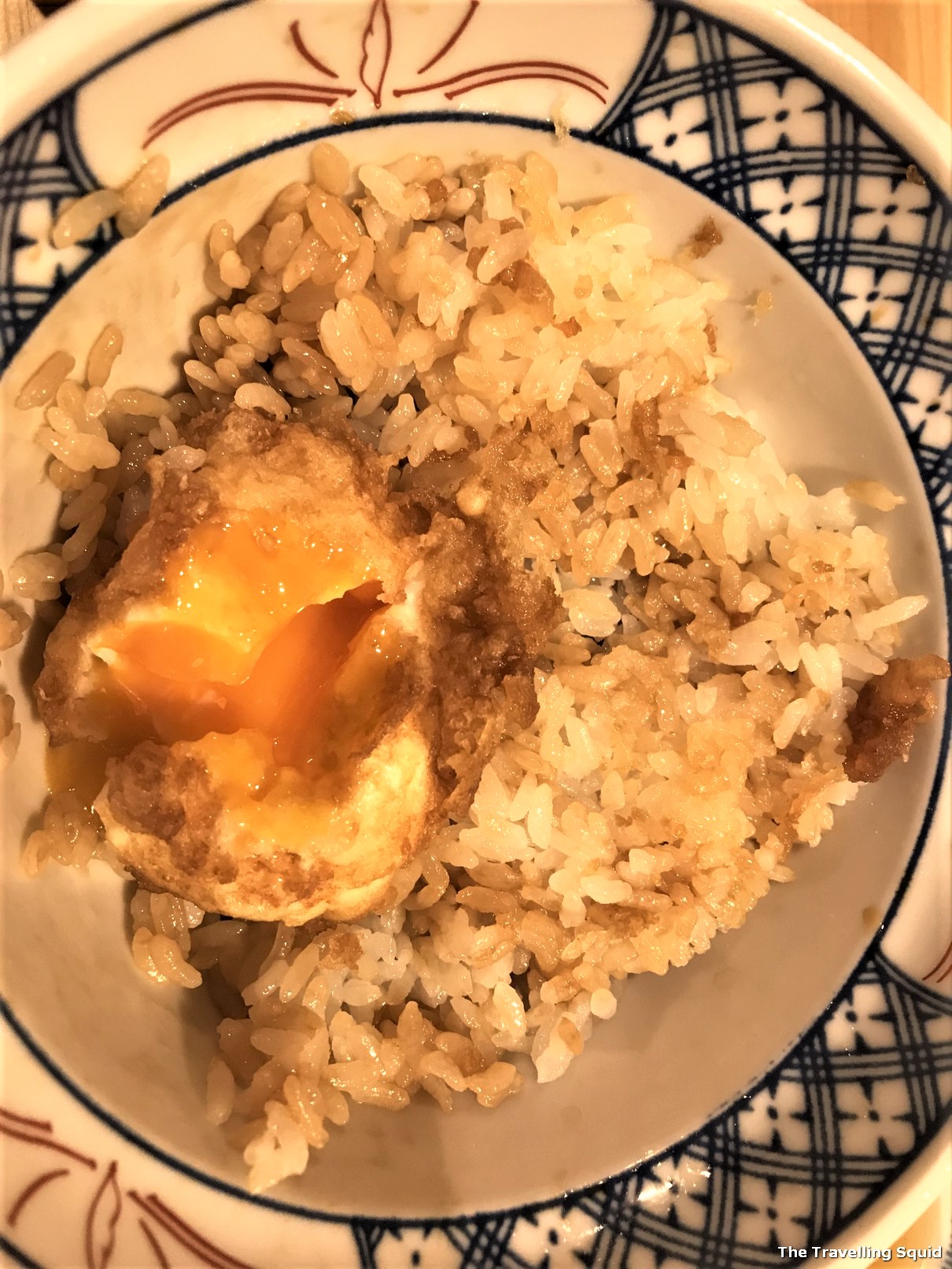 The Travelling Squid's Take
The bowl with at least six huge items set us back by ¥1,500 SGD18.50 / USD13.50 (inclusive of taxes). It was very worth it as the portions were huge and it's probably as good as what tendon gets. I suppose the best part of Tendon Makino Kyoto Teramachi in Kyoto were the female chefs. Through our travels in Japan, we had rarely seen female Japanese chefs in action. They involvement in restaurants were limited to waitressing. It was great to see that there were some who were now cooking – challenged by the heat, oil and variety of food smells.
I did have a revelation while eating Tendon Makino Kyoto Teramachi in Kyoto. Also taking my experience eating at Ginza Tendon Itsuki in Singapore into consideration, I realised that unlike tempura eaten with soba noodles or udon, the tempura used in tendon usually comes with thicker batter. It is less crisp as well, and the coating is noticeably more golden brown. A viscous sweet soy sauce is also drizzled over the tempura, unlike tempura eaten with udon, where it is dipped into a more liquid sweet and savory broth. I realised the viscous sweet soy sauce is also used to complement and flavour the rice in tendon. Alas! The problem of why the tempura served in the dish 'tendon' was so different as compared to the ones served with soba and udon had finally been solved!
In  general, I prefer the light-battered tempura, as it is more crisp and feels less oily. But tendon is quite a satisfying dish, especially if you're hungry after a long walk or from skipping a meal. I was very tempted to have the tendon with a beer,  but I kept my beer quota for later. : ) Alas, this meal did also set me back by many calories, but it was worth it.
***
Tendon Makino Kyoto Teramachi in Kyoto
Address: 京都市中京区寺町通下る中筋町481-3, 京都府 604-8047, Japan
Hours: 11am – 9.30pm daily
Phone: +81 75-222-5560
Email: tori977@toridoll.com (I don't think they take reservations, but you can try)